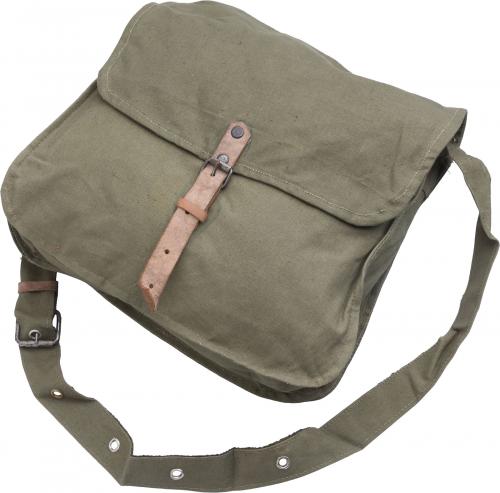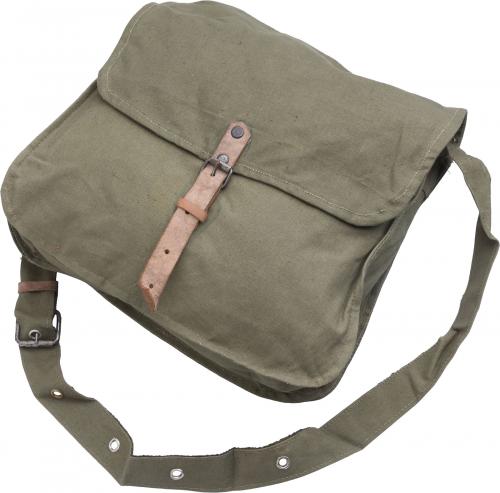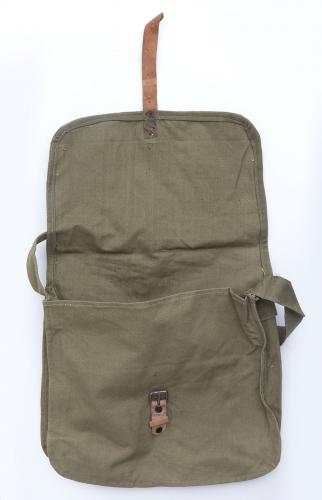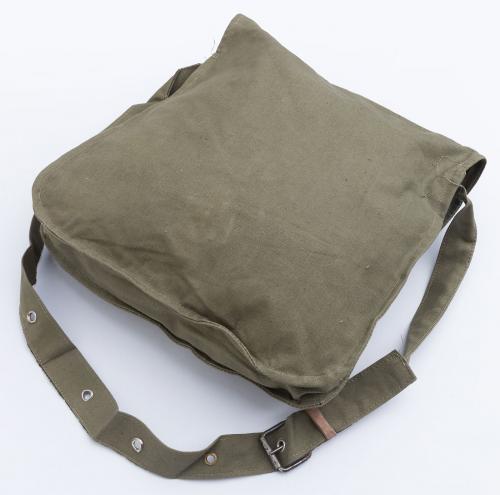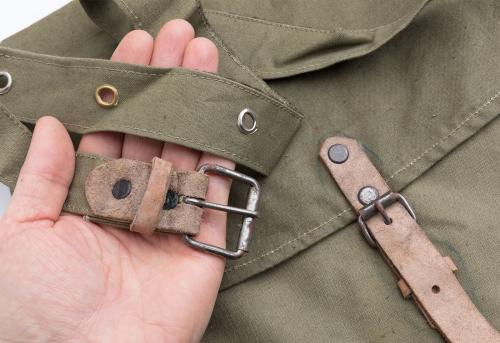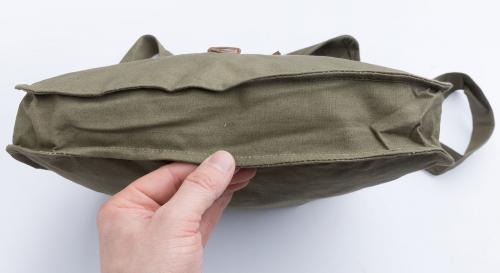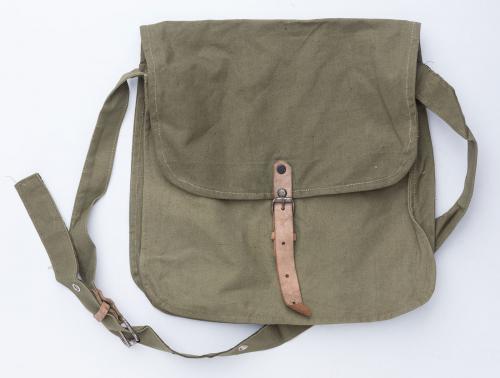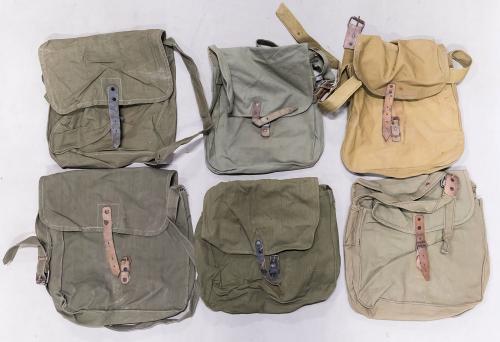 General view. The colour shades and details vary a bit.
Bulgaria
Bulgarian breadbag, surplus
Price 12.99 USD
excluding sales tax
A traditional military bread bag with a very historical appearance. Country of origin Bulgaria, so the production standards were relaxed if there even were any.
This product is unlikely to be restocked and will be hidden from our website once it's out of stock.
We don't know when this product will be restocked. With surplus the restock date is unknown due to sometimes poor availability. Request restock notification and we will email you as soon as this product is available.
Trouble with the metric system? Try our converter: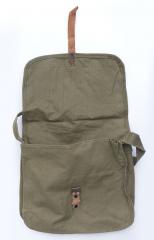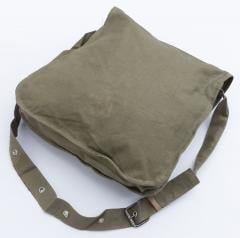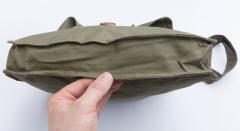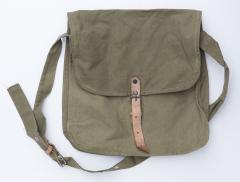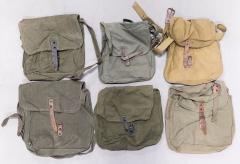 A traditional military bread bag with a very historical appearance. Country of origin Bulgaria, so the production standards were relaxed if there even were any.
This typical WW1 or WW2 style soldier's shoulder bag is about the size of a supermarket fruit bag and meant to carry this and that. Dimensions about 30 x 30 x 6 cm. Carried with a shoulder strap.
Made of cotton fabric, just the kind of thin but strong stuff many a tent quarter are made of. Lid strap made of leather. Both the fabric and the leather colors vary. No bag is exactly the same, but the cotton colors are always on the grey-green-tan axle.
Condition
Used but intact. Bear in mind these are decades old, so they might require cleaning and greasing the leather parts. The seller claimed these to be WW2 era stuff, but go figure. Could well be.
All products: Bulgaria
Recommendations
Loading products...
Reviews
You have already submitted a review. You can edit your text by clicking on it.
Log in and write a review.
Remove filter
I would recommend for a friend
Vasil I.

23.12.2019 (Edited 06.08.2020)
What the gnomes above did not mention is, that these bags were made from people, who generally believed that they are treated fairly (but not well, mind you). E.g., they were made from socialist workers. In the bulgarian version of socialism, either you was a good communist, or was a economically/socially crushed "enemy of the people". There was no reason for murders in that version of socialism. The "other" methods were efficient enough.
Thus, there was no need for "production standards". The fear of being crushed worked well enough.

PS: and one note for the gnomes. The teutonic devils love to hate "their" bulgarian workers, when the same workers show them how much they work for a given salary. In part, because of the reasons above!
1
12
I would recommend for a friend
Jett H.

10.01.2020 (Edited 06.06.2021)
Alright so I "accidentally" bought 4 of these. Overall review: decent bags, ranges from decent to low condition/build quality, but according to my sample size, 75% mid-quality. I used one as a mail fetching bag for a real-world use case, it was okay, I had 1 letter, 1 large plastic bag package, and 1 small cardboard box package, the style of the flap and strap are somewhat cumbersome, but I got everything stuffed in there. Comfortable enough to wear.

Bag 1: Dark O.D. style green fabric with classic light brown leather, pretty nice condition all around, some rust on the hardware (all of these had some rust on the hardware) the best example I received, I'm giving this to a friend as a gift.

Bag 2: I don't remember much about this bag because I gave it to my friend in the spur of the moment as we unboxed, I believe it was a slightly faded green with brown leather. same condition as Bag 1.

Bag 3: Desert-like darkish tan, brown stiff and dry leather, heavily rusted hardware, though quite intact. This one is obviously in the worst condition, the buckle dongle and strap holes are rusted over, so it's tough to manipulate the hardware. Many stains on the fabric, although it had some cool stamps inside the flap. I'm attempting to restore this one since I have nothing to lose, I think the cleaning is working but I may have accidentally made the leather worse.

Bag 4: Lighter O.D. syle green, light brown leather, rusty but fully intact hardware. Decent condition, seems to have the least stains of the bunch. This was my mail bag, I will also use it to transport pistols to the gun range.
2
0
I would not recommend to a friend
Suohsien W.

09.02.2020 (Edited 06.06.2021)
Not pretty bags, it can function, but not pretty.
If it's half the price I would say it's a nice buy.
I got two with light olive drab, No.1 has some pen drawing mark. No.2 has no drawing but the hardware is rusty. Both have weird irregular shaped cap leather like they were cut by a toddler, and No.1 has only one pin to keep it there.
You can carry things with them no doubt. But don't expect to have a good classic retro look as I did.
0
0