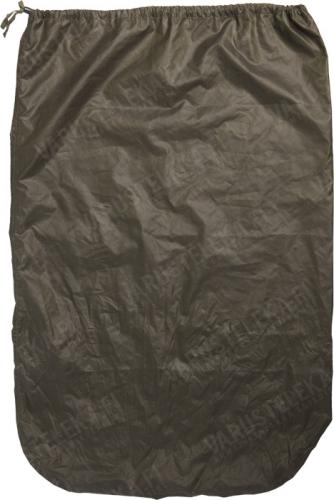 British PLCE bergen liner bag, large, surplus
Price 6.99 USD excluding VAT
Flat Rate Shipping to USA $9.99
100 % recommends
Sold 28 pcs in the last two weeks
In stock 101 pcs. Also available in our walk-in store.
Trouble with the metric system? Try our converter: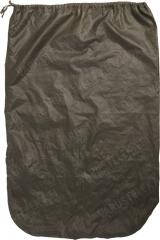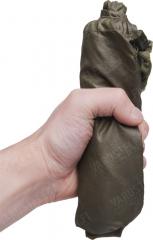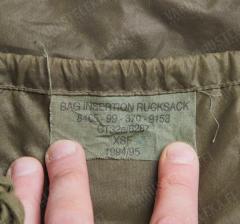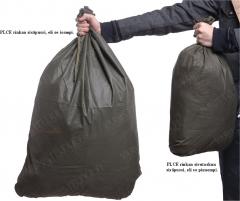 A "Bag Insertion Rucksack" - as the official nomenclature says - helps you organize stuff, protects your gear from the elements and reduces wear on the rucksack itself. Doesn't weigh or cost much! Proper hard wearing army kit.
You don't have to spend a lot of money to get a liner bag, unless you want a one-way valve, complete waterproofness or other specialities. The classic cheapskate method is a trash bag, but this basic nylon bag is a big leap forward and doesn't need to be replaced every two trips to the outdoors.
Made of nylon with a drawstring around the opening. Measurements flat approx. 60 x 92 cm.
Used, but in perfectly serviceable condition. Most of these were manufactured in the 90's.
Reviews
You have already submitted a review. You can edit your text by clicking on it.
Log in and write a review.
Remove filter
Suomi
(4)
English
(10)
Pietari J.

26.05.2016 (Edited 31.05.2016)
I would recommend for a friend
Eetu L.

12.10.2016 (Edited 28.11.2016)
Näitä on odotettu. Tarpeeksi kevyet, jotta voin korvata kaupan muovikassin, tarpeeksi tukevan oloinen, että ei tarvitse pelätä hajoamista heti kättelyssä. Jos nyt jotain nillitettävää pitää sanoa, niin pussin sulku ei ole noiden uusien kanoottipussien veroinen, eikä tässä ole kahvoja, josta kiskoa/kantaa niitä.
2
0
I would recommend for a friend
Harri K.

13.11.2016 (Edited 18.11.2016)
- omistan kaksi, joista toinen sukille ja toinen kätkee kalsaripuolen
- erittäin näppäriä säilytykseen, mutta voi myös ottaa koko säkin matkallekin
- joskus väsännyt vastaavia nylonista, mutta tähän hintaan ei viitsi...
2
0
I would recommend for a friend
Jean N.

06.08.2017
Very good multi purpose insertion waterproof bag, perfect fit for my PLCE (radio) backpack. Weight near zero gram, Handy 100%
0
0
I would recommend for a friend
Bryan M.

27.08.2017
I purchased both sizes and currently use them to store non-priority items in my day pack and rucksack. The sizing is generous and they of are of good quality. Nothing fancy and over the top about them - which is good. The brownish-green tone is also nice in a world of seizure inducing camping gear colors.
0
0
I would recommend for a friend
Juha S.

29.07.2018
Kolme pienempää ja yksi tämmöinen ja rinkan pakkaaminen/tyhjentäminen sekä tavaroiden löytäminen on niin helppoa ettei paremmasta väliä. Edullinen ja vaikuttaa kestävältä, mutta narut voi joutua uusimaan joskus vaan eipä näistä joudu juuri mitään maksamaankaan.
0
0
I would recommend for a friend
Björn R.

29.09.2018
Good sack for organizing stuff in your pack. Nice color, and not too many holes plus easily mendable with a bit of polyester thread. Uncomplicated drawstring "mechanism" (just a rubber cylinder).
0
0
I would recommend for a friend
Yannick V.

31.12.2018
Good size for in a 60 L backpack, i have used it on excersice and it keeps out the weather quite well.
0
0
I would recommend for a friend
Andrew A.

26.01.2019
Fit my ruck very well. It kept my kit dry. These are so good I'm buying another to put in my sleeping bag valise.
0
0
I would recommend for a friend
Geoff T.

15.02.2019
I like this bag it's great for my sleeping bag as a easy stuff bag, the items from you guys are shit hot.
1
0
I would recommend for a friend
Ashley B.

21.04.2019
Cheap and effective waterproofing. As long as you aren't taking your gear for a swim these will keep it dry. I tie these folded over and tied up at the ends (like with propor roll top waterproof bags) for sleeping gear strapped to the outside of packs and I've never had wet gear even in the worst of rain. As organiser bags these are also great.
0
0
I would recommend for a friend
Florian G.

16.08.2019 (Edited 16.08.2019)
General notes:
A lot less noisy than a garbage bag, very durable and very lightweight.
Note that picking the best one in the physical store pays off if you need waterproofing and zero pinholes.
Unlike the US liner bags, there are no flakes peeling off.
NSN 8465-99-370-9153 (Bag, Insertion, Rucksack, NATO Green, IRR)

Use:
Organisation within the backpack.
Cover for a medium sized pack to protect it from dirt.
Taking laundry to the laundromat and back. In a pinch you an also tie the bag to something and do the laundry inside the bag.
Storing an uncompressed sleeping bag at home.
And a myriad of other uses. Best keep one bag folded in the top pocket of your ruck, they are really good.
0
0
I would recommend for a friend
Marc-Alexander N.

27.11.2019
Absolutely new, for a price, steal is an understatement.
Outstanding quality, and shipping to germany was hellishly fast as well.
Love you guys!!!
0
0
I would recommend for a friend
Mathias D.

07.01.2020 (Edited 07.01.2020)
I needed a waterproof liner and somehow I was under the impression that this is meant to be waterproof. I must've squinted while reading the description. I just bought two of these. One is in used but decent condition and waterproof enough to do the job. The other one looks like it's never been coated at all, and is just as waterproof as an old sock. That one will become a stuffsack for some storage. Still worth it for the price, though I may have been disappointed if I had ordered only one and it hadn't been the waterproof one.
0
0