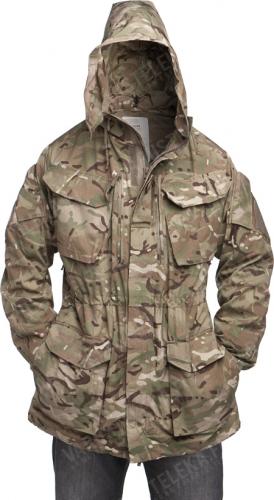 British PCS Windproof Smock, MTP, surplus
Price 46.99 USD excluding VAT
Flat Rate Shipping to USA $9.99
84 % recommends
Sold 17 pcs in the last two weeks
Loading products...
Trouble with the metric system? Try our converter: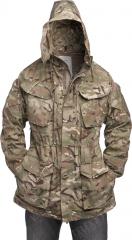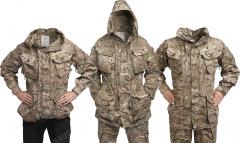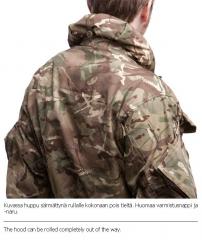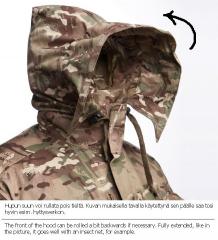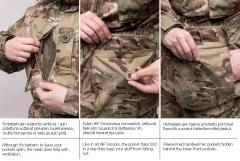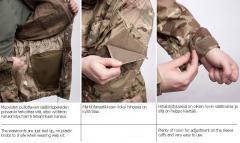 The Windproof Smock is perhaps the best bad weather jacket ever made. These are the fresh PCS type, and well used.
The latest issue Windproof Smock, the PCS model has lots of fine new features like hand-warming pockets, armpit ventilation and hidden buttons to prevent snagging. The level of manufacture and zipper quality is not quite what it used to be in the CS95 era, so if you are more down-to-earth when it comes to features, the predecessing model is a better choice.
For those not familiar with the concept of the British Windproof Smock, it's basically a roomy, windproof (!) and water repellent top layer which is meant to take the main punishment in whatever you are doing. After its original introduction in WW2 the WP smock has gone through lots of changes, with the main idea still the same.
Features
Now the new PCS smock has raised the bar another notch with many improvements over the earlier CS95 model:
Zipper closure with velcro strips to cover it
A roomy hood with drawcord & wire adjustment
Ventilation zippers in the armpits
Four large front bellows pockets with the typical folding mouths to keep your stuff in
The large Canadian type buttons are hidden under the flaps
Behind the hem pockets you'll find fleece-lined handwarmer pockets
A zippered mesh-lined pocket on both sides of the chest
Sleeve pockets with velcro velcro bases for patches & insignia
Drawcord tightening in the waist and hem, velcro adjustment on the sleeve cuffs
material and care
Made of 50/50% polycotton. Wash in 60 degrees celsius. The fabric is naturally windproof and has some water repellent treatment, but this certainly is not a rain coat. The labels say you can rejuvenate the treatment simply by ironing the parka.
Size info
Sizes according to user's height & chest circumference in centimetres. The cut is roomy, because you must be able to fit a lot of stuff underneath. If your parka seems a bit too large, just use the waist adjustments and it'll look just fine.
The model in the picture is 175 cm tall with about 95 cm chest circumference, and is wearing size 170/96 cm parka with a softie jacket underneath.
Condition
In used but serviceable condition, with the usual signs of wear like faded fabric, maybe a stain somewhere, a missing cord here or there, removed hood wire etc. In other words do not expect a pristine smock, because you'll likely get a properly worn one.
Reviews
You have already submitted a review. You can edit your text by clicking on it.
Log in and write a review.
Remove filter
Suomi
(7)
English
(12)
I would recommend for a friend
Al P.

31.01.2017 (Edited 31.01.2017)
Very happy sizing is accurate, jacket is in great condition just missing the hood cord recommended to any who are looking
4
0
I would recommend for a friend
Jari P.

03.04.2017 (Edited 03.04.2017)
Tautisen hyvä päällitakki. Erinomaiset taskut ja niitä on tarpeeksi, erityisesti rintataskut ovat käytännölliset. Huppu suojaa niskaa ja ylösnostettuna suojaa sateelta - hupun rautalanka pitää hupun silmiltä pois. Ei voi kun suositella, ostakaa heti kaksi. Kuvio on myös poliittisesti korrekti, ei aiheuta kauheita tärinöitä kukkahattutädeissä.
10
0
I would not recommend to a friend
Thomas L.

19.07.2017 (Edited 16.08.2017)
Great model. Very faded colours and some lose threads. Too worn for me, but perfect if you want to look like a homeless Rambo type.
8
8
I would recommend for a friend
Jukka K.

27.09.2017
Hyvä ostos! Tarkenee fillarilla kelkkoa itsensä töihin. Taskuja on heti niin että pärjää. Tulee puoli omaisuutta aina völjyssä. Pientä käytön jälkeä, mutta se ei menoa haittaa. Paras maastotakki mitä olen tähän mennessä käyttänyt. Suosittelen!
4
0
I would recommend for a friend
Mikko T.

03.10.2017
Todella hyvä takki. Sain melko vähän käytetyn, jossa ei juurikaan kulumisen merkkejä paitsi hieman haalistunut kuvio. Ollut nyt käytössä vuoden ja ainoastaan taskujen verkot alkavat kulumaan koska tarttuvat kiinni velcroon. Tuuletusaukot on käteviä ja käytössä useasti, oma käyttö pyöräilyä ja koiran kusetusta sun muuta puuhastelua pihamaalla. Koot on todella reiluja, ja tietty ihan tarkoituksellisesti. Kuitenkin ehkä nyt vuoden käytön jälkeen valitsisin kokoa pienemmän leveydessä, hihojen pituus on ok 183 senttiselle. Normaalisti takeissa L/XL ja tästä kokona 180/104 jonka alle menisi vielä untuvatakki. Nimensä mukaisesti tuuli pysyy vaatekerraston ulkopuolella, myös pieni sade. Takki ei kuitenkaan juuri lämmitä tai hiosta.
6
0
I would recommend for a friend
Mark P.

17.11.2017
Looks brand new! Just LOVE IT! Just right for my wild camping adventures. Arrived quickly to. Love your web sight, got a wish list which is growing daily!
3
0
I would recommend for a friend
Dallas P.

30.01.2018
I really like the heavy-duty fabric, huge pockets and features of this jacket. However I am deeply concerned that the model has no head. Does this happen randomly to people who wear this coat?
16
1
I would recommend for a friend
Magnus C.

10.02.2018
Arived washed. Truth been told, all I bought was washed. No surplus smell at all. More the smell of clean clothes. Good condition of the smock. Will be perfect on my hunting trips.
1
0
I would recommend for a friend
Pablo V.

12.07.2018
It's pretty nice and very roomy. Rather worn as well but serviceable and not bad-looking at all as said. Mine came without the hood extension (simple cut off), with a Sergeant insignia and a complimentary expired condom in one pocket.
2
0
I would recommend for a friend
Miika K.

24.09.2018
Loistavan hinta-laatusuhteen rytytakki. Käytän metsästäessä, kotimetsurihommissa ja epämääräisissä pihahommissa. Pitää jotenkin elementtejä kurissa vaikkei sadetakki olekaan. Mikä parasta ei tarvi itkeä kun jossain välissä viimein poltan siihen reiän tai muutoin repeää. Tahratkaan eivät kovin hyvin kuviosta näy.
2
0
I would recommend for a friend
MrTorktumlare

10.01.2019
Got mine today. Orderd on Tuesday night, shipped at 7:00 in the morning on Wednesday, arrived on Thursday! I live in Sweden.
Brand new!! Only thing missing was the mtp-patches on the arm velcro. But that's ok with me. According to sizeing. My chest is 112 cm and I am 181 cm tall. I ordered 180/112 and it fits well, maybe a bit bulky, mostly at the bottom part. I think I could go with the 180/104 and it would look a lot smarter, but 180/112 is not bad, depends on how you want it to be.
I was really worried about the seizing but it looks good. At the moment I weight 99 kg.

I liked very much that it was brand new. Nothing broken, no dirt, no tear. I will try it out the day after tomorrow in the woods. Really looking forward to it.
0
0
I would not recommend to a friend
Denis F.

11.01.2019
A good jacket, but the condition is very, very bad / weak. Lots of damage and holes. Very faded colours. For example, the right breast pocket is torn. Not sure that can recommend it to friends.
0
0
I would recommend for a friend
Miika H.

04.03.2019 (Edited 04.03.2019)
Ihan paras takki. Ostin tällaisen pari vuotta sitten enkä ole muuta talvitakkia tarvinnut. Kylmällä kelillä alle paksu fleece tai jopa untuvainen taukotakki niin johan tarkenee. Todella hyvät ja toimivat taskut ja varsinkin käsienlämmittelytaskut on kovassa käytössä. Nyt kokeilen saako tästä vedenpitävän vahaamalla. Käytetyn takin ostin mutta taisin saada uuden kun oli niin siisti eikä mitään kulumisen merkkejä. No ei kyllä ole kulunut itselläkään vaikka joka päivä päällä. Hintalaatu on tässä enemmän kuin kohdillaan.
2
0
I would not recommend to a friend
Andrew C.

24.03.2019
Although I never end up depending on the 'features' of clothing that much, I'm always attracted to clothing with lots of features (flaps, pockets etc). Therefore I really like this jacket.
However, there is one fatal flaw which I can't believe nobody has ever mentioned - the velcro on the left side of the jacket always ends up catching on the mesh fabric inside the jacket. This is deal breaker - a jacket shouldn't destroy itself.
2
0
I would recommend for a friend
Jens A.

27.07.2019
Received mine after waiting for a week due to slow work at the customs... Varusteleka sent it as fast as always. My smock came as described with minor flaws which shows it's authentic. Every pocket and zipper works perfectly, I removed the wire from the hood because I usually wear a hat or a cap. I'm 1,85 (6 ft. 1 inch) and weigh about 98 kg (about 220 pounds). My size which allows me to put a hoodie or a sweater underneath is 180/112. With that size I still can move freely even if layered up.
1
0
I would recommend for a friend
Markus W.

04.08.2019
The jacket I got came in super nice condition No fading and its repelling water like a frikin rain jacket are they supposed to do tjat? the only thing was that the zipper has been exchanged for a black which is a bit of a nail in my eye but it works.
0
0
I would recommend for a friend
Rolf J.

05.08.2019
Accurate description from Varusteleka as ever. I rate it lower than the CS95 smock as it is used but the same price. It is heavier and you like the mesh lining or you don't which I don't. The ventilation zips are short and run quite hard. I'd considere them quite useless. The hand warmer pockets are a nice feature though.
If you are not looking specifically for this camo pattern, go for the CS95 smock, it's a better deal.
0
0
I would recommend for a friend
Jarmo L.

09.08.2019
Parempi kuin osasin odottaa ja jopa vaimokin kehui...minun "rähjävaatteet" ei aina häntä miellytä ;)
Hyvät taskut ja kylmät nakitkin saa näppärästi lämpimään.
Toimitus oli nopea, kiitokset siitä sillä rotsi lähtee viikon päästä lapin reissulle.
0
0
I would recommend for a friend
Henri H.

27.09.2019
Tämän takin entinen omistaja oli kyllä kovia kokenut ainakin korjausten määrän perusteella. Silti ihan pätevä takki.
0
0