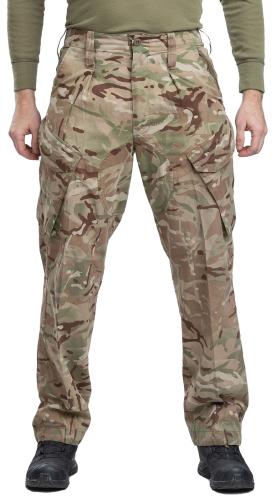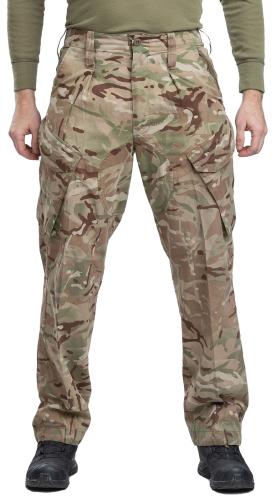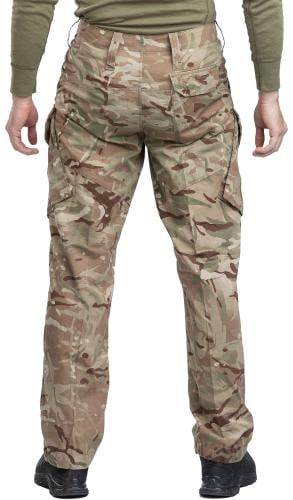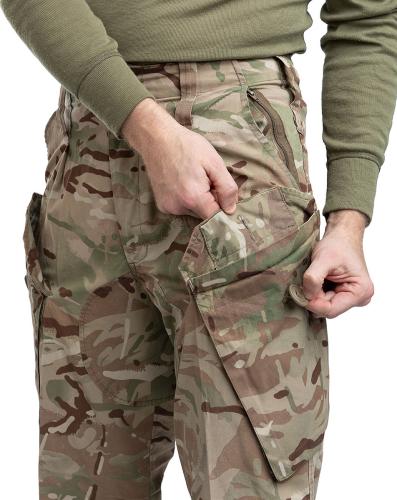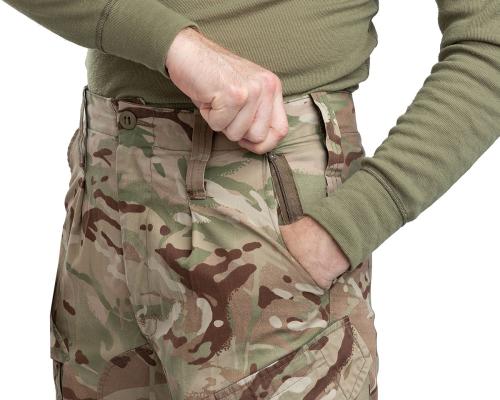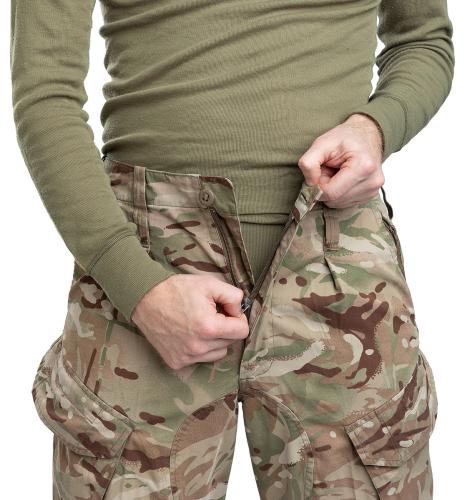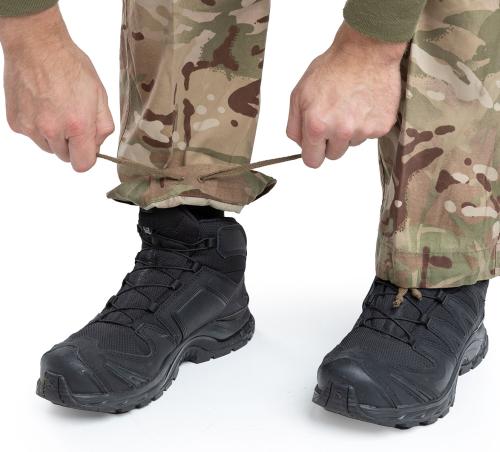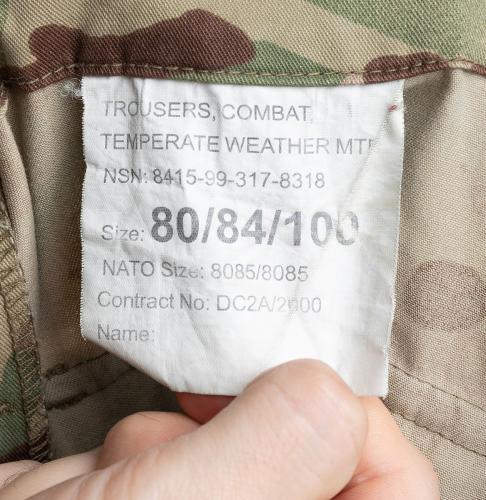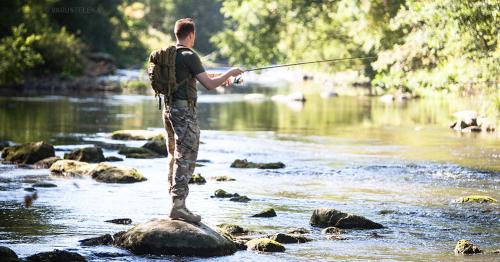 Great Britain
British PCS Cargo Pants, MTP, surplus
Price 29.99 USD
excluding sales tax
These are the new PCS (Personal Clothing System) trousers that were developed to replace Combat Soldier 95. Official British army surplus, would you look at that!
Loading products...
Trouble with the metric system? Try our converter: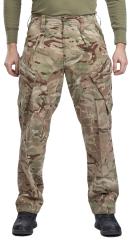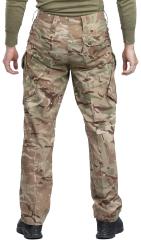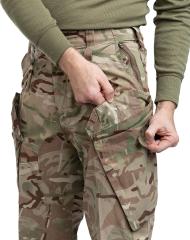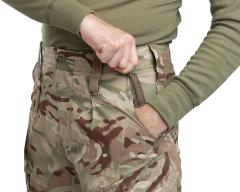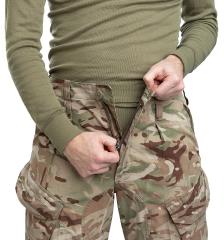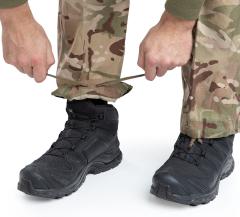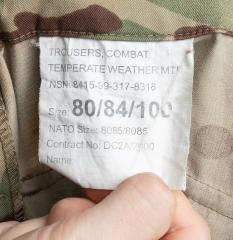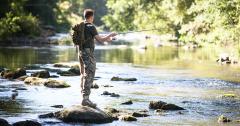 These are the new PCS (Personal Clothing System) trousers that were developed to replace Combat Soldier 95. Official British army surplus, would you look at that!
MTP (Multi Terrain Pattern) is a blend of DPM and Multicam. Nowadays they issue each soldier brand spanking new clothes, which means there will be a surplus of used stuff. As a service to mankind, the British army then puts them forth to the civilian market.
These are among the best combat pants you will ever see. If you are already familiar with the Soldier 95 trousers, the PCS pants are just like them but with a few improvements. Granted, they can't be improved much, but anyway.
Features
Tightening cords on waist and pant ends.
Zipper fly
Two side pockets, two big cargo pockets, one back pocket
All pockets are closed by button-fastening flaps. Buttons are covered so as to prevent snagging.
All buttons are "Canadian style", which means there's a bit of webbing running through the button, making them extremely durable.
Really large belt loops. You can wear a combat webbing belt with these, like Pattern 37 and 58 belts!
Made of 70/30 (Warm Weather) or 33/67 (Temperate Weather) cotton/polyester. Wash at 50° C / 122° F.
The Warm Weather fabric is especially suited for hot weather and has an anti-insect treatment applied. The Temperate Weather fabric is very lightweight and breathable as well. As the cut and feel of the pants are pretty much identical and no guarantees can be made for the anti-insect properties, we haven't separated these.
Some have mesh pockets, others have standard ones. We won't pick. At some point they altered the model just a bit, both are good for the purpose.
Sizing
Sizes are measured first at the inseam, followed by waist circumference.
Condition
Used, but in nice shape.
Kierto Circular Economy
Return this product used but clean and unbroken, and you'll receive half of the product's original price as Varusteleka credits. Service is available only in Finland. Only Registered users can make Kierto returns. See more information about Kierto.
All products: Great Britain
Recommendations
Loading products...
Reviews
You have already submitted a review. You can edit your text by clicking on it. You can filter the reviews by clicking on the elements of the summary.
Log in and write a review. You can filter the reviews by clicking on the elements of the summary.
Remove filter
Suomi
(11)
English
(3)
I would recommend for a friend
Juha K.

31.05.2016

Verified purchase
Ostin kahdet housut ja ne poikkeavat toisistaan monilta osin, paitsi mukavuudessa. Molemmat ovat vähintäänkin erinomaiset jalassa. Ensimmäinen malli oli temperate ja toinen warm weather.

Warm weather mallissa on säädettävä vyötärö, sivutaskujen pussit olivat verkkokankaan sijaan tavallista kangasta. Pesulapun mukaan hyönteismyrkkykäsitelty (permetriini), kankaan koostumus ohutta 70% puuvillaa ja 30% polyesteriä. Väri oli kovin haalistunut verrattuna temperate-malliin.
Temperate-mallissa ei ollut säädettävä vyötärö, taskunpussit olivat verkkokankaiset ja hyönteismyrkkykäsittelystö ei ollut mainintaa. Kankaan koostumus pesulapun mukaan 33% puuvilla ja 67% polyesteri.

Antaisin viisi tähteä jos tuotekuvaus pitäisi paremmin paikkaansa, tai diversiteetistä kerrottaisiin.
15
0
I would recommend for a friend
Al P.

31.01.2017

Verified purchase
Sizing is accurate and pants are ok, one tiny hole in pants leg and 2 rips inside right hand pocket which I fixed and white paint has been spilt on the front in various spots, despite this I am still happy and would recommend these to everyone
2
0
I would recommend for a friend
Juha-Matti P.

12.07.2017

Verified purchase
Erinomaiset housut jokapäiväiseen käyttöön! Todella mukavat jalassa, sopivasti taskuja ja ihan ykkös napit. En ota jalasta kuin yöksi ja pesun ajaksi. Pieni miinus vetoketjun puuttumisesta kokonaan, mutta tällä hinta/laatu -suhteella annettakoon anteeksi.
4
0
I would recommend for a friend
Juho H.

15.09.2017

Verified purchase
Minulla on Temperate malliset housut, jotka ovat 5/5 housut, kuten vanhemmat Soldier 95:t. Hyvä leikkaus, mukavat jalassa, hyvät taskut, miellyttävä kangas ja hyvännäköinen maastokuvio. Nähtäväksi jää miten kestää verkkokankaiset etutaskut, en säilytä niissä avaimia varmuuden vuoksi. Näitä voisi myydä erikseen, kun tosiaan on olemassa "Temperate" ja "Warm weather" malli, jotka ovat kuitenkin loppupeleissä eri housut.
0
0
I would recommend for a friend
Perttu T.

21.10.2017

Verified purchase
Olen omistanut jo muutaman vuoden ja nähtävästi tuota kevyempää warm weather-mallia, ei mitään pahaa sanottavaa erittäin toimivat housut varsinkin kesällä.
2
0
I would recommend for a friend
Magnus C.

10.02.2018

Verified purchase
Good pants. Just be aware that a bit small in waist. I wear 30" in jeans and bought 75/84 in these and the fit . No more pizza this year.
3
1
I would recommend for a friend
Teuvo H.

07.01.2019

Verified purchase
Taitaa olla jo neljältä syksyltä käyttökokemusta. Takki ja housut tulivat tehtaan kretongissa joten uutta sain. Ompelin napit housunkaulukseen joten BW:n seitsemän euron -omalle pitkälle selälleni tuunatut- olkaimet pitävät pöksyt paikoillaan vyötäröä ahdistelematta. Mitä pidempi matka, sitä hankalampi varuste vyö on. Housuissa on korkea vyötärö jonka suomasta suojasta varsinkin selkäpuolelle olen mieluissani. Yksinkertaiset nauhat lahjesuissa kietaisee maastokengän varteen napparasti.

Takista sen verran jotta lie siirtomaaherroilla slightly kaposemmat hartiat kuin metsien skandeilla, eli ainut kevyesti ahdistava seikka oli hartialeikkaus. Käytössä takki on muotoutunut istuvammaksi. Taskutilaa ei mainosteta suotta. Pieni repullinen tavaraa kulkee rinnuksilla sekä reisillä. Prkleen kestävä pukine.

Merinoalusasun kanssa pärjää pikkutuulessa mainiosti kersoja ulkoiluttaessa. Risman tädit tykkää kun nämä päällä käy makkarapaketin hakemassa.
2
0
I would recommend for a friend
Petri H.

22.07.2019

Verified purchase
Hyväkuntoiset temperate-mallin pöksyt sain, käytön jälkiä ei löydä etsimälläkään. Farkuissa käytän kokoa 36/30, nämä tilasin kokona 85/96 ja sopivat kuin lapio naamaan, persjalkaiselle lahkeiden jämäsentit saa kätevästi kuriin nyöreillä ja kaljamahaisen vyötäröllä pysyvät ilman vyötäkin. Leikkaus on reisitaskuhousuiksi yllättävän istuva, mutta ei rajoita liikkuvuutta lainkaan, vyötörön mataluus yllätti positiivisesti. Sivutaskut ovat verkkomallia, mutta vasemmalta puolen löytyi ns. tuplatasku eli verkkotaskun alla on erikseen vetoketjulla varustettu kangastasku, jonne vaikka avaimet sujahtaa nätisti. Mainiot kesähousut ja mustalla väripanoksella näistä tuli katu-uskottavat urbaanimpaankin ympäristöön tosin maastokuviohan edelleen on näkyvissä sekoitemateriaalista johtuen. Vahva suositus, ostaisin toiset jos olisi kokoja jäljellä.

Päivitys 25.9.2019:
Kolmet housut testattu ja neljännet on tilauksessa. Housujen kunto on ollut vaihteleva ja kuluneimmissa on joutunut taskujen saumoja hieman paikkailemaan. Kahdet sain uudenveroisina ja toiset niistä olivat paksumpaa warm weather-mallia, joista löytyy kangastaskut ilman verkkohöpötyksiä ja ovat muutenkin jämäkämmät, kuitenkin tarpeeksi ohuet myös kesähousuiksi, kevyitä pakkasiakin on silti tullut kuljettua kalsareiden kera palelematta paksumman kankaan blokatessa pahimmat tuulenvireet. Kaikenkaikkiaan nämä ovat istuvuudeltaan mukavimmat ja käytännöllisimmät housut mitä olen omistanut, tyylikkyydestä tinkimättä.

HUOM: Jos meinaat tuunata värjäämällä, ota huomioon että housuissa saattaa olla materiaalin suhteen vaihtelua, joka vaikuttaa värjäystulokseen rajusti. Itselläni kävi niin, että tummalla värillä värjäyksen jälkeen lahkeiden kankaasta näki kilometrin päähän aiemmin huomaamattoman valkoisen ruutumaisen kuvion (ripstop...?) kun taas haarovälin vahvikekankaassa ei tuota kuviota ollut, lopputuloksesta tuli aika kotikutoinen vaikutelma(värinpoistoaineella kuitenkin sain palautettua lähes alkuperäisen värin, housut kannattaa kääntää nurinpäin ennen värjäystä niin tuon materiaalin vaihtelun voi ennakoida.) Toisaalta ensimmäiset saamani housut onnistuin väärjäämään tasaisen tummaksi kankaan ollessa kauttaaltaan samanlaista, maastokuvio toki jää näkyviin joka tapauksessa.
1
0
I would recommend for a friend
Hunter T.

16.10.2019

Verified purchase
All in all great pants with excellent slanted pockets, do be aware the waist tends to be a tad small. Also, maybe the cut doesnt agree with my legs but if you care how your pants look, these are quite baggy, very utilitarian no nonsense cut. The mesh pockets and the inside zip pocket are excellent however the mesh tends to rip, as both pants I got have small rips in the mesh pocket. MTP pattern was not faded.
1
0