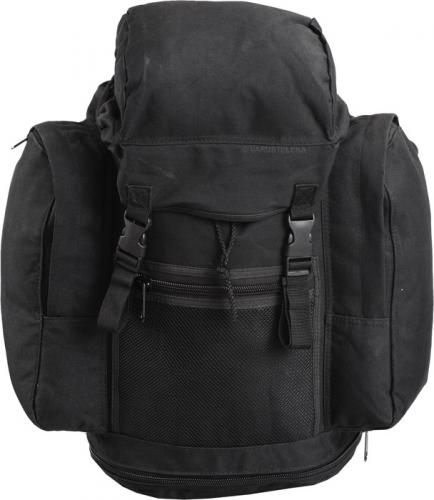 British patrol backpack, 30 litres, black, surplus
Price 29.99 USD excluding VAT
Flat Rate Shipping to USA $9.99
85 % recommends
Sold 6 pcs in the last two weeks
In stock 12 pcs. Also available in our walk-in store.
Trouble with the metric system? Try our converter: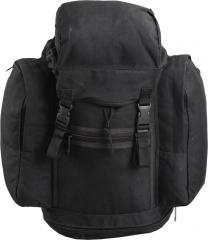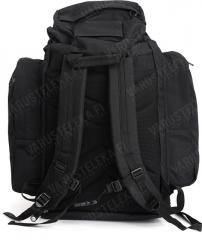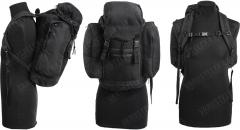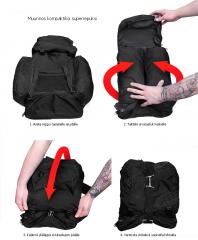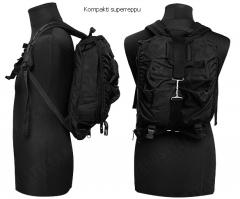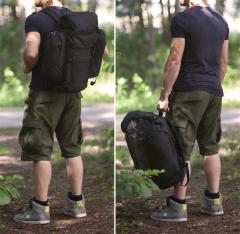 The Brits have managed to outdo themselves with these backpacks. Real military equipment, coloured black!
Apparently it pays to take some features of civilian gear to military stuff - and this pack is a fine example of this! Ergonomically designed, easy to use and sports a volume of some 30l. Just right for a day pack!
Black is a colour you don't see too often in military surplus categories, but every now and then we get lucky, as the British have a fondness for black stuff, whether it's clothes, combat gear or bags.
Material and features
The pack is made of tough cordura or whatever, is black as sin, has a large flap, two side pockets and a zippered stash at the bottom. The latter might be "de-activated" (cut open) though, gaining access to the main compartment from below. The main compartment's dimensions are about 27 x 45 x 15 cm. On the outside: a mesh pocket, carrying handle and a place for an ID-tag.
Used military surplus
Used, but in perfectly serviceable condition.
Recommendations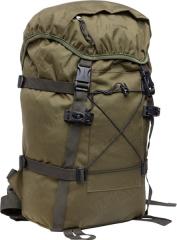 Berghaus Munro daypack
91.99 USD
Similar product.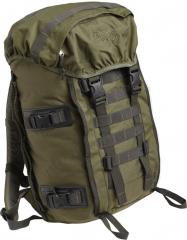 Berghaus Centurio 30 rucksack
101.99 USD
Similar product.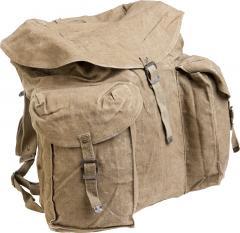 Italian mountain rucksack, surplus
13.99 USD
Viewed together.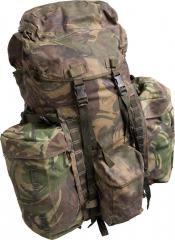 British PLCE rucksack, DPM, surplus, with frame
64.99 USD
Viewed together.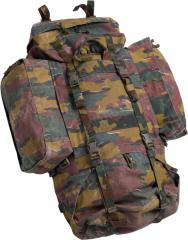 Belgian large rucksack, Jigsaw-camo, surplus
82.99 USD
Viewed together.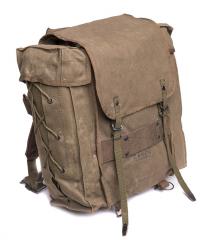 Italian daypack, surplus
32.99 USD
Similar product.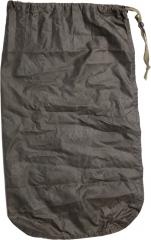 British PLCE bergen liner bag, small, surplus
2.99 USD
Sometimes purchased with.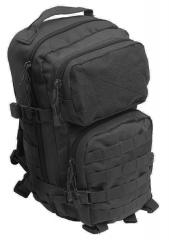 Särmä Assault Pack
32.99 USD
Similar product.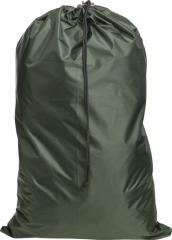 Finnish M05 pack sack
13.99 USD
Might be of interest.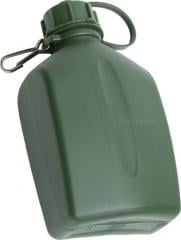 Finnish Canteen, 1 l
7.99 USD
Buy also.
DD Waterproof Stuff Sacks x 3
9.99 USD
Buy also.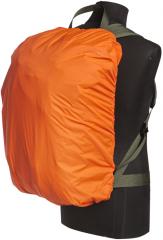 Särmä backpack rain cover, orange
9.99 USD
Buy also.
Reviews
You have already submitted a review. You can edit your text by clicking on it.
Log in and write a review.
Remove filter
Suomi
(19)
English
(14)
I would recommend for a friend
aatos a.

27.08.2016 (Edited 01.09.2016)
Moe! Tämä reppu on uskomattoman monipuolinen, pitää veden ulkopuolella, jos ei kaatosateessa avaa reppua. Brittiläinen sadeasu mahtuu mainiosti sinne minne se kuuluukin, ala taskuun siis. Oikein mainio reppu kotimaan retkeilyyn, kuin ulkomaillekin mukaan otettavaksi. Suosittelen oikein lämpimästi tätä kantoöaitetta!!!

Aatu
4
2
I would recommend for a friend
Aleksi K.

17.09.2016 (Edited 20.09.2016)
Hyvä ja kestävä siviilireppu. Huonoa on se, että vyötäröremmiä ei ole, eikä selkämystä ole vahvistettu mitenkään, joten pääsee herkästi paisumaan epämukavaksi palloksi jos ei ole jäykistävää elementtiä mukana. Fiksusti pakkaamalla ja ehkä vyötäröremmin lisäämällä tästä saanee kuitenkin ihan hyvän retkirepun.

On tässä silti aika hurjasti hyvääkin. Tilaa on vaikka kuinka. Pohjatilaan saa survottua märät varusteet muista eristyksiin, tai vaihtoehtoisesti pohjataskun voi läväyttää ulos akuutissa lisätilan tarpeessa. Sivutaskuihin mahtuu kuusi 0,33 litran juomatölkkiä kumpaankin. Kannen taskuun saa mahdutettua mm. sellaisen lyhyemmän litran vetoisen juomatölkin. Kansiläpän alle saa vielä mahdutettua makuupussin, makuualustan tai mitä ikinä tarvitseekaan. Sisällä on mm 15.6" läppärille sopiva avoin selkätasku. Vesikään ei ole koskaan pääsyt vahingossa sisään. Mustan värin ansiosta saat hyvän armeijarepun, eivätkä muut kaupassakävijät luule sinun olevan eksynyt metsästäjä tai sotahullu.

Huonommasta on helppo maksaa paljon enemmän, parempaa on aika vaikea löytää paljon halvemmalla.
8
2
I would recommend for a friend
lasse l.

29.09.2016 (Edited 28.11.2016)
I would recommend for a friend
Jason S.

25.12.2016 (Edited 27.12.2016)
Great quality backpack for a few nights out with minimal kit.
Also works well as a motorcycle commuting pack with side and pouch zippers keeping everything secure in it's place.
7
4
I would recommend for a friend
Joel W.

04.02.2017
I would not recommend to a friend
Juhani L.

11.02.2017 (Edited 03.05.2017)
Aika rähjääntynyt reppu. Taisi olla varaston viimeinen kappale.
7
9
I would recommend for a friend
Jouni T.

19.02.2017
I would recommend for a friend
Juha M.

01.03.2017
Rinkka näyttyy uudelta. Ainoastaan muovisoljissa pientä käytönjalkeä. Muokkautuu hyvin käyttötilanteiden mukaan. Toimii normaalina selkäreppuna ja alataskun avaamalla saa lisätilaa todella runsaasti, puhutaan jo oikeasta rinkasta. Tilaa riittää hyvin omiin 2-3 yön eräilyihin. Todella hyvä ostos!
3
7
I would not recommend to a friend
Sami K.

02.03.2017 (Edited 06.04.2017)
Kolmenkytä vuoden retkeilyn ja vuosien lekailun tuloksena mulla on noin kakskytä reppua ja tää on selkeesti huonoin. Työn jälki on varsinkin brittikamaksi tosi kehnoa, saumat repeilee auki sieltä ja täältä. Alavetskaria ei voi avata, koska tilaa jakava höttö muovike on repeytynyt ja kamat putoilee ulos. Kanto-ominaisuudet on ihan surkeet. Jos ei askartele rankaa, reppu heiluu selässä pallomaisena perunasäkkinä. Olkaviillekkeet ovat kivikovat ja niin lähellä toisiaan, ettei tää pussukka voi sopia kuin kynäniskoille. Hankala uskoa, että ylläolevat kehuvat kommentit arvioivat samaa vehjettä. Ulkotaskut on ihan kivat, niistä ekstratähti, joskaan en käytä mokomaa rakkinetta enää ikinä missään.
22
7
I would recommend for a friend
Otto L.

03.03.2017
Hintaisekseen oikein hyvä reppu. Kestävää materiaalia, vetoketjut ovat jämäkät, tilavahkot sivutaskut ja itse asiassa toi läppä suojaa tavaroita kastumiselta aika hyvin. Plussaa myös tuosta pikkuverkkotaskusta. Sattuu selkään hyvin, säädöt on kätevät. Sitten, on tässä huonojakin puolia: selkäpuoli ei ole kovinkaan jämäkkä, joten reppu pitää pakata huolella. Pohjan vetoketju on myös ongelma, sillä jos reppu esimerkiksi on puolillaan painavahkoa tavaraa, alkaa vetoketju aukeamaan liikkuessa. Tämä ongelma tosin ratkeaa sitomalla vetoketjun lenkit yhteen.
Kyllä tämä 25€ repuksi kelpaa, mutta mielestäni mil-tecin ja särmän vastaavat tuotteet ovat parempia.
3
0
I would not recommend to a friend
Jude S.

02.04.2017 (Edited 08.05.2017)
Very flimsy. Will not take abuse!
12
27
I would recommend for a friend
Jalkajousi J.

26.06.2017
Kätevä vähä pienempi reppu,päivän-parin reissulle!
2
1
I would recommend for a friend
Timi K.

11.07.2017 (Edited 11.07.2017)
Mulla on ollut tämä reppu jo...useita vuosia? Yleensä olen juuri ulkomaan matkoilla tätä käyttänyt. Ainakin omani oli hyvässä kunnossa kun sen sain, mutta olen myös nähnyt kavereiden saaneen vähän käytetympiä. Minulla ei ole pahaa sanottavaa, kuukauden reissut Aasiassa samoillun tämän kanssa, mutta kotimaan metsäretkille olen valinnut aina toisen repun. Eli urbaanissa ympäristössä ja matkoilla toimii, metsässä ehkä hieman tukalampi kantaa pitempiä aikoja. Repun tilavuus on hyvä.
1
0
I would recommend for a friend
Mikko T.

19.07.2017
Telkkarista tuli kerrankin jotain katsottavaa ,britti laivastosta. Kyseessä on Royal Navyn käyttämä päiväreppu,siitä väri. Omaani tuunasin leikkaamalla sakujen ohuen ohuesta kenttäpatjasta sopivan palan selkätaskuun,toimii istuinalusena tulilla. Reppuun mahtuu hyvin kamera ja kaljalaatikko! + rintaremmi...
0
0
I would not recommend to a friend
Tomi L.

25.07.2017 (Edited 26.07.2017)
Ei tunnu olevan pitkäaikaiseen käyttöön. Ensimmäinen reppu oli ulkoisesti lähes käyttämättömän oloinen mutta valmiiksi vetoketjun vierestä revennyt. Palautin. Toinen oli myös kuin uusi mutta muutaman päivän käytön jälkeen repeämää siellä täällä. Osta viikonloppureissulle tai festareille, älä päivittäiseen käyttöön.
8
5
I would recommend for a friend
Duncan B.

23.10.2017
The perfect BOB, holds just about the right amount of gear, so you can still move fast and keep all you stuff secure, Buy a Rucksack waterproof cover to go with it, as like many burgen style rucksack, when wet they pack on pounds.
4
1
I would recommend for a friend
Matti P.

26.10.2017
Kannoin tällä 30 purkkia olutta festareille, ja muutakin romua mahtui vielä mukaan. Halpa ja kestävä, todella "robust"! Harmittaa vähän että myin eteenpäin.
1
0
I would recommend for a friend
Harri K.

30.10.2017 (Edited 30.10.2017)
Ei arvostelu vaan alkuperäarvelu: Tämä taitaakin olla brittien merivoimien eli Royal Navyn reppu. Eilen 29.10.2017 tulleessa Tähtäimessä merivoimat-sarjan osassa näkyi Royal Navyn alokkaiden selässä tämännäköisiä reppuja.
1
0
I would recommend for a friend
Sebastian W.

15.12.2017
Good and sturdy backpack, it has become my got-to backpack. The inside flap will nicely fit a laptop.
8
0
I would recommend for a friend
Niko C.

16.12.2017
Olkahihnat ovat yllävän kapoiset, mutta kestävät hyvin sen mitä tuohon reppuun tunkisikin. Ei siis suuria taakkoja varten, eikä runnottavaksi - ei anna vaikutusta materiaalien kestävyydestä.
Muuten yleisessä käytössä hyvinkin pätevä reppu.
0
0
I would recommend for a friend
Sami U.

01.02.2018
Muuten hyvän tuntuinen reppu, mutta haisee ihan jäätävälle ja "alatasku" valmiiksi riekaleina.
1
0
I would recommend for a friend
Juho J.

06.03.2018 (Edited 11.10.2018)
Ollut jatkuvassa käytössä ainakin 5 vuotta, josta ensimmäiset 3 päivittäisessä käytössä liikkuessa jalkaisin sekä koulureppuna että kauppareissuilla. Sen jälkeen yleisreppuna mukana kaikkialla - kulkee kiltisti lentokoneessa käsimatkatavarana vaikka olisi täynnä Riigan kentältä ostettuja lasipulloja. Kiristysnaru, klipsit ja vetoketjut ovat yhä täysin kunnossa - ensimmäinen hajoava kohta repussa on yläosan kangas, josta viimeisen vuoden käytön aikana on alkanut paistaa paikoitellen päivä läpi. Ei vielä niin pahasti, että kangas olisi repeytynyt mistään kohtaa.



Selkälokero syö näppärästi a4-lehtiön ja ~14" läppärin suojapussissa, ja ainakin ensimmäinen - usein molemmat - ovat olleet aina mukana. Sivutaskujen isot tuplavetoketjut saa auki ja kiinni vaikka hanskat kädessä. Pohjatasku on ihan ok, omassa repussa osien välissä oleva kangas on ehjä ja kestänyt kevyiden ostosten raahaamisen kotiin kun reppuun on tarvinnut ylimääräistä tilaa. Useimmiten alataskussa on pyörinyt mukana ylimääräinen kauppakassi tai talvisaikaan kenkien liukuesteet siirtyessä ulkoa sisätiloihin. Iso tuplavetotju tarkoittaa, että alataskun saa auki ja kiinni vaikka reppu olisi selässä. Hyvä esimerkiksi juuri liukuesteiden siirtelyyn. Pienessä verkkotaskussa kulkee kynä ellei useampikin, ja verkkotaskun vetoketju on sopivalla kohdalla heijastimen roikottamiseen. Läpän taskuun menee helposti aurinkolasit ja pienen apteekin verran lääkkeitä. Läpän alle, ainakin klipsejä hieman löysäämällä, menee brittien windproof smocki siististi kaksinkerroin taitettuna - silloin harvoin kun Suomessa on joutunut heittämään takin pois päältä ulkona liikkuessa.



Kaiken kaikkiaan päivittäiseen käyttöön hyvällä hinta-laatusuhteella oleva toimiva reppu - JOS ostajalle sattuu hyvä tuuri ja 'leka lähettää lähes käyttämättömän repun, jollainen omani ilmeisesti on ollut verratessa muiden ostajien arvioihin ja kommentteihin hajonneista repuista.

ed:11.10-18; Ostin toisen korvaamaan aiempaa. Saapunut reppu on.. mysteeri. Ulkopuolelta kangas näyttää (ja tuntuu/haisee) täysin käyttämättömältä, päätaskun sisällä on kumipinnoitus, jota edellisessä ei tainnut olla koskaan, kaikki on jämäkkää ja käyttämättömmän oloista - paitsi suurin osa vetoketjujen vetimistä on katkaistu(katkennut?)/korvattu metallirenkailla ja muutoin kaikki kuluneen näköisiä, mutta toimivat. Lisäksi läpän sisällä olevan taskun sisäpuoli on riekaleina. Eli 'edellinen käyttäjä' on tehnyt jonkinlaista kenttämodausta vetoketjuihin ja käyttänyt reppua ainoastaan kuljettaakseen partahöylän teriä läpän taskussa. No, aika napsia loputkin vetimistä irti ja väkertää tilalle vaikka paracordista vetimet.. Tähän hintaan pieni tee-se-itse korjauspäivä ei oo paha.
1
1
I would recommend for a friend
Terry H.

03.05.2018
Great condition fast shipping. Had to restitch a few cm around one of the zippers but only minor very pleased for the price. Very durable pack!
3
0
I would recommend for a friend
Carolyn W.

23.06.2018
This bag is great! It's a steal at $24 USD. The absolutely only thing wrong with mine was that all the metal zipper pulls (just the pulls not the zipper itself) broke and crumbled. Easily repaired with paracord! And now I have a badass bag for dirt cheap. The inside waterproofing is patchy in a few corners but that's no big deal. The straps on mine are kind of hard, I don't know whether from dried sweat or just dried out foam padding or what, but it doesn't affect the comfort of the pack. Get one as a chuck around bag!
5
0
I would recommend for a friend
Matthew R.

12.09.2018
My new favourite backpack! Lots of room in this, you can fit a laptop into the back pouch in the main compartment, and the side compartments are large too. Ideal for summer camping or a weekend trip. I recently went to see a friend for the weekend, and I packed a change of clothes, laptop, 2x 1 litre water flasks, phone charger and toiletries. I went into the supermarket on my return journey and managed to fit in two 375g boxes of cereal, with ease. This backpack is very well made and sturdy, very comfortable and the chest strap is useful. Also, it's nice and covert for people who prefer that style! Such a bargain for the price, great piece of kit.
5
0
I would recommend for a friend
Aidan H.

14.10.2018
Mine is it near perfect condition, with a bit of velcro-induced fraying on the padded side of the straps.

It came with a really waxy coating that stuck to my hands and smelled like hell. I spritzed water on it a couple times and gave it a vigorous rub, then waited a few weeks and it washed off.

The bag itself is decent. It's not made for huge loads but it certainly works as a day pack. The lining on the bottom and side pockets is strange but it's not a big deal. The two side pockets don't have much room but can hold a skinny water bottle and some other small things. The Front mesh pouch can hold absolutely nothing and is sort of pointless. It has no space unless you're putting paper in it as it does not have any give to it.

Overall this is a dirt cheap bag and for the price it's quite good. I would buy one just because.
6
0
I would recommend for a friend
Esa P.

06.03.2019
Eräs ensimmäisiä ostoksiani Varustelekalta ja yhä toimii. Olen käyttänyt muutaman yön kestävillä urbaanimatkoilla ja kantanut kaupasta tällä viikon ruokatarvikkeet. Hyvin tuntuu painoa kestävän.

Pussiosan suun kiristysremmin putki repesi melkein heti ostettua, mutta äiti ompeli ehjäksi.
0
0
I would recommend for a friend
tat w.

07.05.2019
very good, strong bag.
popular with motorcyclists.
robust enough for site visits, smart enough for meetings.
the zip pulls jingle a bit. not an issue for me but always wondered how that would affect stealth on dark northern irish streets.
3
0
I would recommend for a friend
David O.

14.06.2019 (Edited 24.06.2019)
This finally arrived the other week, after many vicissitudes which it would be tedious to repeat here. What I will, say, however, is that Varusteleka's customer service was excellent throughout, and I would recommend them on that basis alone.



As for the backpack itself, it's definitely for daypack use only - while I have not yet had the chance to "road test" it, I happily concur with Aidan H.'s verdict below.

Edited to add (24.06.2019): Since writing the above I have had the chance to take this bag out on the road - and what can I say? I'm extremely satisfied with it. In addition to being obviously strong and sturdy, and carrying just the right amount of stuff, it also rides high up on the back. This makes it - in my opinion - one of the most comfortable backpacks I've ever used. As an Irishman, I shouldn't say this, but hats off to the British army for this one (you can keep all that Brexit stuff, sorry guys). You may not know it, but you need this bag.
2
0
I would not recommend to a friend
Joshua A.

11.07.2019
Very surprised to see this have such glowing reviews - but not surprised that many of those reviews come from those just getting the packet. I guess it's possible there are different revisions of this bag - the ones I had had two zips on the bottom but I see my wife's current issue one has a single zip and all the pulls have been replaced by para-cord (mine had metal pulls).

The big problem with this bag (as some of the non-english reviews state) from my experience is that it doesn't last. Personally I had 2 of these issued. The first one failed after 6 months of office use. The second one failed after about 9 months, at which point I just got one of the Northern Ireland Patrol Packs issued to me. That thing lasted over a decade and still looked perfect.

The zips fail pretty quickly on this bag, especially the bottom one as it gets smashed off easily thanks to it's position. The mesh is weak in the stitching around it and can pull out easily because it's not stretchy, so anything you shove in there get the full force transferred to the stitching.

Inside the lining degrades and falls apart leaving annoying flakes over everything. This is particularly annoying.

Regarding the material - I do question whether it's Cordura/Nylon. Maybe it is, I can't find definitive info, but it does feel more like polyester to me. It seems tough enough but having actually used these for more than a few days after opening the packet they do have their faults.

On a positive note, it is well designed in terms of pockets and little features like the sternum strap and segregated bottom area. Plus the black colour is really nice too.
2
1
I would recommend for a friend
Henri J.

28.01.2020
Minulle tullut reppu oli hyväkuntoinen, perus käytetyn näköinen, mutta ehjä ja saumatkin hyvässä kunnossa. Ihan ok perusreppu ainakin muutaman tunnin päiväretkille ja miksei reissureppuna, jos menee kaverin luokse yökylään. Reppu on itselläni metsästyskäytössä jänismetsällä, ne reissut kun eivät yleensä puoltapäivää pidemmälle kestä. Jänismetsää ajatellen reppuun mahtuvat tarvittavat kamppeet, kuten evästä ja mahdollinen saaliskin. Hirvimetsälle en tätä ottaisi, sillä sinne täytyy mahtua varavaatetta ja enemmän evästä.
0
0
I would recommend for a friend
Singing S.

31.01.2020
我收到了背包,很棒的背包,看起來跟新的一樣,感謝你們。
I received the rucksack, It is just like new. Thank you so much.
0
0
I would recommend for a friend
Tilo K.

02.02.2020
Pros:
super comfy, fits like a glove, packs enough for its size.

Cons:
When it came, all but one zipper puller were broken. After a little use the last one broke, too. Easy to fix with paracord though.
The flap isn't exactly huge - if the backpack isn't entirely full there might get some rain in on the sides.
0
0