Product added to cart
X
Recommendations
Show all Recommendations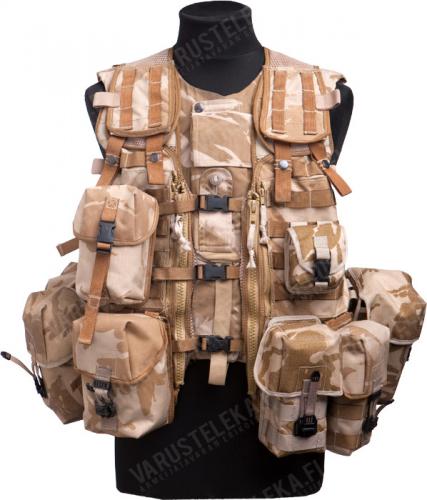 British Osprey load bearing vest package, Desert DPM, surplus
Price 36.99 USD excluding VAT
Flat Rate Shipping to USA $9.99
93 % recommends
Sold 8 pcs in the last two weeks
In stock 9 pcs. Also available in our walk-in store.
Trouble with the metric system? Try our converter: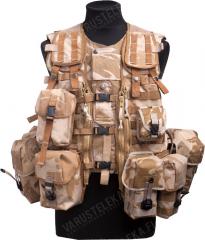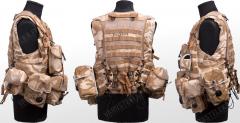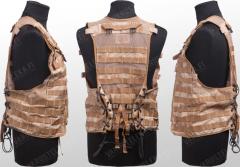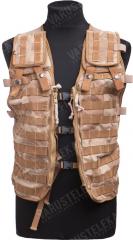 A genuine British Osprey combat vest. Here's a good package deal with some useful pouches. Used.
Note: the body armour seen in the pictures is not included.
The package includes something like this:
Osprey load bearing vest base
2 pcs SA80 Ammo Pouches
2 pcs Utility Pouches
AP Grenade Pouch
Small Utility Pouch
Medical Pouch
Water Bottle Pouch
Note 2: the above list is an example of what you might get. The composition of the pouches might vary a bit. Hey, a genuine Osprey set for this price is a solid deal if you ask us!
The British Osprey system is similar to the US MOLLE system and Interceptor body armour. The vest is meant to be worn over body armor and equipped with the pouches you need where you need them.
The vest itself has two smaller and two larger hidden pockets. The large pocket on the right fits a pistol and two magazines. The back has a small pocket for a map or wallet. On the outside you'll find quick release buckles for a PLCE rucksack side pouch or compatible hydration carriers.
All pouches and the vest itself feature the Desert DPM camo pattern and NIR protection as usual with modern war stuff.
Osprey vests have been in use in Iraq and Afghanistan by all branches of British armed forces.
Size info
The vest is designed to be worn over body armour, but it doesn't have to be specifically the Osprey body armour. Without body armour you should have a lot of clothes or weight, because even when adjusted all the way down the circumference around the torso is about 100 cm. The sides are adjusted with weaved drawcords and the length is adjusted at the shoulders. The adjustments were made with bigger fellows in mind.
MOLLE-compatible
The pouch attachment is very similar to the PALS webbing found on MOLLE gear. The measurements are slightly different, but generally any Osprey stuff goes together with MOLLE either way. The vest is covered with webbing so you have a lot of room for creative solutions.
Used army surplus
Used, and in perfectly serviceable condition. The vest in the picture is unissued, so expect a somewhat more faded vest.
Recommendations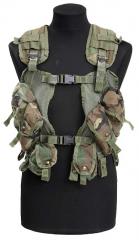 US LBV, Woodland, surplus
23.99 USD
Similar product.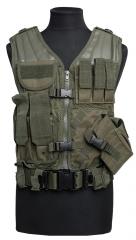 Mil-Tec Cross Draw Vest
50.99 USD
Similar product.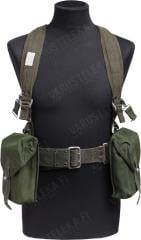 Swedish webbing set 304, used
9.99 USD
Viewed together.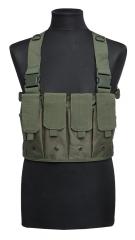 Mil-Tec Mag Carrier Chestig
18.99 USD
Similar product.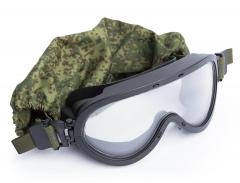 Russian Ratnik 6B50 ballistic goggles, Digiflora, surplus
82.99 USD
Viewed together.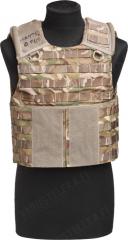 British Osprey body armour, MTP, surplus
64.99 USD
Sometimes purchased with.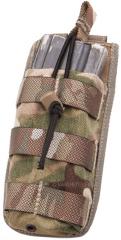 British Osprey SA80 open top ammunition pouch, MTP, surplus
6.99 USD
Sometimes purchased with.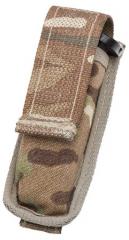 British Osprey pistol mag pouch, MTP, surplus
4.99 USD
Sometimes purchased with.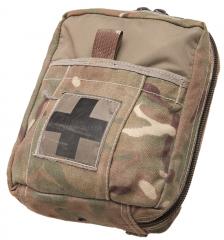 British Army Osprey IFAK pouch, MTP, surplus
18.99 USD
Sometimes purchased with.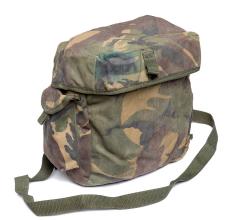 British PLCE gas mask bag, DPM, surplus
4.99 USD
Sometimes purchased with.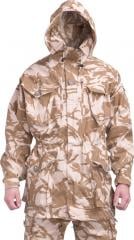 British CS95 Windproof Smock, Desert DPM, surplus
32.99 USD
Sometimes purchased with.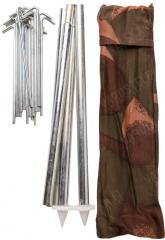 Hungarian tent accessory set, surplus
7.99 USD
Sometimes purchased with.
Dutch small duffel bag, surplus
13.99 USD
Sometimes purchased with.
Reviews
You have already submitted a review. You can edit your text by clicking on it.
Log in and write a review.
Remove filter
Suomi
(2)
English
(12)
I would recommend for a friend
Justin N.

04.04.2017
I bought this figuring that I was going to get some crappy combat vest that I could steal pouches off of. I was completely wrong this thing was used but in great shape and great value for the money. I'm giving it a 4.5 out of five because some limy spilt tea on it lol definitely getting another for sure
14
0
I would recommend for a friend
Arttu R.

22.05.2017
Todella mukava liivipohja ja loistava määrä taskuja mukana. Laatu perinteistä brittiä eli ei ole vielä vuodenkaan jälkeen hajonnut mistään kohtaa. Ei ehkä suomeen sopivin väri/ maastokuvio mutta se korjaantui helposti parilla maastospray -purkilla.
10
0
I would recommend for a friend
Ron B.

28.05.2017
Excellent value. The vest I received came with 13 Molle pouches: Utility x 3, small utility x 1, medical x 1, grenade x 2, 40 mm grenade x 2, SA80 ammo x 2, water x 1, torch x 1; as stated in the description, this will vary. The vest and the pouches were in great shape. I am over 6 feet tall and over 200 pounds, and the vest fits me well; it is adjustable smaller and larger. The 40 mm grenade pouches are the smallest; I made one into a fire starter kit (ferro rod, cotton balls, esbit tabs). A standard 1 quart US canteen does fit in the water pouch. I plan to order more.
14
0
I would recommend for a friend
Juha L.

15.01.2018
Oikein näppärä paketti hyvään hintaan. Liivipohja saapui minulle täysin pränikkänä ja taskut olivat vain hieman käytettyjä. Taskuja tuli enemmän kuin luvattiin; 2x lipastasku, 2x yleistasku, pieni yleistasku, 2x heitetasku, 2x 40mm tasku, lääkintätasku ja snickers-tasku. Osprey systeemi on täysin yhteenkäypä mollen kanssa, ja näin ostinkin erillisen lipastaskun (joka kannattaa hommata mikäli pyssysi syö ak:n lippaita) sekä pari muuta. Ainoa huonompi homma on tuo väri mutta senhän saa itse korjattua, paitsi jos pelkää että joku hyökkää strömsöstä. Enpä itse ainakaan ole mistään muualta löytänyt yhtä hyvää settiä samaan hintaan.
3
1
I would not recommend to a friend
John W.

23.06.2018
Received the vest today and I couldn't be happier. Not only is the vest well made and sturdy, it came with 13 pouches. Sweet fancy nut sampler, I'm as happy as a school girl who just got a new pony. This vest is a great deal for anyone who needs to carry a lot of supplies and still have your hands free.
3
2
I would recommend for a friend
Matija K.

01.09.2018
The quallity of the vest and pouches is just outstanding! Got the same 13 pouch layout as Ron B. and both the vest and pouches i got seem to be unissued.
For this amount of money, it's not a bargain, it's a steal!
7
0
I would recommend for a friend
stephane r.

19.09.2018
This vest and pouches are in excellent condition for the money it's a steal cant wait to try it out
3
0
I would recommend for a friend
Björn R.

29.09.2018
Excellent stuff for an excellent price. Actually, insane price with regards to what was delivered. Top notch quality and mine looked almost brand new. Will blend in nicely in autumn colours.
4
0
I would recommend for a friend
Alex T.

29.10.2018
For the price, this is a crazy deal. My stuff came in what looks like factory plastic - if the kit ever was issued, it's was to some R.E.M.F. who never even got it dirty. Obviously luck of the draw there, but I also got even more than what was promised as far as pouches; 2x mag pouches, 3x large utility pouches, 2x AP grenade pouches, 2x 40mm grenade pouches, a med pouch, a small utility pouch, a water bottle pouch, and a "knife/torch" utility pouch. Honestly better than I had hoped for even with the great reviews.
4
0
I would recommend for a friend
David F.

17.06.2019
I would recommend for a friend
Johnny H.

27.08.2019
This is really good. I got a unissued vest. 13 pouches same as Ron B. The pouches were used but in Great condition. One of the utility pouches was disgusting. But still an unissued vest and 12 good pouches at this price is fantastic. The vest colour and fit was better than expected. Fits me perfect with a t-shirt under. It can be made larger. Im 95kg at 183cm.
0
0
I would recommend for a friend
Jonathan W.

29.08.2019
This is an absolute bargain. Mine was in pristine condition and looked like it had never been issued. In addition to the vest, I received 3x ammo pouches, 3x utility pouches, 1x small utility pouch, 2x AP grenade pouches, 2x 40mm grenade pouches, 1x medical pouch and 1 knife/torch pouch, so what you receive may vary, as per the experiences of other reviewers. Out of morbid interest, I just Googled the prices for the various pouches and they can sell for about £10 each on some websites - so I could easily have spent £130 on just the pouches alone, which demonstrates just how good this price is.

Great value for anybody interested in outdoorsy stuff. Delivery from Finland to the UK in 3 days was pretty damn good too!
0
0
I would recommend for a friend
Scott B.

03.09.2019
Everything is in decent shape except there is mold which I'll have to deal with. Satisfied with the product but not looking forward to cleaning. The price is too good and worth it.
0
0
I would recommend for a friend
Danny W.

30.10.2019 (Edited 30.10.2019)
Hello from the US. The vest I received was like brand new. I know they say used but this wasn't used. Even the pouches were like new and like many other reviews there was more then 8, I got 11. I would highly recommend this vest for anyone.
0
0