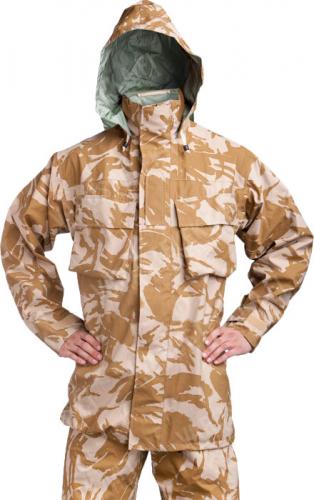 British MVP rain jacket, Desert DPM, surplus
Price 45.99 USD excluding VAT
Flat Rate Shipping to USA $9.99
100 % recommends
Sold 6 pcs in the last two weeks
Loading products...
Trouble with the metric system? Try our converter: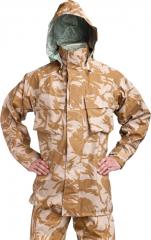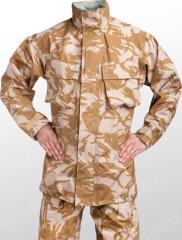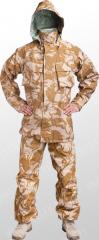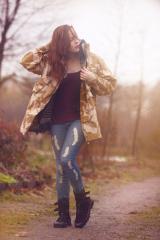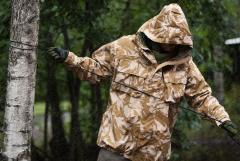 Genuine issue British MVP rain jacket with a Desert DPM pattern - unissued, most in factory wrappings MVP is the British equivalent to Gore-Tex and other waterproof membranes. These jackets are waterproof but breathe a bit, unlike old rubber "crisp packet" suits.
The British army rain jacket is very simple: a long hem and generous hood, fast front closure with a zipper and folding stormflap + velcro. Because there's no liner, this packs fairly small, but it's no fist-sized ultralight jacket that breaks as soon as you hit the deck. If you are after a low-cost durable no-nonsense GTX jacket, this is the ticket. No big loss if it gets damaged, this is a BIG plus in surplus. Of course being army issue stuff this thing is pretty durable to begin with.
No extra on this - it's just a protective shell with a hood. The simplicity has an added benefit: the jacket packs very small. An old British army trick is to wear this under the combat smock to retain the ability to use pockets and to protect the MVP jacket from wear and tear. A regular combat jacket is more stealthy, too.
A note about the membrane. While it's true the MVP (Moisture Vapour Permeable) membrane lets some moisture out just like Gore-Tex, it's not a magic do-it-all fabric. It's best used as rainwear, or as a windproof layer in stationary use. In heavy activity you will likely get wet from the inside.
Care
Please note that clothes with a membrane require care to retain their waterproof properties. Washing should be done in lukewarm water, by hand with a special detergent. Periodic waterproofing treatment is recommended by washing in, spraying on, or both.
Size
Easy size first, British size in the brackets: first user's height, then chest circumference in centimetres. The cut is roomy, because these are meant to be worn over everything.
Condition
Unissued, most still in factory plastics. If not, they have just been tried on.
Recommendations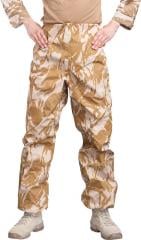 British MVP rain trousers, Desert DPM, surplus
18.99 USD
Almost always purchased with.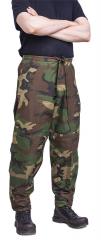 US ECWCS trousers, Gore-Tex, Woodland, surplus
45.99 USD
Viewed together.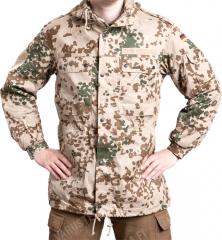 BW parka, Tropentarn, surplus
41.99 USD
Viewed together.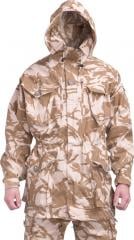 British CS95 Windproof Smock, Desert DPM, surplus
32.99 USD
Sometimes purchased with.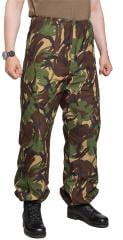 British MVP trousers, DPM, surplus
18.99 USD
Sometimes purchased with.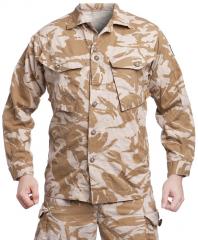 British CS95 field shirt, Desert DPM, surplus
9.99 USD
Sometimes purchased with.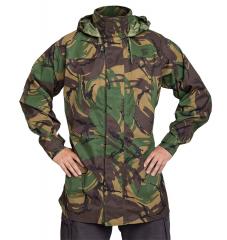 British MVP rain jacket, DPM, surplus
36.99 USD
Sometimes purchased with.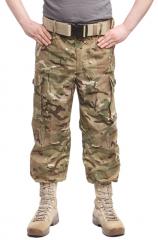 British CS95 Windproof trousers, MTP, surplus
45.99 USD
Sometimes purchased with.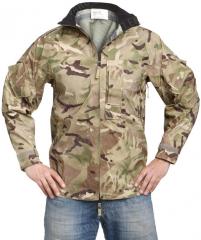 British MVP rain jacket, MTP, surplus
55.99 USD
Sometimes purchased with.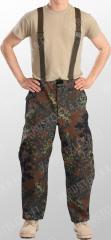 BW Gore-Tex trousers, Flecktarn, surplus
27.99 USD
Sometimes purchased with.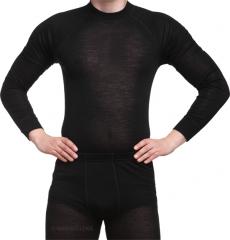 Särmä Merino Wool Long Sleeve Shirt, Black
36.99 USD
Might be of interest.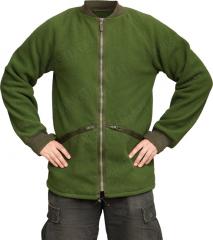 British CS95 fleece jacket, olive green, surplus
16.99 USD
Might be of interest.

Woly Protector 3 x 3 impregnation spray, 300 ml
9.99 USD
Buy also.
Reviews
You have already submitted a review. You can edit your text by clicking on it.
Log in and write a review.
Remove filter
Suomi
(9)
English
(3)
I would recommend for a friend
Nyt L.

30.09.2016 (Edited 23.05.2019)
Hyvä! Skootteroidessa pysyy sateelta kuivana kun on myös saman sarjan housut jalassa. Kuvio on aika hyvä , ainoastaan yksi pikkupoika kyseli kaupassa, että olisinko sotilas.. " en, vaan puutarhuri" . Ja tosiaan aavikkocamo soveltuu hyvin katukuvaankin, ainakin täällä maaseudulla.
Aavikolla harvemmin sataa , joten varsin iskemättömässä kunnossa sain omani.
8
1
I would recommend for a friend
Samuli K.

02.12.2016 (Edited 20.12.2016)
Erinomainen setti myöskin pyöräillessä, ja kuten aiemmin sanottua, aavikkocamo ei pistä niin paljoa silmään katukuvassa. Plussana mainittakoon, että fillarikypärä mahtuu helposti hupun alle. 5/5
2
0
I would recommend for a friend
Jan D.

11.08.2017
I would recommend for a friend
Marjaana K.

02.09.2017
Mainio takki❤️. Toimii myös pyöräillessä rankassa sateessa ja tuulessa. Väljä joten alle mahtuu ja rintataskut on näppärät. Kepittää kyllä mennen tullen entisen kuoritakin. Olen tyytyväinen. Marjaana K.
3
0
I would recommend for a friend
Tommi M.

07.09.2017
I would recommend for a friend
Aku R.

15.11.2017
Takki nyt ollut hetken testissä ja ei voi kun suositella! Tuli itse tilattua ehkä kokoa liian iso, mutta ei haittaa. Mahtuupahan talvenpäälle kampettakin reippaasti alle. Pyöräillessä aivan mainio takki ja takki istuu hyvin kaupunkiympäristöön.
2
0
I would recommend for a friend
Janne U.

17.04.2018 (Edited 17.04.2018)
Todellakin ollut tyytyväinen jo pari vuotta. Kävin myymälässä ja myyjä suositteli omastasta kokemuksestaan, että silloin kun sadehuosuja tarvitsee niin silloin ne ptää saada nopeasti kaiken muun päälle. Itse ostanut just päälle sopivat. Kiitti vinkistä ;) Pohjoisen kalareissuilla asu on tominut tosi hyvin!
3
0
I would recommend for a friend
Atte L.

10.08.2018
Pari vuotta olen odotellut, että kohdalleni osuu sopivan kokoinen takki.
Takki on hvyin tehty ja suunniteltu. Pitkä malli suojaa kivasti sateelta ja tuulelta niin eräillessä kuin pyöräillessä. Kaksimielinen vetoketjukin löytyy. Suosittelen takin ostamista niin eräilyy kuin arkikäyttöön. Gortexit sun muut vastaavat takit ovat erittäin kalliita, joten tällä takilla saa tuplattua mukavuuden huonossa kelissa ja säästettyä pitkän pennin. Siis sentin.
0
0
I would recommend for a friend
Niko-Petteri M.

01.05.2019
Pirun hyvä sadetakki joka kestää vähän rankemmankin sateen. Erittäin tilava ja helppokäyttöinen.
0
0
I would recommend for a friend
Frank S.

25.06.2019 (Edited 11.07.2019)
For the price, this is unbeatable. Mine came new in plastic. It reminds me of a Berghaus hardshell Goretex jacket I wore many years ago during treks in Sweden. It's not branded as such but essentially this is just old-style die-hard three-layer Gore-Tex. A bit stiff but it will take a beating. A decent hood with drawstring, simple stormflap, very basic. My wife thinks the desert camo is ugly, I don't mind as long as it keeps me dry during a hike or while taking care of our animals in the field. At least it doesn't make me look like any French hunter (they might think I'm a deer though). And it will go with my Särma tan fleece hoody... Staying dry at one tenth of the price of some high-end civilian hardshells, fine for me.
Update: it fits fine over the Särma windproof smock of the same size (I have both in XL Regular), covers it all the way down, the hood goes over the smock's hood and so on. The reach-through zipper gets you access to the smock's zippered chest pockets. As the smock itself is sized to be worn over a thick fleece, you get a whole layering system for less than the price of one big brand windbreaker.
2
0
I would recommend for a friend
Greg B.

07.11.2019
A brand new "Gortex" jacket for $61CAD?I like British desert cam even though I'm in the green south west of Canada.Came at a time when it's usually drenching here but have not had a drop in weeks.It will come and I'm sure this jacket will be great!
0
0
I would recommend for a friend
Jussi K.

08.11.2019
Hyvä asu on, vaikka aavikolle tarkoitettu niin aika hyvin / turhankin hyvin maastoutuu syksyisessä suomalaismetsässä jos ei ole taktisissa leikeissä vaan ihan vaan sienestämässä tms. Huppu tuntuu ehkä vähän isolta kun normivarustukseeni ei metsäilyssä kypärä kuulu.
1
0