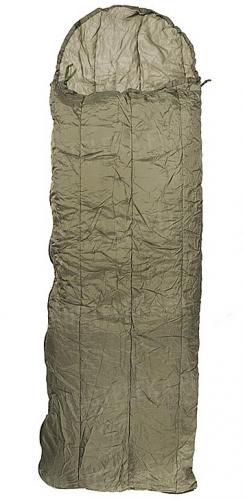 British jungle sleeping bag, surplus
Price 27.99 USD excluding VAT
Flat Rate Shipping to USA $9.99
100 % recommends
Sold 2 pcs in the last two weeks
In stock 4 pcs. Also available in our walk-in store.
Trouble with the metric system? Try our converter: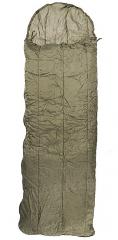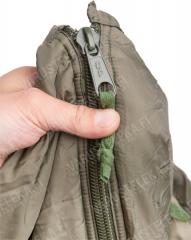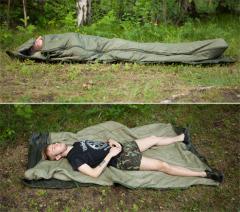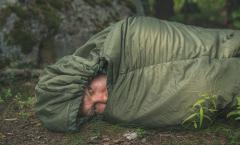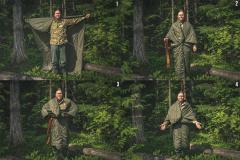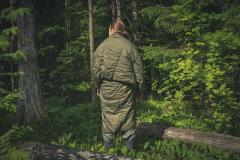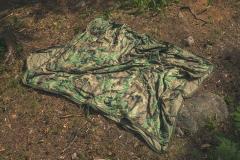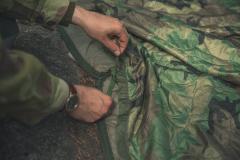 A small and lightweight sleeping bag for summer use. The specialty of the Jungle bag is the blanket feature. Also works like the American Woobie!
One season bag
Packs smaller than a football
Weight one kilo
Opens up to form a blanket
Can be used as a poncho liner with US and UK ponchos!
Just until recently, the British army generally used two sleeping bags: the hefty PLCE sleeping bag and this lightweight Jungle sleeping bag. These Jungle bags were designed to be used in warm climates, so it's perfect for summer use. One could also put on some warm clothing and cover the bag with a bivy bag to extend the comfort range.
The bag opens all the way with a sturdy zipper, thus doubling as a blanket. The hood can be drawn tighter with the provided cords.
There's tie cords laid out along the edges, so this will also work as a poncho liner. Kinda like the US "Woobie", but slightly thicker!
Moreover the sleeping bag can be worn as a poor man's thermal cloak - see the pictures!
Materials and temperature rating
The outer material is 100% polyester, and same stuff in is used on the filling too while the lowest layer is polyester mesh for that little extra comfort on hot weather. Wash in 40 degrees Celsius if you have to. Thanks to being all-synthetic the bag doesn't absorb sweat too much and if wet, it dries really quickly.
The comfort rating of this bag when new would be about +10 degrees Celsius. No accurate info, though.
Measurements approx. 186 x 70 cm. Weight 1000 g.
Used military surplus
Bags are used and perfectly usable. Some have colour blemishes due to long exposure to the sun.
Pro Tip: The US poncho liner "Woobie" can be attached to this bag so well it almost fits 1:1. This combination greatly increases the warmth of the bag!
Reviews
You have already submitted a review. You can edit your text by clicking on it.
Log in and write a review.
Remove filter
Suomi
(5)
English
(7)
I would recommend for a friend
Jason S.

25.12.2016 (Edited 27.12.2016)
The British jungle bag helps keep your rucksack weight down and works well when combined with a silk liner and the USGI poncho liner for cooler nights (based on Australian climate).
7
0
I would recommend for a friend
Tapani H.

14.01.2017
Ei paina älyttömästi, kestää kulutusta ja kohtalaisen tuulenkestäväkin. Tällaisella tuli nukuttua Ugandassa ja hyvin suojasi. Suomessa olen käyttänyt vähemmän mutta pitäisi kyllä lämmittää tarpeeksi kesäaikaan.
5
3
I would recommend for a friend
Alex R.

30.09.2017 (Edited 09.10.2017)
An incredible bargain! I ordered two and both arrived in excellent condition. One was manufactured in 2003 and the other in 2011. The older bag is made out of the same fabric inside and out. The interior of the newer bag is a mesh fabric that is probably intended to make the bag more breathable and faster-drying. The older bag strikes me as a bit sturdier (and warmer), but I am very happy with both. The best part of all? Both bags came with compression sacks! What an unbelievable deal.
7
2
I would recommend for a friend
Perttu T.

12.10.2017
Ostin näitä useamman kerralla, nukkumiseen ja jos tekisi underquiltin riippumattoa varten.
0
0
I would recommend for a friend
Antti R.

29.04.2018
Omani sain kompressiopussin kera, en tiedä kävikö tsägä vai onko myyntilmoituksessa virhe, koska on kirjoitettu "Me saadaan näitä välillä superhalvalla ilman kompressiopusseja" ja itse kompressiopussikin on mielestäni tuon 20 euron arvoinen, saattaa jopa hylkiä vettä (en ole vielä testannut).
3
0
I would recommend for a friend
Kirk B.

13.12.2018
For $20 I feel like I stole this bag. It came brand new with a tag and stuff sack. Lightweight, Roomy, and the perfect amount of insulation for S Florida winters. It can also be easily rigged as a pod system for a hammock with the double zipper or as nice blanket. With a reflective Bivvy like the 2goSystems one, a decent liner, and a pair of sweats I'd be comfortable taking this bag down to about freezing. It'll be my new go to for camping in moderate climates.
1
0
I would recommend for a friend
Chris M.

06.03.2019 (Edited 12.03.2019)
I would recommend for a friend
Mika R.

19.03.2019
Makuupussissa oli kompressiopussi mukana.
Itse makuupussissa ei ole (ainakaan vielä) löytynyt mitään merkintälappua missä olisi mm. pesuohjeet ja valmistusvuosi.

Hyvä kuntoinen pussi, ei reikiä tai muuta iljettävää. Haisee tunkkaiselle, mutta niinhän nämä aina.
0
0
I would recommend for a friend
William L.

11.06.2019
This packs up really small for an army surplus bag and I am very pleased with it. Admittedly it looks to be almost devoid of insulation but with a silk liner its Ok at 12C and if you are camping in good weather this leaves you more room in your kit for essentials , like beer. Medium fine for me at 178cm.
0
0
I would recommend for a friend
Eric A.

27.06.2019
I was shocked. Mine came seemly unissued new (2006). Its in such great shape if it was used, the brit it was issued to was the cleanest human on the planet who apparently emits lavender. And here I was hoping for surplus funk. its light with a very breathable inner, has a hood and unzips into a blanket. It came with a apparently unused stuff sack. I bought this for use in desert climates mostly (when the temps drop a hard 15 C (30F or so) the moment the sun sets. But it would work
well in wet and warm. It works as wonderfully as a hooded blanket. And as a thermal liner under a plash palatka. My only regret is not buying it earlier.
0
0
I would recommend for a friend
Glyn W.

24.09.2019
Really good value, well made, very light sleeping bag that can function as a quilt. I've taken a star off because you can get a commercial zip up quilt for summer use only for this kind off money or less. It will probably be very bulky and tear the first time you use it, but the consequences in a summer only sleeping bag are not going to be great.

Unzipped this bag covers a bigger area than any quilt I own! So there is a lot of room when zipped up (possibly too much for some; if you roll over, once inside, it does't roll with you). It can be squeezed down tight into the free compression sack (which may not come with every one or I'd guess they mention it in the description) because it is s so thin and lightweight.So lightweight that 10C seems like a sensibly lower temperature for most.

The strong tie strips on the inside of the heavy duty zip would allow you to attach more insulation, perhaps another one of the bags (has anyone tried this?), but without experience I couldn't say if this was sensible or very practical compared to just getting a thicker bag.

The hood is another feature you won't get on a zip up quilt, but there doest seem much point to it. If you move about as much as I do you will probably find it annoying in exchange for little protection.

You can wear it as an Anglo-Saxon style cloak, as shown in the picture, but as you walk around the zipper pull will jingle like the bell on a cat's flea collar, so not much use in an ambush!

So a very good bag for warm weather that you can use on your bed; with features that may allow you to increase insulation, if you are willing to go to the effort.
0
0
I would recommend for a friend
Eeli V.

13.11.2019
Itellä oli kyseinen makuupussi tässä syksyllä kamiina lämmiteisessä sotkussa. Sotkun lämpötila ei parin rähmäläpälän ansiosta hirveästi 0 yläpuolella ollut joten kyseisellä pussilla selviää kyllä 10 asteen alapuolella ilman suurempia tuskia
0
0