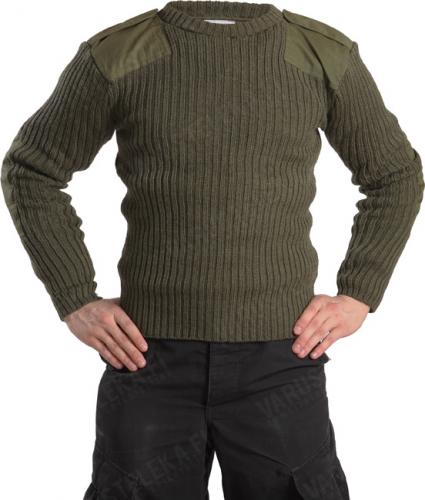 British jersey, men's, surplus
Price 18.99 - 21.99 USD excluding VAT
Flat Rate Shipping to USA $9.99
96 % recommends
Sold 100 pcs in the last two weeks
Loading products...
Trouble with the metric system? Try our converter: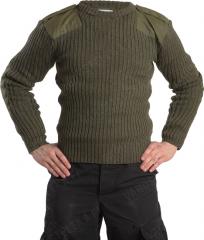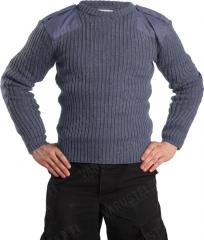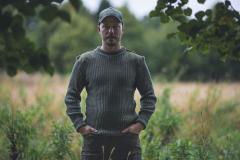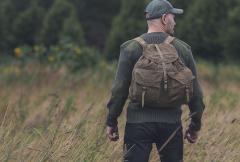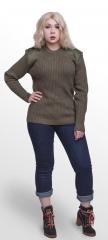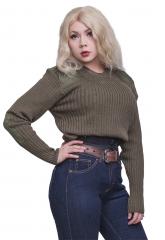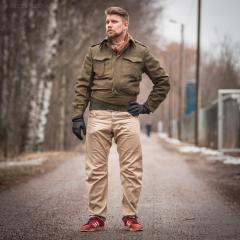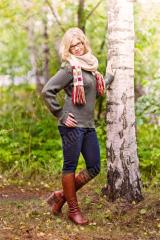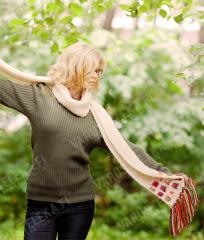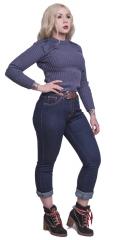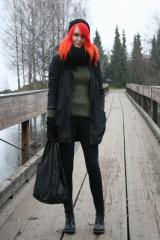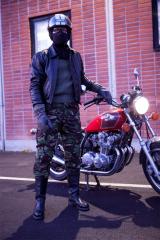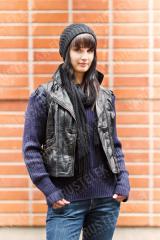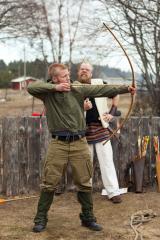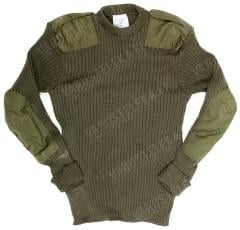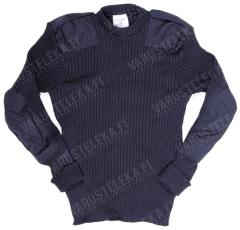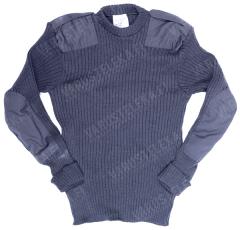 A heavy round neck jumper, as used by the British Army. The same model sees service in the Finnish army too. This is just the stuff you want for cold winter months. Snug fit!
Reinforcements in the shoulders and elbows, turn-up cuffs and a snug fit. An excellent hard-wearing jersey! These are thicker than most others, thus warmer too. The origins of this model are in the World War 2 era jumpers, which were very similar but lacked the reinforcements. These British sweaters are often called a 'Commando jumper'.
Usually made of 100% wool. You can machine wash this at 30 degrees Celsius with wool cycle. Use of wool care products recommended but not necessary.
Size info
User's chest circumference, with easy size and a corresponding British size number in brackets. The sleeve cuffs are made to be rolled up as much as required for a proper fit.
The sizes run a bit tight! By picking your recommended size you will have a form-fitting sweater.
British Military Surplus
In used condition. That means it might have small repairs and insignia of the previous user - if you're lucky, you might get something really cool like the Royal Marines. Like most of the surplus we sell, these are clean and washed before they're put to the market.
Reviews
You have already submitted a review. You can edit your text by clicking on it.
Log in and write a review.
Remove filter
Suomi
(31)
English
(25)
I would recommend for a friend
Jonathan W.

13.11.2018 (Edited 10.01.2019)
Awesome sweater. It is HEAVY. Mine was issued but is in excellent shape--no holes or tears. The sweater is form-fitting but I like that; it fits easily under a coat or jacket.

Edit: Picked up a second one. The tag does state 80% wool, 20& synthetic, which is awesome. Second one is in just as good shape as the first!
0
0
I would recommend for a friend
ted k.

19.11.2018
Got the blue one. Cant tell if its wool or acrylic but it is form fitting and very warm.
0
0
I would recommend for a friend
Juulia T.

07.12.2018
M-koon naiselle 94cm oli sopiva, tosin itsellä jäi vähän liikaa tilaa kainaloihin ja hartioihin. Ei ollut mitään paikkauksia ja oli ihan käyttämättömän näköinen
0
0
I would recommend for a friend
Stefan C.

05.01.2019
I've got one of these. Very comfortable to wear, warm, and also looks badass! Plus, I got mine for one pound at a carboot, so that was a good deal!
0
0
I would recommend for a friend
Juhana K.

12.01.2019
Hirveä haju. Haisee ihan hometalolle tai sitten jollekin muulle samanhajuiselle. Pesin woolitella villaohjelmalla ja ei lähteny haju. Mitenköhön pääsis siitä eroon? Paita muuten hyvä.
1
1
I would recommend for a friend
Harri K.

13.01.2019 (Edited 13.01.2019)
Otin yhtä kokoa isomman, oli sopiva. Olen tosin aika harteikas ja vatsaakin löytyy hieman.
Luulen että paitakappale jonka sain oli tosi vähän käytetty/uusi.
0
0
I would recommend for a friend
RAMOND T.

26.01.2019
Ordered in dark blue. Received one in very good condition.
Jersey is warm and comfortable.
Very satisfied.
0
0
I would recommend for a friend
Antti V.

01.02.2019
Tilasin kaksi, kumpikin oli siisti ja hyväkuntoinen, toisen pesulappuun oli kirjoitettu edellisen käyttäjän nimi. Valitettavasti paidat eivät olleet ihan niin tiukasti istuvia kuin kuvauksessa annetaan ymmärtää. Erityisesti hihat ovat aika lörpöt verrattuna SA-malliin, joka taas on tiukka. Brittiversio on superhyvään SA-malliin verrattuna myös huomattavasti harvempaa neulosta, valo paistaa läpi.
Villapaitana hyvä, jos etsii muuta kuin tiukkaa ja paksua SA-lookkia.
0
0
I would recommend for a friend
Tapani H.

01.02.2019
Ei onnistanut koon puolesta. Mittasin rinnanympäryksekseni noin 84 cm, 88cm oli liian pieni, 94 jo paljon parempi mutta hihat aivan liian lyhyet. Täytyy todeta vartalonmuotoni ja tämä paita epäyhteensopivaksi. Muuten oikein hyvältä vaikuttaa, kestävän oloinen paksu villa/varmaankin akryyli ja kunto kuin uusi.
0
0
I would recommend for a friend
Joel H.

03.02.2019
Lämmin ja tyylikäs villapaita, jota on kaiken lisäksi mukava pitää päällä!
Itse olen 187/85 ja koko 106 istuu täydellisesti. Erittäin hyvä sijoitus Suomen keleille ja käy myös hyvin välikausina!
Jos jotain miinusta täytyy antaa niin ehkä itse odotin hieman vähemmän käytettyä paitaa luettuani muiden arvosteluja, mutta vaate tuli muuten ehjänä, puhtaana ja raikkaan tuoksuisena kotiin!
0
0
I would recommend for a friend
Anton S.

04.02.2019
Ensimmäisenä huomio kiinnityi siihen, että on hiukan ohuempaa matskua kuin intin oma malli (tai sitten muisti pätkii 15 vuoden takaa). Mutta ei se menoa haittaa, kotiin päästyä laitettiin BW:n poolo alle ja prätkärotsi päälle. On kyllä jukoliste lämmin. Villapaita sitten myöskin muotoja hivelevä malli, että kyllä täytyy vetää vatsaa sisään tai sitten rohkeasti esitellä talviunten varastoja. Kaikin puolin suosittelen talven rientoihin, koska lämmittää. Kuten villapaidan täytyykin.
3
0
I would recommend for a friend
Calvin C.

05.02.2019
I ordered all three colors. They're of recent manufacture from the past 10-15 years, so it's unlikely that you'll get a vintage article from the batches Varusteleka sells. Condition-wise you can get like-new to worn (pilling) but still usable. The damage I've seen so far are minor holes (repaired with thread) and places where rough handling have created an almost-hole (back of neck collar).

The sweaters are made of a 80/20 wool-nylon mix rather than 100% wool. Maybe someone else with better knowledge of these sweaters can pinpoint when the MoD switched from 100% wool to wool-nylon (if you do know, please write a review here!). The blue-grey one I have doesn't have a percentage indicator, so I'm not sure if it's made from acrylic or wool. The dark blue one's tag is completely faded so I cannot determine the make. The material is thinner and lighter than the German and Swiss sweaters sold on this site, so keep that in mind if you're going to wear these on a cold day.

The fit is true to size and is not relaxed, as per the description. If you want something chunkier size up a notch. With an 88 cm chest I could feel a little bit of tightness on the 88 cm size sweater, although the fit is arguably "fashion-friendly". The length is almost perfect; I'm 5'6" and the hem hits at the sweet spot of the trouser fly with no need to fold it. The dark blue one I got feels a little bit looser.

These are your typical military sweaters as features are concerned; crew neck, anti-wear patches on the elbows and shoulders, and velcro epaulets. The blue-grey sweater also has a velcro-closure pocket for two pens on the left shoulder.
2
0
I would recommend for a friend
Ray M.

08.02.2019
Well I bought the Navy blue and OD

The navy blue has signs of age and had atear on the collar as well as smaller for the size received (probably washed incorrectly)

The OD seems fairly unused,loved it

You may or may not get an itchy one the navy blue is itchy but the OD isnt so. Other than wear and tear on the navy blue its great and will keep you warm.
0
0
I would recommend for a friend
darryl b.

10.02.2019
so warm and toasty and comes with a built in noose.
0
0
I would recommend for a friend
HM K.

27.02.2019
Olen 195/95 ja rinnan ympärys 110.
Otin koon 112cm (L5) ja istuu täydellisesti.
Paidan yleisolemus siisti ja kerrankin riittävän pitkät hihat. Näitä pitää tilata muutama lisää niin on villapaitaa loppu elämäksi.
Hinta on naurettavan pieni suhteutettuna laatuun.
Tämä paita tulee aina mukaan mökille ja metsään.
3
0
I would recommend for a friend
Håkan B.

31.05.2019
The variety in what you get is quite high, I've bought two one olive drab that was of wool and nylon blend and one blue-gray which was probably only wool but the tag didn't say anything about.
0
0
I would recommend for a friend
Mikko S.

01.06.2019
Ostin kyseisen paidan muutama vuosi sitten. Kyseinen yksilö oli käytetty, mutta siistikuntoinen. Paita on minulla pääosin metsä- ja eräilykäytössä. Lämmin ja hyvin istuva paita, voin suositella lämpimästi.
0
0
I would recommend for a friend
Henri H.

17.10.2019
Ostin näitä kaksi kappaletta, vihreänä ja siniharmaana. Vihreä oli juuri kuin intin vastaava eli juuri mitä toivoin. Siniharmaan kohdalla sain hieman erimallisen paidan. Vasemmassa hihassa on tasku kahdelle kynälle, istuvuus on tiukempi kuin vihreässä ja hihat ovat lyhyemmät. Kaikesta huolimatta kummatkin villapaidat ovat mainioita.
0
0
I would recommend for a friend
Timo E.

10.11.2019 (Edited 06.02.2020)
Mahdottoman lämmin paita. Tämän kanssa pärjää kovimmissakin pakkasissa oikealla kerrospukeutumisella. Ei ole kerännyt hajuja sitten ollenkaan, vaikka on tullut rämmittyä ihan hiestä märkänä kevättalven puolimetrisessä hangessa plussakeleissä. Vuosi on tullut käytettyä pesemättä.
Tämä on vahvikkeineen varmasti niitä pitkäikäisimpiä villapaitoja mitä markkinoilta löytyy. Kudoskin on kunnon vahvaa. Itselläni on kaksi kappaletta paitoja, ja kummatkin ovat hienossa kunnossa ja vain hyvin vähäistä kulumaa esiintyy. Ainoastaan toisessa paidassa oli hyvin voimakas koimyrkyn tai jonkin kemiallisen pesuaineen lemu. Pesulla ja muutaman päivän tuuletuksella sen sai aika hyvin pois.
Yksi tähti on pakko ottaa pois, sillä täällä on liikkunut huhuja siitä että osa paidoista olisi tehty Kiinassa. Omissa paidoissani ei mitään merkintöjä valmistuspaikasta tosin ole. Vaikka tämä pitäisikin paikkansa, niin on tämä siltikin kestävyytensä, halpuutensa ja laatunsa takia ehdottomasti järkevä hankinta.
0
0
I would recommend for a friend
James G.

14.11.2019
I purchased three of these and I'm glad I did. They all came in excellent condition and are extremely warm and comfortable. I've been very happy with all of my purchases here, but at the current price these are by far the best purchase I have made at this company. If they doubled the price these sweaters would still be a bargain. I'm sure I'll be picking up one or two more in the not too distant future.
0
0
I would recommend for a friend
Markku M.

20.11.2019 (Edited 08.12.2019)
Siniharmaan version ostin. Väri hieno, sopivan housuvalinnan kanssa ei ole liian armeijahenkinen yleiskäyttöön. Hihassa oli kynätasku yllätyksenä. Mitoitus oli itselle taulukon mukaan sopiva. Pitkälle miehelle hihat juuri riittivät. Itselle istuvuus villapaidaksi todella loistava. Ulkoilu- ja eräkauppojen malleissa usein leveyttä liikaa ja malli säkkimäinen.

Kunto ok, eli näkee ettei uusi paita, mutta kuitenkin yleisilmeeltä siisti.Olkapoletin kohdalta oli revennyt sauma noin viiden sentin matkalta. Pienellä paikkailulla ja pesulla tuli hyvä paita. Laitoin samantien toisessa värissä tilaukseen.

Edit: ensimmäinen arvostelu siniharmaasta. Toinen kappale tuli vihreänä: Kyseiselle voisi antaa 5/5. Lähes uutta vastaava, lisäksi ei niin vahva varastotuoksu. Siniharmaassa samassa koossa hihat noin 5 cm lyhyemmät. Vihreässä lähemmäs 195 varrella large 104 saa kääriä hihoja.
0
0
I would recommend for a friend
Harry S.

21.11.2019
Pro tip: use a seam ripper to remove all the patches, for a more gentlemanly look.
0
0
I would recommend for a friend
Jeroen V.

04.12.2019 (Edited 04.12.2019)
Bought the blue-gray size L4 and the olive-green in size L5.
The L5 is actually bigger then the L4 one! Also, the olive-green L5 is longer and has way longer sleeves. So they differ a lot but they both fit. I normally wear a european size Large, sometimes XL (if it's from southern europe).
Sweaters are in ok condition, the olive-green one has a small hole and the ranking still on it. Also some stains on the elbow patch so it lookes like I've been working!
0
0
I would recommend for a friend
Raymond R.

11.02.2020
I'm 5'7, about 145 lbs. I bought a Large 4 in Blue-Grey, and boy did I hit the jackpot. It is in great condition with no holes or stains. It fits just about perfectly, albeit slightly long in the torso. I didn't want one that was too tight, which is why I sized up. For those of yall thinking of buying this product, I recommend buying one or two sizes up if you want a looser fit. It even has a pen pocket on the sleeve. I look forward to using it for field use, hiking and casual wear. It's previous owner left their name on the tag; Whittington. Well, Whittington, thank you for taking good care of your sweater. And thank you Varusteleka for sending such great surplus all the way to the states.
0
0
I would recommend for a friend
Jere T.

07.10.2016 (Edited 18.11.2016)
I would recommend for a friend
Harri K.

13.11.2016 (Edited 19.01.2017)
- ehkä jopa parempia, kuin -80 luvun intin villapaidat (?)
- itselle osui kaikki kolme tilattua hyväkuntoisina
- hintaan ym. nähden suosittelen!
- useimmiten tuuletus riittää, mutta varovainen pesu koneessa & kuivatus vaakatasossa
- jos sitten välttämättä peset käsin, niin marseillesaippua on hyvä (käy muuhunkin pesuhommaan)
- hoitaa näitä (& muitakin villapaitoja) kannattaa
Sonett - villanhoitoaineella, edullista ja riittoisaakin
4
0
I would recommend for a friend
Marko N.

02.12.2016 (Edited 20.12.2016)
Minulla on kanssa tällainen villapaita, ja on hyvä ja tyylikäs!
6
1
I would recommend for a friend
Heidi

07.12.2016 (Edited 20.12.2016)
Naisnäkökulmasta paljastettakoon kanssasisarein elämää helpoittamaan paidan kokomitoituksesta seuraavaa. Rinnanympärys mitataan tissien päältä, ei alta kuten naisnäkökulmasta olisi loogillista tehdä. Miesloogillisuutta aluksi noteeraamatta tilasin omien mittojeni mukaan koon 74cm/xs. Se mahtui viereen, mutta ei päälle. Taistellen kyllä päällekin, mutta helposti ei pois. Vaihdoin reilusti isompaan, kokoon M. Nyt mahtuu alle kerrastoa jos toistakin. Joustinneule takaa, ettei M- koko mikään puolijoukkueteltta ole, vaan vallan rennon tyylikäs. Vielä näyttävät xs-kokoiset olevan varastossa, joten osta lapsille omat! Arvioisin sopiviksi 9-12 vuotiaalle, hihojen ja helman mitan puolesta alle 160cm pitkälle.
7
2
I would recommend for a friend
juha s.

12.12.2016 (Edited 20.12.2016)
182cm/92kg, rinnanympärys 102cm.
Ei mennyt 100cm eikä 106m.
Pienellä paskamahalla varustettu kaveri. Oli tiukkaa tavaraa päällä. Toisessa reikä selässä, siitä tuli rahat takasin ja toinen lähti asiak.palautuksena takasin.
Muuta miinusta ei löydy kuin se ettei mahtunut päälle.
Tuli kokeiltua 100,106,112,118 ja 124.
Minulle sopivin oli 118.
5
1
I would recommend for a friend
Miikka V.

09.01.2017
Voisi olla ihan asiallista mainita, että joukossa on myös V-kauluksellisia paitoja. Sellainen tuli itselleni ja lähti samaa tietä takaisin – olin hankkimassa pyöreäkauluksellista villapaitaa. Saamani yksilö oli myös hieman tavanomaista rujompi, keskellä vatsaa oli kolme isohkoa paikkausta ja hihoissa vielä pari lisää. Reiät olivat asiallisesti paikatut ja ylijäämätuotteelta voi tällaista odottaakin, jos sattuu huonompi tuuri. Ei tätä kuitenkaan metsän ulkopuolella olisi voinut käyttää. Paitamalli itsessään on täysin ostokelpoinen, Wooly pully on erinomainen villapaita. Myyntikuvauksen pitäisi kuitenkin kertoa, mitä oikeastaan ollaan myymässä.
34
0
I would recommend for a friend
Patrice B.

24.06.2017
Soon ready for the close autumn-winter season . Very good condition , already waiting the snow ... In very good condtion , an excellent pullover made in U.K.
3
0
I would recommend for a friend
Tom W.

10.10.2017
A bit bulky but nice !
1
0
I would recommend for a friend
Santeri K.

12.11.2017 (Edited 12.11.2017)
Tää on paras villapaita minkä oon koskaan omistanu. Ite en tykkää ihan absoluuttisen ihonmyötäisestä - oon ite eurokokoa 48-50 ja näistä koko 7 eli XL eli 124cm tuntuu kaikin parhaalta. Suosittelen tietysti, sillä varauksella että koon valinta voi aiheuttaa päänvaivaa aluksi(kuten kommenteissa ja arvosteluissa on jotkut muutkin maininneet.) Puol tähteä puuttuu sen takia, ku nykyään en missään arvosteluissa anna täysiä pisteitä.
0
0
I would recommend for a friend
Ville T.

24.11.2017
I would recommend for a friend
Jukka L.

01.12.2017
Hinta-laatusuhde kohdallaan. 184cm/84kg mahattomalle miehelle 112 oli liian iso. 106 sopiva.
0
0
I would recommend for a friend
Tatu R.

23.01.2018
Hyvä ja lämmin paita, eikä ole kallis. Siistissä kunnossa. Koko 118 cm (X-Large) oli liian tiukka ja lyhyt itselleni (191cm ja 92kg). Ehkä yksi tai kaksi kokoa isompi olisi sopivampi.
0
0
I would recommend for a friend
Christian H.

04.02.2018
I was hoping for a wool one, mine does not say what it is and to wash like wool on the tag. Does feel more like Acrylic. Regardless a great value with a used sweater that has a lot of life left. Why pay a lot for fashion when the greatest stylists just copy others half the time and a woolly-pulley is one of those items the high end label makers take from sans the epaulets. Sizing was accurate which is huge since here in the States no one can figure out how to convert this correctly. Varusteleka has become a quick go to for me with great service and products. Thanks so much for being you Varusteleka!
2
0
I would recommend for a friend
Alexander E.

18.02.2018
Got delivered a V neck instead of the round. Those look great too and it's in mint condition, probably unissued, so no complaints there.
0
0
I would recommend for a friend
Philip Y.

28.02.2018
Ordered two of these cool jerseys and got them today. As mentioned by other reviewers, they are a bit heavy and bulky, but I don't deem them necessarily as a detracting factor. There was even a name of a serviceman/woman written on one of the tags. One of them seemed to be only slightly used while the other was a bit more heavily used. By a bit more heavily used I mean to say that the wool fibers exhibited a bit more "pilling". So far, I do not see any repairs or holes on mine. They are indeed bulky but they are quite warm and snug, albeit a little bit itchy though. No regrets so far on this amazing jersey!
0
0
I would recommend for a friend
lasse l.

09.04.2018
I would recommend for a friend
Paula L.

16.04.2018 (Edited 16.04.2018)
Niille jotka miettivät kokoa: tilasin koon 94, menee päälle "sopivasti", eli ei ole tiukka ollenkaan muttei löysäkään. Naisten koossa yleensä menee päälle 36, pienemmissä on liian lyhyet hihat ja pienet hartiat. Eli jos omistat hartiat ja kädet mutta muuten olet pulkannaru, ota koko 94.



Yksi tähti pois, kun kuvauksen mukaisesti oletin tämän olevan pesty eikä likainen. Döfää ainakin kainaloista ja muutenkin partavedelle sen verran että eipä ollu. Aion silti tilata toisen. Ehkä tää kappale läpäisi jonkun äijäväelle tyypillisen "näyttää ihan puhtaalta" testin kun on melko uudenkarhea. Noh, otin silti heti käyttöön.



SIZING ADVICE: If you're in between EU sizes 34 (female) and 36 because you're too broad-shouldered to find jackets or shirts that fit or the sleeves are always too short in size 34, get this in size 94. It won't be too big.



Och samma på svenska.
1
0
I would recommend for a friend
Kevin A.

02.05.2018
These Brit wool pullovers are a staple of my cold weather kit. I have 6 and they are awesome. If you want to stay warm, these are definately the ticket. Works great for layering, with a fleece or combat smock. Plus the look is so classic. I went with 4.5 stars just because the Swiss wool pullover is a bit warmer and a little better made. But these are solid and will last forever.
0
0
I would recommend for a friend
Esa L.

02.12.2016 (Edited 20.12.2016)
Jos tätä villapaitaa ei jostain syystä ole vielä kokenut, suosittelen hetimmiten kokemaan. Itse tykkään pitää ihan ihoa vasten mutta jos villaneule kutittaa voinee siinä pitää myös jotain hyvin kosteutta siirtävää paitaa. Hihat ovat pitkät ja niitä on ilmeisesti tarkoitus käyttää siististi taittamalla taakse mutta erityisesti takkia käytettäessä voi olla hyödyllistä antaa hihan törröttää takin hihansuusta ulkopuolelle peittäen juuri sen osan ranteesta johon muuten osuu aina kaikki lumi, loska, kylmä, märkä ja ikävä.

Näissä näyttää joskus tulevan brittien aliupseerien merkkiä hihaan kiinni ommeltuna, itselleni ilmestyi Royal Corps of Engineersin ampumakouluttajakersantin villapaita. Merkit oli kuitenkin helppo ratkoa irti.
16
1
I would recommend for a friend
Marko N.

02.12.2016 (Edited 20.12.2016)
Minulle tuli eilen tällainen, kun lunastin pakettini, ja tämä villapaita on älyttömän siisti, ei mitään käytön merkkejä! Yksi tähti pois
vain koska hihat ovat hieman tiukat, mutta tämäkin korjaantunee kun käytön myötä hieman venyvät. Ja toinen tähti
lähtisi pois kun huomasin, että paidassa lukee made in China, eli kiinassa tehty, mutta toista tähteä ei saa pois!
1
4
I would recommend for a friend
Hannu P.

04.12.2016 (Edited 20.12.2016)
Toimii. Saamani yksilö oli brittivalmiste, uuden veroinen, ja on vieläkin, vaikka olen käyttänyt pari vuotta aina, kun olen tarvinnut. Lämmin ja hyvän näköinen. Mitä muuta voi villapaidalta vaatia?
10
2
I would recommend for a friend
Patrice B.

24.06.2017
Soon ready for the close autumn-winter season . Very good condition , already waiting the snow ... In very good condtion , an excelent pullover made in U.K.
3
2
I would not recommend to a friend
Alvaro V.

19.07.2017 (Edited 19.07.2017)
Hit the jackpot and got one in rather bad condition. A couple of ugly holes and a large scar on the right arm. The large wool content doesnt make up for the rest. Better buy a new one since most of the western armies have similar sweaters.
12
9
I would recommend for a friend
Pertti L.

20.11.2017
Hain paketin postista ja yllätyksekseni luulen saaneeni "täysin uuden" puseron. Peilistä katsoi ihan erinäköinen kaveri kuin ennen. Lyhyen ulkoilutuksen jälkeen voi vain todeta, että lämmin kyllä on. [ ... ja ajattoman tyylikäs, I like it]
14
1
I would recommend for a friend
Alberto D.

02.12.2017
The mine one came with minors signs of use (motsly on elbows but nothing serious) is confortable and not too thick even for a ligh south europe winter
1
1
I would not recommend to a friend
Jon K.

17.01.2018
Saapuneessa paidassa ei ole vahvikkeita missään ja se vaikuttaa siltä, että se on joskus pesty huomattavasti lämpimämmässä kuin mitä villa kestää. Ei tätä kyllä ainakaan naama näkkärillä voi suositella.
5
4
I would recommend for a friend
Aaron F.

24.01.2018 (Edited 14.02.2018)
I'd like to get one... if they're anything like the ones we had in the Marine Corps, they're warm as hell!
2
1
I would recommend for a friend
Jean N.

20.02.2018 (Edited 24.02.2018)
As good as it could be, very fine wool, the standard in wool jersey.

I have a few of these, one of my Sarma Black ones was so damaged it had to go :(

So bought another British here @Varusteleka.

This time with the idea to paint it black using Dylon. With in mind that the shoulders and elbow (perhaps) would not color.

And indeed Shoulders and Elbow are made of a (polyesther?) textile and will not get any other other color. But darkend a lot.

The textile black paint makes the green of the wool in a beautifull dark brown +/- the same brown as the British DPM Brown.

Brown with somewhat darker green shoulders and elbow make it a perfect jersey for the forest.
4
1
I would recommend for a friend
Seppo H.

22.02.2018
Paita ylitti odotukset, todella hyväkuntoinen tai jopa uusi oli tämä
koko vastasi hyvin mittausia
3
0
I would recommend for a friend
Juho S.

27.02.2018
I would recommend for a friend
Jani H.

09.04.2018
I would recommend for a friend
Christopher K.

15.04.2018
My sweater looks brand new with no markings or repairs. I ordered the #112 which matches the tight fit description. I am a US 42 Long. I considered buying a new MOD approved sweater from the UK. With shipping I was looking @ $85 USD.
1
1
I would recommend for a friend
Terry H.

19.04.2018
Excellent condition fast shipping 100% satisfaction. I'm 42 inch chest ordered 106 cm fits just great not to tight not loose
1
1
I would recommend for a friend
Ezekiel H.

18.06.2018
I bought this back in March and I have used it almost daily ever since. It's EXTREMELY comfortable to wear all day and in varied conditions both around town and in the mountains. The wind will cut thorugh it easily, but with it being wool it takes light rain and ocean spray well. Makes for a great under-layer as well as on its own on warmer, more moderate days. I ordered a 100 cm MEDIUM 3 and it fits very well now even if the torso is a little short for my tall ass haha. The arm length are quite long for the size even when rolled up, so that was surprising and great. Bottom line: makes you look and feel like a British Para in the Troubles... All I need now is a trusty SLR and a beret! Would definitely purchase again in the same size.
6
1