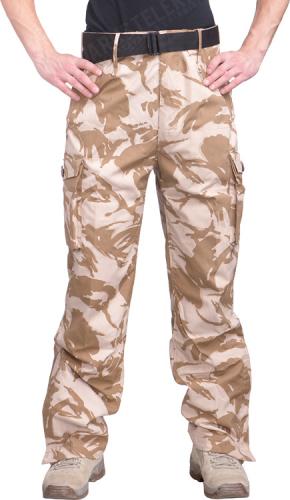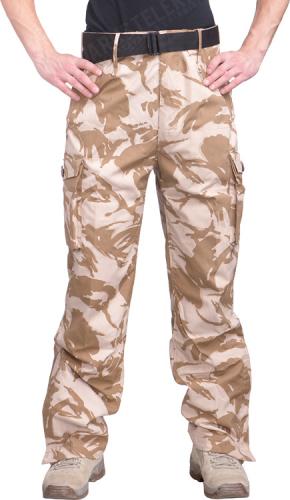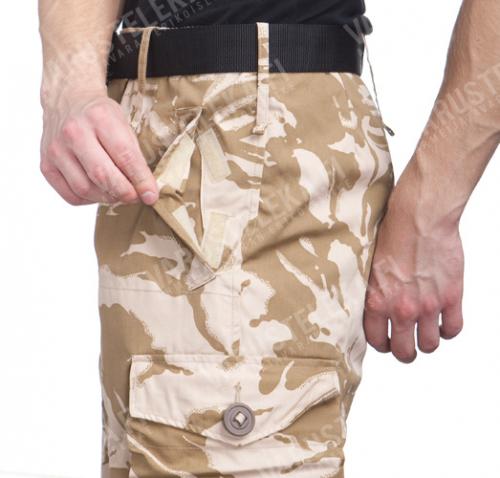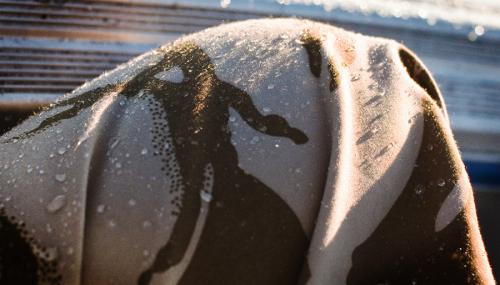 The fabric is water resistant.
Great Britain
British CS95 Windproof trousers, Desert DPM, surplus
Price 49.99 USD
excluding sales tax
Very good foul weather trousers - "foul" being just about any weather in the UK, so we trust the Brits to know what they are doing here.
Loading products...
Trouble with the metric system? Try our converter: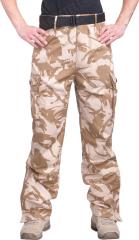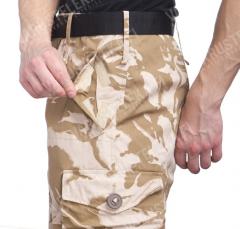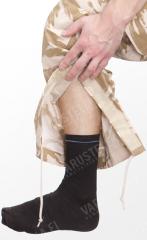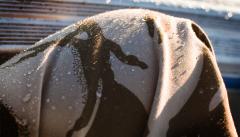 Very good foul weather trousers - "foul" being just about any weather in the UK, so we trust the Brits to know what they are doing here.
These are basically a heavy duty version of Combat Soldier 95 trousers, so the fabric is heavier and cut roomier - especially the waist is very high. These can be donned over your regular field trousers without removing your shoes. The front pockets have flaps with velcro closure for extra protection, but a lot of users do away with the velcro because it is kinda annoying and not that necessary.
The fabric is where the magic lies - it's a very tight weave with a water repellent treatment. These are not rain trousers as such, but then again they breathe about a million times better than any Gore-Tex membrane ever will. The brits also work some kind of magic on their uniforms, as they dry very quickly once the rainfall stops.
Sizing
As mentioned above, the sizing is generous. Sizes are measured first at inseam, followed by waist circumference, but you can safely deduct a few cm from your usual size. For example if your British trouser size is 85/84 / (33.5" / 33"), these trousers sized 82/80 / (32.5" / 31.5") will actually be bigger.
Wash as synthetics in warm water. Treat with a water-repelling spray: it helps keep the pants dry, so they breathe better.
Condition
Usually unissued, many of them still in original factory plastics.
Kierto Circular Economy
Return this product used but clean and unbroken, and you'll receive half of the product's original price as Varusteleka credits. Service is available only in Finland. Only Registered users can make Kierto returns. See more information about Kierto.
All products: Great Britain
Recommendations
Loading products...
Reviews
You have already submitted a review. You can edit your text by clicking on it. You can filter the reviews by clicking on the elements of the summary.
Log in and write a review. You can filter the reviews by clicking on the elements of the summary.
Remove filter
Suomi
(5)
English
(1)
I would recommend for a friend
Antti H.

15.10.2017

Verified purchase
200cm pitkä, 93cm vyötärö, 82kg. 90/96 koko vaikuttaa suht sopivalta. Vyötäröllä on "ylimääräistä" tilaa ~10cm, lahkeet ovat kuten ilmoitettu, tasan 90cm pitkät. Pidennysvaraa on ehkä 3cm, jos lahkeen sisäreunalle ompelee jotain kanttinauhaa jatkeeksi. Housut painavat 750g. Tilaa liikkua on aika riittävästi, eivätkä housut kiristä läheskään yhtä pahasti kuin perus Fjällrävenit. Ilman välikerrastoja liikkuvuus on suht ok, mutta esim. Softie-välikerraston kanssa perse, haaroväli ja reidet ovat jo tiukahkot kyykyssä, jalkojen päällä istuessa tms. kikkaillessa. Tämän asian kanssa kuitenkin vielä pärjää. Oletettavasti omaa kokoa pykälää isommat housut eivät ole enää yhtä kireät välikerraston kanssa, jos haluaa oikeasti joka tilanteessa tilavampia housuja, tosin sitten vyötäröllä alkaa oleen jo tosi paljon ylimääräistä...

Takapuolessa ja polvissa on tuplakangas. Kevyellä sateella housut hylkivät vettä jonkin verran, jolloin sadehousujen kanssa kastuu hiestä enemmän kuin housut ilman sadehousuja kastuisivat. Kovalla sateella en näitä käyttäisi ilman sadehousuja. Sivutaskuissa on ärsyttävät velcrot, jotka tarttuvat joka paikkaan kiinni ja raapivat käsiä. Ratkoin ne pois ja ompelin nappisulun tilalle. Ärsyttävää velcroa on myös lahkeiden päissä, ilmeisesti siksi, että housut saisi kengät jalassa jalkaan. Tekee mieli vaihtaa tönköt ja paksut velcrot vetskariin, tai sitten ommella lahje kiinnni alas asti. Vyötärössä on molemmin kiristysnapit, joista kumpikaan ei kiristä vyötäröä. Siirsin toisen nappiparin eri paikkaan niin, että vyötäröä voi kiristää tarvittaessa. Henkselin napit puuttuivat, joten ne piti ommella myös itse. Vyölenkit ovat jollekin taisteluvyölle tarkoitettu, mutta niitäkin voi kiristää ompelemalla pienemmäksi. Kohtuullisella säädöllä näistä sai siis omaan makuuni varsin hyvät kevät/syyshousut!
3
1
I would recommend for a friend
Perttu T.

21.10.2017

Verified purchase
Hemmetin hyvät housut kaikkineen. Silti omaan makuuni liian velcroiset, korvasin kädet verille repivät taskun tarrat neppareilla ja poistin lahkeen suusta kokonaan ja ompelin kiinni. Nyt on kunnon hyvät
0
0
I would recommend for a friend
Mikko L.

12.01.2018

Verified purchase
Prkl, uskomattoman huikeat pöksyt. Toimii läskipyöräilyssä paremmin kuin hyvin, mahtuu mukaan risukeitin ja eväät. Ja mikä parasta, saman sarjan rotsi hommattu aikaisemmin. No, laitoin pesukoneeseen sellaisen suklaanruskean ja oliivinvihreää kanssa. Ihan helvetin tyytyväinen
0
1
I would recommend for a friend
J-P M.

19.05.2018

Verified purchase
En ostanut omaani täältä, vaan muualta ja käyttämättömänä. Kangas on itseasiassa tosi ohutta, mutta tiheänä ja käsiteltynä pitää tuulta tehokkaasti. Helteellä aika tukalat, mitkään hellepöksythän nämä eivät ole, vaikka aavikkokuosiset ovatkin.

Taskut ovat tosi tilavat, mutta pienenä miinuksena vyötärötaskut ovat kiinni velcrolla, joka taaskin hieman raapii käsiä. Reisitaskuissa on takin tapaan taitos ja kanadanapit. Housut on tarkoitettu mitä ilmeisimmin vedettäväksi napaan asti, jolloin ne eivät kiristä mistään. Vyölenkeistä mahtuu vaikka telaketju, lahkeissa on pitkät halkiot velcrolla ja suuaukoissa nauhakiristys, erillisiä särmäreitä ei tarvita.

Päällyshousumaisuudesta johtuen mitoitus on tosiaan aika reilu eikä näistä kauhean särmän näköisiä tietenkään saa. Oma vyötäröni on n. 98cm ja lahkeenpituus n. 80cm ja pitkällisen pähkäilyn jälkeen päädyin kokoon 82/96... Valmistaja tosiaan merkitsee koon lahje/vyötärö/perse, joten olkaapas tarkkana tässä. Kyseinen koko sopii itselleni oikein hyvin eivätkä napaan asti vedettynä ole liian lyhyet vaikka spagaatteja tekisi. Vyötäröllekin jäi tilaa niin että vyötä ja/tai henkseleitä on pakko pitää.
1
0
I would recommend for a friend
Esa V.

22.12.2022

Verified purchase
Todella hyvät ollu. Ehkä liian isot mitä suositeltiin taulukon mukaan.
0
0
I would recommend for a friend
Joji F.

27.02.2023

Verified purchase
Yeap this are great pants!!! and very confortable too!!!
0
0