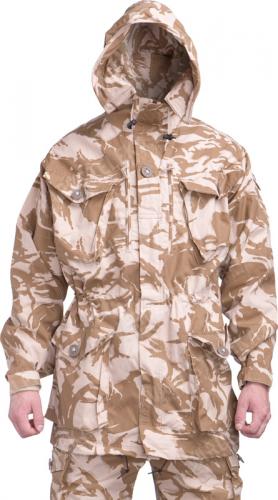 British CS95 Windproof Smock, Desert DPM, surplus
Price 32.99 USD excluding VAT
Flat Rate Shipping to USA $9.99
100 % recommends
Sold 26 pcs in the last two weeks
Loading products...
Trouble with the metric system? Try our converter: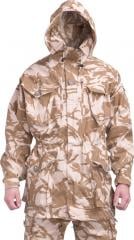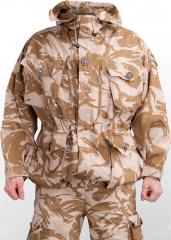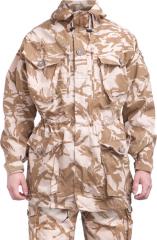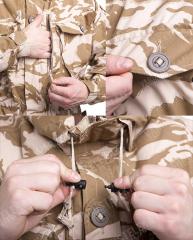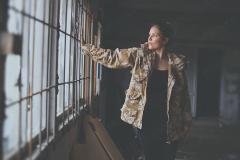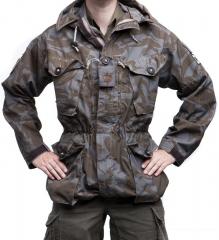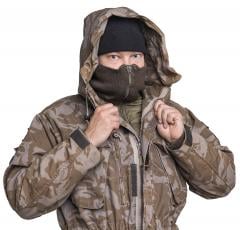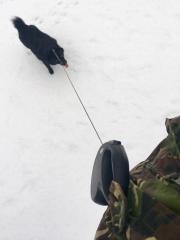 One of the best field jackets ever made, the British Windproof Smock is famous for its versatility and thoroughly great design. A perfect jacket for round-the-year use. These are "old" Combat Soldier 95 D-DPM smocks from the times British army kit was actually made in the UK.
Originally designed in the 70's, this jacket was used in windy and cold conditions as the top layer. This is an unlined, practical field jacket with a spacious cut. Zipper closure, and six pockets: two large pockets in the hem, two on the chest and two with zipper closure. Some jackets have a small pocket on the sleeve, some have velcro slabs. Drawcords on the hem and waist.
The fabric is very tightly woven polycotton with a water repellent treatment, which of course will wear out with time. It can be revitalised with suitable solutions.
Size info
We have listed user's recommended measurements: first up is user height, then chest circumference.
Condition
Used, but in good serviceable condition.
Made usually by Cooneen Watts & Stone Ltd., but always in the UK.
A bit of history

Ever since the Second World War the Brits have issued and used a selection of jackets that have been called smocks, starting with the legendary Denison Smock of the paratroopers. In general the smocks have been designed with a loose cut with pockets that allow to carry items without wearing actual load-bearing webbing.

The first Windproof Smocks of the 40's were anorak style jackets and their greatest benefit compared to other options of the time was the luxurious carry capacity of four pockets. The Combat Soldier 95 is the successor to special forces Arctic Windproof Smock, which saw some action in the Falklands.

The Windproof Smock is one of the most beloved pieces of kit issued in the British armed forces, and quite often bought by those who aren't lucky enough to be issued one by The Queen.
Reviews
You have already submitted a review. You can edit your text by clicking on it.
Log in and write a review.
Remove filter
Suomi
(20)
English
(15)
I would recommend for a friend
Raimo L.

07.10.2016 (Edited 18.11.2016)
Ostin ja värjäsin sinisellä Dylon-pesukonevärillä. Tuloksena sinisen värin läpi sopvasti kuulteleva aavikkokuvio joka on lähes sama kuin kuvien mustalla värjätty takki..



Takki on ehkä paras takkini ikinä. Kuten Lekan virallisista käyttökokemuksista huomaa, on käyttö kuoritakkina ihan parhautta. Alle voi laittaa oman maun mukaan kampetta, itselläni yleensä tekninen aluspaita ja brittiläinen fleecepusakka, vieläpä maastokuvioituna :D

Hyvin tarkenee kun osaa pukeutua. Tihkusadetta takki ei myöskään pelkää.



Taskuja on riittävä määrä, ne ovat sopivan isoja ja helposti käytettävissä. itse pidän erityisesti rinnan vetoketjusulkuisista taskuista, niihin menee helposti kaikki mukana kaupungilla tarvittava taravara, eli kännykkä, lompakko, avaimet jne. Ja tila ei lopu kesken eikä taskut pullistele ylitäytenä. Myös helmataskujen sulku kanadanappeineen on erittäin toimiva ratkaisu.



Jos jotain huonoa haluaa sanoa, tulee lähinnä kauluksen kireys itselle mieleen. Taidan olla hieman paksu(ei puna!)niskainen, sillä kaulus on hieman liian tiukka huppu alas rullattuna. Haitta on kuitenkin vähäinen ja hyvin siedetty.


Kokonaisuutena erinomaista vastinetta tästä rahoilleen saa, suosittelen kenelle tahansa vähemmän lämpöisille keleille. Vielä kun saisi tästä M05 -kuvioidun version...vink vink!
3
0
I would recommend for a friend
Kauri L.

07.10.2016 (Edited 28.11.2016)
I would recommend for a friend
Pertti V.

08.11.2016 (Edited 28.11.2016)
CS95 Windproof, Desert -Rotsi&housut

Olen ollut "sivustaseuraajana" näillä sivuilla jo pidempään, koska yleensä minun koot (isot) ovat loppuneet, kun löydän edullista ja laadukasta kampetta. Nyt kuitenkin kävi tuuri ja kokoja löytyi ja sain tehtyä tilaukseni!

Kävipä köyhällä kerrankin mäihä, sillä saamani rotsi on ihan uusi! Laatu on juuri niin hyvää mitä odottaa saattoi(paras maastopuku mitä olen ikinä omistanut), joten en viitsi siitä enempää.
Näin ensitilaajana tahdon mainita, että tilaus tuli nopeasti kahdessa arkipäivässä päivässä ja kaikki muutkin tuotteet olivat juuri sitä mitä pitikin ja sain rahoilleni ihan pirusti vastinetta!

Värjäsin takin mustalla Nitron -pesukonevärillä 40 -asteen pesulla, maastokuvio näkyy selkeästi, sävy on kuitenkin todella tumma. Lopputulos on juuri se mitä toivoinkin.

Kiitos tästä loistavasta rotsista, jolla mennään monta vuotta!

-Saletti kanta-asiakas
5
1
I would recommend for a friend
harri u.

30.11.2016 (Edited 20.12.2016)
Noihin kokoihin kannattaa suhtautua pienellä korjauskertoimella. Leikkaus on tosiaan väljä. Itse olen kokoa 175_99 joten loogisesti tilasin 180_104 takin. Alle olisi mahtunut pilkkihaalari. Ja toppatakki. Siis samaan aikaan. Vaihdoin sen kokoon 170_96 ja ei ahdista tuokaan. Se on minulle just hyvä, koska käyttö on talvitakkina ja alle mahtuu vähintään riittävästi villaa ja fleeceä. Toi huppu on vähän rasittava, mutta vanne ei enää kiristä päätä, kun nyppäsee reunuksesta kuparilangan pois. Taskuja on metsästyskäyttöönkin vallan riittävästi. En tiedä pitikö näiden olla käytettyjä, mutta minulle tulleet takit oli ainakin bräniköitä. Ei tämä kokonaisuutena mielestäni ihan noin hygge ole kuin muiden arviot antaa ymmärtää, mutta onhan tämä hintaisekseen erittäin hyvä.
2
2
I would recommend for a friend
Mikko K.

21.12.2016 (Edited 22.12.2016)
Saarivaltiossa sakki tietää, miten meren lähellä pitää pukeutua, joten täällä länsirannikollakin tosi hyvä pukine päälle.

Pikkuisella värivaihdolla myös sopiva mukuloiden kanssa metsään. Kuvaa instasta: https://www.instagram.com/p/BLGOp4hjY1h/?taken-by=crafts_n_arts
3
1
I would recommend for a friend
Jean N.

06.04.2017
Hi
Received this smock today from you guys, new in original packaging of the UK maker
and dylonned it black...

The picture of the Dylon blacked smock could, perhaps, notice:
-The desert velcro and the desert stiches stay coyote/ desert..
-the buttons remain ofcourse brown, and wont become black...
The flag is unchanged and stays clean red white and blue, a good thing...
For the rest the best smock ever!!!
5
0
I would recommend for a friend
Paul E.

20.05.2017
Excellent smock, and a perfect companion purchase to the DPM smocks available elsewhere in the store. Well made, with lots of pockets for carrying the necessities. The pattern is uncommon enough (at least here in Canada) that it makes for a unique choice amongst the newer gucciflauge patterns out there.

For those wondering about fit: at 5'8/172, and 41"/104, the smock I bought (170/104) fits perfect with plenty of room underneath for layering, while still looking good when worn as the only layer.
4
0
I would recommend for a friend
Heikki

13.08.2017
Käytin pusakkaa puolisentoista viikkoa Finnmarkin tuntureilla ja Pohjoisella jäämerellä, enkä keksi mitään valittamista. Pysäyttää viiman kuin viiman, mutta kestää myös sadetta ~yhtä hyvin kuin 4-5 vuotta vanha kahluutakki. Ei tarvia pelätä ompeleen, taskun, napin, kankaan, etc. repeämistä, vaan tuo päällä voi rymytä pätkääkään murehtimatta. Taskuihin mahtuu helposti tarvittavat eväät ja varusteet päivän vaellukseen/kalastukseen (ja pari oluttakin). Hupun nappi kestää haavinvapautimen ja perhohaavin käytön kivuitta.

Leikkaus on tosiaan reilu. Säätömahdollisuudet on onneksi juuri siellä missä pitää ja takin saa särmättyä isonakin vähintään kohtuullisen istuvaksi. Koon takia tilasin toisen vähän pienempänä ja ensimmäinen saa toimia talvitakkina. Harva lienee tykkää hupun rautalangasta, mutta omasta mielestä se on liki nerokas. Sillä saa tehtyä Bela Lugosi -tyylisen korkean kauluksen, joka suojaa korvantauksia ötököiltä ja niskaa + kupolia tuulelta.

Kummatkin takit tuli tehtaan pusseissa, joka hymyilytti omia hampaitani. Värjäsin ensimmäisen Dylonin "Velvet Black" -värillä ja omaan silmään se on reilusti tummempi kuin Lekan kuvissa. Vaikea tuota on rumaksi haukkua ilman värjäämistäkään.

Summa summarum: Laadukkain ja käytännöllisin takki mitä olen nähnyt saati käyttänyt. Jos ryynää, ottaa osumia metsässä ja suututtaa ostaa/varoa särkemästä kalliita Fjallrävenin vehkeitä suosittelen lämpimästi.
8
0
I would recommend for a friend
Janne V.

18.08.2017
Perkeleen hyvä takki. Pitää tuulen ja sateen loitolla. Kangas kestäny käytön kuin käytön ilman reikiinyymistä ja kuivuu nopeasti vaikka kalareissussa sukeltaiski tää päällä järveen. Huppu ehdoton hirvikärpäs kaudella.
1
0
I would recommend for a friend
Juho H.

16.09.2017 (Edited 13.04.2018)
Paras maastotakki mitä omistan. Uudenveroisena saatu takki, minkä värjäsin myöhemmin vihreäksi, tuli hyvänäköinen lopputulos. Värjäykseen käytin yhden Dylonin tropical greenin ja yhden olive greenin, sekoittaen ne keskenään.



Kangas pitää tuulta ja vettä, mutta hengittää. Loistava leikkaus ja hyvät taskut, kiva huppu. Ainoa miinus velcrokiinnityksestä vetskarin edessä. Villapaita tai verryttelyhousut ei tykkää velcrosta, napit olisi paremmat.



Hinta ja laatu on tässä takissa parhaimmillaan.
1
0
I would recommend for a friend
Perttu T.

21.10.2017
Laadukas rotsi joka siirtyi vaimon käyttöön ja sai uuden värin pintaan.
0
0
I would recommend for a friend
Juha-Matti P.

23.10.2017
Tähän hintaan uskomaton rotsi!!! Alle mahtuu kerrospukeutumis tavaraa riittävästi, ja todellakin windproof. Taskuja hyvin ja kirrausremmejä tarpeeksi. Kannattaa hankkia!!! Kuosi komea sellaisenaan mutta jokainen saa tuunata jos haluttaa...
0
0
I would recommend for a friend
Jonne S.

02.11.2017
Paras takki kaikenlaiseen eräjormailuun. Monta kertaa pilkillä istuessa toi tuulenpitävyys on ollut kyllä juhla.
Värjäsin takin vielä tummaksi niin on vähemmän army.
Muutaman vuoden käytön jäljiltä voin suositella lämpimästi tai vähintäänkin tuulenpitävästi.
0
0
I would recommend for a friend
Stefan F.

09.01.2018
Very good and versatile jacket! Keeps the rain out pretty well (handy when you live in Belgium...) and the cut is real wide and roomy for free movement. If you also want to wear without layers some might like to go one chestsize smaller than listed.
Mine is dyed black with Dylon and looks real good (a very dark camo pattern is visible), but I think the original desert camo also looks real cool.
0
0
I would recommend for a friend
Nicholas K.

19.01.2018 (Edited 19.01.2018)
Received mine week and a half after purchase. Desert smock came unissued, still in the wrapping plastic, which also gave date of manufacture (2008 in my case). Very satisfied with purchase, the CS95 design is great for protecting against wind, and does well when layered. Living in Canada, with the right thermal layer, the smock makes for a great parka for anywhere with bitter winters, but also does well in Fall conditions too. The addition of having one unissued is a fantastic bonus, and I'd highly recommend especially given the unique Desert pattern
1
0
I would recommend for a friend
Tatu R.

23.01.2018
Tilasin takin kokoa 190/104. Aivan sopivan kokoinen tällaiselle 191 cm ja 92 kg ja rinnanympärys 106 cm. Alle mahtuu vielä laittamaan villapaidan. Itselle tuli käyttämätön tehtaan muoveissa. Toimitus oli nopea, tuli kotiin kahdessa päivässä. Laadukas tuote!
2
0
I would recommend for a friend
Olli S.

02.02.2018
Hyvä takki ainut juttu hupun sisässä joku ihme rautalanka viritys
0
0
I would recommend for a friend
Sami K.

19.03.2018 (Edited 19.03.2018)
Ostin itseni kokoisen ja se on kyllä normaalikäyttöön vähän turhan iso kun alla ei ole koko kenttäpukua - kokoa pienempikin olisi varmaan mahtunut vielä erinomaisesti. Hupussa oleva lankaviritys tuntui aluksi hyvältä idealta, koska se pitää hupun hyvin kuosissa kuosissa ja mahdollistaa hupun erilaiset muotoilut. Mutta sen jälkeen kun se oli ensin takin talvivarastoinnissa mennyt ihme vänkyrälle ja tökkäsi vielä kaulusta väännellessä silmään, avasin hupun sauman, vedin langan pois ja ompelin sen jälkeen huppuun muutaman velcropalasen siten, että hupun muotoa voi niiden avulla säätää ihan riittävästi. Omani oli luultavasti käyttämätön - siinä oli kiinni RAF:n tunnukset, mutta käytön jälkiä ei ollut, joten joko takkia ei oltu koskaan laitettu jakeluun tai sitten sen saaja ei ollut koskaan käyttänyt sitä kuin korkeintaan lentokentän poikki messiin kävellessä.
0
0
I would recommend for a friend
Jouni E.

13.04.2018
Ostin vähän rinnanympärystä pienemmän ja alle mahtuu hyvin vielä huppari. Tarkoitus käyttää kevään ja syksyn välikeleillä. Aika uudenkarhean oloinen takki, kulumaa ei näy missään. Extra plussaa siitä että takki oli jo tilausta seuraavana aamuna lähikaupan matkahuoltopisteessä. Helevatin hyvät taskut, rinkan voi jättää kotiin.
6
0
I would recommend for a friend
Juuso D.

07.05.2018 (Edited 03.09.2018)
Ensin kauhistuin takin suurta kokoa mutta hetken kiristeltyäni takki rupesi näyttämään ihan hyvältä, vaikkakin todella väljä. Varmasti olis kokoa pienempi mahtunut hyvin mutta aivan saakelin mukava ja varmasti pirun käytännöllinen säässä kuin säässä. Tänään mitattiin kevään lämpöennätys niin ei ihan otollinen aika päästä ulos testaamaan mutta eiköhän meillä kesä ole niin kylmä että pääsee kohta kokeilemaan.



Ensivaikutelma kokonaisuudessaan alkujärkytystä lukuunottamatta todella huikea!

Päivitystä:
Tilasin sittenkin kokoa pienemmän ja nyt olen enemmän kuin tyytyväinen. Silti riittää tilaa. Takkia tehdessä on tosissaan mietitty että alle on mahduttava tarvittaessa paljon täytettä.
Nyt lähempänä syksyä takki on osoittautunut todella hyväksi. Älyttömän mukava päällä ja taskuihin mahtuu mitä ikinä tarvitseekaan.
2
0
I would recommend for a friend
J-P M.

19.05.2018 (Edited 19.05.2018)
En ostanut omaani täältä, vaan muualta ja käyttämättömänä. Kangas on itseasiassa tosi ohutta, mutta tiheänä ja käsiteltynä pitää tuulta tehokkaasti. Helteellä aika tukala, mikään helleasuhan tämä ei tosiaan ole, vaikka aavikkokuosinen onkin.

Huppu on enemmänkin mallia putki, joten naama pysyy kyllä kuivana sateella. Hupun taittelu ja sen metallilangan asettelu on oma taiteenlajinsa, mutta kun sen oppii, kauluksen saa pysymään varsin särmän näköisenä niin ylhäällä kuin alhaalla. Kaulus on tosiaan hieman ahtaan oloinen jopa omaan kirahvinkaulaani.

Taskuihin mahtuu testatusti tavaraa kuin pieneen reppuun. Vyötärön kiristysnaruissa ei ollut nauhalukkoja, joten kannattaa hankkia sellaiset, solmujen tekeminen niihin ei ole kovin käytännöllinen ratkaisu pidemmän päälle. Helman kiristysnarut ovat kuminyöriä ja niissä on lukot.

Päällystakkimaisuudesta johtuen mitoitus on tosiaankin väljä kuten jo edellä on mainittu. Kenttäpaitojen mitoitus on siis erilainen, joten niistä ei kannata katsoa mallia. Omat mittani ovat 185cm ja rinnanympärys 100cm, ja pitkän pähkäilyn jälkeen päädyin kokoon 180/96 joka on itselleni todella hyvä, eivätkä hihatkaan jää lyhyiksi. Lekan koko-ohjeet ovat omasta mielestäni hieman liiankin reilut, mutta nämä ovat aina hieman vaikeita asioita.
1
0
I would recommend for a friend
Andreas B.

23.05.2018
Overall an excellent jacket. I dyed mine black with dylon, turned out superb, almost completely black except for stitchings, velcro and such. It came unissued btw.

A word on sizes: I'm 191 cm with a chest circumference of 116 cm and long ape arms. I chose the 190/120 size and it's on the brink of being to large even when considering layers. Especially the sleeves are extremely long.

Would definitely buy again but in a smaller size next time. The price is ridiculous for such quality.
0
0
I would recommend for a friend
Haakon W.

14.08.2018
I absolutely love it. Though copious, it's not overly large. Pockets enough to act as a day pack. I'm soon to be planning some late fall/winter camping, and I can't wait to break this out. My one complaint; in all my collection of field jackets, all of them have at minimum one shoulder pocket capable of holding a snickers bar. Considering the size of all the other pockets in this beauty of a garment, the shoulder pocket is somewhat disappointing in it's miniscule stature. That said, overall this jacket is a bargain, and I wouldn't care to part with it.
0
0
I would recommend for a friend
Björn R.

29.09.2018 (Edited 29.09.2018)
This is the best outdoors jacket I've had. The colors are not my favorite, but they'll probably blend in nicely in autumn.
Concerning size: I'm 188 cm @ 90kg, normal build (somewhat long arms) and the 190/112 size fits me perfectly.
0
0
I would recommend for a friend
Janne M.

25.11.2018 (Edited 29.11.2018)
Suosittelen takkia, mutta pienellä varauksella. Värjääminen ei nimittäin luonnistu välttämättä juuri siten, miten sen parhaiten haluaisit. Itse kulutin kolme kolme väripakettia ennen kuin sain tästä mieleisen näköisen. Ja väripaketithan toki maksavat, mikä on hyvä ottaa huomioon. Onneksi takki kuitenkin itsessään on edullinen laatuun nähden.

Värjättävyyden sijaan, takki on enimmäkseen vallan bueno. Tuli käytännössä uutena perille. Plussaa tulee tilavista taskuista, joita takissa riittää. Pienellä kauppareissulla saa ostokset mahtumaan taskuihin. Tuulenpitävyys on myös huippua. Ei haittaa kovakaan puhuri tällä rotsilla. Miinusta sen sijaan lähtee tarraviritelmistä, joka ei aivan itselleni natsaa. Toisaalta, ehkä siinä vaiheessa kun tarrat alkavat menettää tehoaan tulee sitten viriteltyä jokin muu kiinnitystsydeemi niiden tilalle.
1
0
I would recommend for a friend
Indra P.

22.01.2019
I received this product today, unissued, and immediately wore it as it was raining. This is one of the best outdoor jacket I've ever seen. It is completely windproof and also waterproof to some degree. With an unissued condition, this smock is very very affordable. Get one while you can!
0
0
I would recommend for a friend
Charles T.

13.02.2019
Price 10/10
Service 10/10
Product 10/10 (brand new smock, still in plastic wrap)
1
0
I would recommend for a friend
Charilaos G.

23.03.2019
I received an unissued one, dated 2008. Size-wise, I opted for the 96 size for a chest circumference of 104cm; with a t-shirt and an average-thickness fleece jacket there is still some room to spare. This will largely suffice for southern Greece winters, which by your standards are a bit of a joke....Dyed it black with a double shot of Dylon washing machine dye; the result is far better than the pics on Varusteleka's product page. Stitching, buttons and the Union Jack are unchanged; the velcro strips turned into a deeper, coyote colour. Full marks by the family's fashion police.....
2
0
I would recommend for a friend
aku k.

11.04.2019
ei voi muutta sano kuin mahdotoman hyvä takki tilaus tuli nopeasti ja takki oli uusi ja tehdas pussissa ja kyllä se hymyn huulille laitoi kun kokokin oli viellä passeli ja nytten olen näin kevät keleillä pitänyt takkia ja hyvin on veden ja tuulen ja pakkasenkin kestänyt ja väri ja kuvio jopa silmää mielyttävä pystyy menemään jopa ihmistenkin ilmoille takki päällä eikä pistä silmäänn ja kaupoissakin mukava käydä ei ole liian kuuma ja kesää ootellessa että mitten toimii kesä kelillä mutta pisteet kotia hinta laatu suhteesta :) pitää kyllä kun seuraavaa tilausta tekee niin toinen kyllä hankia pahan päivän varalle
0
0
I would recommend for a friend
Fredrik L.

15.04.2019
For the price it is just perfect. Dyed it black with a good result. Love crawling in to my smock on windy, cold days.
0
0
I would recommend for a friend
Coronel F.

23.04.2019
I orderer from Argentina, and it arrived in time. The quality is perfect it came brand new in the plastic bag.
On the first try i was worried of it being to large, but i adjusted the waist and it is just perfect.
I ordererd 180/104 and i am 1.85m/80kg. Love it!
1
0
I would recommend for a friend
Greg B.

09.05.2019
What a fanastic jacket! Fits with LOTS of room for layering.My 6'2" 200 lbs frame could have gotten away with a 190/104 but the 190/112 is good to.Like the desert cam and if anybody has a problem with it I'm to old to care.Another unissued one here.To get all the features at this price in something new made well you'd spend way more.The only very minor disapointment is the miniscule sleeve pocket.Why the heck did they even bother?Overall it's great and is quickly my go to jacket for weather other than the torrental
downpours we get here in the winter on Canadas west coast.
0
0
I would recommend for a friend
Petri H.

25.07.2019 (Edited 25.07.2019)
Yhden ostin ja oli niin hyvä, että piti ostaa toinenkin. Molemmat tulivat tehtaan muoveissa, hymyilin. Tämä suorastaan pyyhkii lattiat lekan omalla särmä-smockilla hinta-/laadussa ja mustaksi värjättynä sopiipa vielä Suomen synkkyyteenkin, rikki tätä on mahdoton saada vahingossa.

Kaksisuuntainen vetoketju on nerokas, vähän kun vyötäröön päin aukaisee alhaalta niin ei tarvi huolehtia helman repeytymisestä kyykistyessä, vaihtoehtoisesti kiristyksillä voi helman pussittaa kauttaaltaan vyötärölle sotilastyyliin. 180cm/100cm kokoiselle istuu hyvin 180/104, alle mahtuu fleeceä ja hupparia tai vaikka molemmat. Jos ei tavoittele kerrospukeutumista sydäntalveen niin varmasti riittää yhtä pienempikin koko.

Joitakin hihojen ja vetoketjusuojan velcro-kiinnitykset saattavat häiritä, itse vaihdoin vetoketjun suojasta velcrot pois ja napit tilalle, toiseen takkiin jätin velcrot ja toimii niinkin. Osta hyvä ihiminen itelles tämmönen vielä kun näitä saa. 5/5 ellei enemmän.
1
0
I would recommend for a friend
Johnny H.

10.09.2019
I got an unissued perfect jacket. I dyed it. It turned completly black. No camo left. The buttons turned black. Stitching and zipper Still Brown. Velcro became grey. I used a dye for cotton and nylon with quite a lot of salt to fixare the colour. Ran it in the washing machine att 90C.
0
0
I would recommend for a friend
Mark Y.

25.09.2019
Amazing. Brand new in the package. High quality construction. I am 5'10" and weigh 200lbs. I ordered the 180/112 and it is prefect. The cut is long on the body and has a good amount of room inside for layering. This will be my winter overcoat with insulating layers underneath
0
0