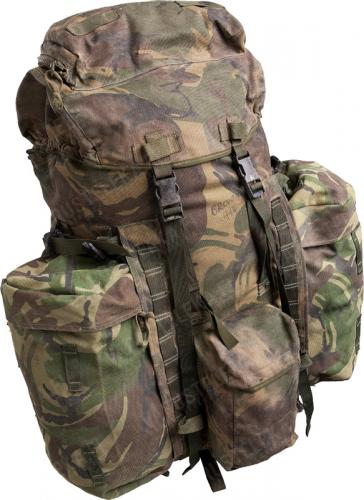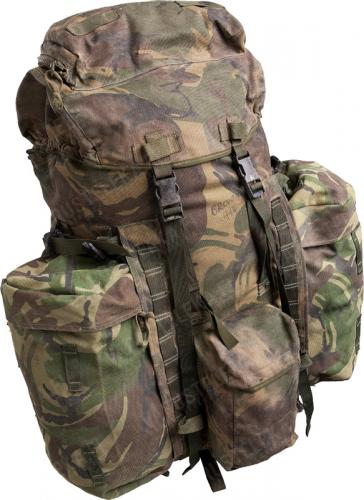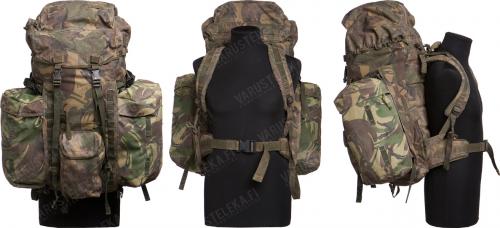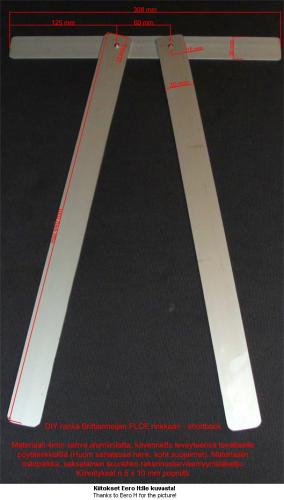 Great Britain
British Army PLCE rucksack, DPM, surplus, without frame
Price 49.99 USD
excluding sales tax
Genuine British Army PLCE-ruck, used condition. An excellent choice whenever a larger rucksack is required.
Loading products...
Trouble with the metric system? Try our converter: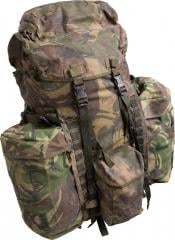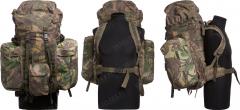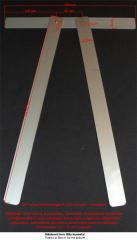 Genuine British Army PLCE-ruck, used condition. An excellent choice whenever a larger rucksack is required.
These particular rucksacks are missing their internal aluminium support frames. One can easily be made using flat aluminium bars (the original frame is essentially a TT-shaped piece of metal, so the only things you need are some screws or rivets, and four pieces of flat aluminium (or iron) bars). Even without the frame the rucksack is perfectly useable, you just need to pack smart and carefully.
After the Falklands war the British army were convinced they needed a large rucksack, which - unlike anything issued at that time - would be ergonomic to carry over long distances. The civilian manufacturer Berghaus had provided rucksacks for special forces in the Falklands and these were the starting point to develop a "Regular Squaddie" version, which would become the PLCE rucksack.
The rucksack has the volume to spare, but it's also well designed for use and carries. It has received compliments even from the end-users, who commonly complain about everything you can imagine and even if you can't.
One large 90 litre / 5500 in3 main compartment.
The main pack can be compressed using straps on the sides, a nice feature when you don't need to stuff it completely full.
Wide, well padded, adjustable waist and shoulder straps.
A detachable aluminium support frame.
A pouch on the top of the flap.
A small outer pocket on the lower back.
Two detachable 10 litre / 612 in3 side pouches, can be combined to form a day pack. These will almost always be something else than original British army stuff, and might not work with PLCE yoke.
Size info
Separate models are made for those with longer or shorter backs, and because we're nice and careful people we have sorted them in the warehouse. Here's a short size guide:
160-173 cm / 5' 3" - 5' 8": Short
174 cm / 5' 9" or more: Long
However, it's really not that finicky; for example a 180 cm / 5' 11" tall man can easily use Short too. Of course if you are very tall, it's best to forget that and go for Long. If you are planning on using webbing kit with the rucksack, take Short.
Used British army surplus
Used but in serviceable condition. The camo pattern is faded and these are not washed. Take a mild detergent, brush, and elbow grease to it if you want to. The rucksacks are likely to have small fixes, names or initials marked with a sharpie and so on.
Important historical facts
British 20th century kit development in a nutshell:
In the first decade, Mills Woven Cartridge Belt Company of London created the Pattern 1908 Large Pack, and Field Marshal Douglas Haig saw that it was "Adequately satisfactory."
In the fourth decade, Mills created the Pattern 1937 Large Pack, and Sir Winston Churchill saw that it was "Proper hard-wearing kit!"
In the fifth decade, Mills created the Pattern 1944 webbing, and all saw that it was "Inferior to the Patt. '37 in durability."
In the sixth decade, the Army Ordnance Research Group in collaboration with the Devil himself summoned the Pattern 58 Large Pack from the underworld, and all who saw it said: "The Army seems to have taken leave of their senses."
In the ninth decade, Margaret Thatcher said "Bollocks!" and issued her boys bound for the Falklands with shiny new Berghaus bergens, and the moustached gentlemen saw that these were "Fackin' nails!"
Kierto Circular Economy
Return this product used but clean and unbroken, and you'll receive half of the product's original price as Varusteleka credits. Service is available only in Finland. Only Registered users can make Kierto returns. See more information about Kierto.
All products: Great Britain
Recommendations
Loading products...
Reviews
You have already submitted a review. You can edit your text by clicking on it. You can filter the reviews by clicking on the elements of the summary.
Log in and write a review. You can filter the reviews by clicking on the elements of the summary.
Remove filter
I would recommend for a friend
James B.

29.05.2020

Verified purchase
I remember a Sqn Sgt Major of mine saying, whilst I was packing my '58 pattern large pack, "What we need, is a fucking big bergan." This was in BAOR in 1985, and the large pack was designed to carry one's spare clothing in when on a mechanised unit - anything bigger wouldn't fit into the truck or AFV, so I found it good for that. However, we'd have to use them as marching packs in basic training and even on promotion courses, so that's where it got its bad rep.
Well, we got the FBB. All 125l of it, not including in my case the PRC351 radio daysack held under the top flap along with the issue sleeping mat (commanders carry comms). So even that size pack was filled to capacity. The IDF are trialling wheeled quick release pulks, so it looks like we've finally reached the limit in what even a trained infantryman can carry on his back. When one looks at old WWII photos of combat soldiers carrying hardly any gear, it means that either they had better support services, or they got wet, froze and went hungry, or took what they needed from the battlefield...anyway, this is the ultimate FBB for carrying everything, and worth trawling UK based surplus sites to get the proper side pouches and harness rig. The waist belt is a bit weedy and not much use for transferring the 60kg or so one is carrying onto the hips, and there's no back system. This is because the Bergan is designed for infantry foot operations, but we'd be carrying it on top of the PLCE belt order, so anything more complicated like that found on the Dutch bergans isn't any use. It is a good bergan for non-tac use on its own carrying a large and heavy load, but one does need to build up the strength for that, usually on the first couple of days on a long trek, unless one is doing regular bergan training tabs. I was at a stage in my life when I was in the mob when I could carry the standard 100-odd lb tactical load on a few hours sleep a day (I weigh 154lb then & now). But then after the Falklands War every British infantry soldier eventually had that expected of him.
5
0