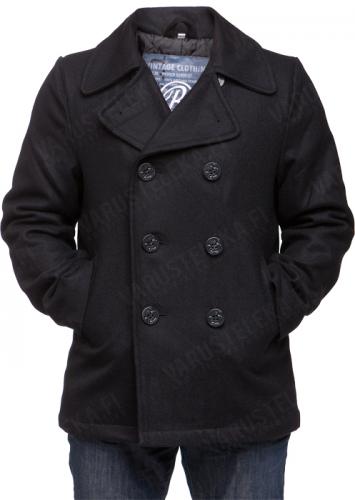 Brandit Pea Coat
Price 64.99 USD excluding VAT
Flat Rate Shipping to USA $9.99
100 % recommends
Sold 26 pcs in the last two weeks
Loading products...
Trouble with the metric system? Try our converter: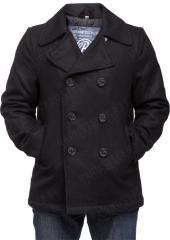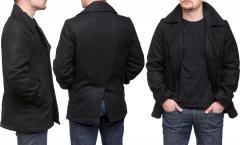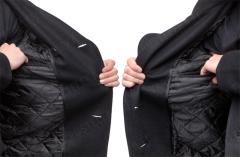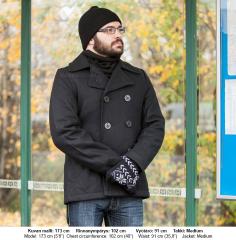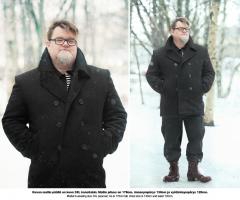 The classic medium-length navy Pea Coat. A faithful copy of the US Navy model, this is a very stylish and warm coat for cold weather, just like the original.
The Pea Coat works equally well on sea or land. It features a large foldable collar, two button rows, hip pockets, and valuables can be kept in the inside breast pocket. The cut is really manly, as it should be. If there's one gripe, the buttons are not always that well sewn on. We suggest you take the time to inspect and reinforce them if necessary.
Material and care
Made of a nice quality wool-polyester blend (50/50 %). The lining is polyester. We recommend not washing unless absolutely necessary. If you wash, do it in 30 degrees Celsius, hang dry. You should stretch the garment a bit when it's drying to open up the fibres again.
Sizing
Sizes are given in centimetres, first up is user height, then chest circumference. If you use inches, divide the centimetre sizes by 2,54, or use our handy converter.
Made by Brandit
Brandit is a German clothing manufacturer. They often combine military and civilian features, and this usually makes their products practical and good looking. Even though Brandit makes its stuff in China, they keep the quality consistent. These are perfect for casual everyday use.
Recommendations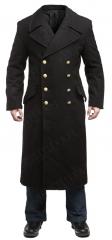 Mil-Tec navy greatcoat, black
110.99 USD
Similar product.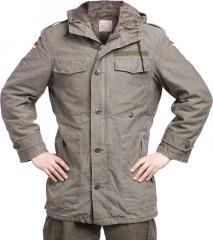 BW parka, olive drab, surplus
55.99 USD
Viewed together.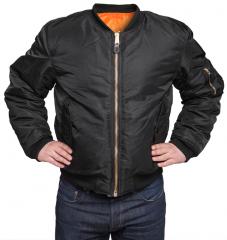 MFH MA-1 bomber jacket, black
45.99 USD
Viewed together.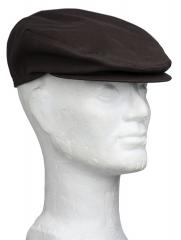 Särmä Worker Flat Cap, brown
32.99 USD
Viewed together.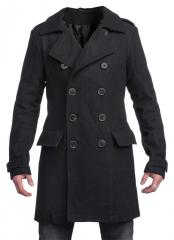 Särmä Wool Coat
119.99 USD
Similar product.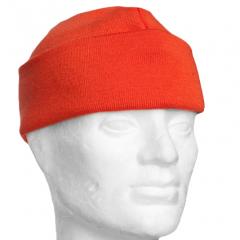 Särmä Commando Cap, Merino Wool
18.99 USD
Might be of interest.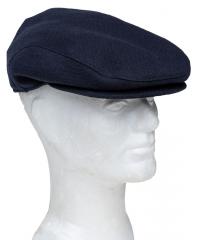 Särmä Worker Flat Cap, wool, dark blue
45.99 USD
Might be of interest.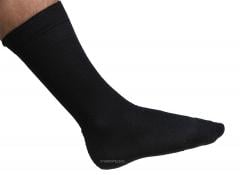 Särmä Merino Socks
9.99 USD
Might be of interest.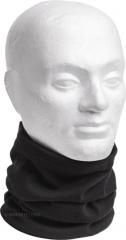 Särmä neck tube, merino wool, black
18.99 USD
Buy also.
Mil-Tec service shirt, black
18.99 USD
Might be of interest.
Reviews
You have already submitted a review. You can edit your text by clicking on it.
Log in and write a review.
Remove filter
Suomi
(15)
English
(6)
I would recommend for a friend
Kalervo S.

24.10.2017
Huitsin hyvä takki oon inttiajoista asti ihaillut kansitakkia ite olin laivastossa upinniemessä hyväksi havaitsin mallin jo silloin vuonna 1970. Oon vähän pyöreämpi poika 4XL pikkusen rinnan kohdalta tiukka, hihat hitusen pitkät normi vartalolle istuu kun reppu selkään. Huippu vaate!
2
0
I would recommend for a friend
Antti V.

15.11.2017 (Edited 15.11.2017)
Hemmetin hyvä takki hintaisekseen. Takin ostokriteerinä oli se, että takissa on oikeasti villaa edes puolet. Puolet kalliimmissa miestenvaateliikkeiden takeissa villaa oli naurettava määrä, joten tämä voitti ylivertaisesti hinnalla ja materiaalilla. Ainut miinus heikoista nappikiinnityksistä. Onneksi uudelleenompelemalla ongelma korjaantui.
1
0
I would recommend for a friend
ville e.

25.11.2017
Takki hyvä mutta koot on erittäin väljiä ainakin minun kohdallani. 170cm ja 70kg niin meni xs-takki just sopivasti. Enkä ole mikään riisitikku.
3
1
I would recommend for a friend
Russell F.

17.12.2017
WARM AND COZY ! KNOCKS COLD DOWN ON BOARD THE SHIP AND LOOKS GOOD!
2
0
I would recommend for a friend
Hannu P.

04.01.2018
Tuli tänään postissa ja voin vakuuttaa, että oli loisto ostos! Takki istuu hyvin on tosi laadukas. Samanlaista ei saa mistään muualta tähän hintaan!
3
0
I would recommend for a friend
Paul B.

04.07.2018
Highly recommended jacket, keeps the warmth in and the cold out where it should be. The lining does a very good job .
2
1
I would recommend for a friend
Antero O.

18.10.2018
Pari päivää pitänyt ja rahan arvoinen on. Hylkii näköjään vettä. Tai ei ainakaan imaise sitä itseensä
0
0
I would recommend for a friend
Antti H.

01.11.2018
Olipa vain törkiän kolokosti vastinetta rahalle. Erittäin mukavan tuntuista kangasta. Minun yksilössä napit oli kyllä hyvin kiinni. Hihat oli ehkä minun makuun hitusen pitkät. Kokotaulukko piti hyvin paikkaansa.
Hyvät povitaskut, toisessa vetoketju.
Musta-valkoinen Shemagh -huivihan on lähes pakollinen ostos tämän kanssa.
2
1
I would recommend for a friend
Ville R.

08.12.2018
Erinomainen takki, mutta kuten muutkin taisi sanoa napit välillä heikosti kiinni, jouduin yhden napin alhaalta ompelemaan uudestaan. Tämän kanssa voi laittaa tilaukseen varmuuden vuoksi saksalaisen ompelusetin. Hihat ovat vähän pitkät minun käsiin L-koossa, M-koko minulle ei olisi taas mahtunut, mutta se on aika pieni miinus, pysyy ainakin kädet paremmin lämpimänä. Kaikenkaikkiaan voin suositella tämän tilaamista, ihan hintansa väärti, ihan "muodikas" takki verrattuna muuhun puolisotilaalliseen skinhead-tyyliseen pukeutumiseeni.
0
0
I would recommend for a friend
Arto K.

10.12.2018
Erittäin jeppis tuote, ryhti parani entisestään tämän kanssa. Mitoituksesta opastukseksi muille, olen 194 cm harteikas ja 96 kg, käsillä on mittaa kun pioneerilla. Koko XL on oikein hyvä. Mitoitusohjeiden mukaan tilasin ensin xxl johon olis tarttenu telttakepit matkaan. Ja nyt sitten iso käsi tälle putiikille palvelusta, vaihto oli helppo ja nopea. Tällasesta kaupasta uskaltaa ostaa. Tattis ja suosittelen.
4
0
I would recommend for a friend
Mika H.

19.12.2018
Ei niin vahvaa kangasta kuin alkuperäinen. Hinta / laatu OK!
2
0
I would recommend for a friend
Tatu L.

26.03.2019
Takki ollut 2talvea nyt käytössä, pirun hyvä, napit ommeltu uudelleen, koska alkoivat löystyä. Takin kanssa ei ole ollut ongelmia.
0
0
I would recommend for a friend
jacques c.

17.10.2019
It,s everything I Expected and more,.waiting for the snow to come.Just so happy with my purchase!!!!!!!
I ordered on the ninth and received it today the seventeenth of October!!!!!!! Wow 8 days Finland to Canada. At my doorstep!!!
Thank you for the great product and service.
1
0
I would recommend for a friend
Pablo V.

26.10.2019
I would recommend for a friend
Anonymous customer

15.11.2019
Pakko antaa ensimmäistä kertaa hieman palautetta Varustelekalle:

Ostin ensimmäisen tällaisen takin v. 2014 syksyllä, intin loppupuolella. Ihastuin takkiin heti, ja se palvelikin minua auvoisasti aina syksyyn 2018 saakka. Ylin nappi irtosi kertaalleen muutaman vuoden käytön jälkeen, jolloin ompelin sen takaisin, mutta syksyllä 2018 ylin nappi irtosi repäisten ison palan kangasta mukanaan, jolloin totesin takin käyttöiän olevan tiensä päässä. Oli joku saumakin jo revennyt silloin, takki oli kovassa käytössä.

Etsiskelin uutta talvitakkia kauden 2018-2019 (kun en halunnut heti ihan samanlaista ostaa), mutta koska suurin osa tuotteista markkinoilla on paskaa, en ostanut mitään. Nyt syksyllä päätin sitten antautua ja käydä hakemassa uuden tällaisen, mutta laatu oli valitettavasti tullut alas. Muuten takki on yhtä hyvä kuin ennen, ja näyttää edelleen hyvältä, mutta kangas on jotenkin selvästi väljempää. Kaulus ei tahdo pysyä ylhäällä, kun vanhassa takissa se napsahti jämäkästi paikoilleen eikä tullut alas vaikka vähän tuulikin vastaan. Uudessa takissa kaulus on hentoisempaa kangasta, joka väljähtää alas ellei sitä nimenomaisesti pidä ylhäällä. Tämä piirre oli ikävä yllätys, vaikka takki itsessään onkin edelleen hinta-laatu-ulkonäkö -parametreillä mitattuna markkinoiden paras. Olisin valmis maksamaan kolminkertaisen summan, jos saisi sen vanhan takin jämäkkyyden takaisin, vaan eiköhän tälläkin pakkaset selätetä.

Joka tapauksessa suosittelen takkia, erityisesti jos ei päässyt ihastumaan siihen vanhempaan malliin. Takki on lämmin ja kivan näköinen.
0
0
I would recommend for a friend
Nikola N.

30.11.2019 (Edited 30.11.2019)
Bought one for 36euros, since it was some kind of a discount, obviously, the only ones left were sizes too big, but it still ended up being less expensive with tailor's services included AND I got it to fit perfectly. Reinforced the buttons a bit, the only issue I have with it is the fact that I only now realized that these coats collect fucking hair/tiny little strands and whatnot like crazy. I actually have to clean it sometimes, but oh well. Gotta find myself a good looking turtle neck roll for that 10/10 cool navy look. You don't even notice the wind blowing, though you gotta wear it with a scarf, or your neck's gonna get fucked. All in all, a great fucking coat!
0
0
I would recommend for a friend
Kari T.

15.12.2019
I would recommend for a friend
Pavel S.

16.09.2016 (Edited 20.09.2016)
Good made, warm, not heavy.
11
1
I would recommend for a friend
Ville T.

13.11.2016 (Edited 18.11.2016)
Takki itsessään on laadukkaasti tehty ja lämmin. Nappeja ei jostakin syystä ole edes yritetty ommella kunnolla kiinni joten ne oli irrotettava ja ommeltava uudelleen.
Jos nappien uudelleen ompelu ei haittaa, on tämä takki hyvä ostos. suosittelen..
9
2
I would recommend for a friend
Riku P.

24.11.2016 (Edited 28.11.2016)
Mukava takki joka sopii kahden XL:n koossa vähän läskimmällekin vaikka tilatessa vähän epäilytti. Aikaisemman arvostelun nappiongelmaa ei itselläni ole ollut vaan ovat pysyneet jämptisti kiinni. Suosittelen kyllä!
6
0
I would recommend for a friend
Ilkka J.

23.04.2017
Ostin takin mustana. Yksi nappi on täytynyt vahvistaa. Kokoa valitessa kannattaa miettiä myös hartioiden leveys. Itselläni rinnanympäryksessä on vielä varaa mutta hartiat ovat justiinsa. Käytän paljon sarkavaatteita ja halusin myös urbaaniin ympäristöön sopivan takin joka käy kuitenkin märkäänkin ilmaan. Siistin näköinen takki joka käy arkeen ja pieneen juhlaankin johon pitkä villakangastakki on jo liikaa.
6
0