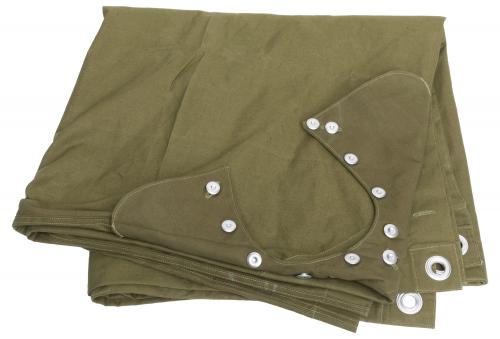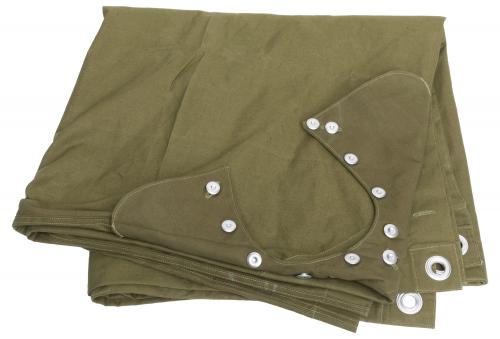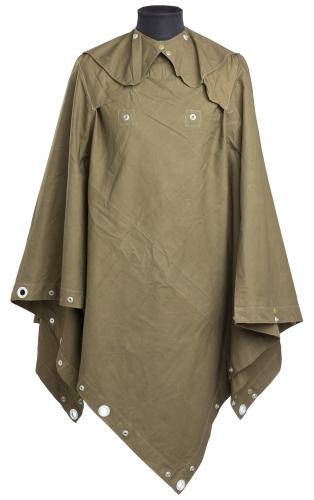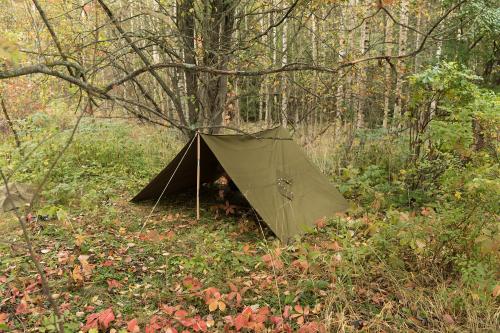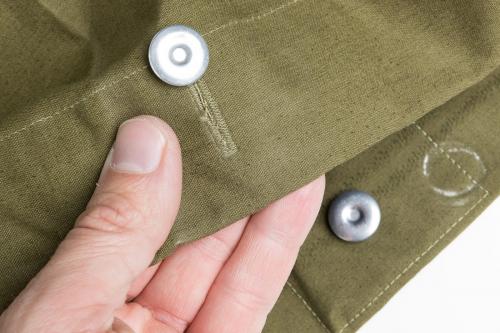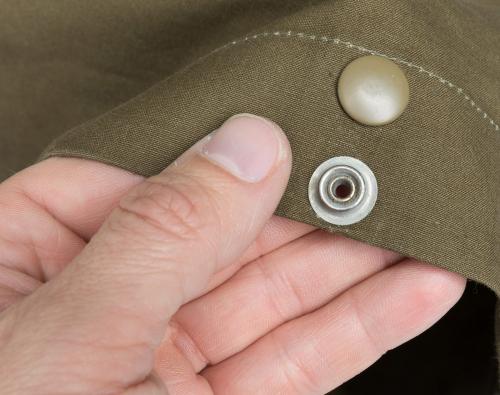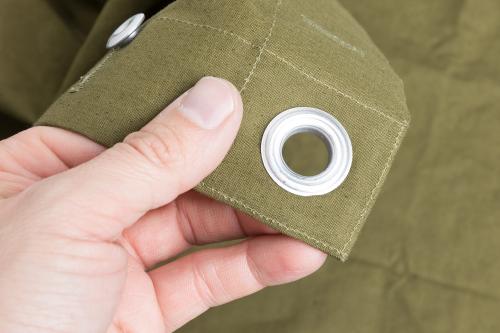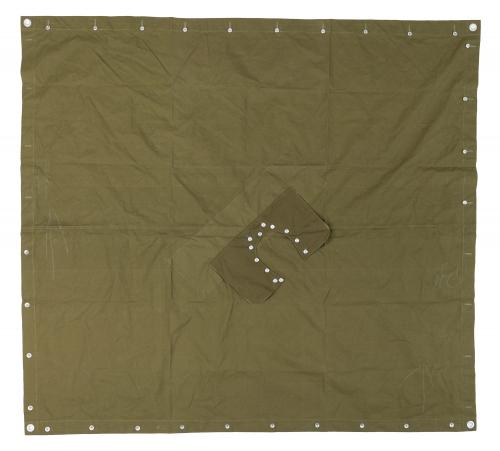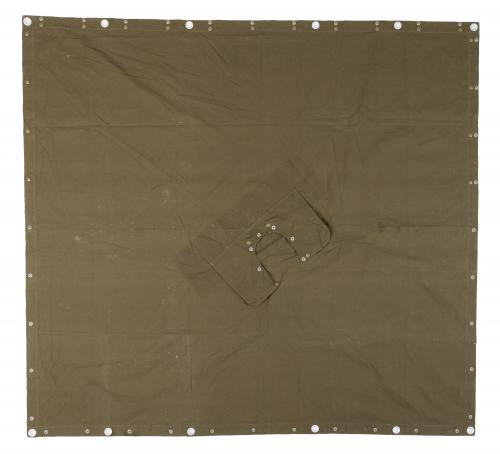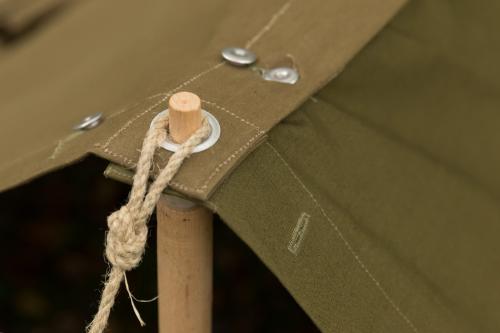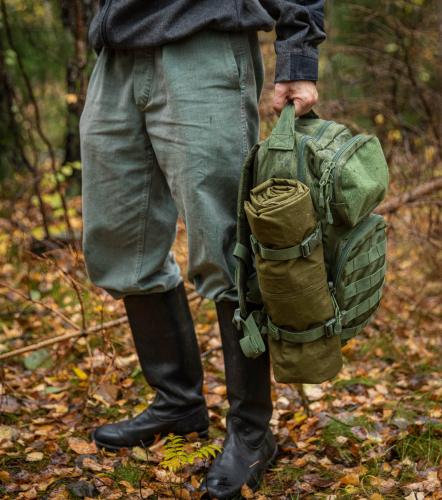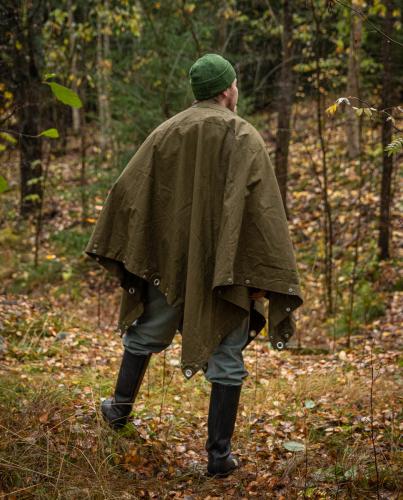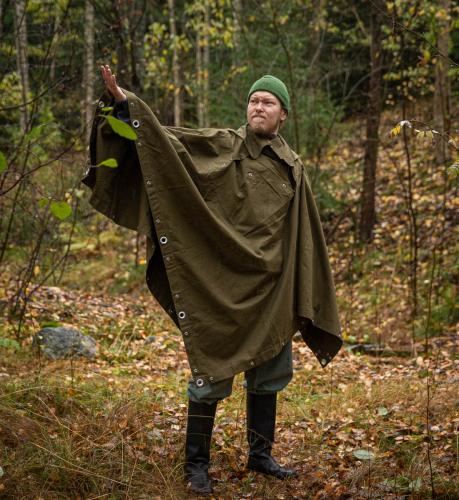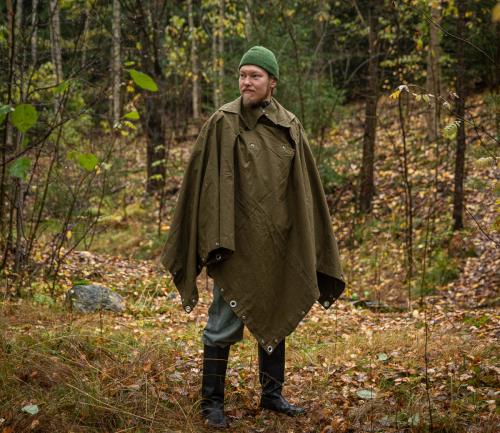 Show all: Belgium
Belgian Shelter Half, Green, Surplus
Price 36.99 USD
excluding sales tax
A rectangular shelter-half/rain poncho of very peculiar design. Works anywhere you need a large, waterproof piece of canvas: on a camping trip, at festivals, or at war.
Loading products...
Trouble with the metric system? Try our converter: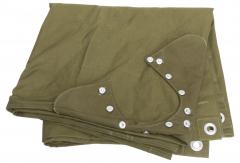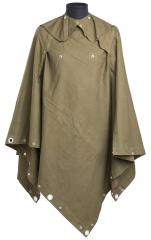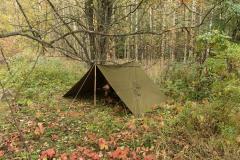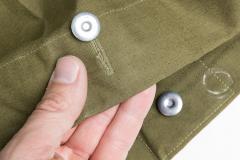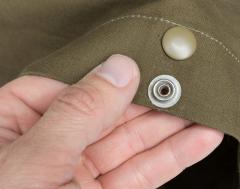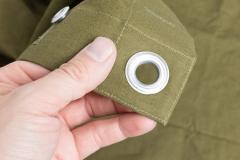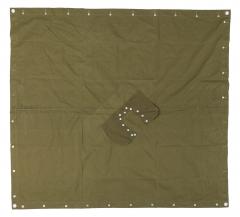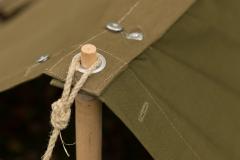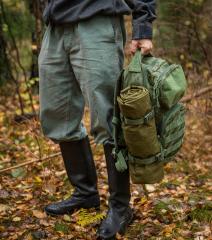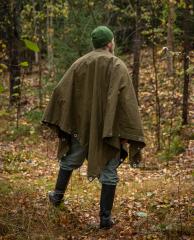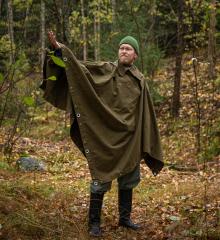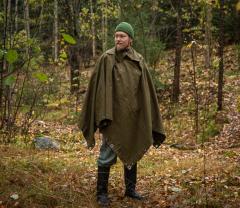 A rectangular shelter-half/rain poncho of very peculiar design. Works anywhere you need a large, waterproof piece of canvas: on a camping trip, at festivals, or at war.
In ye olden days, soldiers were often issued with half a tent each and when the time came, they would pair up to assemble their tent and crawl into it to escape the hard world.
The set would normally comprise of the shelter half, carrying a bag that doubles as a hood, a multi-piece pole, and some pegs and guylines. Available now are only the shelter fabrics themselves, in two slightly different designs.
One model has buttons and the other has snap fasteners. The latter is slightly lighter and has more sail grommets. The different models are not compatible with each other! By attaching several sheets together, you can build anything from a 2-man tent up to an airplane hangar.
Belgian outlandish thinking strikes again
To flip off other NATO countries, probably, the Belgians made their shelter half rectangular as most Eastern Bloc countries did during the Cold War. Then, they discarded the idea of having drawstrings to wear the sheet as a rain poncho and made an opening roughly in the center for the head. Not straight as on the US rain poncho, though, but diagonal. Further, to confuse everyone, they made the hood a separate item that doubles as a carrying pouch for the sheet and also has a feature called "being able to disappear".
Each side of the sheet has buttons or snap fasteners and the corners have sail grommets for tent poles and attachment.
Despite its unique design, the Belgian shelter half is entirely serviceable both as a lavvu fabric and rain cape.
Technical specifications
| Item | Metric | Imperial |
| --- | --- | --- |
| Length | 174 cm | 68.5" |
| Width | 159 cm | 62.6" |
| Weight (w. Snap fasteners) | 1.2 kg | 2.6 lbs. |
| Weight (w. Buttons) | 1.3 kg | 2.9 lbs. |
Belgian Surplus
These have not been used and buttonholes are tight as virgins. Due to army-style storage, however, the fabrics smell pretty bad and metal pieces may have oxidation and patina on them.
Recommendations
Loading products...
Reviews
You have already submitted a review. You can edit your text by clicking on it.
Log in and write a review.
Remove filter
I would recommend for a friend
Kaloyan P.

07.11.2020 (Edited 06.06.2021)
Good quality heavy fabric with a potent surplus smell and some bonus mysterious red stains on one.

I bought 2x of the popper version.

As a poncho it sits very nicely and is a good size. With the addition of a custom hood this should be very functional.Nevertheless I'm a bit disappointed with the design when put together as a shelter. The Ridgeline has a total of 6 large grommets along it that line up and is only 173cm long. So unless you cover these you'll be guaranteed to get wet as it can rain straight through. I had assumed the double poppers would fold over each other and both be engaged to make a stronger and tighter seal but in fact only one row of poppers is used.

The description wasn't lying, this is a funky design! In heindsight perhaps the buttoned version is a better choice for use as a shelter. Either will do well as a poncho
4
0
I would recommend for a friend
Johan G.

03.03.2021 (Edited 24.06.2021)
Really cool Poncho and such, however the snap fasteners. Are a real hassle to un-snap when you wear the poncho and have them all clicked in. I had to take a knife in between the fasteners, and pry it open with force. Since there is to little room get a proper grip to pull them apart with your hands, specifically the snaps around the neck. So if you dont want that issue then go with the buttons instead. Also one of the snap fasteners broke almost immediately when pulled apart.

Still really cool though.
3
0
I would recommend for a friend
Donn F.

05.08.2021 (Edited 05.08.2021)
Received mine just today (with its little Hood brother) just less than a week after order, and used it straight away in the tropical monsoon downpours. Excellent piece of kit! I will order again.

(It smells of Belgian army surplus stored in a Finland warehouse, but nothing to be ashamed of).
3
0
I would recommend for a friend
David G.

01.09.2021 (Edited 13.09.2021)
I bought two of the button up version, looks pretty to be a equally lengthed square shaped although when you flip it from one edge to another you can see that one side is slightly longer than the other. Considering they were both new in marginally different shades of khakiish green some buttons did up surprisingly easy as others were as tight as the description made them out to be, a few were even tighter than that.

What I've guessed to be the ridgeline is the easiest edge to button up as you just line up the button holes and then decide which row of buttons your going to fasten, the ends that act as the door ways are a bit odd as the top half of them the buttons fasten facing out and the bottom half of them fasten facing inside but if you plan on using it with the ends open that's not a massive issue.

As a poncho, depending on your height and whether your carrying any equipment under or over it it and your walking with your arms hung at your sides it should cover most or all of your body, as a tent if your vertically challenged (say 5 foot 7 or less) 2 fitted together accordingly should suit fine however if your any taller than that and want to use these as a tent you'll want 4 as having put my 2 together and looked at it and read the length measurements shown here afterwards its about 2 to 3 inches too short to cover all of me length wise.

Definitely a handy item to have stashed in a bag or something though for if your caught out in bad weather, will certainly outlast most, if not all, fancy waterproofs and is a genuine one size fits all (less the abnormally tall) and unlike most surplus items isn't battered to within an inch of its life and held together with 4 rolls worth of assorted tape and countless stitched repairs.
0
0
Kierto Circular Economy
Return this product used but clean and unbroken, and you'll receive half of the product's original price as Varusteleka credits. Service is available only in Finland. Only Registered users can make Kierto returns. See more information about Kierto.