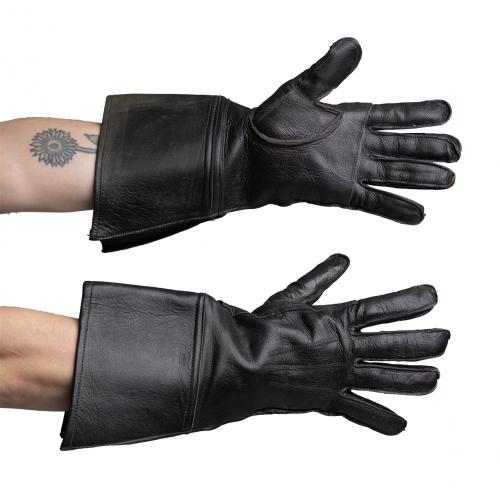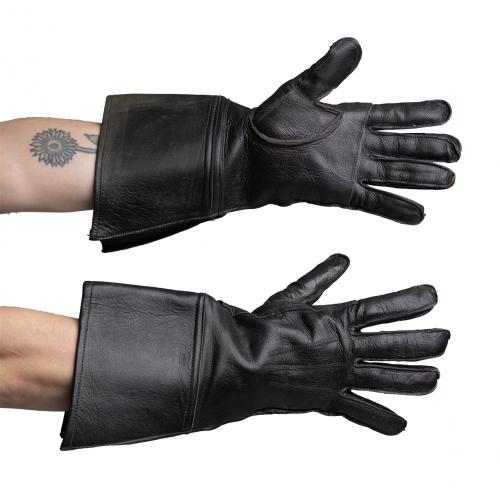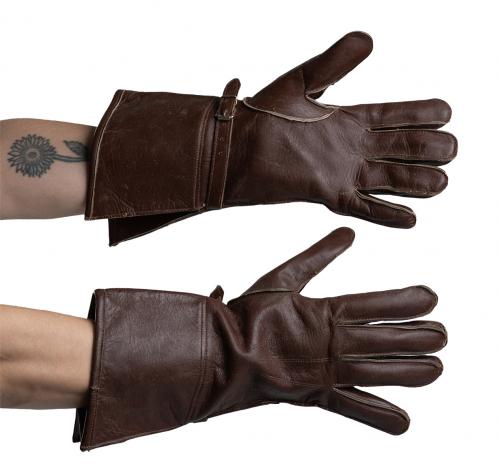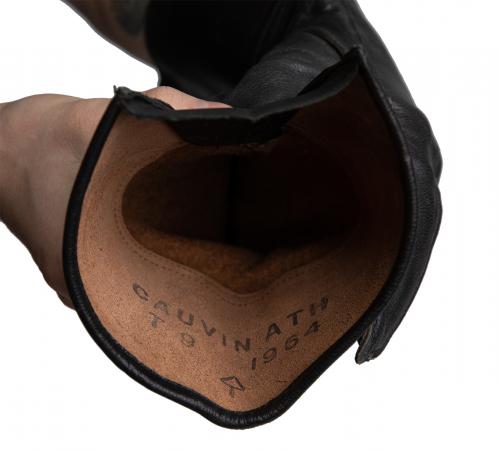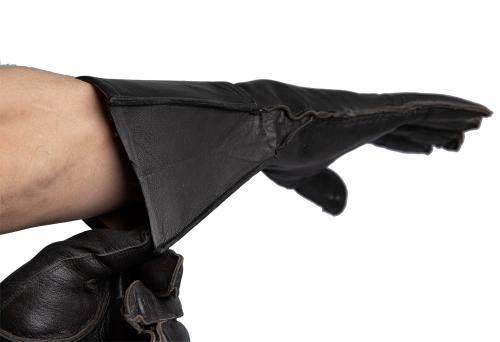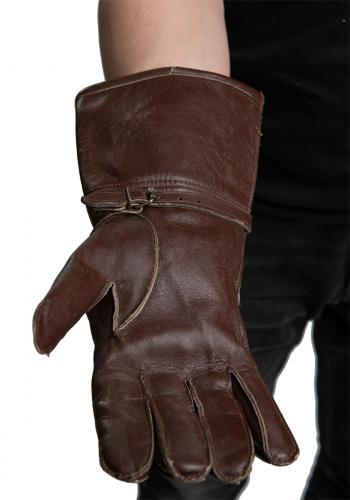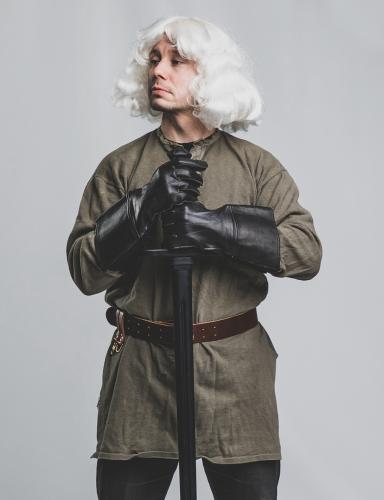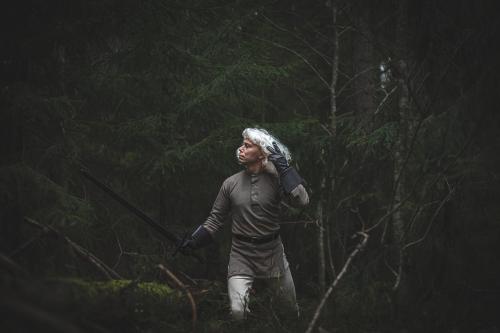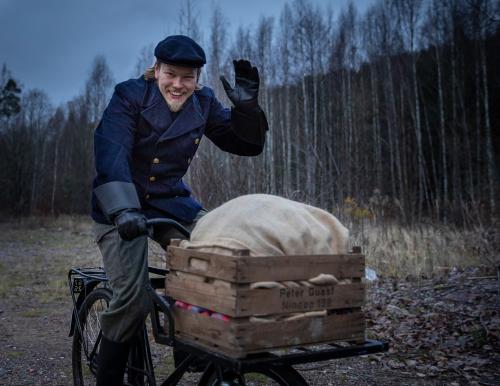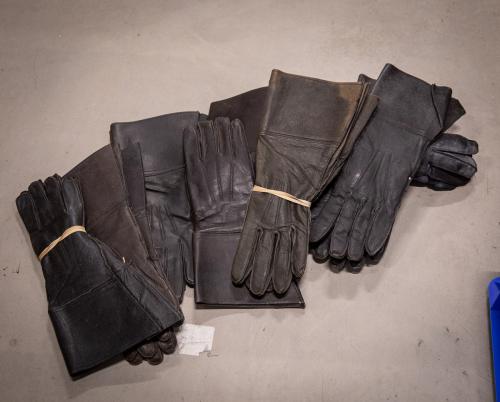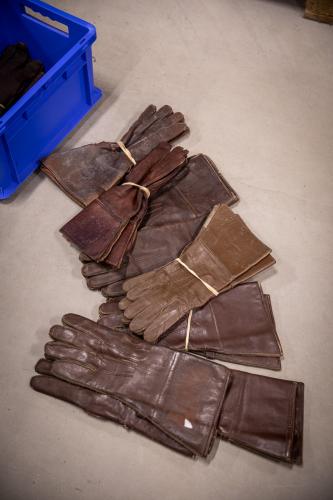 Belgium
Belgian Motorcycle Gloves, Leather, Surplus
Price 19.99 USD
excluding sales tax
Holy moly! Proper old-school biker gloves from leather with a decent price tag! Too good to be true? Well, kind of. Do read on.
Loading products...
Trouble with the metric system? Try our converter: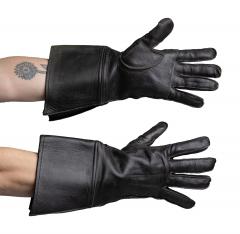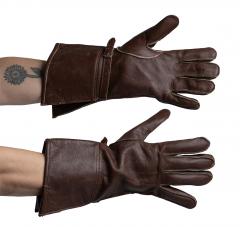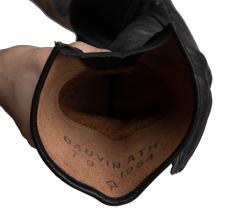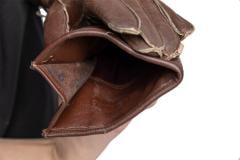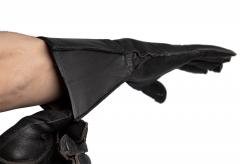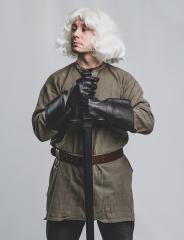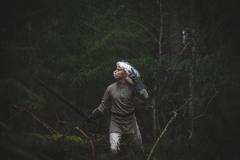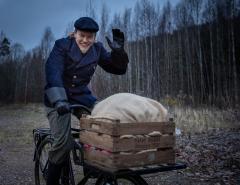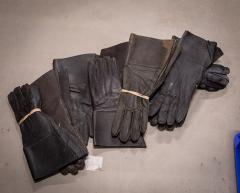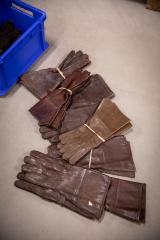 Holy moly! Proper old-school biker gloves from leather with a decent price tag! Too good to be true? Well, kind of. Do read on.
Somewhere in Belgium, a stash of brown and black motorcycle riding gloves were stashed for decades. The brown ones are older, the stampings suggesting them to be manufactured in the 50s or even earlier. The black ones are from around the 60s. In addition to riding any two-wheeled vehicle, these gloves are suitable to be carried into many kinds of adventures and times.
The brown option
These are lined with wool and the cuffs are reinforced. The details and condition vary with some being quite stiff and others more supple. May or may not have tightening tabs. The rare pair may be unused, but don't expect them to appear new.
Big attention! The brown gloves are not for the faint of heart! Even in the best case, these smell like an old storage room and may have traces of mold on the surface. The cotton threads are 60 years old and may crap out at stress points such as the thumb seam.
The black ones
Black gloves are a safer bet if you find brown to be too steam punkish for you but they are also in a less horrible state and more uniform in appearance. Most often, these do not have tightening tabs.
These also have a grandma's basement smell to them, though not as strong as the brown ones.
Conditioning back to life
Any visible mold can be brushed off and some white vinegar from a spray bottle to the surface kills what you can't see. Do the brushing outdoors to avoid spreading spores inside your home and let the vinegar do its job for two hours.
It's likely that just one treatment is not quite enough to remove all of the smell. Repeated vinegar treatment, cleaning with a sponge and gall soap, and treating with leather oil or grease will do the trick with enough time.
The seams are designed to be repaired easily. A small needle and thick thread is a good combo to weave through the original holes. It helps if you have the patience of a cow and fingers of a gynecologist.
Belgian army surplus
Yeah, it's like this sometimes. We won't be getting more of these.
All products: Belgium
Recommendations
Loading products...
Reviews
You have already submitted a review. You can edit your text by clicking on it.
Log in and write a review.
Remove filter
Suomi
(3)
English
(4)
I would recommend for a friend
Erik M.

09.01.2021 (Edited 15.06.2021)
Ordered Black.
The left glove was manufactured in 1972, the right in 1988.
The inside is lined with an unknown fabric, but it feels very much like corduroy.
The leather around the cuffs is extremely stiff and will take a lot of conditioner before relaxing.
It has no straps of any kind to cinch.
The gloves smell of lemon cleaner and old storage.
They work quite well to prevent the wind from going up your sleeves due to their length. Though you may look a little silly if combined with a high-vis jacket.
5
0
I would recommend for a friend
Pyry P.

13.01.2021 (Edited 15.06.2021)
Peloitteluista huolimatta ostin ruskeat. Itselläni kävi "lottovoitto" hanskojen suhteen, näyttävät olevan täysin pakasta vedettyjä, ehjiä ja siistejä eivätkä haise eikä likaakaan näkyvillä. Saumatkin olivat 100% kunnossa ja siistejä, samoin soljet eikä mikään repsota.

No miksi "lottovoitto" eikä lottovoitto? Ollessaan pakasta vedetyt, nahka on äääärimmäisen jäykkää ja tiukkaa, koon 9 käsi menee tiukasti koon 10 hanskaan ja sormia ei saa taivutettua käytännössä ollenkaan. Eli käyttöön näitä ei omassa tapauksessa saa heti vaan vaatii toimenpiteitä.

Uskon kuitenkin että rasvaamalla/öljyämällä n. 100 kertaa ja moukaroimalla hanskat saa pehmeämmäksi, jolloin voi käyttää normaalien hanskojen tapaan. Kyseessä on kuitenkin erittäin tyylikkäät ja laadukkaat hanskat jotka henkivät "wanhan ajan seikkailija-lentäjä"-viboja. Varmasti villavuoren avulla toimivat viileämmälläkin säällä vaikkei talvihanskat olekaan suoranaisesti.

Suosittelen, vaikka täysin uusinakin vaativat säätöä.
4
0
I would recommend for a friend
geoffrey s.

21.03.2021 (Edited 24.06.2021)
I ordered brown for a more period appearance. The right is dated 1952 & the left has no date but appears older. Both are in remarkably good condition with no visible wear & responded well to leather treatment. They smell from years in storage but this will fade.
Sadly they aren't a matching pair. I can put up with the slightly differing styles but the right is a 10 & the left a small 9.
As all the brown 10s have now gone Varusteleka immediately offered a size 10 replacement pair in black. Well done them!
0
0
I would recommend for a friend
Henri K.

07.08.2021 (Edited 17.08.2021)
Ostin kahdet mustat kokoa 8. Toiset oli aivan uudet ja toiset käytetyt.
Käytetyissä oli jotain valkoisia maalitahroja joita en saanut pois joten laitoin palautukseen.

Tuotekuvaus ei tosiaan valehtele hajusta. Paketti haisi jo ennen avaamistaan. Pesu etikalla ja viikko muovipussissa ruokasoodan kera poisti pahimmat hajut, mutta työtä vielä riittää. Tuuletusta kunnes haju on kokonaan poissa ja välillä lisää muita käsittelyitä.

Rasvaus oli myös ehdottoman hyvä veto alkuun sillä hanskat olivat todella jäykät ennen rasvausta.

Suosittelen varauksella, sillä näissä on todella paljon työtä ennen kuin ne ovat käyttökelpoiset. Muutoin kyllä erittäin laadukkaan oloiset hanskat.

Varusteleka voisi jopa luoda ohjeosion vastaavia tuotteita varten.

Sappisaippuaa en käyttäisi kuten tuotekuvauksessa neuvotaan, koska se vahingoittaa nahkaa. Marseille-saippua soveltuu paremmin nahalle.
1
0
I would recommend for a friend
Jacopo A.

30.11.2021
Got the brown ones.
They weren't nearly as bad as I expected from the description, except some minor signs of mold. A good cleaning with vinegar was more than enough. They're stiff as hell, but I figure they'll soften up with time. They look extremely cool, fit perfecly and the price is extremely convenient.
0
0
I would recommend for a friend
Siiri K.

28.12.2021 (Edited 31.12.2021)
Tilasin ruskeat, ja kellarien ja autotallien
haju tulvahti nenään heti pakettiautomaatin luukkua avatessa. Pakettia avatessa odotti kuitenkin ilahduttava yllätys - käsineet ovat siistit, hyväkuntoiset ja käyttämättömän oloiset, ja istuvat täydellisesti, mitä ei luirukätiselle naiselle usein tapahdu näin raavaita alistushanskoja sovitellessa. Holvasin näihin runsaasti Carrin nahkaöljyä ja tungin muovipussissa pakastimeen mahdollisten itiöiden murhaamiseksi, ja tilasin heti toiset varastoon.

Kuten kuvauksesta ilmenee, nämä eivät ole heikoille, eikä tällaista sekoilua voi oikein kenellekään edes suositella ties minkä nahkahome- ja/tai homoallergian aiheuttamisen pelossa, mutta ne tykkää ketkä tykkää.

//edit: pakastuksen jälkeinen sappisaippualla ja kynsiharjalla hinkkaaminen ja kuivaksi vääntäminen (toistettuna muutamaan kertaan) pesivät loput kellarinhajut pois, ja mukavasti myös vaalensivat ja pehmittivät käsineitä. Tavallisesta nahankäsittelyviisaudesta poiketen siis suoritin kunnon vesipesun enkä mitään sivistynyttä pyyhintää, ja se osoittautui viisaaksi valinnaksi, hajut lähtivät kerralla ilman tuuletuksia. Sitten vaan helvetisti lisää öljyä ja unelmahanskat olivat käyttövalmiit.

Puljaamista siis vähän vaativat, mutta eivät läheskään sillä tasolla mitä monet aiemmin kohtaamani armeijaylijäämät ovat vaatineet - hajua lukuun ottamatta jo lähtötilanne oli varsin siisti ja puhdas. Suosittelen siis niille joille huoltotoimenpiteet ovat tuttua ja mieluista puuhaa.
0
0
I would recommend for a friend
loren u.

12.05.2022
I got them in black. They had a bit of mildew on them but I cleaned and oiled them up and they are great. It sounds like it could go one way or the other, but in my case, all they needed was some good leather oil and scrub and they are good to go!

Now, I need to find an old Royal Enfield to ride!
0
0