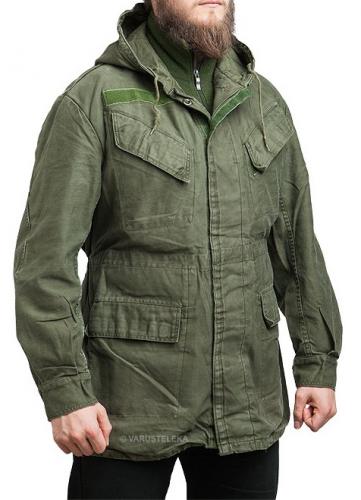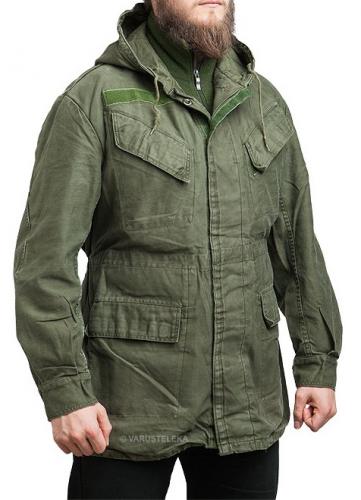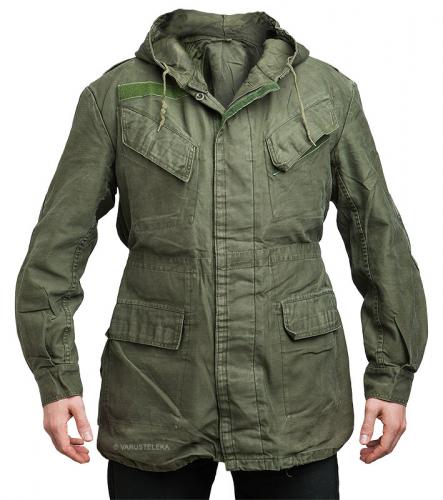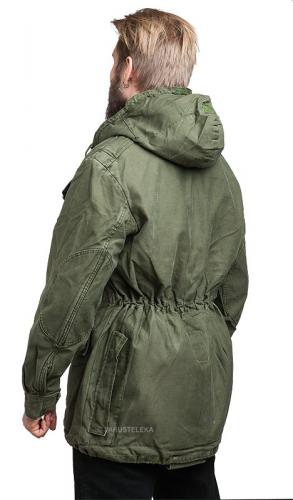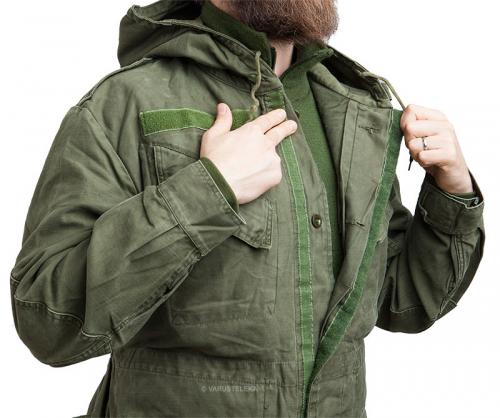 Hook-n-loop and button closure,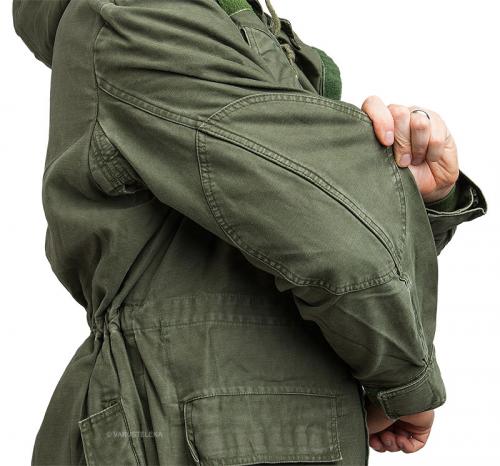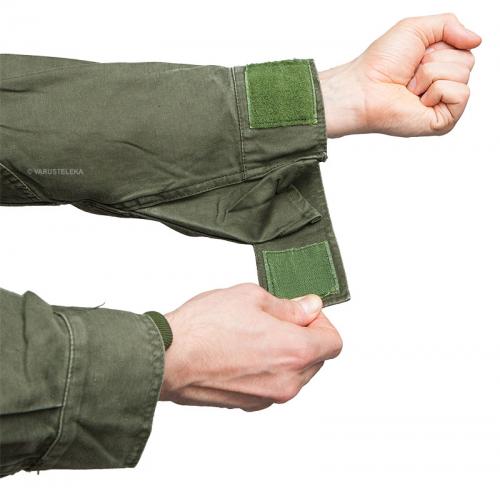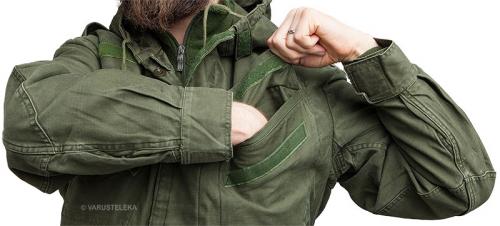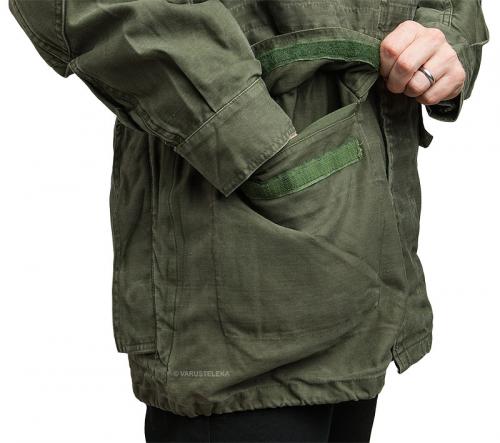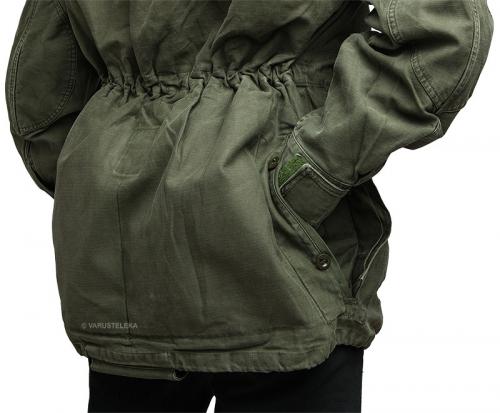 A large poacher's pocket on the back.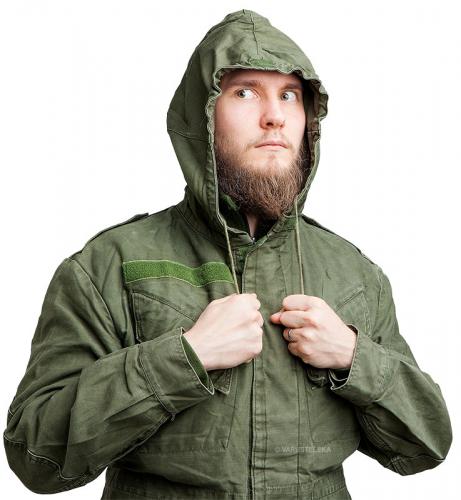 The hood is nice and basic.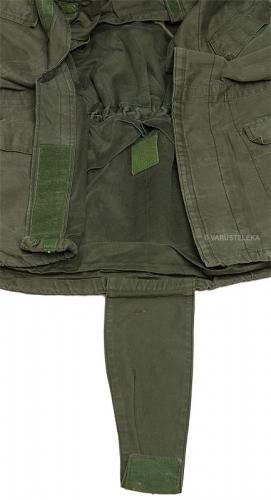 The parka has the ABSOLUTELY VITAL rump strap!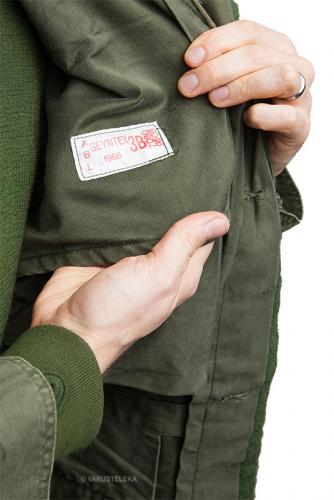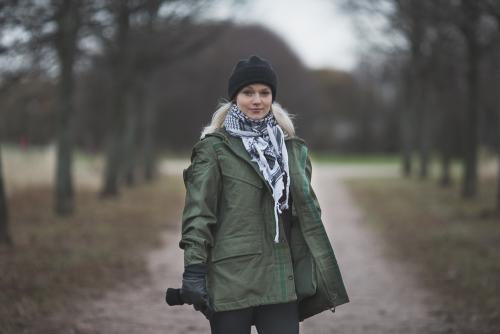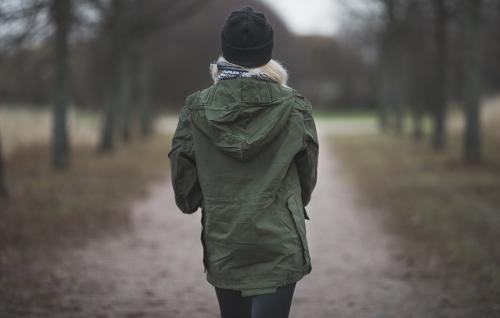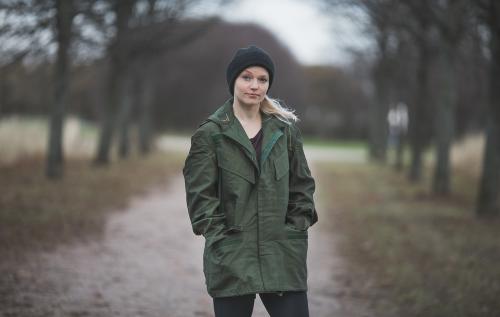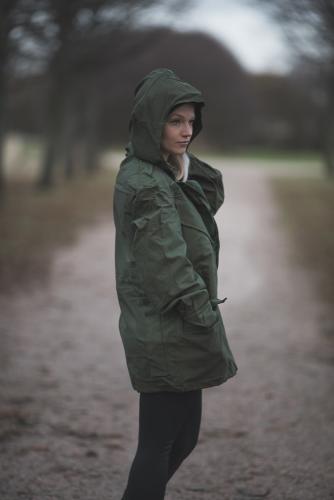 Belgium
Belgian M64 parka, surplus
Price 27.99 USD
excluding sales tax
The Belgian M64 parka could be described as the Belgian cousin of the legendary American M65 jacket: a rugged all-season field jacket with numerous pockets and a proper hood to cover the head.
Loading products...
Trouble with the metric system? Try our converter: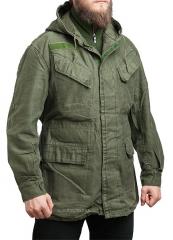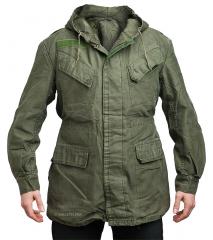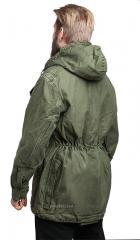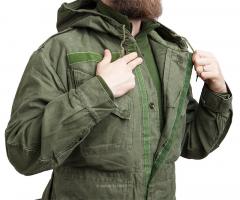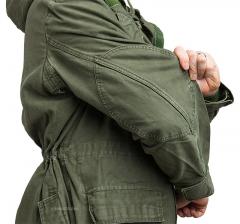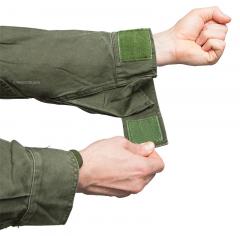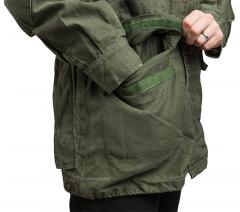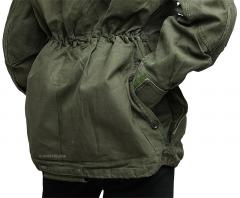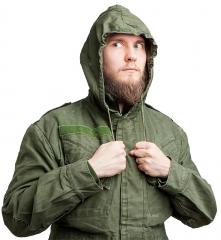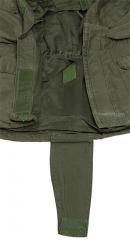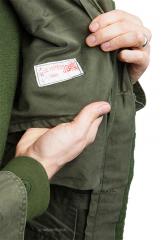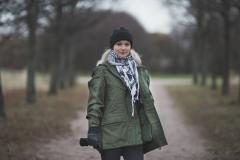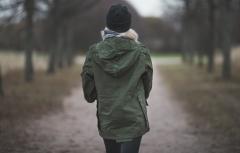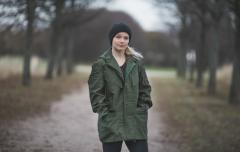 The Belgian M64 parka could be described as the Belgian cousin of the legendary American M65 jacket: a rugged all-season field jacket with numerous pockets and a proper hood to cover the head.
The M64 parka is unlined, which is great as this means you can use it in both cold and warmer weather. When it gets cold, you just wear a sweater underneath, and that´s it. The generous hood offers great protection from wind and rain, again perfect for various weathers. The fit can be adjusted using the velcro cuffs and drawstrings in the waist and hem. The front buttons up, and the buttons are covered by a velcro storm flap. Covering the shoulders and some of the back is a waterproof fabric hidden between the other layers. This fabric will rustle, as it's old. The rustling might go away in use when the fabric becomes creased enough. We're not sure.
Four pockets on the front, all closed by very secure velcro flaps. A large poacher's pocket in the lower back adds some extra space to stuff any bulkier items.
And OH YES, this jacket has a crotch strap! Naturally, you don´t need to use it, and you can even cut it off, but it´s still good to know the Belgians thought it would be useful.
Sizing
Sized according to user height and chest, it can´t get any simpler than this! The funny number & letter combo is just the Belgian size code. By picking the parka with your measurements, you have room to fit warm stuff underneath.
Used military surplus
The colors can be a bit faded, and some minor repairs may have been done to some of the jackets, but overall these are in OK serviceable shape. Also, these do have a bit of a warehouse smell to them. This will be a problem for those with sensitive noses. The smell will dissipate with use in time.
Kierto Circular Economy
Return this product used but clean and unbroken, and you'll receive half of the product's original price as Varusteleka credits. Service is available only in Finland. Only Registered users can make Kierto returns. See more information about Kierto.
All products: Belgium
Recommendations
Loading products...
Reviews
You have already submitted a review. You can edit your text by clicking on it.
Log in and write a review.
Remove filter
Suomi
(7)
English
(19)
I would recommend for a friend
Riccardo R.

01.07.2016 (Edited 01.07.2016)
Very good, thick fabric and stitching, perfect for the season not too hot, if there is wind you do not notice it. makes no noise when it rubs, it's fine to go hunting or if you do not want to scare animals (!) in the woods ... Price paltry compared to the result
13
2
I would recommend for a friend
Pete M.

07.07.2016 (Edited 15.07.2016)
Huomattavasti vähemmän kulunut yksilö tuli mitä esittelykuvissa. Värjäyksen kautta menee arkikäyttöön mustana.
3
0
I would recommend for a friend
Sami K.

20.08.2016 (Edited 01.09.2016)
Kangas on paksua ja kestävää, huppu on riittävän iso - siis ihan pätevä ilkeän ilman wanhan ajan parkatakki. Mutta jos et pidä velcron ihanasta repimisäänestä syksyisessä metsässä, kannattaa miettiä toistamiseen, sillä tässä takissa kaikki läpät ovat kiinni velcrolla - itse ostin tämän muokattavaksi joten suurin osa velcrosta lähti joka tapauksessa pois, mutta sitä tosiaan riittää.
4
0
I would recommend for a friend
Ville L.

22.08.2016 (Edited 02.09.2016)
Jämäkän oloinen takki, mutta tästä et vetoketjua löydä, tarranauhaa kylläkin. Lisäksi ainakin oman versioni olkapäiden lisäkangas rapisee äänekkäästi, tosin enimmäkseen takkia möyhiessä, ei niinkään päällä.



Malli tuntuisi sopivan enemmän vatsakkaalle kuin hartiakkaalle, jos omaa leveät hartiat, kannattaa ehkä ottaa pykälää isompi kuin mitä rinnanympärys sanoo.



Parin kympin hintaisena oikein mainion tuntuinen ostos. Tosin arkitakkina toivoisi vetoketjua, lämmittelytaskua ja povaria, mut kaikkea ei voi saada ja aina voi mennä metsään häpeämään.
3
0
I would recommend for a friend
Sean L.

14.11.2016 (Edited 18.11.2016)
I bought one for myself and one for my wife. Sizing was spot on, take your time and measure, and you will be pleased. Very quiet material, burr and thorn resistant. They arrived and looked unissued, excellent condition. The waterproof lining had dried and the coating was flaking, but that was the only criticism of condition. We ended up treating them with Otter wax, which darkened the color and gave a mild sheen to the material, and now the jackets have a unique look, and completely waterproof. Unbelievable value! Like a smoother, less aggressive SAS or KSK type smock in many ways.
6
0
I would recommend for a friend
David G.

14.11.2016 (Edited 18.11.2016)
Very heavy duty jackets, not sure what the waterproof material is or how waterproof it is but it looks like it still fairly waterproof whatever it is.

The jackets are fairly heavily used but have minimal damage if any and where there is have been professionally repaired (at least on the two I got). Definitely up there for one to get if your after a jacket that can take a beating, don't be fooled by the flat front to the pockets they're just the other way round from most standard ones in that the expansive content holding aspect of it is on the inside.

The only downfall to these I think is the button closure on the front, that needs swapping out for a zip in my opinion.
3
1
I would recommend for a friend
Jake T.

24.11.2016 (Edited 28.11.2016)
Brilliant price for what you get i would pay £60 - £90 for a jacket like this from an outdoor gear shop. comes with lots of pockets to stash stuff , looks great in everyday life in the city or wherever and would make a great survival jacket if your into that stuff , throw a Wool jumper or fleece on under it and your set for winter , my parka came in perfect condition dated 1986 to be honest it looked unissued so I was very pleased .
3
0
I would recommend for a friend
David S.

09.01.2017 (Edited 12.11.2017)
Bought this for trekking & outdoor activities. Surprising quality I detected not even slight damage on it. The velcros are clean everywhere and are extremely strong, actually they are outstandingly strong! Nice! Material is bit on the heavy side, thick woven sympatex (perfect!), hoodie is nice and huge (cool!) with option to make it smaller. Pockets are all big and velcros feels brand new and extremely hard to rip them open (excellent!). Left and right back pockets are a big surprise but I will find a usage for them too!

Measurement is essential before you buy. I got the 3B (170-180 / 95-105 cm) size, though my chest is 115 cm (but I have ~10 cm outer winter fat layer a.t.m.) :-) This jacket is perfect for my height ~178 cm and my chest size, I have average/broad shoulders, the jacket with a sweater fits tightly (elegantly) and comfortably.

It seems totally OK for everyday usage too, practically elegant look. Not military style (it is fine). I bet it is not too warm wearing on a short sleeved cotton t-shirt up to +15-18 degree celsius (during european autumn/spring), also with a nice thicker sweater it seems good for winter around -5 -10 degree celsius as well (in urban situations).

Update: I ordered antoher one just in case every shop in the world runs out of this fine hooded jacket. I did research on the net and it seems this is a paratrooper parka, now the scrotch strap makes sense in this case! Still thinking about ordering a third one, that would keep me covered for the next 20 years or more. :-)

About deteriorating inner material hidden in the dual layer part of the chest/shoulders/back area inside the jacket: first order was not peeling off, second order was peeling quite a bit after the first wash, it disappeared after second wash. At the moment both are fine. I got soaking-dripping wet rain with the second peeling one, like standing/walking in extremely heavy rain for 50 mins. Yes this parka is not waterproof at all, but chest part and top part of back was still warm of my body, so that material inside still works as a more-or-less waterproof layer! Actually the old green belgian trouser (with one cargo pocket and hand warmer slots instead of real pockets) have the same material in the knee area and you can kneel while work on wet grass after rain and it will not soak as well! So it works, but old school. :-D

The warehouse smell, it is there and hits brutally! The best method is to soak it in Febreze spray, when it dries the Febreze will break down 90% of stink-molecules, this takes a few days. After it you can wash like every other material, don't go above 40 Celsius degree, I think it can shrink a few % if you wash above 60 C! The rest of the smell will be decomposed by fresh air and sunshine (basically just start to wear it). Both of mine were treated like this and the smell is 99% gone, the left over 1% is actually very pleasant and proof for original and proper military gear.
4
2
I would not recommend to a friend
Jean-François G.

28.02.2017 (Edited 31.05.2021)
I know it's military surplus, but $ 23.99 for the Belgian parka is too expensive, I have a big hole on the sleeve and the fabric is disintegrating.
This is the only downside I have, otherwise your prices and quality, the descriptions are very good.
An extraordinary site.
2
21