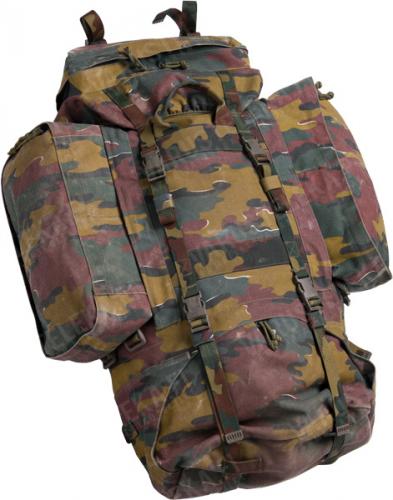 Belgian large rucksack, Jigsaw-camo, surplus
Price 82.99 USD excluding VAT
Flat Rate Shipping to USA $9.99
97 % recommends
Sold 27 pcs in the last two weeks
In stock 6 pcs. Also available in our walk-in store.
Trouble with the metric system? Try our converter: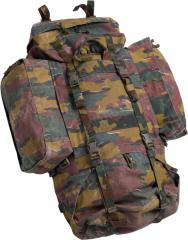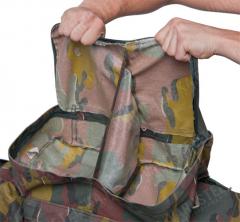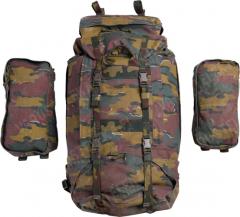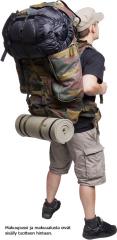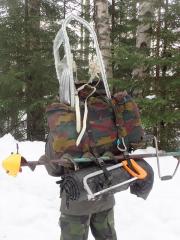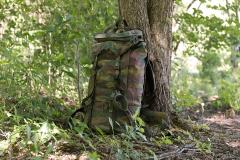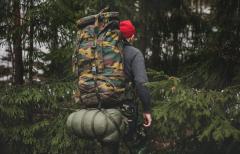 Not the prettiest, but damn it's good. In the 90's the Belgian army made a huge, tough rucksack and now they're getting rid of them. Don't mind the camo, get one while these still are available!
For a modern pack the Belgian creation is refreshingly simple and certainly made with good ingredients. The heritage of Berghaus rucksacks is obvious, and the adjustment for back length is a bonus. We have no hard data on the volume, but it should be over 100 litres, with the possibility of attaching even more stuff outside. Let's just say you can pack more stuff in this than you can reasonably carry.
Compartments
Large main space, can be divided into two separate compartments, the lower one being accessible from the bottom via a zipper.
Removable side pouches. The side pouch models seem to vary a bit, the newest ones being top-opening PLCE-types. The backside is left open for carrying long stuff.
A zippered pouch on top of the lid. On top of the pouch two straps are provided for attaching more kit.
The ruck has a super nice shoulder strap/frame assembly. The thing is adjustable to fit virtually anyone. Of course the straps and the waist belt are heavily padded. The left shoulder strap has a quick-release system. A sternum strap does not come with every rucksack, buy one separately to be sure!
Belgian army surplus
Made of thick cordura with proper workmanship - these are military issue after all and are designed to be able to take a beating. New these would cost a fortune, but as used surplus the price is very reasonable for a pack of this caliber!
A note about the side pouches: these are ofter replaced with new production pouches by our German supplier. While the new production ones are not as rigid as the originals, they still serve their purpose just as well.
Reviews
You have already submitted a review. You can edit your text by clicking on it.
Log in and write a review.
Remove filter
Suomi
(8)
English
(21)
I would recommend for a friend
Bill H.

15.09.2016 (Edited 23.05.2019)
Very large rucksack with some nice features. Large main pack bag with a divider for the sleeping bag compartment if needed. Two large zip on/off side pouches. Zipper compartment in the lid and a smaller one underneath. Very good harness system with an excellent hip belt. All will adjust to any size body type. All straps and buckles are in place and work. All zippers work. Has had some hard use, but many of years left in the ruck.
17
1
I would recommend for a friend
Ron M.

28.03.2017
I bought this last fall and I'm amazed at the quality and size. It is used, but very serviceable, well made and well worth the investment. I plan to use mine hiking.
5
0
I would recommend for a friend
Hans R.

07.06.2017 (Edited 07.06.2017)
I just received this rucksack, and i'm impressed, depite a few quirks.
It is HUGE.
It came with a special plate that allows you to attach a Belgian molle-like back to one of the sidepacks - this is tacticool.
The sidepacks can be used seperately with shoulder straps - mine came with only one strap unfortunately - two would have been nice. One is exactly as good as none.
Belgium obviously doesn't belive in velcro name tags, so mine will forever bear the name of some poor Belgian conscript in bold permanent marker. Not a big deal, Pascal is probably a nice guy.
The belly belt is wide and comfortable, but has a special loop-through buckle that probably seemed like a good idea at the time. For some Belgian reason it doesn't have a chest strap.
All permanent straps seems robustly sewn, and has plastic clips on the ends - this is nice.
The left shoulder strap has some kind of quick emergency release - the right doesn't.
It has two extremely practical loops sewn to the top of the shoulder straps, that allows you to ajust the weigth higher.
15
0
I would recommend for a friend
David I.

18.08.2017
Just received this enormous backpack and im very pleased with the overall quality - you'll notice right away that it was made to endure the toughest of use. Used condition as expected but still very ready for many years of service!
5
0
I would recommend for a friend
Antto H.

13.09.2017
Juuri avasin paketin missä oli mm. tämä rinkka. Äkkiseltään vaikuttaisi että melko vähän käytetty rinkka kyseessä. Sivutaskut ovat hieman eri kuosilla kuin itse rinkka. Näyttävät ihan pakasta vedetyiltä. Kantolaitteen olkahihnojen ja lantiovyön säädöt saa tehtyä helposti lenkkejä kiristämällä. Itse survoin rinkkaan isoon osioon peiton ja alaosioon tyynyn. Näin sain rinkan pullottamaan mutta hiki ei lentänyt säätöjä tehdessä. Ensisilmäyksellä kyseessä on asiallinen peli ja piakkoin onkin ensimmäinen koitos maastossa tiedossa ja silloin tiedetään onko tästä itselle sopiva rinkka.

Ps. On muuten tilaa tässä rinkassa. Lapset 3v ja 4v mahtui sisälle yhtäaikaa. En kokeillut kuitenkaan selkään laittaa ;D
3
0
I would recommend for a friend
Veikko S.

29.09.2017
On meinaan tilaa :D Hankin itse tämän siihen tarkoitukseen että saan laskuvarjon + muut hyppyromppeet kulkemaan tarvittaessa myös moottoripyörällä dropzonelle ja hyvin mahtuu... Laadullisesti vaikuttaa kestävältä sotilasvarusteelta.
2
0
I would recommend for a friend
Lars G.

02.10.2017
Excellent +110 Liter Rucksack. Quality is top notch. My Ruck was a little scruffy looking when I got it. However it took me only 10-15 min washing it in the shower with dish washing liquid and a sponge. The "Jigsaw" camo pattern looks funky to some people, but it is actually a great woodlands pattern. Especially for Northern woodland in autumn. If you need a large Ruck on a budget, this is what you are looking for.
18
0
I would recommend for a friend
Stuart W.

01.11.2017
This item arrived from Finland to Eastern Canada in an incredible SIX days from ordering! Solid customer service and efficiency too. Take that, Canada Post. My pack was in perfect shape, minimal wear. Included were hard side-panels (see above review discussing molle ...I got two!) which replace the side pouches. They're heavy but sturdy. I bought an extra chest strap, which was unnecessary as the pack's original one was there and in great shape. Little bit of dirt on the hip belt buckle and the name tag plastic was torn. This pack is a beautiful tank, an incredible deal, and because of the unorthodox camo pattern, no one is likely to want to use, borrow, or steal it. It's easily the best deal going. Can't wait to abuse this. Click buy, you won't regret it.
3
0
I would recommend for a friend
Alex R.

03.11.2017 (Edited 30.11.2017)
WEIGHT: Mine weighed in at 7.6 lbs (3.4 kg) on an electronic bathroom scale. You weren't expecting a lightweight bag, were you?

SIZING: The frame only extends out to a torso length of about 17 inches (43cm). However, the shoulder straps are quite long. And though I have a 21in (53cm) torso, the bag fits me decently, albeit rather low on my back compared to most civilian hiking backpacks. In all likelihood, this is probably purposeful; if the pack were to sit tall on your back, it would hit you in the back of the head when you are in the prone position -- a bad thing if you are a soldier trying to shoot back at the enemy.

SHOULDER STRAPS: They adjust asymmetrically. This means when the shoulder straps are properly tensioned, you will have drastically more webbing hanging out on one side compared to the other. This is because the adjuster buckle on one side (the side with the quick-release feature) hangs down much lower than on the other side. Why the Belgians didn't just run the other buckle a bit lower (or add a second quick-release feature) is beyond me. Oh well!

CONDITION: Mine was obviously used but in decent shape overall -- good camo color, with some scuffing here and there. One of the metal frame pieces on my rucksack came bent, but Varusteleka is hooking me up with a replacement. Also, I'll have to make one small repair where some stitching is coming undone. Other than that, she's good to go!
6
0
I would recommend for a friend
Verneri S.

11.01.2018
Ostin tällaisen varmaan reilu viisi vuotta sitten. Laiskalle pakkaajalle iso koko on plussaa, tavaroiden asettelua ei juurikaan tarvitse miettiä, senkun heittää kaiken sisään sillä tilaa on aivan **tusti. Todella mukava selässä, ja kestävä kuin mikä. Rintaremmiä ei omassani ollut, mutta sellaisenpa sai ostettua Lekasta parilla eurolla kaveriksi. Rinkka on kuitenkin itselleni mukava kantaa myös ilman sitä, joten ei läheskään aina tule edes käytettyä. Suosittelen.
1
1
I would recommend for a friend
joseph m.

17.01.2018
some fading but in very good shape well worth the cost.
1
0
I would recommend for a friend
Jack M.

27.02.2018
Massive pack, mine came in really good shape with only some wear on the bottom, cool buckle system on the waist strap, only thing bad is the zips, I can see them going to shit pretty quick. Very rugged and comfy pack, you should get one.
2
0
I would not recommend to a friend
Jukka K.

05.06.2018
Ostin omani pari vuotta sitten. Kurjassa kunnossa oli tämä vekotin. Toisen sivutaskun vetoketju rikki ja korjattu kurjasti. Rinkassa hyvin tilaa ja sopivan ruma rumalle kulkijalle. Vaan yhden vaelluksen jälkeen totesin kelvottomaksi. Kaikki mahdolliset hihnat niin kuluneet että koko ajan saa kiristellä. Lahjoitin pikkuveljelle vaivoiksi.
1
1
I would recommend for a friend
Veli-Pekka M.

13.06.2018
Mulle sattui kunnoltaan miltei uutta vastaava yksilö. Todella kestävän oloinen kampe ja tilaa on niin paljon, että rinkkaan mahtuu vaikka 110-kiloisen ihmisen torso (testasin omallani). Miinusta pienempien sisätaskujen puutteesta sekä irroitettavien 10l sivutaskujen olkaremmien puutteesta (näistä sais muuten simpsakat päiväreput). Niin, ja jostakin syystä belgialaiset ovat ilmeisesti säilöneet rinkkaa samassa varastossa pierujen kanssa. Kerran oon rinkan pessyt fairylla ja viikon tuulettanut partsilla, niin haju alkaa pikkuhiljaa hävitä.
4
0
I would recommend for a friend
Jason C.

19.07.2018
I can't say enough good about this. Huge, strong, and comfortable. And I'll just take it on faith that Belgian forces operate somewhere where it makes sense to use a camo pattern featuring white and red.
1
0
I would recommend for a friend
Juha S.

29.07.2018 (Edited 29.07.2018)
Tavaraa tähän mahtuu ja paljon, voi hemmetti! Tämä ei ehtinyt meidän perheen leirireissulle joten otin sen mukaan ruotsiin hieman sivistyneemmälle reissulle eli laivalle. Rinkassa oli mm. 2-3 päivän vaatteet, lääkkeitä ja lääkintätarvikkeita, ensiaputarvikkeet, vedenkeitin, varavirtalaitteita puhelimille, laturi johon saa viisi puhelinta yhtäaikaa, 5-6kpl virtajohtoja, toinen reppu (tietysti, kyllä, rinkassa pitää reppu olla), sekalainen läjä kaikkea irtotavaraa mitä lapsille pitää olla aina mukana. Takaisintulomatkalla mukaan laitettiin vielä tuliaiset eli useita tölkkejä virvoitusjuomia, ehkä joku alkoholijuomakin aikuiseen makuun, karkkia ja siltikin rinkkaan olisi mahtunut tavaraa vielä vaikka kuinka. Tämä vetää ihan järjettömän paljon tavaraa. En tiedä minkälainen Arto Varsinikkari pitää olla, että tätä kantaisi aivan täyteen ahdettuna, mutta kun tätä kantoi jo tässä kunnossa satama -> juna -> asema -> koti niin alkoi jalkapohjat olla jo siinä kunnossa, että seuraava reissu tehdään jalkahoitolaan. Ainoa miinustähtönen annetaan siitä, että tosiaan belgialaiset ovat säilöneet tämänkin yksilön samassa kellarissa menetettyjen omaisten ja perunoiden kanssa viimeiset vuosikymmenet. Rinkalle on nyt annettu muutama etikka- ja soodakylpy sekä pesukoneessa pesu ja pahin haju alkaa jo lähteä, saa nähdä kuluuko tuo perunakellarin haju tuosta lopullisesti pois milloin - jos milloinkaan.
2
2
I would recommend for a friend
Erno H.

13.09.2018 (Edited 13.09.2018)
Tilasin tämän tuotteen koska entinen rinkka kävi pieneksi ja tässä onkin sitten tilaa aivan älyttömästi. Varmasti pärjää missä vaan koska tila ei lopu ihan heti kesken...teltta, talvimakuupussi ja pilkkihaalari meni sisään ja tilasta on vasta murto-osa käytetty. Hieman täytyy antaa miinusta tuotteen kunnosta. Tuntuu että aina kun tilaan jonkun käytetyn tuotteen minulle tulee se huonokuntoisin yksilö, rinkka on todella kulunut ja paikattu ja haisee aivan homeiselta perunakellarilta. Sivutaskut on kyllä aivan uudet eli ne on lisätty rinkkaan jälkeenpäin. Uskallan silti suositella tätä suurta rinkkaa kaipaavalle koska tuote halpa muihin vastaavan kokoisiin rinkkoihin verrattuna.
0
0
I would recommend for a friend
Björn R.

29.09.2018
Mine came in pretty good condition being that it is somewhere around 20 years old (tag on the inside says 1998). The two addon/pouches are probably much newer because the camo is much more vibrant on them. At the base where the two frame ends lie, there's a lot of repairs, but they seem to be pretty well done. Other than that, the straps seem to be replaced, because mine is without the quick-release mechanism and the beltbuckle is not the berghaus buckle, but and ordinary ITW 40 or 50mm snapper. Otherwise, the ruck is monstrous, and pretty cool. Love the camo pattern.
0
0
I would recommend for a friend
Mikko K.

17.01.2019
Omani sivutaskut kuviosta päätellen uudemmat kuin itse reppuosa eikä sivutaskuille tullut mukana hihnoja päivärepuksi muuntamista varten. Tekaisin sellaiset siis itse. Muuten erittäin hyvässä kunnossa tämä yksilö. Toki kuluminen säätöhihnoissa hieman näkyy eli ihan bränikkä ei ole mutta eipä haittaa. Edellinen kantaja vain on tainnut olla hieman pyöreämpää sorttia kun tällaiselle 188 pitkälle ja yli 110 kiloiselle, vyötäröä riittää siis, piti lantiovyö ratkoa auki ompeleistaan ja ommella uudelleen noin 25 senttiä lyhyemmäksi jotta kiristysvaraa on riittävästi myös kesäkeleillä. Muuten ei valittamista. Tällä kapistuksella siirtää vaikka elämänsä näkymättömiin.
1
0
I would recommend for a friend
Jeff D.

26.01.2019
I am very pleased with this pack. Mine is something of a mutt; the main compartment is dated 1997 and does show its' age (some fading) the side bags, waist belt, and some straps all look new & unissued. Mine also came with a plate adaptor. The cap (top compartment) was not like the one pictured in photo. It lacked the middle piece. Not an issue with me. This pack is built for heavy duty and hard use. To Alex: Thank-you! Time from Finland to Minnesota USA was 10 days. I would agree with a previous commentator in calling this a tank of a pack. It was well worth buying, you are getting a great value for the money.

You might want to send "Lars" from Survival Russia - You Tube a letter and a token of appreciation. It was due to him that I learn of you. His video posting got me interested in and later to purchase items from you. Case in point here this backpack. In his words this pack is "awesome". Concur with his assessment.
4
0
I would recommend for a friend
Timothy J.

28.01.2019
I've been using this pack exclusively for a year and a half. It's been great! I had a small problem with one of the side pouches coming unstitched but that was a easy fix! I'm 6'4" and 195 lbs and it fits me well! No complaints here!
0
0
I would recommend for a friend
Tony M.

08.02.2019 (Edited 08.02.2019)
Beast of a pack, again a heads up to Lars of survival Russia for the review. This is a solidly built rucksack that on initial examination is in exceptional condition considering it has been issued and used. The zips seem solid enough. The materials used in construction of the bag appear first rate and this rucksack should be able to stand up to a beating and a half. Capacity is unbelievably massive and I expect I won't be able to fill this behemoth. Overall very satisfied and delivery was exceptionally quick. No sternal strap as forewarned in sellers description but this is a minor inconvenience for such an exceptional bit of kit at the price paid.
3
1
I would recommend for a friend
Jeremy B.

05.04.2019 (Edited 05.04.2019)
I just received mine today and am very pleased with it. It appears almost new! It came with one molle plate but was missing the sternum strap (I purchased one separately just in case, not a big deal). Overall it is very nicely made. I can't wait to try it out!
1
1
I would recommend for a friend
Robert M.

25.04.2019
I would recommend for a friend
Eric A.

22.05.2019
I like giant packs. I hate "ultra light" backpacking. I will take a 100lb pack to the grocery store (shopping!, loaded, HA). I was looking for a good pack, cheap, that has a belt and
those loops on the shoulder straps. I saw Lars Grebnev on his Survival Russia channel show off this pack and I had to have it. I received it and its awesome. I am not a small guy
and this thing is enormous, even by my standards. I thought I may or may not like the jigsaw camo, but its awesome. No picture or video on the net will show you how it looks in natural
light. Mine came with light wear, no tears or repairs and your standard surplus ""I've been stored for a decade" smell. I did what Lars did, Give it a rinse with mild soap in the shower.
Its effing big, so it took up the whole bath. Let it drip dry, and ready to rock.
0
0
I would recommend for a friend
Nicholas R.

31.07.2019
The rucksack is very large with a unique looking camo pattern. The quality is excellent but was slightly dirty; nothing 10 minutes, some water and a brush couldn't sort out. Very pleased with the fit and finish and you certainly can pack a lot of shit in this ruck.
0
0
I would recommend for a friend
Johnny H.

31.07.2019
I would recommend for a friend
Josh S.

09.09.2019
Fantastic pack, a great value for the money. Mine arrived quickly in very good condition.
The main body of the pack appears lightly used and slightly faded, the side pouches are the top opening type and look brand new.
All of the zips/buckles/straps/etc are in very good condition and work properly. I'm looking forward to many years of use out of this.
0
0
I would recommend for a friend
Douglas S.

18.09.2019
Beast mode engaged. What a gloriously ugly ruck. Mine sits quietly in the corner packed in I.N.C.H. configuration. I replaced the sternum strap that it shipped with as it was on the brink of failure, so now it's perfect. Varusteleka always ships my man-toys lightning fast to Michistan on the cheap.
0
0