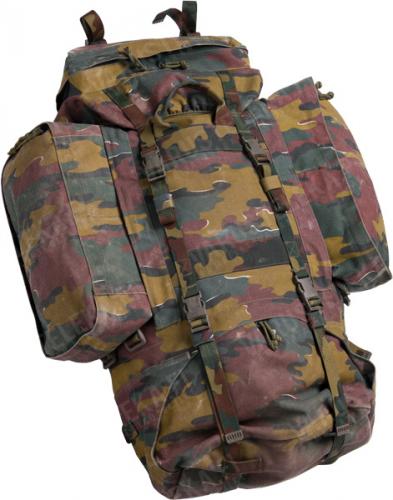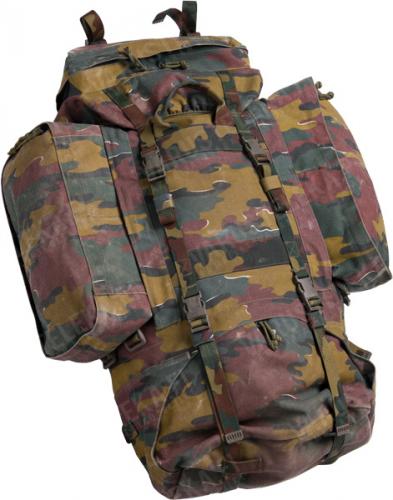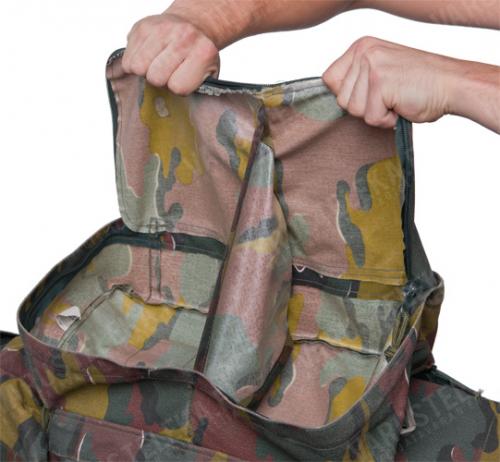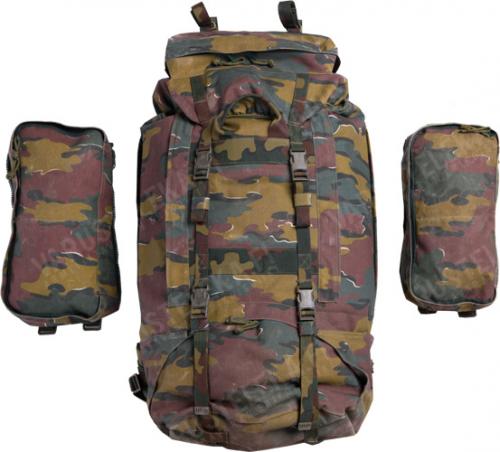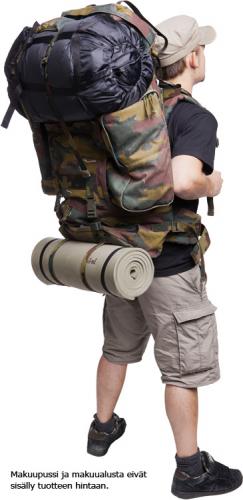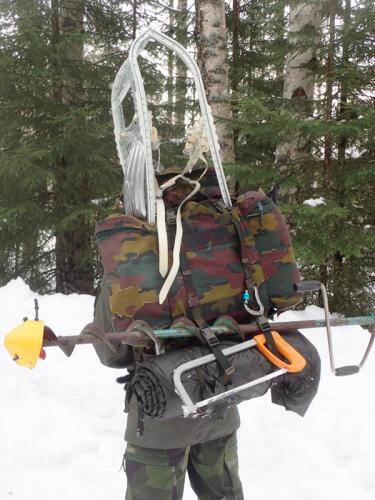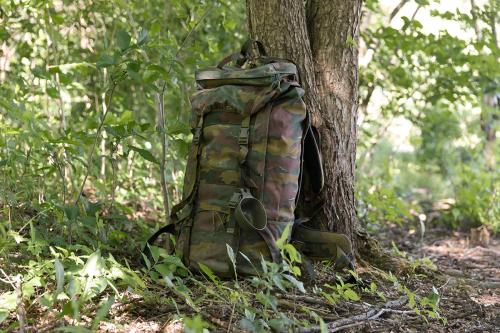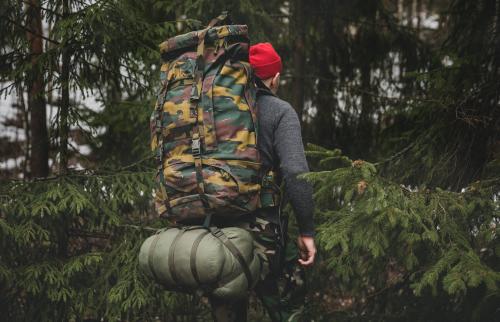 Belgian large rucksack, Jigsaw-camo, surplus
Price 94.99 USD
excluding VAT
Not the prettiest, but damn it's good. In the '90s the Belgian army made a huge, tough rucksack and now they're getting rid of them. Don't mind the camo, get one while these still are available!
We don't know when this product will be restocked. With surplus the restock date is unknown due to sometimes poor availability. Request restock notification and we will email you as soon as this product is available.
This product has used and returned variations. Used are washed and unbroken. Heavily used are also washed but might be missing buttons, have tears, main zipper can be broken etc. Read more about Kierto.
Trouble with the metric system? Try our converter: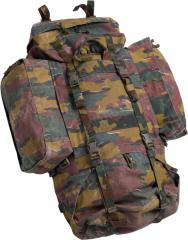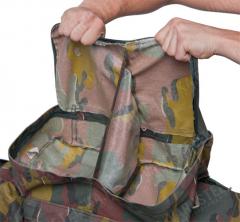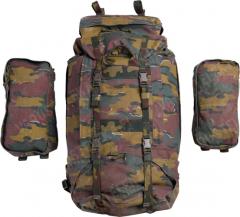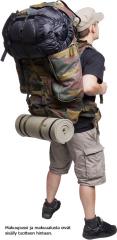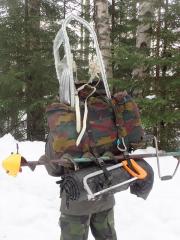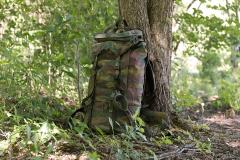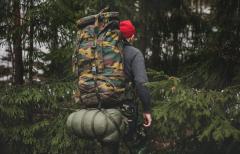 Not the prettiest, but damn it's good. In the '90s the Belgian army made a huge, tough rucksack and now they're getting rid of them. Don't mind the camo, get one while these still are available!
For a modern pack the Belgian creation is refreshingly simple and certainly made with good ingredients. The heritage of Berghaus rucksacks is obvious, and the adjustment for back length is a bonus. We have no hard data on the volume, but it should be over 100 liters / 6120 in3, with the possibility of attaching even more stuff outside. Let's just say you can pack more stuff in this than you can reasonably carry.
Features
Large main space, can be divided into two separate compartments, the lower one being accessible from the bottom via a zipper.
Removable side pouches. The side pouch models seem to vary a bit, the newest ones being top-opening PLCE-types. The backside is left open for carrying long stuff.
A zippered pouch on top of the lid. On top of the pouch two straps are provided for attaching more kit.
Weight c. 3.6 kg (8 lbs.)
The ruck has a super nice shoulder strap/frame assembly. The thing is adjustable to fit virtually anyone. Of course, the straps and the waist belt are heavily padded. The left shoulder strap has a quick-release system. A sternum strap does not come with every rucksack, buy one separately to be sure!
Belgian army surplus
Made of thick Cordura with proper workmanship - these are military issue after all and are designed to be able to take a beating. New these would cost a fortune, but as used surplus, the price is very reasonable for a pack of this caliber!
A note about the side pouches: these are often replaced with new production pouches by our German supplier. While the new production ones are not as rigid as the originals, they still serve their purpose just as well.
Recommendations
Loading products...
Reviews
You have already submitted a review. You can edit your text by clicking on it.
Log in and write a review.
Remove filter
Suomi
(13)
English
(25)
I would recommend for a friend
Bill H.

15.09.2016 (Edited 23.05.2019)
Very large rucksack with some nice features. Large main pack bag with a divider for the sleeping bag compartment if needed. Two large zip on/off side pouches. Zipper compartment in the lid and a smaller one underneath. Very good harness system with an excellent hip belt. All will adjust to any size body type. All straps and buckles are in place and work. All zippers work. Has had some hard use, but many of years left in the ruck.
18
1
I would recommend for a friend
Ron M.

28.03.2017 (Edited 31.05.2021)
I bought this last fall and I'm amazed at the quality and size. It is used, but very serviceable, well made and well worth the investment. I plan to use mine hiking.
5
0
I would recommend for a friend
Hans R.

07.06.2017 (Edited 31.05.2021)
I just received this rucksack, and i'm impressed, depite a few quirks.
It is HUGE.
It came with a special plate that allows you to attach a Belgian molle-like back to one of the sidepacks - this is tacticool.
The sidepacks can be used seperately with shoulder straps - mine came with only one strap unfortunately - two would have been nice. One is exactly as good as none.
Belgium obviously doesn't belive in velcro name tags, so mine will forever bear the name of some poor Belgian conscript in bold permanent marker. Not a big deal, Pascal is probably a nice guy.
The belly belt is wide and comfortable, but has a special loop-through buckle that probably seemed like a good idea at the time. For some Belgian reason it doesn't have a chest strap.
All permanent straps seems robustly sewn, and has plastic clips on the ends - this is nice.
The left shoulder strap has some kind of quick emergency release - the right doesn't.
It has two extremely practical loops sewn to the top of the shoulder straps, that allows you to ajust the weigth higher.
19
0
I would recommend for a friend
David I.

18.08.2017 (Edited 31.05.2021)
Just received this enormous backpack and im very pleased with the overall quality - you'll notice right away that it was made to endure the toughest of use. Used condition as expected but still very ready for many years of service!
7
0
I would recommend for a friend
Antto H.

13.09.2017 (Edited 31.05.2021)
Juuri avasin paketin missä oli mm. tämä rinkka. Äkkiseltään vaikuttaisi että melko vähän käytetty rinkka kyseessä. Sivutaskut ovat hieman eri kuosilla kuin itse rinkka. Näyttävät ihan pakasta vedetyiltä. Kantolaitteen olkahihnojen ja lantiovyön säädöt saa tehtyä helposti lenkkejä kiristämällä. Itse survoin rinkkaan isoon osioon peiton ja alaosioon tyynyn. Näin sain rinkan pullottamaan mutta hiki ei lentänyt säätöjä tehdessä. Ensisilmäyksellä kyseessä on asiallinen peli ja piakkoin onkin ensimmäinen koitos maastossa tiedossa ja silloin tiedetään onko tästä itselle sopiva rinkka.

Ps. On muuten tilaa tässä rinkassa. Lapset 3v ja 4v mahtui sisälle yhtäaikaa. En kokeillut kuitenkaan selkään laittaa ;D
5
0
I would recommend for a friend
Veikko S.

29.09.2017 (Edited 31.05.2021)
On meinaan tilaa :D Hankin itse tämän siihen tarkoitukseen että saan laskuvarjon + muut hyppyromppeet kulkemaan tarvittaessa myös moottoripyörällä dropzonelle ja hyvin mahtuu... Laadullisesti vaikuttaa kestävältä sotilasvarusteelta.
3
0
I would recommend for a friend
Lars G.

02.10.2017 (Edited 31.05.2021)
Excellent +110 Liter Rucksack. Quality is top notch. My Ruck was a little scruffy looking when I got it. However it took me only 10-15 min washing it in the shower with dish washing liquid and a sponge. The "Jigsaw" camo pattern looks funky to some people, but it is actually a great woodlands pattern. Especially for Northern woodland in autumn. If you need a large Ruck on a budget, this is what you are looking for.
22
0
I would recommend for a friend
Stuart W.

01.11.2017 (Edited 31.05.2021)
This item arrived from Finland to Eastern Canada in an incredible SIX days from ordering! Solid customer service and efficiency too. Take that, Canada Post. My pack was in perfect shape, minimal wear. Included were hard side-panels (see above review discussing molle ...I got two!) which replace the side pouches. They're heavy but sturdy. I bought an extra chest strap, which was unnecessary as the pack's original one was there and in great shape. Little bit of dirt on the hip belt buckle and the name tag plastic was torn. This pack is a beautiful tank, an incredible deal, and because of the unorthodox camo pattern, no one is likely to want to use, borrow, or steal it. It's easily the best deal going. Can't wait to abuse this. Click buy, you won't regret it.
5
0
I would recommend for a friend
Alex R.

03.11.2017 (Edited 31.05.2021)
WEIGHT: Mine weighed in at 7.6 lbs (3.4 kg) on an electronic bathroom scale. You weren't expecting a lightweight bag, were you?

SIZING: The frame only extends out to a torso length of about 17 inches (43cm). However, the shoulder straps are quite long. And though I have a 21in (53cm) torso, the bag fits me decently, albeit rather low on my back compared to most civilian hiking backpacks. In all likelihood, this is probably purposeful; if the pack were to sit tall on your back, it would hit you in the back of the head when you are in the prone position -- a bad thing if you are a soldier trying to shoot back at the enemy.

SHOULDER STRAPS: They adjust asymmetrically. This means when the shoulder straps are properly tensioned, you will have drastically more webbing hanging out on one side compared to the other. This is because the adjuster buckle on one side (the side with the quick-release feature) hangs down much lower than on the other side. Why the Belgians didn't just run the other buckle a bit lower (or add a second quick-release feature) is beyond me. Oh well!

CONDITION: Mine was obviously used but in decent shape overall -- good camo color, with some scuffing here and there. One of the metal frame pieces on my rucksack came bent, but Varusteleka is hooking me up with a replacement. Also, I'll have to make one small repair where some stitching is coming undone. Other than that, she's good to go!
7
0
Kierto Circular Economy
Return this product used but clean and unbroken, and you'll receive half of the product's original price as Varusteleka credits. Service is available only in Finland. Only Registered users can make Kierto returns. See more information about Kierto.