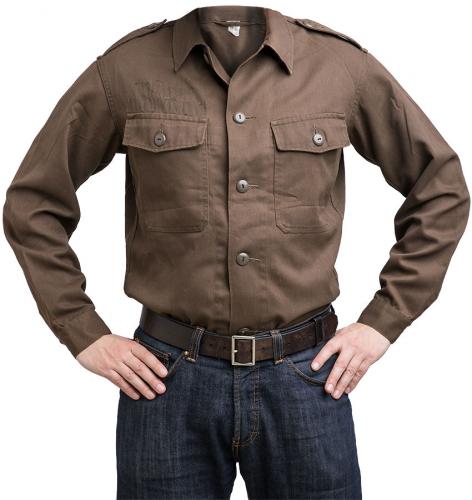 Austrian M75 service shirt, olive drab, surplus
Price 7.99 USD excluding VAT
Flat Rate Shipping to USA $9.99
96 % recommends
Sold 34 pcs in the last two weeks
Loading products...
Trouble with the metric system? Try our converter: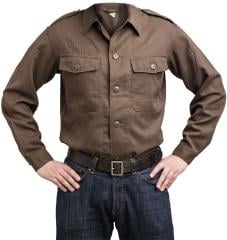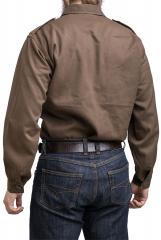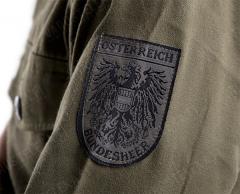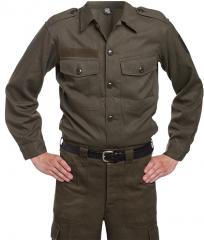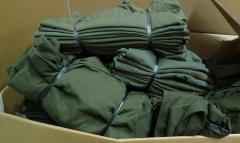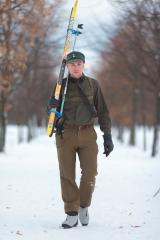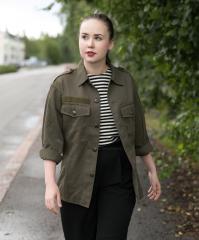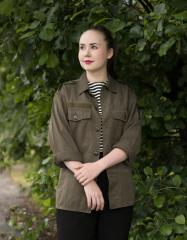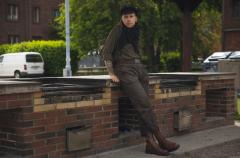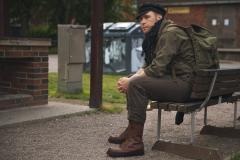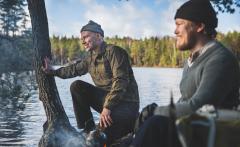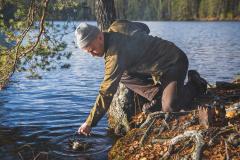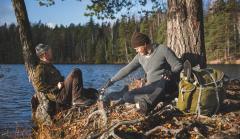 Once again a prime example of good military surplus - thick for a collared shirt, the Austrian Bundesheer used these as the outer layer in summer months. An excellent choice when you need a mid layer shirt that doubles as a light, somewhat windproof, fast-drying outer layer - and want to look good while you chew bubblegum and kick ass.
Note: the Austrian Bundesheer sleeve insignia might not be included. Some have it, some don't.
Button closure, two roomy breast pockets and epaulettes. The colour is predominantly a grayish olive drab, but this varies a bit from green to brownish tint, see the pictures. We won't differentiate.
The fabric consists of 67% polyester and 33% viscose, thick quite windproof weave. This is good - if the jacket gets wet, it dries pretty fast. It does however mean that you might not want to run into a burning house while wearing this.
Size info
First the easy size, then the user's recommended height and chest circumference in centimetres. These fit like a shirt instead of a jacket.
The Austrian size system is explained in detail on our Austrian jacket size chart page. If you are already familiar with Austrian sizing and want to know how we came up with the easy sizes, below is our logic as a chart. All possible sizes in the chart are not manufactured of course.
| | | | | |
| --- | --- | --- | --- | --- |
| Width / Height | Short | Regular | Long | X-Long |
| X-Small | 80-84 I-II | 80-84 III-IV | 80-84 V-VI | 80-84 VII-VIII |
| Small | 88-92 I-II | 88-92 III-IV | 88-92 V-VI | 88-92 VII-VIII |
| Medium | 96-100 I-II | 96-100 III-IV | 96-100 V-VI | 96-100 VII-VIII |
| Large | 104-108 I-II | 104-108 III-IV | 104-108 V-VI | 104-108 VII-VIII |
| X-Large | 112-116 I-II | 112-116 III-IV | 112-116 V-VI | 112-116 VII-VIII |
| 2X-Large | 120-124 I-II | 120-124 III-IV | 120-124 V-VI | 120-124 VII-VIII |
| 3X-Large | 128-132 I-II | 128-132 III-IV | 128-132 V-VI | 128-132 VII-VIII |
Austrian military surplus
In used but perfectly serviceable condition. Might have well made repairs or something, but overall these are very nice.
Reviews
You have already submitted a review. You can edit your text by clicking on it.
Log in and write a review.
Remove filter
Suomi
(10)
English
(17)
I would recommend for a friend
Thomas H.

23.06.2016 (Edited 27.06.2016)
Wonderful field shirt, however it narrows down a bit around the waist. At first I checked if I had gotten the wrong size, I had not. Better try to get a size a few centimetres extra larger than your original size as these can otherwise have the mobility of a dress uniform.
4
3
I would recommend for a friend
Kim N.

03.02.2017
First time i had a shirt that actually fitted me, as a short person, its kinda rare.
I hope they come back in stock!
7
0
I would recommend for a friend
Haakon W.

17.03.2017 (Edited 18.01.2019)
A fantastic shirt, with arms long enough for my beanpole self. It does get quite toasty, even with only an inner layer, which I find necessary as the collar can irritate the nape of the neck. The two pockets are gloriously big, able to hold my wallet, phone, other items, etc. Durable as anything, too.
Edit: 4-5 years on, I've only had the odd button come undone; easily repairable. It's become my go-to travel shirt. It's warm and lightweight, with pockets big enough to hold a cell, passport, wallet, ipod, and multiple other items. Would not separate from it.
2
0
I would not recommend to a friend
Daniel K.

18.03.2017 (Edited 28.04.2017)
Den här blev att skicka tillbaka. För smal över midja och höft och materialet kändes väldigt obehagligt mot huden, även om det kanske är väldigt hållbart. Som tur är köpte jag även två av den andra varianten av Bundesheeres serviceskjorta och de var mycket bekvämare. Om man trots allt vill ha en, med långärmad undertröja under, så bör man ta i alla fall en storlek större än vad man brukar ha, annars blir den trång.

EDIT 2017-04-25 Efter lite sökande på nätet och ett nytt försök har jag omvärderat plagget och gett det en ny chans, dock i större storlek. Ovanstående beskrivning står sig fortfarande, om man tänker på plagget som en fältskjorta. Saken är bara att det inte är en fältskjorta, utan är vad tyskarna kallar en "Feldbluse", alltså en enklare och tunnare jacka utan foder. Den skall alltså inte användas direkt mot huden, utan med ett undre lager i form av långärmad tunnare tröja eller en mjukare skjorta under. Som sådan fungerar den utmärkt. Så köp den för att använda som lättare jacka men inte som en vanlig skjorta så kommer du bli nöjd.
4
39
I would recommend for a friend
Alvaro V.

07.04.2017 (Edited 16.04.2017)
The sizing is precise, so if you like some sort of ''slim fittish'' look this is for you. Quality is top notch, just be sure using it in the old, proper way, just like pops: With an undershirt, and tucked. Even in summer you can use it as a night layer.
8
0
I would recommend for a friend
Kari S.

19.05.2017 (Edited 14.12.2017)
Hyvä, lämmin paita!

No joku hurri-daniel tossa jotain vinkuu, who cares..

Tän laatu on hyvä ja puserolla pärjää syksyllä ja keväällä ilman takkia.

Siis toisin sanoen, toimii myös takkina niinkuin Lekan tekstissä sanotaan.
19
8
I would recommend for a friend
Joonas Y.

25.07.2017
Tyylikäs paita metsään. Menee kesällä takin sijaisena, eli vähänniinku just mihin tää on tehtykkin.
2
0
I would recommend for a friend
cedric v.

13.08.2017
I got two in excellent condition
1
0
I would recommend for a friend
Janne A.

28.09.2017 (Edited 03.10.2017)
No nyt kävi säkä! Oon kokoa XL, 186cm, 93kg ja koko 180-190/112-116 oli kuin tehty mulle. Paita on kuin uusi ja väri lähes havunvihreä, harmaasta/ruskeasta värisävystä ei tietoakaan, tosi hyvän värinen. Odotin kuvauksen perusteella vielä paksumpaa paitaa, mutta mielestäni tämä menee ihan toimistokäytössäkin päällyspaitana. Hyvännäköinen päällä ja miellyttävä pitää. Hinta ja laatu kohtaavat tässä paidassa. Tilasin heti perään toisenkin.
Edit: Ja toinenkin paita saapui ja vahvisti sen, että eka paita on melkein käyttämätön. Tämä jälkimmäinen oli kuluneempi, aavistuksen verran pienempi, eli sopi vielä paremmin ja kangas oli vieläkin miellyttävämmän oloinen. Suosittelen!
2
0
I would recommend for a friend
László K.

29.09.2017
I Received two, both are in great condition. I'm at the lower end of the chest circumference range, but these still fit well. They feel rather sturdy too.
0
0
I would recommend for a friend
Tom W.

10.10.2017
Just a warning, these shirts are quite short.
0
0
I would recommend for a friend
Varun

12.10.2017
1] As expected, the construction is sturdy and the fabric is tough. These will last me a long time

2] The sizing is rather precise, so if you like baggy shirts, get one size larger

3] Mine has the Austrian Bundesheer insignia on one side, looks really cools

4] Feels a little itchy at first, so wash it once before you actually wear it

That is all
0
0
I would recommend for a friend
Carlos A.

13.10.2017
As a small person, surpluss stuff is usually too big, but this shirt fit perfectly. Thick fabrick and useful pockets. Comes with a velcro strap (for the name patch I guess) on the chest. Execellent value for the price.
1
0
I would recommend for a friend
Perttu T.

22.10.2017
Toimii loistavana kevyttakkina merinohupparin päällä keväällä ja syksyllä
0
0
I would recommend for a friend
Sauli

23.11.2017 (Edited 14.11.2018)
Kenttäpaidoista ehdoton suosikkini. Todella mukavan tuntuinen päällä, kestävää materiaalia ja helvetin tyylikäs. Das Paita. Ehdoton 5/5.
0
0
I would recommend for a friend
Clement R.

14.12.2017
Very good quality, mine has the Bundesheer patch and looks brand new.
However, unlike the other comments, I find the sizing a bit large. I am 1m80 tall for 85kg, I ordered a large-long and it is clearly oversized (even if I am 104cm on chest, so it should have been spot on). I should have ordered a size below.
0
0
I would recommend for a friend
Clement C.

02.03.2018
---EN--- good "all-rounder" jacket. As said in the product description, good as a mid-layer. Very thin and soft fabric, yet warm nonetheless. Good cut, good for indoor and outdoor. Excellent for the price it's a no brainer. Be careful though, some pictures on the product page make it appear brownish while it is indeed military green.

---FR---Bonne chemise "à tout faire". Comme dit dans la description du produit, bon vêtement pour couche intermédiaire. Le tissu est fin et très doux, il reste assez chaud malgré tout. Bonne coupe, une veste bonne pour l'intérieur et l'extérieur. Super produit, surtout pour le prix annoncé. Attention toutefois, certaines photos sur la page de présention donne l'impression que la chemise est brune alors qu'elle est vraiment de couleur « vert armée ».
2
0
I would recommend for a friend
Terry T.

03.04.2018 (Edited 03.04.2018)
It was a great fit and very comfortable. I'm relatively small as I'm 5'5" and the sizing descriptions were spot on. Definitely going to buy more when they have my size back in stock!
1
0
I would recommend for a friend
lasse l.

25.06.2018
I would recommend for a friend
Calvin C.

05.02.2019 (Edited 22.03.2019)
I ordered three of these shirts since I had been waiting for the Small Shorts to come back in stock for months. As part of the "Anzug 75" uniform system, I believe that the Bundesheer would have worn these as part of their cold weather uniform, donned over the light field shirt. This is more of a shirt jacket or an overshirt than a true field shirt.


Compared to the field shirt, this garment is sized by chest circumference and height rather than collar length. The chest tapers at the waist and is not boxy, so it has a benefit of looking like a tailored fit. If you wear this shirt untucked, the hem will roughly fall at the "sweet spot" for casual shirts if you choose your correct height. You might find the sleeves large and a bit baggy, so I recommend wearing something more than a T-shirt underneath, maybe even a sweater. The chest pockets are large enough to hold your phone and wallet.


Here are the variations I got for buyer's reference. You may receive something different from this:

- 1986, dark green shade, with smooth glossy buttons like in the product images. Has velcro name tape and Bundesheer logo. Manufacturer is Litto Firmenname. It looks unissued and like new. This model has a noticeably baggier sleeve cut and the hem is 2-3 cm longer than the two other ones.

- Undated, light green shade, with matte SADF-style shirt buttons and made by Trevira. Has velcro name tape and no Bundesheer logo. One small repair on the upper right sleeve. There is visible but very minor wear.

- Undated, light green shade, with matte SADF-style shirt buttons and made by Trevira. Has velcro name tape and no Bundesheer logo. Left sleeve is missing the tightest cuff closure button. There is visible wear plus the usual bright patches highlighted by ironing.
2
0
I would recommend for a friend
Jussi E.

09.02.2019
Erittäinkin loistava paita, suosittelen. Kannattaa vain ottaa kokoa isompi kuin yleensä.
0
0
I would recommend for a friend
Andrés S.

17.04.2019
I would recommend for a friend
J-P M.

14.06.2019 (Edited 11.09.2019)
Ostin omani (2kpl) toisaalta. En tiedä tuleeko näitä enää lisää eikä tämän kokoisia ole nyt valikoimissa, mutta kuitenkin... olen 185cm pitkä ja rinnanympärys jotain ~100cm. Ostin näitä koossa medium 96-100/175-185 ja koko on juuri täydellinen. Sopivan ilmava mutta ei lepata liikaa, hartioista täydellinen (tämän paitakoon hartianleveys on jotain ~50cm) ja hihatkin juuri sopivan pitkät.

Kangas on jotenkin jännää, kastuessaan ei juuri muuta väriään, laskostuu pehmeästi varsinkin näin käytettynä, miellyttävää iholla. Paita on kuitenkin suhteellisen painava. Tuntuu kuivuvan ihan ok nopeasti. Napit ovat tosi yksinkertaiset isot muovilätyt, napinlävetkin ovat hyvän kokoiset joten nappien kiinnilaitto on helppoa ja tuntuvat ainakin omissa paidoissani olevan hyvin neulottuja. Tosi neutraalin oloinen paita (hihamerkkiä lukuunottamatta), tämän kanssa et leimaannu inhottavaksi militaria_siaksi, näyttää asialliselta napit kiinni ja helma housuissa, rennolta kesäerämieheltä avonaisena ja hihatkin käärittynä. Tuotekuvat ovat harvinaisen realistisia tällä kertaa, kerrankin saat sitä mitä näet.
0
0
I would recommend for a friend
Griggs

02.08.2019
Just got mine, seems tough, fits well.
0
0
I would recommend for a friend
Erik M.

06.08.2019
I ordered a small long, as it matches closest to my size. The length to my torso is perfect, but the sleeves are very baggy and long. I'm rather slim, but I would guess to even a fat person it would still be baggy. I can not hem the sleeves due to the way they were made, so I just have to live with it.
0
0
I would recommend for a friend
Sami K.

18.11.2019
All my examples are brand new, with no telltale wear or pilling at collar or cuffs. Unlike a dress shirt with side gussets and tails, this shirt is cut straight across at the hem, without much fabric to tuck into one's trousers. Heereseigentum tag, hanging loop, and manufacturer's tags are all firm and factory fresh, smooth, and immaculate. The fabric is a very practical and field-usable fresh dark earth greenish brown coloured gabardine weave (some might call it twill) 67% polyester and 33% viscose, according to the manufacturer's tag, which reads:
"HAIDER
WAXENBERG
HBA 1986"
Just shy of where this tag is sewn beneath the inner collar, to the right of, and at 90 deg. to the text above:
"FELDBLUSE
FELDHOSE"
With an undershirt, this might be serviceable as an outer garment in winter only during vigorous activity and with the temperature not very much below 0 °C with windchill. In all seriousness, this could realistically only be used instead of or as a stand-alone winter jacket in in the Canary Islands, or in the Soviet Union by the Wehrmacht during the winter of '41-'42. It's a single layer of not-very-tightly-woven polyester-viscose, comparable to a tropical-weight wool worsted. It's reckless, wild optimism bordering on full-blown mania to refer to this garment as a winter jacket under any circumstances; that is an ex cathedra pronouncement.
0
0
I would recommend for a friend
Jani R.

21.12.2019
Olen tyytyväinen paitaan. Mukava päällä ja kokokin oli mulle sopiva.
0
0