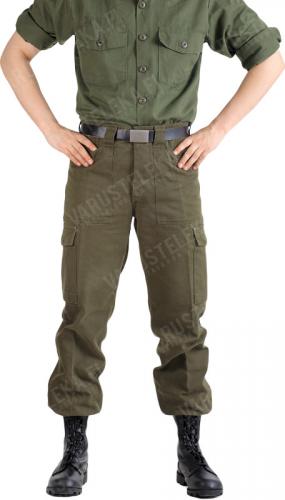 Austrian M75 Cargo Pants, olive drab, surplus
Price 13.99 USD excluding VAT
Flat Rate Shipping to USA $9.99
93 % recommends
Sold 38 pcs in the last two weeks
Loading products...
Trouble with the metric system? Try our converter: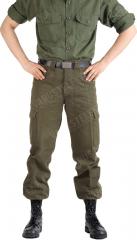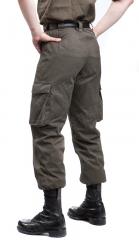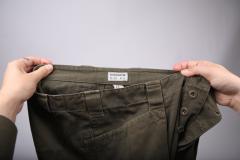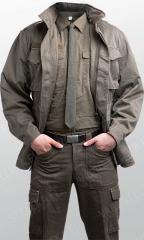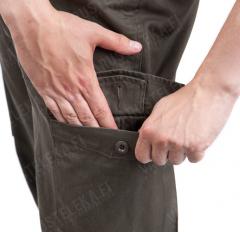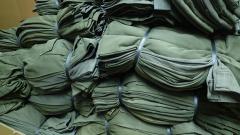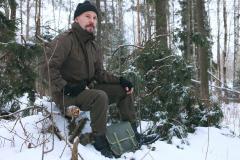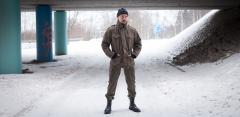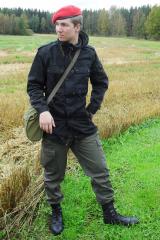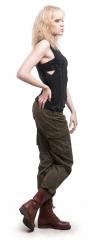 Comfortable and robust trousers for a price you can afford. Used Austrian Bundesheer surplus.
Austrians have a reputation for pretty smart and practical military clothes, and we are glad to offer these as surplus: really well designed and manufactured stuff for a cheap price!
Very basic, form fitting field trousers from decades past. The pants feature about 3,5 cm wide belt loops and are made of either poly-cotton or polyester/viscose blend. Two slash pockets and two cargo pockets with button flap closure. The colour varies from grey to green and brownish hue.
Compared to modern combat trousers these are more "garrison-like" when it comes to fit and mobility. Still good for casual use.
Size info
The centimetre sizes in the brackets are the waist / inseam. These are actual measurements of the garment laid flat. Slight variance is to be expected, as these are used. Divide by 2,54 if you want to use inches.
The Austrian size system is explained in detail on our Austrian trouser sizes page. If you are already familiar with Austrian sizing and want to know how we came up with the easy sizes, below is our logic as a chart. All possible sizes in the chart are not manufactured of course.
| | | | | |
| --- | --- | --- | --- | --- |
| Width / Height | Short | Regular | Long | X-Long |
| X-Small | 80-84 I-II | 80-84 III-IV | 80-84 V-VI | 80-84 VII-VIII |
| Small | 88-92 I-II | 88-92 III-IV | 88-92 V-VI | 88-92 VII-VIII |
| Medium | 96-100 I-II | 96-100 III-IV | 96-100 V-VI | 96-100 VII-VIII |
| Large | 104-108 I-II | 104-108 III-IV | 104-108 V-VI | 104-108 VII-VIII |
| X-Large | 112-116 I-II | 112-116 III-IV | 112-116 V-VI | 112-116 VII-VIII |
| 2X-Large | 120-124 I-II | 120-124 III-IV | 120-124 V-VI | 120-124 VII-VIII |
| 3X-Large | 128-132 I-II | 128-132 III-IV | 128-132 V-VI | 128-132 VII-VIII |
Austrian Bundesheer surplus
Used and in serviceable condition. If anything was fixed, it's been done well.
Product review of Austrian M75 field trousers
There's not really much I can say about this that isn't already in the product description. There is a bit of a barracks feel to these trousers; the cut is a little too well-fitted and the pockets are just a tad too small, otherwise these would be perfect. For those familiar with the BDU or Soldier 95 trousers, these could be a little uncomfortable. On the other hand, these are perfect for everyday use as they do not look as militaristic as the other trousers in our selection. They also accentuate the ass quite nicely, if you like that sort of thing. It's also worth mentioning that the material is very sturdy; it's difficult to imagine that these would get ruined under normal circumstances.


Arne


Recommendations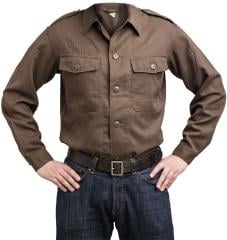 Austrian M75 service shirt, olive drab, surplus
7.99 USD
Sometimes purchased with.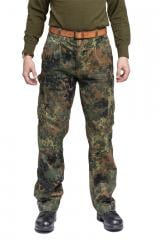 BW Cargo Pants, Flecktarn, surplus
22.99 USD
Similar product.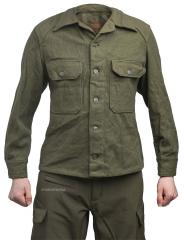 US M-1951 wool shirt, surplus
22.99 USD
Viewed together.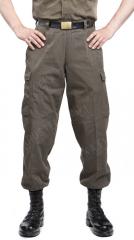 Austrian Anzug 03 cargo pants, lightweight, surplus
16.99 USD
Sometimes purchased with.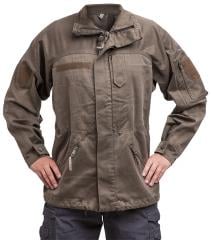 Austrian Anzug 03 field jacket, surplus
18.99 USD
Sometimes purchased with.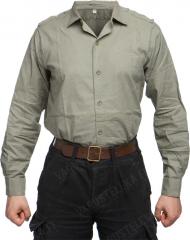 Czechoslovakian M21 service shirt, fully buttoned, surplus
4.99 USD
Sometimes purchased with.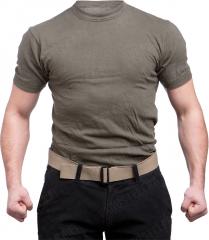 BW T-shirt, olive drab, surplus
6.99 USD
Sometimes purchased with.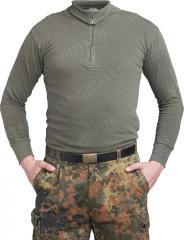 BW turtle neck shirt, olive drab, surplus
3.99 USD
Sometimes purchased with.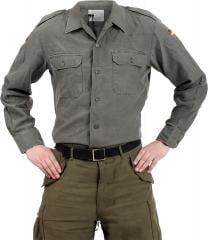 BW service shirt, olive drab, surplus
13.99 USD
Sometimes purchased with.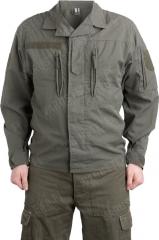 Austrian Anzug 03 summer field blouse, surplus
18.99 USD
Sometimes purchased with.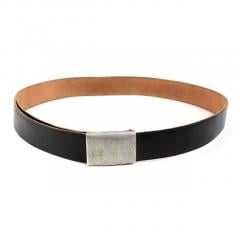 BW trouser belt, leather, surplus
9.99 - 13.99 USD
Sometimes purchased with.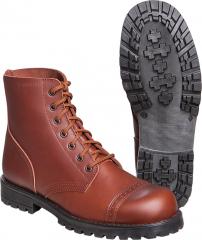 Särmä Ankle Boots
119.99 USD
Might be of interest.
Swiss leather belt, surplus
9.99 USD
Buy also.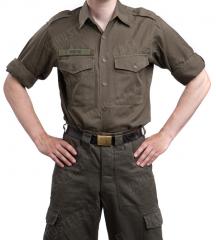 Austrian service shirt, olive drab, surplus
4.99 USD
Buy also. Temporarily out of stock.
Reviews
You have already submitted a review. You can edit your text by clicking on it.
Log in and write a review.
Remove filter
Suomi
(9)
English
(20)
I would recommend for a friend
Thomas H.

23.06.2016 (Edited 13.06.2017)
Good pants for the price. The Austrian M75 field shirt was a bit tight around the waist compared to its listed size and this one is also guilty of this crime. Pockets are ugly but other than that they're a pair of great sturdy pants.
7
1
I would recommend for a friend
Mikael N.

16.01.2017
I would recommend for a friend
Daniel K.

18.03.2017
Riktigt bra byxor! Håller emot vind bra, även om de inte är vindtäta per se. Tillräckligt snygga att ha till vardags i ett praktiskt jobb och man slipper kamouflagefärgslooken som andra krigsmaktskläder av idag har. Tyget är mjukt och skönt mot huden trots att det är slitstarkt. Kommer köpa fler av dessa.
8
3
I would recommend for a friend
Patrice B.

22.03.2017
A good , and light trousers for little ass . Very good condition . It's tight size , can be use like under pants with a snow trousers .
6
5
I would recommend for a friend
Mick L.

06.05.2017
Nice sturdy and soft fabric, quite tight around the waist and ass if you're into that, but roomy in the legs. I ordered my normal waist size and it's a tad tight, so go for a larger size if you are on the edge of the range. Fantastic pants for this price, I'll be ordering a couple more.
12
0
I would recommend for a friend
Santeri K.

18.05.2017
Nää on muuten iha huiput työhousuina - etenkin nää vähän paksummasta puuvillasekoitekankaasta tehdyt. Semmoset mulle tuli ja niissä oli jo valmiiksi pieniä liimatahroja, joten kuin tehty töihin. Kylkitaskut on hemmetin hyvät - ei tipu tavarat. Jos jotain negatiivista pitäis keksiä niin näihi ei kovin leveää vyötä saa. Mutta se ei poista sitä tosiasiaa et nää on ihan hemmetin hyvät pöksyt.
10
0
I would recommend for a friend
Antti P.

04.06.2017
Turhan tiukat reisistä ja perseen alueelta. Hyvät edustushousut, ei niinkään liikkumiseen. Materiaali on laadukasta.
3
11
I would recommend for a friend
Ricardo I.

21.06.2017 (Edited 26.06.2017)
I ordered a single pair of these in 88/80, and they fit perfectly! They're a little snug around the ass, but everywhere else they fit just fine. A great fit, nice and loose around the legs but not too big. They're also very durable, great for plenty of jobs that require you to really get on your knees.
4
0
I would recommend for a friend
Edward Z.

27.07.2017
Extremely comfortable pants but I bought two sizes too big. They're very baggy but that's a mistake on my part.
1
0
I would recommend for a friend
cedric v.

21.08.2017
Awesome pants, bought two so now when me and my dad go hiking we have comfy pants that can get dirty, look good and ventilate properly. For €10 those are a steal.
2
0
I would recommend for a friend
Janne A.

03.10.2017
Nämä pöksyt särmättyinä maiharien ja M75 kenttäpuseron kanssa tekevät miehestä tyylikkään:) Puoli pistettä pois kapeista vyölenkeistä.
2
2
I would recommend for a friend
Varun

11.10.2017
1] The fit is very snug. If you want them baggy, go for one size larger. In my case, I am the largest, so there wasn't a larger size

2] There are no back-pockets. If you're used to a back pocket, you''ll be disappointed

3] The fabric is good, it's tough, this'll be great for almost anything. I'm going to be abusing them more than I use them. Expect a better review a month down the line

That is all
4
1
I would recommend for a friend
Hans R.

12.10.2017
They are so insanely comfortable it hurts NOT to wear them. Only downside is the slightly unfashionable front pockets
4
1
I would recommend for a friend
Perttu T.

22.10.2017
Hemmetin hyvät työhousut pihahommiin ja kyllä näitä kehtaa käyttää kaupungilla liikkuessa.
5
2
I would recommend for a friend
Peyton B.

31.10.2017
For the price, these do the job required. I'm built like a fence-post, so the snug fit around the waist and seat isn't a problem, and one could always order the next size up, I suppose. There are no back pockets (a handy thing to have if you want to scratch your rear without looking stupid). The only complaint I have with the pair I purchased is that the stitches in the seams have a tendency to come loose. That's just the hazard of working with mass-produced kit probably made by the lowest-bidding government contractor. Nothing that can't be fixed with a needle and some thread. Still beats the designer crap that costs three times as much. A great pair of pants for casual wear about town. I even gave them a good pressing and wore them once to the office with a shirt and tie.
2
1
I would recommend for a friend
Sakari S.

08.11.2017 (Edited 17.01.2018)
Aika tuhtia kangasta jonka avusta lämpimät ja varmaan kestävät, takataskuja ei ole, hyvä niin. Reisitaskujen napit on aika jäykät/tiukat mutta helppo askarrella velcrot jos sellaisesta tykkää. Etutaskut on vähän kuin farkkujen takataskut, mutta edessä, ei kovin syvät, istualtaan on vaikea kaivaa tavaraa. Oma yksilöni on yleisilmeeltään siisti mutta pari pientä tummaa liimatahraa on. Hyvät pöksyt hintaisekseen.



38mm nahkavyö menee lenkeistä napakasti mutta menee kuitenkin, toisaalta hyvä jos vyöllä on leathermania tai muuta niin vyö ei karkaa kun soljen aukaisee.

EDIT: Ostin toiset, pienemmässä koossa. Helvetin hyvät housut ja lotosta tuli täysin virheettömät , sävy on aavistuksen vihreämpi.
2
1
I would recommend for a friend
mark b.

24.01.2018
I have 3 pairs of these, 2 are 50% cotton and 50% polyester and perfect for outdoors and the other pair are 67% polyester and 33% viscose making them quite light weight and maybe more summer trousers but good in the house.
The fit is ok on my skinny Ⓥegan arse but they pinch my plums sitting down ( i got strange looks from the next table whilst having a pint ha ha). There were 2 buttons missing in all but no problem to sort out and i'm glad i bought them.
5
2
I would recommend for a friend
Michael N.

21.04.2018
Excellent pair of pants! I ordered the large regular size at first because reading some of the other comments about the pants being tight. When the pants arrived and I tried them on the large where too big for me, so I ordered the medium regular and those fit great with no problem being tight in the arse area. Now with that being said, I ordered another pair and those fit great also. The size I wear is 34x32. The pants I received both were made of the 50/50 cotton poly blend, and I purchased a pair from a different company in the same size with that material was made of the poly/viscose material and those were tight in the arse area where as the cotton/poly were not.all in all they are a great pair of pants and are well made!
1
0
I would recommend for a friend
Aaron G.

02.05.2018
The first pair of trousers that actually fit my long skinny body with no alterations or even a need for a belt. Mine appears unissued and only needed a 10s repair to the little thigh pocket to fix some loose stitching. Very nice on the skin
1
0
I would recommend for a friend
J-P M.

26.06.2018
Aika hyvät pökät. n. 94cm vyötärönympäryksellä ja 80cm lahkeella valitsin 98/85 (large long) pöksyt ja nämä on aika reilut sivusuunnassa, vaikka eroa ei jännästi ole kuin muutama sentti. Mittasin housut vielä itse mittanauhalla ja varustelekan antamat mitat ovat kuitenkin ihan oikein. Lahje on helvetin hyvän mittainen, otin tarkoituksella 5cm pidemmät koska käytän näiden kanssa särmäreitä. Niiden kanssa pituus onkin ihan täydellinen, kun polvia nostellessa lahje ei silti nouse mihinkään. Large long-housujen kokonaismitta vyötäröltä lahkeeseen on muuten n. 118cm, nämähän on vissiin tarkoitettu vedettäväksi ihan napaan asti, ja helvetin mukavat näin ovatkin. Ehkä ompelutan näihin joskus kuminauhakiristyksen vyötärön sivuille.

Vyötärötaskut ovat tilavat mutta vähän huonot, ne on suunniteltu niin että taskuun pääsee vain suoraan ylhäältä eikä rennosti sivulta. Ehkä tällä on haettu sitä ettei kamat putoile taskusta, eivätkä laiskat varusmiehet pidä niin helposti käsiään taskuissa. Reisitaskut ovat ihan perushyvät ja kulmiinkin on vielä ommeltu vahvikesauma.

Kunto on ihan priima (kiitos lottojumalat), väri on näissä enemmän ruskehtava eikä ole kulunut käytännössä mistään. Selvästi kuitenkin ovat käytettyjä kun kangas on tosi mukavan pehmeää ja toisen polven sivussa vähän nyppyä. Haaroista sepaluksen alareunasta yksi ommel vähän repsottaa (kohdasta missä on päällekkäin 6 kerrosta kangasta) ja napit täytyy tarkistaa, nämä on helppo korjata itse.

Hinta/laatu-suhteeltaan ihan helvetin hyvät housut metsään ja muuhun mylläämiseen, kunhan onnistuu kokosysteemin kanssa.
0
0
I would recommend for a friend
Carolyn W.

26.06.2018
These pants are great! My dumb American self ordered a size too large but even with a belt cinched tight you don't get that weird camel toe crotch look, due to the cut of the trousers. Which would make them suburb "fat pants." They're a very 70s style and fabric but they are soft and comfortable and practical, but without an overtly military look to them. They are very hot and sweaty in the summer (northeast USA) but relatively breathable! These would be great in the Fall or early Spring and great in the winter as a middle layer. The way they fit (me at least) you could comfortably wear long underwear underneath, and put on a goretex or similar overpants on top. Only took a star off bc when I washed them they had a significant amount of pilling, but that could be remedied with a razor or maybe prevented with a more delicate wash cycle (I washed mine on normal mode in cold water and dried on permanent press mode.) Overall great pants and for cheeaaaaap!! I think I'm going to buy another pair in the right size
0
0
I would recommend for a friend
Calvin C.

15.01.2019 (Edited 18.04.2019)
Decent non-camo field trousers for the price. Condition is good, except for some worn thread where the front pocket seam meets the thigh. Unlike the newer Anzug 03 summer ones the smallest these ones will go is 80 cm in waist, compared to 75 cm. If you wear size 28 jeans or smaller you'll have to use a belt to keep the trousers on your body.
0
0
I would recommend for a friend
Owen D.

26.02.2019
As someone who values fashion as well as function, I am very pleased with how these pants look as well as function. Mine came drab-greenish brown and 50% cotton 50% polyester. They are very durable, and after walking in multiple conditions (rain, snow) they are still like new. Expect these to last long. I am a size 32 waist 34 inseam, and the medium-long was perfect despite needing a belt, but I usually wear one anyway. I noticed there was a sewing job on the crotch, but only after a few days, because of how well the stitching was done. They might even be good for a backpacking trip. For the price, they really worked well and will continue to work for at least a few years. If you're looking at them right now, definitely go for it!
0
0
I would recommend for a friend
Michael F.

24.04.2019
Nice pants for the price. Very well made. Critical seems and corners are reinforced with extra fabric and stitching. High quality. Button up fly and pockets. Take that any day over zipper and velcro. %50 cotton and 50% poly. Tough es nails and they dry quickly when wet. A medium weight twill material. All 4 where in almost like new condition. Love the pockets. Cargo ones are huge with inner pocket on left side. Front pockets are cut so that nothing can role out of them and no pants pocket liner to wear out. No rear pockets, a good thing if your rear is on a hard surface. Take them any day over a useless pair of cheap denims or khakis.
1
0
I would recommend for a friend
Patrick O.

24.06.2019 (Edited 25.06.2019)
Excellent value; mine came with a few tears. I think Varusteleka was giving me a challenge, seeing I ordered a BW sewing kit too. The holes were easy to repair with the kit.
0
0
I would not recommend to a friend
Adam D.

05.08.2019 (Edited 14.11.2019)
Cut of these trousers is pretty uncomfortable. "Garrison like" is an understatement
0
0
I would recommend for a friend
Jaakko T.

22.09.2019
Myymälässä tuli sovitettua näitä useampikin koko, ja kun oma löytyi, niin ostin heti kahdet. Käytössä osoittautuivat niin hyviksi, että tuli tilattua vielä muutamat lisää. Reisitaskut ehdottoman hyvät, kun yleensä kuljetan paljon tavaraa mukanani. Normitaskut vastaavasti aika tiukat, kun housujen leikkaus on napakka ja – kuten tuotteen esittelyssäkin sanotaan – takapuolta korostava; kyseiset taskut ovat melko vaikeasti käytettävät paitsi ihan pikkutavaralle. Housujen istuvuus on yllättävän lähellä räätälin tekemiä kunnon vyötäröhousuja, mikä on minulle ihan ykkösjuttu, kun en yleensäkään tykkää lantiohousuista (enkä varsinkaan esitellä lantiohousujen alta helposti pilkottavia alushousuja). Hinta-laatusuhde aivan uskomaton.
0
0
I would not recommend to a friend
Sami K.

18.11.2019
Tosi epämukavasti istuvat pöksyt, vaikka niitä pitää justiin niinkun pitäiskin: vyötäröllä, eikä lantioilla. Jos olis pakko arvata, sanoisin että ne olis ehkä sietämättömän kiusallisia pitää päällä lantioitten ympäri kiinnitettynä. Pidin näitä päällä yhden ainoan kerran: työpäivän alusta 08:00-ensimmäiseen kahvitaukoon asti 10:00. Kun asun vain 350 m. töistä, harppasin vain kotia ja vaihdoin housut, enkä ole näitä vetäny päälle sen jalkeen.
0
0
I would recommend for a friend
Chris K.

08.12.2019
These are sturdy and very comfortable pants. The sizing is, like the German Bundeswehr sizing, very accurate and on point. They are not as roomy as modern military pants, what some other reviewers mentioned as a snug fit around the ass. That's something you have to take into account when buying German, Austrian and Swiss military surplus items. For that price you get a high quality pair of pants that lasts a long time.
0
0