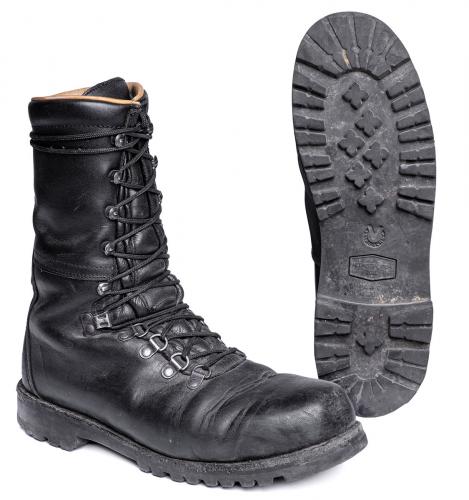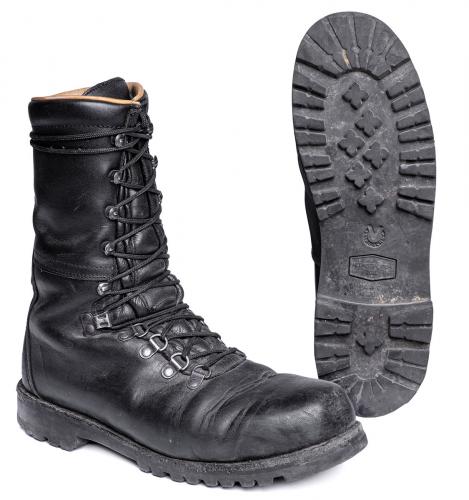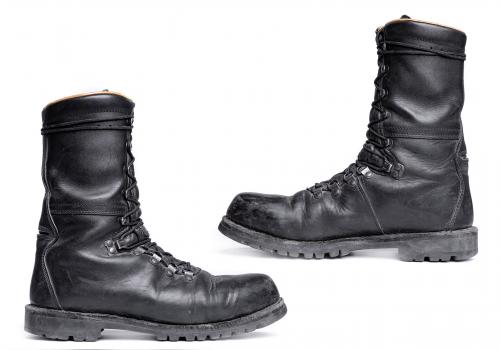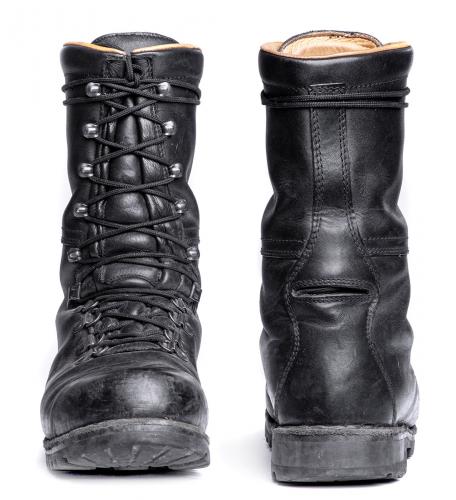 D-rings on the instep, hooks on the shaft.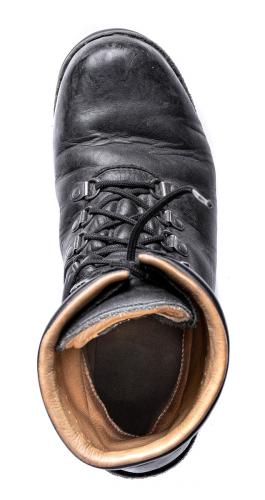 Incredibly comfortable leather lining.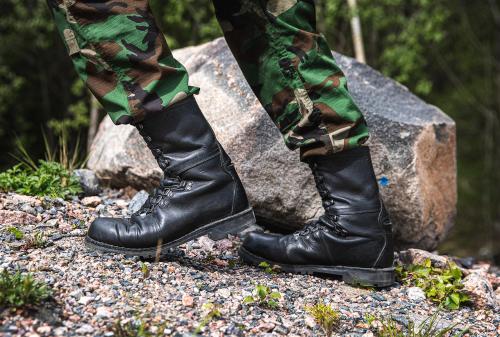 Austria
Austrian KAZ 03 Combat Boots, Surplus
Price 59.99 USD
excluding sales tax
What a treat: Teutonic heavy combat boots with a light price tag! These Austrian boots are closely related to and an improved version of the German Bundeswehr KS2000. Both boots are manufactured by the same contractor, Völkl from Germany.
Loading products...
Trouble with the metric system? Try our converter: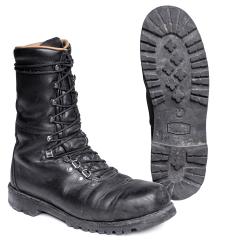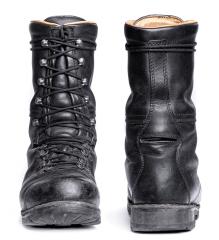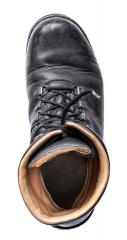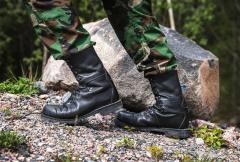 What a treat: Teutonic heavy combat boots with a light price tag! These Austrian boots are closely related to and an improved version of the German Bundeswehr KS2000. Both boots are manufactured by the same contractor, Völkl from Germany.
Stout full-leather combat boot
Welt-construction enables resoling
Rapid lacing and hooks
In the good old times, military boots were rough and virtually indestructible pieces of footwear that inspired street fashion for civilians. The modern world is ruined, civvy-trinkets are copied to army "boots" and their service life is short just like the attention span of the users. Not in Austria, nein! The Kampf Anzug 2003 (KAZ 03) combat boots are made to last and to be repaired. The idiom "don't make them like they used to" comes to mind, except they still make these. Jawohl!
The laces run through D-rings on the instep, then through locking tunnels and hooks on the shaft. These are quick to put on and adjust for a good fit. Some pairs have thicker padding on the shaft and a synthetic loop instead of a tunnel between the D-rings and hooks. These are not sorted apart, they are all great.
We recommend buying new insoles and laces right away. You probably get laces and insoles with the boots and they might be good to go, but it's better to have these consumables for the time you need them.
Size info
Manufactured to European size specs. The lasts are not particularly wide so if you're often between two sizes, consider the larger one in this case. Here's a table to help you compare it to true US sizes.
Conversion table
| EU-size | Length of foot | US-size |
| --- | --- | --- |
| 36 | 227 mm | US 5* |
| 37 | 233 mm | US 5.5 |
| 38 | 240 mm | US 6.5 |
| 39 | 247 mm | US 7 |
| 40 | 253 mm | US 8 |
| 41 | 260 mm | US 9* |
| 42 | 267 mm | US 9.5 |
| 43 | 273 mm | US 10.5* |
| 44 | 280 mm | US 11 |
| 45 | 287 mm | US 12 |
| 46 | 293 mm | US 12.5 |
| 47 | 300 mm | US 13.5 |
| 48 | 307 mm | US 14.5* |
* This size falls in between half and full sizes of the US system and our chart indicates the larger US-size. The rounding is just 2 mm (0.08") so the boot is still going to be large enough.
Materials and construction
Most of the materials are the same as on the Bundeswehr Kampstiefel but the midsole is not crummy and glued rubber foam. These Austrian ones have a proper Welt sole that can be replaced (resoled). The light leather lining feels like a glove and can be rather arousing to the foot without a sock on. The laces pass through proper steel hardware, not some brittle molded trinkets.
Top: heavy-duty leather
Sole: Vibram treaded vulcanized rubber
Insoles: buy new ones
Sole construction: Welt-sewn
Weight: 2250 g / pair, size 43 (4.96 lbs)
The stiffness is suitable for general use, the Austrians have mountain boots separately. The shaft offers good support so these will serve you in hard use.
Care and maintenance
Wash with gall soap (aka. bile soap) or just your regular hand soap with lots of water and a brush. Don't dry in sunlight or high heat, do take out for a walk. When the boots are moist, they are most hospitable to leather oil and grease. This gives you a basic level that you can finish as you please.
Warranty info
These are not covered by the manufacturer at this point. However, you should not be disappointed with these. If you run into a lemon, let us know and we'll sort it out.
Condition
Used for sure, but in a good condition and serviceable with lots of miles to go with the treads. The manufacturer is most often Völkl, sometimes Holzer.
Some pairs may have a small tag-hole punched through at the top of the shaft or tongue. Most also have a white X made with a crayon to the toe box or heel. It'll come off with use, brushing, and care.
It is worth knowing that military surplus boots don't usually come with insoles, and even if they do have them, they are often used. So, get a good pair of insoles at the same time. For example, from us.
Austrian surplus
Functional, neutral, clean. That's what the Austrian Bundesheer gear is made of. Our Austrian surplus revolves mostly around the Anzug 75 and Anzug 03 clothing systems, but who knows, maybe the "Tarnanzug Neu" will make it's appearance if the Austrians decide to clear the stocks in the future. Get your OD gear while the stocks last.
After the Second World War the Austrian soldier looked like a weird mixture of Allies and Germans; the M1 style helmet and general profile really tried to bring that NATO vibe up, but a lot of the gear and even the dotted camouflage pattern looked surprisingly much like WW2 German issue. In the 70s they took a major leap towards NATO with the introduction of the all-green Anzug 75 clothing and equipment system closely inspired by the American equivalents, finally letting go of the "old stuff". The Anzug 03 brought the game up to date with some changes in effort to modernize the whole thing. Now the Bundesheer is again moving over to camouflage.
All products: Austria
Recommendations
Loading products...
Reviews
You have already submitted a review. You can edit your text by clicking on it. You can filter the reviews by clicking on the elements of the summary.
Log in and write a review. You can filter the reviews by clicking on the elements of the summary.
Remove filter
Suomi
(21)
English
(47)
I would recommend for a friend
Sebastiaan T.

04.06.2020

Verified purchase
got the boots in today they look great and in good condition a little wear on the soles but no harm there gave them a good clean and some grease that i also boughr here great stuf and i am happy with them for sure no lemons here get them before they are gone
0
0
I would recommend for a friend
Andrew D.

05.06.2020

Verified purchase
My first purchase from Varusteleka, but not my last! Excellent quality boots in very good used condition at an extraordinarily good price. Fit perfectly and are going to be my "go-to" boots going forward. I am super happy with these boots!!!
1
1
I would recommend for a friend
Joseph N.

09.06.2020

Verified purchase
I got my boots in today and I gotta say, wow! This has got to be one of the most comfortable boots that has ever graced my feet. That being said, I was disappointed to find one of the boots had a major crack in front of the welt sole so I will have to spend additional $$ on getting them resoled right away before I can actually use them. It was a little disappointing as they fit very well and I was hoping to get some use out of them before resoling but alas, it is not the end of the world as the rest of the boot was nearly new. It is possible to get a lemon with these.

*UPDATE* I had these resoled and it cost $100 USD to fix them so keep that in mind when deciding if it is worth it. I would have returned them but since I live in the US it would have cost additional $$ to send them back so I figured I might as well get them resoled and be done with it.
2
0
I would recommend for a friend
Marko N.

16.06.2020

Verified purchase
Varusteleka myy näitä itävaltalaisia armeijakenkiä kilpailukykyiseen hintaan; näitä ei postikuluineen saa mistään nettikaupasta hintaan mihin Leka myy. Näihin saa varautua ostamaan uudet kengännauhat; itsekin jouduin hankkimaan näihin nauhat. Kokemani mukaan 2metriset nauhat ovat sopivimmat, ainakin itse laitoin tuon mittaiset nauhat ja tuntuu sopivan hyvin. Kun nauhoja kiristää nilkasta saa olla varovainen, että ei kiristä liikaa. Näihin ei välttämättä tarvitse pohjallisia, sillä lesti tuntuu sen verran kapealta, että pohjalliset ovat liikaa: omiini kenkiin tuli mukana uudet ainakin nahkaa muistuttavat pohjalliset, mutta ne olivat liikaa ja ne piti ottaa pois. Näissä on mukavan tuntuinen nahkavuori ja ovat melko hyvän tuntuiset kävellä. Nauhoitus on sellainen että se vaatii hiukan tottumista, että osaa nauhoittaa oikealle kireydelle. Ovat hyvännäköiset korkeavartiset sotilasmaiharit!
9
4
I would recommend for a friend
Daniel S.

22.06.2020

Verified purchase
Nice boots! Definitely size up. I wear 10.5 US and ordered the 11 US (size 44 on this chart). Glad I did, they fit perfectly for me. If I had ordered my exact size they would have been too tight. I was in the 1990s USMC and was issued the black all leather boots and jungle boots back then. So that's what I was used to :)
2
0
I would recommend for a friend
Mathieu B.

26.06.2020

Verified purchase
Extremely comfortable for the price, but there's a big crack on the front of the sole. Some superglue did the trick for now, but a lemon is what I got.
If there wasn't that crack, these would be perfect.
18
0
I would recommend for a friend
Marcel N.

01.07.2020

Verified purchase
Just received the boots yesterday and very happy with them. Sizing according to the table worked perfect for me. I bought the Jalas insoles in the same size to replace the old insoles as advised and they seem to fit very good without trimming. Mine came without any tagholes but with the white crosses; this required very little polish and effort to remove. Boots felt very comfortable when fitting but I had to bring them to the local cobbler before real use.

One sole was getting loose from the shoe at the tip. When i brought them in at the local cobbler i was expecting a complete new sole for both but the shop owner suggested just glueing it back. He noticed that the other shoe was also starting to tear at the front so that will also be glued. He will also glue the fixed inner sole back inplace (not the removable innersole, the one below that which was loose in both :) ). Total repair cost including new laces; 30 euros.

When buying; don't forget some extra costs (insoles and laces as noted by Varusteleka and maybe some work on the soles by a cobbler). Still for that price a very usable and comfortable boot.
3
0
I would recommend for a friend
Gerard B.

07.07.2020

Verified purchase
I bought these boots because of the exemplary and hard to find quality, the ease to replace the soles and the worldwide availability of these type of soles
Off course unfortunately I cannot use these boots during para jumping or parasailing because of the lacing hooks on the shaft. (the infamous "horse shoe" accidents/boots being caught in para-cord)
But I already own WWII style US Army jump boots from Särmä without these hooks on the shaft. And you guessed, the same type of soles ;)
On my extended trips away and as a former operator I always took a second pair of additional boots with me in my backpack.
So for inside the EU, these Austrian boots will become my second pair of boots.
0
0
I would not recommend to a friend
Robert P.

11.07.2020

Verified purchase
Extremely well made boot, but really narrow, I ended up having to return two different pairs in two sizes. If you have a narrow foot it'd probably be a great buy.
8
0