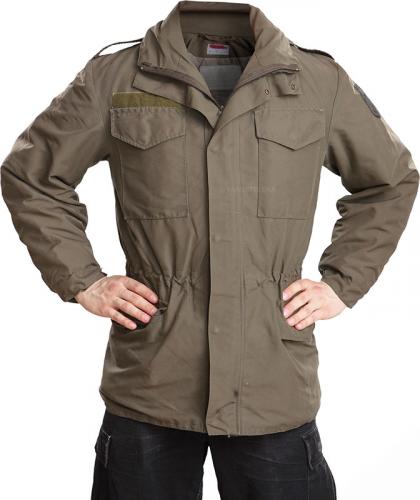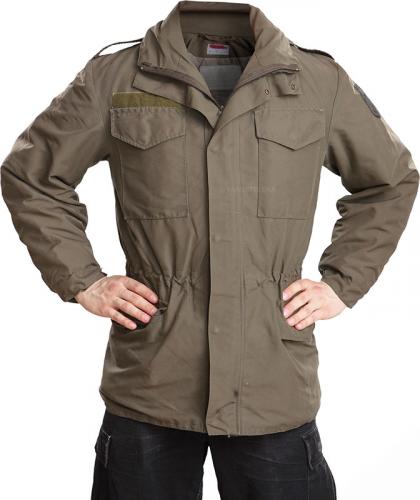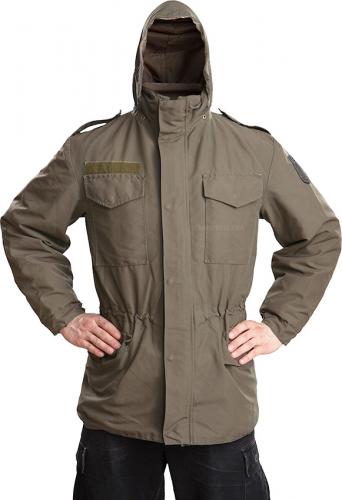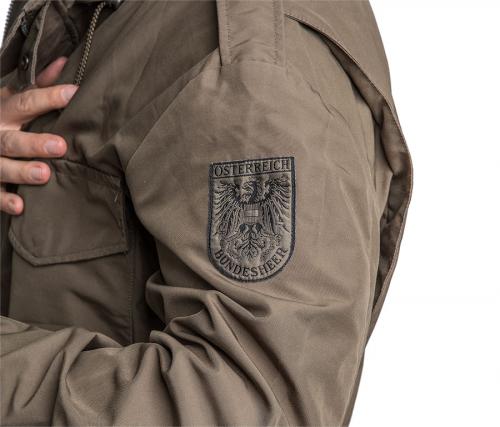 Most jackets have an Austrian Bundesheer logo on the front.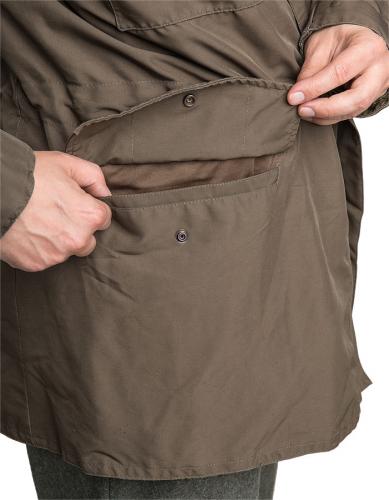 The pockets are simple and roomy.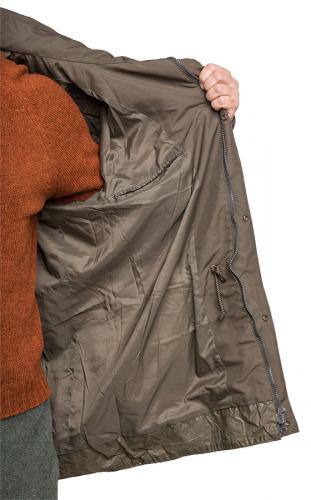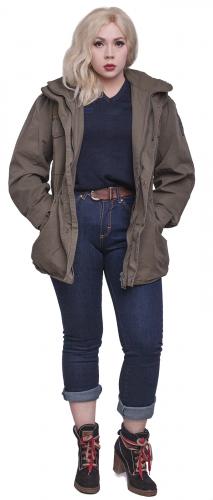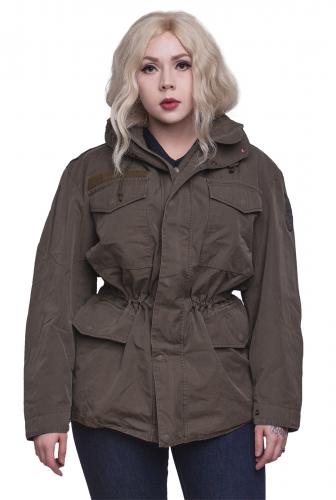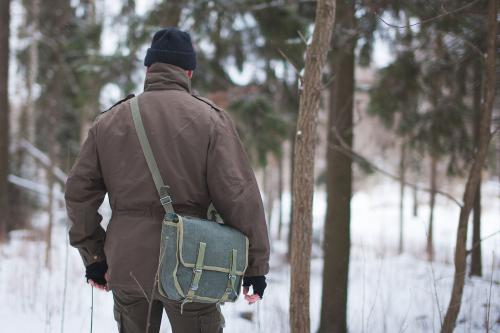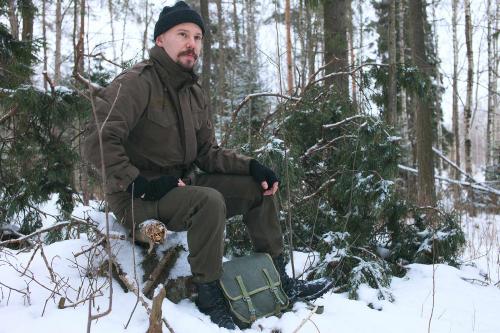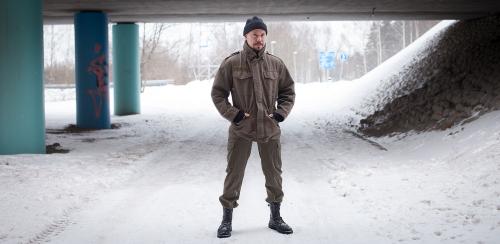 Austria
Austrian Field Jacket W. Membrane, Surplus
Price 69.99 USD
excluding sales tax
Austrian Bundesheer Gore-Tex (or Sympatex!) jacket. Cut very much like the US M65 field jacket, but is water- and windproof. An excellent fall/winter jacket with practical features and nice nonchalant colour scheme.
Loading products...
Trouble with the metric system? Try our converter: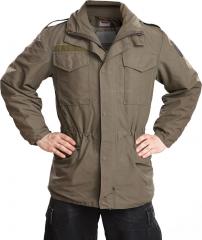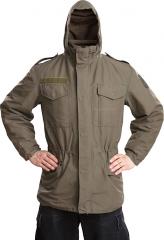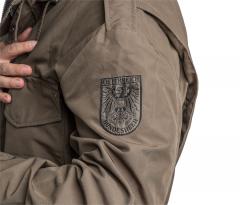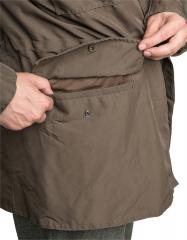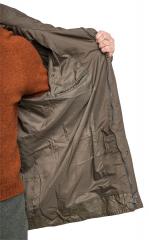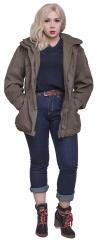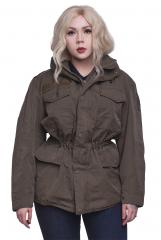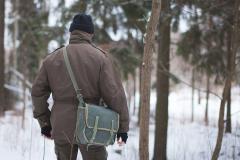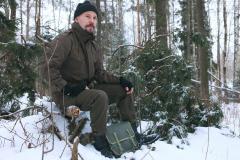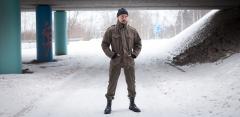 Austrian Bundesheer Gore-Tex (or Sympatex!) jacket. Cut very much like the US M65 field jacket, but is water- and windproof. An excellent fall/winter jacket with practical features and nice nonchalant colour scheme.
A sturdy shell jacket with good pockets and a hood
Gore-Tex or Sympatex membrane
Generous cut widthwise: if you're between two sizes and want the coat for casual use, the smaller might be better.
Zipper & snap closure, four front pockets with snap closure, a stow-away hood and generous cut, these are meant as the top layer. The membrane is squeezed between two outer layers. Other than that, these don't have any lining whatsoever. However these are roomy; it's up to the user to dress accordingly.
These usually have a velcro name tag base on the chest and Bundesheer logo on the arm, or traces of one.
Material
The composition of the outer fabric varies, it can be either 50/50% polycotton, 65/35% polycotton or 100% polyester. The membrane is either Gore-Tex or Sympatex, these are essentially the same. 100% polyester lining.
Size info
First the easy size, then the user's recommended height and chest circumference in centimetres or inches. These are a tad oversized to accommodate stuff underneath.
The Austrian size system is explained in detail on our Austrian jacket size chart page. If you are already familiar with Austrian sizing and want to know how we came up with the easy sizes, below is our logic as a chart. All possible sizes in the chart are not manufactured of course.
| | | | | |
| --- | --- | --- | --- | --- |
| Width / Height | Short | Regular | Long | X-Long |
| X-Small | 80-84 I-II | 80-84 III-IV | 80-84 V-VI | 80-84 VII-VIII |
| Small | 88-92 I-II | 88-92 III-IV | 88-92 V-VI | 88-92 VII-VIII |
| Medium | 96-100 I-II | 96-100 III-IV | 96-100 V-VI | 96-100 VII-VIII |
| Large | 104-108 I-II | 104-108 III-IV | 104-108 V-VI | 104-108 VII-VIII |
| X-Large | 112-116 I-II | 112-116 III-IV | 112-116 V-VI | 112-116 VII-VIII |
| 2X-Large | 120-124 I-II | 120-124 III-IV | 120-124 V-VI | 120-124 VII-VIII |
| 3X-Large | 128-132 I-II | 128-132 III-IV | 128-132 V-VI | 128-132 VII-VIII |
Condition
In used but serviceable condition and repaired when necessary. Although we can't give any 105 % waterproofness guarantees in diving conditions for used membrane rainwear, these should do just fine.
Austrian surplus
Functional, neutral, clean. That's what the Austrian Bundesheer gear is made of. Our Austrian surplus revolves mostly around the Anzug 75 and Anzug 03 clothing systems, but who knows, maybe the "Tarnanzug Neu" will make it's appearance if the Austrians decide to clear the stocks in the future. Get your OD gear while the stocks last.
After the Second World War the Austrian soldier looked like a weird mixture of Allies and Germans; the M1 style helmet and general profile really tried to bring that NATO vibe up, but a lot of the gear and even the dotted camouflage pattern looked surprisingly much like WW2 German issue. In the 70s they took a major leap towards NATO with the introduction of the all-green Anzug 75 clothing and equipment system closely inspired by the American equivalents, finally letting go of the "old stuff". The Anzug 03 brought the game up to date with some changes in effort to modernize the whole thing. Now the Bundesheer is again moving over to camouflage.
All products: Austria
Recommendations
Loading products...
Reviews
You have already submitted a review. You can edit your text by clicking on it. You can filter the reviews by clicking on the elements of the summary.
Log in and write a review. You can filter the reviews by clicking on the elements of the summary.
Remove filter
Suomi
(13)
English
(31)
I would recommend for a friend
Jean N.

10.10.2017

Verified purchase
A very good Winter/Fall jacket, feels thick and nice, good Goretex membrane inside.
Mine came without the waist strap... no problem but to fix it was a puzzle as the waist strap itselve was also missing,
but solved so here is the solution if you also find the waist strap missing:
Down at the bottom of the jacket are two little holes, two open parts that have not been sewed...
Wrap the coat inside out through the hole, until you find a blue(ish) section: that is the part where the waist strap must be inserted.
Insert the waist strap with a safety pin until you feel its inside the horizontal lining around the waist of the coat.
Squeeze until you reach the other end of the jacket.
The Goretex is a liner that is sewed all over the inside of the jacket. But directly next to the blue(ish) section there is a tiny hole in the Goretex,
That is where the waist strap must go through to get to the right side of the inside of the jacket.
Then it's a quest to find the iron hole where the strap must go in, repeat on the other side.
47
0
I would recommend for a friend
Per T.

28.11.2017

Verified purchase
A very nice and sturdy Jacket. Mine was 50/50 polycotton and sympatex membrane. Very soft and silent fabric and apparently good breathing allthough I've only tried it in cold weather so far. Would truely be my favorite outdoor hunting/fishing/boating jacket in the years to come.

Lining were not sewed too good at the bottom, either a poor repair or too fast sewing first time, but was easily repaired by hand. Other than that, the jacket including the zipper looked brand new and flawless
6
0
I would recommend for a friend
Anon

01.01.2018

Verified purchase
Loistava (lysande) takki on tämä. Pitää tuulta ja sadetta sekä hengittää. Pikkupakkasilla riittää alle ruotsalainen armeijan poolopaita . Hihojen kiristys on nerokas eli sen voi tehdä hanskatkin käsissä aivan helposti. Edellisen vastaavan ostin vuosia sitten , kasvoin siitä ulos hartioiden osalta ja kun sen vetoketjukin jumittui , varmaan viiden vuoden käytön jälkeen, heivasin sen pois ja tilasin uuden.Tässä uudemmassa vain vasemman povarin vetoketju on jumittunut pysyvästi puolitiehen. varsinainen vetskari hieman jumitteli , mutta kun sen hinkkasin lämpökynttilän avulla muuttui toiminta täysin sujuvaksi. Vielä yksi hyvä juttu, kalvokerros on vuorin ja ulkokerroksen välissä joten se on hyvin suojattu. Kuin M65- takki , mutta paremmilla ominaisuuksilla.
19
0
I would recommend for a friend
Tyler T.

11.03.2018

Verified purchase
This is a great take on the M65 design, though with a couple of improvements. First off the waterproof Gore-tex is a great improvement, making this jacket a far more viable option in the rain than my original US 1980s M65. Secondly the hood in this version is also far better than the flimsy hood that is in the original M65 design, though it may not fold as flat as it is thicker and the collar style is slightly different. Other than those two main differences, and it being a little bit longer, this jacket is very similar to the classic M65 design.

Mine arrived in very good condition with no stains or rips in the seams. The fabric is durable and the zippers and snaps all were in working order. It did appear that the sleeve snaps on one side closed a bit tighter than on the other, but this was not a big issue as it was just on the smallest snap, which I do not use. Overall I am very happy with this jacket and would recommend it for a friend.
7
0
I would recommend for a friend
David F.

16.03.2018

Verified purchase
I have a new favorite rainy weather jacket! Mine came Gortex and brand new, with tags. Brilliant! Casual look and color for town, great fit, and of course would take you through a war or two if necessary. This is a jacket that will perform well in all but the extreme cold and look good doing it. It seems to breathe well for for a rain coat. For $50 it's a great piece of versatile gear for sure!
10
0
I would not recommend to a friend
Calvin C.

01.10.2018

Verified purchase
Before you order, ask the guys if the jackets they have in stock are the older M75/Kampfanzug 75 polycotton-only jackets, as I received that in the mail (made in 1983) and it does not have a waterproof membrane.



I'd also reconsider this jacket if you're a fairly slim person; I ordered 88-92 I-II and the jacket runs large on me (especially the sleeves), even when layered on! This might be a better fit for more muscular or fatter people though, YMMV.
5
3
I would recommend for a friend
Kendal K.

05.12.2018

Verified purchase
I would recommend for a friend
aaron j.

08.03.2019

Verified purchase
Great jacket! Mine looks almost new.
0
0
I would recommend for a friend
Bob K.

22.03.2019

Verified purchase
Always wanted one, and bought one a few days ago. Overestimated my masculinity, and ended up buying one that was a bit too big for me. Plan on giving bigger one to fat friend and buying smaller one for myself.
The jacket itself feels very sturdy and warm. It also looks very cool
2
1