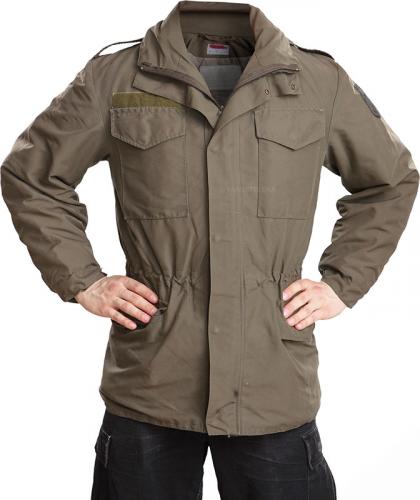 Austrian field jacket w. membrane, surplus
Price 45.99 USD excluding VAT
Flat Rate Shipping to USA $9.99
89 % recommends
Sold 38 pcs in the last two weeks
Loading products...
Trouble with the metric system? Try our converter: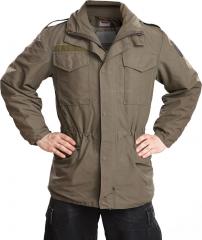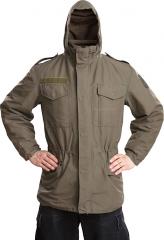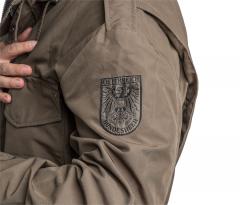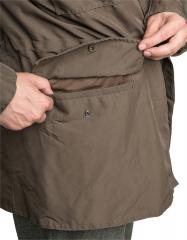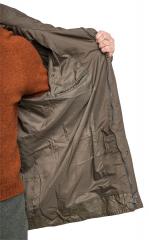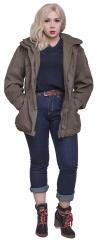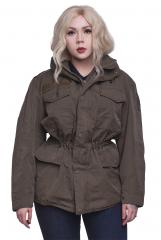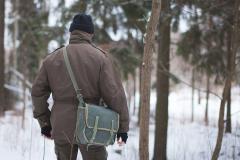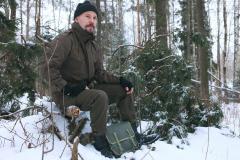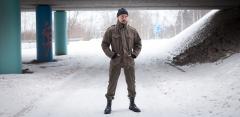 Austrian Bundesheer Gore-Tex (or Sympatex!) jacket. Cut very much like the US M65 field jacket, but is water- and windproof. An excellent fall/winter jacket with practical features and nice nonchalant colour scheme.
A sturdy shell jacket with good pockets and a hood
Gore-Tex or Sympatex membrane
Generous cut widthwise: if you're between two sizes and want the coat for casual use, the smaller might be better.
Zipper & snap closure, four front pockets with snap closure, a stow-away hood and generous cut, these are meant as the top layer. The membrane is squeezed between two outer layers. Other than that, these don't have any lining whatsoever. However these are roomy; it's up to the user to dress accordingly.
These usually have a velcro name tag base on the chest and Bundesheer logo on the arm, or traces of one.
Material
The composition of the outer fabric varies, it can be either 50/50% polycotton, 65/35% polycotton or 100% polyester. The membrane is either Gore-Tex or Sympatex, these are essentially the same. 100% polyester lining.
Size info
First the easy size, then the user's recommended height and chest circumference in centimetres. These are a tad oversized to accommodate stuff underneath.
The Austrian size system is explained in detail on our Austrian jacket size chart page. If you are already familiar with Austrian sizing and want to know how we came up with the easy sizes, below is our logic as a chart. All possible sizes in the chart are not manufactured of course.
| | | | | |
| --- | --- | --- | --- | --- |
| Width / Height | Short | Regular | Long | X-Long |
| X-Small | 80-84 I-II | 80-84 III-IV | 80-84 V-VI | 80-84 VII-VIII |
| Small | 88-92 I-II | 88-92 III-IV | 88-92 V-VI | 88-92 VII-VIII |
| Medium | 96-100 I-II | 96-100 III-IV | 96-100 V-VI | 96-100 VII-VIII |
| Large | 104-108 I-II | 104-108 III-IV | 104-108 V-VI | 104-108 VII-VIII |
| X-Large | 112-116 I-II | 112-116 III-IV | 112-116 V-VI | 112-116 VII-VIII |
| 2X-Large | 120-124 I-II | 120-124 III-IV | 120-124 V-VI | 120-124 VII-VIII |
| 3X-Large | 128-132 I-II | 128-132 III-IV | 128-132 V-VI | 128-132 VII-VIII |
Austrian army surplus
In used but serviceable condition and repaired when necessary. Although we can't give any 105 % waterproofness guarantees in diving conditions for used membrane rainwear, these should do just fine.
Reviews
You have already submitted a review. You can edit your text by clicking on it.
Log in and write a review.
Remove filter
Suomi
(3)
English
(16)
I would recommend for a friend
Jean N.

10.10.2017
A very good Winter/Fall jacket, feels thick and nice, good Goretex membrane inside.
Mine came without the waist strap... no problem but to fix it was a puzzle as the waist strap itselve was also missing,
but solved so here is the solution if you also find the waist strap missing:
Down at the bottom of the jacket are two little holes, two open parts that have not been sewed...
Wrap the coat inside out through the hole, until you find a blue(ish) section: that is the part where the waist strap must be inserted.
Insert the waist strap with a safety pin until you feel its inside the horizontal lining around the waist of the coat.
Squeeze until you reach the other end of the jacket.
The Goretex is a liner that is sewed all over the inside of the jacket. But directly next to the blue(ish) section there is a tiny hole in the Goretex,
That is where the waist strap must go through to get to the right side of the inside of the jacket.
Then it's a quest to find the iron hole where the strap must go in, repeat on the other side.
30
0
I would recommend for a friend
Per T.

28.11.2017
A very nice and sturdy Jacket. Mine was 50/50 polycotton and sympatex membrane. Very soft and silent fabric and apparently good breathing allthough I've only tried it in cold weather so far. Would truely be my favorite outdoor hunting/fishing/boating jacket in the years to come.

Lining were not sewed too good at the bottom, either a poor repair or too fast sewing first time, but was easily repaired by hand. Other than that, the jacket including the zipper looked brand new and flawless
6
0
I would recommend for a friend
Pekka K.

01.01.2018
Loistava (lysande) takki on tämä. Pitää tuulta ja sadetta sekä hengittää. Pikkupakkasilla riittää alle ruotsalainen armeijan poolopaita . Hihojen kiristys on nerokas eli sen voi tehdä hanskatkin käsissä aivan helposti. Edellisen vastaavan ostin vuosia sitten , kasvoin siitä ulos hartioiden osalta ja kun sen vetoketjukin jumittui , varmaan viiden vuoden käytön jälkeen, heivasin sen pois ja tilasin uuden.Tässä uudemmassa vain vasemman povarin vetoketju on jumittunut pysyvästi puolitiehen. varsinainen vetskari hieman jumitteli , mutta kun sen hinkkasin lämpökynttilän avulla muuttui toiminta täysin sujuvaksi. Vielä yksi hyvä juttu, kalvokerros on vuorin ja ulkokerroksen välissä joten se on hyvin suojattu. Kuin M65- takki , mutta paremmilla ominaisuuksilla.
15
0
I would recommend for a friend
Tyler T.

11.03.2018
This is a great take on the M65 design, though with a couple of improvements. First off the waterproof Gore-tex is a great improvement, making this jacket a far more viable option in the rain than my original US 1980s M65. Secondly the hood in this version is also far better than the flimsy hood that is in the original M65 design, though it may not fold as flat as it is thicker and the collar style is slightly different. Other than those two main differences, and it being a little bit longer, this jacket is very similar to the classic M65 design.

Mine arrived in very good condition with no stains or rips in the seams. The fabric is durable and the zippers and snaps all were in working order. It did appear that the sleeve snaps on one side closed a bit tighter than on the other, but this was not a big issue as it was just on the smallest snap, which I do not use. Overall I am very happy with this jacket and would recommend it for a friend.
5
0
I would recommend for a friend
David F.

16.03.2018 (Edited 10.04.2018)
I have a new favorite rainy weather jacket! Mine came Gortex and brand new, with tags. Brilliant! Casual look and color for town, great fit, and of course would take you through a war or two if necessary. This is a jacket that will perform well in all but the extreme cold and look good doing it. It seems to breathe well for for a rain coat. For $50 it's a great piece of versatile gear for sure!
6
0
I would not recommend to a friend
Calvin C.

01.10.2018 (Edited 27.10.2018)
Before you order, ask the guys if the jackets they have in stock are the older M75/Kampfanzug 75 polycotton-only jackets, as I received that in the mail (made in 1983) and it does not have a waterproof membrane.



I'd also reconsider this jacket if you're a fairly slim person; I ordered 88-92 I-II and the jacket runs large on me (especially the sleeves), even when layered on! This might be a better fit for more muscular or fatter people though, YMMV.
3
2
I would recommend for a friend
Kendal K.

05.12.2018
I would recommend for a friend
aaron j.

08.03.2019
Great jacket! Mine looks almost new.
0
0
I would recommend for a friend
Bob K.

22.03.2019 (Edited 27.03.2019)
Always wanted one, and bought one a few days ago. Overestimated my masculinity, and ended up buying one that was a bit too big for me. Plan on giving bigger one to fat friend and buying smaller one for myself.
The jacket itself feels very sturdy and warm. It also looks very cool
1
1
I would recommend for a friend
Jyrki M.

14.04.2019
Ostin takin tavallaan hetken mielijohteesta (lue: kerta toisensa jälkeen eri takkeja nettisivulla virtuaalisesti hypistellen) myymälässä maaliskuussa käydessäni, esillä oli small long-kokoinen takki mikä ihme ja kumma meni juuri ja juuri talvimahan kohdalta kiinni. Säätövaraa ei ollut vyötärönaruissa enää lainkaan, niin asiakaspäätteeltä pikaisesti tsekattuna askel kohti varastoa ja ystävällistä rättivääpeliä. Varastostahan löytyi medium long-kokoinen ja vieläpä hyväkuntoinen (lapussa on vuosiluku 1997, uskokaa tai älkää). Pikasovitus ja peilailemaan ryhdikkään miehekkäästi kokovartalopeilistä, ja eikun ostoskoriin.

Kunnon testiin takki pääsi ensimmäisessä lopputalven vaakasuorassa räntäsateessa ja sehän piti vettä kuten pitikin. Pikkupakkasilla välikerroksena on ollut Särmän villaflanellipaita ja isommilla pakkasilla sveitsiläisten villapaita. Hemmetin hyvä takki eikä hintakaan ole paha. Luulenpa että vastaava merkkivaate merkkiliikkeestä kustantaa sen kolmenumeroisen summan eikä ensimmäinen luku välttis ole ykkönen.
2
0
I would recommend for a friend
Fernando U.

20.04.2019
Excelente chaqueta ligera. Discreta, de gran calidad, elegante y con 4 prácticos bolsillos. La calidad de confección es inencontrable a precios mucho más altos en el mercado de prendas civiles. 100% recomendada.
1
0
I would recommend for a friend
RODRIGO O.

08.07.2019
Literally, it is one of the best and best-looking military field jackets I have ever seen. Mine came in a dark green color and had gore-tex. It is a heavy jacket and I am sure it can easily be used in below zero Celsius degrees without a problem (maybe with another layer). All the seams are very solid as well as the zipper. The only problem is the sizing. It is HUGE. I cannot see how that jacket can be considered as Small. It was so big that there simply was no way for me to use it, so I had to pass it to a friend that normally uses Large sizes (and still there is room for him to put layers under it). Thus, take that into account when ordering. Other than that, the jacket is simply outstanding.
0
0
I would recommend for a friend
Robert H.

08.10.2019 (Edited 08.10.2019)
Initial Thoughts:
I purchased three of these jackets given their incredible value and to ensure I have spares should the supply dry up. I'll detail my initial thoughts here and update early next year after a trip to Tasmania.

Each of the three jackets I received had Gore-Tex liners, and appeared to be in fantastic condition, albeit with some sign of use / storage. All of the zippers and clasps were present and in working order. No abraded fabric nor loose seams. Indeed the only sign of obvious wear was in the elastic which runs within the cuff's hem for adjusting its tightness. I suspect it will be the first, and likely only point of failure.

Sizing:
For reference my body dimensions are:
Chest: 95cm
Waist: 85cm
Neck: 39cm
Height: 182cm

I live in Australia and due to our climate, I didn't need the jacket to accommodate many, or quite often any, middle layers beneath it. So, I ordered a small long (179-187, 84-92) and the fit is just about perfect. The sleeves sit where they ought to, just below the wrist when at rest, and the skirt of the jacket sits half way down my thighs. In retrospect a small regular would perhaps have been more appropriate for casual wear, but I intend to use these jackets for hiking and hunting, where the added length will be welcome in keeping myself dry. As others have mentioned, the sleeves are huge! Not so baggy as to be cumbersome, but enough to notice.

Depending upon the conditions you intend to use these in, if you're between sizes, order the size below.

I may order a smaller size for casual wear in future, but for now these fill the need perfectly, at for far less than commercial options.
0
0
I would recommend for a friend
William K.

08.11.2019
Just got mine, and it looks fantastic. Dated 1997, 100% polyester with a Gore-Tex membrane. Looks brand new.

Tag reads 104-108 III/IV. Measures 26" from pit to pit, and the height is spot on for me (5' 11"). Roomy enough for a fleece layer underneath, but not too big where I am swimming in it.

Cheap at twice the price.
0
0
I would recommend for a friend
Ray M.

14.11.2019
Does its job, dries fast and looks great too.

However too others who may receive a green,olive drab or brown coloured parka its NOT faded . It all depends on date manufactured
0
0
I would recommend for a friend
Ahmetcan Ö.

27.11.2019
It is really good, nearly mint condition. Keeps warm and definitely no wind will get inside. I'm wearing it with a shirt, a Norwegian wool pullover and this jacket in C° -2 and I feel too warm. Plus, it feels lighter than a Bundeswehr parka.
BUT you really need a reference for this jacket for its really big.
I am 100cm on chest and 174cm high.
I bought 96-100 / III-IV.
I can be an onion inside it, wear three jackets if I will. But I'm not swimming in it as well.
TL;DR: if you want to wear this alone, buy a smaller size. If you want it as an overcoat, buy your own size. DO NOT buy a bigger size.
0
0
I would recommend for a friend
Kristjan L.

16.12.2019
Perfect in Estonian fall/winter. The sizing allows for an extra layer for warmth when the months of mud, cold winds, rain and temperatures slightly over zero pass over into just cold. The hood is actually functional and saved me from getting drenched in heavy rain while cycling. Strung it up and looked like a half-baked astronaut. As mine was new (or very slightly used), it repels water quite easily.

Love the color, cut, functionality and general looks.
0
0
I would not recommend to a friend
PaPa J.

20.12.2019
Dont buy this jacket unless you are alright with going to work on it because condition varies, for example. first one i bought was made in 2003 and had a zipper that ended up breaking after not much use and it ended up being more to replace it than what the jacket costs and second one that i got made in 2007 seemed to be of lesser quality with no drawstrings and blots of ink on the sleeve also different lettering font on the tags and a website (workfashion.com) which makes me wonder if its genuine. Keep in mind that this is a (SURPLUS) jacket and it isnt going to come in new condition.
1
0
I would recommend for a friend
Petteri O.

27.12.2019 (Edited 27.12.2019)
Aivan loistava rotsi. Ostin tän Lekasta reilu kymmenen vuotta sitten, edelleen toimii, vetoketjun jouduin suutarilla vaihdattaa jokunen vuosi sitten.
Tänään viimeksi niskassa, kun koiraa kusetin ja tuuli pohjoisesta ihan reippaasti, ei tullu vilu..
0
0