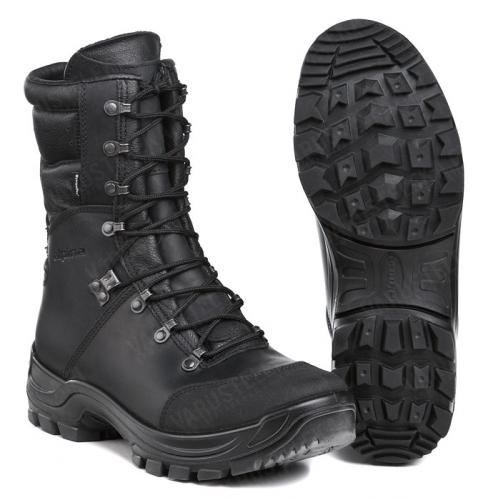 Alpina Trapper
Price 91.99 USD 147.99 USD excluding VAT
Flat Rate Shipping to USA $9.99
96 % recommends
Sold 2 pairs in the last two weeks
Loading products...
Trouble with the metric system? Try our converter: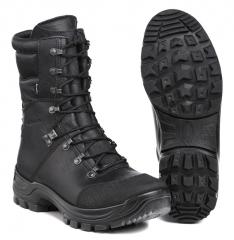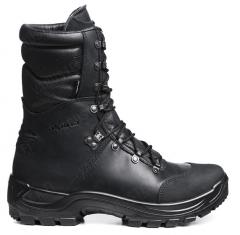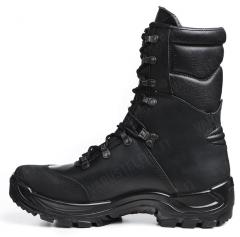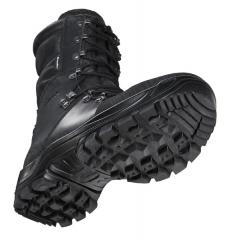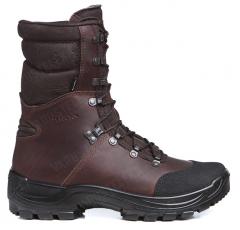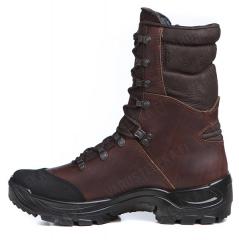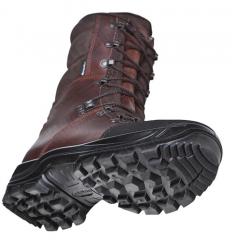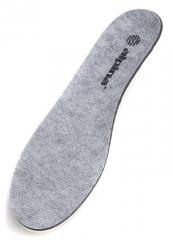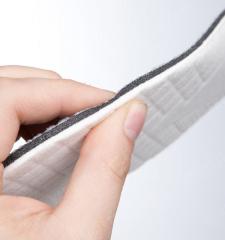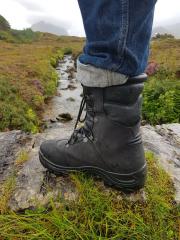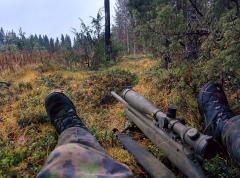 Heavy duty full leather boots, lined with Sympatex. As you might have already guessed, these have all the nice features of proper modern boots meant for rough terrain.
Features
Full leather construction means these can be waterproofed even if the membrane is damaged.
The fit is superb, just choose the right socks.
Shock absorbing sole construction with a rough tread pattern and good rolling step.
Rubber toe protector prolongs the life of the leather on the nose.
Speedlacing with lace locks in the middle.
Good factory insoles for a change.
In other words, these are excellent boots for temperate climates where the conditions are predominantly wet or at least uncertain more often than not. Just add socks and they work in winter too.
Care instructions and tips
The boots work best when cleaned with a brush and treated with a spray to repel dirt and water. Stubborn dirt can be removed with hand soap or similar mild detergent.
Should the leather get wet cold water will be right next to your feet behind a thin membrane. When walking, pressure can force moisture through the membrane. For best performance against water, we recommend BW shoe polish or any other stuff which is suitable for membranes. The surface will be shinier and darker, but most importantly your feet will be absolutely dry even when striding through deep puddles.
When hiking, rotate socks (or even insoles) to dry ones everytime you take a break. Your feet will thank you.
Size info
Sizes in the Euro system. The last could be described as wide. These have some other size markings in the product itself that might vary between the production runs, but the Euro system is what these are made in and it stays the same.
| UK-size | EU-size | Mondopoint |
| --- | --- | --- |
| 3 | 35,5 | 225 |
| 3,5 | 36 | 230 |
| 4 | 37 | 235 |
| 4,5 | 37,5 | 240 |
| 5 | 38 | 245 |
| 5,5 | 39 | 250 |
| 6 | 39,5 | 253 |
| 6,5 | 40 | 255 |
| 7 | 40,5 | 260 |
| 7,5 | 41 | 265 |
| 8 | 42 | 270 |
| 8,5 | 42,5 | 273 |
| 9 | 43 | 275 |
| 9,5 | 44 | 283 |
| 10 | 44,5 | 285 |
| 10,5 | 45 | 290 |
| 11 | 45,5 | 295 |
| 11,5 | 46 | 297 |
| 12 | 47 | 305 |
| 12,5 | 47,5 | 308 |
| 13 | 48 | 310 |
| 13,5 | 49 | 315 |
Manufactured by Alpina
Made in EU (Slovenia).
Recommendations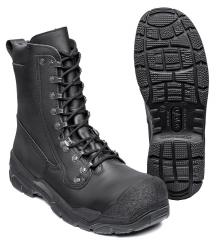 Jalas FDF M05 Combat Boots
147.99 USD
Viewed together.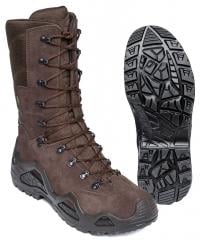 Lowa Z-11S GTX
220.99 USD
Similar product.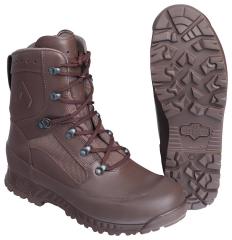 Haix Boot Combat High Liability, brown, B-stock
128.99 USD
Similar product.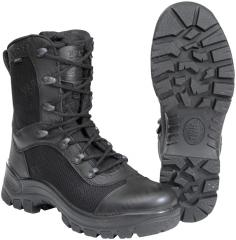 Haix Airpower P3
156.99 USD
Similar product.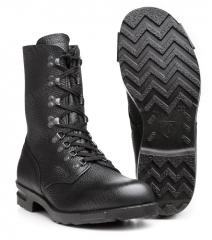 Norwegian M77 combat boots
128.99 USD
Viewed together.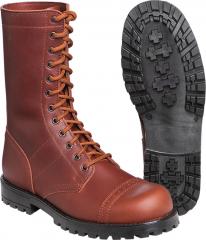 Särmä Jump Boots
147.99 USD
Viewed together.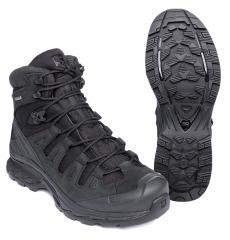 Salomon Quest 4D GTX Forces 2 EN
110.99 - 202.99 USD 183.99 - 202.99 USD
Similar product.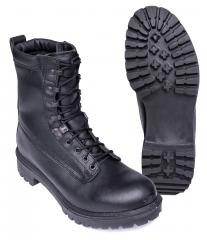 British Cold Weather Combat Boots, Gore-Tex, surplus
45.99 USD
Similar product.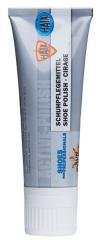 Haix shoe care for Gore-Tex, 75 ml, black
9.99 USD
Sometimes purchased with.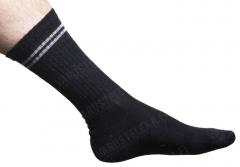 Finnish M05 liner socks
5.99 USD
Might be of interest.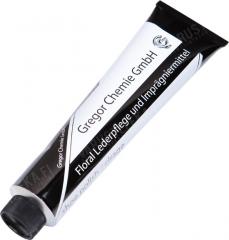 BW shoe polish
3.99 USD
Buy also.
Reviews
You have already submitted a review. You can edit your text by clicking on it.
Log in and write a review.
Remove filter
Suomi
(19)
English
(5)
I would recommend for a friend
Niko K.

24.08.2018
Aika tarkkaan neljä vuotta sitten tuli kyseiset kengät hankittua ja takana on tuhansia kilometrejä vaelluksilla ja töissä. Kengät olivat leveälestiselle erittäin positiivinen yllätys ja ensimmäisestä kokeilemisesta nousi hymy huulille. Noin parin vuoden jälkeen huomasin että kalvo on jostain kohtaa puhki ja alkoi viikon vaelluksen lopulla päästämään vettä sisään mutta hyvällä plankkauksessa on vesi pysynyt ulkopuolella. Nyt käväisin viikon vaelluksella tuntureilla ja jossain välissä matkaa kivikrantun saumaus on pettänyt ja vettä pääsi sisälle ihan lorottamalla. Mahtava kenkä ja erittäin monipuolinen. Menee etelän metsissä ja lapin kairalla, talvella ja kesällä. Uudet samanlaiset laitan tilaukseen jos vanhoja suutari ei saa korjattua kohtuu hinnalla.
6
0
I would recommend for a friend
Timo K.

24.09.2018
Erittäin mukavat! Itselläni ei ole mitään erityisen leveä lesti ja nämä passasivat itselleni oikein mainiosti. Omaan räpylään nämä käy aivan pirusti paremmin kuin m05:t. Pitkän ajan kestävyydestä on paha tässä vaiheessa sanoa mitään, mutta ainakin viikonlopun metsästysreissulla vesi pysyi kenkien ulkopuolella. Pohja ei ole yhtä jäykkä kuin Lowa Hunter GTX:ssä, mutta omassa käytössä tämä voi olla jopa plussaa. Lowa on ehkä pykälän parempi kenkä, mutta kyllä tässä hinta ja laatu tuntuu kohtaavan erinomaisella tavalla.
4
0
I would recommend for a friend
Jussi E.

25.11.2018 (Edited 25.11.2018)
Käytössä ollut kesästä asti, ei valittamista mutta pieni varoituksen sana: Koot ovat yllättävän pieniä, verrattuna vaikka SA m75 -maihareihin. Normaalisti käytän kokoa 42 tai 43, mutta Trappereissa koko 45 on välttämätön, villasukkavaran kanssa tietenkin, vaikka talvikäytössä m75 -maiharit tai intin nahkasaappaat jyräävät Trapperit "monopohjiensa ansiosta. Umpihangessa tarpominen ilman suksia kun ei minun juttuni ole. Ostin omani muualta, joten minulla oli mahdollisuus näitä kenkiä sovittaa kun suhteellisen kaukana Lekan myymälästä asun.
2
0
I would recommend for a friend
Olli S.

26.11.2018 (Edited 16.12.2018)
Parhaat kengät mitä ikinä omistanut!! Pirun mukavat ja rullaavat, vettäkin ovat pitäneet. Ainoat miinukset hieman liukas pohja jäällä, ja en ole oikein noita pikalukkoja omaksunut, pikemminkin itsellä ainakin haittaavat kengän jalkaan laitossa kun nauhoja ei saa helposti löysytettyä alas asti. Ainiin, tykkään vetää kengät pirun tiukalle ja nauhat katkesivat kuukaudessa. Ostin vähän jäsymmät tilalle, kestäneet siitälähtien hyvin.
2
0
I would recommend for a friend
Rolf J.

28.11.2018 (Edited 28.11.2018)
Good boot. It is not exactly what I would consider a heavy duty boot but as a hunting boot for general european conditions pretty good. Sizing and fit is accurately described (My feet are Mondopoint 268 and I ordered size 270) and make for a propper fit with medium weight socks. I would rate the width as medium.

The only downside is the 'speedlacing' which is not speedy at all. Due to the soft laces and not too good eyelets the lacing is quite cumbersome. The laces just don't run smoothly enough to finish the task properly with one or two pulls as with the German BW boots for example. I have to tighten every eyelet seperately to get a good fit. No problem if your doning the boots for a days outing but quite unnerving if you are in and out of the boots a couple of times a day.
6
1
I would not recommend to a friend
Tomas B.

11.12.2018
I would recommend for a friend
Farasha E.

12.03.2019
Supremely comfortable hiking shoes. I can go 30km in a day in these (give or take, depending on terrain) with a 30kg+ pack day after day and feel no discomfort whatsoever. The sole is also very durable.
0
0
I would recommend for a friend
Akseli K.

22.03.2019
Ei muuta sanottavaa kuin: Parhaat kengät mitä olen koskaan omistanut, kiitän lepo.
1
0
I would recommend for a friend
nico S.

08.06.2019
I would recommend for a friend
Sami S.

30.07.2019
I would recommend for a friend
Leevi H.

02.08.2019
Jalassa erittäin hyväntuntoiset, etenkin hintaisekseen!
Kengät pääsivät kovaan testaukseen ku olivat palveluksen ajan päivittäisessä käytössä P-kaudelta aina kotiutumiseen asti.
Taustaa sen verran, että palvelus käytiin sissiradistina, joten marssimista kengät näkivät aika paljon.

Lähetään siitä liikkeelle, että peittoaa m05 varsikengät 100-0, ei hierrä mistään samalla tavalla, toimii paremmin maastossa,
'rouheemmat' pohjat, jotka pitää myös liukkaalla paremmin nollavitosten pohja. Raskaammat toki, mutta eipä tuota kävellessä
huomannut, vaikka mentiin pitkiäkin matkoja. Osaltaan raskaus johtuu paksummasta pohjasta joka kyllä maksaa itsensä takaisin
kun kävellään kivikossa.

Kengät on aika lämpimät, joten jos aiot käyttää syksyllä: toimii. Jos aiot käyttää talvella: paksumpien sukkien kanssa toimii.
Jos aiot käyttää kesällä: toimii, mutta jalat hikoaa.

Mitä kengästä sitten kuluu?
Nauhat menee vaihtoon aika nopeasti, vuoden jälkeen ne katkesi sitoessa, suosittelen vaihtamaan jo aika suoraan paksummiksi.
Pohjallinen on hyvä, mutta on vuodessa tallottu aika lyttyyn jos päivittäin käyttää (noh, kellään tuskin tosin tulee siviilissä käveltyä
yhtä paljon vuoden aikana.)

Ainoa asia joka itseäni vähän hämmensi on kengän pohjasta, sivuilta irtoavat kuminpalaset. Kumi alkaa murtua pikkuhiljaa kovassa
käytössä. En tiiä sitte onko kumi saanut liikaa aurinkoa ja haprastunut siitä vai mitä on käyny?
1
0
I would recommend for a friend
Bastian M.

09.10.2019
I would recommend for a friend
mikko s.

15.01.2020
Raskaat mutta hyvät kengät. Kunnon sisäänajon märkänä kun tekee muotoutuu jalkaan tosi nopeesti ja vetryy kerralla oikein oman jalan mukaan sekä säästyy rakoiltakin. Vettä pitää hyvin, eikä tunnu kylmältä kahlatessessakaan. Uidessa raskaat. Toimii hyvin lämpimällä sekä kylmällä ilmalla, kylmässä menee tosin vähän koppuraksi ja liukkaaksi pohja. Nauhotus on aika näppärä tosin kannattaa vähän käyttää aikaa sitoessa ettei turhaan syö nauhoja poikki "teräviin" reunoihin.
0
0
I would recommend for a friend
Marika K.

17.02.2020 (Edited 17.02.2020)
Nämä on olleet todella vähän aikaa (syksy 2019) käytössä ja pääasiassa "koirahommissa" - vaan kylläpä on siihenkin hommaan kelpo kengät! Lähdin hakemaan popoa, joka ei säiky yllättävistäkään maastovaihdoksista ja joilla pystyy liikkumaan säällä kuin säällä.

Miinusta annan siitä, että nämä on pirun liukkaat jäällä. Nuori, aktiivinen ja riistaviettinen koira innostuu aika herkästi lähtemään vaikka puusta pölähtävän linnun perään, ja silloin toivoisi itse pysyvän vähintään paikallaan. Lisäksi nauhat on aika ohuet, ne toki saa helposti vaihdettua.

Mun 37-jalkakokoon Trappereiden 37,5 on sopiva, mahduttaa useamman sukan alle tarvittaessa.

Kaiken kaikkiaan mainio kenkä!
0
0
I would recommend for a friend
N.N.

28.06.2016 (Edited 15.07.2017)
I would recommend for a friend
Pekka T.

18.07.2016 (Edited 08.05.2017)
Trapperit ovat pirun hyvät kengät. Tosi mukavat jalassa ja pitävät vettä todella hyvin ainakin parin suohon uppoamisen perusteella. Työn laatu on pääpiirteissään hyvää, mutta ensimmäinen minulle toimitettu pari oli valmistusvirheellinen ja kärjen kivirantin tikkaus alkoi purkautua jo alle viikon käytön jälkeen. Tämä ei vaikuttanut käytettävyyteen, mutta kengät vaihdettiin silti uusiin. Eilen toimitettu uusi pari vaikuttaa virheettömältä.



Vielä kengän koosta. Käytän itse tavallisesti 42 kokoisia kenkiä ja minulla on melko leveälestinen jalka. Ensimmäiset kengät olivat kokoa 42 (8) ja istuivat jalkaan tosi napakasti, ehkä vähän liiankin varsinkin leveyssuunnassa. Särmä- saapassukan kanssa kenkä tuntui kuitenkin mukavalta ja varsinkin hetken käytön jälkeen muotoutui hyvin jalkaan istuvasti. Tästä huolimatta tilasin toisen parin koossa 42,5 (8,5), jotta kenkään mahtuisi tarvittaessa useampi sukka. Isompi kenkä tuntuu ainakin ensikokemuksen perusteella istuvan väljemmin ja hiukan mukavammin. Niiden, joilla on tosi leveät jalat kannatta varmaan valita toiset kengät.
16
0
I would recommend for a friend
Sami H.

12.11.2016 (Edited 18.11.2016)
+ Tukevat
+ Kestävät, omat olivat päivittäisessä työkäytössä vuoden ilman ongelmia
+ Pitävät, talvikäytössä ei ilmennyt ongelmia
+ Lämpimät, toimivat hyvin oikeiden sukkien kanssa syksy-talvi-kevät -vyöhykkeellä kunhan pysyy liikkeessä.

- Eivät kevyimmät, kuperkeikkoihin ja tikaspuitten kiipeilyyn löytyy varmaan näppärämpiäkin
- Lämpimät yhdistettynä Sympatexin ei-ihan-parhaimpaan hengittävyyteen: Kesän helteille valitsen kevyemmät jalkineet
6
1
I would recommend for a friend
Juha K.

03.01.2017 (Edited 19.01.2017)
Mukavimmat varsikengät mitä olen pitänyt jalassa. Piste. AIkoinaan sovitelin näitä Haixien kanssa ja päädyin näihin. Kuin pitäisi lenkkareita jalassa. Itsellä aika kapea 42 jalka ja samankokoinen kenkä on toiminut hyvin. Ohutta pohjallista käytin kesällä ohuemman sukan kanssa. Pari vuotta sekalaista käyttöä takana ja Karhunkierroskin on talsittu näillä läpi, joten jotain pointseja voisi mainita:

+ Nopea nauhoitus
+ Pitää kostealla kalliolla
+ Omaan jalkaan menevät hyvin miinus asteista aina sinne 20 aseteen hujakoile
+ Vesi ei ole tullut läpi

+/- Jäykkyys. Nämä eivät ole kovin jäykät nilkan kohdalta, joten en voi suositella letkunilkkaiselle kivikkoiseen vuoristoon. Toisaalta varren löysyys tekevät näistä mukavemmat "arjessa".

- Nauhat. Olivat aika ohkaiset, joten vaihdoin tuhdinmpiin.
12
2
I would recommend for a friend
Samu S.

19.09.2017
Todella mukavat ja kevyet kengät, mitä ei ulkoa päin uskoisi - varsin massiivisen näköset batman-monot kyseessä. Jämäkät kuin mitkä, mutta tuntuvat jalassa lähinnä korkeavartisilta lenkkareilta. Bussipysäkille spurttaaminen sujuu vaivatta. Talven liukkailla pohja pitää suht hyvin, joten näillä ei kuole niin helposti kuin monilla muilla saman tuoteryhmän jalkineilla. Mukana tullut pohjallinen on ollut käytössä koko ajan ja tuntuu laatutuotteelta sekin.

Omaan, pääasiassa kevyeen jokapäiväiseen kaupunkikäyttööni ovat kyllä perhanan lämpimät, vaikka istuva malli ja sopiva koko antaakin mahdollisuuden käyttää ohuehkoa sukkaa. Kaivan nämä kaapista vasta lämpömittarin huidellessa nollan tuntumassa. Mutta onpahan talven kurjuudessa sitten ees joku asia, mitä odottaa ees jossain määrin positiivisella mielellä.
10
2
I would recommend for a friend
Juuso A.

20.12.2017 (Edited 29.03.2018)
I would recommend for a friend
Pasi K.

02.05.2018 (Edited 28.06.2018)
Ensimmäiset 8 km kävelty. Tuntui heti mukavilta, taisi tulla ostettua kelpo kengät ;)
28.6.2018 lisäys: Tulikaste sateisessa Kevon luonnonpuistossa vajaa viikko, kengät pitää vettä hienosti, eikä rakkoja ilmaantunut.
8
0
I would recommend for a friend
Patrik S.

30.09.2016 (Edited 22.07.2019)
Vaihdoin viidenkympin miltecit näihin ja ensituntuma oli kuin poikuuden menettäminen, kenkä sopii lättäjalalle kuin valettu eikä jaloissa tunnu edes 13 tunnin liikkumisen jälkeen yhtään niin pahalta kuin viikkorahabudjetin puukenkämaiharihirvityksien kanssa. ei tunnu itseasiassa ollenkaan.
Ainoa miinusta lähentelevä asia jonka uskaltaa mainita on kengän raskaus, jalassahan tämä ei toisaalta tunnu paljoa ja sprintti sujuu yhtä hyvin kuin maihareissa yleensäkin.
Ruskea versio sopii myös hyvin niille jotka käyttävät kenkiä siviilivaatteiden sekä maastokuosin kanssa, varsinkin jos on housut jotka kuuluu roikkua maihareitten päällä.
Näyttää kivalta vähän kaiken kanssa ja huokuu erämiestunnelmaa, kenkiä on kokeiltu suunnistaessa sekä perus koiran metsässä käyttämisessä ja voi sanoa heikkonilkkaisena että näillä uskaltaa juosta huonommassakin maastossa.
yleisesti 10/10 rahanarvoinen ostos.
26
2
I would recommend for a friend
Juho H.

15.09.2017
Muutaman vuoden käytöllä voin antaa arvion kengistä. Ovat kestävät, mukavat jalassa, pitävät vettä, rullaavat kivasti kävellessä, hyvä kärjen suojaus, nauhoitus on nopea, pohjat pitävät hyvin märällä ja lumella/jäällä.

Muutama moitteen sana kenkien painosta, kevyempiäkin on verrattuna joihinkin toisiin vaelluskenkiin. Kengät ovat kuumat kesällä, sopiva lämpötila näille on +15 ja -20 välillä.

Sopii moneen käyttötarkoitukseen, ainoastaan kesähelteille/paukkupakkasille ja vuoristoon tarvitsee eri kengät.
8
0
I would recommend for a friend
Dominique D.

04.06.2018
Quality boots and surprisingly comfortable
4
0