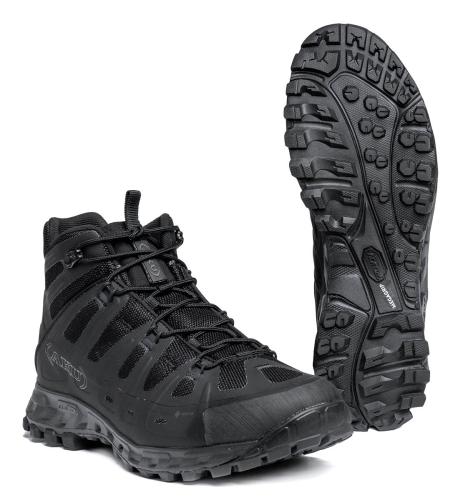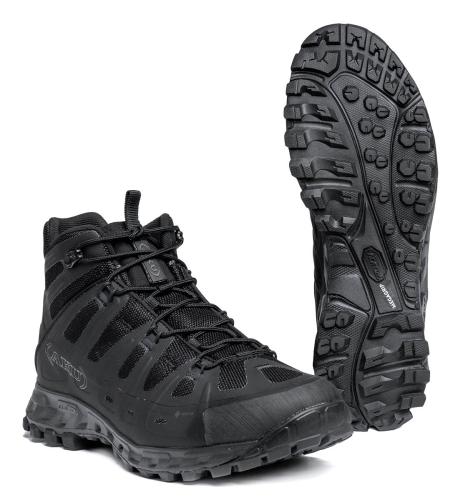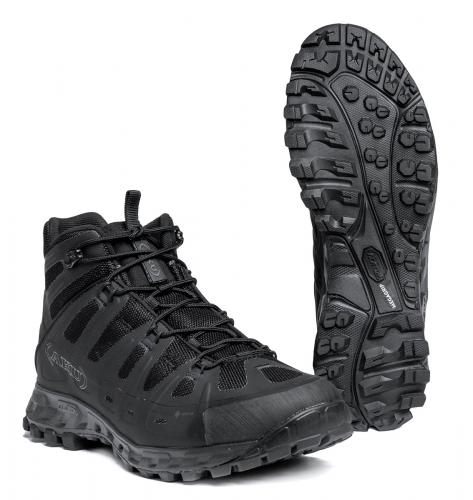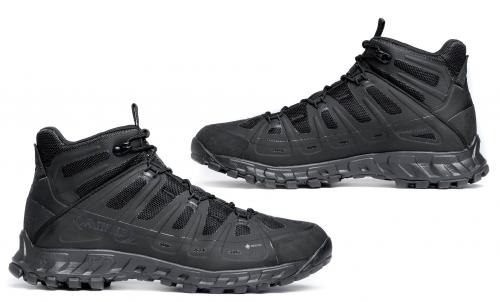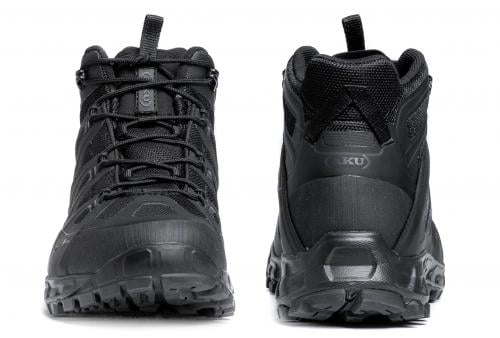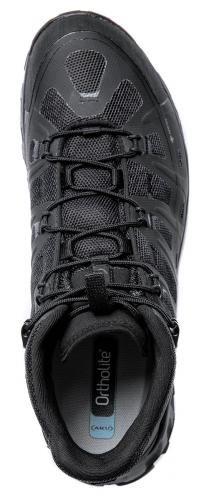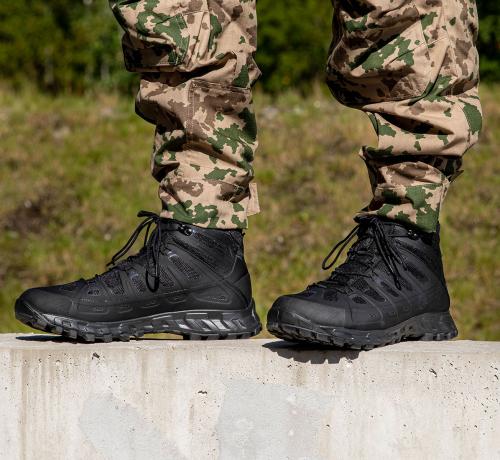 Show all: Aku
AKU Selvatica Tactical Mid GTX
Price 183.99 USD
excluding sales tax
Footwear for multi-terrain activity, perfect for light hunting and hiking. Super lightweight, breathable and dynamic support in the shoe upper and sole, the former bearing ribs that are pre-treated in PU, which eliminates stitching.
Loading products...
Trouble with the metric system? Try our converter: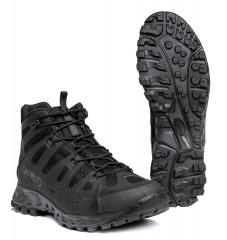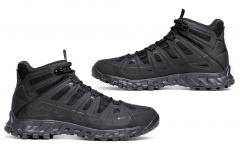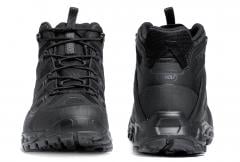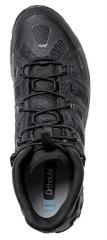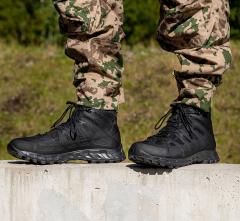 Footwear for multi-terrain activity, perfect for light hunting and hiking. Super lightweight, breathable and dynamic support in the shoe upper and sole, the former bearing ribs that are pre-treated in PU, which eliminates stitching.
Breathable, walkable, grippy
The key points of the Selvatica are the Air 8000, Elica Natural Stride System, and Vibram Megagrip technologies.
Air 8000
The number means 8000 grams of vapor permeability per one square meter in 24 hours, which is up to 11 times more than ordinary footwear with a waterproof membrane. This has been achieved with hydrophobic materials throughout the top: the materials don't get soaked which would lead to loss of breathability, but they actually transfer the moisture to the outer surfaces and away from the shoe. Also, the glue between laminated layers is web-like instead of a moisture-blocking even layer.
TL;DR - these shoes are much more breathable than other waterproof shoes you've tried.
Elica Natural Stride System
This construction is based on shaping the shoe and varying thicknesses of midsoles to account for the natural inclination of the heel and forefoot. When landing on the heel, the outer side has a softer ratio of cushioning and support compared to the inner foot. When pushing forward, the sides are reversed. This improves weight distribution and the economy of movement. The outsole follows the same principle: the heel is inclined and enlarged for landing and the ball of the foot has an aggressive thread on the inner side.
TL;DR - these shoes avoid pressure points to keep your feet happier while saving energy to keep you walking longer.
Vibram Megagrip
This is a special compound developed for dry and wet surfaces. The outsole has been developed with a focus on real-life conditions and feedback rather than artificial lab contraptions. The result is a stable all-around grip well worth the reputation of industry-leading Vibram.
TL;DR - more traction than others.
Size info
Manufactured according to UK sizes, to which they are true. The last is fairly wide and the toes have a generous allowance. If you want a tighter fit, consider half a size smaller. Pro tip: if you already own Salomon Forces series footwear, these seem very close to their sizes in our experience.
The correct conversion to US standard sizes is to add one, I.E. UK 8 is the same as US 9. (The mfg labels on the box may refer to a different standard, please look at the UK sizes only.) If you know your European shoe size or foot length in millimeters, look at the chart below for better conversions.
Correct conversion chart
| EU-Size | Foot length | UK-Size | US-Size |
| --- | --- | --- | --- |
| EU 35.5 | 224 mm | UK 3.5 | US 4.5 |
| EU 36.5 | 229 mm | UK 4 | US 5 |
| EU 37 | 233 mm | UK 4.5 | US 5.5 |
| EU 37.5 | 237 mm | UK 5 | US 6 |
| EU 38 | 241 mm | UK 5.5 | US 6.5 |
| EU 39 | 246 mm | UK 6 | US 7 |
| EU 39.5 | 250 mm | UK 6.5 | US 7.5 |
| EU 40 | 254 mm | UK 7 | US 8 |
| EU 40.5 | 258 mm | UK 7.5 | US 8.5 |
| EU 41.5 | 262 mm | UK 8 | US 9 |
| EU 42 | 267 mm | UK 8.5 | US 9.5 |
| EU 42.5 | 271 mm | UK 9 | US 10 |
| EU 43.5 | 275 mm | UK 9.5 | US 10.5 |
| EU 44 | 279 mm | UK 10 | US 11 |
| EU 44.5 | 284 mm | UK 10.5 | US 11.5 |
| EU 45 | 288 mm | UK 11 | US 12 |
| EU 46 | 292 mm | UK 11.5 | US 12.5 |
| EU 46.5 | 296 mm | UK 12 | US 13 |
| EU 47 | 301 mm | UK 12.5 | US 13.5 |
| EU 48 | 305 mm | UK 13 | US 14 |
Please note! The chart is based on hard facts about shoe size conversions: Paris Points, Barleycorns, and such. When you receive the boots, you may notice that the box and boot labels may not be the same as we indicate. The UK size is correct across the range so use that to verify what you have.
Materials and construction
Upper: Air 8000 / welded PU film
Upper protection: Rubber
Lining: Gore-Tex Extended Comfort
Outsole: Vibram Selvatica Megagrip
Midsole: Injected EVA
Lasting board (stiffness): 2 mm polypropylene + microporous EVA (flexible)
Footbed: CF Ortholite, Soft
Weight: 0.91 kg / 2.0 lbs (size EU 42 / US 9, pair)
Made in Vietnam.
Care and warranty
In a perfect world, you'd let your boots dry for 24 hours with the insoles and laces removed after using them. Your footwear will last longer and work better if you alternate between pairs. Obviously, don't take this too literally and use common sense applied to your situation.
Clean dirt off the boot with lukewarm water and a brush. Avoid aggressive detergents, at most go for some mild detergent. Dry at room temperature.
Before the boot is fully dry, impregnate with a spray-on protector and/or treat them with care creme on a moist sponge. The treatment soaks into the fibers of the material, making it water and dirt repellent. Contrary to intuitive thought, this doesn't make the footwear less breathable: wet and dirty materials are the poorly breathing ones.
Aku footwear has a 24-month warranty for material and workmanship. It goes without saying that we at Varusteleka don't let customers down; in this case, the manufacturer is also part of the chain that keeps you going.
Aku Italia
Among major league footwear manufacturers in Europe, Aku isn't perhaps the most known out there, but certainly one of the hardest hitters. Where can we even start?
Aku Italia is a family business that was originally founded in the '70s and got its current name in 1985. The hometown is Montebelluna in northern Italy, near the beautiful Mediterranean shores and vineyards but also close to the Alps and the heart of Europe.
The company has such an approach to quality, that it might as well be German or Swiss. The design involves 3D modeling and other current technologies harnessed to make a better product, and the company avoids outsourcing production to sweatshop countries. As the workers are skilled shoemakers with a refined manual touch, it wouldn't make sense to have them work on inferior pieces; the leather, rubber, and other selected top-grade materials can be traced all the way to the source by Aku.
As almost like a byproduct of this attitude to make the best possible boots, the sourcing and manufacturing processes became more sustainable environmentally. Once this was realized by the head of Aku, they put a magnifying glass on this aspect of their operations as well. Aku Italia takes great measures to reduce its carbon footprint and plant trees to compensate for the emissions they cannot avoid. Also, leather tanning and other processes are developed to involve less harmful chemicals.
So with a pair of these boots on, your feet and conscience are as clear as the blue sky, promise! The Danish, British, and Swiss armed forces buy Aku boots, and they don't accept poor pieces of gear. (Well maybe the Brits sometimes do.)
The name, what's up with that? Aku-Aku is some sort of a devilish deity in the Rapa Nui mythology. They can be friendly as well, just treat them right.
Recommendations
Loading products...
Reviews
You have already submitted a review. You can edit your text by clicking on it.
Log in and write a review.
Remove filter
I would recommend for a friend
Timo P.

13.10.2020 (Edited 31.05.2021)
Annan viisi tähteä, koska en keksi mitään negatiivista näistä. Koko vastasi hyvinkin Salomonin kenkiä, niin kuin tekstissä mainitaankin. Pohja pitää märällä hyvin ja on juuri sopivasti pehmeämpi kuin perus vaelluskengissä. Kengät ovat suht tyylikkäät eivätkä mielestäni liian "tactical". Tuntuivat vettäkin pitävän. Hinta ehkä hieman yläkanttiin, mutta aika varmasti kertoo ovatko rahansa arvoiset.
3
0
I would recommend for a friend
Valtteri M.

23.01.2021 (Edited 31.05.2021)
En ollut menossa ostamaan kenkiä mutta nämä lähti mukaan heräteostoksena, sen verran hyviltä tuntuivat. Ja olen hemmetin kriittinen mitä tulee kenkiin, tai siis jalkani ovat hemmetin kriittiset koska omistan sellaiset vänkyräjalat jotka tarvitsevat kunnolla tukea ja hiertyvät/kipeytyvät helposti. Nyt on kuitenkin muutaman viikon ensipuraisu näistä takana joka sattui sijoittumaan kunnon talvikeleihin, 50cm lunta ja parhaimmillaan -20 pakkasta. Vaikka näitä ei hankittu erikseen talvikengiksi on kosteus sekä kylmyys pysynyt kengän ulkopuolella joka kerta hyvin ja pohja pitää jäisellä pinnalla. Olen aiemmin suosinut perinteisempää nahkakenkää enkä niin perustanut näistä teknisemmistä materiaaleista mutta tässä suorastaan yllätyin ominaisuuksista, mielenkiinnolla odotan kosteampia kelejä.

Itselläni koko vastasi hyvin sitä mitä yleensäkin itse käytän, eli 43 oli se tuttu 43 koko myös näissä, sukkavara on hyvin istuvassa jalkineessä lähes olematon mutta se ei tässä kengässä haittaa. Kengän varsi ja erityisesti pohja on juuri sopivan jäykkä miellyttävään kävelyyn. Vertailukohtana kokeilin myös saman valmistajan Pilgrim GTX -jalkinetta joka oli joka suuntaan niin jäykkä että tuntui enemmän hiihtomonolta, asia jota en kaipaa kengältä. Pidän myös Selvatican ulkonäöstä, kuten mainittu aiemmin, malli ei ole liian taktinen ja sopii hyvin myös siistimpään pukeutumiseen esimerkiksi farkkujen kanssa.

Huonoina puolina nauhat saisivat olla hieman järeämmät, joskin ovat pysyneet tyydyttävästi kiiinni. Suurin miinus näiden käytössä on kuitenkin henkilökohtaisesti se että lähes ensimmäisellä kävelykerralla oikea jalkine alkoi hiertämään nilkkaa todella ikävästi. Vaikka olen antanut kengälle aikaa käyttämällä sitä maltillisesti ja tilanne onkin parantunut, ei materiaali kuitenkaan muovaudu samalla tavalla kuin vuorettomassa nahkajalkineessa. Olen tullut lopputulokseen että tämä kuitenkin johtuu ennen kaikkea omasta fysiikasta eikä niinkään kengästä eikä siitä voi rangaista tuotetta liikaa ja kaikenkaikkiaan olen vielä ainakin käyttöajan alkupäässä tyytyväinen ostokseeni.
0
0
I would recommend for a friend
Susanna L.

18.05.2021 (Edited 31.05.2021)
Todella hyvät jalassa ensimmäisestä käytökerrasta lähtien. Kengät eivät hiertäneet, pitivät vettä hyvin sekä olivat omaan makuun kevyen tuntuiset. Koko 7,5 vastasi kokoa 41 omalla kohdalla. Paljon ei ylimääräistä tilaa kenkään jäänyt, mutta pieneksi ei voi kenkää sanoa. Parit sukat mahtuu varmasti. Narut pysyivät kyllä kiinni tuplaruseteilla, ja kiristys oli vaivatonta. Olen todella tyytyväinen ostovalintaani.
0
0
I would recommend for a friend
Jussi M.

08.12.2021 (Edited 08.12.2021)
Enpä olis uskonu kuinka hyvin Italianfabriikin jalkineessa riittää pitoa pakkasella n. -20 eikä Haix:sille tyypillistä jäätymistä. Erittäin vahva suositus. Koska ei pitkävartisena niin ei täyttä viittä tähtee.Nämä pohjat jos sais sievin taistelijan jalkineeseen niin se olis siinä.
0
0