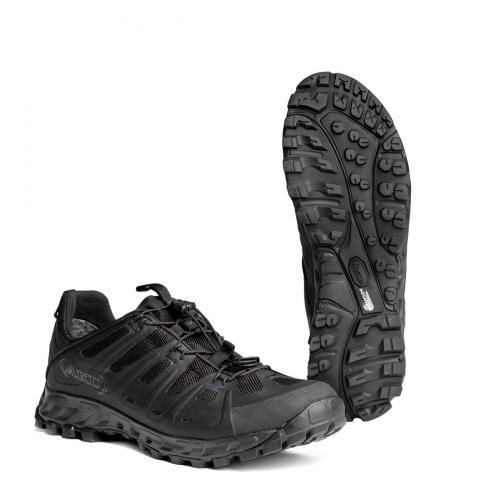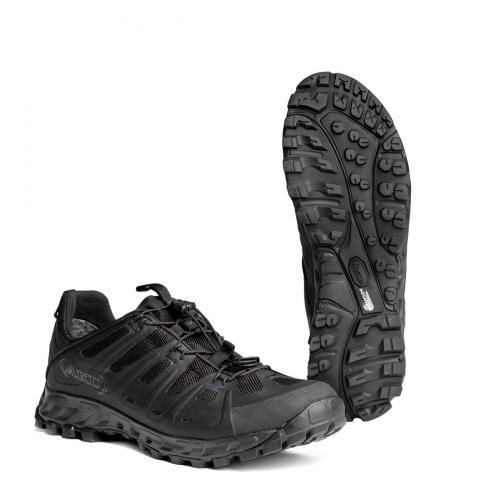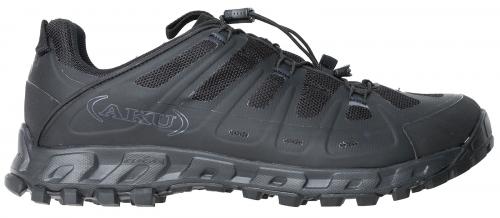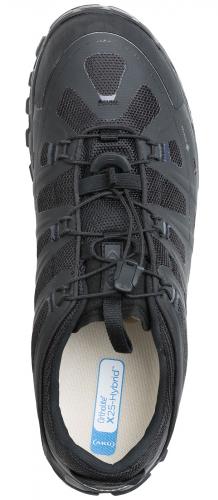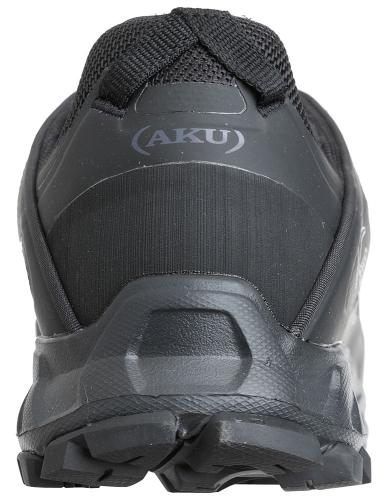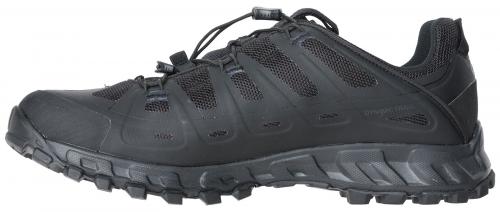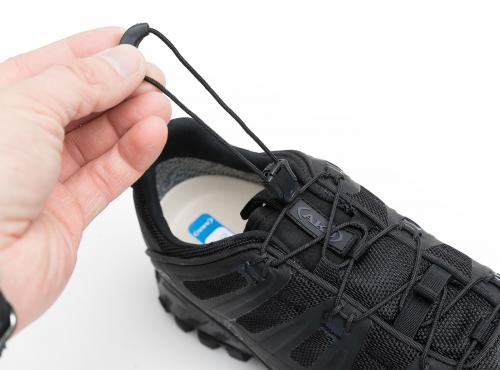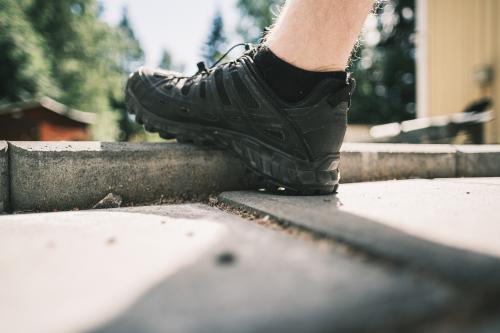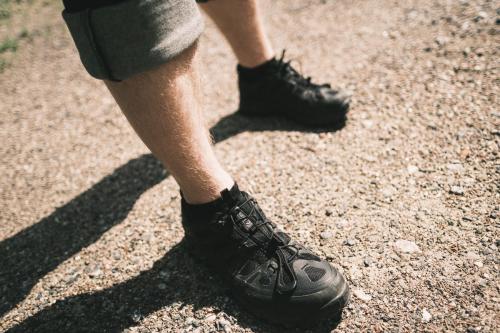 Aku Italia
AKU Selvatica Tactical GTX
Price 159.99 USD
excluding sales tax
Footwear designed for the urgent intervention forces and for multi-terrain activities, perfect for moving quickly in total comfort. Super lightweight, breathable and dynamic support in the shoe upper and sole, the former bearing ribs that are pre-treated in PU protection, which eliminates stitching.
Loading products...
Trouble with the metric system? Try our converter: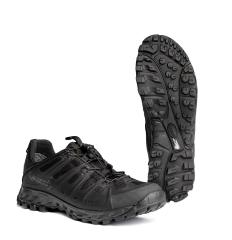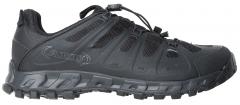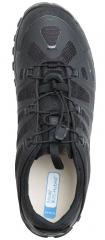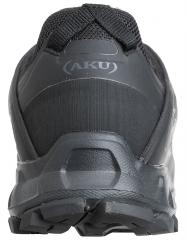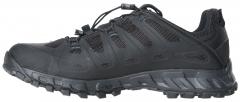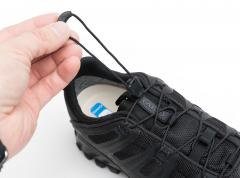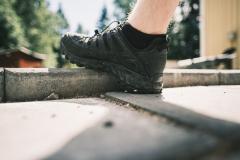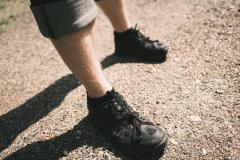 Footwear designed for the urgent intervention forces and for multi-terrain activities, perfect for moving quickly in total comfort. Super lightweight, breathable and dynamic support in the shoe upper and sole, the former bearing ribs that are pre-treated in PU protection, which eliminates stitching.
Breathable, walkable, grippy
The key points of the Selvatica are the Air 8000, Elica Natural Stride System, and Vibram Megagrip technologies. Buzzwords aside, here's what they mean:
Air 8000
The number means 8000 grams of vapor permeability per one square meter in 24 hours, which is up to 11 times more than ordinary footwear with a waterproof membrane. This has been achieved with hydrophobic materials throughout the top: the materials don't get soaked which would lead to loss of breathability. Instead, they transfer the moisture to the outer surfaces and away from the shoe. Also, the glue between laminated layers is web-like instead of an even layer that would block the functionality.
TL;DR - these shoes are much more breathable than other waterproof shoes you've tried.
Elica Natural Stride System
The Elica NSS construction is based on varying thicknesses of the midsoles to account for the natural inclination of the heel and forefoot. The upper midsole is softer for cushioning and the lower midsole is firm for support. When landing on the heel, the outer side has thicker cushioning and thinner support layers. When pushing forward, the sides are reversed and the ball of the foot is on the softer area. This improves weight distribution and the economy of movement. The outsole follows the same principle: the heel is inclined and enlarged for landing and the ball of the foot has an aggressive thread on the inner side.
TL;DR - these shoes avoid pressure points to keep your feet happier while saving energy to keep you walking longer.
Vibram Megagrip
This is a special compound developed for dry and wet surfaces. The outsole has been developed with a focus on real-life conditions and feedback rather than artificial lab contraptions. The result is a stable all-around grip well worth the reputation of industry-leading Vibram.
TL;DR - more traction than others.
Size info
Manufactured according to UK sizes, to which they are true. The last is fairly wide and the toes have a generous allowance. If you want a tighter fit, consider half a size smaller. Pro tip: if you already own Salomon Forces series footwear, these seem very close to their sizes in our experience.
The correct conversion to US standard sizes is to add one, I.E. UK 8 is the same as US 9. (The mfg labels on the box may refer to a different standard, please look at the UK sizes only.) If you know your European shoe size or foot length in millimeters, look at the chart below for better conversions.
Correct conversion chart
| EU-Size | Foot length | UK-Size | US-Size |
| --- | --- | --- | --- |
| EU 35.5 | 224 mm | UK 3.5 | US 4.5 |
| EU 36.5 | 229 mm | UK 4.0 | US 5.0 |
| EU 37.0 | 233 mm | UK 4.5 | US 5.5 |
| EU 37.5 | 237 mm | UK 5.0 | US 6.0 |
| EU 38.0 | 241 mm | UK 5.5 | US 6.5 |
| EU 39.0 | 246 mm | UK 6.0 | US 7.0 |
| EU 39.5 | 250 mm | UK 6.5 | US 7.5 |
| EU 40.0 | 254 mm | UK 7.0 | US 8.0 |
| EU 40.5 | 258 mm | UK 7.5 | US 8.5 |
| EU 41.5 | 262 mm | UK 8.0 | US 9.0 |
| EU 42.0 | 267 mm | UK 8.5 | US 9.5 |
| EU 42.5 | 271 mm | UK 9.0 | US 10.0 |
| EU 43.5 | 275 mm | UK 9.5 | US 10.5 |
| EU 44.0 | 279 mm | UK 10.0 | US 11.0 |
| EU 44.5 | 284 mm | UK 10.5 | US 11.5 |
| EU 45.0 | 288 mm | UK 11.0 | US 12.0 |
| EU 46.0 | 292 mm | UK 11.5 | US 12.5 |
| EU 46.5 | 296 mm | UK 12.0 | US 13.0 |
| EU 47.0 | 301 mm | UK 12.5 | US 13.5 |
| EU 48.0 | 305 mm | UK 13.0 | US 14.0 |
Please note! The chart is based on hard facts about shoe size conversions: Paris Points, Barleycorns, and such. When you receive the boots, you may notice that the box and boot labels may not be the same as we indicate. The UK size is correct across the range so use that to verify what you have.
Materials and construction
Upper: Air 8000 / welded PU film
Upper protection: Rubber
Lining: Gore-Tex Extended Comfort
Outsole: Vibram Selvatica Megagrip
Midsole: Injected EVA
Lasting board (stiffness): 2 mm polypropylene + microporous EVA (flexible)
Footbed: CF Soft
Weight: 0.85 kg / 1.87 lbs (size EU 42 / US 9, pair)
Made in Vietnam.
Care and warranty
We recommend that you read our shoe and bootcare article In a perfect world, you'd let your boots dry for 24 hours with the insoles and laces removed after using them. Your footwear will last longer and work better if you alternate between pairs. Obviously, don't take this too literally and use common sense applied to your situation.
Clean dirt off the boot with lukewarm water and a brush. Avoid aggressive detergents, at most go for some mild detergent. Dry at room temperature.
Before the boot is fully dry, impregnate with a spray-on protector and/or treat them with care creme on a moist sponge. The treatment soaks into the fibers of the material, making it water and dirt repellent. Contrary to intuitive thought, this doesn't make the footwear less breathable: wet and dirty materials are the poorly breathing ones.
Aku footwear has a 24-month warranty for material and workmanship. It goes without saying that we at Varusteleka don't let customers down; in this case, the manufacturer is also part of the chain that keeps you going.
Aku Italia
Among major league footwear manufacturers in Europe, Aku isn't perhaps the most known out there, but certainly one of the hardest hitters. Where can we even start?
Aku Italia is a family business that was originally founded in the '70s and got its current name in 1985. The hometown is Montebelluna in northern Italy, near the beautiful Mediterranean shores and vineyards but also close to the Alps and the heart of Europe.
The company has such an approach to quality, that it might as well be German or Swiss. The design involves 3D modeling and other current technologies harnessed to make a better product, and as the workers are skilled shoemakers with a refined manual touch, it wouldn't make sense to have them work on inferior pieces; the leather, rubber, and other selected top-grade materials can be traced all the way to the source by Aku.
Almost as a byproduct of this attitude to make the best possible boots, the sourcing and manufacturing processes became more sustainable environmentally. Once this was realized by the head of Aku, they put a magnifying glass on this aspect of their operations as well. Aku Italia takes great measures to reduce its carbon footprint and plant trees to compensate for the emissions they cannot avoid. Also, leather tanning and other processes are developed to involve less harmful chemicals.
So with a pair of these boots on, your feet and conscience are as clear as the blue sky, promise! The Danish, British, and Swiss armed forces buy Aku boots, and they don't accept poor pieces of gear. (Well maybe the Brits sometimes do.)
The name, what's up with that? Aku-Aku is some sort of a devilish deity in the Rapa Nui mythology. They can be friendly as well, just treat them right.
All products: Aku Italia
Recommendations
Loading products...
Reviews
You have already submitted a review. You can edit your text by clicking on it. You can filter the reviews by clicking on the elements of the summary.
Log in and write a review. You can filter the reviews by clicking on the elements of the summary.
Remove filter
Suomi
(1)
English
(1)
I would recommend for a friend
Ilkka V.

13.09.2021

Verified purchase
Ostin ja koeajoin Luostolla sekä Hossan Julma-Ölkyn maastoissa. Toimii. Luonnossa liikkuessa ovat erinomaiset jalassa, pitoa löytyy ja jalat pysyvät kuivina. Kenkä on varsin napakka tuntumaltaan ja alkutuntuma on että kenkä olisi jopa jäykkä, mutta tämä oli ilmeisesti vain alkutuntuma.

Ainoa miinus tulee siitä, että vaikka nämä ovat luonnossa liikkuessa tosi hyvät, niin kestopäällysteellä käveltäessä kengät ovat aavistuksen jopa "kovat". Varsinkin Luostolla kun 10,5 km:n kävelyreitistä viimeiset 2 km oli kestopäällysteellä, oli "tukikohtaan" päästyäni ilo ottaa kengät pois jalasta.
0
0
I would not recommend to a friend
Adrian O.

28.10.2021

Verified purchase
This shoe fits weird. It's narrow up front but real wide out back around the ankle. Adjusting didn't really fix this for me. Also They run small because I even went a size up and they still pinch my toes a bit. Also it is a magnet for dirt, especially bits of autumn leaves. These bits of leaves started trying to turn the shoes orange because they stuck to it and had to be washed off. Otherwise it's a good shoe. Very grippy, good foot mobility, and I like the drawstring in favor of shoelaces. The drawstring makes it easy to slip on and off.
2
0