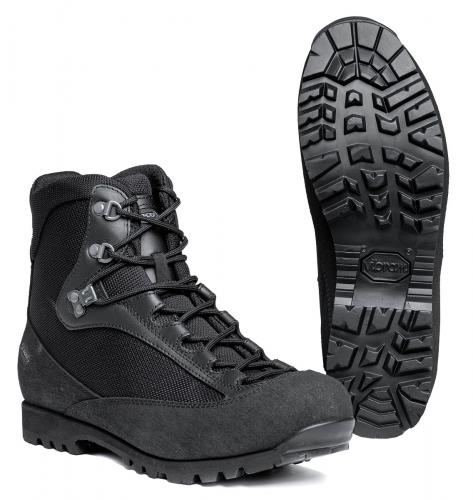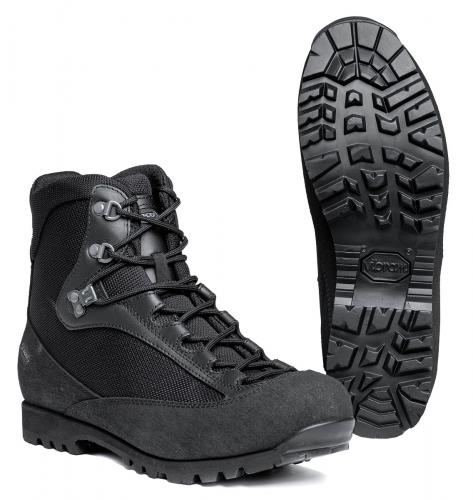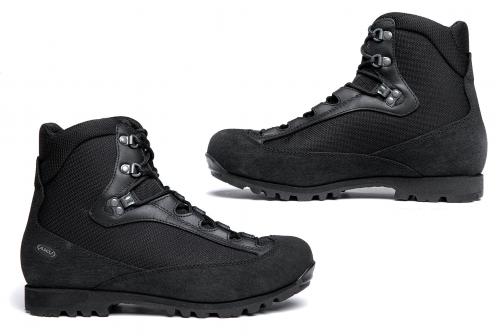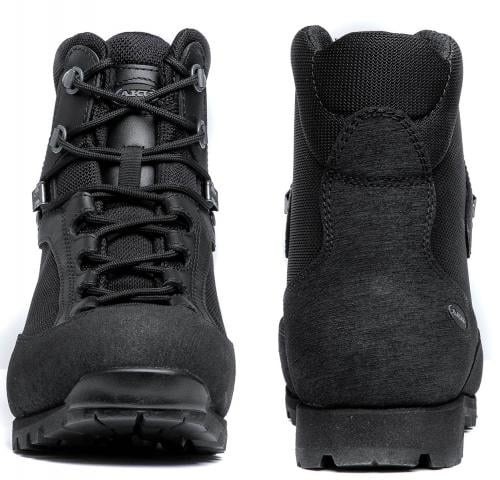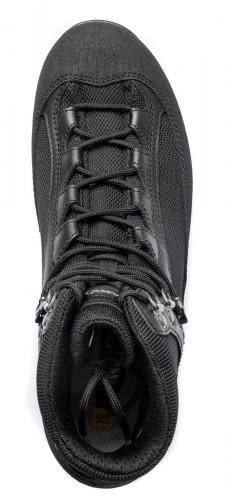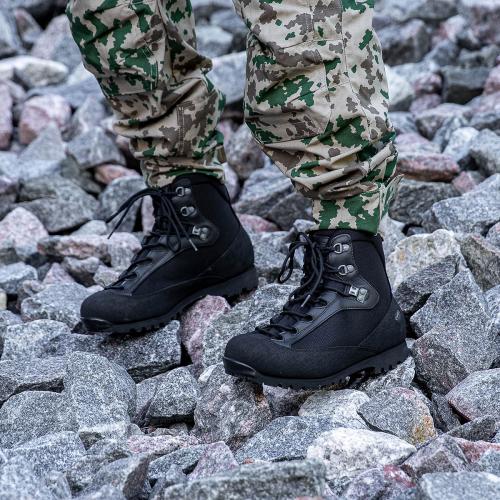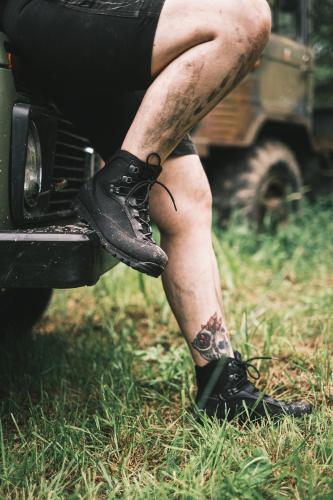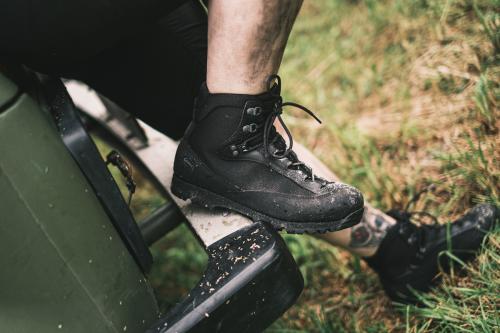 Aku Italia
AKU Pilgrim GTX Combat FG M
Price 169.99 USD 199.99 USD
excluding sales tax
The Aku Pilgrim GTX Combat FG M is a multi-purpose boot with outstanding support, breathability, and impact absorption. Thanks to these features, the Pilgrim GTX Combat FG M performs well in prolonged use whether you call it hiking, trekking, or marching.
Loading products...
Trouble with the metric system? Try our converter: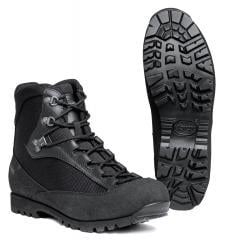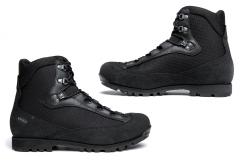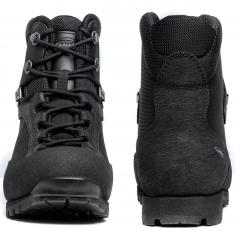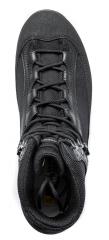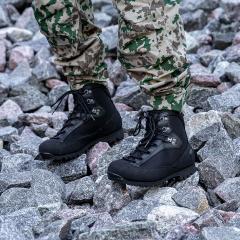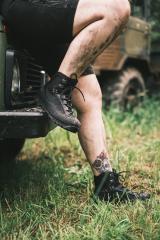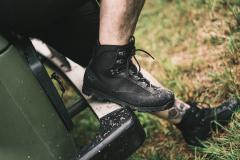 The Aku Pilgrim GTX Combat FG M is a multi-purpose boot with outstanding support, breathability, and impact absorption. Thanks to these features, the Pilgrim GTX Combat FG M performs well in prolonged use whether you call it hiking, trekking, or marching.
The Pilgrim is based on the Aku NS564 combat boots, which were developed according to specific requirements by the US Navy Seals. This spin-off model has become more popular than the original due to changes that make it more versatile and comfortable: the shaft is a slight bit longer and the last is wider. Hidden from view are a waterproof membrane and extra cushioning of the sole for long marches.
The Pilgrim is issued by the British armed forces and is very well-liked by the soldiers wearing them for work.
Super-breathable Air 8000
The number means 8000 grams of vapor permeability per one square meter in 24 hours, which is up to 11 times more than ordinary footwear with a waterproof membrane. This has been achieved with hydrophobic materials throughout the top: the materials don't get soaked which would lead to loss of breathability, but they actually transfer the moisture to the outer surfaces and away from the shoe. Also, the glue between laminated layers is web-like instead of a moisture-blocking even layer.
TL;DR - these shoes are much more breathable than other waterproof shoes you've tried, and dry faster, too!.
Size info
Manufactured according to UK sizes, to which they are true. The last is fairly wide and the toes have a generous allowance. If you want a tighter fit, consider half a size smaller. Pro tip: if you already own Salomon Forces series footwear, these seem very close to their sizes in our experience.
The correct conversion to US standard sizes is to add one, I.E. UK 8 is the same as US 9. (The mfg labels on the box may refer to a different standard, please look at the UK sizes only.) If you know your European shoe size or foot length in millimeters, look at the chart below for better conversions.
Correct conversion chart
| EU-Size | Foot length | UK-Size | US-Size |
| --- | --- | --- | --- |
| EU 35.0 | 220 mm | UK 3.0 | US 4.0 |
| EU 35.5 | 224 mm | UK 3.5 | US 4.5 |
| EU 36.5 | 229 mm | UK 4.0 | US 5.0 |
| EU 37.0 | 233 mm | UK 4.5 | US 5.5 |
| EU 37.5 | 237 mm | UK 5.0 | US 6.0 |
| EU 38.0 | 241 mm | UK 5.5 | US 6.5 |
| EU 39.0 | 246 mm | UK 6.0 | US 7.0 |
| EU 39.5 | 250 mm | UK 6.5 | US 7.5 |
| EU 40.0 | 254 mm | UK 7.0 | US 8.0 |
| EU 40.5 | 258 mm | UK 7.5 | US 8.5 |
| EU 41.5 | 262 mm | UK 8.0 | US 9.0 |
| EU 42.0 | 267 mm | UK 8.5 | US 9.5 |
| EU 42.5 | 271 mm | UK 9.0 | US 10.0 |
| EU 43.5 | 275 mm | UK 9.5 | US 10.5 |
| EU 44.0 | 279 mm | UK 10.0 | US 11.0 |
| EU 44.5 | 284 mm | UK 10.5 | US 11.5 |
| EU 45.0 | 288 mm | UK 11.0 | US 12.0 |
| EU 46.0 | 292 mm | UK 11.5 | US 12.5 |
| EU 46.5 | 296 mm | UK 12.0 | US 13.0 |
| EU 47.0 | 301 mm | UK 12.5 | US 13.5 |
| EU 48.0 | 305 mm | UK 13.0 | US 14.0 |
| EU 48.5 | 309 mm | UK 13.5 | US 14.5 |
| EU 49.0 | 313 mm | UK 14.0 | US 15.0 |
| EU 49.5 | 318 mm | UK 14.5 | US 15.5 |
| EU 50.5 | 322 mm | UK 15.0 | US 16.0 |
Please note! The chart is based on hard facts about shoe size conversions: Paris Points, Barleycorns, and such. When you receive the boots, you may notice that the box and boot labels may not be the same as we indicate. The UK size is correct across the range so use that to verify what you have.
Materials and construction
Upper: Full grain leather / Air 8000 2.0 mm
Upper protection: Bycast
Lining: Gore-Tex Performance Comfort
Outsole: Vibram Fourà
Midsole: Die-cut EVA
Lasting board (stiffness): 6-4 mm Nylon + die-cut EVA (medium)
Footbed: CF IMS
Weight: 1.2 kg / 2.64 lbs (size EU 42 / US 9.0, pair)
The Pilgrim boots are made in Aku's factory in Serbia. Aku is very strict and careful about the quality of their products and the requirements are met in the Balkans, where boots are made to the sound of Turbofolk.
Care and warranty
We recommend that you read our shoe and bootcare article In a perfect world, you'd let your boots dry for 24 hours with the insoles and laces removed after using them. Your footwear will last longer and work better if you alternate between pairs. Obviously, don't take this too literally and use common sense applied to your situation.
Clean dirt off the boot with lukewarm water and a brush. Avoid aggressive detergents, at most go for some mild detergent. Dry at room temperature.
Before the boot is fully dry, impregnate with a spray-on protector and/or treat them with care creme on a moist sponge. The treatment soaks into the fibers of the material, making it water and dirt repellent. Contrary to intuitive thought, this doesn't make the footwear less breathable: wet and dirty materials are the poorly breathing ones.
Aku footwear has a 24-month warranty for material and workmanship. It goes without saying that we at Varusteleka don't let customers down; in this case, the manufacturer is also part of the chain that keeps you going.
Employee's comments on AKU Pilgrim GTX Combat FG M Boots
I used AKU Pilgrims already before Varusteleka started selling them. They are a clever hybrid of mountain boots and modern army boots. Their development stemmed from the needs of special forces, and the end result is a sturdy mid-high boot that offers good ankle support but is also very nice to walk in. These boots are at their best in tough terrain when carrying a heavy load.

I've used my Pilgrims in army reservist training, working at stables, at the shooting range, when riding, on numerous marches, and at the office. On Varusteleka's latest Remote Military March, they carried me for 25 km with a 25 kg backpack in 3 h 36 min. They have survived all this very well, and my feet have been OK regardless of the distance, speed, or load. The only minus is a tad slippery outsole on ice, but otherwise they are good to go around the year. I can strongly recommend Italian quality and aesthetics.

Jari Laine
CEO
Varusteleka Oy
Aku Italia
Among major league footwear manufacturers in Europe, Aku isn't perhaps the most known out there, but certainly one of the hardest hitters. Where can we even start?
Aku Italia is a family business that was originally founded in the '70s and got its current name in 1985. The hometown is Montebelluna in northern Italy, near the beautiful Mediterranean shores and vineyards but also close to the Alps and the heart of Europe.
The company has such an approach to quality, that it might as well be German or Swiss. The design involves 3D modeling and other current technologies harnessed to make a better product, and as the workers are skilled shoemakers with a refined manual touch, it wouldn't make sense to have them work on inferior pieces; the leather, rubber, and other selected top-grade materials can be traced all the way to the source by Aku.
Almost as a byproduct of this attitude to make the best possible boots, the sourcing and manufacturing processes became more sustainable environmentally. Once this was realized by the head of Aku, they put a magnifying glass on this aspect of their operations as well. Aku Italia takes great measures to reduce its carbon footprint and plant trees to compensate for the emissions they cannot avoid. Also, leather tanning and other processes are developed to involve less harmful chemicals.
So with a pair of these boots on, your feet and conscience are as clear as the blue sky, promise! The Danish, British, and Swiss armed forces buy Aku boots, and they don't accept poor pieces of gear. (Well maybe the Brits sometimes do.)
The name, what's up with that? Aku-Aku is some sort of a devilish deity in the Rapa Nui mythology. They can be friendly as well, just treat them right.
All products: Aku Italia
Recommendations
Loading products...
Reviews
You have already submitted a review. You can edit your text by clicking on it. You can filter the reviews by clicking on the elements of the summary.
Log in and write a review. You can filter the reviews by clicking on the elements of the summary.
Remove filter
Suomi
(3)
English
(5)
I would recommend for a friend
Hiroki A.

30.01.2021

⚠ Unverified purchase
The army issues these in brown, although tank crews have the black ones as shown here. Pretty much anyone who goes to stores and gets to choose boots from the likes of Haix, Altberg etc. pick the AKUs instead, so it's fair to say these are among the best.

They don't require polishing, and fit really close to your feet, like a pair of sneakers while leaving some room in the toes for thick socks. Used these on plenty of tabs and they break in fairly quickly.
8
0
I would recommend for a friend
Pekko P.

28.11.2021

Verified purchase
Hyvät, lämpimät ja tukevat kengät, mutta ensimmäiset lumi / pakkaskelit näytti, että pito kylmällä on todella huono.
5
1
I would not recommend to a friend
Ivaylo A.

12.01.2022

Verified purchase
I've had these boots for a while and was putting off reviewing them because I wasn't sure I was using them correctly. The outsole in very stiff: walking on gravel or railroad ballast you may not feel the rocks, but your feet will contort to the rocks. There is pretty much no grip: you have to slow down on snow and polished surfaces, and on ice and — at least in my country — the paint on pedestrian crossings, don't even try. The first time I actually hurt myself during a fall was in these boots, on ice.

As far as positives go, they are breathable, seem well built, and are comfortable enough (with Jalas insoles).
2
1
I would recommend for a friend
Petteri T.

13.03.2022

Verified purchase
Jäällä erittäin liukkaat. Katsellaan miten kesällä toimii
6
0
I would recommend for a friend
Tom B.

02.04.2022

Verified purchase
I am no boot/shoe expert but these are some of the best quality boot/shoes I have bought. I do not live in a frozen tundra but with the little bit of snow and ice we had, I did not have the big grip issues other people have mentioned. My only 'complaint' is that these were an 1/8-1/4" narrower across the widest part (base of the toes) than other boots I have bought on this site (e.g. Alpina Tundra). I am hopeful they will stretch out over time, but they are so well built it has been a little slow. Love them anyway.
1
0
I would recommend for a friend
Martin V.

16.09.2022

Verified purchase
The stories of there hardly being any break in time are true! I've had my pair for about a month now and I like them. However, since it has been as dry as my grandmother's c#@& here for a couple months now, I haven't been able to test their waterproofness. When I have, I will update my review. I have tested these in hot weather, with woolen socks (my favourites) and I expect the breathability is super indeed, since I've never had any complaints in that department. Everything fine and dandy then? Not entirely. First off: the smell. Out of the box they have a strange, sweat like, very noticable odour about them, which isn't completely gone yet. No deal breaker, but I put them away away from living areas. Secondly: the top lace eyelets in combination with the laces. Even though I get why there are eyelets in stead of speed lacing hooks (parachuting and such), it isn't very handy. The thin supple laces easily fall/slide out, even whilst lacing up sometimes. Again, no deal breaker, but good to know.
Compared to my full leather Meindl Engadins, the upper is much more flexible and it's up to you if this is an advantage of disadvantage. And finally: they're on the narrow side which fortunately isn't an issue for me. That's all I have for today, go away now.
Update 17 Oct 2022: finally some rain, which kept my feet dry and yesterday I waded ankle deep in the local mere whilst walking the dog: the dog's feet got wet, mine didn't. We'll see how they hold up over time.
Update 12 Jan 2023: alas, my boots are no longer waterproof. Today I walked an hour in continuous moderate rain and not avoiding puddles. I wore my woolen socks, so I didn't notice until I returned and took them off, but in the toe areas of both boots there was wetness. The lining was quite damp and the toe end of the insoles had also absorbed some water. As always, I have taken care of my boots and used Granger's Performence Repel Spray Plus now and again, but it wasn't enough.
2
0
I would recommend for a friend
Paul E.

05.10.2022

Verified purchase
Bought a pair during the sale and have to say these boots are amazingly comfortable. Very little break-in was needed, and would buy a 2nd pair if another clearance happens. Looking forward to how they handle the pending inclement weather here in Canada.

For anyone still concerned about buying footwear online: I went with a boot sized from the chart even when it differed from my previous footwear. So measure your foot and trust the chart (allowing for double socks, EU 42 worked for me when I "normally" take a US 8).
1
0
I would recommend for a friend
Antti J.

11.12.2022

Verified purchase
Reilusti nollan yläpuolella olevissa olosuhteissa erittäin hyvät kengät. Hengittävyys on hemmetin hyvä ja kenkä rullaa hyvin. Takana noin 200 km kävelyä, eikä mitään ongelmia jalkojen kanssa.

Mutta mutta! Kun mennään pakkasen puolelle, niin homma muuttuu totaalisesti. Pohja kovettuu ja sen jälkeen kuulostaa kuin olisi puukengillä liikenteessä. Tämän lisäksi plussakelien pitävyys muuttuu pakkasella äärimmäiseksi liukkaudeksi. Pohjat kopisee ja on kuin kävelisi liukurit jalassa. Pohjan kumiseos ei ole tehty pohjolaan, joten ympärivuotiseen käyttöön näistä ei ole.

Esimerkiksi Salomonin vastaavissa kengissä pohjan materiaali pysyy joustavana ja pitävänä.

Näillä reunaehdoilla voin suositella kesäkäyttöön, mutta talveksi nostettava varastoon.
1
0