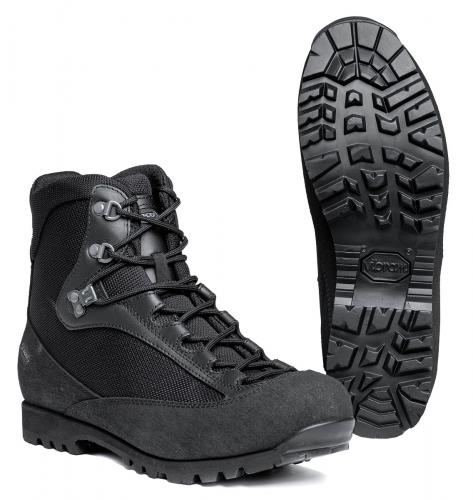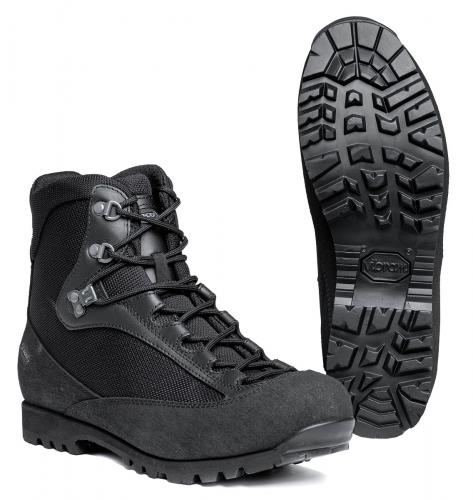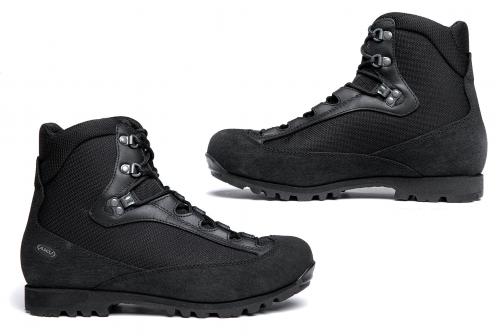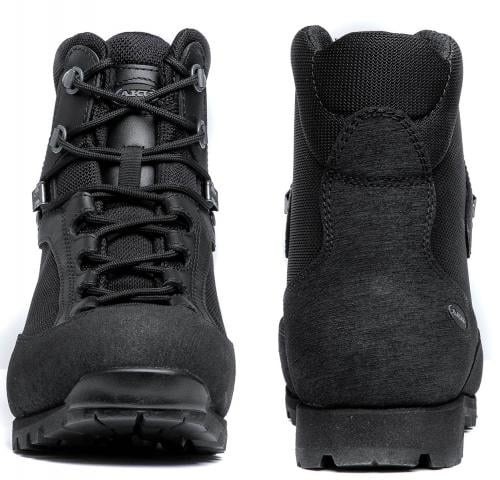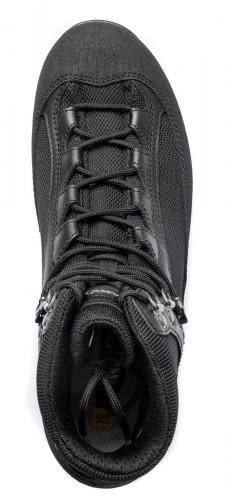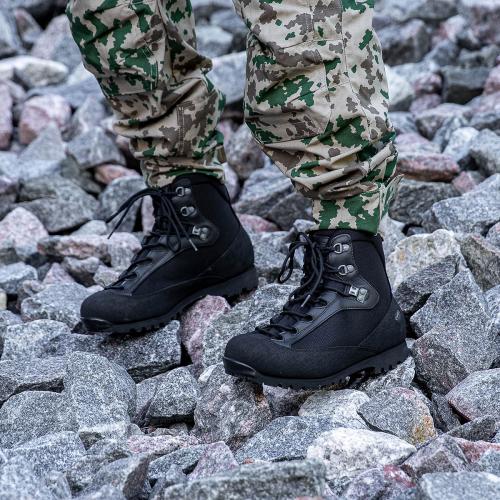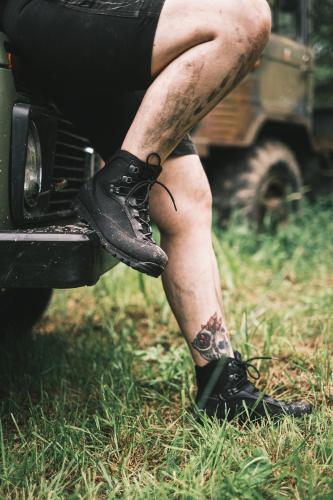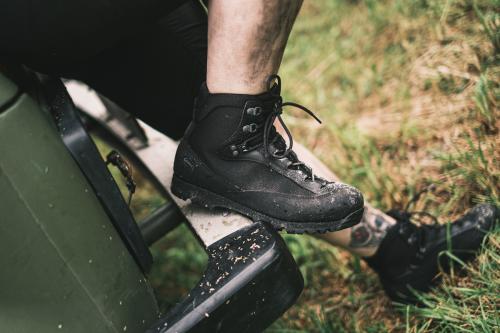 AKU Pilgrim GTX Combat FG M
Price 209.99 USD
excluding sales tax
The Aku Pilgrim GTX Combat FG M is a multi-purpose boot with outstanding support, breathability, and impact absorption. Thanks to these features, the Pilgrim GTX Combat FG M performs well in prolonged use whether you call it hiking, trekking, or marching.
Loading products...
Trouble with the metric system? Try our converter: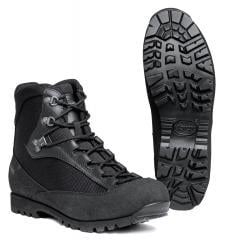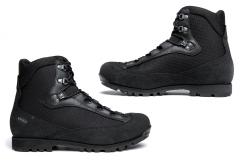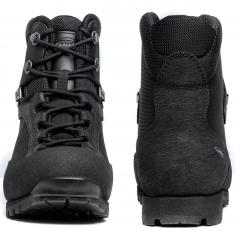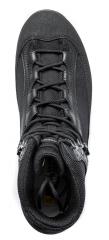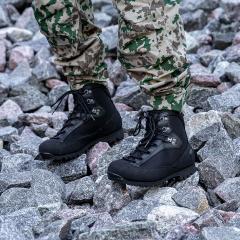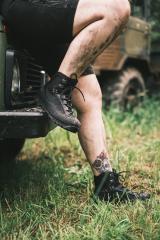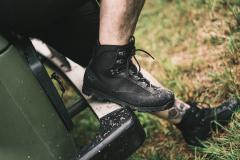 The Aku Pilgrim GTX Combat FG M is a multi-purpose boot with outstanding support, breathability, and impact absorption. Thanks to these features, the Pilgrim GTX Combat FG M performs well in prolonged use whether you call it hiking, trekking, or marching.
The Pilgrim is based on the Aku NS564 combat boots, which were developed according to specific requirements by the US Navy Seals. This spin-off model has become more popular than the original due to changes that make it more versatile and comfortable: the shaft is a slight bit longer and the last is wider. Hidden from view are a waterproof membrane and extra cushioning of the sole for long marches.
The Pilgrim is issued by the British armed forces and is very well-liked by the soldiers wearing them for work.
Super-breathable Air 8000
The number means 8000 grams of vapor permeability per one square meter in 24 hours, which is up to 11 times more than ordinary footwear with a waterproof membrane. This has been achieved with hydrophobic materials throughout the top: the materials don't get soaked which would lead to loss of breathability, but they actually transfer the moisture to the outer surfaces and away from the shoe. Also, the glue between laminated layers is web-like instead of a moisture-blocking even layer.
TL;DR - these shoes are much more breathable than other waterproof shoes you've tried, and dry faster, too!.
Size info
Manufactured according to UK sizes, to which they are true. The last is fairly wide and the toes have a generous allowance. If you want a tighter fit, consider half a size smaller. Pro tip: if you already own Salomon Forces series footwear, these seem very close to their sizes in our experience.
The correct conversion to US standard sizes is to add one, I.E. UK 8 is the same as US 9. (The mfg labels on the box may refer to a different standard, please look at the UK sizes only.) If you know your European shoe size or foot length in millimeters, look at the chart below for better conversions.
Correct conversion chart
| EU-Size | Foot length | UK-Size | US-Size |
| --- | --- | --- | --- |
| EU 35 | 220 mm | UK 3 | US 4 |
| EU 35.5 | 224 mm | UK 3.5 | US 4.5 |
| EU 36.5 | 229 mm | UK 4 | US 5 |
| EU 37 | 233 mm | UK 4.5 | US 5.5 |
| EU 37.5 | 237 mm | UK 5 | US 6 |
| EU 38 | 241 mm | UK 5.5 | US 6.5 |
| EU 39 | 246 mm | UK 6 | US 7 |
| EU 39.5 | 250 mm | UK 6.5 | US 7.5 |
| EU 40 | 254 mm | UK 7 | US 8 |
| EU 40.5 | 258 mm | UK 7.5 | US 8.5 |
| EU 41.5 | 262 mm | UK 8 | US 9 |
| EU 42 | 267 mm | UK 8.5 | US 9.5 |
| EU 42.5 | 271 mm | UK 9 | US 10 |
| EU 43.5 | 275 mm | UK 9.5 | US 10.5 |
| EU 44 | 279 mm | UK 10 | US 11 |
| EU 44.5 | 284 mm | UK 10.5 | US 11.5 |
| EU 45 | 288 mm | UK 11 | US 12 |
| EU 46 | 292 mm | UK 11.5 | US 12.5 |
| EU 46.5 | 296 mm | UK 12 | US 13 |
| EU 47 | 301 mm | UK 12.5 | US 13.5 |
| EU 48 | 305 mm | UK 13 | US 14 |
| EU 48.5 | 309 mm | UK 13.5 | US 14.5 |
| EU 49 | 313 mm | UK 14 | US 15 |
| EU 49.5 | 318 mm | UK 14.5 | US 15.5 |
| EU 50.5 | 322 mm | UK 15 | US 16 |
Please note! The chart is based on hard facts about shoe size conversions: Paris Points, Barleycorns, and such. When you receive the boots, you may notice that the box and boot labels may not be the same as we indicate. The UK size is correct across the range so use that to verify what you have.
Materials and construction
Upper: Full grain leather / Air 8000 2.0 mm
Upper protection: Bycast
Lining: Gore-Tex Performance Comfort
Outsole: Vibram Fourà
Midsole: Die-cut EVA
Lasting board (stiffness): 6-4 mm Nylon + die-cut EVA (medium)
Footbed: CF IMS
Weight: 1.2 kg / 2.64 lbs (size EU 42 / US 9, pair)
The Pilgrim boots are made in Aku's factory in Serbia. Aku is very strict and careful about the quality of their products and the requirements are met in the Balkans, where boots are made to the sound of Turbofolk.
Care and warranty
In a perfect world, you'd let your boots dry for 24 hours with the insoles and laces removed after using them. Your footwear will last longer and work better if you alternate between pairs. Obviously, don't take this too literally and use common sense applied to your situation.
Clean dirt off the boot with lukewarm water and a brush. Avoid aggressive detergents, at most go for some mild detergent. Dry at room temperature.
Before the boot is fully dry, impregnate with a spray-on protector and/or treat them with care creme on a moist sponge. The treatment soaks into the fibers of the material, making it water and dirt repellent. Contrary to intuitive thought, this doesn't make the footwear less breathable: wet and dirty materials are the poorly breathing ones.
Aku footwear has a 24-month warranty for material and workmanship. It goes without saying that we at Varusteleka don't let customers down; in this case, the manufacturer is also part of the chain that keeps you going.
Aku Italia
Among major league footwear manufacturers in Europe, Aku isn't perhaps the most known out there, but certainly one of the hardest hitters. Where can we even start?
Aku Italia is a family business that was originally founded in the '70s and got its current name in 1985. The hometown is Montebelluna in northern Italy, near the beautiful Mediterranean shores and vineyards but also close to the Alps and the heart of Europe.
The company has such an approach to quality, that it might as well be German or Swiss. The design involves 3D modeling and other current technologies harnessed to make a better product, and the company avoids outsourcing production to sweatshop countries. As the workers are skilled shoemakers with a refined manual touch, it wouldn't make sense to have them work on inferior pieces; the leather, rubber, and other selected top-grade materials can be traced all the way to the source by Aku.
As almost like a byproduct of this attitude to make the best possible boots, the sourcing and manufacturing processes became more sustainable environmentally. Once this was realized by the head of Aku, they put a magnifying glass on this aspect of their operations as well. Aku Italia takes great measures to reduce its carbon footprint and plant trees to compensate for the emissions they cannot avoid. Also, leather tanning and other processes are developed to involve less harmful chemicals.
So with a pair of these boots on, your feet and conscience are as clear as the blue sky, promise! The Danish, British, and Swiss armed forces buy Aku boots, and they don't accept poor pieces of gear. (Well maybe the Brits sometimes do.)
The name, what's up with that? Aku-Aku is some sort of a devilish deity in the Rapa Nui mythology. They can be friendly as well, just treat them right.
Recommendations
Loading products...
Reviews
You have already submitted a review. You can edit your text by clicking on it.
Log in and write a review.
Remove filter
I would recommend for a friend
Hiroki A.

30.01.2021 (Edited 31.05.2021)
The army issues these in brown, although tank crews have the black ones as shown here. Pretty much anyone who goes to stores and gets to choose boots from the likes of Haix, Altberg etc. pick the AKUs instead, so it's fair to say these are among the best.

They don't require polishing, and fit really close to your feet, like a pair of sneakers while leaving some room in the toes for thick socks. Used these on plenty of tabs and they break in fairly quickly.
5
0