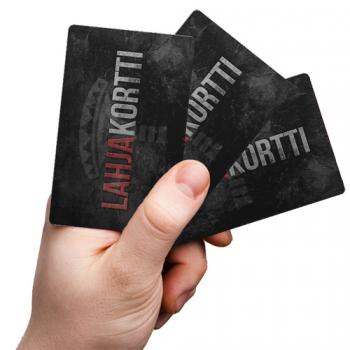 Varusteleka gift card
Buying gift cards is easy: all you need to do is decide which value you wish your card to be (20 €, 50 € or 100 €), then add it to your shopping cart. If you're in our walk-in store and want a gift card, you'll have to ask our staff to get you one. Campaign codes do not affect gift card prices.
Gift cards can be used in both our online shop and the walk-in store and you can either use it yourself or give it as a present to someone else. Gift cards are always valid for one year from the date of purchase. The great thing about our new gift cards is that you don't have to use them all in one go; if you've got a 50 € card and use it to make a 20 € purchase, you're left with 30 € of goodness to spend next time you feel the urge to help finance our fine establishment (provided you spend it within a year of the original purchase). You can also use it as part of a bigger purchase, in which case you can pay the remaining sum with either cash or a credit card, or in the case of the online store by paypal or bank transfer.
Using the gift card in the online store
Fill your shopping cart with the products of your choice like you normally would. When you're done, check out and fill in your gift card's code into the text field reserved for it. You can find the code behind the card underneath the bar-code. The code is in the following form: LK-12345678. Once you've successfully managed this, you should see a message which thanks you for your custom and lets you know how much (if any) value is left on your card. After this you follow through the rest of the steps as instructed, just as you normally would. You may also cancel a gift card that you've purchased. And, for the sake of everybody's sanity and general well-being, please make sure that the gift card code is the last thing you fill into your order.
Choose the products you wish to order and add them to your shopping cart.
Punch the gift card code into the reserved field on the second shopping cart page.
Double check to make sure everything is filled out correctly and confirm the order.
Congratulations, you've just made a succesful payment using a gift card!
Using the gift card in the walk-in store:
When you feel you've satisfied your shopping urge, take your chosen heap of surplus to the counter, smile, hand over your card and politely tell the cashier you'd like to pay using a gift card. Our staff's training should kick in, with the consequence that your card is accepted, processed and returned to you if there's value left on it after your purchases have been paid for. If the card is returned to you, you can then repeat the above mentioned process until it is exhausted.
Gift card terms and conditions
The gift card is valid for one year from the date of purchase.
There are three different valued gift cards to choose from: 20 €, 50 € and 100 €.
Gift cards work in both the walk-in and online stores.
You can only use one gift card per one order in our web shop.
Campaign codes that reduce prices do not affect gift card prices.
Gift cards do not need to be used all in one go, but you won't be getting any change back when using them.