Varusteleka Profit Report 2017
Share on Facebook
We have crunched the numbers, and our results from 2017 are in. Here's a little recap of everything that happened last year.
In general 2017 was a little hectic. We kicked the year off at ANME and SHOT Show, where we set the wheels in motion for our plan of Total World Domination. After we got back in one piece, things started to fall in place on our home turf.
Inttistore, one of our biggest competitors, went out of business in early spring 2017, and we were offered the chance to buy their remaining inventory. Quite a big step for us, but looking back this was beneficial for everyone. Inttistore was able to end operations with no major issues, we got a lot of interesting products at a good price, and our customers were able to reap the benefits of all of this. This also opened up a new channel to the Finnish Reservists' Association and the Finnish Reserve Officers' Federation.
During the spring the Finnish Armed Forces finally cleared up some issues regarding the M05 gear. Varusteleka's M05 field uniform was officially accepted for use by reservists, and sewing in the official markings went from late spring to the summer.
It's also worth mentioning that our container shop made its maiden voyage during summer 2017. We also gave the ultimate Finnish experience for Forgotten Weapons and InRange TV.
The autumn came around and things kept rolling along at full speed. We finished our circular economy beta test, we added DHL Express to our shipping options abroad, and we even made our return process easier for our customers. On top of all of this, we had a private screening of Commando, we started working together with Millog in order to get more Finnish army surplus, and our December sales were pretty top notch. So yeah, not a bad year at all.
All in all, you could say that we managed to do a lot, but there are still some things we didn't quite manage to pull off this year. Nevertheless, we think that this year was a complete success.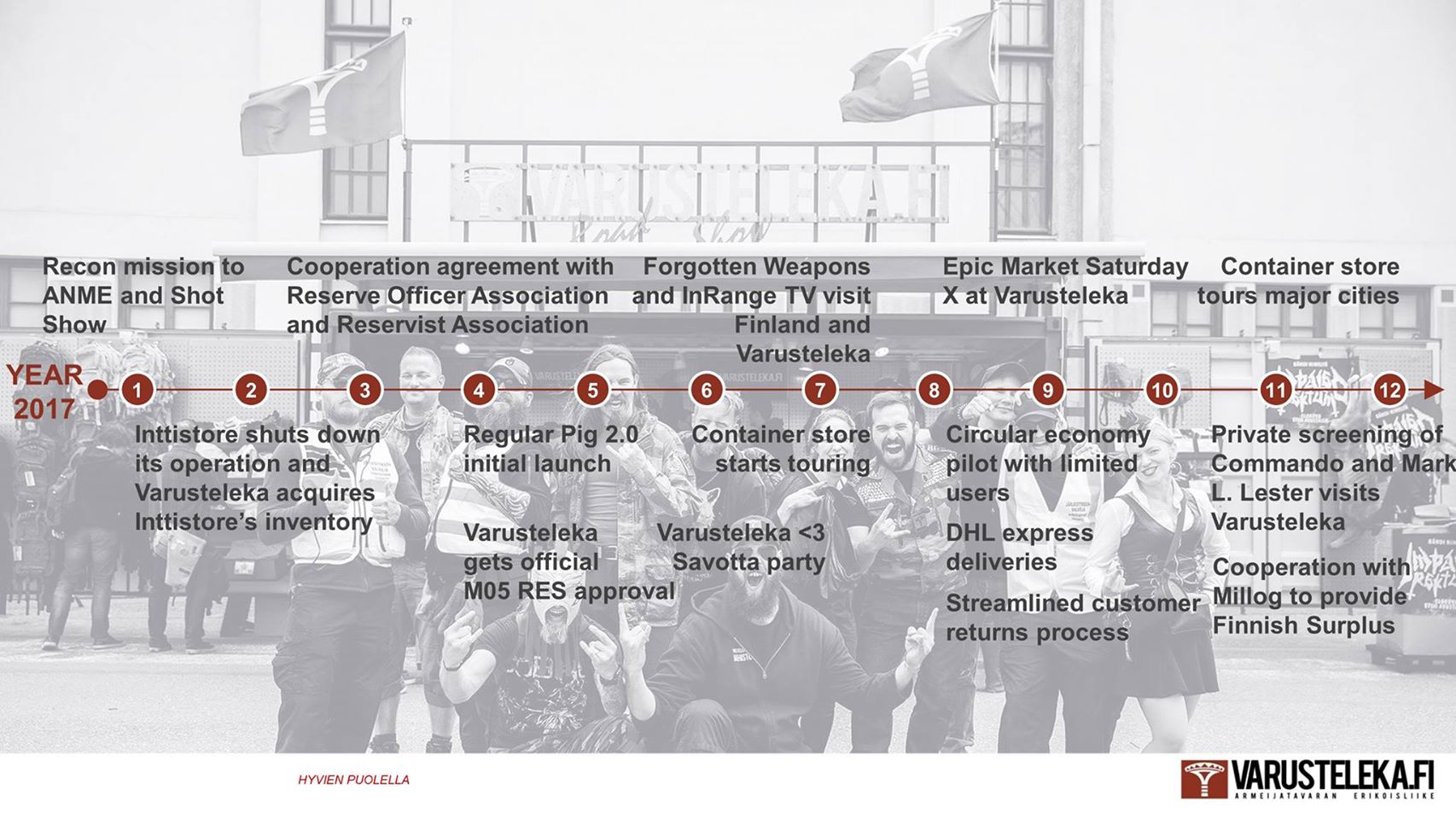 If we take a look at the numbers then 2017 went quite well. Our turnover target for the year was 12.380 million euros, and we managed to pull off an impressive 12.645 million euros. Our growth from 2016 came out to about 31%. We saw growth in every channel. Growth abroad was quite good, and our mission for Total World Domination proved to be such a success that 19% of our turnover came from abroad, with the US being the largest single market abroad.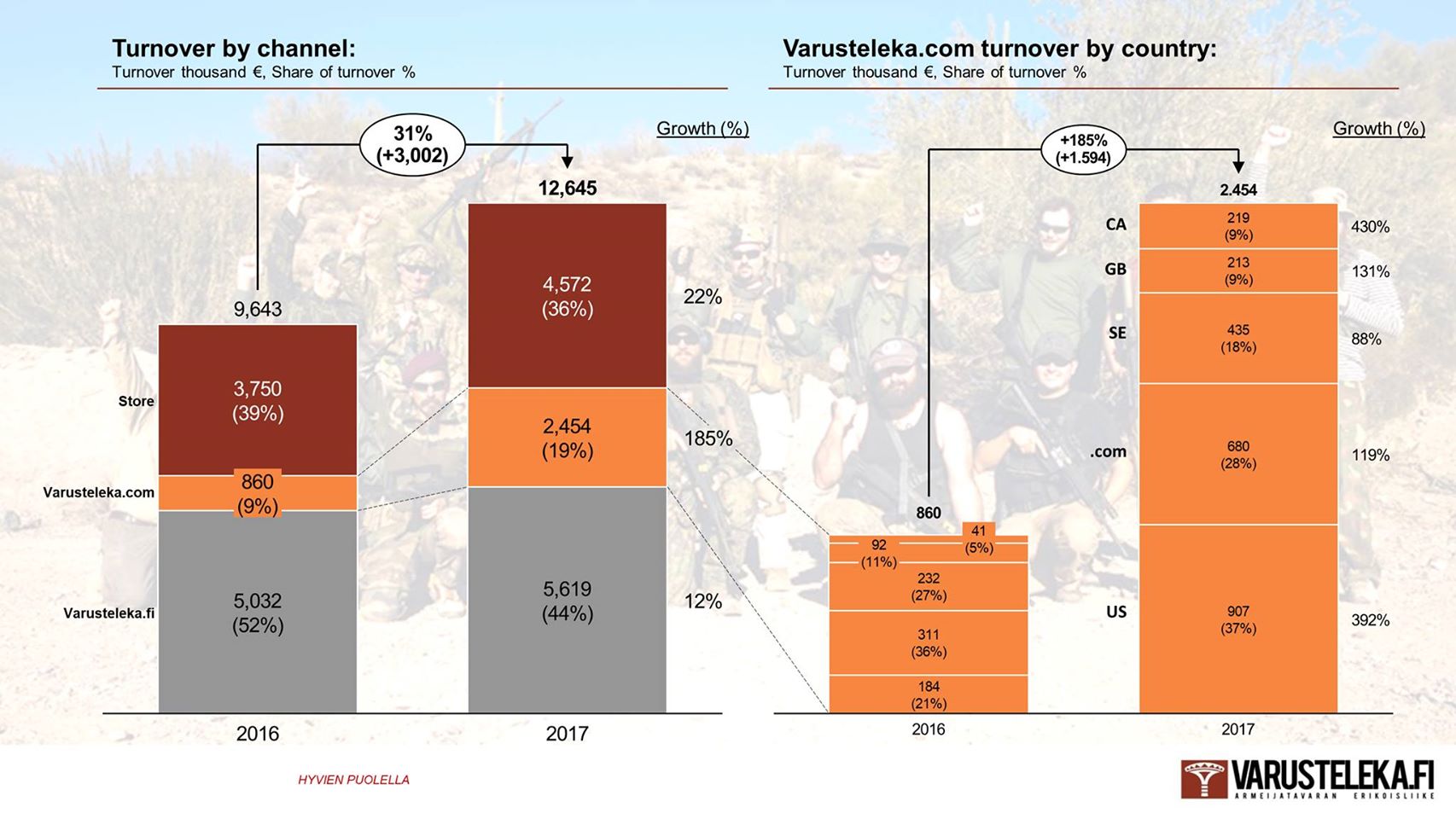 The distribution of sales amongst product groups was roughly in line with our targets. Our own product lines Särmä, Särmä TST, Terävä, and Jämä experienced a 54 % growth from the previous year and accounted for 32 % of our total turnover. We sold about 2 million euros worth of army surplus, but that amount dropped slightly from 2016. This is something we are fighting with, and our goal is that we would get our surplus sales up enough to account for 20% of our turnover. The role of our other suppliers has dropped according to plan and coincides with the growth of our own product lines.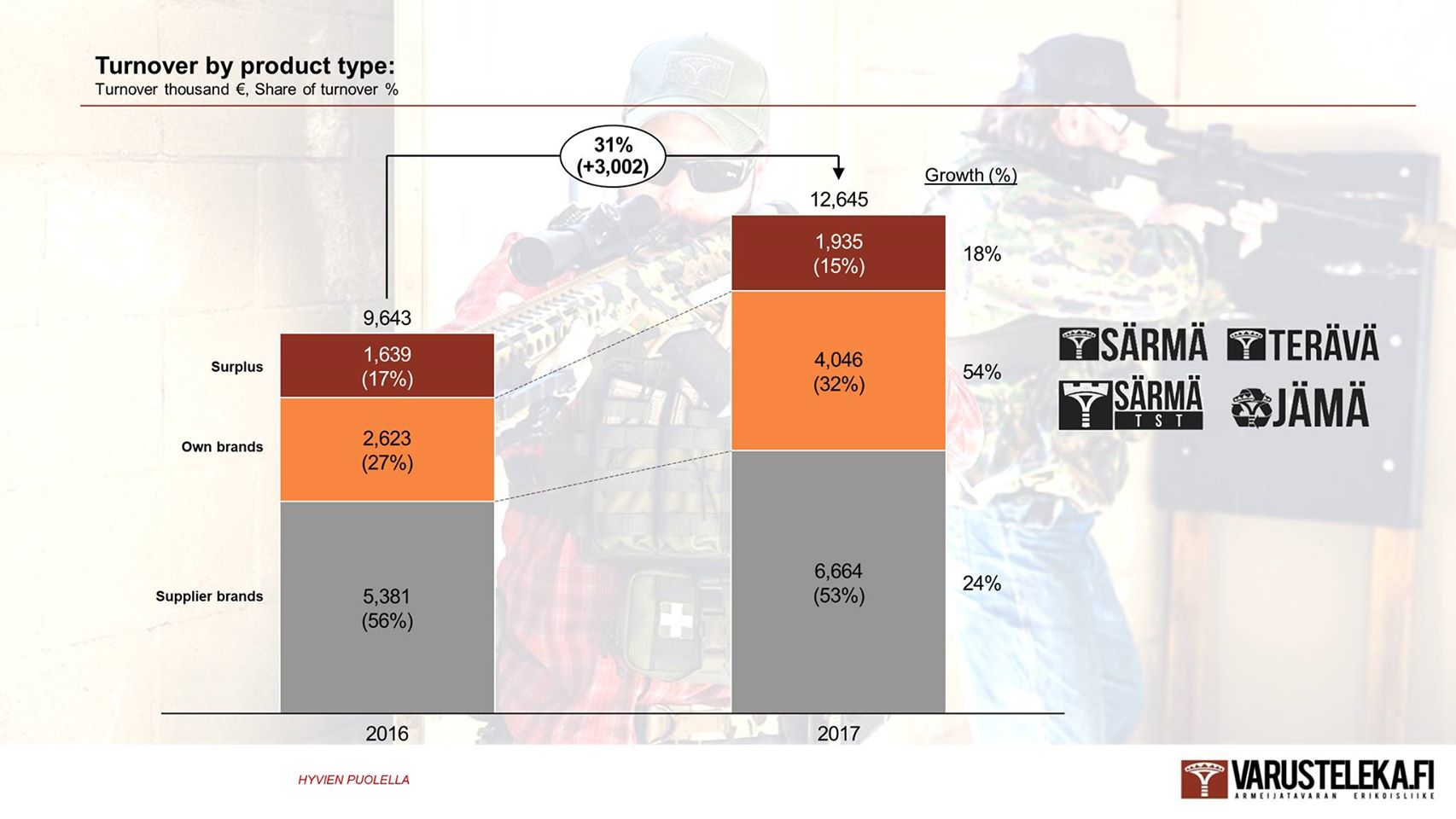 Our profitability improved by leaps and bounds during 2017. Our profits were 730,000€, about 61% more than the previous year. Our profit margin was 5.8%. Our profitability improved thanks to a moderate rise in costs and a strong effort in ensuring that our business activities are performed a little better every day. It is important that our profitability improved, as this allows us to invest into the company's development and, for example, our projects from our own product lines. We're definitely on the right track here.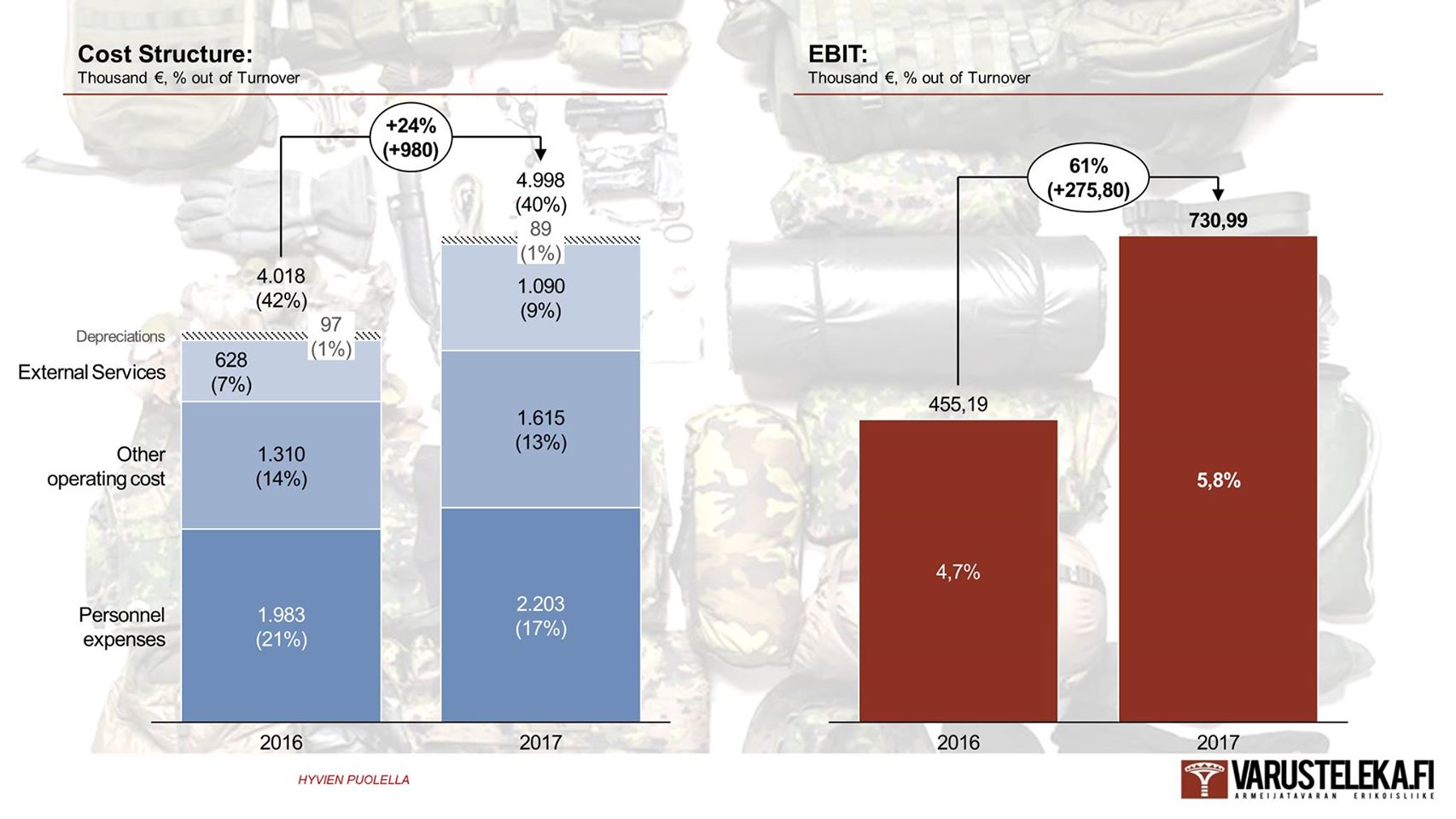 So what does the future bring? We're continuing towards Total World Domination. At the moment our largest project of 2018 is Varusteleka's move to Hankasuontie 11. After this ordeal is over our customers should have a more pleasant and thrilling experience, our logistics will be improved, and our staff will have an enjoyable and functional working environment. We will focus a lot of our efforts on international markets, especially North America, but this doesn't mean that we will forget about the domestic market. Finland will remain a strong market for us, and we believe that there are still growth opportunities here. An integral part of our Total World Domination plan is that we will create more prosperity here in Finland. We will accomplish this by selling more abroad than what we import.
During this year we will focus strongly on our staff's development and well-being. We'll get things going with, among other things, management schooling, so that we may offer the opportunity for more management-level work for our staff, and we will generally try to implement more programmes focusing on our staff's well-being.
We have previously discussed environmental issues, and we have already done some work to get the ball rolling, for example, focusing on our material efficiency. During this year we are aiming to map out Varusteleka's environmental impact so that we can follow our goals of minimizing our stress on the environment. The ultimate goal is to, at some point in the future, bring Varusteleka's environmental impact down to zero.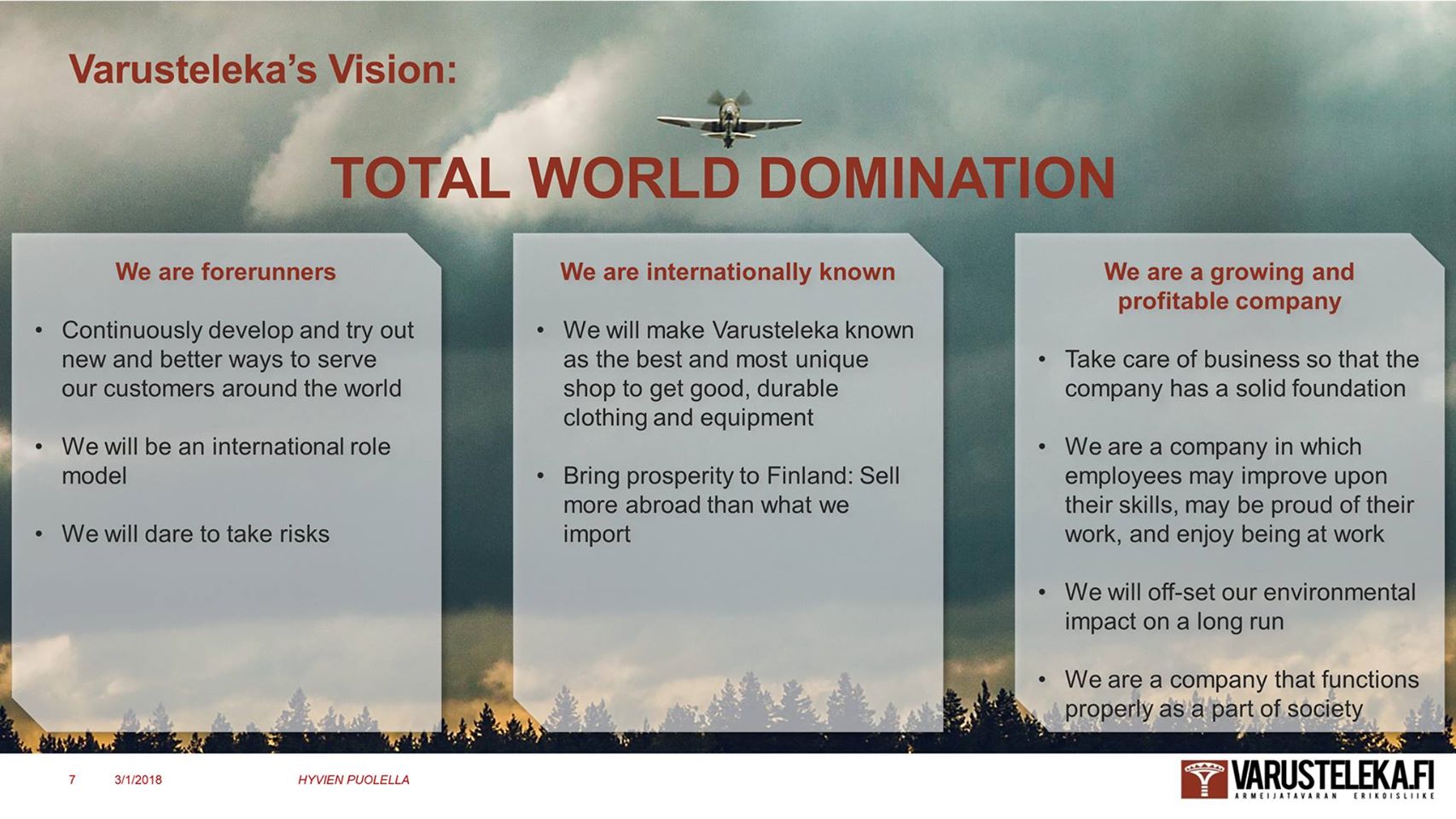 Our goals for the next three years are tough, but not impossible. We'll continue our growth and march toward Total World Domination, and do it in such a way that we can be proud of the end results. The fact that Varusteleka is growing and developing enables many new things also for our customers: a better selection, competitive pricing, more events, etc. 2017 works as a good launchpad for the challenges ahead.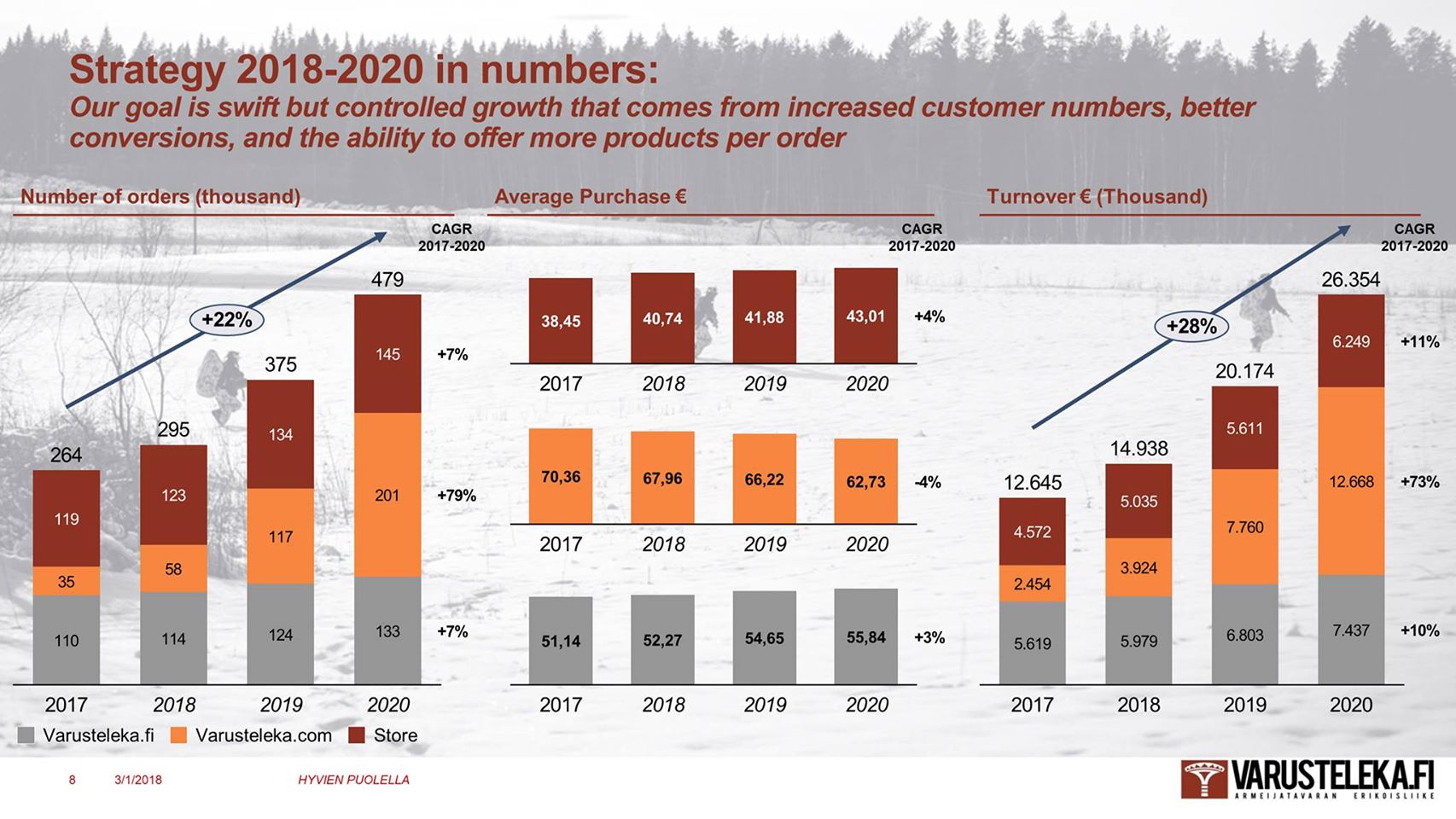 A big thanks to our customers, our staff, and our partners for a great 2017. We all helped each other to succeed, and it's a great way to start 2018.
Read also