Three Nights In Prague And A Light Pack
Share on Facebook
An extended weekend in urban Central Europe is a brilliant choice to spend a few days of leave. This time I decided to visit Prague, where the weather forecast promised typical conditions: a bit below or above freezing, no high likelihood of rain or storm.
The trip would consist of walking around town, stopping by indoors to look around and of course sit down to enjoy a meal and drinks. I wouldn't want to tremble from the cold looking for a dumpster fire, but everything I wear should be suitable on the streets and in cafes.
I wanted to bring as few things as possible with me, for ease of moving around and not having to wait for baggage at the airport. These days even your carry-on luggage might end up in the cargo from the gate, especially if the flight is fully booked and the airline company is a cheap one. The passenger compartment is overpacked with peoples' stuff especially when cargo baggage is a service sold separately.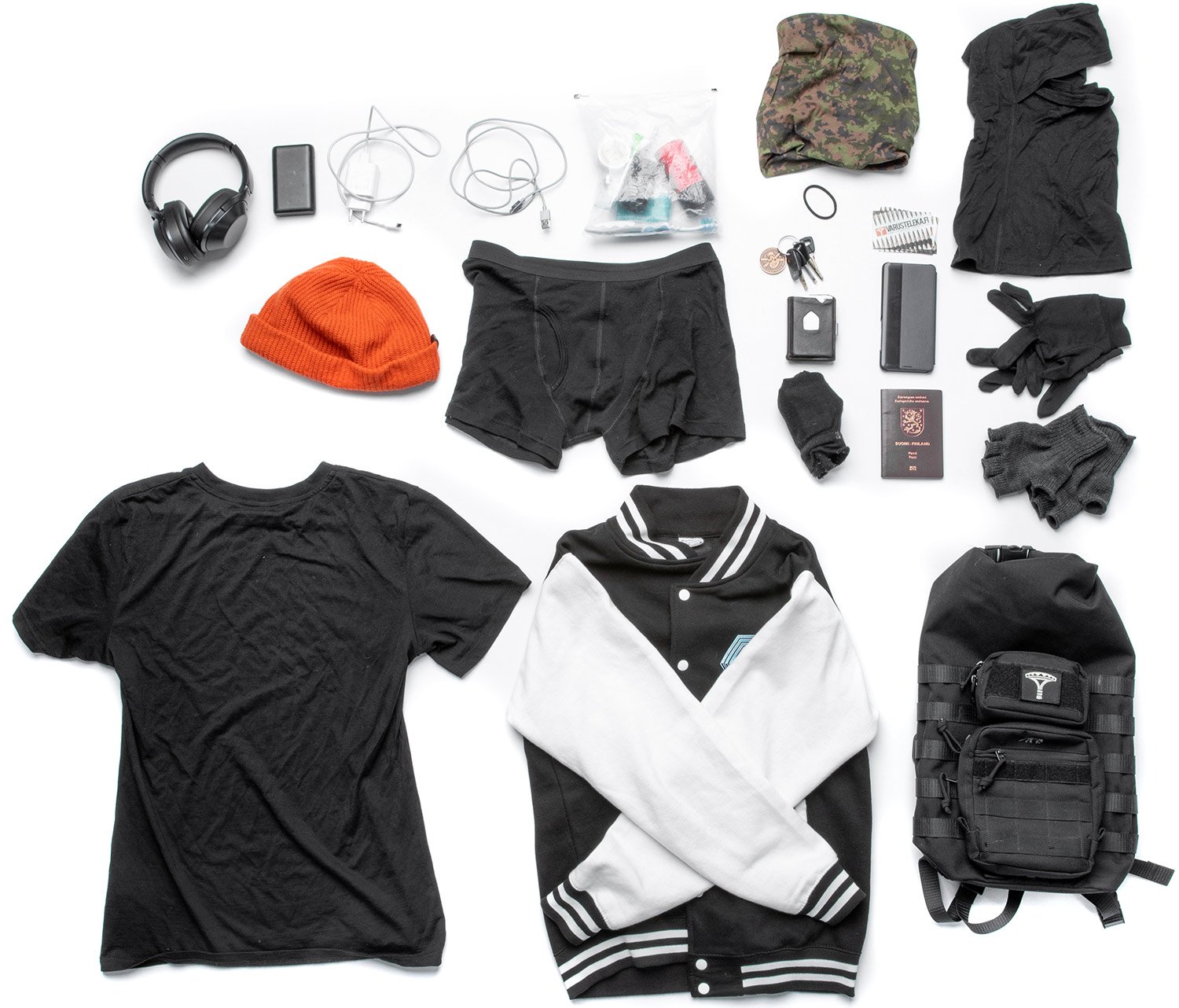 The bottom row could have been left behind, all the rest could be stuffed into jacket pockets.
To minimize your travel gear I'll present to you two principles, which can be applied to any destination and weather conditions. To make the advice actually useful instead of just "pack less and draw the rest of the owl", I'll keep things rooted in real life with concrete examples.
Prefer multi-use items
Choose clothes, equipment and combinations of these, which work in various weather conditions and allow you to adjust your style.
Sporty base layers are nice but don't look all that nice when worn alone. Choose even your next-to-skin layer with an eye for looks so you can wear them as the only layer. This way you can regulate your temperature both outside and indoors while maintaining sharp looks at all times.
My primary shirt was a Särmä Wool Flannel Shirt, which is warm and neat enough for restaurant use. As an undershirt I wore the Särmä Henley Shirt, which works well as a casual shirt (Editor's note: I'm wearing one as I translate this article.) and, being merino wool, is incredibly comfortable and functional. These two are a versatile, warm and good-looking combo.
A versatile jacket makes your life a lot easier. Because I wanted to have just one jacket with me, it had to be windproof and water-resistant, but not too hot when walking around town. The Särmä Windproof Smock worked together with the aforementioned layers very well. The jacket was warm when standing around, but vents effectively when moving about. The amount of pocket volume is simply amazing, which helped on many occasions. At some point, I realized I could have pulled off the whole trip without a backpack!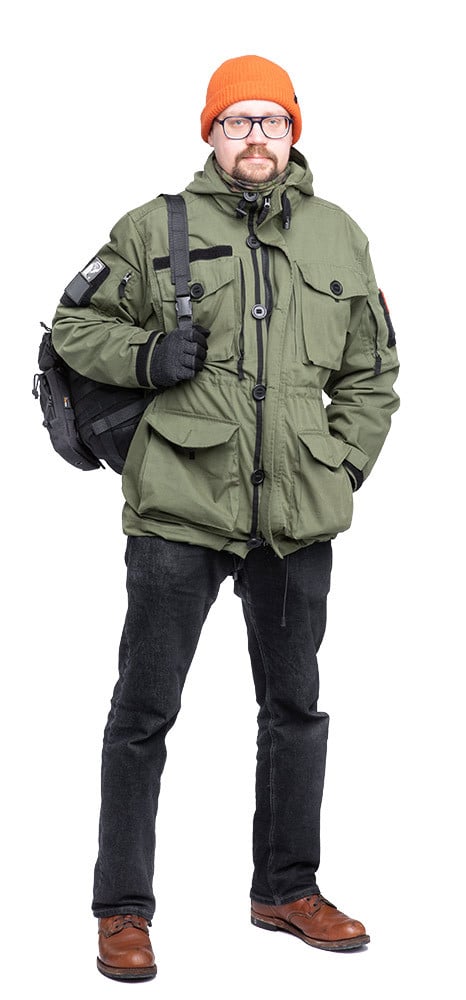 When you think of many purposes for each item, you can vary the combinations and do well in all situations.
As for accessories, I used an ordinary merino watch cap and a Buff neck tube as well as Särmä TST L1 Liner Gloves and Särmä Merino Fingerless Gloves, the latter together or separately as necessary. These were versatile and small-packing items, which left me without any discomfort during the whole trip. Fingerless Gloves are brilliant with touch screens, by the way.
Reduce laundry with wool
Choose wool and you won't need to carry as many spare clothes.
Wool's natural resistance to odours is legendary, but not a legend. Try it before your trip and you'll see. As underwear I only had two Särmä Merino Boxers and two pairs of Särmä Merino Socks. I rotated these so that the ones not worn were airing. Airing doesn't require cold, room temperature does the trick just fine.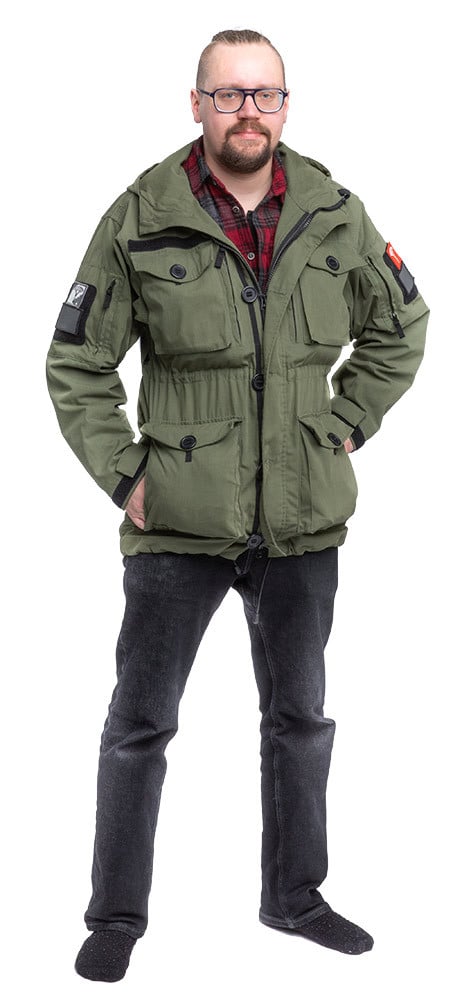 Open up your jacket and stuff your headgear in the pocket to dump heat. You don't necessarily need a backpack or bag.
The shirts I mentioned before were wool and didn't require washing. I also had a merino T-shirt with me, but it saw very little use as a pyjama top. I could have done well without it.
Other gear and a list
You'll obviously need shoes and trousers, unless you're Donald Duck. Kannattaa käyttää myös kenkiä ja housuja, ellet ole Aku Ankka! Särmä TST Tactical Jeans were at the same time flexible, warm enough and inconspicuous-looking. I'll definitely travel wearing these again, and it goes without saying these are among my favourites back home as well. Very comfortable and they do almost everything.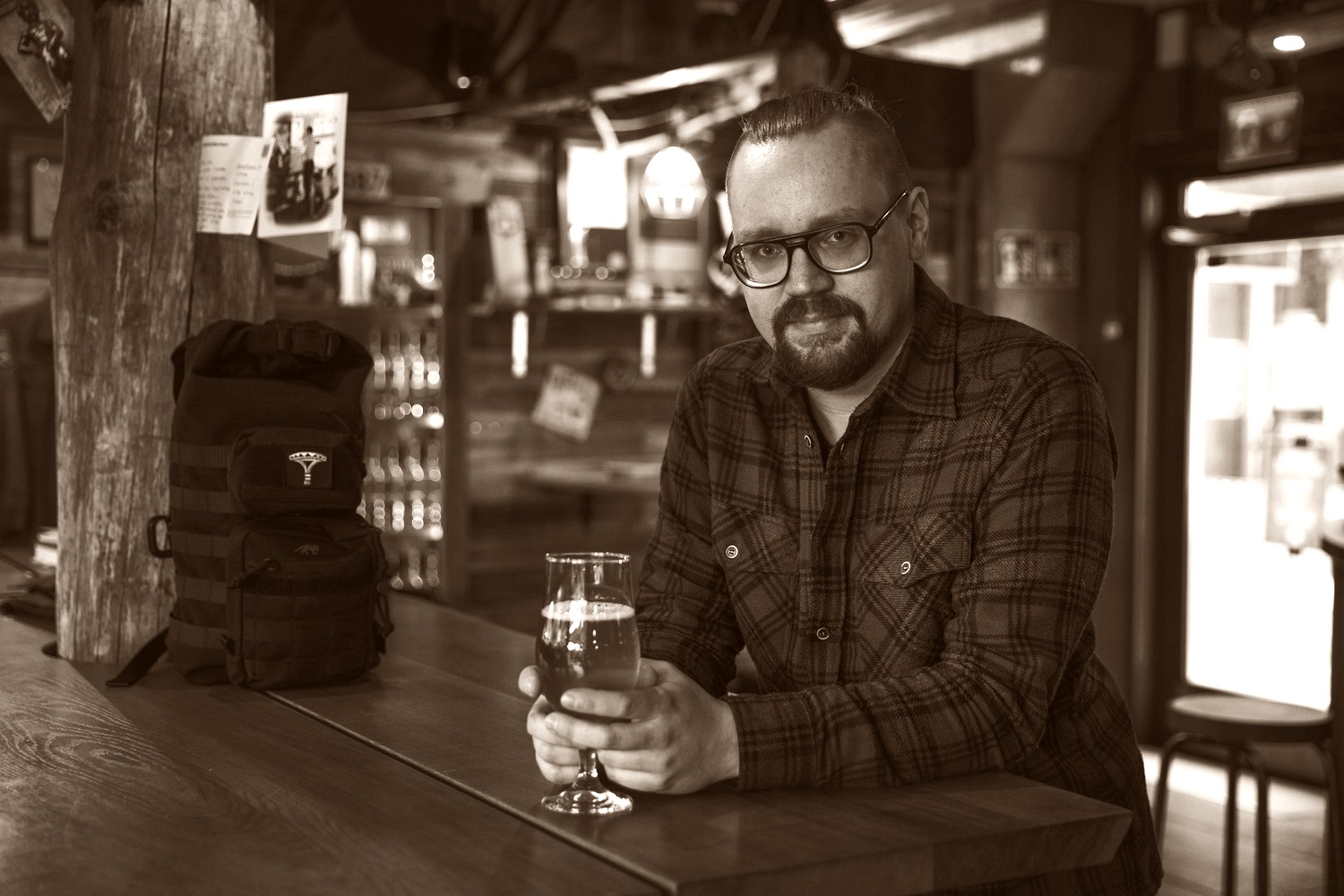 I enjoyed the company and beers so thoroughly in Prague, that I had to dramatize this shot afterwards. In Prague everything is nice and sepia naturally.
Below you'll find a list of everything I packed and everything I was wearing. The striked ones were barely used during my trip and I could have done without them. Yes: the Windproof Smock easily carries spare socks and boxers, toiletry supplies, earphones and smaller accessories just fine, so a backpack may be redundant! Regarding other things on the list I must stress that proper leather shoes and wireless noise-cancelling headphones are good things to have.
BUFF Original M05 neck tube
Särmä Windproof Smock
Särmä Wool Flannel Shirt
Särmä Henley Shirt, merino wool
Särmä Merino Wool T-shirt
Särmä TST Tactical Jeans
Särmä TST L1 Liner Gloves
Särmä Merino Fingerless Gloves
Särmä Merino Boxers x2
Särmä Merino Socks x2
Särmä Leather Belt, veggie tanned, 50 mm
Särmä TST DP-10 Roll-Top daypack
Särmä TST General Purpose Pouch Zip XS
Tasmanian Tiger Tac Pouch 5
VAI-KO Flyfisher -beanie
GUNSHIP Varsity Jacket
Red Wing Beckman 9016 shoes
Huawei Mate 10 Pro and charger
Sony MDR-1000X NC-headphones and charging cable
Anker PowerCore powerbank
Exentri card wallet
Keys
Passport
Toiletry items in a transparent plastic bag