Sleeping bag size selection guide
Share on Facebook
The woes of fitting a sleeping bag online
We're often asked about sleeping bag sizing. Especially large persons struggle to find a big enough sleeping bag, but an oversized bag means unnecessary weight and reduced warmth for a slender person.
Manufacturers often state a width at the shoulders, but it's a flat measurement. We are three-dimensional and your length affects fit as well, so theory only gets you so far.
Efforts to help our online customers has been a cornerstone of Varusteleka since the start and also one of the reasons we've been successful. Here's another piece of customer service with our flavour: two employees of different sizes went through our sleeping bag selection and share their thoughts.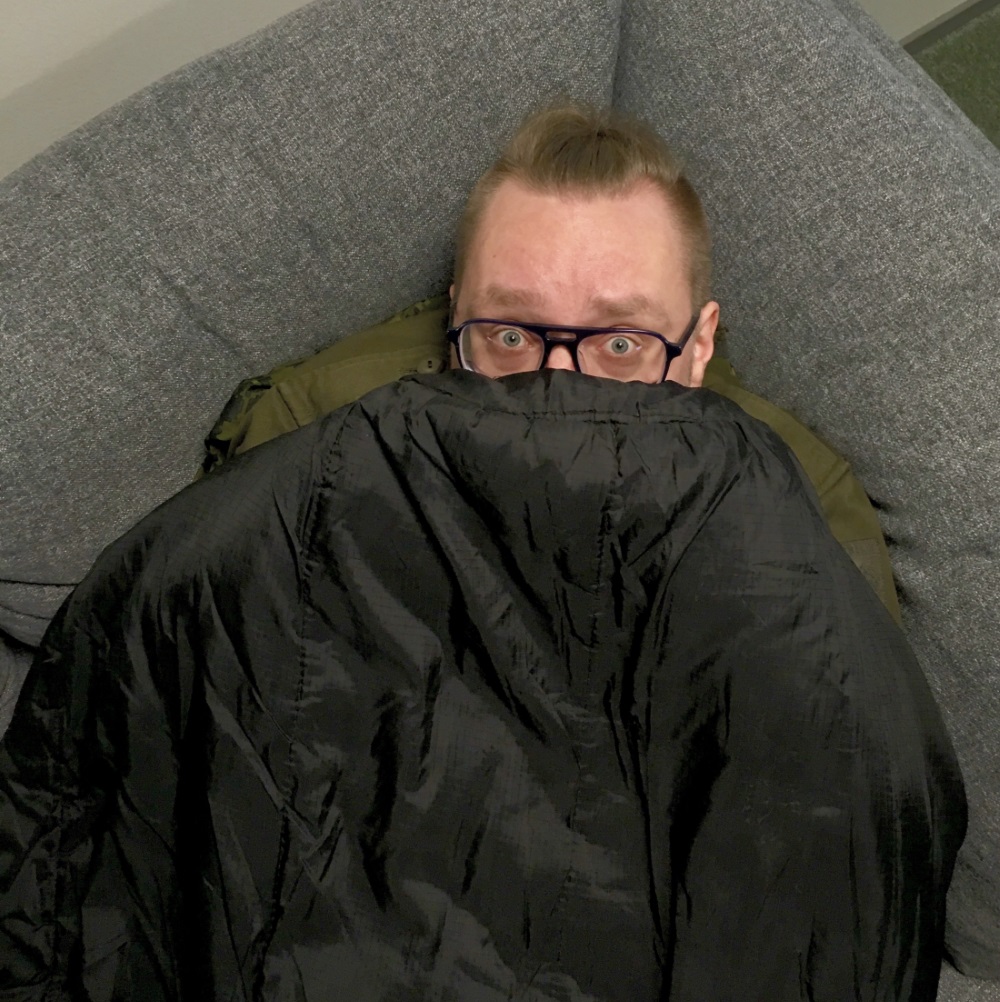 Santeri suhtautui kokeiluehdotukseeni viileänrauhallisesti.
Testing procedure
Santeri is 178 cm tall with a 108 cm chest and 88 kg weight (5' 10" height, 42.5" chest, 194 pounds, usually wears a size Large. Lauri is 186 cm tall with a 133 cm chest, big guy and 3XL according to charts (6' 1" height, 52" chest).
The following chart includes our selection at the time of writing, and by the time of completing the tests we were able to list them according to size. Where the chart says "small", it's unusable, "snug fit" means that the bag is usable, "fits well" means an optimum size and "loose" will be a good choice if you want to use an inner bag or otherwise want some extra space.
| Bag | Santeri (Large) | Lauri (3X-Large) |
| --- | --- | --- |
| French M63 | Small | Small |
| Mil-Tec 3D Hollowfiber | Snug fit | Small |
| Carinthia Defence 1 | Snug fit | Snug fit |
| Carinthia Tropen | Fits well | Snug fit |
| Brit. Jungle Sleeping Bag | Fits well | Snug fit* |
| Carinthia Defence 4 | Fits well | 185 cm snug fit, 200 cm fits well |
| Carinthia SA M05 | Fits well | Fits well |
| Carinthia Defence 6 | Fits well | Fits well |
| US Intermediate | Loose | Fits well, shortish** |
| US Patrol | Loose | Fits well |
| Savotta Yukon | Loose | Loose, shortish*** |
* Head pokes out, as I like in warm weather. More space in the leg area, chest space more limited.
** OK width, but significantly shorter than the Patrol Bag, even too short for my taste.
*** Fits 1.5 Lauris, no extra length though.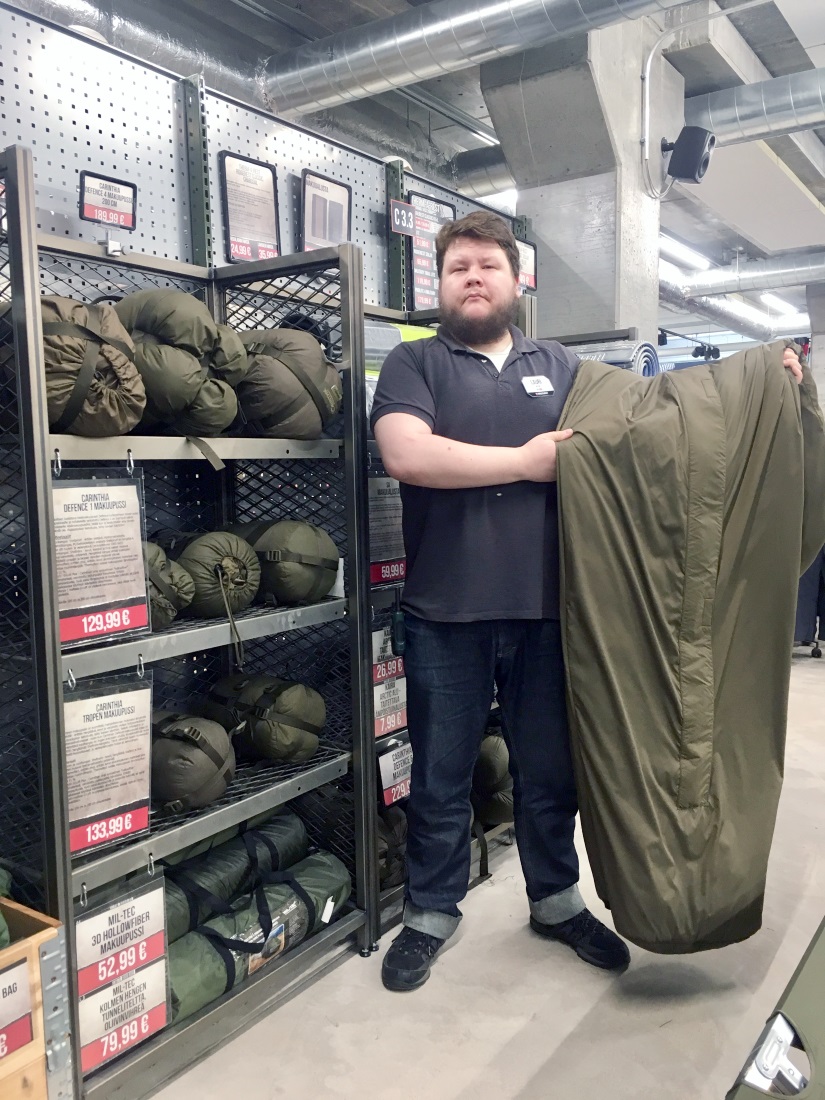 Lauri knows outdoor gear and helps customers in our shop. Here he's extending a helping hand towards folks on the Internet.
Special notes and tips
If you're a very large person, the shorter and lighter bags from Carinthia may cause claustrophobia, so a surplus US Patrol bag will be a better choice for summer use. However, the roles are reversed when you look at something for colder weather: Carinthia Defence 4 and 6 as well as SA M05 are the better choice compared to the US Intermediate bag, especially if you're taller than average. When given a choice in length, choose the longer one and the bag is often wider as well.
Read also