Private Military Contractor - Operation POLAND
Share on Facebook
A year back I and a few friends of mine went to explore what sort of experiences the Polish Euseca's (European Security Academy) Close Protection Basic and -Advanced courses could offer us. Well, the course was a proper "no bullshit" experience and ever since I've longed to return to Poland one day.
This time we decided to aim for Euseca's Private Military Contractor -course for which you had to have finished the aforementioned courses or optionally have some previous field experience in the military.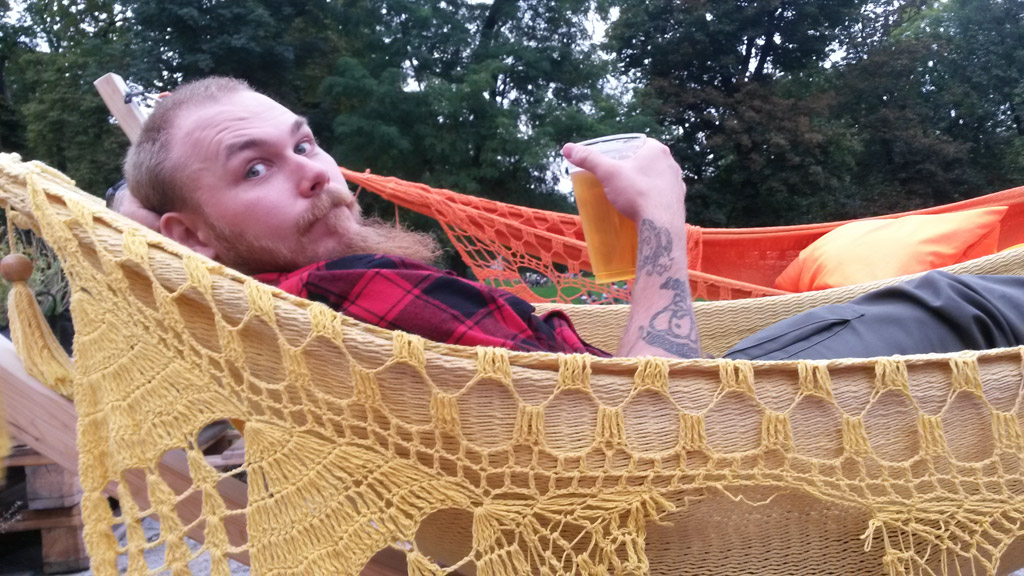 Enjoying our last beer in a Poznanian hipster pub before the course.
Private Military Contractor
We had high expectations for the course. Word was that they'll try to break you the very first day and even the manliest of men would have a tough time: body armour on 24/7 and even the obstacle course would have to be completed within six minutes. You know, the usual tough shit. Therefor I was mentally prepared for a proper good Polish army-LARP where your mind would be broken down and rebuilt and closing your eyes for longer than a blink would be prohibited.
Well, the course did not quite meet up to these exceptations because the instructors at Euseca had gone over their training methods and redone them completely: this time we mainly focused on the actual training instead of Full Metal Jacket-ish physical maltreatment in form of exercise. This was more of a positive surprise than a letdown because generally speaking learning new things is easier when you haven't spent last four nights doing random midnight exercises.
After our arrival in Poznan we were picked up by a small bus filled with to-be operators. What was an hour long ride from Poznan to the training camp felt like a much longer time: most of us were in Poland for the first time. The passengers were fairly quiet for the ride and the air was thick with tension.

Upon arriving the camp we found out that there would be over 25 of us – it was clear that we would be split into two units which then happened. The Alpha-unit was formed of lots of different nationalities (Finnish, Brazilian, South African, Serbian, German, Polish, Greek among others) whereas the other unit mainly consisted of Italians and Frenchies whose linguistic skills were fairly limited.
MO sharp in mind
The course began with a lecture about the shittiest countries in the world, about their problems, their history and the PMC-scene in those areas. The main focus was on particular African countries and the war zones of Middle-East.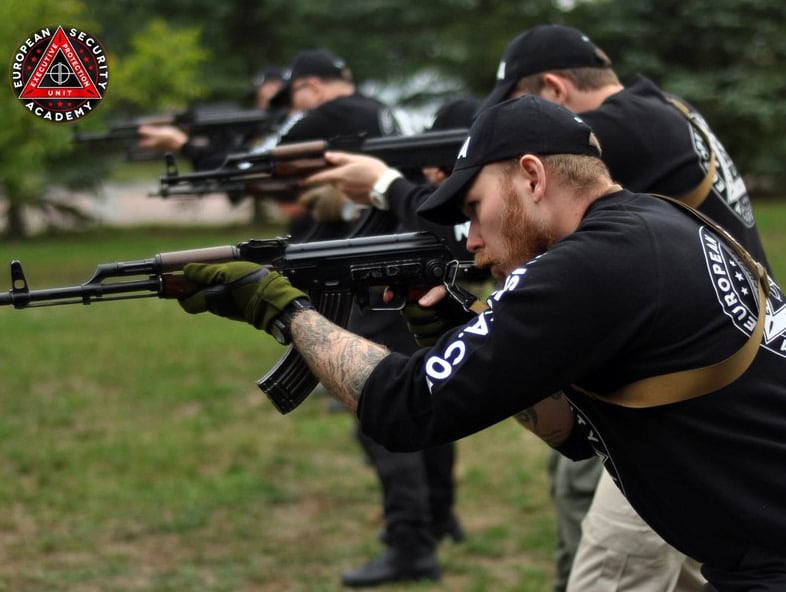 In the noon we practiced gun handling with M4 and AKMS automatic rifles with Glock 17 serving as our handguns. During the lesson we practiced plenty of different firing positions and firing safety. Later during the week we were also taught all sort of neat tricks regarding PMC-action, how to prepare for IEDs and how to encounter suicide bombers, kidnappers and all sorts of other nasty crooks.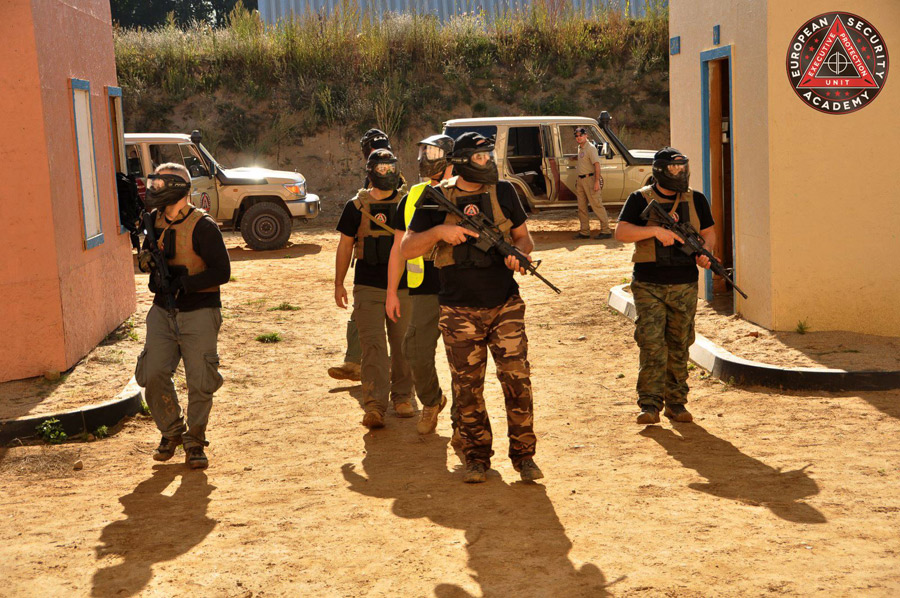 However most of the training focused on walking around in VIP+5 formation (diamond formation around the VIP to keep him as alive as possible), sometimes with cars and at other times under fire. This was no doubt the best part of the course. The instructors would try to ambush us with paintball guns trying to hit the VIP whereas our goal is to spot the ambusher and evacuate the VIP even at the cost of our own lives. For this simulation Euseca has reconstructed the town hall (?) of Mogadishu and its immediate vicinity in a field nearby the camp. This is where most of the course was spent in.
Dakka Dakka!!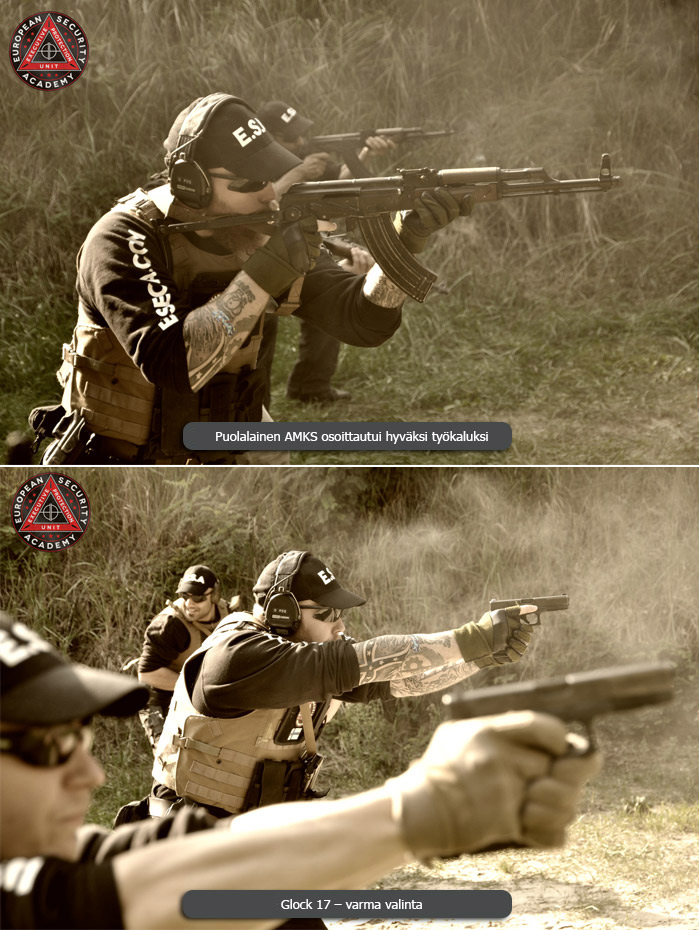 We took a few trips to a shooting range during the week to try out the different firing methods we had been practicing with live ammunition. This is where I performed very well and I definitely considered it to be my strength during the course.
MEDIC!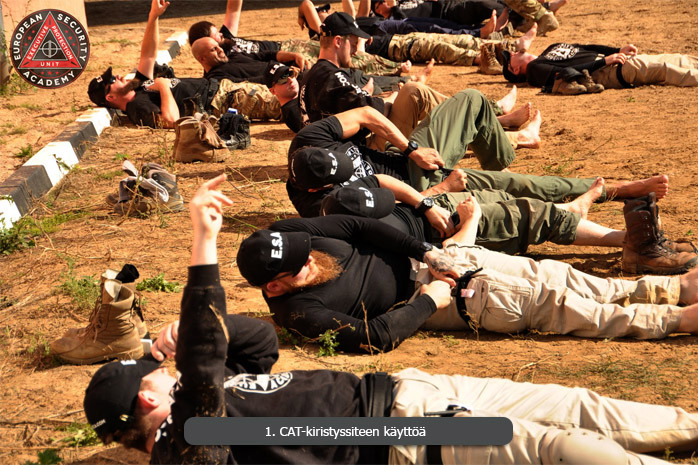 One day of the course was dedicated to combat first aid, led by a Polish supermedic with a habit for chewing tobacco and constant swearing, and with a over 15 years of field experience mainly in the Iraq-Afghanistan-axis. Not only was he amazingly skilled in what he does for living but he was also a great instructor and had lots of great stories to share.
This first aid training was superb, very likely the best I've ever had even if compared to the courses kept by Finnish Defence Forces or the less-professional-oriented courses by the Finnish Red Cross.
CQB-war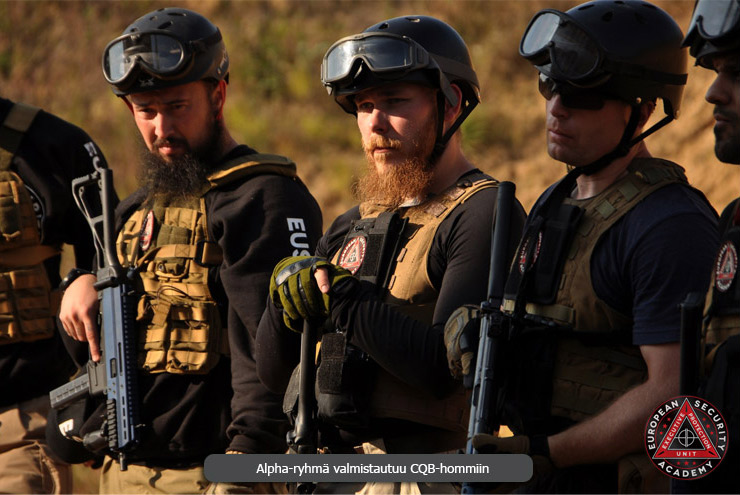 In the latter half of the course we took some time to study close quarter battle. As I have some experience from this stuff before, I found myself thinking that this was a bit of a time wasted for the techniques we were taught seemed a bit odd to me and generally CQB-stuff is something you just don't learn throroughly within a few hours of training. Surely some of the other fellas in the course with no previous experience might have found this educational.
Probably the intention was to just say that "you'll be needing these skills". I didn't mind the CQB-training itself but if only we would've had a bit more time to focus on it more.
This Is The End
As the course neared to its end the last day was spent on testing whether the trainees had learnt anything during the course or not. Three test: theory, shooting range and tactical teamwork. Most of us passed all of them with ease, including me, even though I didn't quite perform as well in the shooting as I should have. Some didn't do quite as well as others, probably because the average evenings were mainly dedicated to talking about whores and how many of them some of the guys would buy after the course. One may find it difficult to try and focus on reading in such environment.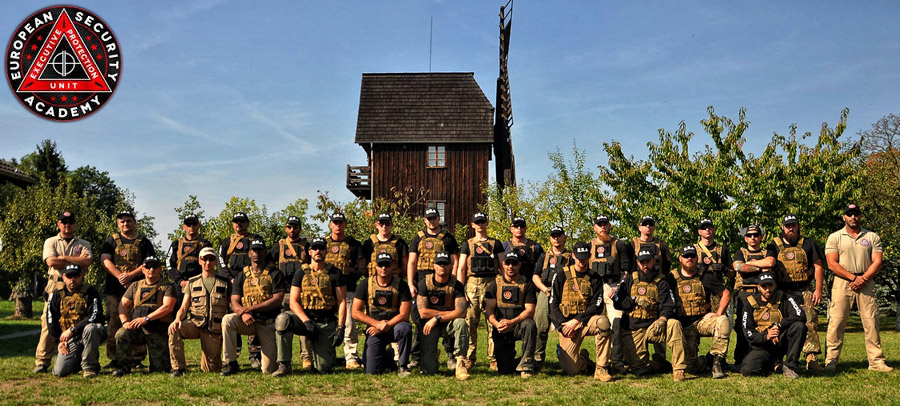 I really liked the course and would warmly recommend it to anyone who wishes to work as PMC in crisis areas. The best part was to get to know and meet lots of other great people around the world who think of this stuff quite similarly as I do. Great guys!
Accommodation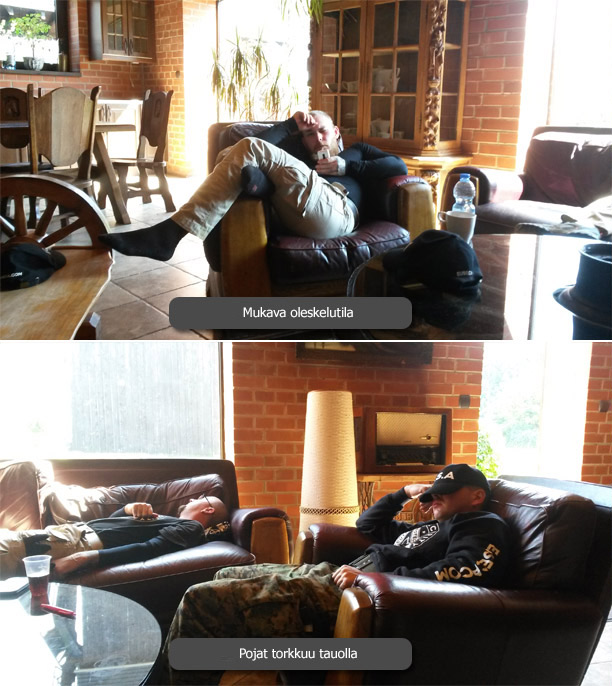 A few words regarding the food and sleeping: it's all included in the course price. The camp is set in a very nice farm-like envinronment of which buildings, like the windmill and bar, have been remodeled for accommodation. The set is great and reminds me of stories about the French Foreign Legion's camp sites.
You won't be short on food for there's plenty of it. Three meals a day, primarily very generic Polish food with meat and fat. Coffee is available throughout the whole time and every now and then during the time off in the evenings there should be enough time to visit the moderately equipped gym they have, to enjoy sauna or go swim in the local lake.
More information
For more information regarding Euseca and the various courses they host, visit: www.euseca.com
Photography: Jarek Wolny
Product reviews
Pentagon Elgon Heavy Duty Pants
Damn comfortable and particularly neat looking pants for every day use. Plenty of smart features and a wide selection of useful pockets. The only problem is that they're made by a Greek company. Pentagon also produces gear for Greece's Defence Forces and therefor the quality standards should be pretty high but within four days of combat use a hole appeared in the pants and a seam in the crotch started to break apart, slowly but surely. Regardless, they're still one of my favorite pants and will be used in future operations!
To quote a Greek security person: "We call it 'petato' which means 'throw it away.' "
Tru-Spec 24/7 Tactical Pants, olive drab
Very nice pants! Much like the Elgons, these are nice to wear, have lots of different sizes of which you'll find the perfect fitting ones and the waist won't wrinkle thanks to the rubber band within. They're like your average BDU-pants modernized and seem to withstands lots of action – not to forget the professional looks.
Varusteleka combat gloves, leather/nomex
Very decent and well designed gloves for combat purposes. Gun and other gear handling is fairly easy and I found no problem cuffing someone up with these on. The leather is durable although the Nomex not so – nothing alarming though, mainly that the aesthetics suffer with time. Worth every penny!
Mil-Tec Sports long sleeve shirt, moisture wicking, black
Not the first time I write highly of this shirt: this is a pretty damn good shirt for war and sports alike, especially if you're wearing body armour most of the time. It's very comfy and works both in rain and sweltering heat. Some minus for the synthetic material which tends to melt onto your skin should it catch fire. So if you're wearing this, try not to play with fire or you might have a bad time.
ESS ICE 3- protective eyewear
Quality eyewear for rough use. Works both in war and airsoft alike. I've been using my pair for several years now and there are barely any signs of use. Nice.
Varusteleka M05 Finnish flag patch
Finn Honour! This is to be worn in your vest or sleeve whenever working with foreigners. A great way to announce your superiority when you're kicking ass oh-so-much harder than everyone else.