Plate Carrier Setup - piece together your fighting load
Share on Facebook
Plate carriers are one of many options to form the base of your modular combat gear. This article covers short reasoning why to choose a plate carrier, which pouches are most advisable, and how to place them.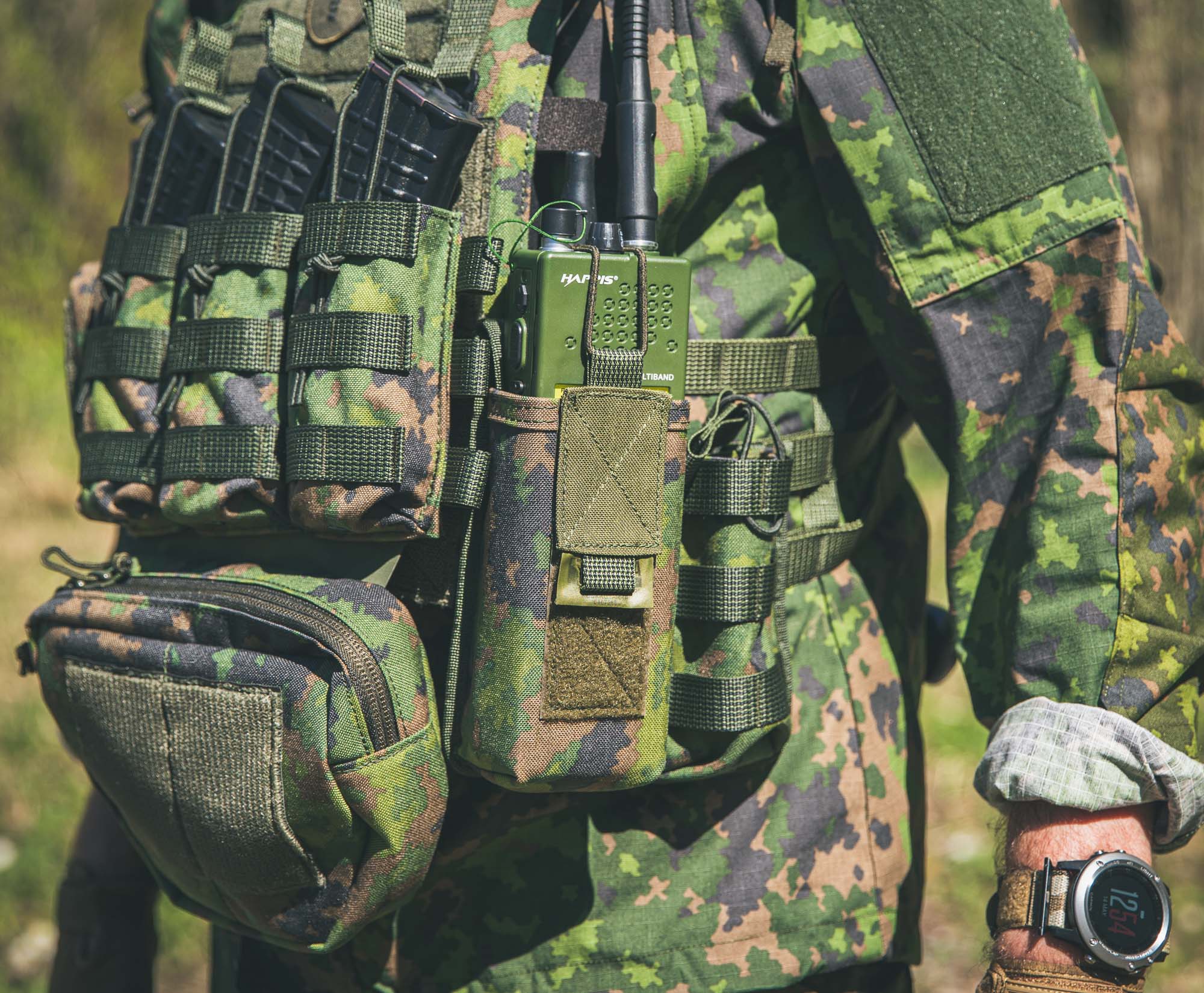 Why a plate carrier?
As the name implies, plate carriers are designed to carry armor plates and offer a base on which modular MOLLE pouches can be attached. If armor plates are not necessary for your mission, it's better to choose something else like a chest rig or some other kind of tactical modular vest or a load bearing vest. A plate carrier without the plates is just an air carrier. Those things should only be used in hobbies with the air-prefix in them.
The selection of pouches
Plate carriers are not an exception to the rule that the equipment and accessories should come first and the necessary pouches second. Define what you must carry on your person, and choose the pouches accordingly, instead of just slapping on some pouches you think may be necessary or you've seen others use while looking cool.
Ounces equal pounds, and pounds equal pain.
Keep your plate carrier setup as light and streamlined as possible. Armor plates are usually quite heavy to begin with, and any extra stuff adds bulk and weight that hinders your movement in various situations like in vehicles and confined spaces.
It might also be a good idea to have different plate carrier setups for different sorts of missions. If you have to operate a vehicle, perhaps go with a slick setup. If you are doing your fighting in open terrain, there might be more room and reason to have a bulkier setup.
The limitations of the platform and other gear
The order of pouches in a plate carrier setup is always a compromise: the perfect setup does not exist. However, some rules of thumb may help you get started:
Life-saving items must be accessible with either hand. These include medical items you may use on yourself like a tourniquet but also magazines for emergency reloads, and your fighting knife.
Keep large pouches away from above your pistol where they would interfere with the draw. This goes for any other pouch that may require a speedy deployment: keep a clear access to them, including the space you need to actually get them out of the pouch.
Do not serve knives or other close-encounter tools on a platter to your foes. Sure, an inverted knife on your support-side shoulder may look very rambolicious, but it's too easy for a BG to grab it and move just a few inches to meet your neck, and that's bad JuJu.
Fast access vs. improved protection and retention
The type of pouches is a matter of taste and mission requirements but also an unavoidable compromise. Open-top pouches are fast, but your gear will be more exposed and slightly more likely to fall out compared to pouches with retention cords or flaps.
It's worth considering a happy medium where only the essential items have speedy access while spare magazines and administrative equipment are carried with a higher level of protection and retention. With some pouches, such as the Särmä TST Rifle Magazine Pouch and Pistol Magazine Pouch, you can configure the pouch in various ways according to your needs.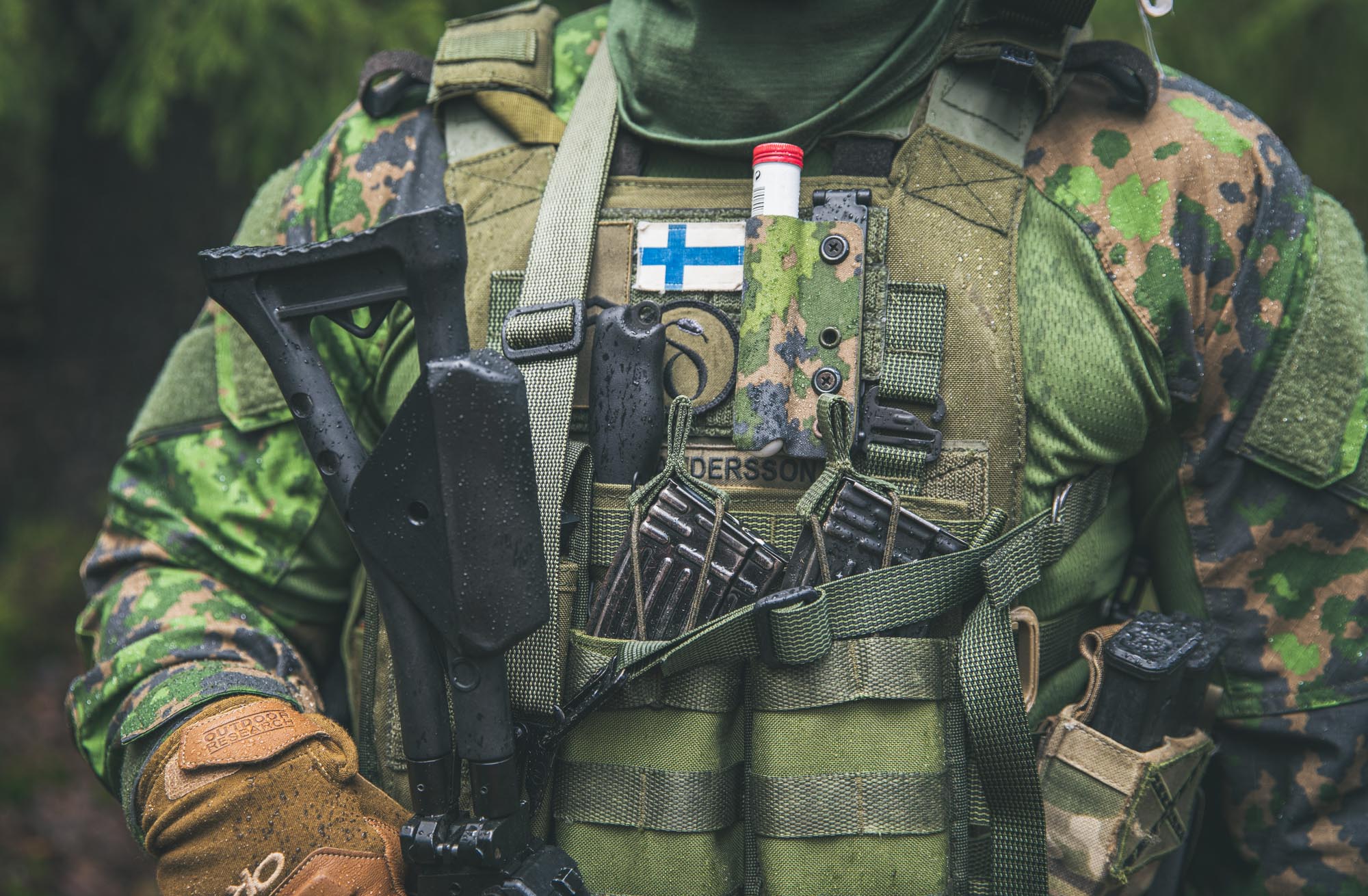 The testrun never ends
Once everything looks and feels right in front of the bedroom mirror, it's time to avoid the trap of thinking you're smarter than everyone else. While there are a few ways to get these right, and you may have found many of them, there's a countless amount of options on how to make poor choices. The only way to really iron out the kinks in your gear is to use them, preferably on the clock while others are watching you.
So grab your gear and bring them to dynamic shooting events like the Brutality 2-Gun Action Matches. If you're really clever, you'll pay a few visits to the range beforehand – in secret, of course.