Layered clothing
Share on Facebook
This article is written from a Finnish viewpoint based on the Nordic climate. And since we are utterly commercial the clothing presented is based on Varusteleka's selection.
Layered clothing, or dressing in layers, is no magic trick. It´s just the smart thing to do. Layered clothing is just that, building your clothing out of different layers that each serves a purpose and works well together with each other.
The human body likes optimal conditions, not too hot nor too cold and especially not wet. That's why lying on the couch feels so damn nice. With our clothing, we try to achieve these same conditions and the same level of comfort even in nasty weather. Depending on the activity and whether actual "comfort" may be utopia, it might be more realistic to say we try to "minimize the discomfort".
The main things that affect your comfort level are:
weather
activity
clothing
Weather
Weather is the one thing we can´t choose or affect. Here in Finland, the weather can be divided into five rough types:
Dry, no rain
Wet, rainy
Warm
10-30°C
A nice weather that is easy to dress to, the worst thing that can happen is that you get hot and sweaty.
A bit tougher, you might not necessarily need rainwear when on the move, but when your activity level drops you will get cold unless you stay dry.
Bleak
0-10°C
A very nice weather for high activity levels, you won't get hot and you´r staying dry. But for longer static pauses you should pack some extra warm clothes, otherwise you will freeze.
Perhaps the worst possible weather, cold + wet = a bad time, especially if your not actively on the move. In this weather you need both warm and waterproof clothing.
Cold
< 0°C
Freezing temperatures, in this weather water stays frozen solid so staying dry is easy, you don´t need and should not wear any waterproof (waterproof = less/non breathable) clothing. This is an easy weather to dress for, just wear enough but not too much so you don´t sweat when on the move and bring some extra warm clothes for low activity wear.
Activity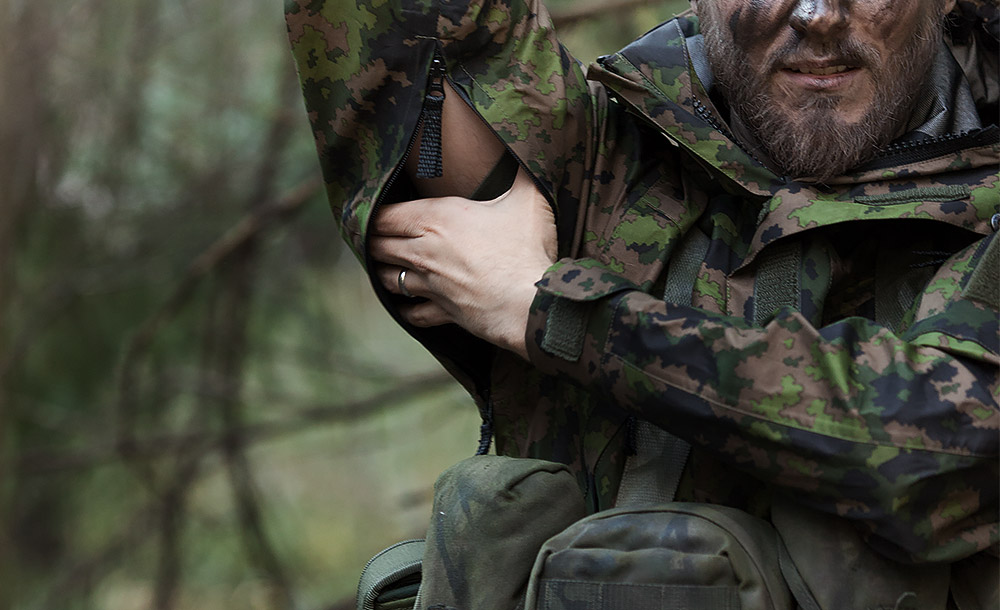 What you do or don´t do, simple as that.
Motion = warmth. This can further be divided into different activity levels etc. but since even simple walking produces so much more warmth than just staying still we´ll just leave it at this for this article.
Stationary = cold. When you stop moving your body stops producing heat. This is not a problem in warm weather but can cause some nasty problems in cold temperatures unless you´re properly prepared.
Weather conditions and activity levels alone form an interesting cross-reference chart of effects. For example: in warm and wet weather the temperature and heat produced by your body at high activity levels can be enough to keep you dry enough, waterproof clothing might cause more discomfort than comfort in this situation.
In cold weather movement is golden, even in proper freezing temperatures you can go on with a very lightweight base and mid layers as long as you pack good warm clothing for wear on breaks and other moments of low activity.
Clothing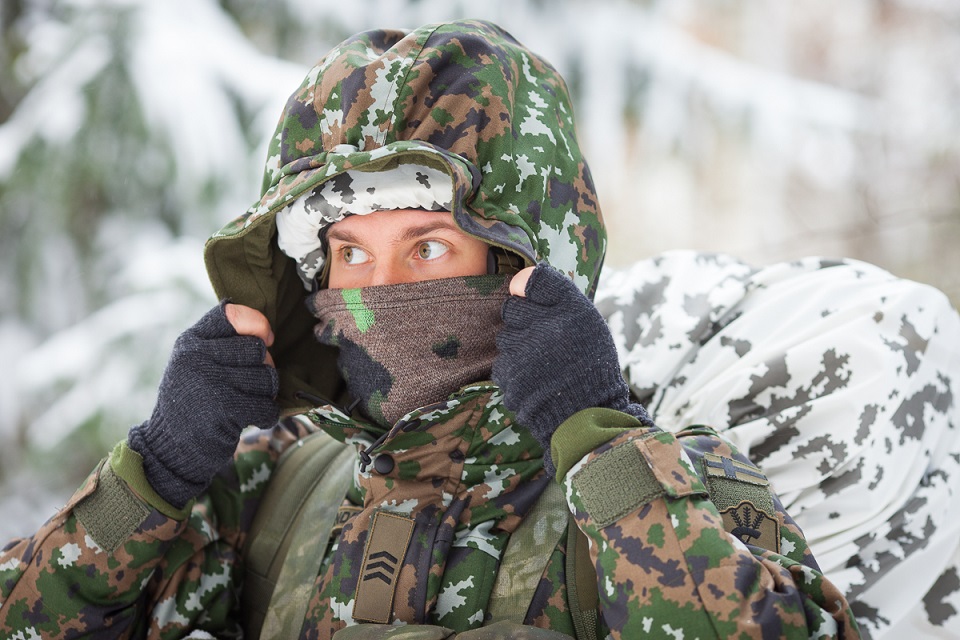 Base layer, next-to-skin layer
This is the very first layer, worn next to your skin. Base layers should be lightweight, breathable and moisture wicking. Polyamide, polyester, merino wool and blends of these are excellent materials for base layer use.
The base layer is a sort of "microsphere", a thin layer that acts as an insulation between your skin and the outer clothing layers, this ensures some level of comfort in any weather and activity by keeping your skin feeling dry and suitably warm. By transporting moisture away from your skin you´re left feeling at least moderately dry, which adds to your comfort.
Base layer examples:
Mid layer, insulation layer
On top of your base layer comes the mid layer(s), these vary a lot and should always be picked with good thought based on weather and activities. Mid layers are defined by not being in contact with your skin but neither with the surrounding environment. Mid layers come in many forms, most importantly they should still be highly breathable and moisture wicking!
When you´re moving around a lot in bleak weather you might be good to go with mid weight long johns and a turtleneck over your base layers. But if you were to stand still in the same weather you should layer up warmer with loft mid layers or similar highly insulating garments.
An old wisdom goes "In cold weather, you should dress so that you freeze a little bit when standing still, thus you won´t sweat too much when on the move." Simple and true, it should be noted that adding and removing mid layers during breaks and other low activity moments can be a hassle, therefore we recommend carrying extra oversized layers for wear during breaks. Something that you can just throw on you when you stop and quickly undress when it´s time to go.
Mid layer examples:
Shell layer, outer layer
A shell layer does not automatically mean waterproof membranes etc. it is simply the outermost layer of your clothing, the shell. The shell layer protects the lower layers from the elements and other things they are not designed to deal with, wind, rain, abrasion etc. In most weathers standard lightweight, breathable and quick-drying polycotton blends are good shell layer materials.
The perhaps most useful shell layer is a lightweight non-waterproof and unlined jacket and trousers, but in cold temperatures an insulated shell layer can be a smart and functional choice. Keep in mind: the more breathable the shell layer is the less sweaty you will get.
Rainwear always divides people's opinions, should rainwear be worn over or instead of your regular shell layer? In stationary use, rainwear can pretty much always just be worn over your regular clothing without any negative effects. But when you´re on the move that extra layer of badly breathing clothing combined with the bulk of your regular shell layer under it can be a sweaty and uncomfortable combination. In this case, you can simply switch out your jacket and pants for waterproof alternatives.
Shell layer examples:
Extra layers
Now we´re taking a walk on the wild side out beyond the "normal" three basic layers or levels of clothing. Especially in cold weather, it´s extremely important to put on warm clothing quickly when your activity level drops, for example when taking a break during a hike or march. But, adding and then removing mid layers can be a real hassle, especially if you´re in a hurry. You might simply choose to freeze for a while instead of undressing your shell layer, adding some warm mid layers, and then doing the whole thing again in reverse after just a few minutes. So, what to do?
In this type of situation we recommend looking into carrying some extra "overt" thermal shell layers, something you can just quickly throw on over all your regular clothing. These should be purpose-built and generously sized to function properly, trousers with full-length side zippers along the outside of the legs are just great! This layer should also be quick to get out of in a hurry.
This layer is just temporary. Your regular clothing (base, mid and shell layers) stay unaffected whilst this layer is quickly thrown over them all for breaks and other moments of low activity. By doing this you save a lot of time and can make the best of those short breaks and focus on getting some rest. Simple and functional!
Extra layer examples:
Summary
When the combined effects of weather, action and clothing are properly understood and used life is better! In warm weather you will get hot and sweaty, in cold weather you will freeze, but with proper clothing, you can minimize the discomfort drastically. And the more comfortable you are the better you can focus on the actual task at hand!
Layered clothing videos