Developing our logistics in the shadow of the Plague
Share on Facebook
We have boosted our logistics a lot during last year. Everything didn't go as smoothly as planned when the plague hit the fan, but now things are going better than ever. In this article, our Supply Chain Director Elina tells what kind of improvements we have made to ensure that your packages move even better.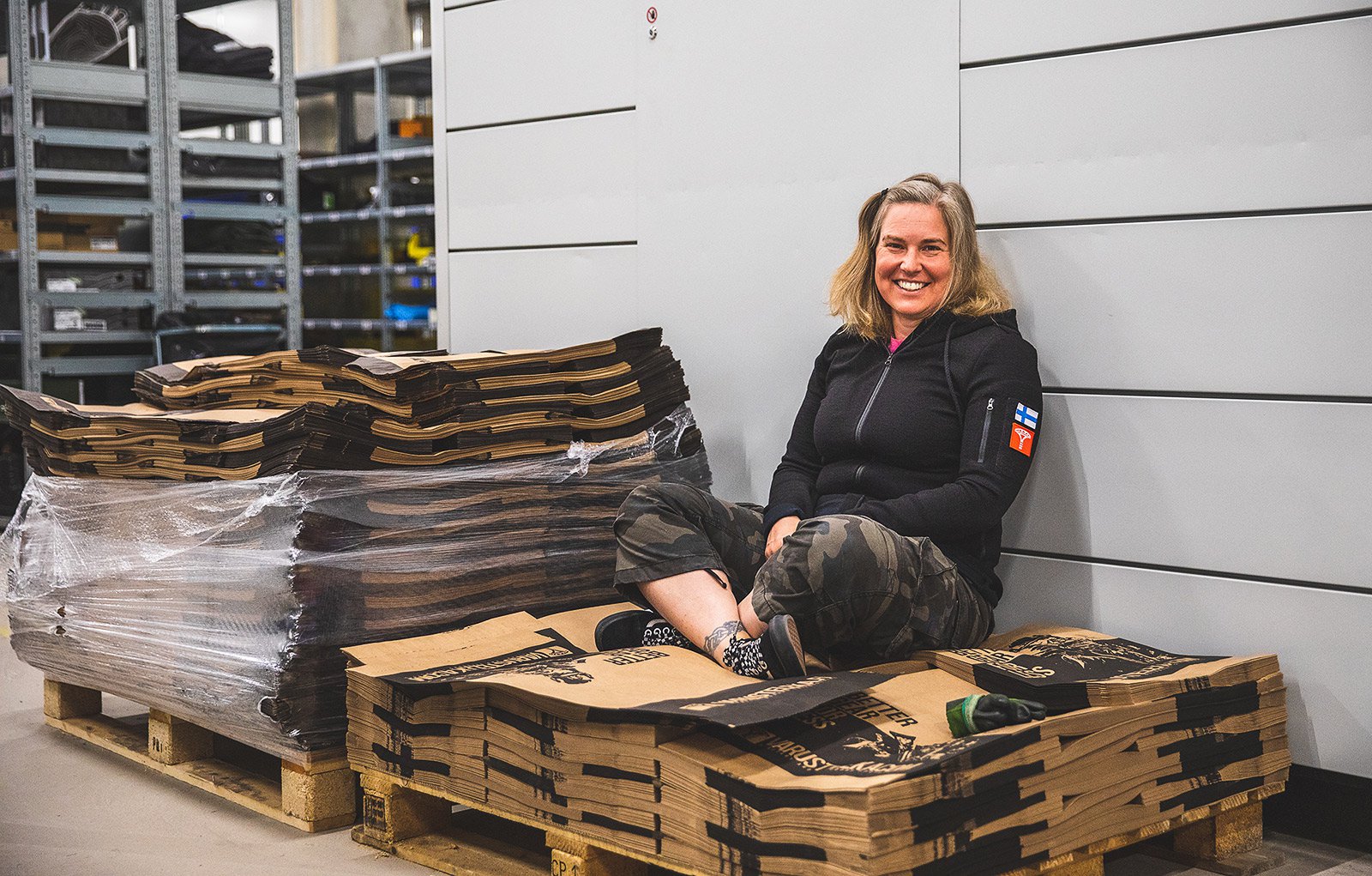 The author and Varusteleka's Supply Chain Director Elina Häme
I started as Varusteleka's Supply Chain Director in November 2019. I have been working with the supply chain and logistics for more than 20 years in several companies and had the feeling that I could do something different for a change. (Not drastically so, since logistics and supply chain stuff is all I know). But Varusteleka is different; we don't need to worry about our stock value, we have a cool owner, a clear strategy, and the company has lots of personality.
My predecessor Tervis had done an excellent job. The warehouse had moved to a new location a few years back, a real warehouse management system had been implemented, three vertical storage lifts had been installed, and he had managed to select a stupendously great crew for the warehouse. Stuff was happening and things worked. But of course there was still some space for improving the efficiency, especially as our warehouse is really small, only 1,500 m2 (about 16,000 square feet). With our volumes, such a small warehouse requires the processes to run extra smoothly to avoid bottlenecks.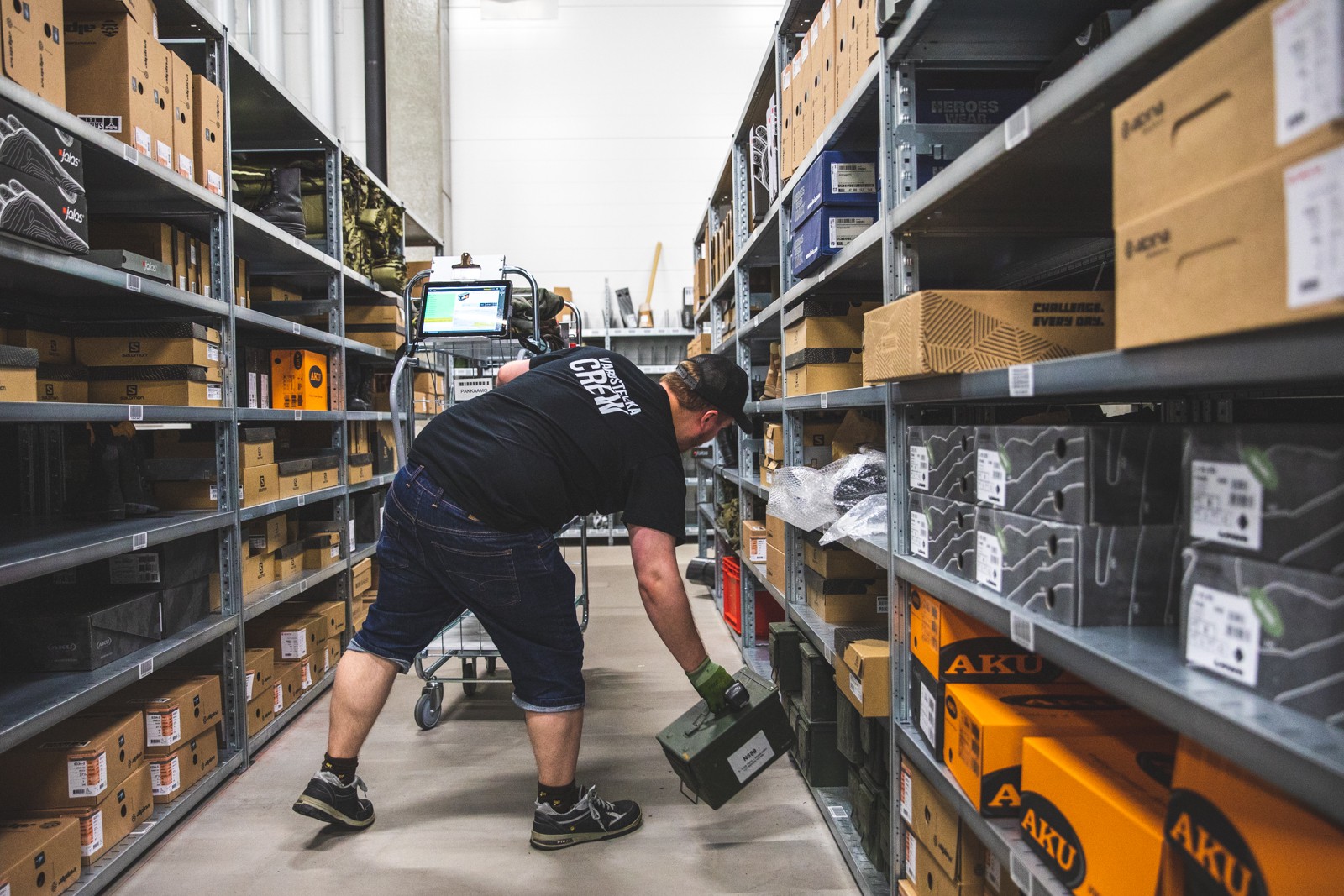 Because our warehouse is small for this big volumes. things need to work smoothly or the packages won't go anywhere when they should.
Thorough indoctrination
Luckily for me Varusteleka's initiation program is just great. For the first month, I got to do some real hands-on work. I worked for a week in the warehouse, another in the store, the third with the customer service, and the fourth getting to know the marketing, purchasing, and the rest of the functions. For four weeks, I didn't need to worry about my own tasks or targets, I just concentrated on getting to know the company and the people. No hassle, no worries.
Three large development projects
However, when picking and packing orders in the warehouse, I did get some ideas on how to improve things. Already before I was hired, a decision had been made to install three new vertical storage lifts to complement the existing three. So, this was a clear improvement project: get those machines installed and operational. The processes around these machines had some inefficient parts as well. For example, our packing took place in two phases, first pre-packing and then labeling and closing the parcel. (You should always aim at touching stuff only once. The more times you fiddle with it, the more likely it is to break or get lost.) The third thing to improve was our shipping process. We had transportation company-specific packing stations. So, certain transportation company shipments could only be packed at certain packing stations. We wanted to be able to pack any shipment at any packing station.
In short, we had three bigger development projects for the year 2020: 1.) installation and start-up of three vertical storage lifts, 2.) improving the picking and packing process, and 3.) implementing a full packing integration.
Covid hit the fan
The year 2020 arrived and everything seemed fine. We had planned all the projects and made timetables (Gantt charts of course with pretty colors) and were eager to start. Then came March and our lives were changed by the pandemic big time. We took our pretty charts and burned them outside in barrels. During the spring, we collected our marbles and partners' marbles, and finally in July (four months late), we got to start installing the vertical storage lifts.
The installation went disturbingly smoothly, and the start-up happened almost without us noticing it. We just put some stuff in and got to pick it out, and everything worked. However, the timetables for projects 2 and 3 were still blurry, and the number of incoming orders was increasing rapidly. It was really difficult to manage this many orders with our wee bit inefficient processes, which resulted in a big increase in our delivery times. (I'm so sorry!) This really caused a lot of mental sweating, chills, upset tummies, and headaches. Especially since we are very proud of our short delivery times.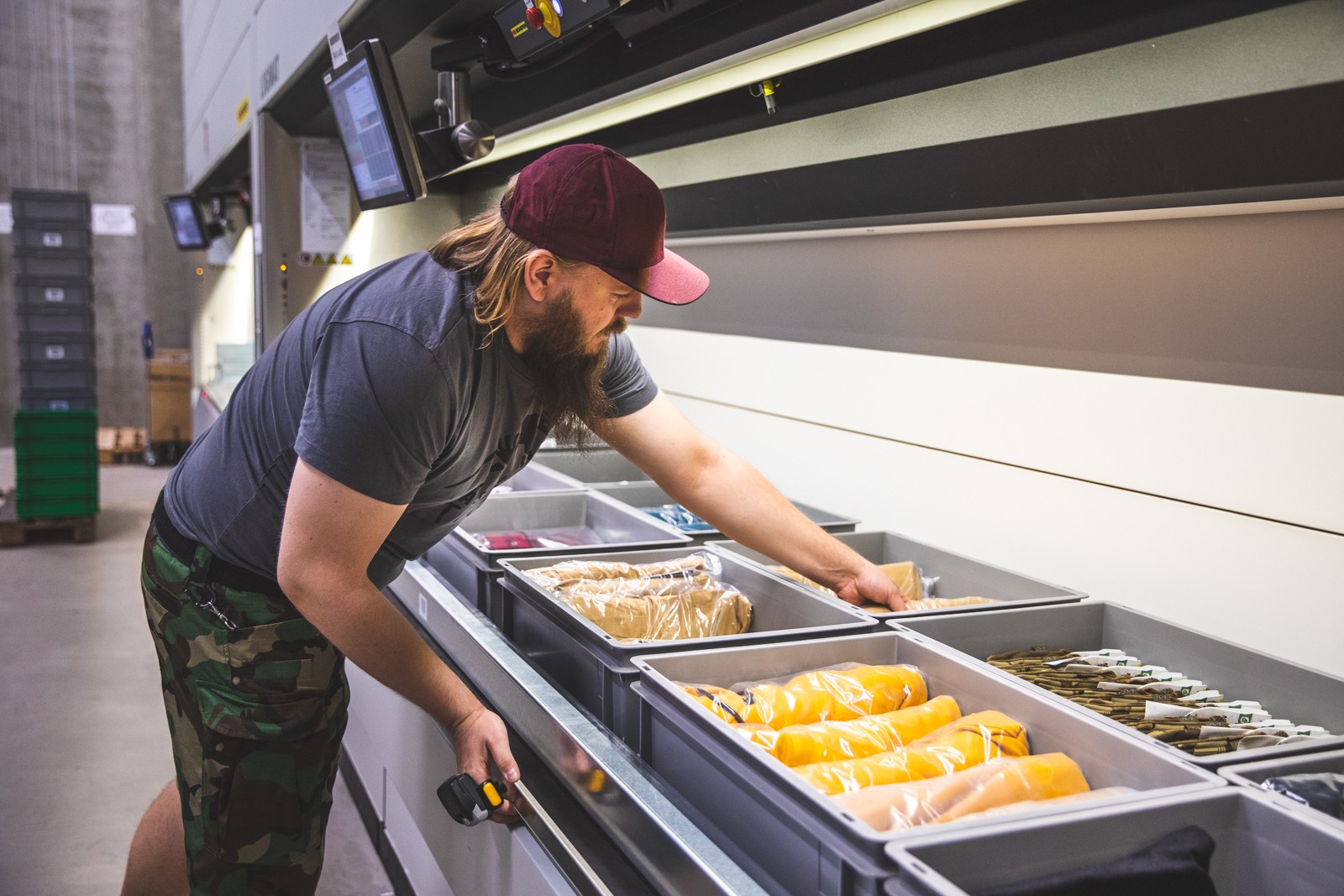 The installation and start-up of three vertical storage lifts went surprisingly smoothly.
Also Christmas was approaching and it seemed very scary, especially when project 2 was ready but we couldn't make it go live before implementing the necessary changes for project 3. We did plenty of tinkering, testing, meeting, grilling, had serious discussions, and (only some) pleading. Finally, in mid-November, we implemented both projects. Just in time. After that, we finally had no problems. Everything worked as planned, and we started breaking records in daily packing numbers. The delivery times started decreasing immediately, and we began receiving some really nice feedback from the customers. Here is one of them:
"On 21.12. at 21:21CET I have sent you my order. I expected it to arrive some days after 02.01. There was a gift for my wife for her birthday on 17.01. (the kitchen Skrama)

You did somehow manage to ship it to me on 23.12. at 11:30CET !

I am from Slovakia, Bratislava which is about 2200 km road distance from Helsinki, you managed to ship my order in less than 38 hours, resulting in an average speed of 58km/h! In times of Corona border closing and Christmas shopping frenzy!"
Making great even better
Now we are in the brand new (plague) year of 2021, and the warehouse works smoothly. The throughput times are shorter than ever, and the efficiency has gone up a big notch. But we want to make the good even better. So, this year we are going to make a couple of new tweaks, too. We will implement a system to outsource a part of our buffer stock. Our warehouse is so full that it is sometimes a bit painful to find space for new items. With outsourcing, we will get a lot more space and hence can introduce new items for you guys. Also, we will renew some of our warehouse shelves to fit the items better - especially boots and shoes. This means more boots and shoes! We are sure we can make our warehouse the best warehouse in the world. And if you are aiming for the Total World Domination, nothing else is enough.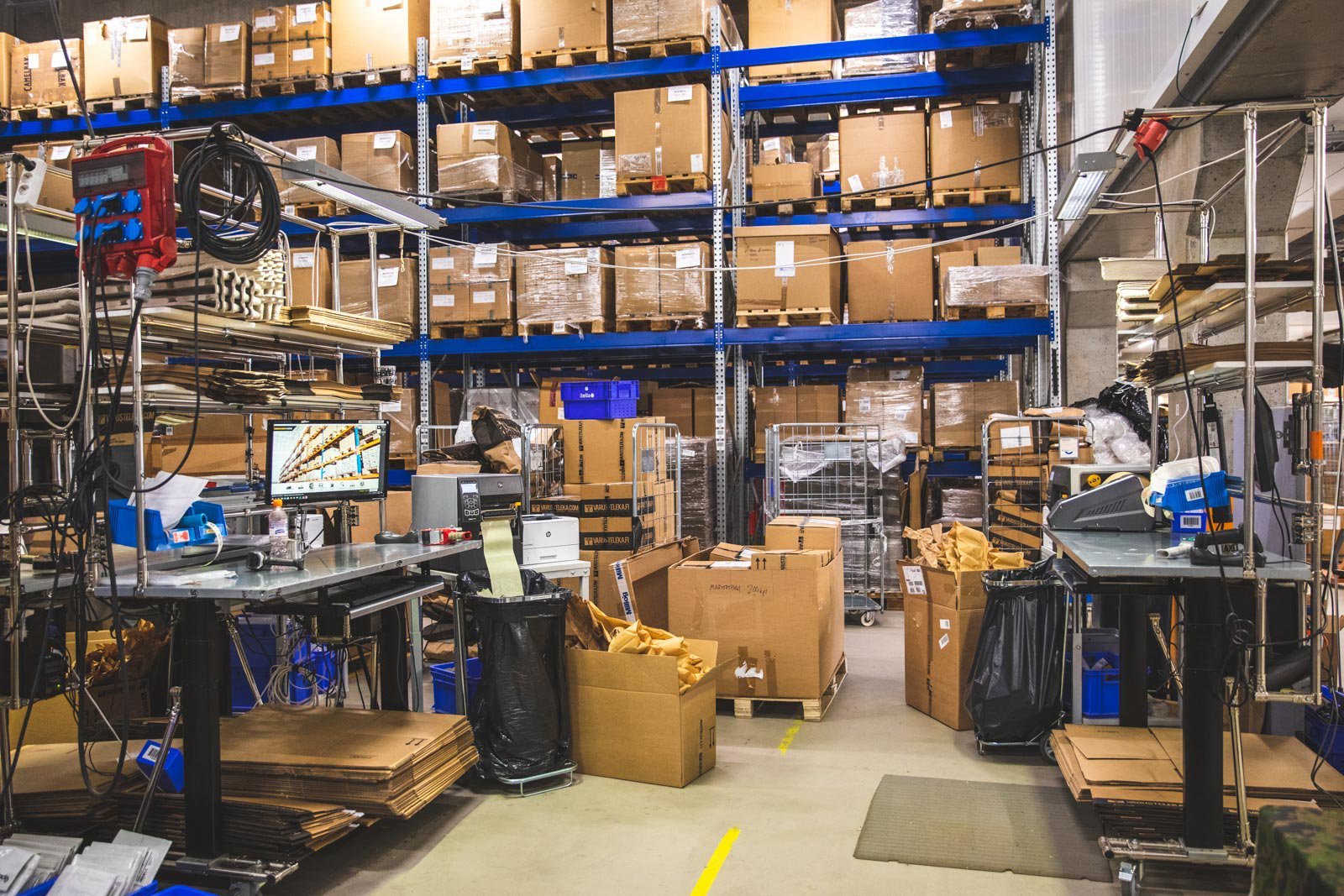 Our packing station.
We packed 25% more parcels in 2020 than in 2019 but used the same number of working hours. And these working hours also included receiving 16% more lines than in 2019. Last year, we sent 200,000 parcels and received 30,000 lines of stuff. We fixed the picking throughput times in November when we implemented the process changes. The chart below shows that point of time with a red circle. It shows our picking throughput times by working days per week, excluding Saturdays and Sundays.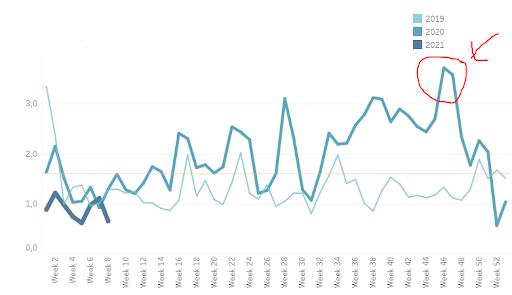 People usually want to know about the critical success factors. What do you need to get such good results? In our case, we had very good partners to work with (Lillhonga, Leanware, SSI Schäfer, Consignor, and Locotech). The other thing is Varusteleka's can-do attitude. We don't dwell too much on decision-making but make things happen. The third (and for me the most important) thing is the magnificent crew we have, the foremen Japi, Miro, and Temme, and everyone working at the warehouse. They are the ones who in the end made it possible.