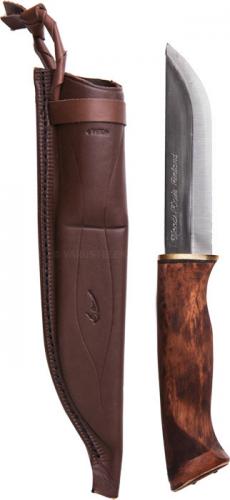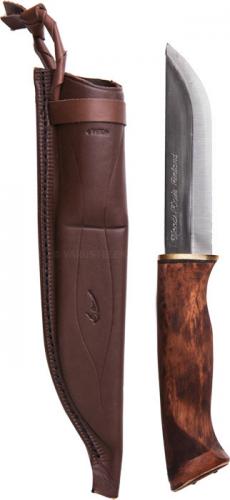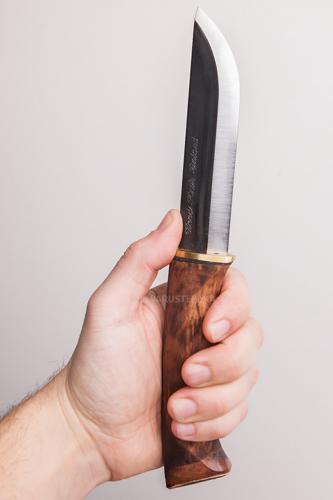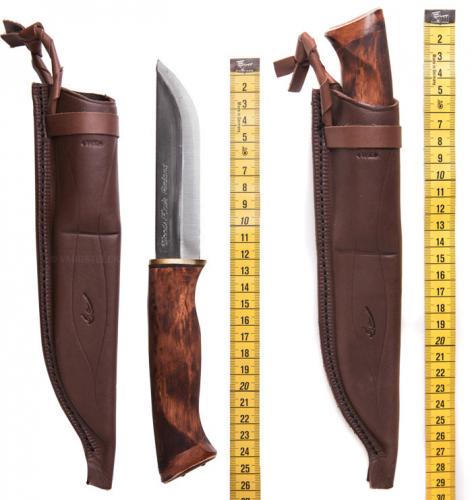 Woodsknife
Woodsknife Forest 120 Puukko Knife
Price 79.99 USD
excluding sales tax
A sturdy, large knife. As the name implies, this is sort of a general-purpose blade. Add an ax and you're pretty much set for anything. Quality stuff made right here in Finland!
In stock 10 pcs. Sold 4 pcs in the last two weeks.
Trouble with the metric system? Try our converter: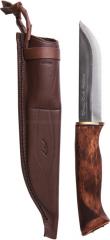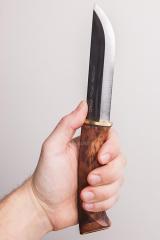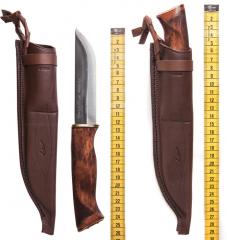 A sturdy, large knife. As the name implies, this is sort of a general-purpose blade. Add an ax and you're pretty much set for anything. Quality stuff made right here in Finland!
Features
80CrV2 carbon steel blade (59 HRC), which is very good for puukko style knives because it is easy to sharpen and retains the sharpness quite well. The knife has a beautiful curly birch handle that is stained to a darker finish. The sheath is of the traditional Finnish style, wet formed leather, fitting snugly over the handle. 4-6 cm / (1.6" - 2.4") wide belt hanger.
Blade length 12 cm (4.7")
Blade thickness 3 mm (0.12")
Total length 25 cm (9.8")
Carbon steel is good stuff for knives, but without proper care it can rust. Always clean and dry off the blade after use and remember to oil it now and then (any cooking oil will do just fine).
These types of traditional knives have been around for ages, and for a reason: they are rugged, simple and practical. They have been used as weapons almost as much as everyday tools, at least in the past. Still today they are an essential piece of kit for any outdoors enthusiast. What makes a traditional puukko and leuku special compared to modern blades is that they have no saw-edge bullshit or anything like that - you have a simple, strong, and sharp carbon steel blade with a wooden handle. This truly is all you need, if you know how to use it.
Made by Harri Merimaa / Woodsknife Oy, made in Finland.
Warning! Before buying, please make sure that these are legal to import to your country! We take no responsibility if the customs officer confiscates your precious knife!
All products: Woodsknife
Recommendations
Loading products...
Reviews
You have already submitted a review. You can edit your text by clicking on it. You can filter the reviews by clicking on the elements of the summary.
Log in and write a review. You can filter the reviews by clicking on the elements of the summary.
Remove filter
I would recommend for a friend
Scott S.

25.04.2018

Verified purchase
I was looking forward to getting one of these, and I am slightly disappointed. The blade looks as though the tip had been snapped off in the forging, and where it was re-ground is uneven. The micro-bevels were uneven, and re-introducing a proper scandi grind with no micro bevels has improved the knife no end! The handle is beautifully made, but needed a coat of linseed oil to properly finish it off. A beautiful knife, but it feels like it is only 90% finished. The sheath is lovely, hangs off the belt beautifully.
17
9
I would recommend for a friend
Philippe M.

24.08.2019

Verified purchase
I like this knife.

I'm a knife nut. Ive got a bunch of folders, as well as fixed blades. Everything from Benchmade to Terävä.

This knife is as close to my ideal as I've found so far. Good easy to maintain Scandi grind, blade is not too long, but also not to short. I've got large hands (10" span) and this isn't an uncomfortable knife to use. Most US market deer knives are too small, and useless for anything but hunting. This knife strikes what is to me the best balance between bushcraft and practicality. Backpacking, it'll be tough to decide between this and the Skrama. I probably lean towards thew Woodsknife, I'm partial to wood handles... (Modern materials be damned, they may be "better" but I still love wood on a knife or a rifle...)
31
0
I would recommend for a friend
Danny H.

02.04.2020

Verified purchase
Just got it today and this is a beautiful blade. Sharp as shit and sturdy like a german barmaid. Very well made and a classic look. I would give it 10 stars if i could!
17
0
I would recommend for a friend
logan h.

06.03.2021

Verified purchase
I love the knife. It came with a slight imperfection on the blade but it didn't effect the blade's cutting on paper tests so I guess its fine. I might have sent it back but I wanted the knife now and didn't want the hassle of sending the knife all the way back from Western Canada over something I could fix myself. Buts still a mark off for that. So in point form here's my thoughts:
- It stropped very well and just like my Scandi blade Mora's the cutting performance is fantastic.
- I need more wood handled knives I think. The feel in the hand is fantastic. Its very light and "warm" in the hands in the cold.
- Sheath is also very good and the loop of leather works great for my neck dangler setup I like to use
- The knife was shipped in its sheathe. No packing material just very sturdy paper packaging. More Manufactures need to do something like this.
- Knife seems to be holding an edge very well and as with all scandi knives its super easy to sharpen. It might have come with a slight micro bevel but I usually sharpen my knives out of the box fairly quickly as I like to put a polish to an edge or put it at a standard edge angle that I like on all my knives.
- Shipping was super fast through DHL. I've never gotten anything in under 4 days from Europe before...DHL will nail you though. I defiantly paid more than just duty. I think there was a 10-15 dollar handling charge added in. Government mail may be the way to go I think as I didn't need it the same week i ordered it. lol
Some Negatives
- No mention of the type of steel or the tang. I would have liked to get a pamphlet mentioning how its constructed and the websites not very helpful at all. I took a risk because getting a decent scandi knife like this in my country would have been close to 200 dollars not 100.
- Knife needs to be oiled and taken care of. How much you have to worry about rust I don't know as there is no mention of the type of steel. I recommend you oil it the second you see signs of rust or regularly. I want to use it fishing but I think I'll stick to my Moras for that. lol Well see how it goes.
- Don't just oil the blade but put some wood protectorate on the handle as well. Handle felt very dry out of the box Applied a very light coat of Danish oil and that seemed to do the trick. Might be something you want to use something like linseed oil out of the box but that's up to you. I never had a wood handled knife before so I figured better safe than sorry.
6
1