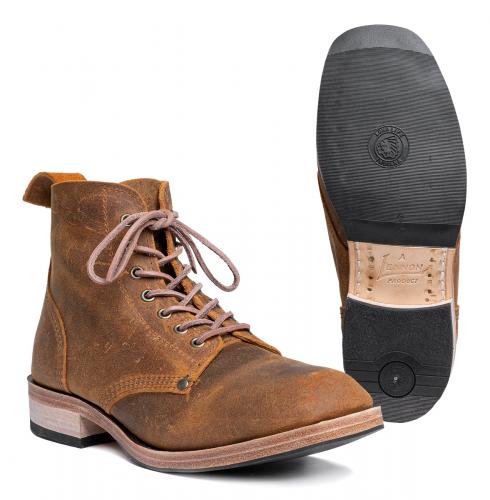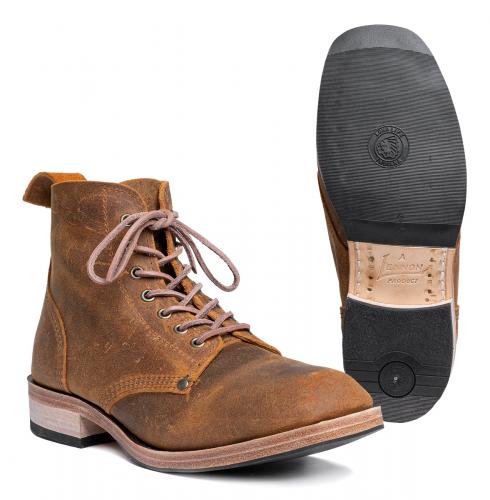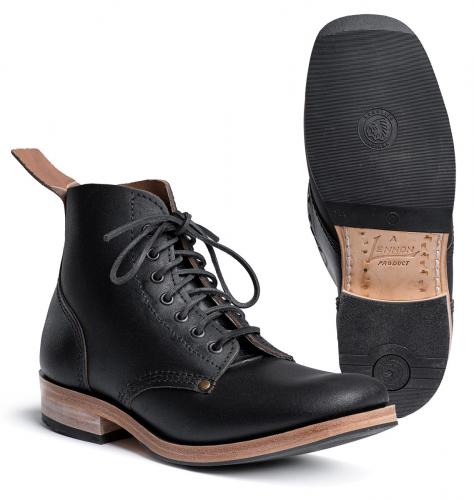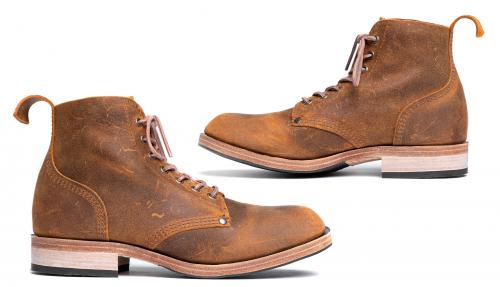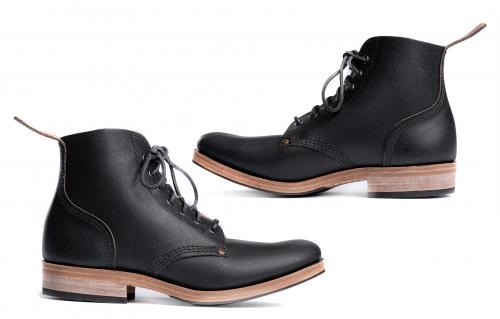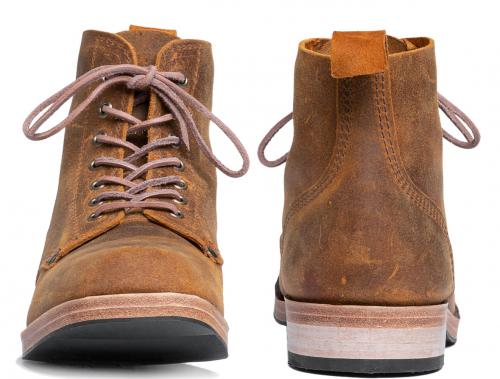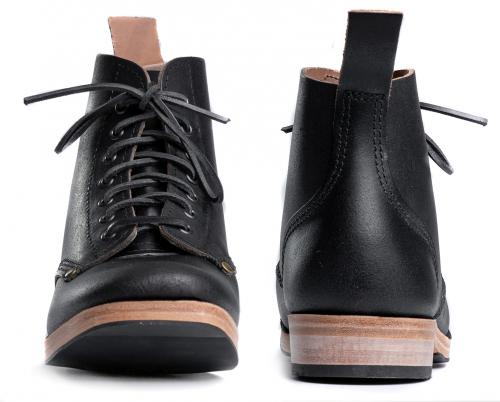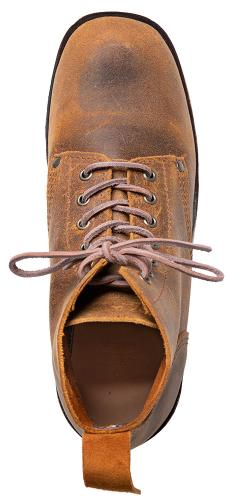 2181 square toe last provides some room to move your toes around.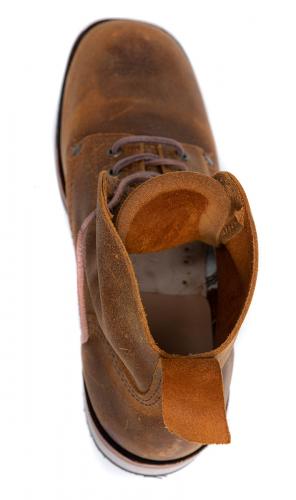 Leather, leather, leather.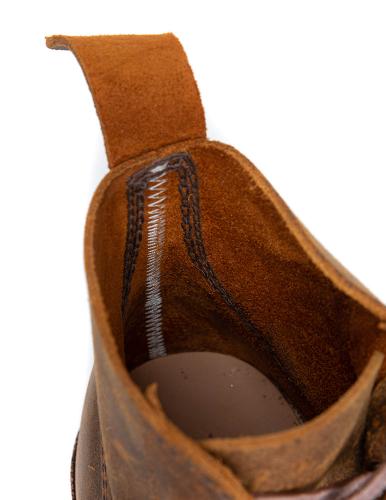 Proper amount of stitching.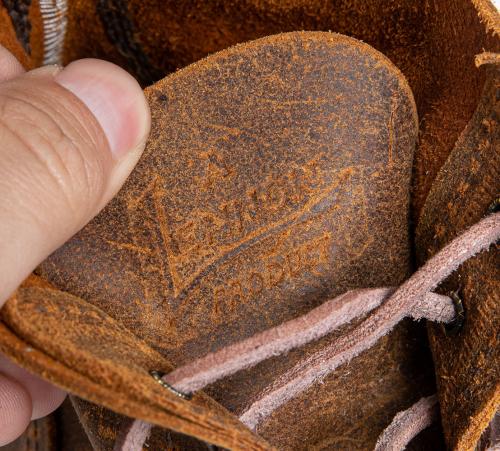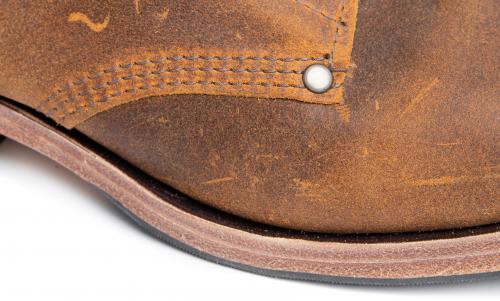 Blake construction, triple stitching with brass rivets.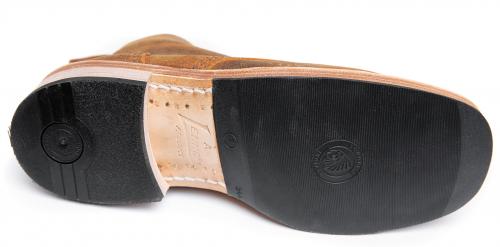 Rubber heel piece and half-sole. Note the brass screws.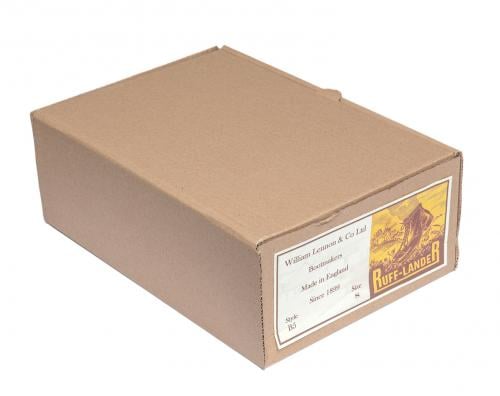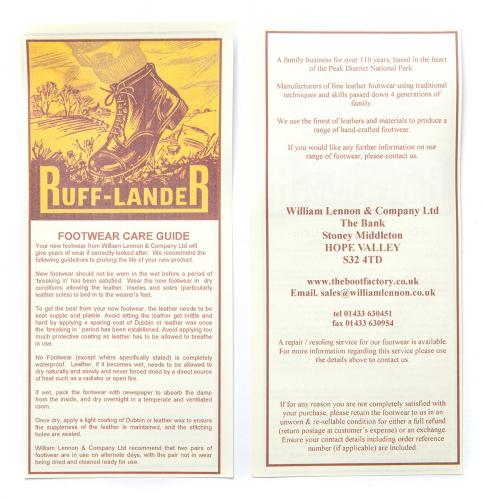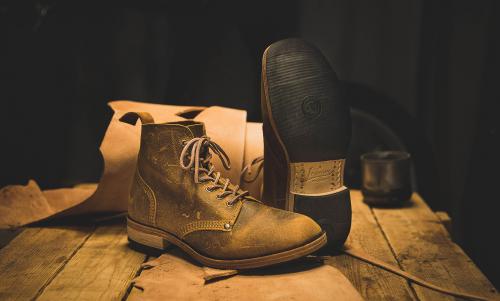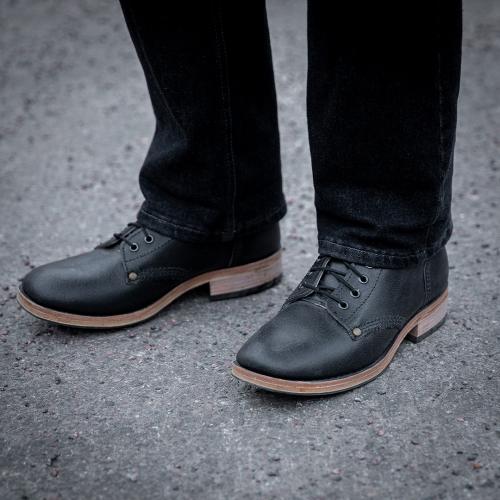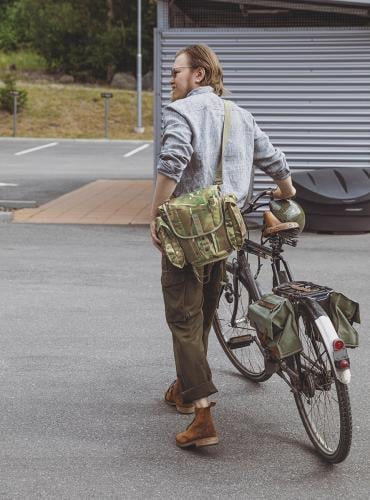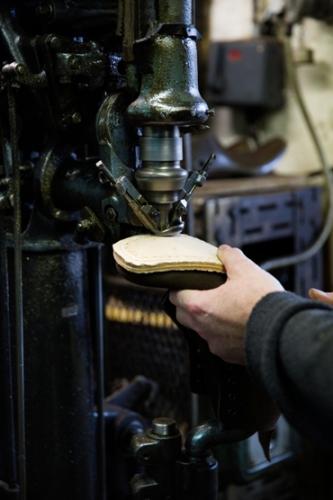 Some pictures from the factory. Here's the brass Screwing Machine.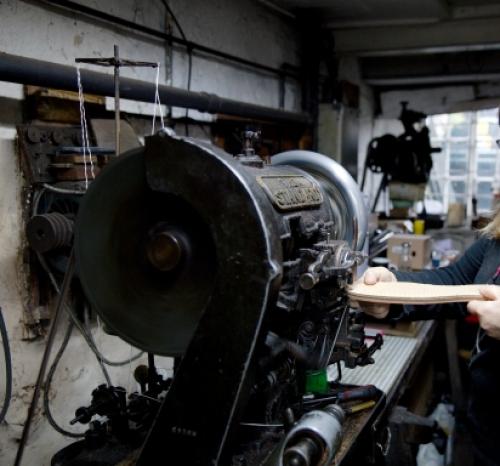 Some pictures from the factory. Here's the sole stitcher.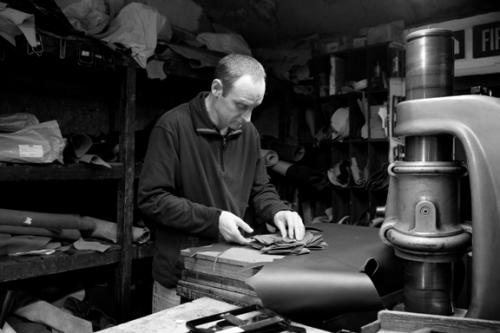 Some pictures from the factory.
William Lennon
William Lennon B5 Ankle Boots
Price 268.99 - 288.99 USD
excluding sales tax
The service boot of the British soldier in the First World War was a full leather ankle boot. These are a "reproduction" made in England; the same company manufactured them during the war! We got our production run with rubber half-soles and heel plates as the original pig-iron hobnails are a bit incompatible with today's world.
Loading products...
Trouble with the metric system? Try our converter: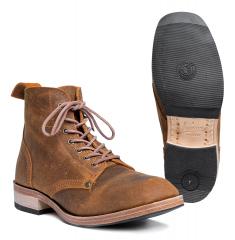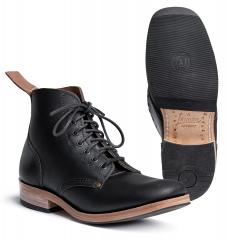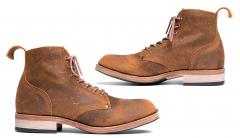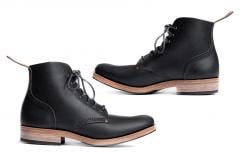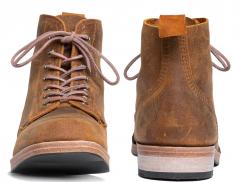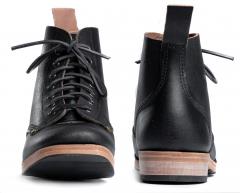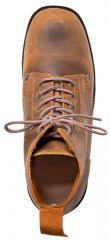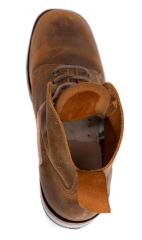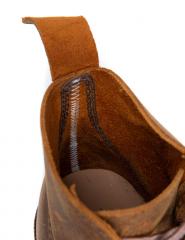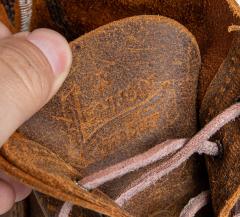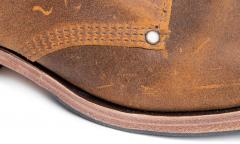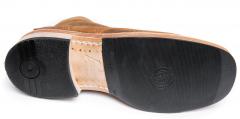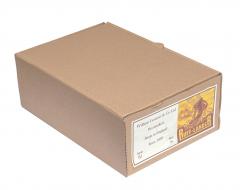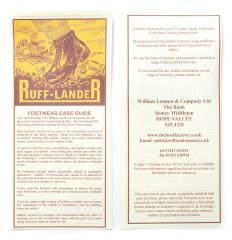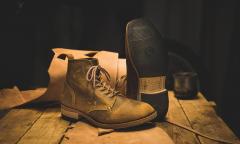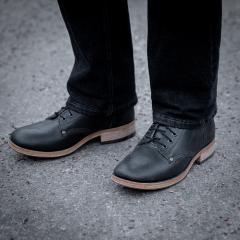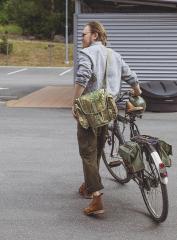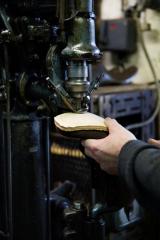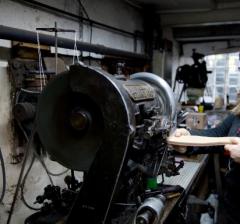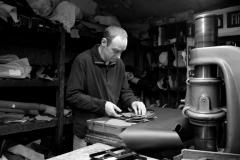 The service boot of the British soldier in the First World War was a full leather ankle boot. These are a "reproduction" made in England; the same company manufactured them during the war! We got our production run with rubber half-soles and heel plates as the original pig-iron hobnails are a bit incompatible with today's world.
Double thickness leather sole, stitched and brass screwed (Blake construction)
Rubber heel piece and half-sole
Upper made of thick, unlined leather
Leather footbed
Handmade in England with original machines, work methods, and lasts!
Made with work boot specs (more on this later)
From the trenches to the modern era
In the past, the soldier's choice of footwear was either jackboots or lace-up shoes and puttees, as was the case with the British Army. The B5 ankle boot was adopted for service in 1916, replacing the older B2 model, until superseded by the WWII Ammo Boot. In general, the B5 is a proper tough ol' military boot just as they used to be back in the day. These are excellent everyday boots, and you can pretty much go anywhere with these, although for muddy trenches there might be better choices today - provided you first find the trench.
The manufacturer's stock configuration for these is the original one, meaning there are metal hobnails on the front and "horseshoe" heel irons. Although for re-enactors this is good stuff, for everyone else it's not such a good deal, as the irons wear fast and are very hazardous on even surfaces. We ordered our production run with nonchalant rubber half-soles and heel pieces, which you can replace at your local cobbler when needed. We kept the original style leather laces though.
Colours
Brown (Wheatbuck Suede)
Upper made of 1.8-2.0 mm thick, unlined, oily Wheatbuck suede leather
Leather reinforcement liner on the vamp
Black (Kip Leather)
Upper made of almost 3.0 mm thick, unlined, smoothed out Kip leather, smooth on the inside. Can be polished to a shine if required
No extra lining on the vamp, the leather is thick enough on its own
Last and fit
These are made with an old "2181 square toe last" which is very similar to the one used in Finnish army footwear up to the early 2000s. But unlike the Finnish boots that need double socks to fit right, these hug the feet quite snugly if needed. You might be well off with just one pair of socks.
The nose doesn't have any stiffeners whatsoever, so it just forms over the toes and after a while fits like a sock. The full leather construction supports this feature overall, for example, your feet will slowly leave their form on the leather footbed. Of course, if you feel like it, we suggest separate insoles - insoles are NOT included!
If you know you have a high arch, these might be quite tight! However after the leather footbed shapes to your feet and the upper gives in a little, these fit great.
Size info
Sizes in the British system, with comparable EU size in the brackets. On the chart below, you can also see the US size, insole length in millimeters, and the user's recommended foot length in millimeters. The manufacturer recommends roughly 15 mm (0.6") of allowance for the toes. The toes are not supposed to bottom out in the toe box, so compare your foot length to the recommended foot length!
| UK size | US size | EU size | Footbed length | Foot length |
| --- | --- | --- | --- | --- |
| UK 6 | US 7 | EU 39 | 260 mm | 246 mm |
| UK 7 | US 8 | EU 40 | 268 mm | 254 mm |
| UK 8 | US 9 | EU 41.5 | 278 mm | 262 mm |
| UK 9 | US 10 | EU 42.5 | 285 mm | 271 mm |
| UK 10 | US 11 | EU 44 | 293 mm | 279 mm |
| UK 11 | US 12 | EU 45 | 303 mm | 288 mm |
| UK 12 | US 13 | EU 46.5 | 312 mm | 296 mm |
If you fall between two sizes, the smaller one might do quite well as the fit is so forgiving.
How to measure your feet
Place your bare foot on a piece of paper, draw the outlines with a pen held up straight and then take the longest measurement from the heel to the toe (the line will probably look diagonal across the drawing). Do this later in the day when your feet have swollen up. Now you know your foot length, well done! Take this from both feet, as the other is usually a bit longer than the other. The human stuff is weird, huh?
Care
As the shoe has a full leather construction, it will serve a long time provided it's regularly cared for. The manufacturer recommends first wearing the boots in dry conditions and as they slowly start to form, you can start applying grease on them from time to time. With use and with proper treatment, the leather will soften, darken, and smoothen, but you can "rough it up" with a brass nubuck brush if you so wish. We do not recommend shoe polish for this boot, use colorless grease instead. The gap between the upper and the sole must be paid special attention.
Like with any leather footwear, if the boots get wet, never dry them near a heat source - otherwise, the leather might get brittle and crack! Dry them at room temperature with good ventilation. When the boots are dry, remember to give them some greasy loving and they're like nothing happened.
About the half-soles and grip
The rubber half-soles are relatively thin and thus will not last forever. They are also very flat without a grippy pattern, so not all that well suited for slippery conditions. Fortunately the solution is simple: when they wear out, take the boots to a cobbler, who can slap on new ones with the properties of your choosing (thickness vs grip vs hardness). It shouldn't be expensive.
Think of it this way: you can choose the properties YOU want for the soles, because you'll be wearing these boots for many years. We can't provide an universal solution that pelases everyone, someone wants a rough tread pattern, someone likes it low-profile, someone just wants good grip in winter and someone would rather just have a long-lasting rubber sole.
Made by William Lennon & Co.
Made by the British company William Lennon & Co. (est. 1899) in Stoney Middleton, UK. The boots are manufactured right there with high-quality materials, traditional methods, and original lasts, just as they were made over a hundred years ago. This is the local industry you want to support.
This configuration of the boot is only available from Varusteleka.
Made with work boot specs
As with the wartime boots, these are not finished to perfection; they're made for use, not for show. Thus you can expect small cosmetic things like small imperfections on the outside surface of the leather, different inside shades of the leather, quite utilitarian stitching, loose thread end here or there and such. Friends of classic English-made products know what we're talking about!
However the boots are always 100 % fit for purpose and structually solid. With use and time the small cosmetic flaws will blend in and disappear under the patina, so the issue isn't big. Please accept this when ordering. However if the boots have actual flaws hindering use or they develop such problems despite proper use and care, or you're just not satisfied, don't hesitate to contact us, preferably with pictures.
Warranty
The boots have a regular 12-month warranty against defects in materials and workmanship. Moreover, the boots can be sent for resoling at the William Lennon factory ([email protected]) but Varusteleka will not handle the resoling business in any way.
Employee's comments

I bought these directly from William Lennon & Co. many years ago and I'm so happy they have finally reached Varusteleka, too. These have probably been the best boots I've ever owned. I've used these in the city, country, and offroad conditions with no problems.

When well cared for these will stay very pretty and just get better looking with age. I walked the original iron hobnails flat and after this, a local cobbler installed a rubber heel piece and front half-sole. When these eventually wear out, new ones can be added again.

When new the boots are a bit stiff, but with good use, both the sole and the upper will start to flex more. Amazingly these fit almost perfect to my feet even when new, with very short break-in time.

-Henri Lindberg
Kierto Circular Economy
Return this product used but clean and unbroken, and you'll receive half of the product's original price as Varusteleka credits. Service is available only in Finland. Only Registered users can make Kierto returns. See more information about Kierto.
All products: William Lennon
Recommendations
Loading products...
Reviews
You have already submitted a review. You can edit your text by clicking on it. You can filter the reviews by clicking on the elements of the summary.
Log in and write a review. You can filter the reviews by clicking on the elements of the summary.
Remove filter
Suomi
(5)
English
(2)
I would recommend for a friend
DAINIUS S.

21.12.2020 (Edited 06.06.2021)

⚠ Unverified purchase
A long time ago, maybe around the MK1 jump boot that Varusteleka, I recommend (on the phone, I think), William Lennon, but it was a no-go then. I'm thrilled to see Varusteleka partner up with William Lennon. As ex-infantry, I tried a lot of boots, and for an old-school boots, William Lennon is what I keep coming back to--I have 3-4 pairs that I rotate. They are built like a tank, although occasionally, some stitching might not be as fine as on other brands--but so be it, the point of these is to be sturdy and long lasting.

I use dubbin right away on all my William Lennons with no ill effect, and then neutral Saphir polish once a week or so after--you can get a nice shine on them, although if you shine them, the brown leather will darken. In the winter, I put in wool insoles.

A word on the soles--I'm hard on my boots. On my second pair of William Lennon's, I put about 2300-2500km on them over 6 months before I needed a resole. I still walk a lot, and have saved on resoling by using Blakey's Segs on the heel where I usually wear boots down. If you don't walk as much as I do, or only walk on soil and not in the city, then there's no reason that these boots couldn't last you years, probably even a decade.

tl;dr: buy these boots, they're the real deal.
4
0
I would recommend for a friend
Teemu A.

15.02.2021 (Edited 15.06.2021)

⚠ Unverified purchase
Ostin mustat kengät parisen viikkoa sitten. Niistä ensimmäisen viikon käytin niitä lähinnä sisätiloissa antaen nahkan muokkautua. Tässä vaiheessa uskallan antaa jo ainakin alustavaa arviota kengistä.

Kengät olivat tosiaan uutena melko jäykät ja jokseenkin epämukavatkin, mutta käytössä nämä muokkautuivat kyllä sen verran nopeasti, että viikon jälkeen kun uskaltauduin kävelemään pidempiä reissuja, en saanut ollenkaan rakkoja. Pohja tosin oli vielä siinä määrin jäykän oloinen, että päkiä ja kantapää kipeytyi verraten nopeasti. Päätin hommata nuo Jalaksen FX-pohjalliset, jotka korjasivat tämän ongelman.

Nämä ovat tosiaan todella tymäkän oloiset kengät, jotka istuvat hyvin ja tuntuvat mukavalta jalassa. Varsinkin noiden pohjallisten hankkimisen jälkeen näillä uskaltaisi kävellä helposti pidempiäkin kävelylenkkejä. Laadussakaan ei ole ainakaan toistaiseksi itselläni mitään valittamista lukuunottamatta mukana tulleita nahkanauhoja. Ne eivät kovaa käsittelyä kestä, itselläni toinen nauhoista katkesi noin viikon jälken. Kannattaa siis suosiolla hankkia näihin samantien uudet nauhat.

Nuo puolipohjat ovat tosiaan melko liukkaat näin talvisilla keleillä, mutta varovaisella askelluksella niillä pärjää kyllä talvellakin. Noita puolipohjia ja nahkanauhoja lukuunottamatta kenkä on kyllä vastannut hyvin odotuksia. Toki hinta on hieman suolainen, mutta hyvällä huolenpidolla ne maksavat varmasti itsensä ajan kanssa takaisin.
2
1
I would recommend for a friend
Juho W.

16.01.2023

⚠ Unverified purchase
Sotaisasta historiastaan huolimatta aika iloisen näköiset kengät! Näissä ilmeni pian käyttöönoton jälkeen mystinen ongelma, kun sukat rupesivat kulumaan vasemman isovarpaan kohdalta. Syyksi paljastui pohjan läpi tullut naula, jonka suutari vasaroi paikalleen. Puolipohjat menivät kärjistä rikki ensimmäisen talven aikana, joten seuraaviin laitettiin kärkiraudat. Niistä lähtee vähän ääntä, mutta näyttäisivät pidentävän pohjallisen käyttöikää. Huoltona olen puhdistelun lisäksi laittanut valmistajan ohjeen mukaisesti säästeliään kerroksen vahaa.
0
0
I would not recommend to a friend
Marko

11.09.2020 (Edited 26.04.2021)

⚠ Unverified purchase
Maailman huonoimmat kengät.
9
51
I would recommend for a friend
Mikko R.

15.09.2020 (Edited 06.06.2021)

⚠ Unverified purchase
Muutaman päivän käytön perusteella sanoisin, että tuotekuvaus on tarkka.
Tekstissäkin mainittuihin Red Wingeihin verrattuna nahka on huomattavasti ohuempaa ja pehmeämpää. Lesti on myös silminnähden leveämpi. Ilman pohjallista kokotaulukon mukaan valittu 44 tuntui hieman turhan väljältä, mutta ei käyttökelvottomalta. Normaalisti käytän 43 kokoista kenkää, mutta en kiipeilykenkien runnomine varpaineni uskaltanyt enää 42½ tilata. Jalaksen super-pohjallisten ja hitusen paksumman sukan kanssa ovat tämän tyyppisiksi kengiksi sangen mukavat. Parin työpäivän jälkeen ei rakon rakkoa, taikka muuta kivistystä (vrt. minun Red Wingien sisäänajo kesti vuoden). Nauhat on huonot jopa nahkanauhoiksi. Niitä ei kannata edes sovittaa paikalleen, vaan nakata suoraan askartelumateriaaleiksi.
Sanottakoon, että mielestäni on kulttuuriteko, että näitä viimein saa Suomesta. Olen varmaan 10 vuotta haaveillut Lennonin saappaista, mutta en ole uskaltanut tilata, kun mahdollinen väärän koon vaihto-opertaatio on pelottanut.
6
2
I would recommend for a friend
Teodor D.

22.09.2020 (Edited 06.06.2021)

⚠ Unverified purchase
First impression is very good apart from the laces, I foresee a new pair (of laces) being needed in a not too distant future, we'll see how long they last.

The part about the sizes being slightly on the smaller side was an understatement to say the least, ordered a size 10 (US 11, EU 44) which is usually on the larger side for me but MAN these were tight, hade to force my foot through the instep even with only a single pair of thin socks. That being said I do have pretty wide feet with high bridges (insteps? arches?) and there is nothing wrong with the length of the shoe or width of the sole, just not enough leather up top out of the box for my feet. They will probably fit very well though after some gruesome breaking in so not to worry provided the quality and longevity of the boots lives up to whats stated in the description. If you have more normal or flat-ish feet than me then you might have a more comfortable first few walks than I did choosing your regular size. Though, as stated in the description, they are clearly more snug than military sizes.
10
0
I would not recommend to a friend
Topi K.

29.10.2020 (Edited 06.06.2021)

⚠ Unverified purchase
Vähän ristiriitaiset tuntet näistä kengistä. Toisaalta pohjat ovat hyvät ja tukevat ja sisäänkävely oli varsin tuskatonta. Mukavat käyttää. Pitävät vettä yllättävän hyvin ja kuivuvat nopeasti.
Sitten taas se laatu... Toinen orggisnuhoista meni poikki hyvinkin vikkelästi. No joo, eihän tuo iso homma ole.
Puolipohjien liimaus on ala-arvoinen, toisen kengän puolipohjan liimaus aukeni edestä varsin nopeasti niin että puolipohja repesi etuosastaan, toinenkin puolipohja ärvöttää edestä. Korkolappujenkin liimaus vaikuttaa hieman epäilyttävältä.
Eilen huomasin, että muutama toisen kengän niitatuista nauhojen rankaista on venyttänyt nahkaa siten, että päivä paistaa renkaan ja nahan reunan välistä. Renkaat tuskin kauaa enää paikallaan kestävät.
En tiedä, onko tässä nyt susikappale vai käyttäjävirhe mutta ei tämän parin perusteella kyllä oikein osaa suositella.
Tähdet ovat mukavuudesta mutta laadun vuoksi ei voi enempää tähtiä antaa.
12
0