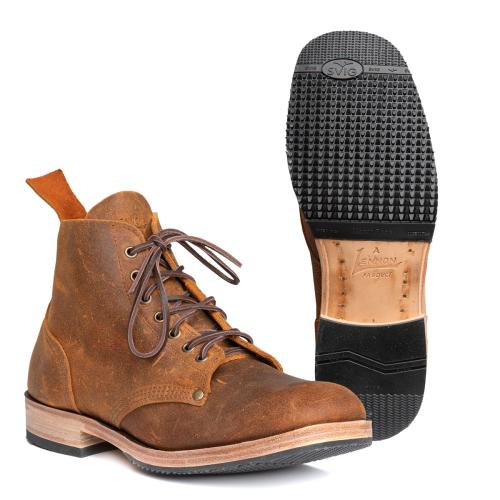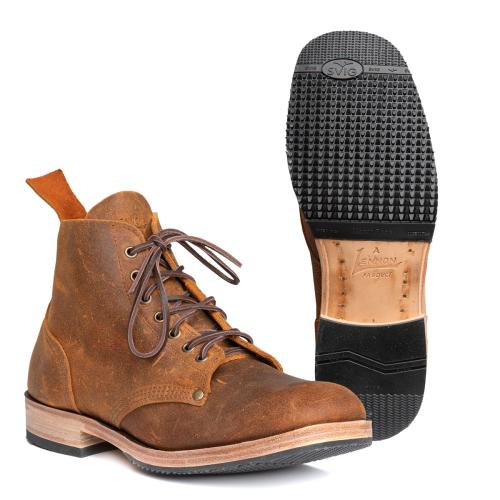 Brown, without sole stitching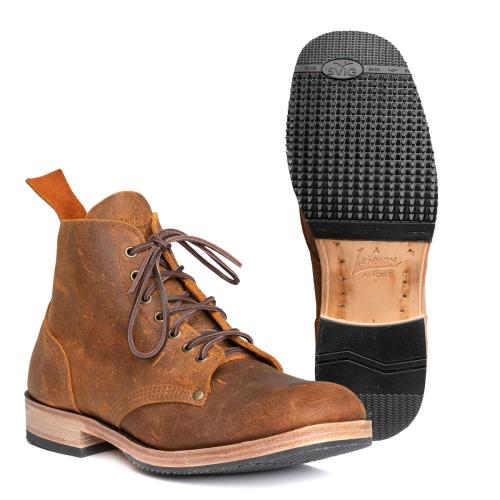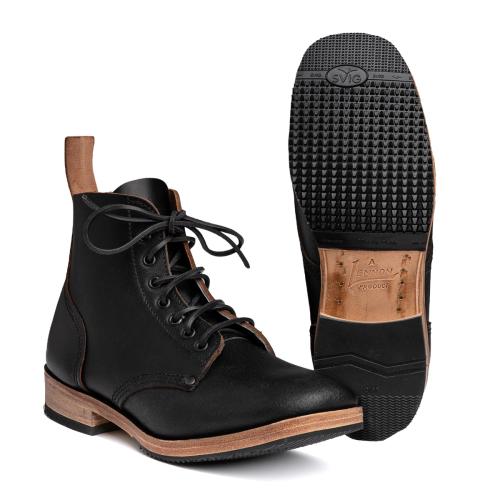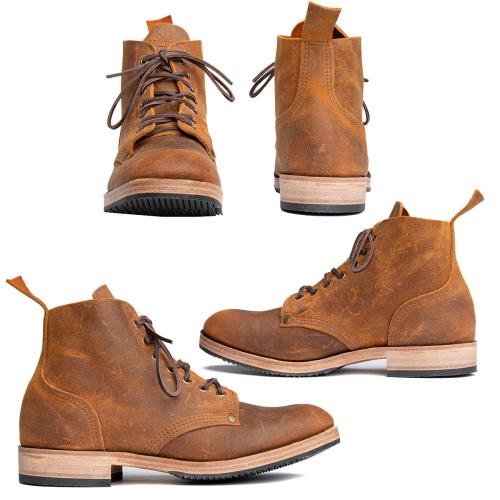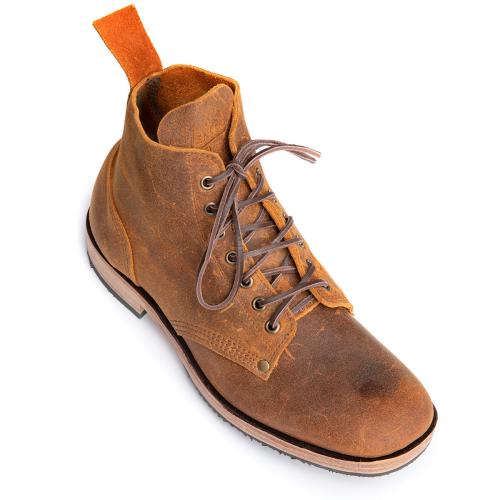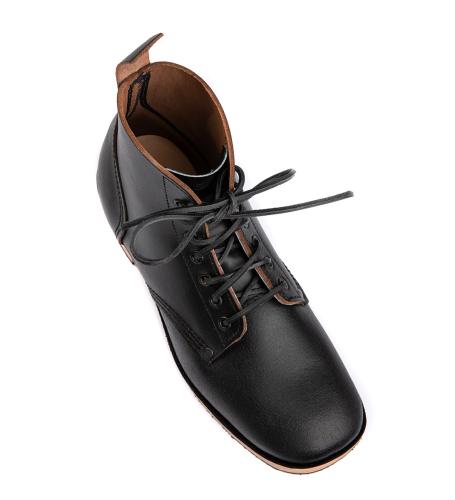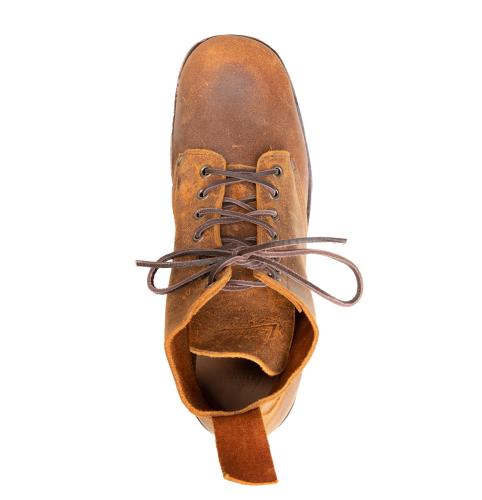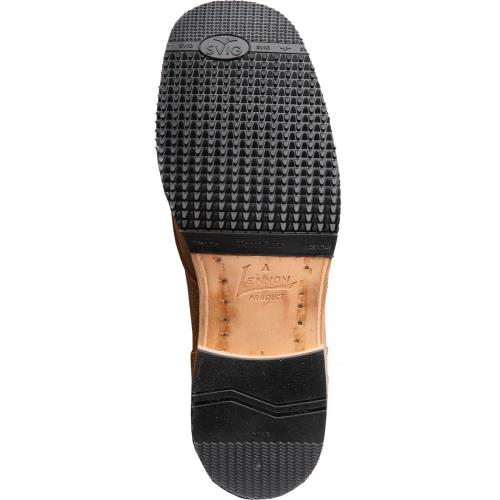 Double thickness leather sole, brass screwed (Blake construction). Rubber heel piece and half-sole, made by SVIG.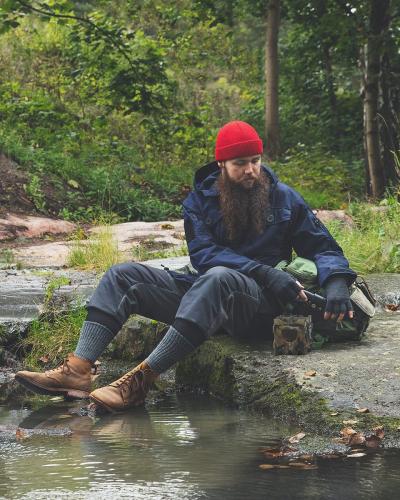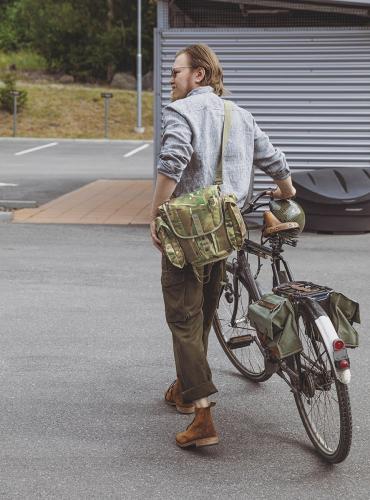 William Lennon
William Lennon B5 Ankle Boots, without Sole Stitching
Price 258.99 - 278.99 USD
excluding sales tax
The service boot of the British soldier in the First World War was a full leather ankle boot. These are a "reproduction" made in England; the same company manufactured them during the war! We got our production run with rubber half-soles and heel plates as the original pig-iron hobnails are a bit incompatible with today's world.
Loading products...
Trouble with the metric system? Try our converter: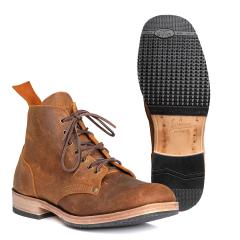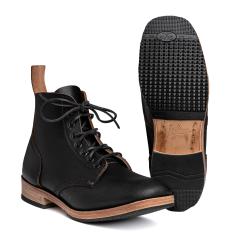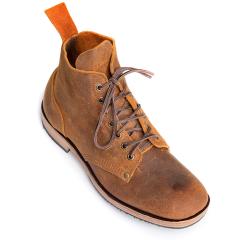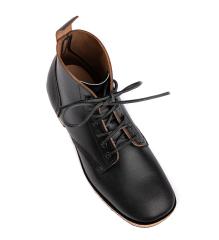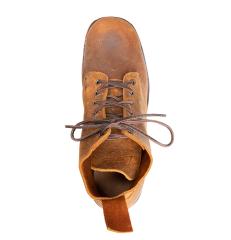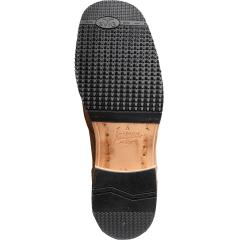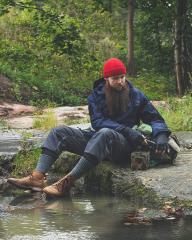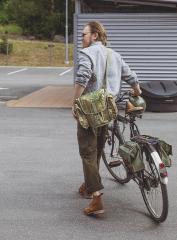 The service boot of the British soldier in the First World War was a full leather ankle boot. These are a "reproduction" made in England; the same company manufactured them during the war! We got our production run with rubber half-soles and heel plates as the original pig-iron hobnails are a bit incompatible with today's world.
No sole stitching! Misfortune fell upon the manufacturer, and their sole stitching machine broke. So, we had to decide whether we would like to have a batch or two without sole stitching or have no boots at all. The stitching on these is mostly a cosmetic thing, as the soles and the uppers are held together with very strong brass screws. Moreover, these represent the updated "Varusteleka" model with their SVIG made heel pieces and half-soles.
Double thickness leather sole, brass screwed (Blake construction)
Rubber heel piece and half-sole, made by SVIG
Upper made of thick, unlined leather
Leather footbed
Handmade in England with original machines, work methods, and lasts!
Made with work boot specs (more on this later)
From the trenches to the modern era
In the past, the soldier's choice of footwear was either jackboots or lace-up shoes and puttees, as was the case with the British Army. The B5 ankle boot was adopted for service in 1916, replacing the older B2 model, until superseded by the WWII Ammo Boot. In general, the B5 is a proper tough ol' military boot just as they used to be back in the day. These are excellent everyday boots, and you can pretty much go anywhere with these, although for muddy trenches there might be better choices today - provided you first find the trench.
The manufacturer's stock configuration for these is the original one, meaning there are metal hobnails on the front and "horseshoe" heel irons. Although for re-enactors this is good stuff, for everyone else it's not such a good deal, as the irons wear out fast and are very hazardous on smooth surfaces. We ordered our production run with nonchalant rubber half-soles and heel pieces, which you can replace at your local cobbler when needed. We kept the original style leather laces though.
Colors
o
Brown (Wheatbuck Suede)
Upper made of 1.8-2.0 mm thick, unlined, oily Wheatbuck suede leather, smooth on the inside
Leather reinforcement liner on the vamp
Black (Kip Leather)
Upper made of almost 3.0 mm thick, unlined, smoothed out Kip leather, smooth on the inside. Can be polished to a shine if required
No extra lining on the vamp, the leather is thick enough on its own
Last and fit
These are made with an old "2181 square toe last" which is very similar to the one used in Finnish army footwear up to the early 2000s. But unlike the Finnish boots that need double socks to fit right, these hug the feet quite snugly if needed. You might be well off with just one pair of socks.
The nose doesn't have any stiffeners whatsoever, so it just forms over the toes and after a while fits like a sock. The full leather construction supports this feature overall, for example, your feet will slowly leave their form on the leather footbed. Of course, if you feel like it, we suggest separate insoles - insoles are NOT included!
If you know you have a high arch, these might be quite tight! However, after the leather footbed shapes to your feet and the upper gives in a little, these fit great.
Size info
Sizes in the British system, with comparable EU size in the brackets. On the chart below, you can also see the US size, insole length in millimeters, and the user's recommended foot length in millimeters. The manufacturer recommends roughly 15 mm (0.6") of allowance for the toes. The toes are not supposed to bottom out in the toe box, so compare your foot length to the recommended foot length!
| UK size | US size | EU size | Footbed length | Foot length |
| --- | --- | --- | --- | --- |
| UK 6 | US 7 | EU 39 | 260 mm | 246 mm |
| UK 7 | US 8 | EU 40 | 268 mm | 254 mm |
| UK 8 | US 9 | EU 41.5 | 278 mm | 262 mm |
| UK 9 | US 10 | EU 42.5 | 285 mm | 271 mm |
| UK 10 | US 11 | EU 44 | 293 mm | 279 mm |
| UK 11 | US 12 | EU 45 | 303 mm | 288 mm |
| UK 12 | US 13 | EU 46.5 | 312 mm | 296 mm |
If you fall between two sizes, the smaller one might do quite well as the fit is so forgiving.
How to measure your feet
Place your bare foot on a piece of paper, draw the outlines with a pen held up straight and then take the longest measurement from the heel to the toe (the line will probably be diagonal across the drawing). Do this later in the day when your feet have swollen up. Now you know your foot length, well done! Do this with both feet, as the other is usually a bit longer than the other. The human stuff is weird, huh?
Care
As the shoe has a full leather construction, it will serve a long time provided it's regularly cared for. The manufacturer recommends first wearing the boots in dry conditions and as they slowly start to form, you can start applying grease on them from time to time. With use and with proper treatment, the leather will soften, darken, and smoothen, but you can "rough it up" with a brass nubuck brush if you so wish. We do not recommend shoe polish for this boot, use colorless grease instead. Pay special attention to the gap between the upper and the sole.
Like with any leather footwear, if the boots get wet, never dry them near a heat source - otherwise, the leather might get brittle and crack! Dry them at room temperature with good ventilation. When the boots are dry, remember to give them some greasy loving and they're like nothing happened.
About the half-soles
Because we want to sell these also for Finnish weather conditions (wet & cold), we had these made with special order SVIG half-soles and heel pieces. These have a modest tread pattern, some thickness to them and they will also work relatively well during the winter season. When they wear out, take the boots to a cobbler, who can slap on new ones with the properties of your choosing (thickness vs grip vs hardness). It shouldn't be expensive.
We can't provide a universal solution that pleases everyone, someone wants a rough tread pattern, someone likes it low-profile, someone just wants good grip in winter and someone would rather just have a long-lasting rubber sole. These are essentially a mixture of all of the above.
Made by William Lennon & Co.
Made by the British company William Lennon & Co. (est. 1899) in Stoney Middleton, UK. The boots are manufactured right there with high-quality materials, traditional methods, and original lasts, just as they were made over a hundred years ago. This is one of those local industries you want to support.
This configuration of the boot is only available from Varusteleka.
Made with work boot specs
As with the wartime boots, these are not finished to perfection; they're made for use, not for show. Thus you can expect small cosmetic things like small imperfections on the outside surface of the leather, different inside shades of the leather, quite utilitarian stitching, loose thread end here or there, and such. The friends of classic English-made products know what we're talking about!
However, the boots are always 100% purpose-built and structurally solid. With use and time, the small cosmetic flaws will blend in and disappear under the patina, so the issue isn't big. Please accept this when ordering. If the boots have actual flaws hindering use or they develop such problems despite proper use and care, or you're just not satisfied, don't hesitate to contact us, preferably with pictures.
Warranty
The boots have a regular 12-month warranty against defects in materials and workmanship. Moreover, the boots can be sent for resoling at the William Lennon factory ([email protected]) but Varusteleka will not handle the resoling business in any way.
Employee's comments

I bought these directly from William Lennon & Co. many years ago and I'm so happy they have finally reached Varusteleka, too. These have probably been the best boots I've ever owned. I've used these in the city, country, and offroad conditions with no problems.

When well cared for these will stay very pretty and just get better looking with age. I walked the original iron hobnails flat and after this, a local cobbler installed a rubber heel piece and front half-sole. When these eventually wear out, new ones can be added again.

When new the boots are a bit stiff, but with good use, both the sole and the upper will start to flex more. Amazingly these fit almost perfectly to my feet even when new, with a very short break-in time.

-Henri Lindberg
Kierto Circular Economy
Return this product used but clean and unbroken, and you'll receive half of the product's original price as Varusteleka credits. Service is available only in Finland. Only Registered users can make Kierto returns. See more information about Kierto.
All products: William Lennon
Recommendations
Loading products...
Reviews
You have already submitted a review. You can edit your text by clicking on it. You can filter the reviews by clicking on the elements of the summary.
Log in and write a review. You can filter the reviews by clicking on the elements of the summary.
Remove filter
Suomi
(2)
English
(1)
I would recommend for a friend
JT

20.02.2022

Verified purchase
Mun ensimmäiset käsintehdyt kengät. Aikasempaa kokemusta lähinnä Dr. Martenseista. Jos olisin tiennyt että Leka meinaa myydä myöhemmin samaa kenkää reunusompeleen kera ainoastaan 10 euroa kalliimmalla hinnalla, olisin odottanut niitä. Tästä jäi pikkasen kusetettu fiilis.

Enivei. Nyt muutaman kuukauden jälkeen, Plussat ja Miinukset:

+ Kestävimmän tuntuista nahkaa ikinä. Saattaa markettien kengät häpeään 100-0.
+ Leveä lesti, sopii suomalaiseen jalkaan.
+ Muotoutuu ajan kuluessa omaan jalkaan ja tuntuu todella mukavalta
+ Kaikin puolin jää sellainen fiilis että näillä vois oikein hoidettuna dallailla seuraavat 20+ vuotta.

- Mainostetut puuvillaiset kengännauhat puuttuivat paketista. Kengissä olleet nahkaiset nauhat katkesivat muutaman viikon sisällä. (Leka ilmoitti nauhojen puuttuvan muistakin kengistä)
- Puolipohjat ja kantalaput (ne kumiset palat kengän pohjissa) ovat erittäin liukkaat, vaikkakin kestävät. Nämähän voi tietysti vaihtaa.
- Erittäin kylmät kengät. Elohopean laskiessa alle nollan, on tuplavillasukillakin näiden kanssa oikeasti kylmä. Ehkä lämpöpohjallinen vois jeesata.
- Mikä lie pohjassa aiheuttaa kovan kopinan kävellessä; ihan kuin jollain puukalosseilla kävelisi, saattaa tympiä jossain hiljaisessa toimistotilassa tjsp.

Alussa hyvin jäykät kengät. Niin kuin kai monet muutkin tän kaliiberin tuotteet, ne pitää ajaa sisään ja prosessissa jalat kipeytyy, mutta kunhan nahka antaa periksi niin avot.

Kaiken kaikkiaan, suosittelen, varauksella tosin, en tiedä mikä merkitys reunosompeleen puutteella on, kannattaako pistää lisää rahaa ja ostaa vaikka Red Wingsit. Up to you.

PÄIVITYS 11/2022:

Edelleen suosittelisin kenkiä lisätyllä varauksella: ovat alkaneet narisemaan todella kovaäänisesti. Mikään vahan tai hoitoaineen käyttö ei ole auttanut.
1
0
I would recommend for a friend
Jeffrey G.

19.07.2022

Verified purchase
Sincere awesomeness. Durable, comfy, beautiful shoes. And, good advice + shipping provided by Varusteleka.
1
0
I would recommend for a friend
Ville H.

23.05.2023

Verified purchase
Ehkä parhaat nahkasukat pohjilla mitkä jalkaan oon tähän päivään mennessä vetäny. Kunhan ne kesyttää ja ajaa sisään. Omalla kokemuksella ja nahkaöljyllä ei mene edes kuukautta. Painoa toki on ja pohjat+nahkapohjallinen ei hirveesti pehmennä. Mut eihän näitä oo nössöille tehtykkään.
1
0