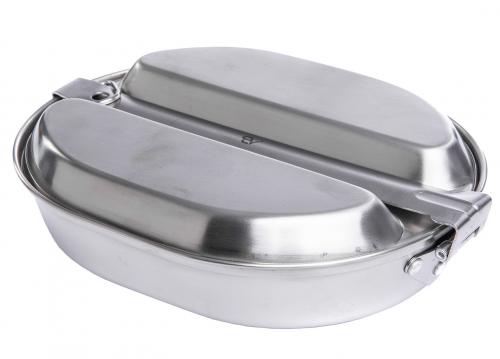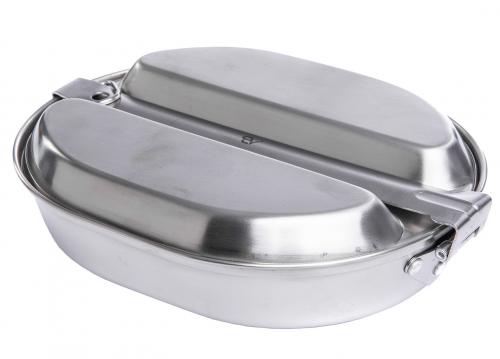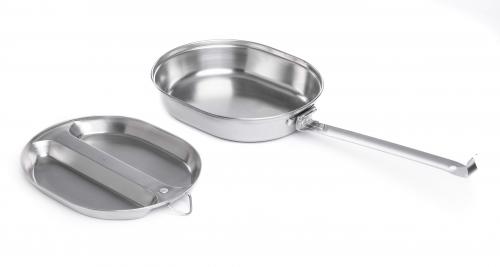 Divided for beans, eggs and bacon.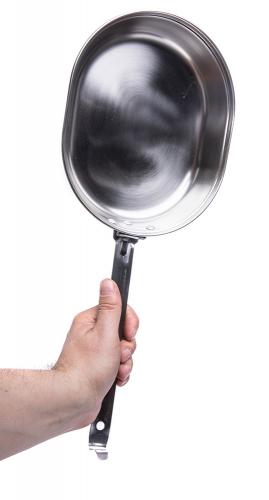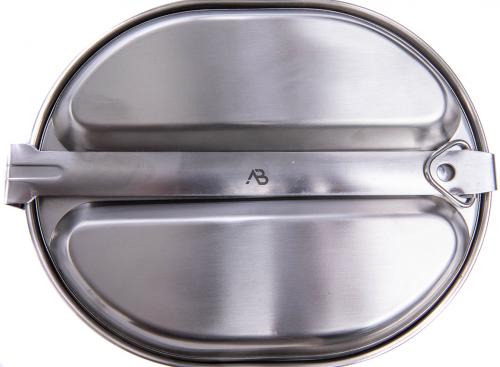 United States
US model two-piece mess tin, steel
Price 19.99 USD
excluding sales tax
The classic American army "Meat Can" served from the First World War to at least the '80s. It's a refreshing alternative to the Germanic kidney shaped mess kits. Made of stainless steel! New production.
We don't know when this product will be restocked. Request restock notification and we will email you as soon as this product is available.
This product has used and returned variations. Used are washed and unbroken. Heavily used are also washed but might be missing buttons, have tears, main zipper can be broken etc. Read more about Kierto.
Trouble with the metric system? Try our converter: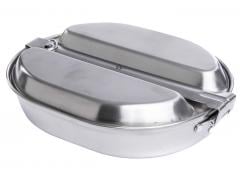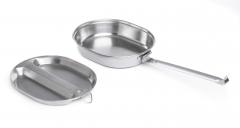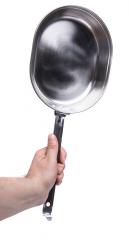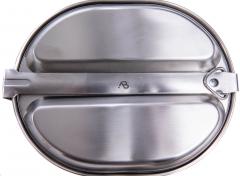 The classic American army "Meat Can" served from the First World War to at least the '80s. It's a refreshing alternative to the Germanic kidney shaped mess kits. Made of stainless steel! New production.
The American take on soldier's field kitchen is a bit different from the European approach: a two-piece, quite flat frying pan shaped thing, which is quite easy to eat out of and heats up the contents quickly thanks to the wide bottom. Although you can't hang this over a fire, it's very efficient with a field stove and excellent for frying. As a bonus, it packs quite small thanks to the compact, sleek form.
The stainless steel construction means this will not easily melt, will not rust, and will absolutely not release micro metals if you're worried about those things. You can even put it directly in the campfire if you find a suitably flat spot.
Weight about 340 grams (12 oz.). Outside dimensions about 22 x 17,5 x 5,5 cm (8.6" x 6.9" x 2.2").
New production
New production, reproduction from the US Army article. Made by the German company Anton Blöchl, manufactured in China.
Kierto Circular Economy
Return this product used but clean and unbroken, and you'll receive half of the product's original price as Varusteleka credits. Service is available only in Finland. Only Registered users can make Kierto returns. See more information about Kierto.
All products: United States
Recommendations
Loading products...
Reviews
You have already submitted a review. You can edit your text by clicking on it.
Log in and write a review.
Remove filter
Suomi
(6)
English
(2)
I would recommend for a friend
Arthur M.

27.04.2020 (Edited 06.06.2021)
I own a US surplus set of these mess tins, which appear identical to the ones on sale. Please note (and Varusteleka should add a photo of) you can open both tins and put the two-part tin over the fry pan handle, both tins open and upwards. That way you are able to hold both tins in one hand (leaving the other hand free for your cup) as you go through a meal line.

This style of mess tins clean up nicely. They are ideal for Scouts, Girl Guides and anyone else who'll be going through a meal line (my kids are Scouts and have these; very old-school!). If these are stainless steel as advertised, they will be far more durable than E-Bay aluminum Scout sets. That said, for field cooking and meal warming I prefer my Dutch or Swedish mess tins; the US style are too shallow to heat boil-in-bag meals effectively.
24
0
I would recommend for a friend
Sami K.

12.06.2020 (Edited 09.10.2022)
Ostin tän puhtaasti grammanviilaustarkoituksessa, koska "painoa noin 190 grammaa". Kotivaaka näytti kuitenkin 340 grammaa. Kiitos taas team leka, jälleen kerran 20 e hukaan.

EDIT par vuotta myöhemmin: Perun pahat puheeni, kulkee nykyään mukana oman kenttäkeittiöevoluution myötä ilman kantta joka reissulla, monesti täydennettyna kevyellä kahvipannulla. HIntaansa nähden aivan huippu vehje, tässä kypsentelee tikkukalaan kyllästynyt näppärästi fisut ja entrecotet ja mitä ikinä haluaa, ei polta helposti mitään pohjaan, ja loisto-ominaisuutena puhdistuu tosi hyvin perus keittiösienellä, kymmenien nuotiokokkailujen jälkeen kiiltää vielä kuin uusi. Moderni all-round jätkänkauha! Ainoat nilettämisen aiheet mulla noin sentin liian matalat reunat ja hankalasti tiskattava ura niiden yläosassa.
0
0
I would recommend for a friend
Sami K.

25.06.2020 (Edited 06.06.2021)
Tämä on enemmän lautassetti linjaruokailuun kuin ruuan valmistusväline - jos nyt ainoa valmistamasi ateria ei satu olemaan munakas ja pekoni, johon paistinpannu käy mainiosti. Sopii siis parhaiten syömiseen ryhmäruokailussa, ruuan valmistamiseen reissun päällä tämä käy huonommin koska ainoa käyttökelpoinen osa siihen on tuo paistinpannuosa, joka ei sekään ole kovin iso. Painoa tosiaan n. 360 grammaa, ei 190 g (tämän kokoinen rosterimötikkä ei missään nimessä voisikaan painaa niin vähän). Itse ostin tämän lähinnä kuriositeettina ja käyttöön harrasteseuran kesäleirillä, reppureissuun ottaisin mieluummin jonkin monipuolisemman astian. (olen eri henkilö kuin tuolla alla oleva)
5
0
I would recommend for a friend
Sami K.

27.06.2020 (Edited 06.06.2021)
Heitän lusikkani soppaan ja laitetaan vielä kolmas eri henkilö (what are the odds) sekoittamaan tätäkin pakkaa :D :D Tähän asti käyttökokemukset ovat rajoittuneet ihan kotilinjastoruokailuun sekä hiiligrilliin, missä paistinpannuosa toimii erinomaisesti jos ei halua rasvapaloa esim. chorizoa tai jotain muuta rrrrasvaista kokkaillessa. Toi toinen osa on ehkä hieman matala mihinkään oikeasti tehokkaaseen ruokailuun, varsinkaan ulkona. Näin siis nykyään, näitä aikanaan tykistötulen alla käyttäneillä ameriikan sotureilla saattaa olla eri mielipide. Tai jotkut ovat samaa mieltä? Ei voi tietää. Paino ainakin minun käyttööni OK, mutta jos menisin mehtään vähänkin pitemmäksi aikaa miettisin ehkä jotain muuta vaihtoehtoa.
4
2
I would recommend for a friend
Juha K.

26.01.2021 (Edited 15.06.2021)
Tässä tulee sitten arvostelua useamman vuoden oikeaa retropakkia 1945 leimoilla käyttäneeltä. Toimii hyvin leirikäytössä, sillä sisään mahtuu ruotsalainen taittokuksa ja BW:n aterimet. Tiskauksen jälkeen koko paketoidun komeuden saa pakissa olevasta renkulasta oksan tappiin roikkumaan ja ylimääräinen vesi valuu nätisti pois. Lisäksi pakin poikkeava ja Hollywoodin tuotannoista tuttu muotoilu on sopivan rohea verrattuna Light my fireen tai muihin muovisetteihin - ja yhtä käyttökelpoinen.

Ruokaa en monesti ole tällä tehnyt, joskus kaasukeitimen päällä lähinnä paistanut tai lämmittänyt jähtymään kerinnyttä ateriaa. Retkeillessä yleensä kuljetan mukana joko tsekkiläistä pyöreää pakkia kaasukeittimen kanssa tai Trangiaa. Tähän täsmennyksenä, että retkeily tapahtuu enimmäkseen kajakilla eli gramman viilailuun ei ole tarvetta.
3
0
I would recommend for a friend
kimmo t.

28.09.2021 (Edited 07.10.2021)
Olen tykästynyt tähän pakkiin. Tästä on hyvä syödä ja säilyttää ruokaa. Kesällä ötökät ei pääse ruoan kimppuun. Kansi lukittuu salvalla riittävän tiukasti. Annoksen voi ladata kuumana pakkiin esim. paistettu kala ja syödä myöhemmin. Varsinaiseen kokkaukseen käytän muita pannuja. Tavaraa mahtuu yllättävän paljon. Kemin Kimmo
0
1
I would not recommend to a friend
Ville K.

06.10.2021
Lekalta tuli mulle postiyllärinä ruttuunnuijittu yksilö, jossa osien reunat ei oikein kohtaa, mutta kyllä siitä sen verran näkee että tämän peltihökötyksen todellinen hinta on viidenkymmenen sentin luokkaa. Mitään käyttöarvoa tällä tuskin on. Pysy kaukana.
2
2
I would recommend for a friend
Salvatore C.

30.12.2021
great piece of kit that offers you a much more compact alternative to lugging regular plates or bowls out to the bush, large enough to stow a small fork and spoon inside of
0
0