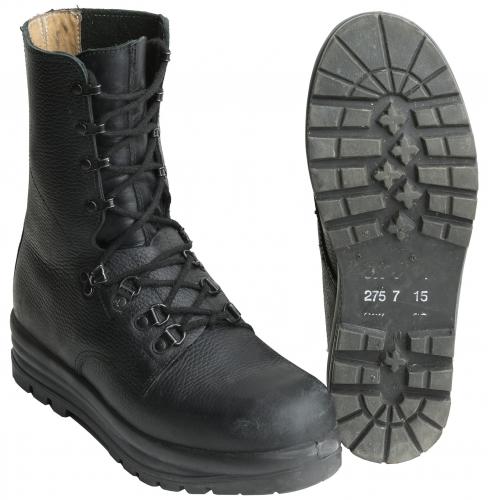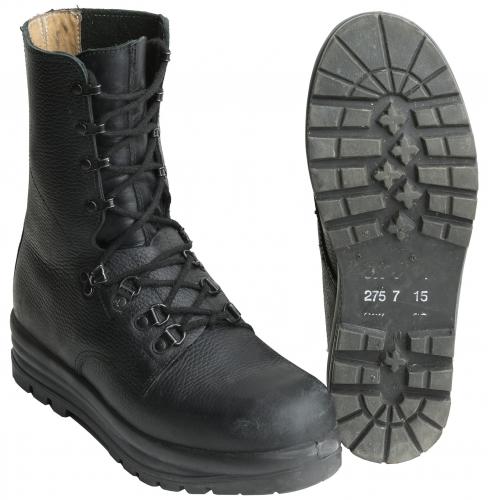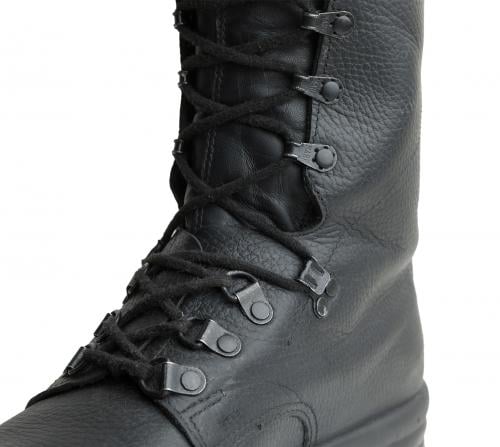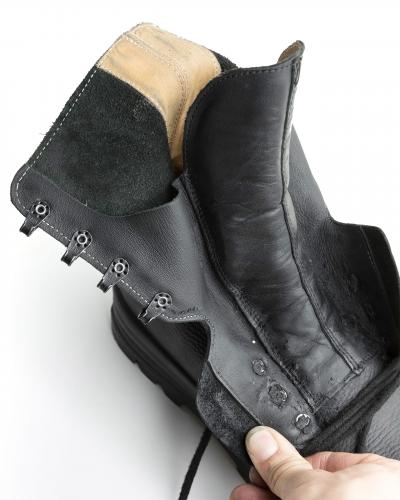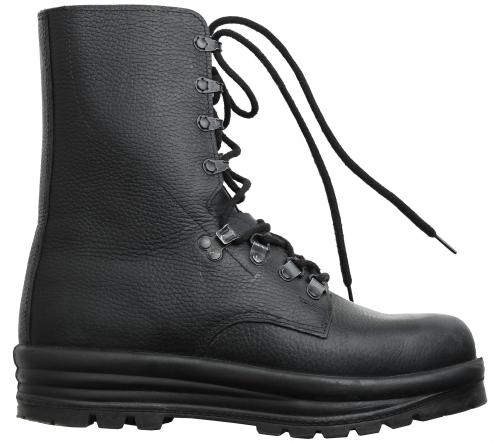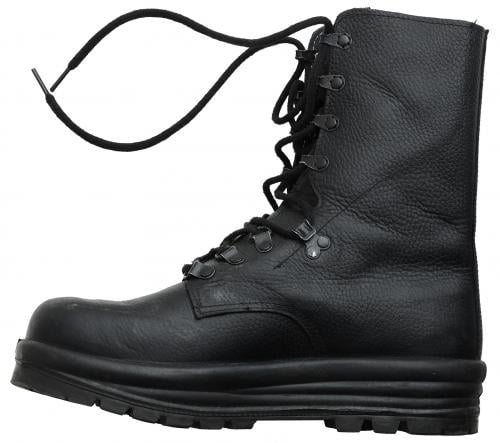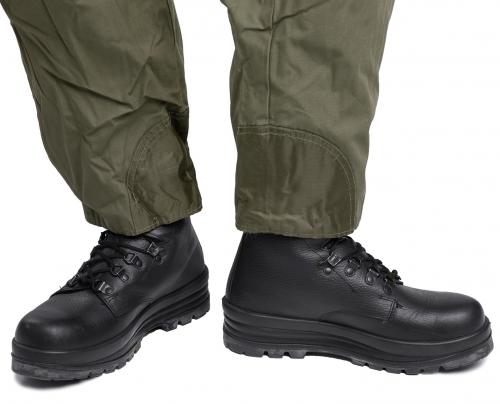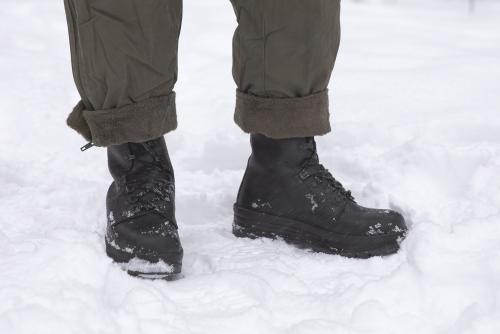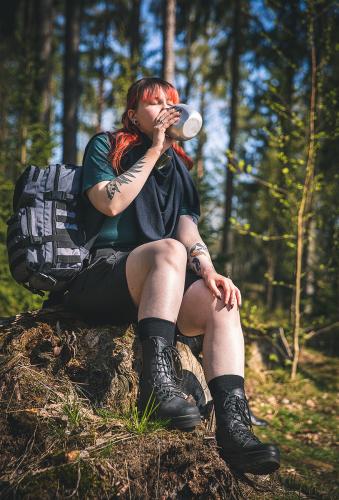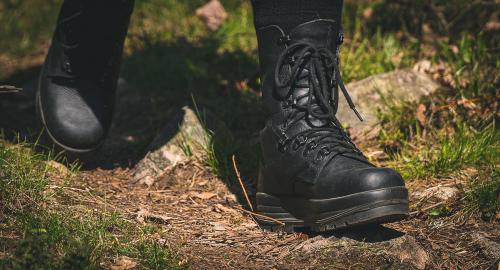 Switzerland
Swiss M90 Combat Boots, Gen II, Surplus
Price 49.99 USD
excluding sales tax
If you've ever wondered how someone can be so excited by boots that it's called a fetish, perhaps these Swiss combat boots may shed some light on the issue. The truth is, these are enticing boots for several reasons.
Loading products...
Trouble with the metric system? Try our converter: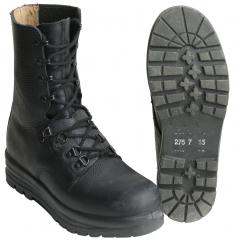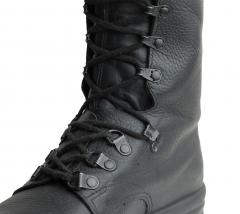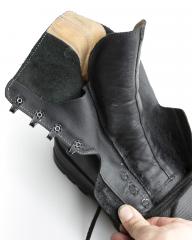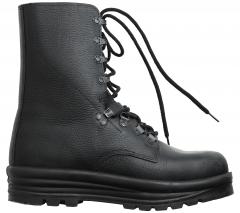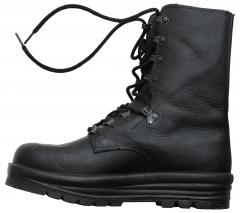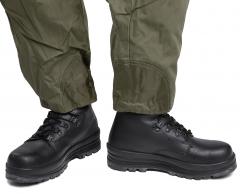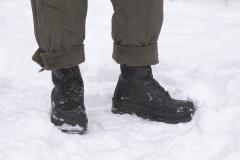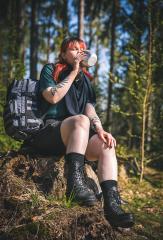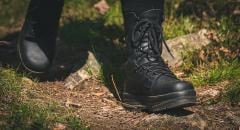 If you've ever wondered how someone can be so excited by boots that it's called a fetish, perhaps these Swiss combat boots may shed some light on the issue. The truth is, these are enticing boots for several reasons.
Because we're talking about a Swiss military item, we must be clear that the model year -90 refers to 1990 instead of 1890. It wouldn't be the first time they make shit to last centuries where others are lucky to reach a service life of decades. However, the boots we now have for sale are very recent, made around the mid-2010s. These are the Gen II variant made most often by Minerva. You can tell these apart from the previous generations by the single-piece over-molded sole.
The construction is typical by the Swiss scale, which means obscenely strong by universal standards. The laces run through steel D-rings, hooks, and tunnels, as found on better footwear in general. The sole is proper, thick, and stiff, as is the leather. As a special feature, two layers of leather overlap on the bottom of the tongue to prevent hot spots when you tighten the laces. Rather it feels like the boot is just giving your foot a strong hug.
Size info
We've had a lot of feedback from the sizing conversions and made some changes in January '22. Here's the deal: the sizing is like Mondopoint, but shorter. You will really get the best results by measuring your feet, adding 5 mm, and then rounding up to the nearest size. E.g. if your foot is 278 mm, add 5 to get 283, round up to 285.
Measuring your feet is not difficult. Stand on a piece of paper with your weight evenly distributed. Draw lines behind your heel and in front of your longest toe(s). Do this for both feet, having precisely the same size is less common than a little variance.
We are aware of the various widths (4, 5, 6, and 7) and try to get them sorted, too. At the time of writing, you are likely to get a common width i.e. 5 or 6; the nature of surplus often means that the most common sizes used are the most common ones available.
Materials and construction
Top: Full grain leather
Sole: Overmolded
Insole: Included
Weight (pair, size 285): 1,9 kg / 4.2 lbs
On a scale between 1-4 we'd rate these to three. It's not quite a mountain boot but clearly stiffer and stronger than ordinary combat boots.
Care instructions
These are made for rough use and to maintain the best performance, don't neglect caring for the boots. There's no membrane or other special requirement so soften and maintain the leather with grease or oil and use polish to make it shiny and more water-repellent. For details, please read our article on shoe care.
Warranty
When it comes to used army surplus, speaking of a warranty may be a misnomer. Understand, that these are damn good boots for real. Should any pair turn out to be defective somehow, we'll sort it out in our usual way to keep you happy.
Swiss surplus
All this praise is starting to get weary but what are you going to do. In addition to manufacturing these well, to begin with, even these discarded pieces of kit are in really good condition. Expect to stomp many trails and roadsides with these.
It is worth knowing that military surplus boots don't usually come with insoles, and even if they do have them, they are often used. So, get a good pair of insoles at the same time. For example, from us.
Availability
We made a deal of 3000 pairs shipped in smaller lots throughout the year 2021 (or faster if they sell really well). Don't wait for too long when making a decision; these will go surprisingly fast. We currently have no restocks on sights after these are sold!
All products: Switzerland
Recommendations
Loading products...
Reviews
You have already submitted a review. You can edit your text by clicking on it. You can filter the reviews by clicking on the elements of the summary.
Log in and write a review. You can filter the reviews by clicking on the elements of the summary.
Remove filter
Suomi
(10)
English
(36)
I would recommend for a friend
Thomas L.

01.12.2020

⚠ Unverified purchase
I've been forced to wear these boots on roughly 280 days of my life and have done so voluntarily at least as often. Considering the leather cut dates back to the 1960s or 1970s, it is a REALLY decent boot for various outdoor activities. The overall grip performance is only hampered on smooth surfaces such as compressed snow on roads or painted concrete, due to the relatively simple sole design. As a trade-off, they are really easy to re-sole, which will be necessary way before the leather wears out.
Speaking of the leather, break them in properly before even considering wearing them for a march. During my youth, an idiot friend of mine went on a 100km march with his brand new issued boots (issued during draft days, so we can break them in prior to service), only to inflame his achilles tendon, which promptly turned septic.
Instead, do what I did: Go play a couple rounds of paintball at an indoor facility and let the shoes sit in the paintball goop for 3 weeks. The leather will be as tender as a virgin's thigh.

The two pairs I've been issued are worn out at this point and I would consider purchasing a replacement here, had I not discovered the Salomon Quest 4D GTX Forces boots, also sold here. I do recommend those over these boots, but if leather's your thing, no judgement here.
37
0
I would recommend for a friend
Daniel G.

02.12.2020

⚠ Unverified purchase
Had Minerva's issued to me 20 years ago (geeez, I'm old). When brand new, the leather is really stiff. Take a shower with them to make them softer, or wear them often on short walks. Use leather polish, a lot of it. You'll not do yourself a favor when wearing them on long marches without beaking them in first and make the leather soft. The leather will outlast the soles by far. Had to resole mine 3 times. As said before: the design is a concept of the past, but they are built to last and they're great for the price.
10
0
I would not recommend to a friend
Timo S.

05.12.2020

Verified purchase
Laatukenkä, hyvää työtä jne. mutta ei sovi ns. rintavaan jalkaan eli korkea jalkapöytä nappaa kiinni kuin kipsi muuten oikean kokoisessa kengässä. Hyvin nafti malli muutenkin. Ilmeisesti sveitsiläiset ovat sirojalkaisia. Isommat kengät olisivat olleet mallia Hessu Hopo. Pitää tulla kauppaan kokeilemaan seuraavia kenkiä. Laitan kiertoon pienijalkaisella tyttärelleni.
8
3
I would recommend for a friend
Timo I.

10.12.2020

Verified purchase
Niin kuin kuvailutekstissä kerrotaan, nahka on paksua ja jämäkkää. Nämä eivät ole laiskan miehen kengät eli sisäänajo tarvitaan. Se myös palkitsee. Nahkarasvaa, monia lyhyitä kävelylenkkejä, niin hetken päästä huomaat kaipaavasi jämäkän nahkakengän syleilyä. Ostin/sain koon 280 kengät (280 5 normaali lesti, kts. alempana) ja minulla on normaalisti 43 kengän numero ja kohtuu leveä jalkapöytä. Kenkä ensijalkaanlaitolla tiukanoloinen jalkapöydän kohdalta, mutta kuten sanoin, sisäänajon jälkeen pikkuhiljaa täydellinen. Kovin korkealle jalkapöydälle tämä ei ole ideaali kenkä. Pohja hyvinkin "kimmoisa", tekee mieli alkaa juoksemaan. Talvikäyttöön otttaisin koon 285. Jäällä ja plussakelin tamppautuneella lumella ovat liukkaat.
After all, jos olet hieman valmis tekemään töitä, saat erinomaiset maiharit erittäin pitkäksi aikaa.
HUOM! Olisiko Varustelekan syytä ottaa huomioon englanninkielinen Sylvainin palaute, jossa kerrotaan tuosta lestinleveydestä. Kenkää on siis olemassa neljällä eri lestinleveydellä, jonka kertoo kengänpohjan (tai läpän sisäpuolen) numerot 4-7 varsinaisen kengänkoon jälkeen (esim. 275 7, kuten yllä kuvassa). Narrow, normal, wide, extra wide. Palautusprosentti voisi pienentyä.
29
0
I would recommend for a friend
Charilaos G.

10.12.2020

Verified purchase
Based on the pair I received, I have mixed feelings about these boots. The quality seems to be there, and the price is OKish. Manufactured in 2012, they looked nothing like the pictures, moderately battered and scratched and certainly not occasionally worn. The inner sole ( not the removable one) of one boot had got somehow detached a bit on one side, and has traces of an unsuccessful repair. The thing is, although minor, this creates a small spike, which is a bit annoying. It can be covered with a new insole. Speaking of insoles, the ones delivered with the shoe were thin and hard; I threw them away and got a modern pair. I am currently in the greasing process, as the leather was quite stiff. An update will follow when I get some mileage.
UPDATE: breaking-in after a thorough greasing took about 10 days, the first three excruciatingly painful. No blistering, just my feet in a vice. It got a lot better after that. As an everyday shoe, it is very comfortable. 10-15 km hikes are ok. Bear in mind that at almost 1 kg per shoe, you will feel tired faster and climbing a flight of stairs will be rather tedious.
6
0
I would recommend for a friend
David B.

10.12.2020

Verified purchase
The boots themselves are great but they run small. I ordered two pairs, one for myself and one for my wife, and we had to return both. I recommend you go up one size from what you usually get.
1
0
I would recommend for a friend
Sylvain C.

10.12.2020

⚠ Unverified purchase
Disclaimer: I own this product but not from Varusteleka, my review doesn't take in account the condition of this special batch.
Be careful with the size, you write 280 = 44 in the chart, but 43.5 in the top selection. 280 is considered 42.5 in switzerland.
Even more important, there are 4 different width: 4-5-6-7, 5 is standard. The higher the number, the wider the shoe. The number is written after the size ("280 5" for instance).
I was on the verge of purchasing a pair here but without knowing the width it's a very risky purchase.

For the boot review now:
They will hurt you like french "rangers" boots, they are old school leather boots and if you don't take the time to conform them to your foot you will enter a world of pain.
After the break-in, they are very comfortable, unbreakable and they will serve you well.
The sole is lightly glued, old soles might come off easily after a few miles. It's made on purpose, the sole should never be "old" because you are supposed to walk a lot in the army and at the first signs of wear the shoe is resoled (to train men in the resoling process). So if your soles come off don't freak out, go to a shoemaker, put the same soles back on (if they are fine) with modern glue and it's ok for 10 years.
33
0
I would recommend for a friend
Miks B.

15.12.2020

Verified purchase
Ordered a size 46 (295 5). They seem brand new and unissued. The leather is still very stiff, but hopefully when they come to room temperature and I wear them in, they'll conform better. Currently, they seem to run very narrow. The original insole is soft, but has that weird very tall arch support thing that wants to cut off the blood supply to the toes, IMO an insole should be completely flat. Will update the review in a month or whenever they wear in.

EDIT: Dreadfully narrow. I usually wear a nike 46, but for these to be the same width, you'd need something like 47.5. Forming a return, but if I were to buy these for winter use (2 socks), I'd get size 48. My feet are not THAT wide!
7
0
I would recommend for a friend
Jude S.

16.01.2021

Verified purchase
A good solid boot. as has been said above they are very small in fitting. I normally take a 265 in BW KS2005. I got the same in these boots. just about fit with light socks. also they are a very narrow fitting
I switched to these boots due the soles falling apart on the ks2005s ( 3 pairs) big mistake. I now accept the price of guaranteed comfort in the boot is the short lifespan.
UPDATE 9 months later..It took a long time a lot of mink oil a lot of short walks and bruised feet to break them in these have become my favorite everyday boots. so much so I am ordering a second pair but in the next size up
2
0