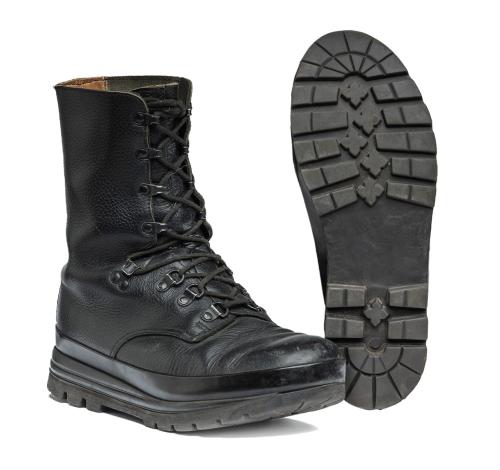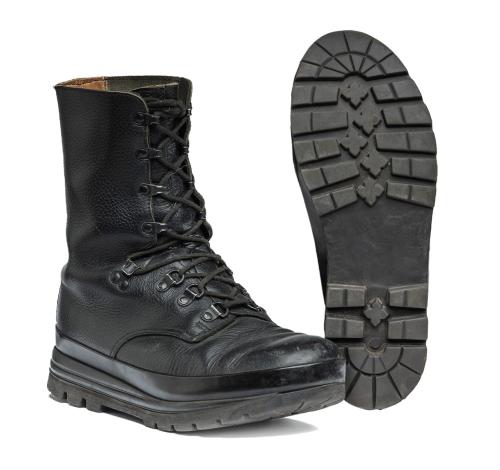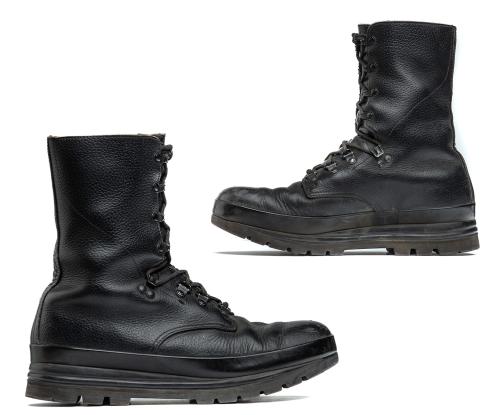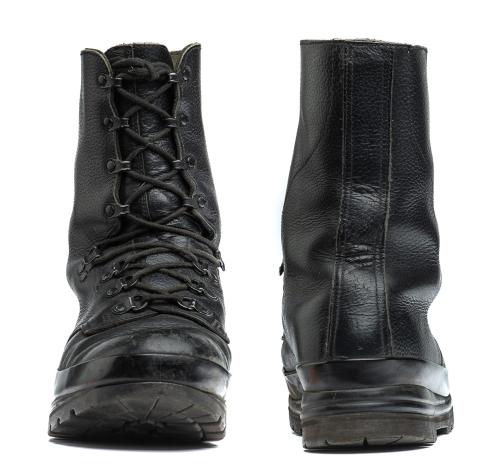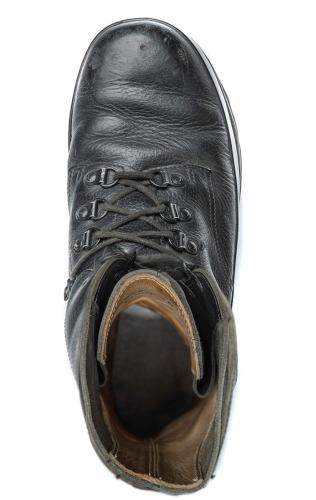 The last is - typical to military footwear - shaped like a human foot.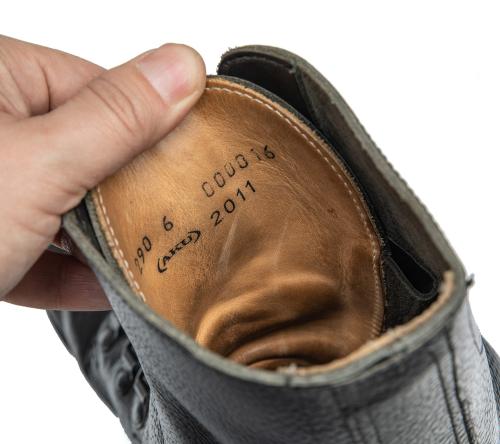 The tongue is bellowed and lined with an extra leather layer. Note the manufacturer on this pair!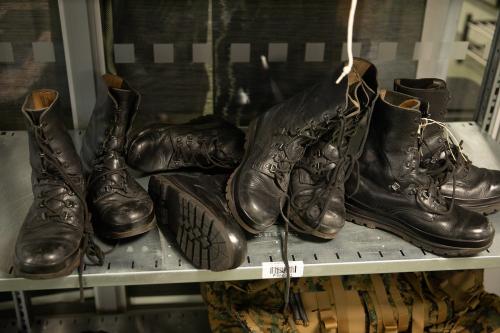 General condition is used but intact.
Switzerland
Swiss M90 Combat Boots, Gen I, Surplus
Price 39.99 USD
excluding sales tax
If you've ever wondered how someone can be so excited by boots that it's called a fetish, perhaps these Swiss combat boots may shed some light on the issue. The truth is, these are enticing boots for several reasons.
Loading products...
Trouble with the metric system? Try our converter: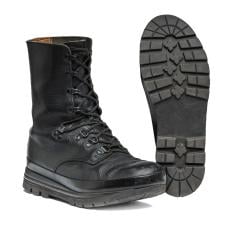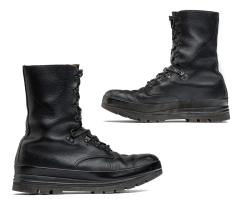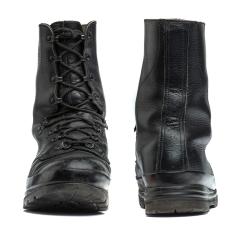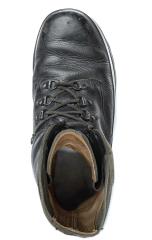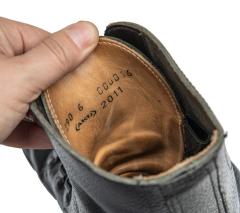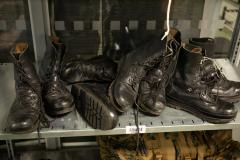 If you've ever wondered how someone can be so excited by boots that it's called a fetish, perhaps these Swiss combat boots may shed some light on the issue. The truth is, these are enticing boots for several reasons.
Because we're talking about a Swiss military item, we must be clear that the model year -90 refers to 1990 instead of 1890. It wouldn't be the first time they make shit to last centuries whereas others are lucky to reach a service life of decades. These are the Gen I variant: the later variants would have a single-piece overmolded sole but these have a sandwich-like sole construction. It is also the only weak point known to man, as such construction has more parts prone to breakage. This might become a reality only if the boots are stored carelessly, which is unlikely, knowing the Swiss way of doing things. However, if your boots break, get in touch and we'll sort it out.
The construction is typical by the Swiss scale, which means obscenely strong by universal standards. The laces run through steel D-rings, hooks, and tunnels, as found on better footwear in general. The sole is proper, thick, and stiff, as is the leather. As a special feature, two layers of leather overlap on the bottom of the tongue to prevent hot spots when you tighten the laces. Rather it feels like the boot is just giving your foot a strong hug.
Size info
The sizing is like Mondopoint, but shorter. You will really get the best results by measuring your feet, adding 5 mm, and then rounding up to the nearest size. E.g. if your foot is 278 mm, add 5 to get 283, round up to 285.
Measuring your feet is not difficult. Stand on a piece of paper with your weight evenly distributed. Draw lines behind your heel and in front of your longest toe(s). Do this for both feet, having precisely the same size is less common than a little variance.
We are aware of the various widths (4, 5, 6, and 7) and try to get them sorted, too. At the time of writing, you are likely to get a common width i.e. 5 or 6; the nature of surplus often means that the most common sizes used are the most common ones available.
Materials and construction
Top: Full grain leather
Sole: Layered and glued
Insole: Included
Weight (pair, size 285): 1.9 kg / 4.2 lbs
On a scale between 1-4 we'd rate these to three. It's not quite a mountain boot but clearly stiffer and stronger than ordinary combat boots.
Care instructions
These are made for rough use and to maintain the best performance, don't neglect caring for the boots. There's no membrane or other special requirement so soften and maintain the leather with grease or oil and use polish to make it shiny and more water-repellent. For details, please read our article on shoe care.
Warranty
When it comes to used army surplus, speaking of a warranty may be a misnomer. Understand, that these are damn good boots for real. Should any pair turn out to be defective somehow, we'll sort it out in our usual way to keep you happy.
Swiss surplus
All this praise is starting to get weary but what are you going to do. In addition to manufacturing these well, to begin with, even these discarded pieces of kit are in really good condition. Expect to stomp many trails and roadsides with these.
It is worth knowing that military surplus boots don't usually come with insoles, and even if they do have them, they are often used. So, get a good pair of insoles at the same time. For example, from us.
Kierto Circular Economy
Return this product used but clean and unbroken, and you'll receive half of the product's original price as Varusteleka credits. Service is available only in Finland. Only Registered users can make Kierto returns. See more information about Kierto.
All products: Switzerland
Recommendations
Loading products...
Reviews
You have already submitted a review. You can edit your text by clicking on it.
Log in and write a review.
Remove filter
Suomi
(4)
English
(2)
I would recommend for a friend
Anon

26.04.2022
Gen2-maihareista tuttu laatu näkyy kaikkialla ja maailman taitavimman suutarin mukaan kengissä ei ollut mitään vikaa. Niinpä nämä uskaltaa laittaa hennosti kosteusvoideltuna kaappiin odottamaan syksyä ja talvea.
2
0
I would recommend for a friend
Garrett M.

30.04.2022 (Edited 03.05.2022)
These are awesome, mine were pretty much brand new. These are heavy duty boots, steel toed, and thick ass leather. Breaking them in as I type this. The description says it has insoles included, but mine did not. I put some Dr. Sholl's boot insoles in them this weekend and they are much more comfortable. Good ankle and heel support. You will get years of wear out of these. I wear a size 10 and got a size 10.5 and they fit great. These are prefect for stomping through the woods, stomping through mud, or just plain stomping. Get a pair now.
6
1
I would recommend for a friend
Esa A.

06.05.2022
I got also brand new pair. I am still walking them in, without problems. The leather is thick and takes its time to be repeatedly waxed and walked. Only big negative notion is related to their slipperiness on snow, between + 2 to - 4 C temperatures you better watch out. Other than that, they are good pair of shoes.
2
1
I would not recommend to a friend
Tom F.

10.06.2022
En suosittele. Oli yhden päivän jalassa ja molemmista kengistä hajos pohja. Voin lähettää kuvat kengistä.
1
1
I would not recommend to a friend
Juha R.

11.06.2022 (Edited 11.06.2022)
Ylijäämä on ylijäämää.. En tiedä palauttaisinko, vai pitäisinkö keräilyesineenä. Ongelma on leveydessä: ei näitä eurooppalaisia kenkiä saa pohjanperäläinen leveään jalkaansa.
2
2
I would not recommend to a friend
Erik M.

09.10.2022
They're comfortable boots to wear for work, as I have to walk a lot. Unfortunately the soles squeak incessantly! It drives me insane and announces my presence wherever I go.
0
1