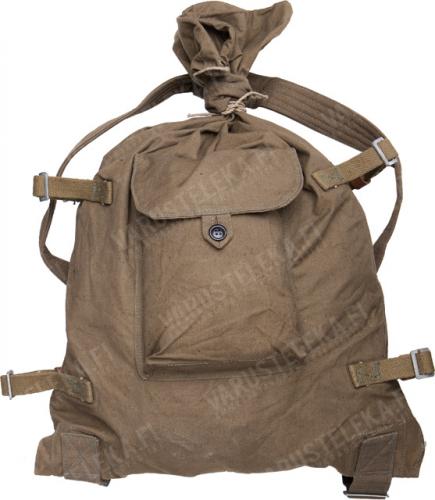 Soviet Veshmeshok rucksack, brown, surplus
Price 27.99 USD excluding VAT
Flat Rate Shipping to USA $9.99
100 % recommends
Sold 14 pcs in the last two weeks
In stock 24 pcs. Also available in our walk-in store.
Trouble with the metric system? Try our converter: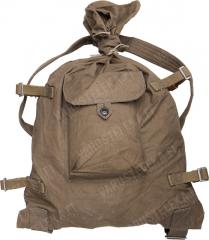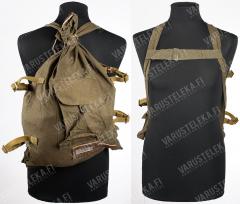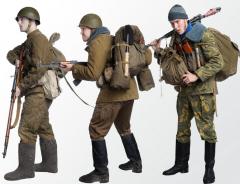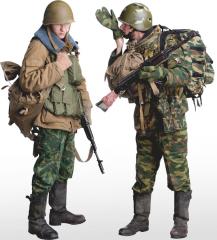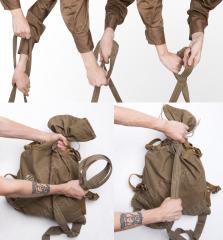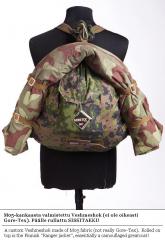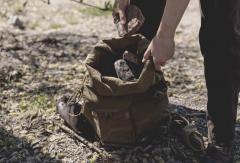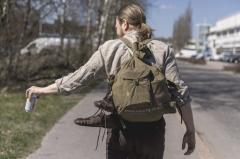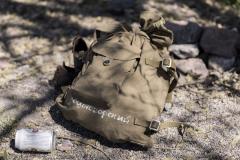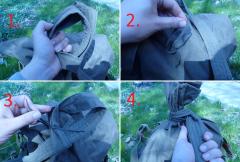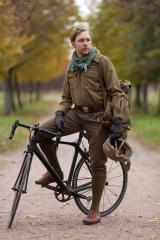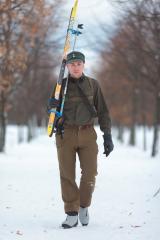 Pretty as a hatful of kittens, the Soviet "Veshmeshok" rucksack is quite likely the best carrying sack in recent history.
The same kind of sacks were probably used during the Napoleonic wars. However, at some point during or after WW2, these were modernized with four side straps for blankets/shelter halves/greatcoats. Even today it sees action in the modern Russian army. These were still made in the 90's, and if you're lucky, you'll get one of these recently manufactured pieces of ancient history. The dates on the sacks we get range mostly from 50's to the 80's. No, we will not rummage through the wares for the date of your choice.
The Veshmeshok is a very simple, very rough and very durable potato-sack type carrying solution. The material is treated to resist water and quite often actually does. The sack is closed with a tie-string and its own shoulder straps. This system prevents pick-pockets going through the contents when you're wearing it. Amazing!
These rucksacks have one external pouch, straps for attaching a greatcoat or blanket roll, and a name tag holder. Most WWII models were made without these, so remove all excess stuff for that extra special "fighting the fascists"-feeling. Do note that you'll leave holes where the stitching was any stronger.
Pro tip: Are you suffering a bad case of diarrhea? Don't feel like you're able-bodied and fit for service? Don't worry, Veshmeshok will help you! Load your Veshmeshok with a couple of 10 kg lead ingots (large rocks or scrap metal will also work) and go for a run. Run and shit yourself until you feel you'd rather be doing anything else. Voilá, you are once again fit for service! Pro tip provided by Soviet army garrison hospital '79.
Old military surplus
These are mostly in used condition, but nevertheless fit for purpose for a long time to come.
Reviews
You have already submitted a review. You can edit your text by clicking on it.
Log in and write a review.
Remove filter
Suomi
(8)
English
(23)
Karri K.

06.06.2016 (Edited 07.06.2016)
Hinta/Laatusuhde 11/10. Ollut käytössä jo pitkän aikaa päivittäin, enkä vielläkään luopuisi. Kevyt, tilava ja kulutusta kestävä. Hyvä reppu !
11
1
I would recommend for a friend
Antti M.

31.10.2016 (Edited 29.11.2016)
Ei tämä varsinaisesti säteile semmoista mukavuuden vaikutelmaa ympärilleen, mutta tälle on ihan oikeasti paikka maailmassa. Puolikiloinen päiväreppu, jonka saa rullattua vaikka reisitaskuun sopivaksi jos tarvis vaatii. Ehanaa! Pakkaamisessa joutuu käyttämään järkeä enemmän kuin jonkun topatun ja luontaisesti ergonomistillisen mukavuuslaitoksen kanssa, mutta ei siihen kuole. Pikku harjoittelulla ja säätämisellä tästä saa naurettavan mukavan kantolaitteen. Siis oikeasti.

Omani sain vuosia sitten silloiselta anopiltani ilmaiseksi. Oli ilmeisesti ottanut tuotekuvauksen vähän liian tosissaan, eikä sitten enää tykännytkään. Hassuna ja ah, niin venäläisenä yksityiskohtana omassani on ommeltu ulkotasku väärälle puolelle reppua. Muuta tästä ei aiheudu kuin se, että rintaremmin solki on ja pysyy nurin päin niin kauan kun en jaksa ratkoa & ommella asiaan muutosta. En arvellut jaksaa jatkossakaan.

Jos tiedät mitä olet ostamassa, suosittelen. Omaani en anna pois ikinä enkä usko saavani sitä rikkikään niin että jään itse ehjäksi.
9
1
I would recommend for a friend
mobi

06.11.2016 (Edited 29.11.2016)
Its amazing how much you can fit inside and outside of this rucksack and how comfortable it will remain, excellent kit considering the price and age, it should last another lifetime. That and it looks cool af
17
3
I would recommend for a friend
Andrea B.

06.11.2016 (Edited 13.06.2017)
A very good backpack, simple to use and hard to replace once you have tried it. Cheaper and way cooler than a normal backpack, I use it while traveling and it never failed on me. Consider purchasing a "plash-palatka" to copleat the kit.
15
1
I would recommend for a friend
Jari H.

11.12.2016 (Edited 30.05.2019)
Oma tuli ilman tuota nimilapputaskua, mutta tuo ulkoinen pikkutavaran tasku ja lenkit sadeviitalle/päällystakille oli. Tosiaan tämä on pohjiltaan perunasäkki (aluksi usein olikin) johon ommeltu hihnat, eli pakkaa järkevästi sillä huonosti aseteltu esine pistää ikävästi selkään. Tuhoutumaton tämä on ja ainoa käytönjälki mitä omassani (puolivuotias näin 11.12.2016) on lievää halkeilua/naarmuilua noitten lenkkien nahkapalojen pinnassa. Taitaa jopa kestää vettä johonkin pisteeseen, mutta en laittas mitään kovin kosteusherkkää jos keli sanoo ei. Jos ostat NL settiin niin lyö lenkkeihin Plash palatka, sillä yhdessä nämä tekevät nätin ja "käytännöllisen" systeemin.
1
0
I would recommend for a friend
Carlo A.

22.01.2017 (Edited 09.02.2017)
(VARUSTELEKA, PLEASE GIVE US M/05 VESHMESHOKS! FOR THE SAKE OF ALL THAT IS PURE IN THIS WORLD!)
You are the only people who can cater to our hilariously niche gear needs - and who knows, perhaps you'll start a new trend!
Anyways, I love this pack! I purchased one through an independent retailer but probably buy one from here as well! The quality and durability is as remarkable as it is crude. Once thoroughly cleaned and maintained, the vesh makes a lovely thing to take along with you onto the subway or around the city with all your belongings tucked safely away - I've received many compliments on mine, a tan sample from Afghanistan.
59
1
I would recommend for a friend
Christopher K.

29.03.2017
I carried a full ham home from the store in mine. A insecure security guard asked what was inside? I replied a major body part. He called the police. They thought I was a funny guy and the security guard had ham for brains. IF you carry a full ham the straps can be murder on your shoulders without heavier clothing.
40
1
I would recommend for a friend
John W.

18.05.2017
Varusteleka is an amazing company with top notch customer service. I ordered two of these bags and the shipping company damaged one. Customer service shipped me out a replacement as soon as I contacted them even though it was NOT Varusteleka's fault . The bags are excellent com-block quality and you can't go wrong especiallt when turned into oil cloth. I can't say enough about how wonderful a company Varusteleka is, and that they have amazing customer service. Thank you!!! I will always check Varusteleka before any other company, I have already stared telling every one I can about how good the products are and how amazing the people are. I'd also like to thank Lars from the You-tube channel "Survival Russia" for turning me on to such an amazing company. Thank you Varusteleka, you are to notch for sure!!! Cheers
49
1
I would recommend for a friend
francis n.

19.07.2017
no complaints, definetely good stuff
Something written on it that i'll have to decipher somehow
i'm curious what is written on that piece of wood sewed in the front
Stamped 1959 inside
5
0
I would recommend for a friend
Nelson S.

05.08.2017
Excellent pack! I'm very happy with mine! All around pack mine is from the 70's.
0
0
I would recommend for a friend
Olli V.

08.08.2017 (Edited 12.01.2020)
Hieno ja hyödyllinen ryssäreppu joka kestää kaiken perkeleen painon mitä saa tungettua tähän ryssäreppuun. Minun kappaleeheni joku ryssä oli tussilla menny kirjottamaan suurin tekstein jotain joka vitutti hieman jos totta puhutaan mutta kyllä ne tussin jäljet saa varmaan jotenki pois.
4
3
I would recommend for a friend
Michael A.

22.08.2017
This is a very useful general purpose pack. It's very durable and can hold quite a lot. Plus, it just looks cool.
3
0
I would recommend for a friend
Tomas A.

26.08.2017
I got two (one brown, one black), love this backpack.
5
0
I would recommend for a friend
Mikko K.

22.10.2017
Jumalavita! Tämä tuotehan on selkeästi aivan 5/5 tuote niin kätevyyden, käyttömukavuuden ja kurjana muovi-kertakäyttökulttuuri- 2000-luvulla myös ulkonäön osalta! Kyllähän nyt edes hieman klassisesta ja vintage-henkisestä pukeutumisesta tykkäävän ihmisen pitää myöntää, että kyllä tämä reppu hakkaa särmikkään muodikkaalla ja perinteikkäällä tyylillään sen nykyisin jokapuolella eri army-kaupoissa tyrkytetyn inhottavan näköisen, surkeita vetoketjuja, muoilenkkejä ja sekaisin olevia lokeroita täynnä olevan jenkkien Assault pack- kiinanmuovihirviön!! Kuin vertaisi McDonaldsin mautonta hampparia ranskalaiseen Gourmet-ateriaan.
3
2
I would recommend for a friend
Michael N.

14.11.2017
I ordered this for a fellow veteran brother.Great pack! Needs a good cleaning,No problem there,Wash it in some Nikwax base wash will take care of it! Happy customer! Highly recommend this product and this company! 5 stars!
0
0
I would recommend for a friend
Louis V.

19.11.2017
bought this bag in black a few months back and used it non stop since.. same material as the plash palatka and waterproof too. carries a lot of weight no problem just slide some foam padding for your back.
1
2
I would recommend for a friend
Esa P.

19.02.2018
Tämä on reppujen aatelia. Perinteikäs, yksinkertainen käyttää, venäläinen, edullinen ja pitää vieläpä vettä jonkinsortin venäjälitkujen ansiosta. Omani on aito neuvostotuote vuodelta 1986, maasta jota ei enää ole, mutta veshmeshmok jyllää edelleen. Tähän mahtuu hyvin muutaman päivän urbaanireissun kamat ja sivutaskuun menee matkalukeminen käsien ulottuville.
3
1
I would recommend for a friend
S. F.

13.03.2018
Bought this bag and when I picked it up it looked like brand new.
That was until I saw the previous owner signature.
Looked like it was issued, thrown into a locker and never looked at it twice.
It even came with a real (Russian) waterproof (zip-lock)bag.
Thank you Varusteleka, I will take good care of this Veshmeshok and waterproof bag.
4
0
I would recommend for a friend
Ilmari A.

11.07.2018
more comfortable and spacious than it looks, smells authentically Soviet, and comes with the added benefit of looking like shit - no one could ever imagine I carry fancy tech or other valuables in it. protip: the sternum strap doesn't work as a way to tie the bag together, I've tried (in my defence I couldn't for the life of me figure out what that strap was meant to do). the black one would be prettier in my opinion, but that's entirely a matter of taste.
2
0
I would recommend for a friend
Henri L.

Varusteleka employee

18.07.2018 (Edited 18.07.2018)
Sen lisäksi, että oikein pakattuna säkki on ihan hyvä kantaa (tästä löytyy jopa rintaremmi!), saa siihen kiertolaistyylisesti kiinnitettyä ulkopuolelle loputtomasti tavaraa, joka on nopeasti hollilla. Olkahihnojenkaan kestävyydestä ei tarvitse huolehtia, sidottuna laitos on pomminvarma ja kestää riepottelua mitenpäin vain!

Veshmeshok on myös erinomainen valinta reissuun, jossa tarvitsee isoa rinkkaa ja päiväreppua. Sen voi kääntää ympäri, jolloin kaikki remmit jäävät sisäpuolelle, ja näin se on helppo rullata pieneksi käppyräksi jonka voi sulloa tai sitoa ihan mihin vain. Jos päivän reissussa mukaan tarttuu enemmänkin arvotavaraa, saa sitä aina jotenkin vain kiinnitettyä Veshmeshokiin lisää ja lisää.

Varustelekan henkilökunnan supertutkimusmatkan osana ollut Kiev-Tsernobyl-Pripyat -ekspeditio osoitti, että erinomaisen säteilynkestävyyden lisäksi paikallisetkin ovat oivaltaneet repun uskomattomuuden - näistä näkyi jopa siviilikopioita! Tietenkin ylivoimaisesti suosituin oli se armeijan malli, jota me myös myymme.

Tässä suorituskeskeisessä maailmassa 'Meshokin tunkkainen tuoksu menneisyydestä on oikein tervetullut. Puoli tähteä pois siitä ettei näitä enää tehdä edes Neuvostoliitossa.
3
1
I would recommend for a friend
Jonathan W.

29.07.2018
Mine came in fairly rough shape, but all of the damage had been repaired by the Russians--bag should be good to go for a long time. I wouldn't take this into the bush against modern options but its a cool backpack to wear around town at a good price.
0
0
I would recommend for a friend
Pablo V.

12.08.2018 (Edited 22.04.2019)
Not only it's a time-proven perfectly conceived system, it also looks good and had multiple uses. One thing I've recently found it to be perfect for is carrying a water bladder on my bicycle routes.
Update a year later: It's become my daily pack for going to work and around the city. I just love how many things fit in it, and how comfortable and practical is. You'll fall in love with it.
2
0
I would recommend for a friend
Jacob G.

01.11.2018 (Edited 28.12.2019)
I have used this pack for a few years now in the "wilderness", and also rarely in town. It is simple and a little barbaric. A folded plash palatka works well as a back pad and I almost always keep one in the sack. Before you tie the knot make sure to pull up the strap and make sure it's roughly even. Sometimes the pack will sit unevenly on your back. If you are a big guy the strap may be a bit short for you, and the pack won't be able to fit comfortably over a heavy/thick coat.
It has some other uses. The fabric swells and stiffens some when wet. It can carry water a short distance reliably. I have also used it to show some people how to tie the Lark's Head knot (what is used to close the pack). You may discover other uses for it over time.
0
0
I would recommend for a friend
Andreas S.

27.11.2018
Bought two. Good condition. One needed a bit of TLC but both were in perfectly serviceable condition.
0
0
I would recommend for a friend
Meat M.

20.03.2019
excellent well working pack, if you have any doubts about the combat use of this pack- https://youtu.be/6I0Bgb-vAAY?t=79 ,if its good enough for the ukrainians, its good enough for you!
1
0
I would recommend for a friend
Antti L.

10.04.2019
Hieno hipsterireppu joka ei kaada pankkia. Tuli otettua tämä jopa Kolumbiaan ainoana mukana kulkevana säkkinä, ikäänkuin grayman/köyhä hippi deception taktiikalla. Paikallisessa hieman kuumottavammassa ilmastossa myös talvitakki rullautui hienosti ulkopuolen lenkkeihin kiinni.

Päivittäisessä arkikäytössähän tämä on myös varsin loistava, ettenkin silloin kuin ei tarvitse roudata niin hitosti tavaraa (pyyhkeet ja frisbeet). Ehkä ainoa syy miksi haluan samankokoisen modernimman repun, on tuo aukaisumetodi joka saattaa rassata päivittäisessä käytössä jo jossain vaiheessa. Samaisen mekanismin takia tosin esim. näpistelyt ko. repusta ovat todella vaikeaa.
1
0
I would recommend for a friend
Ian N.

13.04.2019 (Edited 13.04.2019)
A spectacular bag! At first I kind of regretted buying it, since the knot is a weird pain in the ass to learn and adjusting the straps can be a bitch. But after a week of wearing it as my everyday carry daypack, I've learned the minutiae of how to adjust it, and it carries like a dream now. After two months of daily carry, it's become my favorite daypack by far.

It's light, handy, unique, roomy, and caveman simple, not to mention insanely strong. I've carried heavy rocks and dumbbell weights in it, and other than the straps digging into my shoulders, the bag itself was almost begging for more punishment. The color is a wonderfully depressing mix of mud brown and olive drab, looking uniquely Eastern European. The design goes back to at least the Napoleonic era, meaning that it's definitely stood the test of time and then some. A side bonus is that it's a great conversation starter. I've gotten quite a few compliments on it, especially from the more hipster guys and gals, since it gives off that 21st century Slavic hobo vibe. Rock this backpack with some dirty jeans, fingerless wool gloves, and some sort of wool button-up shirt, and you're well on your way to looking like an authentic train-hopping tramp.

The only con I got is that the sternum strap, unless you're around a size Medium or smaller, is pretty much useless if you're wearing anything more than a t-shirt. But considering the utility of this bag, that's almost negligible.

I highly recommend this backpack, and I also highly recommend buying its inseparable partner, the Plash-Palatka poncho tarp thing. It's made of the same musty waterproof canvas, and I use it as a cushion for the inside rather than strapping it to the outside buckles, which I instead use for water bottles and tools like an e-tool or an axe if I'm trekking outdoors.
1
0
I would recommend for a friend
Erik M.

12.07.2019
Despite it saying BROWN and the picture showing brown, the sack arrived as OLIVE GREEN. While not really what I expected, it does match with my other gear so that's okay.
Mine is in fantastic condition and looks like it is brand new. Previous owner wrote their name on this and it apparently belonged to someone called Агуэаров (Aguzarov).
As I always do, I washed the sack. The water turned yellow and a powerful stench came off it, but after a few rinses in hot water it is clean and no longer smells.
Now this is perfect to take with me on my motorbike as it easily slides over my jacket shoulders and can carry lots of things without digging into me.
Very easy to tie once you get the hang of it.
0
0
I would recommend for a friend
Micah H.

23.10.2019
Ordered two of these & two plash-palatkas. I knew they were old surplus so if one was in bad shape I'd most likely still have a good one. Next time I'll save my money & not bother ordering spares because the packs were in such good shape the only way I could choose a 'go-to' was that the name tag doo-dad was coming loose on one of them. Good, good packs. Ditto for the plash-palatkas. Both are in excellent condition. Trying to figure out how to read the Russian stamps to see when everything was made. Very, very happy. Buy with confidence.
0
0
I would recommend for a friend
Steve M.

25.10.2019
It's a fantastic no nonsense bag, I us mine for my every day carry bag. Very fast service and in great condition, mine had the previous owners name written in Russian in the front. I suspect I'll be using this for everything for a long time to come.
0
0
I would recommend for a friend
Sean E.

11.01.2020 (Edited 11.01.2020)
Not much original to say. Bombproof, roomy and aesthetic af. Magically keeps fitting more and more things like a real-life bag of holding. Unironically attracts attention from cute girls. My only concerns are that the twine in the mouth of the bag is utter dogshite (replaced that with a spare shoelace, now much better!) and the side straps are sorta starting to fall off. I don't think they are reinforced too well and I haven't the slightest clue how to fix that.

PS for waterproofing, a british small PLCE liner bag fits perfectly in here
0
0