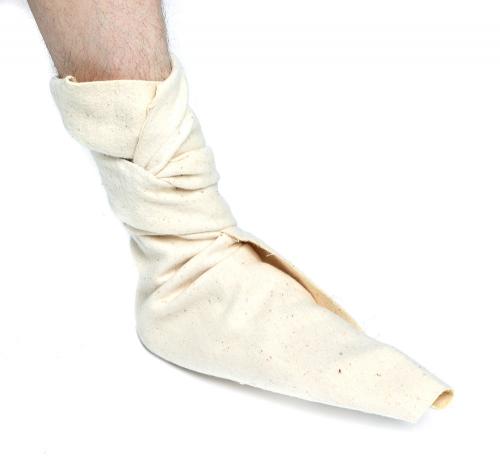 Soviet footwraps, surplus
Price 7.99 USD excluding VAT
Flat Rate Shipping to USA $9.99
Sold 2 pairs in the last two weeks
Trouble with the metric system? Try our converter: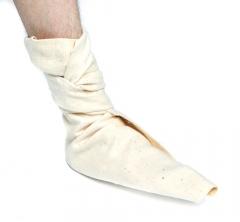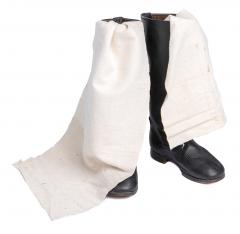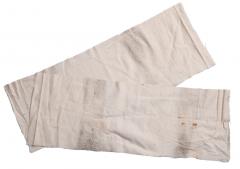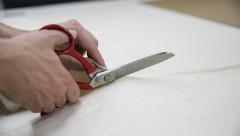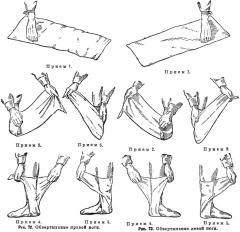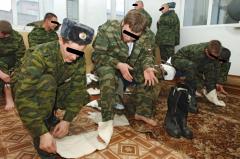 Thank you footwraps in the Russian army ~1700-2008! Ten years ago the Russian army finally let go of the footwraps, Portyanki. Officially, that is. To commemorate this historical event we got some of that shit here. Made in Soviet Union, cut into from in Finland! The Pro's choice for jackboot use!
Back in the day, Peter the Great tried really hard to make Russia more European and less like Russia, in good and bad. One of the European style things was the introduction of footwraps. Nobody really knows what the Russian army walked with before that, but now the soldiers had to wrap these lengths of cotton around their feet. Who would have known that hundreds of years later the soldiers would still be donning essentially the same wraps every morning. Of course you have to rembember, socks in military use are a rather late invention; in World War 2 footwraps were still the most common thing inside boots. The Finnish army used footwraps until 90's.
Apparently made of a 50/50% mixture of wool and cotton - really nice and fluffy wintery flannel. A word of warning: the fabric will let go of some flannel excess, which will stick to other garments. Measures about 100 x 35 cm.
As you probably know, socks have replaced wraps today, but these still are sort of useful:
They fill jackboots pretty well
They dry faster than regular socks
Wraps beginning to wear out? Just start wrapping from the other end!
Work as a top layer on a sock for collecting sweat and providing some extra insulation.
If you need to equip a million man army, these are way cheaper to make than socks!
Care
Wash in 60 degrees Celsius. In the Russian army these go through a hundred degree cycle, but nowadays detergents are so effective that you really don't need to boil anything.
Instructions
Look at the picture for reference (left and right foot pictured separately). Remember to keep the underside free from wrinkles - this is very important. When you have wrapped the footwrap once around the foot, pull the corners to tighten it before moving on. Last, any extra fabric should be tucked inside the footwrap itself to keep it from disintegrating.
Condition
Unissued of course, "factory new". Of course being Russian, these might have some old dirt or stains on them and might be wrinkled, but they are never used. The edges are not finished, but left raw. These are cut to shape here in Finland from original fabric rolls.
The first batch
The first 30 pairs are cut by hand right here in the true form of artesan spirit. It's surprisingly difficult to do neatly, as the material stretches a bit to every direction. When we get more, they are cut elsewhere.
Recommendations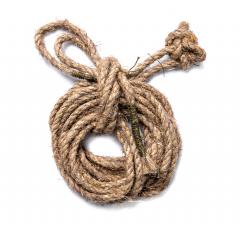 Soviet hemp rope, surplus
2.99 USD
Sometimes purchased with.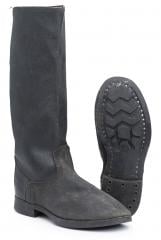 Soviet Kirza boots, surplus
34.99 - 64.99 USD 45.99 - 64.99 USD
Sometimes purchased with.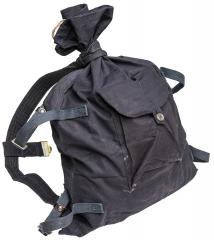 Soviet Veshmeshok rucksack, black, surplus
27.99 USD
Might be of interest. Temporarily out of stock.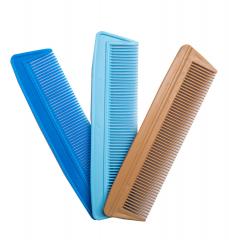 Soviet army comb, surplus, small
0.99 USD
Might be of interest.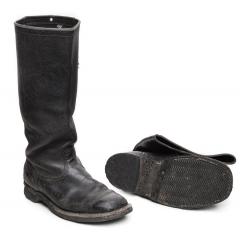 Finnish leather jackboots, surplus
55.99 USD
Might be of interest.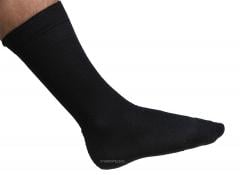 Särmä Merino Socks
9.99 USD
Similar product.
Reviews
You have already submitted a review. You can edit your text by clicking on it.
Log in and write a review.
Remove filter
Suomi
(2)
English
(1)
I would recommend for a friend
Marko N.

10.11.2018
Ei minullakaan ole pahaa sanottavaa jalkaräteistä, kun lähinnä armeijassa niitä käytin. Rätit olivat mukavan tuntuiset marssillakin, kun piti käyttää kumisaappaita, kumisaappaat olivat vakio jalkineet marssi ja taistelukoulutuksessa. Rättien kanssa sai vain olla huolellinen kun ne kääri jalkoihin; tuvassani eräs kaveri oli huolimaton käärinnässä, ja tämä kostautui hiertymänä, joka vielä päälle tulehtui ja aiheutti kuumeen sekä sotilassairaalareissun. Suosittelen jalkarättien käyttöä, jos vain suinkin viitsii nähdä vaivan, joka niiden käyttöön liittyy, ja eivät oikein käy kuin saappaisiin.
8
0
I would recommend for a friend
markus b.

02.12.2018
Oikein hyvänoloinen pehmeä jalkarättikangas. Nämä on tosiaan leikattu venäläistyylisesti aika pitkulaisiksi, kuten Jukka alla toteaa. Mun mielestä Leka saisi myydä tätä kangasta metritavarana, eikä valmiiksi leikattuna, niin kukin voisi leikata rättinsä mieleiseen muotoon ja kokoon. Mutta metritavarana Leka ei kyllä mitenkään kehtaisi myydä kangasta tähän hintaan, eihän? Nyt rättiparin hinta on samaa luokkaa kuin kelvollisilla sukilla, mikä on tietty tavallaan ihan ok.
6
0
I would recommend for a friend
Jason C.

27.12.2018
I begged the lads to get some of these, and they came through!

I had been making my own foot wraps from old flannel pillow cases. By comparison, these are thick and inelastic. You'll want a boot with lots of room inside the last.
2
0