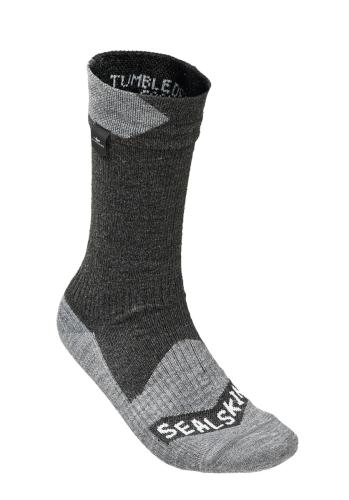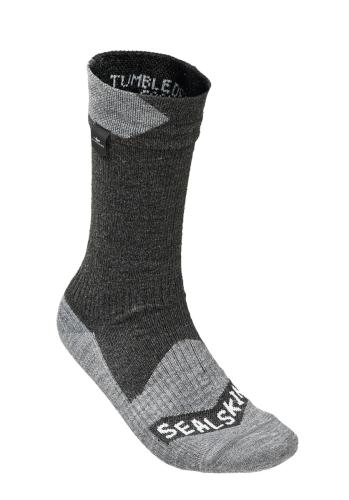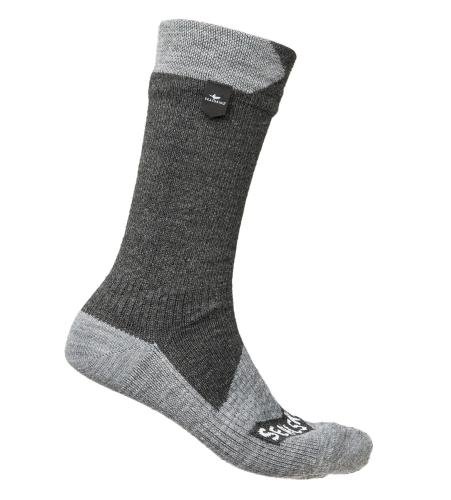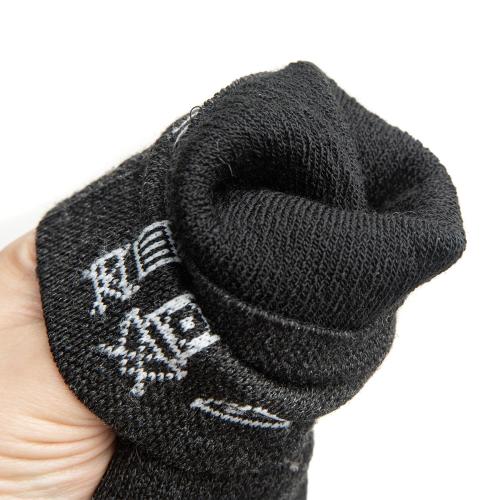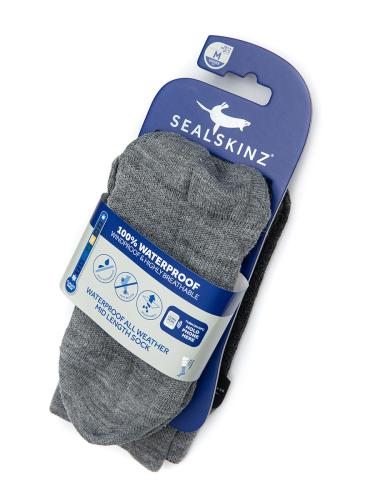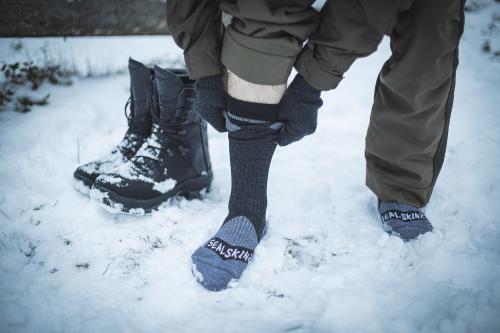 SealSkinz
Sealskinz Waterproof All Weather Mid Sock
Price 39.99 USD
excluding sales tax
Not many things boost morale on the trail like dry feet free of blisters and frostbite. It is also a goal that is sometimes difficult to achieve. Sealskinz waterproof socks are a very good tool for the job and make life easier in difficult conditions.
Loading products...
Trouble with the metric system? Try our converter: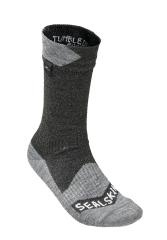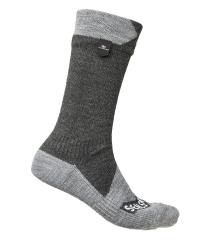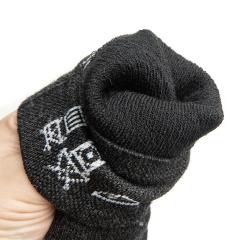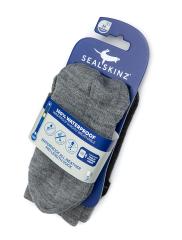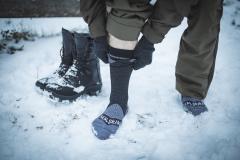 Not many things boost morale on the trail like dry feet free of blisters and frostbite. It is also a goal that is sometimes difficult to achieve. Sealskinz waterproof socks are a very good tool for the job and make life easier in difficult conditions.
Three questions arise when something is advertised as waterproof and breathable. The first two are both "is it, though?" (making that squinting Thor face) and the third is a matter of durability.
We have used Sealskinz socks extensively and they are actually 100% waterproof and very breathable - more so than many boots with a waterproof membrane! The hydrostatic head is >20,000 mm and breathability is also at a very good level, we suspect this is in part because the membrane is so close to the skin that it remains warm - all membranes work better in the warm because it reduces condensation.
The sock features a three-layer bonded construction that combines a hydrophilic membrane between a Merino wool interior for warmth and sweat-wicking, and a durable Nylon blend exterior with 4-way stretch for great fit and wearability. The construction omits many seams and the toe boxes are hand-linked to keep everything nice and flat. The elastic supports at the ankles, heels, and insteps improve the fit.
Use with other socks
Liner socks are a good idea for several reasons. They prevent blisters on long marches and allow you to remove moisture from inside the Sealskinz socks by changing just the socks you wear next to the skin. They also improve hygiene and reduce the washing frequency of the outer socks. Finally, any water that makes it to the membrane can feel a bit cool (as if the sock was leaking when it's actually not) but a liner sock eliminates this.
Size info
The socks are true to size and allow a liner sock to be worn underneath. However, if your feet are over the recommended size at all, pick the larger pair. The UK size converts to US sizes simply by +1 whole size e.g. UK 8.0 is the same as US 9.0.
Materials and washing info
Life is peachy! You can throw these in the wash at 40 degrees along with the rest of your gear. No need to line dry or wash with special detergents. Tumble dry cool or drip dry as you like. Since the membrane is a solid barrier, you'll never need to re-waterproof.
Outer Layer: 62% Polycolon, 29% Nylon, 9% Elastane
Middle Layer: 100% Hydrophilic Membrane
Inner Layer: 36% Merino Wool, 36% Acrylic, 18% Polyester, 5% Nylon, 5% Elastane
All products: SealSkinz
Recommendations
Loading products...
Reviews
You have already submitted a review. You can edit your text by clicking on it. You can filter the reviews by clicking on the elements of the summary.
Log in and write a review. You can filter the reviews by clicking on the elements of the summary.
Remove filter
Suomi
(2)
English
(1)
I would recommend for a friend
Onni J.

10.01.2022

⚠ Unverified purchase
Vaikka kuinka järki sanoisi että vedenpitävä sukka kuulostaa päällystöupseerilaitoksen parannustehtaan opinnäytetyöltä konseptitasolla, näistä hylkeennahoista on todettava että ovat muuten oikeasti hyvät.
Näistä oli joskus muinoin ylijäämänä brittiläinen sotaversio Sealskinzin logolla jossain pienessä sotaputiikissa ja ostin kokeilumielessä testiin.

Uskomaton tuote. Sisällä oli villainen (merinoa vai ei, sitä en nyt muista) froteekerros, perverssin tuntoinen hönkivä gortonkisukka ja kulutuspinta päällä.
Pidin kesällä 3 päivää varsin hutlukkaassa luonnetestissä näitä jalassa 2 vuorokautta putkeen ja vaihdoin villaisiin siksi aikaa että sain varpaiden välistä kaavittua ojamudat ulos ja kuivattua.
Ei rakon rakkoa, vaikka jalassa oli masokismin varpaitakipristävä multikulminaatio M05 viidakkovarsikenkä (jotka tosin eivät selvinneet tästä tempauksesta ehjänä niin mitenkään päin).

Talvella toimivat omassa käytössä uskomattoman hyvin pelkältään yhden sukan taktiikalla umpihangessa joukkueen hyökkäysnöyryytyksessä kun todennettiin miten uudistettu hajautettu taistelutapa toimii. Sukat oli tottakai läpimärät sen hetken kun heilahdettiin hangessa, mutta näiden froteerakenne ja aidosti paineella hengittävä ja ihanan footfetisistinen kalvokerros on jotain mitä kannattaa testata ainakin kerran elämässä. Ihan kuin kaikkea muutakin jännää ja vähän huolestuttavaa.
Villa kastuu mutta lämmittää, mutta kävellessä pumppaa kosteutta kalvon läpi ulos, tuntui silti ettei osannut toiseen suuntaan kuitenkaan vuotaa.
Mikäli ei tehnyt Gore-Texillä elämästään helvettiä niin nämä ovat olleet ihaninta mihin olen varpaani upottanut sitten puhtaiden släpäreiden Thaimaalaisen junanvessan jälkeen.

Tietenkään tyhmä ei voi olla vaikka varusteet olisivat kuinka guccia hyvänsä, joten varuste- ja nisäkäshuolto tulee aina olla opeteltu ja treenattu kuntoon ennen kuperkeikkatemppuja.
Omat skinzit kärsivät pitkän sodan jälkeen kulutustappion ollessaan niin aktiivisesti käytössä ympäri vuoden että jatkuva jauhaminen lopulta hajotti kalvon kantapään takaa, mutta tähän on samaan mainittava myös että yksikään muu sukka ei ole käytössäni selvinnyt kolmasosaakaan näin pitkään.

Näiden kohdalla kannattaa muistaa huoltaa omat ja kaverin varpaat kunnolla niinkuin aina ja valita kalukukkaroksi joku silkkinen sissipipo, sillä vaikka ovatkin perkeleellisen hyvät, sukka kuin sukka saa kolistessa jalan hikoamaan ja jos viettää tunti- tai päivätolkulla aikaa nokiat pykälässä niin aivan varmasti myös hyttyskarkoteaspekti alkaa käryämään silmissä asti.
Aktiivinen peseminen ja kuivattaminen huolella kääntäen sukan pari kolme kertaa nurinpäin kuivattelun aikana pitää huolen että eivät kerää basiliskoja tai tuntemattomista lähteistä tulleita viruksia jotka saavat räpylärätin yleisesti döfäämään raatomontulta.

Suosittelen lämpimästi testaamaan ja opettelemaan käytön kunnolla. Palvelevat hyvin.

Näiden ansiosta olen oppinut keskittymään olennaiseen ja unohtamaan sen kalvoilla kikkailun joka lähinnä vaan stressaa silloin kun pitäisi olla ajatus kirkkaana tehtävässä. Venaashetkisuohon vaan, kenkä varresta tyhjäksi jos käy syvällä ja marssimalla jalat kuivaksi.
Kun taktinen tilanne sallii niin puhtaat pykälään ja taas voi uhrata kilometrin tai pari lisää Mielikille.

Witu jees mun mielestä.
14
0
I would recommend for a friend
Maria H.

Varusteleka employee

11.02.2022

Verified purchase
Sealskinzit oli ehkä tämän talven paras hankinta. Ei tunnu missään vaikka kenkään menisi lunta, ja näistä tuli myös mun juoksulenkkien vakiovaruste. Nyt kun vielä saisi valikoimaan ohuemmat Sealskinzit muita vuodenaikoja varten!
0
0
I would recommend for a friend
JHIH W.

11.07.2023

Verified purchase
你應該在有貨時買2雙
0
0