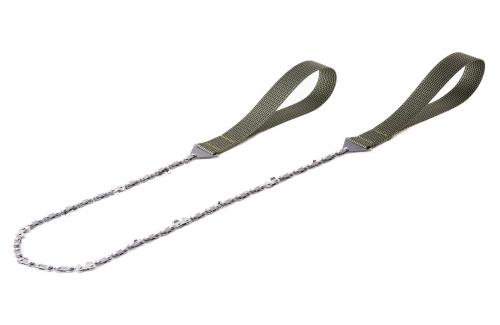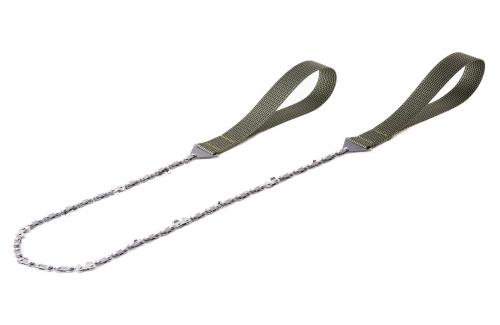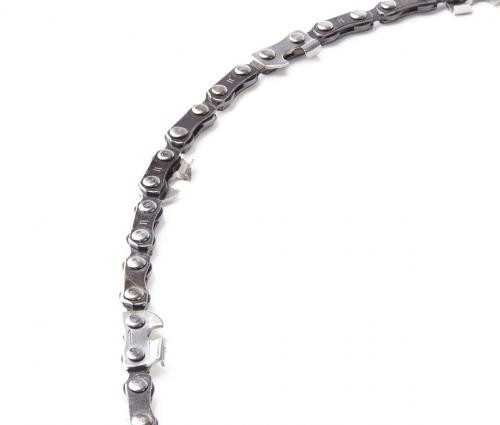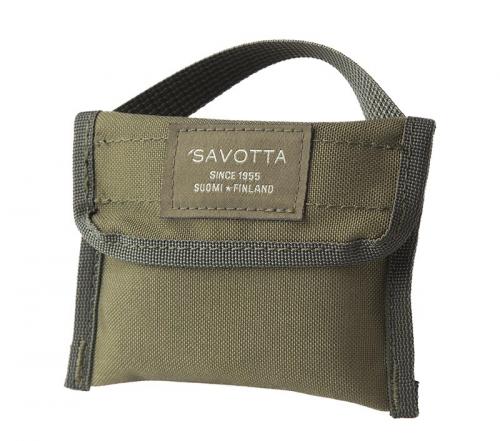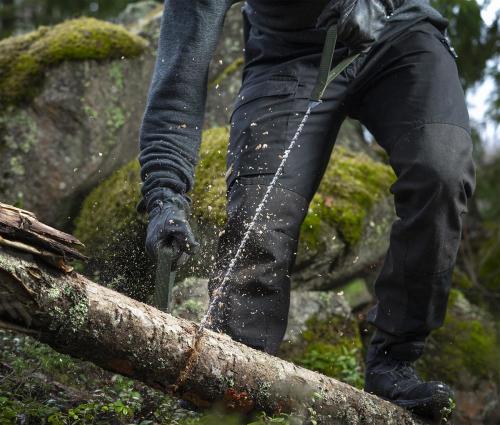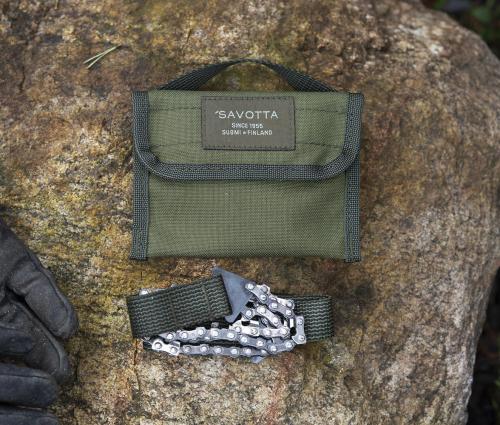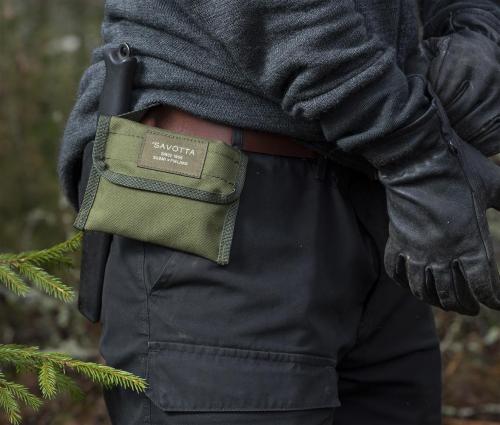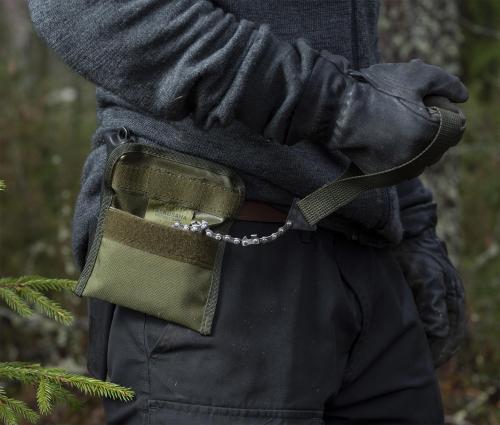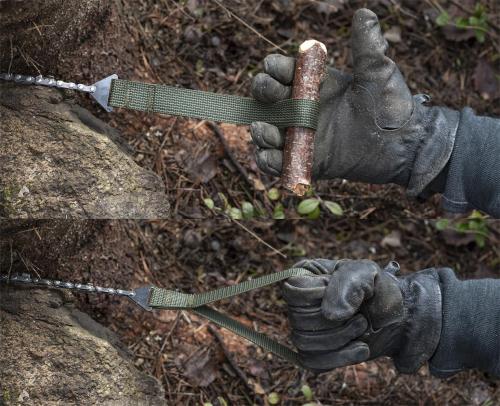 Savotta
Savotta Pocket Saw
Price 29.99 USD
excluding sales tax
A pocket-size chain saw, heavier, sturdier, and altogether a tad better than the usual wire models. Of the plethora of different pocket saws we've seen over the years, this one is the winner, made from proper saw chain and military-grade handle straps so it gets the job done.
In stock 21 pcs. Sold 15 pcs in the last two weeks.
Unfortunately we can't ship this item to your country. We're terribly sorry!
Trouble with the metric system? Try our converter: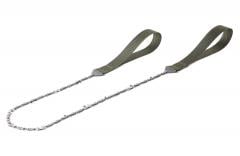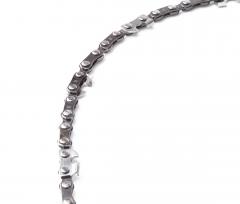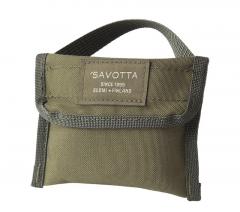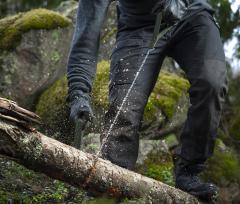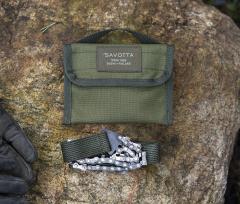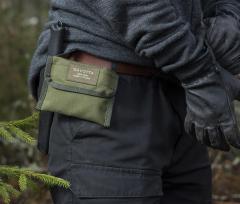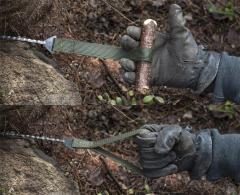 A pocket-size chain saw, heavier, sturdier, and altogether a tad better than the usual wire models. Of the plethora of different pocket saws we've seen over the years, this one is the winner, made from proper saw chain and military-grade handle straps so it gets the job done.
Due to the manufacturer's concern of litigation risk, we can't ship these items to the US or Canada.
A word from Savotta
In the wilderness, you often need strong and sharp tools to cut the wood down to the desired length for building a fire or shelter. A pocket saw with durable strap handles is a compact and light-weight product for the job.
In practice, the pocket saw is a motor saw chain equipped with sturdy and durable strap handles. When not in use, the saw travels in a convenient pouch with no jingling or jangling. The pouch is made of durable 1000D Cordura.
The chain saws back and forth, taking advantage of a large cutting surface. The large muscle groups can be utilized when cutting with the chain, which makes it quick and efficient to use. It is also possible to insert sticks in the strap handles if preferred.
Naturally, all saws lose their edge with use, but the chain saw will serve you for a long time. The 11 cutting blades can be sharpened with a chain saw file.
Technical specifications:
Length: 108 cm / 42.5" (chain 65 cm / 25.5")
Chain: Tool steel
Handles: polyester strap
Pouch: Polyamide (1000D Cordura)
Weight: 150 g / 5.3 oz. (saw 120 g / 42 oz.)
Bag and handles colour: olive green
Warranty and guarantee
The product has a 1-year guarantee against material and manufacturing defects.
Kierto Circular Economy
Return this product used but clean and unbroken, and you'll receive half of the product's original price as Varusteleka credits. Service is available only in Finland. Only Registered users can make Kierto returns. See more information about Kierto.
Made by Finn-Savotta Oy
Founded in 1955, Savotta is known for its simplistic and extremely rugged, Nordic designs. For decades, Savotta has been the go-to supplier of outdoor gear and equipment for individual outdoor people as well as various aid groups and defence forces, most notably of course the FDF.
ISO 9001:2015, AQAP 2110 Ed D, Facility Security Clearance
ISO 14001: 2015 Environmental certificate
NATO CAGE: A444G
Savotta makes a large share of their products, all of their tents, ruck frames, and all non-sewing work in Karstula, Finland, which is also where all of the design and development takes place. Large production runs are distributed to Savotta's second factory in Estonia, which is tooled for sewing only.
All products: Savotta
Recommendations
Loading products...
Reviews
You have already submitted a review. You can edit your text by clicking on it.
Log in and write a review.
Remove filter
Suomi
(5)
English
(3)
I would recommend for a friend
Farasha E.

11.03.2019 (Edited 02.06.2021)
I would recommend for a friend
Tomi H.

10.06.2019 (Edited 05.06.2021)
Ostin kyseisen laitoksen muualta, mutta pakko sanoa, että jos metsään on pakko ottaa jokin sahaava ihmisluonnon keksintö matkaan niin tässä on varsin kokeiltava kandidaatti suhteellisen hyvään hintaankin. Sahan koko ja kuljetettavuus 5/5, kulkee oikeasti vaikka housun sivu- tai takataskussa kokonsa puolesta, mutta sisältää lähes pokasahaan verrattavissa olevan välineen. Sahaus itsestään menee varauksin vielä 25cm halkaisijaan asti hymyssä suin. 3/5.

Testit kyseisestä vehkeestä otettiin muutama vuosi maassa lojuneeseen männyn ryökäleeseen. Ensin napattiin latvasta pala irti (halkaisija n. 7cm) ei ongelmaa, eikä tullut edes hiki, niin nopeasti leikkasi. 15cm alkoi tulla jo hieman lämmin kohtisuoraan ylöspäin sahatessa. 30cm paikkeilla piti jo ottaa muutaman kerran happea ja kierrellä terää eri kohtiin puunrunkoa, että se sahautuisi poikki. Voimien ehtyessä oli kuitenkin pakko ottaa vaarin vanha pokasaha esille ja katkaista puunrunko loppuun.

En kyseistä välinettä ottaisi harvennushakkuuseen, mutta esimerkiksi tämä kirveen ja/tai Skraman kaveriksi metsäretkelle polttopuiden tekoa varten olisi aivan lyömätön kombo.

Idioottivarmaa Savotta laatua.
3
1
I would recommend for a friend
Aku B.

07.07.2020 (Edited 06.06.2021)
Näin puolen tusinaa säären paksuista pihapuuta tällä kaataneena ja pilkkoneena voin todeta, että tämä ei ole vain vitsi vaan myös ihan toimiva saha.

Kyllä, hiki tulee pintaan ja alaselkä kipeäksi, mutta kyllä tälläkin saa puun polttopuiksi pilkkomiseen valmiikis. Työ käy hiljaisesti ähkien ja puhkien, muutaman rakkulan kämmeneen ansaiten ja useamman keskiolut tuopin huiviin vetäen, mutta tulosta saa aikaiseksi yllättävän nopeasti.

Noottia antaisin ketjun lyhyydestä, joka pakottaa tällaisen vajaan 190 senttisen ikävään työasentoon ja käsikahvoista, jotka ovat pikkaraiset ja hankaavat. Niitä saa parannettua, kun ne pujottaa peukalon paksuisen kalikan ympärille, jolloin työasentokin paranee, muttei tarpeeksi.

Vahva suositus kaikile, jotka eivät moottorisahaa omaa, osasi käyttää vaikka omaisi tai haluaa osoittaa naapureille kovapäisyyttään ja periksiantamattomuuttaan tekemällä pihatyöt tarpeettoman raskaalla menetelmällä.
1
0
I would recommend for a friend
Riku S.

25.12.2020 (Edited 06.06.2021)
Mulla on tästä ollut täällä aiemmin myynnissä ollut vanha malli matkassa nyt jo useamman vuoden, eikä se käsittääkseni eroa tästä mitenkään muutoin kuin väreiltään ja siinä, ettei mukana tullut kuljetuspussia (hintakin taisi juuri siksi olla silloin matalampi.) Tämä vekotin kuuluu mahollisesti ihmiskunnan yksinkertaisimpiin ja nerokkaimpiin keksintöihin. Siis siitäkin huolimatta, että kyseessä on saha: kapine, jota nyt lähtökohtaisestikin on aika vaikeaa pilata.

Plussat:

+Menee pieneen tilaan. Siis oikeasti pieneen. Ei tarvitse olla Sullo Ja Ruhjo -pakkaustyylin suurmestari saadakseen tämän mahtumaan esimerkiksi Scho-Ka-Kola purnukkaan (tai vaikka siihen nyt mukana tulevaan taskuun, joka varmaan on kanssa ihan hyvä.) Vastaavasti ei myöskään paljon paina.

+Käyttövoima riippuu ihan omasta lihaskunnostasi, mutta ei silti vaadi ihmeitä. Itte olen melkonen narukäsi ja silti saanut tällä kaadettua ja raivattua ihan hyvin isompiakin puita. Sitä 2000 vuotta vanhaa tammea et tällä uuden terassisi alta saa nurin, mutta melkein mikä tahansa muu kyllä onnistuu, jos vaan äheltää jaksat.

+Yksinkertaisena kapineena helppo huoltaa ja ei nyt budjettia kaada edes tällä uudella hinnalla, jos sattuisit jotenkin saamaan päreiksi. Tämän mällääminen harmittaa paljon vähemmän kuin sen uuden moottorisahan uppoaminen järveen.

+Käyttökokemuksen perusteella tuhoutumaton, eli sen päreiksi saamisen pitäisi olla aika haastavaa.

Miinukset:

-Saattaa olla joillekin vähän hämäävä. Tämä johtuu enempi mielikuvista kuin tuotteesta. Kaikenlaisissa videoissa jermut kiskoo tämmösillä mettän nurin ja sen jälkeen juo kahvit päälle. Todellisuudessa sen yhdenkin puun pilkkominen käy jo ihan hyvästä kuntoilusta. Jos sulla on mettä kaadettavana, hanki moottorisaha.

-Helppo saada jumiin, ajoittain vaikea kiskoa puun syleilystä vapaaksi. Harmittaa siinä vaiheessa, jos tämä on ainoa puiden pahoinpitelyyn sopiva välineesi ja huomaatkin haukanneesi vähän liian isoa runkoa.
4
0
I would recommend for a friend
Henri A.

10.01.2021 (Edited 15.06.2021)
I would recommend for a friend
Henrik L.

01.03.2021 (Edited 24.06.2021)
Omani on se rimpulaversio, ei tämä paranneltu.

Tullut tehtyä sekä polttopuita sadesäällä risukeitintä varten tervaspuusta ja pari kertaa jopa auringonpaisteessakin!

Viimeeksi käytin pari kk sitten, kun suvun mailla oli kaksi puuta kaatunut tielle. Isäni mietti että käydään hakemassa saha kävellen, mutta vetäsin tämän esiin sen sijaan.
Ekat 10s luuli vitsiksi, sen jälkeen vaan ihmettelyä. Vikan puun alkupään vedettiin kahdestaan, yksi kummassakin päässä.

Tälläkin työkalulla on oppimiskaari.
Itse astun aina leikkauskohdan lähelle, jolloin puu painuu alaspäin ja saha ei jää kiinni.
Kannattaa myös suunnitella miten pätkii, (käytä maastoa / kiviä / mättäitä) tehdäksesi homman fiksusti.
2
0
I would recommend for a friend
Tanguy P.

13.09.2022
I would recommend for a friend
Aleksi O.

25.09.2022 (Edited 25.09.2022)
Tämä on kyllä oivallinen selviytymis väline. Kombinaationa kipinäpuikon, puukon ja tämän sahan kanssa selviät lämpimästi hyvän yön rakovalkean äärellä ja jos on kylmä yö sahaa yksi klapi niin enään ei ole.

Eli en odottaisi tästä mitään joka reissun työvälinettä, ellei välttämättä itteeän halua väsyttää, kun kunnon kaarisaha voittaa aina. Sahaaminen käykin aika työstä, mutta kyllä se tekniikka sieltä löytyy. Ja helpoin tie on kun on joku, joka pitää puuta paikallaan, tai toinen sahaa toisella kahvalla. Tällä voisi sahata paksujakin kaatuneita puita, mutta suosittelen pysyttelemään suht ohuissa max 2-3 nyrkin paksuisissa, muutoin saatat sahailla pitkänajan hikihatussa.

Suosittelen kyllä kuitenkin tämän olemaan aina mukana, painoa ei juurikaan ole, ja menee pienimpiinkin taskuihin tai vyölle. Jos se olikin se 7pv reissu, kun oksasaha hajosi ja kaarisaha upposi jokeen, kiität itseäsi kun tämä löytyykin taskustasi.
0
0