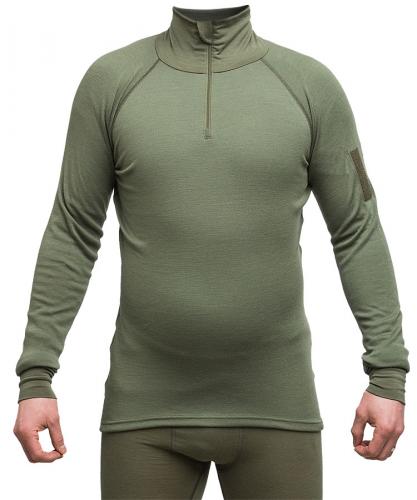 Särmä TST L2 Turtleneck Shirt, Merino Wool
Price 55.99 USD excluding VAT
Flat Rate Shipping to USA $9.99
94 % recommends
Sold 34 pcs in the last two weeks
Loading products...
Trouble with the metric system? Try our converter: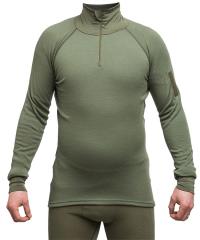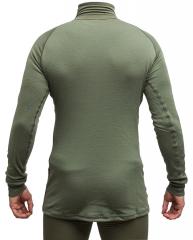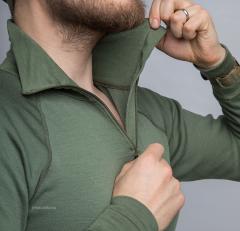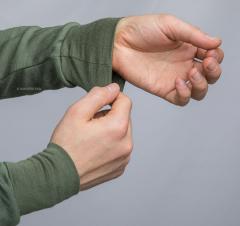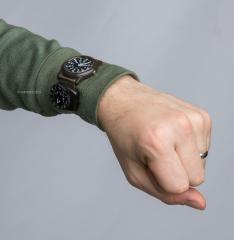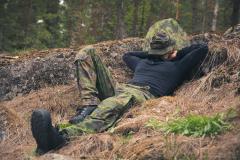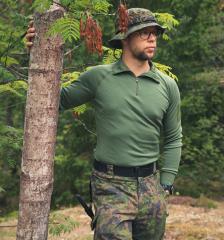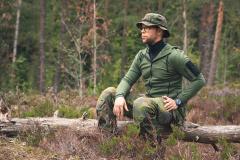 A functional midweight turtleneck shirt for demanding active wear. The long hem, raglan sleeves and clever cuffs and collar guarantee a comfortable fit. Made from a polyamide reinforced merino wool blend.
Form fitting, relaxed enough to layer a lightweight shirt underneath.
Raglan sleeves: no chafing seams on the top of the shoulders adds comfort when carrying rucksacks.
Flatlock seams: no thick folds that could cause discomfort.
Snug collar and cuffs cleverly constructed from double layered lightweight fabric.
Long hem: stays safely tucked in when moving about.
Velcro for Finnish M05 rank insignia on the left sleeve.
Weight 390 g (Large).
Materials:

80/20 merino wool / polyamide, 250 g/m2
Cuffs and collar: 80/20 merino wool / polyester, 180 g/m2
The midweight merino wool knit makes these very multifunctional: these are not only an extreme cold weather mid layer but something you can use all year round. During chilly summer nights these offer added comfort and warmth when trying to catch some sleep in a (perhaps moist and nasty) sleeping bag.
L2 - Mid Layer
The second layer of the Särmä TST clothing system, wicks moisture forward from the base layer and gives moderate thermal insulation. The L2 can also be used as a next-to-skin layer which further adds to the flexibility of the system. Our mid layer is made from a midweight merino wool blend, it is a bit more relaxed fitting and noticeably warmer than the base layer.
Take a look at our Särmä TST Clothing System!
High quality Merino wool
Made from a 80% merino wool and 20% polyamide, weight 250 g/m2. The polyamide content adds abrasion resistance to the otherwise quite weak wool. Merino wool is a fantastic choice for next-to-skin wear, most notably it feels good against the skin and retains it´s insulating properties even when soaking wet.
Mulesing free! All our merino wool products are made using mulesing-free certified merino wool.
Wash and care
This merino wool blend is machine-washable in 40 degrees celcius, but washing is seldom necessary - wool cleans itself. When not in use, air them out and give them a good shake after that.
Size info
The measurements in brackets are the recommended user chest circumference and height. Very simple. These are quite form fitting but as the material is quite stretchy these do not feel like a sausage skin. For those looking for hard data, here's a chart with the actual measurements of the shirts themselves:
Product update: the latest batch has an additional 9 cm (a bit under 4") of hem length. You recognize the latest batch from a suggested user height of up to 190 cm / 6' 3". The previous batches are named "Regular". The table below has original measurements.
| Size | Chest circumference | Sleeve length (from the collar seam) | Back length (from the base of the collar) | Front length (from the base of the collar) |
| --- | --- | --- | --- | --- |
| X-Small Regular | 78 cm | 79 cm | 73 cm | 63 cm |
| Small Regular | 86 cm | 80 cm | 74 cm | 64 cm |
| Medium Regular | 94 cm | 81 cm | 75 cm | 65 cm |
| Large Regular | 102 cm | 82 cm | 76 cm | 66 cm |
| X-Large Regular | 110 cm | 83 cm | 77 cm | 67 cm |
| 2X-Large Regular | 118 cm | 84 cm | 78 cm | 68 cm |
| 3X-Large Regular | 126 cm | 85 cm | 79 cm | 69 cm |
Särmä TST
Särmä TST is Varusteleka's own in-house brand of clothing and gear designed for military and law enforcement end-users. Our clothing and equipment are made in co-operation with a number of experienced manufacturers with a strong background in producing clothing and gear for military and law enforcement officials, most notably for the Finnish Defence Forces. For further reading check out the Särmä TST corner of our website.
Särmä TST products are covered by a 12-month warranty against defects in materials and workmanship. For further information please read our detailed warranty guide.
Made in Lithuania, EU.
Reviews
You have already submitted a review. You can edit your text by clicking on it.
Log in and write a review.
Remove filter
Suomi
(25)
English
(11)
I would recommend for a friend
Jakob S.

27.01.2017 (Edited 23.05.2017)
Fukken amazing. I replaced my standard issue turtlenecks with this. Also I wear it every day to ride my bike to work.
It can be worn for a very long time without the need to wash it due to the polyamide (not polyester) blend. The cuffs are very nice as well, as they prevent the shirt from riding up the arm under the layer above.
It is quite a bit greener (less grey) than in the picture. If this matters for you.
11
1
I would recommend for a friend
Roland L.

29.03.2017
My first merino wool product and I can say it is indeed great for next-to-skin wear.
9
2
I would recommend for a friend
Jaakko L.

28.04.2017
Going to the hellish icy rain and overnighting in the woods is a whole different ball game with this kind of gear. I would upgrade a lot of my garderobe, but this i would definitely keep. I will continue buying your stuff in the future, too.
8
1
I would recommend for a friend
Gary S.

29.04.2017
Just buy one already.
6
1
I would recommend for a friend
Teemu L.

03.08.2017
Päällä lämpökerroksena Käsivarren erämaassa, keli oli suomalaista heinäkuuta parhaillaan: 2C lämpöä ja yön aikana tuli pari senttiä lunta. Toimi erittäin hyvin kuivana ja kosteana.

Särmä L1 vaatteisiin verrattuna tuntuu keräävän vähemmän hajuja, oli vielä jotenkin salonkikelpoinen muutaman päivän jälkeen. Todennäköisesti polyamidi sekoitemateriaalina tässä ja polyesteri L1 vaatteista.
12
2
I would recommend for a friend
Oskari U.

18.09.2017
Tää on hyvä. Tarpeeksi pitkät hihat, lämmittää ja siirtää kosteutta ihan eri lailla kuin m91-poolo.
3
1
I would recommend for a friend
Marko M.

24.09.2017
I would recommend for a friend
Oskari N.

19.10.2017
Materiaali itsessään täydellistä! Viisi päivää putkeen kertauksessa päällä eikä minkäänlaisia tuoksuja tarttunut. Leikkaus omaan vartaloon sopimaton. Mies mallia pitkäselkäinen L/XL, silti XL-long kaipaisi vielä lisää pituutta helmaan ja hihoihin, kaulus kiristää, mutta helma taas on aivan liian leveä.
2
3
I would recommend for a friend
Matti P.

26.12.2017
Voi hyvä ihme, voiko tällaista paitaa olla olemassa? Kerran kun vedät tämän päällesi, kaikki muut paidat tuntuvat huonommilta. Suosittelen ehdottomasti ostamaan. Sopii hikiliikuntaan ja kotona istumiseen. Olen 180 cm / 110 kg / 120 cm rinta, ja 2X-Large Regular on mukavan rennohko, ei mikään makkarankuori.
4
1
I would recommend for a friend
Sami S.

13.01.2018
Miten voi mahtavaa tuotetta kehua? Yksi tähti pois koska long mitoituksena ei ole 2XL ja 3XL kokoa. Regular koossa riittää hihan pituus ja L1 paidan helman pituus kompensoi puuttuvia senttejä helman pituudesta.
2
2
I would recommend for a friend
Samu S.

Varusteleka employee

31.01.2018
Erinomainen paita. Ykkösvalinta metsälle ja radalle jos on kylmä keli. Ei tunnu keräävän edes hajuja samalla tavalla kuin muut vastaavasta merinovilla/polyamidi-seoksesta tehdyt paidat. Suosittelen.
3
1
I would recommend for a friend
Mikko O.

18.02.2018
I would recommend for a friend
Iiro H.

01.03.2018
June 2017 wasn't very warm - especially in Lapland - Finland & Norway. Särmä merino polo was so nice to have on! Feel and actual look differs quite much from original Finnish Army technical zipper polo, must say that this is very good...
1
2
I would recommend for a friend
Jan H.

12.07.2018
If you are looking for somthing warm to wear that will fit under almost every top or mid layer and is also very packable, look no further.
The very low profile combined with the turtle neck make this great to wear under even my tightest fitting jackets. Extend the range of a sleeping bag, or turn a poncho into a cold weather jacket with this very versatile piece of clothing.
If I have the choice between one of my hoodies or this one , I will almost always choose the L2 Turtle Neck because of wheight and comfort. Together with the L1 or stand alone this is well worth the price.
I wash mine with soap (handsoap e.g.) roll it between a towel and It is go time in no time.
5
2
I would recommend for a friend
Janne P.

26.07.2018
Loistava vaatekappale. Toimii about joka paikassa.
Itse käytän kelien vaatiessa sulan maan aikana pyöräilessä alupaitana ja talvella likipitäen aina alupaitana.
Ostopäätöstä tehdessäni hinta hieman hirvitti, mutta paita on ollut ihan joka pennin arvoinen.
Ainoastaan kaulus on hieman piukka omaan kaulaani, mutta sen kanssa pystyy kyllä elämään.
1
1
I would recommend for a friend
Atte L.

10.08.2018
Parasta mitä ulkona liikkuja ja työskentelevä voi päällysvaatteiden alle pukea. Tämä tuote kun olisi ollut olemassa 10 vuotta sitten, kaapissani ei olisi muuta kuin merinovillapaitoja talvea varten ja t-paitoja vähän paremmalle kelille. Olen käyttänyt pooloa noin 150 kertaa ja vasta nyt paita on hieman nukkaantunut. Ei haise, siirtää kosteutta hyvin ja on mukava päällä. Pidempi malli pitää alaselän kivasti lämpimänä. Oiva kombo on merino tykit, sukat ja tää paita päällysvaatteiden alle syksyn ja talven seikkailuille. Pohjoisen armeijaväelle nää olis ihan ehdoton juttu.

Kokemuksia:
Ei sovi + 15 lämpöasteeseen ja liikuntaan, tulee todella kuuma.
Viidenpäivän retkeilyn jälkeen ei ollut hajua paljoa kerännyt.
Pitkillä komennuksilla riittää kun paidan huuhtelee kuumassa vedessä tai puhtaassa purossa kerran viikossa, että suolat lähtee paidasta pois. Tälläin saa hajut kuriin.
3
1
I would recommend for a friend
Pasi K.

03.10.2018
Jumaleissön, nyt on vimosen päälle paita keksitty! Kevyt ja lämmin yhtä aikaa. Vähän tavallista kokoluokkaa isomman joutu ottamaan, mutta turha kirjaimia katsella, kuhan päälle istuu.
0
1
I would recommend for a friend
Mikko K.

11.10.2018
Tuntuma päällä on ihan pehmeä ja lämmin. Rauhalliseen sähköpyöräilyyn ja ulkoiluun mitä parhain kun lämpötila on alle +10 astetta ja villapaita olisi vielä liian lämmin. Erityismaininta kerrankin riittävän pitkälle alas ulottuvasta helmasta ja tarpeeksi pitkistä hihoista.
1
2
I would recommend for a friend
Juho H.

20.11.2018
Erikoinen paita, lämmittää, siirtää kosteuden, tuntuu mukavalta päällä, kestävä, ei haise, varmaan jotain unohdinkin. Käytän päivittäin kylmään aikaan töissä suojaliivin alla.
2
1
I would recommend for a friend
JM

29.11.2018
Paras paita oikeastaan kaikkeen käyttöön. Villa ei kutita herkkääkään ihoa. Yleensä pelkkä tuuletus riittää, tätä en uskonut kuin vasta itse kokemalla.
4
2
I would recommend for a friend
Ulf J.

14.12.2018
I would recommend for a friend
D.J.E. M.

18.12.2018
Keeps me warm and toasty. The seams are very well done, you won't even notice them.
2
1
I would recommend for a friend
Monte G.

23.02.2019
Excellent, highly recommend! Lite, compact, warm and an excellent value. I have used it now for 24 months, it is awesome. It travels with me everywhere and is a great addition to my kit.
0
0
I would recommend for a friend
Tuomas K.

01.03.2019 (Edited 02.03.2019)
Lämmin ja hengittää hyvin. Tämän huomaa jo sisällä valmistautuessa ja tunnelma vain paranee menossa. Mitat ovat riittävän pitkät, joten helma ja hihat myötäävät karkaamatta. Liukuu sujuvasti, saumat eivät jää kantohihnojen alle eivätkä hierrä, kainaloista hieman kireä.


Miinusta kauluksen tiukkuudesta - ehkä venyy käytössä, ehkä ei, mutta ei ole käyttistä pakasta vedettynä. Kuristaa pahasti varsinkin aataminomenan tienoota, vaikka vetskarille onkin hyvä kangassuojus. Joustinneulos tai matalampi kaulus olisi korjannut tämän, nyt roikkuu auki ja tulee tielle.
1
0
I would recommend for a friend
Farasha E.

12.03.2019
I would recommend for a friend
Foong H.

29.06.2019 (Edited 29.06.2019)
Very recommend, camping in Malaysia where raining happen very ofteedn. In the night my hammock got wet and so was my shirt. It was very cool, so I took off my tshirt and switch to this in my backpack and it keep me warm
0
0
I would recommend for a friend
Juho N.

27.07.2019
Äärimmäisen erinomainen paita. Vaellusreissuilla, metsällä, lenkillä ja kotona oleskelussa tämä on ykkösvalinta kuumimpia helteitä lukuunottamatta.
2
0
I would recommend for a friend
Markus E.

11.10.2019
This is by far the best turtleneck I ever used.

However, I am unhappy with the cut of the 9 cm longer batch. The shirt is about 10 cm longer than any other shirt I own, which forces it to be folded twice when tucked, and it doubles as a ridiculously ugly bell dress. Might take it to a seamstress since I otherwise love the shirt, but wish I didn't have to.

Still 5/5 for the material, sleeves and collar. It's a relaxed fit, I went down a size for my second shirt to get one of the last from the regular length batch and it fits like a dream and can be worn around people unlike the long version. I do hope that the regular cut returns as an option for us with short backs, but in the meantime I can only warmly recommend the unlabelled long cut to guys who have trouble finding shirts that are long enough.
1
0
I would recommend for a friend
Timo E.

04.11.2019 (Edited 05.11.2019)
Suosittelen tietyin varauksin. Varsin mukava ja paksuuteensa nähden lämmin paita, mutta villan ominaisuudet eivät tässä ehkä toimi parhaalla mahdollisella tavalla. En tiedä sitten johtuuko ihonmyötäisestä istuvuudesta vai 20 prosentin polyamidipitoisuudesta, mutta tämä kerää kainalonhajua suhteellisen paljon. Vertailun vuoksi esimerkiksi brittivillapaitaa ei ole täytynyt pestä vuoden aikana kertaakaan, vaikka olenkin painanut se päällä monet kerrat ihan hiestä märkänä.
0
0
I would not recommend to a friend
Henri H.

11.11.2019
Ei pysty suosittelemaan. Syy on siinä, että tämä merinovillalaatu ei kertakaikkiaan sovi itselle, vaan kutittaa jumalattomasti. Sama homma t-paidan kanssa. Palautin siis molemmat ja ostin tilalle JahtiJaktia. Ne eivät kutita. En myös ymmärrä tässä paidassa, miksi takahelma on paljon pidempi kuin etuhelma. Ei kai tämä mikään pyöräilypaita ole.
0
2
I would not recommend to a friend
Sami K.

17.11.2019
Ihan on mukava ja lämmin paita MUTTA... Paidan helma on ihan naurettavan pitkä!!! Olen itse 172cm ja minulle sopiva koko rinnan ympäryksen mukaan on LargeRegular. Takahelma peittää perseen ja takareidet kokonaan... Materiaali itsessään on vielä verittäin venyvää niin en ymmärrä ketä ja mitä varten tollanen helma on tehty. Koon XS ja XXXL takahelman pituuseroa on 6cm kun taas rinnanympäryksessä eroa on 48cm.. Emäntäväki voikin käyttää kyseistä paitaa mekkona.. JOS helman pituus (varsinkin pienemmissä koossa) olisi vähänkin järkevämpi voisin suositella paitaa.
1
0
I would recommend for a friend
Matti V.

28.11.2019 (Edited 15.01.2020)
Mekko. Leveä. Lyhyt. Ostin L1 pitkähihaisen ja t-paidan kokoa 2XL ja tämän poolon koossa 3XL sillä oletuksella, että pituutta riittäisi heti kunnolla. L1 paidat olivat istuvia ja napakoita vielä pesun jälkeenkin, mitä tämä L2 paita ei ollut ennen, eikä jälkeen pesun, muoto pysyi samana. Maanantai-aamun kappaleko, en tiedä. Olisi pitänyt laittaa heti takaisin. Surkea teltta 0/5. Rahat meni täysin hukkaan. Ei vastaa millään tavalla muiden M05 vaatteiden laatuun.

Ei hätää. Sain uuden paidan ja oli sellainen kuin pitää. Hienoa asiakaspalvelua. 5/5
0
0
I would recommend for a friend
Ville M.

29.11.2019
I would recommend for a friend
Ville R.

03.01.2020
Onhan tuo helma tosiaan aika huvittavan pitkä. Jos olisin brittiläinen teini, niin käyttäisin paitaa tammikuussa mekkona yökerhossa, enkä varmaan olisi edes säädyttömimmin pukeutunut paikallaolioista. Helma ei myöskään ole kuvan mukaisesti tiukka, vaan lepattavan löysä.

Ja sitten taas kaulus on aivan liian tiukka.

Mutta, merinovilla on merinovillaa ja hinta on kohtuullinen, että kyllä tämä käyttöä tulee näkemään, vaikka onkin Varustelekalle tyypillisesti hyvin omituinen mitoiltaan.
0
0
I would recommend for a friend
Petri H.

09.01.2020
Poolo ollut nyt vajaa 2 vuotta käytössä työmatkapyöräilyssä ja parilla viikon mittaisella lapin reissulla. Helma on suht pitkä muttei mielestäni liian, tykkään kun ei kumartuessa heti paidan helma nouse vyötärön yläpuolelle. Hihat ovat myös pitkät, itsellä on yleensä aina vaatteissa ongelmana se että hihat ovat liian lyhyet mutta tässä on hieman ylimääräistäkin. Kangas nukkaantuu hieman ja kaulus tuntui aluksi liian kireältä mutta on muotoutunut käytössä sopivaksi. Paita on mukava päällä, kestävä eikä kutita tai haise. Vaellusreissuilla perhanan hyvä varuste! Voin suositella.
0
0
I would recommend for a friend
Christian W.

10.01.2020
This is a fantastic base/2nd layer shirt, plenty of length so it doesn't come untucked and a good thickness. It's very comfortable! Also they don't seem to mention it in their descriptions, but the seam at the top of the collar has a little triangle fold of cloth that sticks out to cover the zipper when the turtle neck is done up to the top, so the zipper doesn't dig into your neck or catch your beard! You can tell these folks have dealt with the little pains in the ass that a lot of clothing designs have and they come up with some pretty creative and effective solutions to remedy them.
0
0