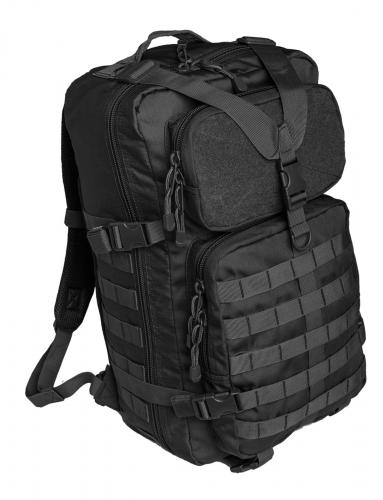 Särmä Large Assault Pack
Price 36.99 USD excluding VAT
Flat Rate Shipping to USA $9.99
96 % recommends
Sold 412 pcs in the last two weeks
Loading products...
Trouble with the metric system? Try our converter: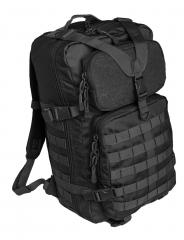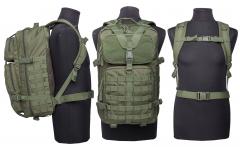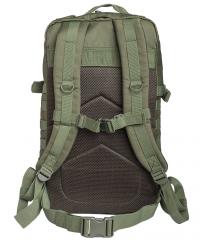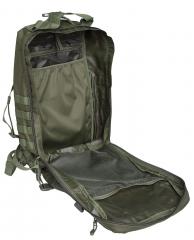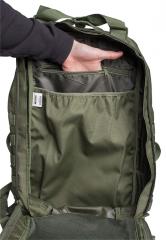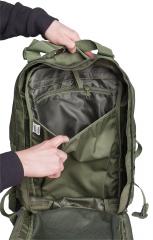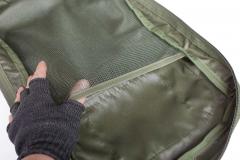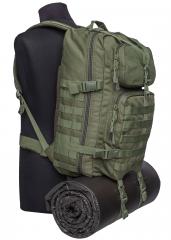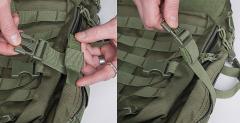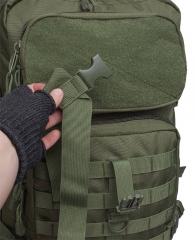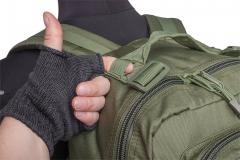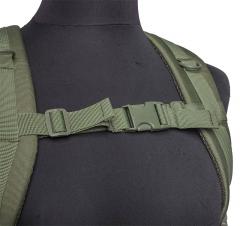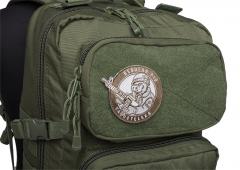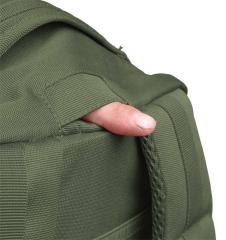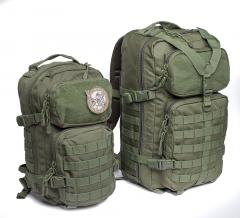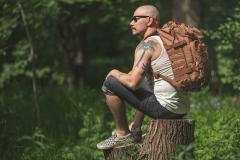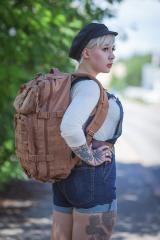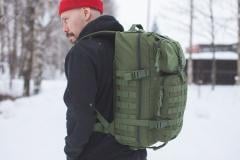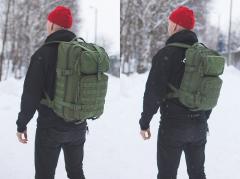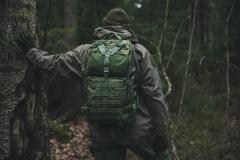 Tired of stuffing big stuff in a small bag? Here's a pack for daily use with a bit more capacity than normal backpacks.
A mid-size 35 litre daypack (2135 in3)
Loads of external attachment possibilities
Goes as hand luggage when flying
Like the regular Assault pack, but larger
Sometimes the youngest sibling becomes bigger than others: the Särmä Assault Pack is a familiar item from Särmä and dates back several years. Through feedback and our own use it has been developed and refined, and in the end we took all that experience to develop basically the same thing, but bigger.
Neither of these is better than the other, just better for you. Some uses demand a compact pack, other times you need a bit more volume. The Särmä Large Assault Pack meets the latter need, while retaining the tried and tested features and details from the regular one.
For people who travel by air, this backpack is suitable as carry-on hand-luggage with most airlines. Tighten the compression straps and probably all will accept it. The shape and size is generally great for travel use.
From soldiers to you
There's a combat origin to these packs, but as history has shown, often military applications become a part of civilian life, because things that work in the field are useful in our boring daily lives as well.
How to pack
Generous main compartment that opens fully
Two smaller external pockets for ease of use
Mesh inner sleeves for organizing
MOLLE/PALS loops for external pouches
Hydration bladder compatible (bladder not included)
Bottom straps for carrying rolls
Sturdy 2-way SBS zippers
How to adjust and carry
Padded and contoured shoulder straps
Sternum strap and 37 mm (1,5") wide waist strap
Four compression straps on the sides
Two lower and one Y-shaped top compression strap
All loose ends have hook-and-loop ends to store excess length
Breathable 3D-mesh against the back and shoulders
Tech specs
External measurements: 51 x 33 x 29 cm
External measurements: 20.1" x 13" x 11.4"
Main compartment: 51 x 29 x 16 cm
Main compartment: 20.1" x 11.4" x 6.3"
Large external pocket: 29 x 24 x 6 cm
Large external pocket: 11.4" x 9.4" x 2.4"
Small external pocket: 13 x 24 x 5 cm
Small external pocket: 5.1" x 9.4" x 2.0"
Total volume approx. 35 litres
Total volume approx. 2135 in3
Weight: approx. 1.5 kg
Weight: approx. 3 lb
Material: 1000D polyester, waterproof PU-coating
Made in China
We give our own productions a one year warranty.
This pack is heavily influenced by the fact that we've sold Mil-Tec Assault Packs both small and large for quite some time. We already did over the smaller one, and now it's turn to create our own vision of the large pack. This means smarter design and better quality for the same price. In all honesty all of these Assault Pack thingies use a Maxpedition design as a base, so even Mil-Tec didn't design their pack from scratch.
Varusteleka Särmä
Särmä is our own brand of clothing and equipment. When you buy Särmä you get purpose-built stuff at a decent price, something that will fill it's intended role well and not cost you an arm and a leg!
Särmä products are covered by a 12-month warranty against defects in materials and workmanship. For further information please read our detailed warranty guide.
Recommendations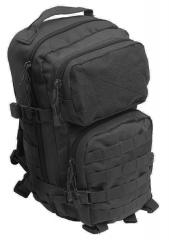 Särmä Assault Pack
32.99 USD
Sometimes purchased with.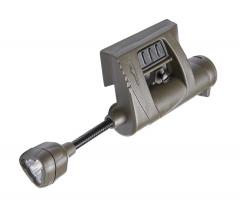 Princeton Tec Charge MPLS
91.99 USD
Sometimes purchased with.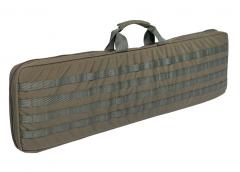 Särmä TST Rifle bag
147.99 - 165.99 USD 211.99 - 229.99 USD
Sometimes purchased with.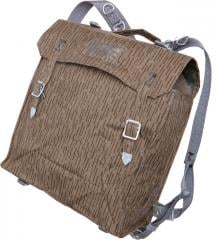 NVA Sturmgepäck combat pack, Strichtarn, with yoke, surplus
6.99 USD
Sometimes purchased with.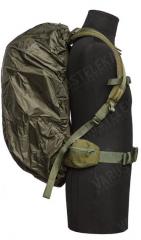 Mil-Tec backpack rain cover
9.99 USD
Might be of interest.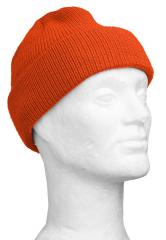 Särmä Merino Watch Cap
22.99 USD
Might be of interest.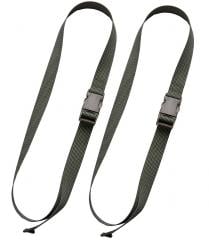 Särmä TST Utility strap, pair
6.99 - 13.99 USD
Buy also.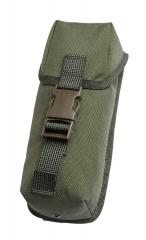 Särmä TST General purpose pouch S
27.99 USD
Buy also.
Reviews
You have already submitted a review. You can edit your text by clicking on it.
Log in and write a review.
Remove filter
Suomi
(46)
English
(24)
I would recommend for a friend
Kim K.

17.04.2018 (Edited 07.05.2018)
Reppu saapui tänään postissa ja pääsi samantien testiin kauppareissulle. Hyvin mahtui rinnakkain 1,5L limupullot (3kpl) ja litran maitopurkit (3kpl), kummatkin omaan riviinsä. Päälle mahtui vielä pakolliset salaatit ja mikroherkut. Tätä ei voinut kuvitellakaan tuon pienemmän rynnäkkörepun kanssa. Särmä TSTn Taistelurepun tukilevy toi kivasti lisätukea. Täytyy myöhemmin kokeilla miten kamaa mahtuu täyden Sourcen WXP-vesirakon kanssa.



Hyvä lisä muuten tuo Yn muotoinen lisäkiristysnauha, kun on näppärä D-rengas vielä lisättynä, saa lisää kamaa varmasti kiinni ja roikkumaan. Ja jos toi alkaa ärsyttään, niin senhän saa irti. Pientä noottia voisin antaa noista kylkien MOLLE-rivistöistä: lähinnä selkää oleva kuja on TODELLA jämpti verrattuna noihin kahteen muuhun kujaan. Kyllähän nauha siitä läpi menee, mutta vähän isommalla kiukulla kuin noista kahdesta muusta. (Kylkiin tuli Mil-Tec Modular System LARGE yleistaskut)



Ensivaikutelma on siis todella hyvä!


EDIT: Oli nyt vähän pidemmässä reissussa mukana ja kolmen päivän kamat meni hyvin sisälle ja ulkopuolelle. Kesti rynkytystäkin hyvin.
27
5
I would recommend for a friend
Sakari S.

19.04.2018
I would recommend for a friend
Antti S.

19.04.2018
Kuin rynnäkköreppu, mutta isompi. Tänne mahtuu jo pidemmänkin reissun tavarat, on pikkuveljensä tavoin jämäkkä ja fiksusti tehty. Pienemmässä repussa selkeästi kuuluva vetoketjujen kilinä on vahvasti läsnä myös tässä isommassa mallissa repussa, mutta siitä pääsee eroon pujottelemalla vetimet uudelleen.
6
1
I would recommend for a friend
Kristjan S.

22.04.2018
I would recommend for a friend
Erno S.

23.04.2018
Reppu on aikalailla juuri niin hyvä, kuin uskaltaa toivoa. Tuota tarrapohjaa ylemmän taskun päällä en itse oikein osaa arvostaa, mutta kai sillekkin kannattajakuntansa löytyy. Ja se myös hieman ihmetyttää, että Y-lenkin alaosaa ei ole vissiin tarkoitettukkaan irroitettavaksi? No, äkkiähän siihen alas taiteli oman solkensa, mutta silti...

Mutta, muuta poikkisanottavaa tästä on kyllä vaikea löytää. Päätaskuun mahtuu mukavasti esim. 24 pakki mallaspirtelöä, ja tilaa jää vielä ylikin. Vetoketjut eivät jätä mitään toivomisen varaa, ja pienen ihmettelyt jälkeen myös sisäpuoliset aputaskut löysivät paikkansa A4 ja isompiekin lehtiöiden, läppärien yms. kuljettamiselle.

Kompressiohihnat ovat riittävän pitkän isommakin takin tms. rullaamiseksi kylkeen kiinni, ja kiitos nerokkaiden nauhatarrojen, ei repussa kuitenkaan ole yhtään ylimääräistä roikkuvaa hihnaa, jos niin vain haluaa.

MOLLE kujastoa on hyvin pitkälle kiitettävästi, eikä minulla ainakaan ollut mitään ongelmia ripustaa pari Mil-Tecin ja Tasmanian Tigerin lisätaskua reppuun kiinni.

Varsinkin tähän hintaan, reppua on liki mahdotonta olla suosittelematta ihmiselle, joka kaipaa kunnollista kantovälinettä arkiseen käyttöön.
10
3
I would recommend for a friend
Juha R.

25.04.2018
Moni ominaisuus yllätti repussa, kuten rullattavat hihnat ja koon pienentäminen kiristämällä. Aivan oivallinen työreppu ja myös lyhyille työreissulle milloin tarvitsee vaihtovaatteet ja läppärin mukaan. Suosittelen!
1
1
I would recommend for a friend
Juho U.

27.04.2018
Hintaan nähden erittäin hyvä ja tilava reppu. Mahtuu todella paljon tavaraa mukaan ja kokonaan aukeava päätasku helpottaa tavaroiden löytämistä.

Kehitys idea: Siirtäkää tuo lantioremmin kiinnitys niin alas kuin mahdollista. Nykyisellään jos haluaa lantiolta tukea joutuu reppua roikottamaan vähän liian alhaalla.
6
1
I would recommend for a friend
Pete M.

02.05.2018
Ihan 5/5, istuu selkään paremmin kuin mil-tecin tekele. Lisäsin 4 grimlockia joka "nurkkaan" niin reppua voi kantaa olkalaukkuna vaivatta.
2
1
I would recommend for a friend
Johannes P.

08.05.2018
Great idea to make a bigger version of a great backpack!
5
2
I would recommend for a friend
Karri K.

10.05.2018
Hyvä ja tilava reppu ja kiinni saa tavaraa ihan liikaakin. Nyt kun on yksi jo ostettuna mettä käyttöön niin huomasin tarviavani toisenkin ihan tavalliseen arkikäyttöön. :D
3
2
I would recommend for a friend
Timo A.

11.05.2018
Pienempi malli ollut käytössä ja on oikein hyvä. Pitkään odotin tätä isompaa versiota. Verkkotaskut sisällä turhia, mutta saahan ne pois. Hinta/laatu -suhde vaikuttaa hyvältä. Kestävyydestä tosin vielä vaikea sanoa, mutta jos kestää kuten pienempi mallin niin hyvä on.
6
1
I would recommend for a friend
David E.

15.05.2018 (Edited 15.05.2018)
My large green assault pack from Sarma arrived yesterday and I was amazed at what I received for $50 CDN. As well this pack is going to be my carry on when we travel. The quality is excellent and I am most pleased and have already recommended this to friends. Perfect. That's the word that sums up this assault pack for me.
6
3
I would recommend for a friend
Hannu S.

17.05.2018
Hyvin toimii kauppakassina, oma Särmä Rynnäkköreppu MK. 1 on jo kulunut sen verran, että päätin hankkia uuden repun. Hyvät kiinitykset, olkahihnat ovat mukavat.

Ainoa mitä kaipaisin, seuraavassa iteraatiossa ehkä, että korkeutta olisi noin 62-65cm, saisin silloin jouseni mahtumaan siihen, ettei tarvitsisi olla useampaa reppua eri tarkoituksiin.
4
2
I would recommend for a friend
Emil H.

20.05.2018 (Edited 25.06.2018)
Tuli ostettua tämä reppu kesän lomareissuja varten ja jo näin ensituntumilta voin uskoa että kyseinen kapsäkki tulee hoitamaan hommansa aikas mallikkaasti. Pitää päivitellä arvostelua uudelleen sitten kesän reissujen jälkeen.


Reppu on ollut nyt reilun viikon arkikäytössä ja palvellut oikein mukavasti. Repun kantaminen on melkein ilo sen omaan selkään istuvuuden vuoksi ja tavaraa reppuun saa mahtumaan huomattavan määrän. Jo pelkkä iso etutaskukin sai vedettyä sisäänsä meikäläisen salikamppeet ja päätaskuun mahtuivat sitten kauppareisuulta mukaan tarttuneet ruoat. Olen myös testannut että saan pakattua reilun kahden viikon reissutarpeeni laukkuun vaivatta ja niin että laukkuun jää reilusti tyhjää tilaakin, kokonsa puolesta tämä reppu onkin lähellä täydellistä lentolaukkua nykystandardien vallitessa (55x35-40x20-25). Repussa käytettyt materiaalit ovat kestävän tuntuisia ja vetoketujut myös.


Pyyhkeitä laukku saa minulta ainoastaan kiristyshinojen ja painon / selkätuen puolesta. Kiristyshinat tuntuvat liukuvan lenkeissään eivätkä soljet täten meinaa pysyä haluamillani kiristystasoilla, varsinkaan pystystysuuntainen kiristyshihna. Muuten oiken hyvän selkätuen kanssa ongelma johtuu ainoastaan repun omasta massasta. Jos reppua yrittää saada seisomaan omillaan edes hetken niin että suuaukko olisi auki niin ei onnistu, vaan reppu lässähtää kasaan heti kun päästää siitä irti. Tämä vaikeuttaa jos haluaa jotain vähänkaan isompaa sujauttaa reppuun ilman että avaisi koko vetokejua ja sivuilla olevia kiristysklipsejä. Pitää varmaan vaan hankkia jokin erillinen lisäselkätuki reppuun jossain kohtaa.


Kaikenkaikkiaan tämä reppu kuitenkin on hoitanut tähän asti hommansa hyvin, varsinkin hintansa nähden




EDIT1: Reppu kesti euroopassa melkein hyvin. Reilun kahden viikon reissutavarat mahtuivat sisään heittämällä ja ylimääräistä tilaakin jäi. Kiristysremmit olivat käteviä ja vetoketjutkin toimivat hyvin, vaikka yhden vetimen muoviklipsi halkesikin kesken matkan. Repun olkahihnojen kiristykset eivät oikein tahtoneet pysyä paikallaan vaan löystyivät jatkuvasti hieman, muuten laukkua oli mukava kanniskella. Kotiin palattuani jouduin pettymyksekseni kuitenkin huomaamaan että repun molemmista etukulmista saumat oli auennut ja repussa nyt kaksi parin sormen mentävää reikää. Jotenkin kuvittelin että armeijatyylinen reppusydeemi olisi ollut vähän kestävämpää sorttia... :/
29
4
I would recommend for a friend
Kimmo S.

04.06.2018
Tämä on "jees systeemiä". Toimii kuten pienempi painos, mutta ottaa sisäänsä julmasti tavaraa. Särmättävät hihnanpätkät ovat vieläkin hyvä idea. Saisi löytyä tämä ominaisuus useammasta repusta. Iso velcropohja ehkä vähän turha, muttei sinänsä haittaakaan menoa.

Sotaisimpiin metsäjuttuihin otan varmaan vieläkin m05-päivärepun (suurempi tuhoutumattomuus noin arviolta), mutta siviiliharrasteissa ja kevyissä KSE-keikoissa tämä on varsin mainio peli.
2
1
I would recommend for a friend
Jarkko K.

13.06.2018
Hyvä reppu! Tilaa riittää, sopiva määrä sisälokeroita läppärille tms., etutaskut riittävän tilavia varusteille. Repun päällä oleva hihnasto on juuri sopiva pyöräilykypärälle. Ainoa keksimäni puute on juuri tuon repun päällä olevan hihnaston yläpään solkien laatu. Ne onat liian liukkaat ja hihna luistaa vaikka olisi monin kerroin vedetty soljesta lävitse. Noh sen kanssa pärjää sopivalla patentilla. Käyttöä ollut muutama viikko ja hyvältä vaikuttaa!
6
1
I would recommend for a friend
Robert Z.

13.06.2018 (Edited 20.01.2020)
I have been looking for "just the right pack" for a year or more. My pack comes with me everywhere I go, every time I leave the house. So far this is the fourth pack that I have tried and it is, by far, the best one. One thing I did was change the stiffness by adding a more rigid stiffener.
Pros. This pack becomes part of you. It does not swing around and shift side to side. It also sits on my back at just the right height.
One thing I like is the simplicity of the compartments. I have no need for an administrative pocket to hold pens, electronics or other small stuff. I don't need a man purse.
The large assault pack is well made and has well thought out features such as the velcro holders for excess strap length. The price is low for this high quality. I was considering the 5.11 Rush but for my needs, the Sarma is better suited and much less money.
This can be used as a carry-on piece of luggage.
Side compression straps are excellent!
The bag is narrow so my arms don't hit it and the bag does not get caught on doorways.
Cons. The large front pocket should be lower. If if was sewn at the same level as the bottom of the bag it would be better. Now when the pack is put down, the front pocket makes the bag fall over.
I'm not sure about the Y shaped top compression strap, but I think I will hate it.
Overall: Good Job Varusteleka! This comes close to being what I think of as the perfect pack.
19/01/2020
Update: Pack is still going strong. I use it every day and it's like new.
0
0
I would recommend for a friend
Atte T.

30.06.2018 (Edited 30.06.2018)
täydelinen reppu saa mahtumaan makuupussin ja kaiken tarvittavan vaikka viikon reisulle
5
3
I would recommend for a friend
Jörgen P.

03.07.2018
This is another great product, made by the Finnish company - Särmä. I can recommend this to anyone who can't decide between Mil-Tec and Särmä. I can see that materials (zippers, buckles and even the polyester) have been chosen to last for decades. As the reservist of Estonian Defence Forces I can recommend this product for anyone who's planning on doing some hiking or decides to use it as patrol backpack in the cold and wet forests.
The only additional things I would love to buy are the side pouches, that are made of the same sturdy material and maybe have a choice to buy the rain cover as well. Having those small choices to upgrade your compact assault backpack even further is a neat choice. :)
14
3
I would recommend for a friend
Henrik L.

11.07.2018
Jos on yhtään raameja ja tietää, että kuljettaa repussa muutakin kuin aapista niin kannattaa hankkia suoraan tämä isompi malli.
18
1
I would recommend for a friend
Hunter L.

16.07.2018
So far seems to be of good quality. Lots of space and strong materials, my only complaint is the vertical Y shaped compression strap. The top half is removable but the lower half is not. Outside of that I'm very pleased with it, the fit and the shade of green, it works well in the maine forests I call home.
1
1
I would recommend for a friend
Romain L.

02.08.2018
I bought this backpack so I had something until I could afford a better one. But after receiving it i knew I probably wasn't going to remplace it as soon as I first expected to. It served me very well during the hike coupled with my 3L hydration pouch. Awesome quality/price ratio, I'm not going to remplace it any time soon.
2
1
I would not recommend to a friend
N.N.

03.08.2018
Kaupunkikassi, ei muuta. Sopii wannabe-operaattoreille tms.
14
72
I would recommend for a friend
Matti M.

10.08.2018
Tosi hyvä reppu kauppakassiksi, kestävän oloinen, toimiva. Imee isoja pulloja+tavaraa kuin mikä. Ehdoton kauppakassi kauppareissuille. Ei tarvi kämmenten olla kivuissa kun muovipussit painaa käsiin. Muuhunkin käyttöön kuten retkille, eräilyyn, matkustamiseen, hyvä.
2
2
I would recommend for a friend
Antti L.

16.08.2018 (Edited 16.08.2018)
Hinta-laatusuhde on erittäin kohdillaan tämänkin vermeen osalta.



Annan tuotteelle 4/5, sillä kaikki soljet ovat erittäin liukkaita ja hihnojen säädöt eivät meinaa pysyä kohdillaan. Esim. eilen lantiovyö liukui irti, kun oltiin eräjormailemassa. Reppu oli siis selässä, lantiovyö kireällä ja hetken päästä lantiovyö irtosi täysin omia aikojaan. Lantiovyön osalta korjaus lienee 2 kpl ITW Tri-Glide solkia tai Särmän varustevyö.

Ja sitten kysymys: sopiiko TST taistelurepun selkälevy tähän reppuun suorin vartaloin vai pitääkö huomioida jotain mahdollisten pehmusteiden ja/tai selkälevyn leveyden osalta?
4
2
I would recommend for a friend
Tish T.

18.08.2018 (Edited 18.08.2018)
I already own a number of higher end rucksacks and "assault packs" (ie. Berghaus, Condor, Voodoo Tactical). I purchased the Sarma Large Assault pack in both black and green -at the excellent price, and the very good consistent reviews on this site it was a very easy decision to make. I am using the black bag in my work vehicle to carry work equipment / tools and clothing for short notice overnight deployments when I don't make it home to pack. I am using the green bag as a sleeping kit carrying bag, holding my Dutch army surplus sleeping bag / liner, Dutch army gore-tec bivi bag, German folding sleeping mat, small tarp, bungee cords and pegs, and overnight supplies. In this configuration it is basically a very flexible compression sack (costs about the same as a high end compression sack anyway) with additional pouches. I have not carried kit very far in the backpack configuration, but the stitching looks very solid, and these bags are definitely comparable to the Condor and Voodoo Tactical products. RECOMMENDATIONS: 1.) Like some other reviewers I am not sure what to think about the Y strap at the top of the bag - it would be ok if the bottom strap was also removable, 2.) Configure the bottom pocket flush with the bottom of the bag, so that the bag sits on the ground without tipping over 3.) Consider selling this bag as a "Sling" bag. I think it would be ideal with one long padded strap for very active, short range deployments where the user has to access the bag contents while on the move - maybe put heavy duty "D" rings on each corner? Overall a great bag for the price. I will probably order a brown one the next time I make a Varusteleka purchase.
3
1
I would recommend for a friend
Teemu K.

20.08.2018
Hyvä arkireppu. TSTOn ja kodin välillä liikkuva roju, läppärit yms. paperit kulkee kivasti. Laatu paikoin vähän muovinen, mutta kertoohan tuon jo hintakin. Tuo kolmion mallinen sidontaliina päällä jäänyt funktionsa osalta vähän auki, nykykäytössä lähinnä ärsyttävä komian tähäre lisätty remmi. Isoja osastoja on vain yksi, siitä pieni miinus salireppukäyttöön johon isompi Miltecin assault pack sopii paremmin. Siinä kun on kaksi isoa osastoa, niin ei tarvi hikisiä ja puhtaita tunkee samaan lokeroon.
5
5
I would recommend for a friend
Ville R.

18.09.2018
Reppu on hinta-laatusuhteeltaan erinomainen. Olen nyt kesän yli käyttänyt sitä kalastusreppuna pyörän kanssa tehtävillä kalareissuillani ja siihen se sopii oikein hienosti. Mukaan saa hirvittävän määrän tavaraa (kaljaa) aina kalatarvikkeista lisävaatteisiin ja syöminkeihin asti. vavat kulkevat kätevästi toisen puolen kompressiohihnoihin köytettynä.

Mutta koska aina pitää jostain napista, niin pikkuvikoja:
- Se Y-hihna on tosi omituinen ja vähän käyttökelvoton. Ei sitä viitsi vetää tiukalle (eli "kompressoida") koska se ruttaa vähänkään tyhjemmän repun yläosan todella rumasti läjään.
- Alempi etutasku olisi parempi jos sen pohja olisi päärepun pohjan tasalla. Vähentäisi repun kaatumisherkkyyttä.
- Vyötäröremmin kiinnityspisteet pitäisi olla alempana
- Pohjan pitkät remmit on käteviä esittelykuvan mukaisesti esim. makuualustan kuljettamiseen. Tungen sinne usein kuoritakin, koska se on siitä nopeampi sateen yllättäessä saada kuin päätaskusta. Mutta... Alaremmien kiristys takin mukanapysymisen varmistamiseksi nykii alemman etutaskun reunan rumasti alaspäin pienentäen sen tilavuutta. Tämän huomaa erityisesti jos siellä on jotain kovaa. Kohdallani viehelaatikoita, jotka sitten liukuvat puristuksessa ylöspäin.
8
1
I would recommend for a friend
Kimmo A.

28.09.2018
Reppu ollut aktiivisessa arkikäytössä nyt noin 2kk ja hyvin pelaa. Materiaalit tuntuvat kestävän hyvin, eikä toistaiseksi pelota että mistään kohtaa hajoaisi. Hylkii likaa ihan kiitettävästi ja omaan käyttöön yksi iso tasku toimii paremmin kuin monta pienempää. Töihin pyöräillessä mukaan mahtuu helposti läppäri, kengät, pyyhe ja vaatekerta ja tilaa jää vielä ylikin. Samoin viikonloppureissun kamat mahtuvat mukaan heittämällä.

Pyöräillessä lantiohihna tukee riittävästi ja hihnojen päissä olevat velcrot pitävät päät kivasti poissa tieltä. Olkahihnat ovat aikalailla sopivan pehmeät.

Mutta sitten muutama kohta mitä parantaisin etää saisi viidennenkin tähden:
- Vajaaksi pakattuna kiristyshihnoilla ei saa pakettia tarpeeksi pieneksi. Alaosa kirsityy todella hyvin, mutta yläosa ei, jolloin reppu jää ikäänkuin V:n muotoiseksi. Tämä luullakseni ratkeasi parilla pienellä muutoksella:
- Sivulla alhaalla olevat kiristyshihnat voisi nostaa yhden molle-välin ylemmäksi
- Ylemmät kiristyshihnat voisi siirtää pikkutaskun päälle samalla tavalla kuin alemmat hihnat. Nyt näistä ei ole juurikaan hyötyä
- Y-kiristyshihna on melko hyödytön. se ei oikeastaan reppua pienennä, vaan vääntää yläosan hassuun muotoon. En oikein tiedä mitä tälle kannattaisi tehdä.
- Näin pienenä miehenä olisi kiva jos rintaremmin saisi vielä vähän lyhyemmäksi.

Kaikenkaikkiaan siis hyvä ja kestävä reppu johon kamaa mahtuu
3
0
I would recommend for a friend
Demian S.

08.10.2018
This is a really good pack at an excellent price. i agree with a number of the complaints on here - not really sure what the Y compression thingy at the top is for, and I think the belt is pointless if it's not padded (and padded would probably be overkill for something this size - although it is pretty big and tardis-like) and the lower external pocket is badly positioned for standing it up when fully packed. But they are minor annoyances rather than deal breakers and it's still a really useful pack, the quality is high, and overall it's excellent value for money. I especially like the little velcro thingummybobs at the end of the straps to keep them from dangling loose.

I own a number of Särmä products (and covet a few more that friends own or that I've seen in the shop - especially that Merino Hoody!) and it's now a brand that I implicitly trust for practicality, quality and value.
5
0
I would recommend for a friend
Eri L.

01.11.2018
Olen joutunut käyttämään kaikenlaisia reppuja suurimman osan elämästäni koska olen opiskelija, ja tämä on niistä ehdottomasti parhaiten selkään istuva. Pientä miinusta siitä että juomarakon letkun läpivienti on niin hyvin piilotettu etten löydä sitä.
0
3
I would recommend for a friend
Justin M.

27.11.2018
I originally bought one of these for my girlfriend so she'd have a flexible pack for day hikes or lightweight overnight camps. I was really impressed with how much could be stuffed into the bag and the compression straps along the bottom and the Y on top made it easy to mount her sleeping pad and sleeping bag(though it's no winter bag). The velcro stays at the end of the straps are a nice tough and the bag feels pretty comfortable even when loaded down, I guess the only thing I'm not very sold on are the buckles, time will tell how durable they actually are. For the price though it's tough to beat and I'm going to pick up a second one for myself to throw a camera insert into since the bag feels more well made than a big brand camera bag that I have which cost me many hundreds more than this bag.
0
0
I would recommend for a friend
Paavo P.

05.12.2018
Reppu on ollut minulla päivittäisessä käytössä noin 5 kk. Reppua on testattu matkoilla, päiväretkillä metsässä sekä arkikäytössä kaupunki- ja kauppareppuna. Reppu on tukeva ja se vaikuttaa kestävältä. Vetoketjut ovat laadukkaat. Reppu on todella tilava ja siinä on riittävästi taskuja. Olkahihnojen säätövara riittää myös pitkälle käyttäjälle, joten reppu on suhteellisen mukava kantaa. Hinta-laatusuhteeltaan tuote on erinomainen.

Joitakin pieniä moitteita toki löytyy. Rintaremmi on hankalasti säädettävä onneton rimpula, joka löystyy itsestään. Myös lantioremmi on jokseenkin hyödytön kaltaisellani pitkälle käyttäjälle (190cm). Remmistä ei ole juurikaan apua, sillä säädöistä huolimatta se jää hieman navan yläpuolelle. Kovin raskasta kantamusta ei tällä repulla viitsi kantaa, sillä taakkaa ei pysty jakamaan. Pistosoljet ovat materiaalinsa ja muotoilunsa puolesta todella liukkaat. Lisäksi soljet ovat aivan uskomattoman jäykät, joten niiden avaaminen voi toisinaan olla yllättävän hankalaa. Solkien käyttö minkäänlaisten hanskojen kanssa on siis mahdotonta. Y-hihnan hienoutta en ole vielä ymmärtänyt. Kysienen laitos tuntuu olevan lähinnä tiellä päivittäisessä käytössä. Repusta lähtee yllättävän paljon ääntä. Kaikkien muovisten pistosolkien, D-renkaiden ja vetoketjun vetimien vuoksi repusta kuuluu melkoinen kilinä. Kovin huomaamattomasti tämän kanssa ei siis pysty liikkumaan.
0
0
I would recommend for a friend
Anonymous customer

06.12.2018
Hyvä ratalaukku. Kerrankin mahtui kaikki rojut mukaan, ettei tarvinnut ylimääräisiä pusseja ja nyssäköitä. Pahus kun ei pysty liittää kuvia, niin olisin havainnollistanut. :D
0
0
I would recommend for a friend
Ismo h.

13.12.2018
todella hyväreppu päivittäiseen työ käyttööni antaisin täydet pisteet jos reppu olisi esim 5cm matalampi ja 5cm leveämpi mut suosittelen ehdottamasti
0
0
I would not recommend to a friend
Saar G.

03.01.2019
i dont understand all the raving reviews about this backpack
this is ,even for its price, a very very VERY basic backup,badly constructed and visually unimpressive

the whole backpack just looks and feels cheap, the shoulder straps are attached with a single line of stitching directly to the body , which means that if you pull one out you can never fix it
the quality of stitching throughout is just awful, some molle slots are coming apart even before i used the pack a single time

very much disappointed
21
15
I would recommend for a friend
Bryce M.

04.02.2019
Overall, this is a well-thought out pack, that for $45 CAD, you cannot come close to beating value-wise. You would pay close to double to get a pack of similar quality and capacity. Believe me, I looked. I have one complaint, though -- the straps and buckles. Mine are really hard to undo, which is not a big deal, but the one real issue is I find the straps don't stay tightened -- especially the waist strap. Maybe I'm doing something wrong? Also just an FYI, the green pack is not your typical olive drab, but more like a sage green.
1
0
I would recommend for a friend
Jari T.

06.02.2019
Eipä oo koskaan tuntunu kalijakopan kantamine näi kevyeltä. Ihan vitun loistava reppu! \,,/
12
0
I would recommend for a friend
Kari M.

15.02.2019 (Edited 15.02.2019)
Todella toimiva reppu hinta/laatu suhde kohdallaan, kanniskelen kuvaus kamoja joissa painoa ihan liikaa mutta reppu on kuitenkin hyvä kantaa. Riittävästi lokeroita ja kiinnitys paikkoja.

Hyvä kun tuossa ylhäällä on tuo Y-kiinnitys sen alle on hyvä laittaa X-jakkara (ns.telttajakkara) kiinni ja sivuremmit pitävät paikoillaan, jalustat sivuille, painoa tulee mutta toimii metsässä rämpiessä hyvin. (iso rynnäkköreppu)

Pari moitetta kuitenkin, eli Y-hihna täytyy kikkailla ettei irtoa yläkohdista ja sama juttu on noitten lantioremmien kanssa, olis hyvä jos niitten hihnojen päät olisi ommeltu kaksin kerroin niin eivät ihan niin helposti aukeisi eli irtoaisi, tai ainakin varoittaisi ennen kuin lähtee irti.

Samalla hihnat vois näitten osalta ollla hiukan pitempiä niin sais paremmin ne kiinnitettyä noihin luistaviin solkiin.

Neljä tähteä tuli noista pikku pngelmista, voi tietenkin olla ettei moniakaan moiset haittaa.
0
0
I would recommend for a friend
Toni S.

02.03.2019
Oikein vallan mainio reppu. Puoli vuotta rymytty maailmalla yhtä soittoa ja koettu on Mongolian arot sekä Kiinan vapaan maan pääkaupunki ynnä muita pikkujuttuja. Koko reissun tavaramäärä mahtuu mukaan ja tähän asti ainakin on mennyt käsimatkatavarana lentokoneessa.

Tosin nyt on alkanut apukuskin puolelta selkäviileke hieman repsottamaan, ei pahasti mutta seurataan tilannetta kuinka käy.

Kaiken kaikkiaan loistava hintalaatusuhde ime sisäänsä hullun määrän tavaraa ja ulkopuolelle saa riippumaan toisen omaisuuden mikäli haluaa. Ei voi moittia.
0
0
I would recommend for a friend
Kalle K.

29.03.2019
Kooltaan reppu on juuri sopiva isolle miehelle ja tavaraa ottaa sisäänsä reilusti. Pienempää mallia kun kokeilin niin tuntui kuin olisi ollut vähän isompi yleistasku selässä. Ei nyt varsinaisesti mitään ydinsodan kestävää laatua hengi, mutta eihän tuolla hinnalla nyt sovi olettaakaan. Pikkutaskuihin toivoisin vähän enemmän organisatorista sisältöä ihan pikkukilkkeille.

Vetoketjujen vetimet pitävät tosiaankin aikamoista kilinää, mutta näppärä henkilö ne helposti naksii irti ja operoi taktisemmat vetimet tilalle. Remmejä oli omaan makuun turhan paljon. Y-remelille en keksinyt käyttöä eli pujottelin ja leikkelin sen pois. Sama pohjan remmeille. Ihan siististi onnistui vaan leikkaamalla ja varovasti sytkällä lämmittämällä.

Kaiken kaikkiaan ihan hyvän ja suhteellisen laadukkaan oloinen reppu kaikenlaiseen kevyehköön yleiskäyttöön. Ei kaduta, mutta ei tämä omasta mielestäni mikään jumal-reppu ole.
0
0
I would recommend for a friend
Aaron F.

02.04.2019
To all the naysayers, I have this to say... this pack is a great pack for a computer! I carry my Panasonic CF-31 ToughBook in it, and it works! The bags I've had before, just couldn't handle the ToughBook; this does so, with ease! It's a decent backpack for the price!
2
0
I would recommend for a friend
Jason S.

02.04.2019 (Edited 08.04.2019)
I cut off the top compression strap straight away as it served no use for me and it seems tidier without it.

Works well for up to 1 week of camping if you can adopt a somewhat minimalist approach.

0
0
I would recommend for a friend
Jussi K.

12.04.2019
Hintaisekseen ihan hyvä, kätevä ja tilava reppu. Hinta näkyy työn laadussa. Yksi reppu kestää omassa käytössä noin vuoden. Yleensä olkaremmit hajoavat ensimmäisenä. Suosittelen silti neljällä tähdellä, kunhan et ole elämänkumppania ostamassa.
0
0
I would recommend for a friend
Jarkko A.

21.04.2019
I would recommend for a friend
Tapio T.

09.05.2019
Hyvä reppu, olen käyttänyt töissä ja lyhyillä työmatkoilla. Reppu aukeaa puoliksi, vähän kuin matkalaukku, mistä on hyötyä kun on sullonut sen täyteen. Hankin itse pari sivutaskua myöhemmin, sellaisessa kulkee esimerkiksi sadeviitta.
0
0
I would recommend for a friend
Robert R.

13.05.2019
Kyseinen reppu ollut käytössä vuodenpäivät ja tullut testattua niin metsässä, kuin asfalttiviidakossa. Kaikinpuolin helkkarin pätevä ja kestävä reppu. Silti parannettavaa löytyy:
-sivun juoksu-kujista reunimmaisin on hivenen liian kapea. Kuitenkin lievää väkivaltaa käyttäen saa taskujen remmit ängättyä läpi.
-lantiovyö saisi olla hieman leveämpi ja säätövaraa saisi olla vähän enemmän.

Siinäpä ehkä isoimmat puutteet.
0
0
I would recommend for a friend
Antti U.

07.06.2019 (Edited 07.06.2019)
Ostin tämän rinkan korvikkeeksi päiväreissuille. 3 viikkoa se kesti, ennen kuin toisen puolen vyötäröhihna hävisi; Ne irtoilevat tämän tästä. Ihan hyvä reppu muuten. Päiväreissun kamat saa helposti kyytiin. Ärsyttää vaan tuo vyötäröhihna niin perkeleesti, sillä se on iso mukavuustekijä. Suosittelen silti, sillä saahan noita uusia. Kannattaa ommella se vyötärhihnan pää kaksinkerroin päästä, niin ehkä se ei tipahda niin herkästi.
0
1
I would recommend for a friend
Ari H.

27.06.2019
Erittäin hyvä päivittäisessä käytössä ja tuli parin viikon lomamatkalla huomattua sama, menee käsimatkatavaralaukkuna lentokoneessakin. Hinta-laatusuhde huippuluokkaa.
0
0
I would recommend for a friend
Johnny H.

05.07.2019
I would recommend for a friend
Matti K.

06.07.2019
Juuri sopivan kokoinen reissureppu, tavaraa mahtuu sen mitä mielellään kantaa. Hyvin sopii myös lentokoneen käsimatkatavaroihin, riittää hyvin 4 yön ulkomaanreissuille hostellissa majoittuen.
0
0
I would recommend for a friend
Jussi A.

17.07.2019
Hintaansa nähden vissiin ihan ok reppu. Itsellä kesti reilun vuoden, kunnes sauma lähti repeämään repun päältä. Käytetty kevyellä kuormalla ympäri vuoden ja kesäkuukausina muutaman kerran retkeilyssä. Retkiä varten tullut sullottua aika täyteen, josta repeämä sitten arvatenkin lähti. Vähän sääli, että repesi ehkä kaksi viikkoa takuun umpeutumisen jälkeen, mutta nää on näitä.

Kehitysehdotuksena heittäisin, että selkäpuolen verkko menee helposti täyteen neulasia ja muuta metsän tuliaisia, mikäli repun sille puolelle pöpelikössä laskee. En tiedä mikä tuon verkon idis on (ilman kierto?), mutta jokin muu ratkaisu voisi olla parempi.

Mutta joo, ihan ok 40e repuksi.
1
0
I would recommend for a friend
Paul E.

31.07.2019
Picked one up for ruckwalks - the civvie version done for exercise. I had been using another pack, but wanted to dedicate one just for the purpose. The pack has been great for this, able to handle upwards of 42 lbs at times and still being comfortable. I've even done some shopping with it, combining that with the exercise.

The waist belt works wonders for helping shift the weight from shoulders to waist - which is an absolute must for carrying much weight for any distance. It's a bit thin, so consider adding a padded belt around it to help with comfort (I did, it was much improved).

The only con I've had so far, is that the adjustment straps don't stay fully snugged up when new - the material seems to slip a bit more than a more cloth-like strap. I've noticed over time that the straps are getting a bit 'grippier', but for anyone wanting this right away for heavy use, it's a consideration.

Definitely recommend this pack for the price - will probably be buying a second.
1
0
I would recommend for a friend
Perttu T.

26.08.2019
Tähdet hinta/laatusuhteesta. Vaikea tähän hintaan parempaa kaupunkireppua löytää, ja kyllähän tällä jokusen retken vähän kauemmaksikin tekee. Pari kuukautta päivittäisessä ja välillä kovassakin käytössä eikä vielä ole mitään hajonnut. Soljet ovat liukkaat, mutta jos osaa näprätä niin siitäkin selviää.

Itselleni suurin ongelma on repun jäykkyys. Tai oikeammin löysyys. Mun päivittäiset kantotavarat painaa jo ihan mukavasti, ja kun repussa on riittävästi kokoa vielä töiden jälkeen kaupassa käyntiin, todella löysä selkälevy helposti vääntää repun kummalliseen muotoon, mistä ei selkä tykkää. Tästä syystä en käytä reppua, jos tiedän että joudun sen kanssa kävelemään pidempää matkaa syystä tai toisesta. Olen etsiskellyt siihen jotain jäykempää ratkaisua, mutta sopivaa kokoa ei ole löytynyt.

Ja reppuhan ei ole kovin vedenpitävä, sateisen marjareissun jäljiltä ei vessapaperi enää kovin kuiva ollut. Vetoketjuista tulee vesi läpi.

Mutta mun pääasialliseen käyttöön, eli kaupunki/työrepuksi vaikea löytää vastaavaa tällaiseen hintaan.
1
0
I would recommend for a friend
Sami K.

26.08.2019
Ihan ok perusreppu, jossa sopivasti lokeroita ja tietysti pinnat täynnä PALS-kujastoa. Käyttökohteina kauppareissut, päiväretket ja muut kevyet lyhyet luontoretket kevyillä kantamuksilla. Miksi en ottaisi tätä pidempään/raskaampaan reissuun mukaan? Yleinen laatuvaikutelma ei aivan vakuuta enkä luottaisi saumojen kestävyyteen pidemmän päälle, hihnat luistavat hiukan käytössä ja muovisoljet eivät ole sitä kaikkein parasta laatua, eikä tämä istu ainkaan minun selkääni niin hyvin että kantaisin tätä painavalla lastilla useampaa päivää kovinkaan mielelläni.

Y-kompressiohihna on vähän tyhmän oloinen, koska se on useimmiten sekä tiellä reppua avatessa että enimmäkseen tarpeeton - joskin voi olla hyödyksi jos repun pakkaa lähelle räjähdyspistettä ja saahan sen alle vaikka takin. Itse en suuresti pidä hihnojen särmäyksestä velcrolla, koska ne ovat a) kömpelöitä b) tarttuvat liian helposti etenkin villavaatteisiin kiinni. Jotkut taas tuntuvat pitävän niistä kovastikin - ja saahan nuo leikattua irti ja korvattua fillarin sisäkumista leikatuilla särmäyslenksuilla, jotka minusta toimivat paremmin.

Sain tämän "ilmaiseksi kaupan päälle" Lekafestin kampanjatarjouksena muiden ostosten ohessa - ostaisinko täyteen hintaan? Voisin ostaakin, ellei minulla olisi jo Berghausin vastaavaa kokoluokkaa edustava reppu, joka kestää runttuakin vähän eri malliin. Ei kuitenkaan hintaisekseen hassumpi reppu näillä ominaisuuksilla, kunhan ei odota saavansa reppua joka kestää sukupolvelta toiselle.
0
0
I would recommend for a friend
Rudolf P.

28.08.2019 (Edited 28.08.2019)
This pack was gift from Varusteleka for which I am eternaly grateful.
Considering low price it's suprisingly good quality pack. Not cordura, 100% polyester but material is relatively thick.
Stitching is good, I have seen worse on much more expensive packs. Zippers are very decent brand SBS and large ones, these will not fail easily.
Plastik parts are noname but they feel solid. Over all solid product, good for everyday use but I wouldn't trust it with my life.
Solid 8/10 for the price.
0
0
I would recommend for a friend
Andrei S.

30.08.2019
I'm happy with this product. A good, spacious, well built backpack. Multiple choices of adding pouches. Unbeatable for this price.
0
0
I would recommend for a friend
Bjornar M.

04.09.2019
Got one as a freebie during the Lekafest.
Not a lot of pockets to loose stuff in, seems decent constructed and I like the velcro on the end of the straps keeping everything organized.
Not too sure about the degree of brownness tho, seems a bit salmony pink...
0
0
I would recommend for a friend
Roger K.

06.09.2019
Got this bag, sadly it got a tear on the side after about 2 months of use. Got a free replacement shipped out, which eas very nice. That bag is still fine. I'd buy another one, if it were available in the color white.
0
0
I would recommend for a friend
Petra P.

16.09.2019
Reppu päätyi minulle lekafest-kampanjan kautta (kukapa ei ilmaisesta repusta kieltäytyisi). Reppu on reissukäytössä varsin passeli, sopii myös lyhyelle naisihmiselle kannettavaksi. Todella miellyttävä selässä ja säätöjä löytyy jos minkälaisia, varsinkin karvalakkimallisiin reppuihin tottuneena henkilönä eri hihnojen ja remelien määrä tuntuikin ensin varsin uuvuttavalle. Aktiivisella harjoittelulla ja käytöllä olen kuitenkin onneksi jo oppinut hyödyntämään reppua varsin näppärästi. Erityisesti pidän siitä, että repun saa avattua todella isosti auki. Tämä on hyödyllinen ominaisuus pakkaamisen kannalta! Rakastan myös repun molempia etutaskuja, jotka tuntuvat nielevän tavaraa tolkuttomasti. Olin yllättynyt siitä, miten täyteen repun sai pakattua ja silti siihen olisi mahtunut reilusti lisää roinaa!

Risuja haluaisin tosin minäkin antaa hihnojen liukkuudesta, mikä on minua ehkä henkilökohtaisesti eniten ärsyttävä vika. Etenkin lantioremmin kanssa liukkaus ei ole kovin mukava ominaisuus, jonka takia olen vakavasti harkinnut koko remmin irrottamista. Toisekseen, en ole kovin suuri tarranauhakiinnitysten fani, etenkin repun ollessa tyhjä ja "kurittuna kasaan" on tarranauhojen näpertely hihnojen ylimääräisten lepareiden kuriinsaamiseksi rasittavaa. Tämäkin tosin on varmasti puhdas tottumiskysymys.

Reppu toimii käytössä parhaiten täyteen pakattuna, pienemmällä tavaramäärällä reppu ei pääse parhaimmilleen. Reppu on kuitenkin hinta-laatusuhteeltaan varsin hyvä, eiköhän tämän kanssa selvitä useampikin reissu.
0
0
I would not recommend to a friend
jussi l.

17.09.2019
Reppu ollut vuoden kauppakassina ja yllättäen päältä vetoketjun vierestä sauma repes 10 sentin matkalta.
1
3
I would recommend for a friend
Carsten C.

22.09.2019
This backpack is currently serving as my emergency pack and gods above, it does that job well. The construction is nice and sturdy, there's a decent amount of MOLLE space for any additional pouches I could want, and the straps on the side keep a good hold of tarps, tents, and sleeping mats.
I do have one gripe though. The inside is extremely plain. There are three main compartments and they are essentially just massive pouches. The largest compartment has two inner pouches, one clearly designed for a camel pouch, and the other being useful for holding my spare socks. The small compartment up top has a single inner pouch that can hold a single can of makerel and tomato sauce, and the medium pouch down below has no inner pouches whatsoever. I've managed to make everything work but I have to say, I'd like this backpack a lot more if I had a lot more inner pouches to play around with. It would make organization far easier.
TL;DR if you're good at organizing and packing everything just so, you should be fine with this pack. If you're not great at packing your stuff like tetris blocks and need extra pouches inside the bag to help, I wouldn't recommend it.
0
0
I would recommend for a friend
Craig R.

22.09.2019
This is a good bag, I used it on a 5k run with a 20lb sandbag and 7lb rifle strapped to the side it was comfortable. I would recommend if you're running with any weight and are are sleight of build to buy an extra chest strap to minimize bag movement while running.
0
0
I would recommend for a friend
Anton K.

06.10.2019 (Edited 06.10.2019)
so this will be as dedicated for the consumer as for the designer.

Ive been warring miltec´s 25 and 35l assult pack´s but i felt the lack of quality as soon as they where giving away so i looked up this pack and gave it a try. I loved the inside management it feelt suited and i can easily sort everything in it in terms of school or outdoor. The issue i have with this back is that i dont feel the majority of the weigth on my hips but on my shoulder and its rather uncomfortable to wear if youre carring more than 10kg, i feel like it migth be able to improve the wrist band to a more dedicated "hiiking pack" and do more as the Savotta jääkäri as its also removeble. Also as you increse the load it becomes inconvenient not to have a suport frame of some sort. This can eather be purchased as seperat or come in a newer version of this pack. My friends bougth this pack aswell and i still higly recomend it its just up for improvments.

edited: i whuld really like to se a m05 version, i will be buy the crap out of that thing.
1
0
I would recommend for a friend
Petr F.

07.10.2019
I've been using it for a year and a half, although not in harsh conditions. It's held up flawlessly, no issues. The most I've carried was about 15kg. The hydration bladder pocket is also ideal for a laptop, it generously fits a 15" MacBook Pro with soft case.
0
0
I would recommend for a friend
Antti M.

09.10.2019
Ei oikeastaan mikään eräreppu, vaan lähinnä tacticool yleisreppu. Itsellä päivittäisessä käytössä esim toimistokaman (tabletti näppiksineen, läppäri, vara-akut, ensiapu, työkalut, naposteltava, tiirikat, avaruuskynät... jne) kanniskelussa. Kokolailla sama tuote kuin MilTec:in vastaavat, paitsi enemmän särmäystoimintoja, vähemmän ällöttävät gummimuoviosat, eikä läheskään yhtä synkän karmeat saumat.

Moottoripyörällä siirtyillessä tämä on ainakin omassa käytössä oikein etevä. Kapea profiili ei estä liikettä eikä nappaa tuulta turhan paljoa, ja särmäystoiminnoilla sekä rinta- ja maharemmeillä tästä saa ihan kelvollisesti kehon liikkeitä myötäilevän säilyttimen/kuljettimen.

Summa summarum: Ei tästä miksikään oikeaksi sotakamppeeksi ole, mutta hintaansa nähden oikein kelpo reppu. Vähän niinkuin ne MilTecin näkemykset, paitsi parempi. Suosittelen, kunhan et keksi lähteä tämän varassa eräjormailemaan.
0
0
I would recommend for a friend
Janne I.

13.12.2019
Erittäin hyvä reppu jokapäiväiseen käyttöön. Ainut miinus tulee repun verkkosisätaskusta joka olisi vaatinut tarran kiinnittääkseen reunan. Nyt verkkotasku on lähinnä tiellä kun kamaa lappaa reppuun kun reuna repsottaa aina tiellä. Suosittelen kuitenkin tätä jos tarvitset reppua mihin mahtuu kamaa.
1
0
I would recommend for a friend
Jari K.

01.01.2020 (Edited 01.01.2020)
Hintaansa nähden kyllä todella hyvä reppu. Hyvin mahtui viikon lomareissun kamat eikä tehnyt tiukkaakaan. Käsimatkatavarana meni.Istuu hyvin ainakin minun selkään. Miinusta minultakin luistavista soljista. Vyötäröremmi tippui omia aikojaan. Onneksi huomasin sen. Vähän patenttia niin kyllä niiden kanssa pärjää.
0
0
I would recommend for a friend
Anonymous customer

11.01.2020
Hyvä ostos! Hintaansa nähden kelpo reppu. Mahtuu viikonlopun mökkireissun kamat kivasti. Ei ehkä täyteen pakattuna kannata verrata kalliimpiin retkelyliikkeiden reppuihin, joiden kantomukavuus toki parempi. Tämän hintalaatusuhde kuitenkin erinomainen.
0
0
I would recommend for a friend
Riku I.

26.01.2020
Mil-tecin versio on huomattavasti jämäkämpi ja kestävämmän oloinen, mutta molemmat ihan päteviä hintaansa nähden.
0
0