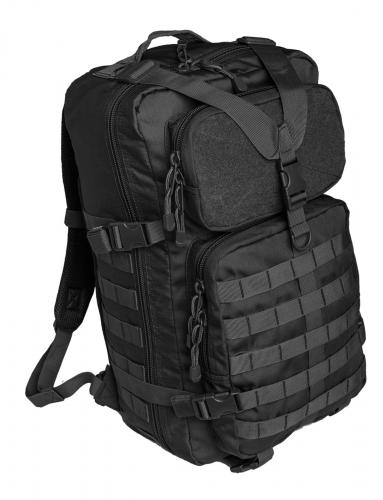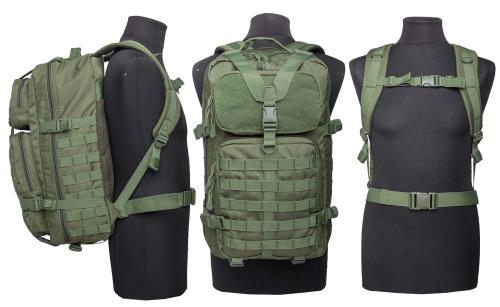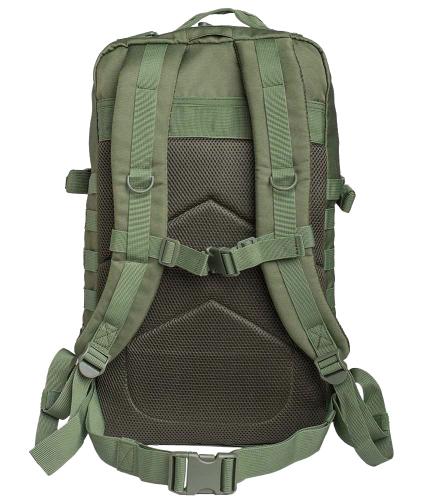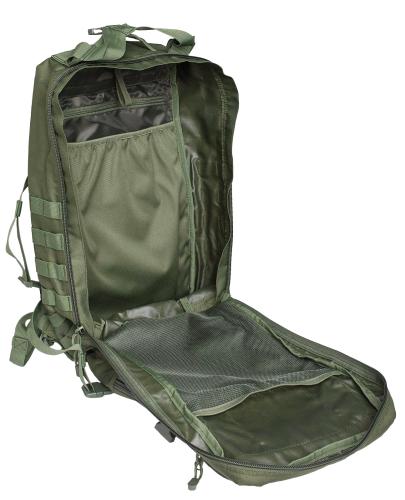 The main compartment opens fully for easy packing and access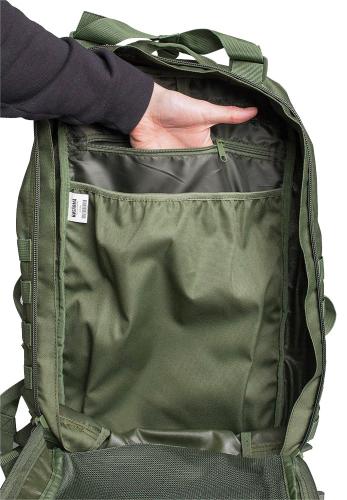 Stash pouch for small valuables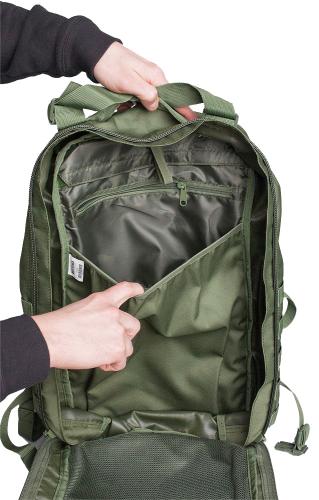 Hydration bladder compatible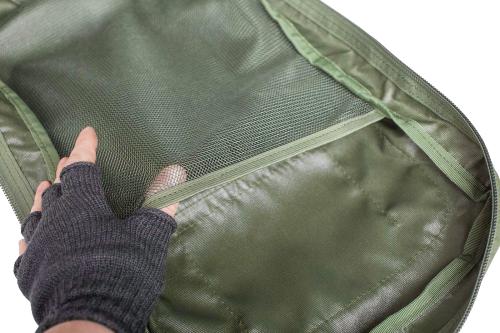 A mesh pouch allows you to see the contents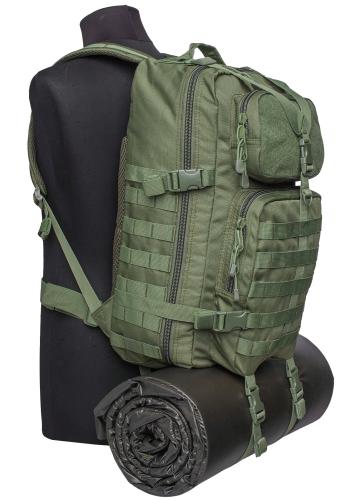 Extra length in bottom compression straps for carrying a sleeping pad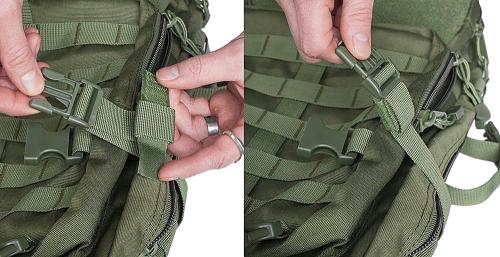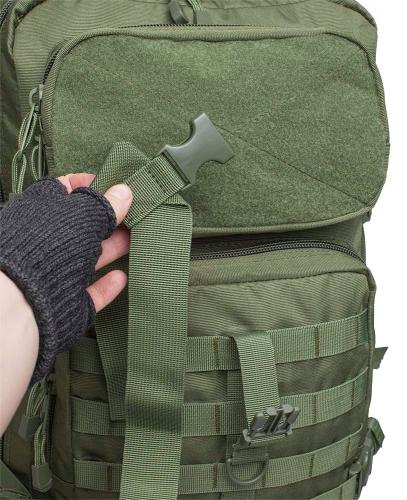 The main compression Y-harness has a removable top if it gets in the way.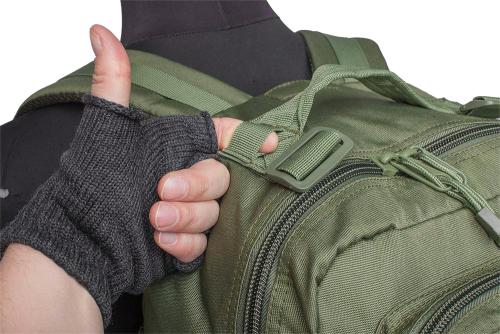 More attachment points at the top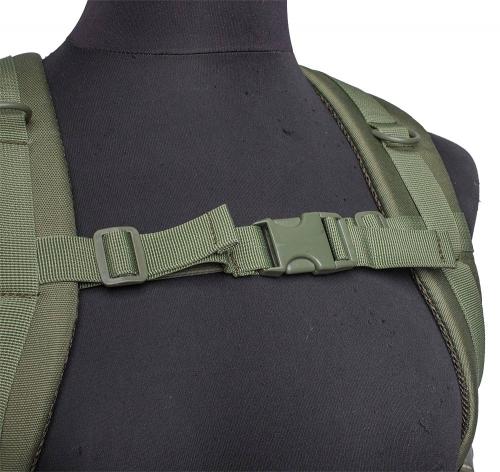 Stabilizing elastic sternum strap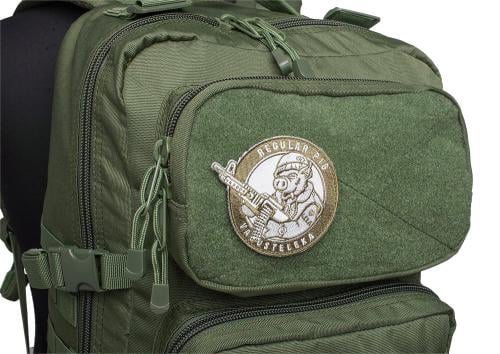 Ample space for a name tag, flag or morale patch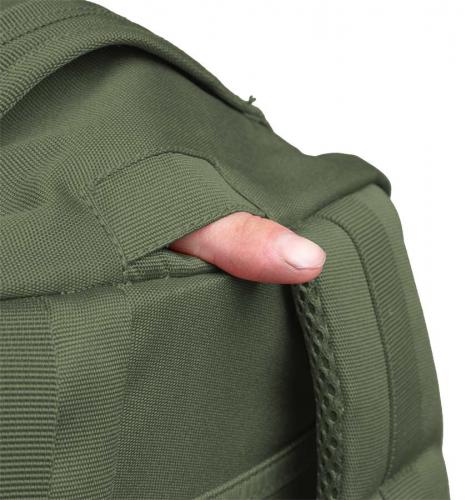 There's a small hole for the hydration reservoir hose on the top of the pack.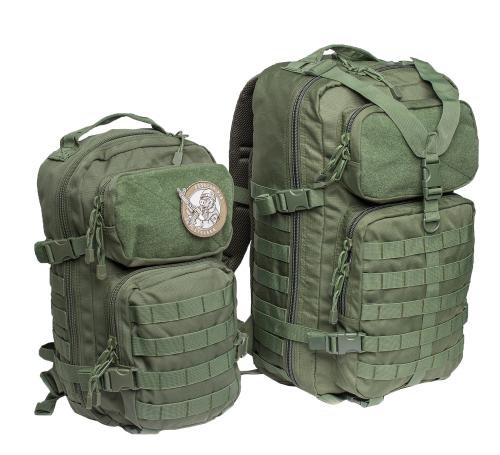 Särmä Assault Pack and Särmä Large Assault Pack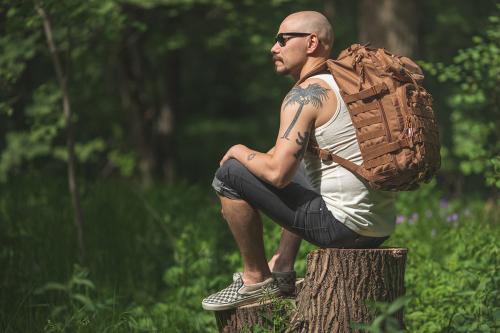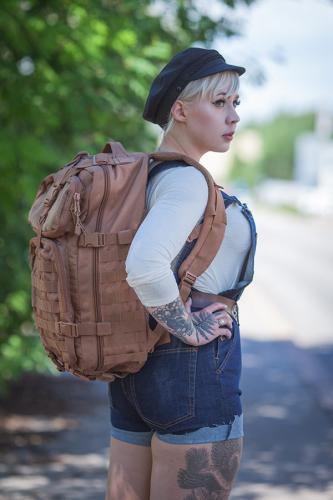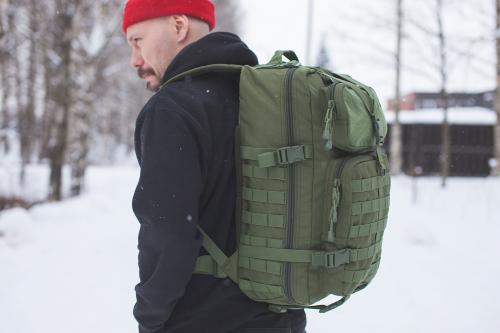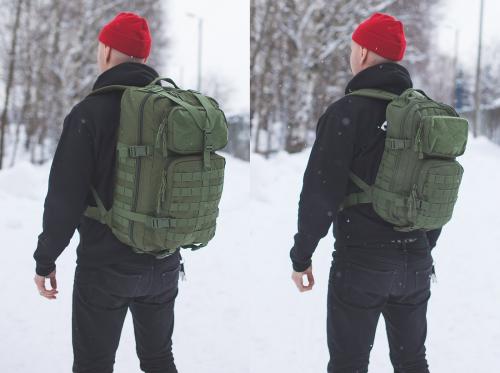 Särmä Large Assault Pack and Särmä Assault Pack compared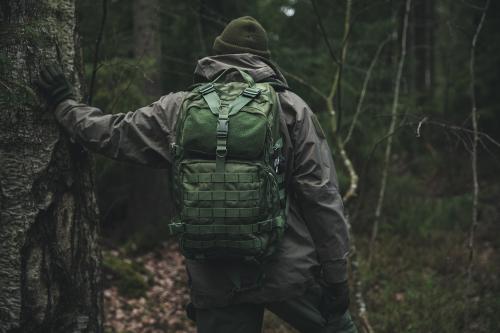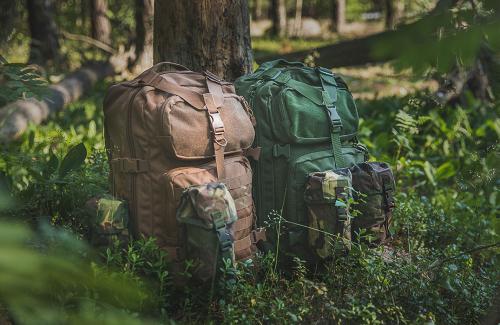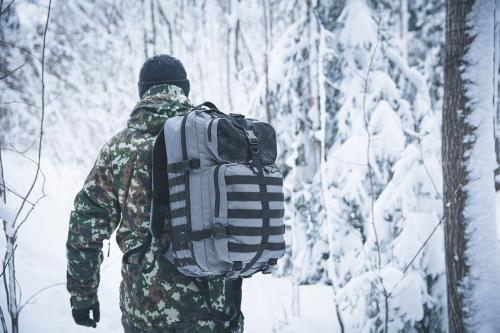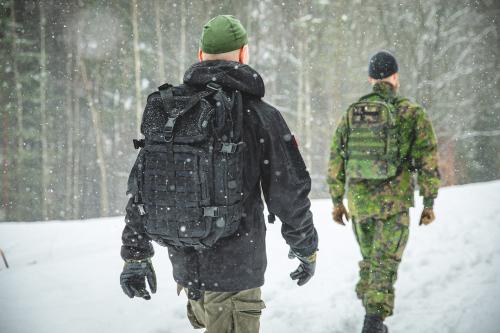 Särmä
Särmä Large Assault Pack
Price 49.99 USD
excluding sales tax
Tired of stuffing big stuff in a small bag? Here's a 3-Day Assault Pack for daily use with more capacity than normal backpacks.
Loading products...
Trouble with the metric system? Try our converter: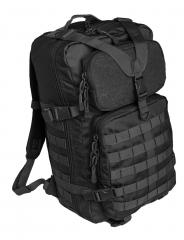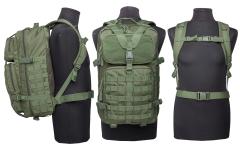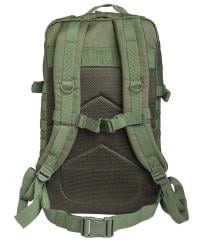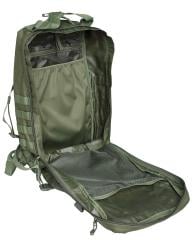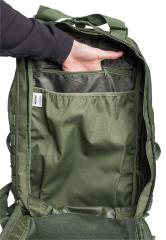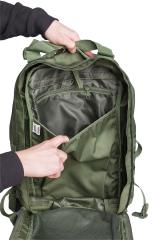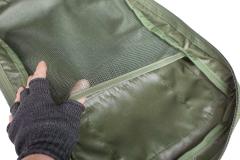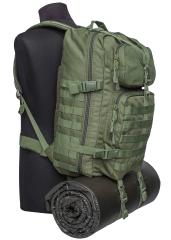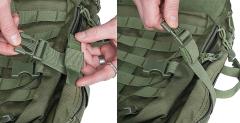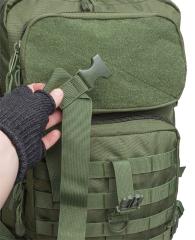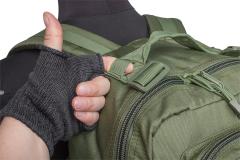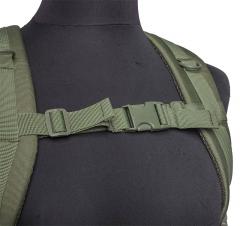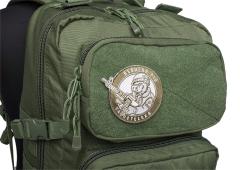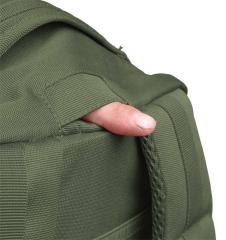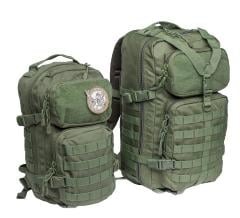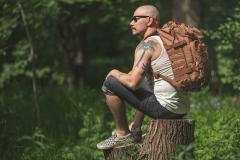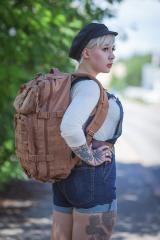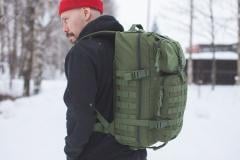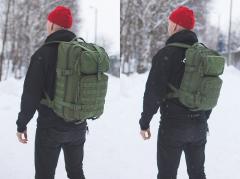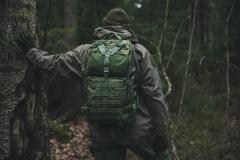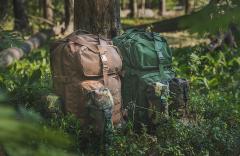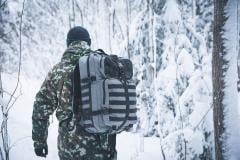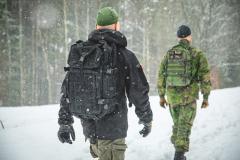 Tired of stuffing big stuff in a small bag? Here's a 3-Day Assault Pack for daily use with more capacity than normal backpacks.
The name Assault Pack refers to the physical outlook of the pack, not its use. It is in the Särmä product family instead of the Särmä TST for a reason - because it isn't NIR compliant. In other words, it stands out very well in the forest when observed through night vision equipment. Therefore you shouldn't use either of the Särmä Assault Packs for military training and especially not for actual combat use.
A mid-size 35-liter (2135 cu in) 3-Day pack
Loads of external attachment possibilities
Goes as hand luggage when flying
Like the regular Assault pack, but larger
Sometimes the youngest sibling becomes bigger than others: the Särmä Assault Pack is a familiar item from Särmä and dates back over a decade. Through feedback and our own use, it has been developed and refined. We took all that experience to develop this 3-Day pack as a larger alternative.
Neither of these is better than the other, just better for you. Some uses demand a compact pack, in other times you need a bit more volume. The Särmä Large Assault Pack meets the latter need while retaining the tried and tested features and details from the regular one.
For people who travel by air, this backpack is suitable as carry-on hand luggage with most airlines. Tighten the compression straps and probably all of them will accept it. The boxy shape and generous size is generally great for travel use.
Some color may transfer from the product before the first wash. Machine wash with a delicate program.
How to pack
Generous main compartment that opens fully
Two smaller external pockets for ease of use
Mesh inner sleeves for organizing
MOLLE/PALS loops for external pouches
Hydration bladder compatible (bladder not included)
Bottom straps for carrying rolls
In the latest batch, we replaced the metal zipper pullers with sturdy and silent cord versions, which are easy to replace if you somehow manage to destroy them. Check out this article on how to do it. There can still be some of the old stock left, so don't be surprised if you get one of those.
How to adjust and carry
Padded and contoured shoulder straps
Sternum strap and 37 mm (1.5") wide waist strap
Four compression straps on the sides
Two lower and one Y-shaped top compression strap
All loose ends have hook-and-loop ends to store excess length
Breathable 3D-mesh against the back and shoulders
Size and measurements
The measurements go as following: Height, width, and depth.
| Measurement | Metric (H/W/D) | Imperial (H/W/D) |
| --- | --- | --- |
| Main compartment | 51 x 29 x 16 cm | 20.1" x 11.4" x 6.3" |
| Large outer pocket | 29 x 24 x 6 cm | 11.4" x 9.4" x 2.4" |
| Small outer pocket | 13 x 24 x 5 cm | 5.1" x 9.4" x 2.0" |
| Outside dimensions | ~51 x 33 x 29 cm | ~20.1" x 13" x 11.4" |
| Total volume | ~35 liters | ~2135 cu in |
| Weight | ~1.5 kg | ~3 lb |
Material: 1000D polyester, waterproof PU-coating
Made in China. All Särmä products have a one-year warranty.
Kierto Circular Economy
Return this product used but clean and unbroken, and you'll receive half of the product's original price as Varusteleka credits. Service is available only in Finland. Only Registered users can make Kierto returns. See more information about Kierto.
Carbon Footprint
The estimated amount of greenhouse gas emissions from the production of one single item is 25.99 kg CO2e. The estimation includes the entire production of the item, from the raw materials up until the finalized product exiting the factory. Read more about the calculation method.
Varusteleka Särmä
Särmä is our own brand of clothing and equipment. When you buy Särmä you get purpose-built stuff at a decent price, something that will fill it's intended role well and not cost you an arm and a leg! For further reading check out the Varusteleka's Särmä page.
Särmä products are covered by a 12-month warranty against defects in materials and workmanship. For further information please read our detailed warranty guide.
All products: Särmä
Recommendations
Loading products...
Reviews
You have already submitted a review. You can edit your text by clicking on it.
Log in and write a review.
Remove filter
Suomi
(82)
English
(42)
I would recommend for a friend
Kim K.

17.04.2018 (Edited 01.06.2021)
Reppu saapui tänään postissa ja pääsi samantien testiin kauppareissulle. Hyvin mahtui rinnakkain 1,5L limupullot (3kpl) ja litran maitopurkit (3kpl), kummatkin omaan riviinsä. Päälle mahtui vielä pakolliset salaatit ja mikroherkut. Tätä ei voinut kuvitellakaan tuon pienemmän rynnäkkörepun kanssa. Särmä TSTn Taistelurepun tukilevy toi kivasti lisätukea. Täytyy myöhemmin kokeilla miten kamaa mahtuu täyden Sourcen WXP-vesirakon kanssa.



Hyvä lisä muuten tuo Yn muotoinen lisäkiristysnauha, kun on näppärä D-rengas vielä lisättynä, saa lisää kamaa varmasti kiinni ja roikkumaan. Ja jos toi alkaa ärsyttään, niin senhän saa irti. Pientä noottia voisin antaa noista kylkien MOLLE-rivistöistä: lähinnä selkää oleva kuja on TODELLA jämpti verrattuna noihin kahteen muuhun kujaan. Kyllähän nauha siitä läpi menee, mutta vähän isommalla kiukulla kuin noista kahdesta muusta. (Kylkiin tuli Mil-Tec Modular System LARGE yleistaskut)



Ensivaikutelma on siis todella hyvä!


EDIT: Oli nyt vähän pidemmässä reissussa mukana ja kolmen päivän kamat meni hyvin sisälle ja ulkopuolelle. Kesti rynkytystäkin hyvin.
32
6
I would recommend for a friend
Sakari S.

19.04.2018 (Edited 01.06.2021)
I would recommend for a friend
Antti S.

19.04.2018 (Edited 01.06.2021)
Kuin rynnäkköreppu, mutta isompi. Tänne mahtuu jo pidemmänkin reissun tavarat, on pikkuveljensä tavoin jämäkkä ja fiksusti tehty. Pienemmässä repussa selkeästi kuuluva vetoketjujen kilinä on vahvasti läsnä myös tässä isommassa mallissa repussa, mutta siitä pääsee eroon pujottelemalla vetimet uudelleen.
6
1
I would recommend for a friend
Kristjan S.

22.04.2018 (Edited 01.06.2021)
I would recommend for a friend
Erno S.

23.04.2018 (Edited 01.06.2021)
Reppu on aikalailla juuri niin hyvä, kuin uskaltaa toivoa. Tuota tarrapohjaa ylemmän taskun päällä en itse oikein osaa arvostaa, mutta kai sillekkin kannattajakuntansa löytyy. Ja se myös hieman ihmetyttää, että Y-lenkin alaosaa ei ole vissiin tarkoitettukkaan irroitettavaksi? No, äkkiähän siihen alas taiteli oman solkensa, mutta silti...

Mutta, muuta poikkisanottavaa tästä on kyllä vaikea löytää. Päätaskuun mahtuu mukavasti esim. 24 pakki mallaspirtelöä, ja tilaa jää vielä ylikin. Vetoketjut eivät jätä mitään toivomisen varaa, ja pienen ihmettelyt jälkeen myös sisäpuoliset aputaskut löysivät paikkansa A4 ja isompiekin lehtiöiden, läppärien yms. kuljettamiselle.

Kompressiohihnat ovat riittävän pitkän isommakin takin tms. rullaamiseksi kylkeen kiinni, ja kiitos nerokkaiden nauhatarrojen, ei repussa kuitenkaan ole yhtään ylimääräistä roikkuvaa hihnaa, jos niin vain haluaa.

MOLLE kujastoa on hyvin pitkälle kiitettävästi, eikä minulla ainakaan ollut mitään ongelmia ripustaa pari Mil-Tecin ja Tasmanian Tigerin lisätaskua reppuun kiinni.

Varsinkin tähän hintaan, reppua on liki mahdotonta olla suosittelematta ihmiselle, joka kaipaa kunnollista kantovälinettä arkiseen käyttöön.
13
3
I would recommend for a friend
Juha R.

25.04.2018 (Edited 01.06.2021)
Moni ominaisuus yllätti repussa, kuten rullattavat hihnat ja koon pienentäminen kiristämällä. Aivan oivallinen työreppu ja myös lyhyille työreissulle milloin tarvitsee vaihtovaatteet ja läppärin mukaan. Suosittelen!
1
1
I would recommend for a friend
Juho U.

27.04.2018 (Edited 01.06.2021)
Hintaan nähden erittäin hyvä ja tilava reppu. Mahtuu todella paljon tavaraa mukaan ja kokonaan aukeava päätasku helpottaa tavaroiden löytämistä.

Kehitys idea: Siirtäkää tuo lantioremmin kiinnitys niin alas kuin mahdollista. Nykyisellään jos haluaa lantiolta tukea joutuu reppua roikottamaan vähän liian alhaalla.
7
1
I would recommend for a friend
Pete M.

02.05.2018 (Edited 01.06.2021)
Ihan 5/5, istuu selkään paremmin kuin mil-tecin tekele. Lisäsin 4 grimlockia joka "nurkkaan" niin reppua voi kantaa olkalaukkuna vaivatta.
3
2
I would recommend for a friend
Johannes P.

08.05.2018 (Edited 01.06.2021)
Great idea to make a bigger version of a great backpack!
6
2