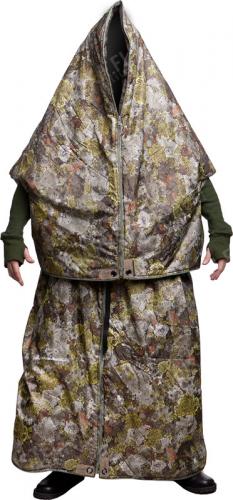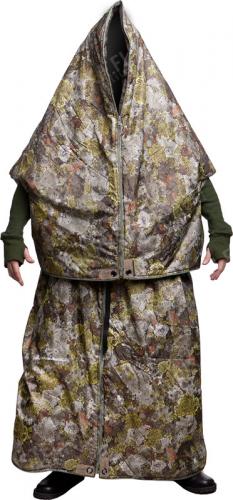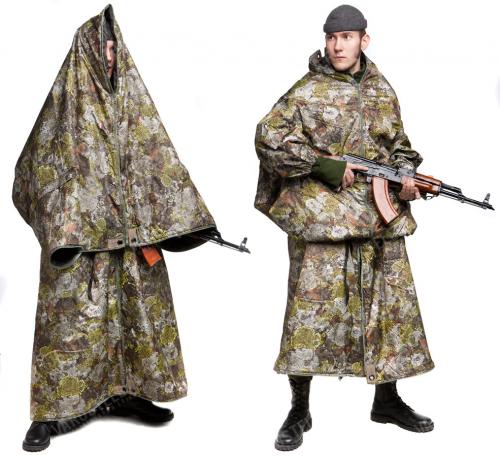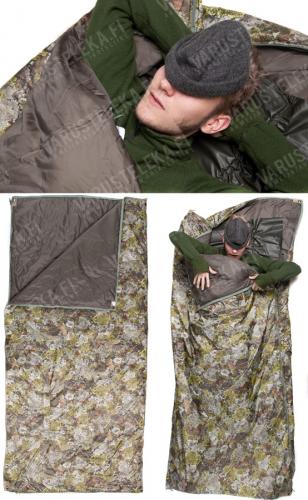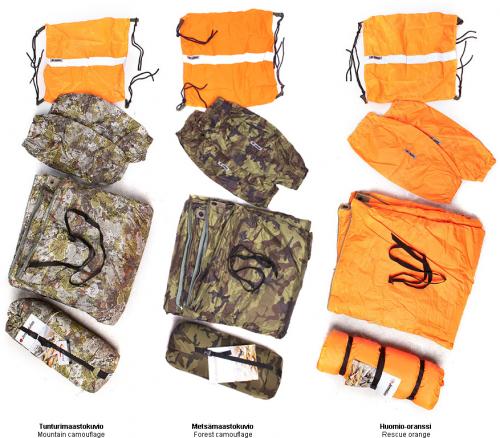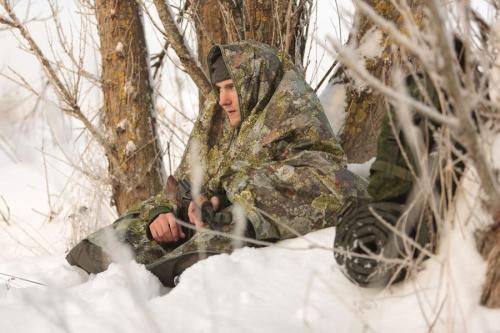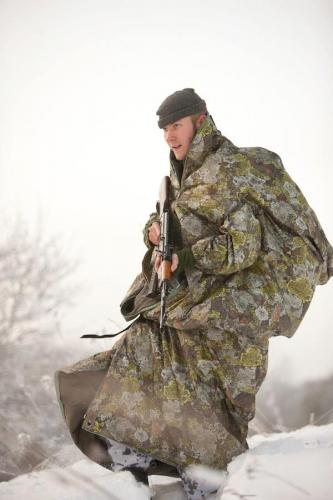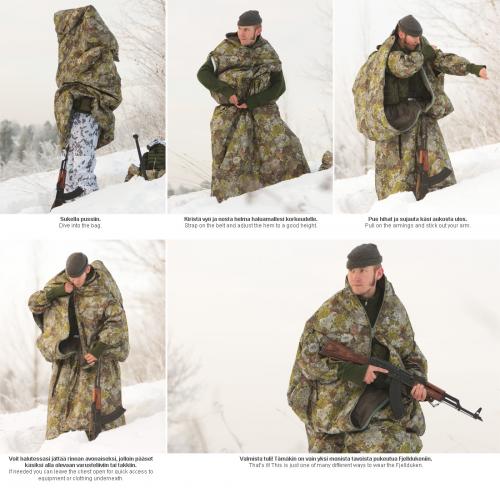 Jerven Fjellduken Extreme
Price 266.99 USD 321.99 USD excluding VAT
The Jerven bag is honestly the best thing money can buy. The Fjellduken Extreme is a real work of art, designed by order of the Norwegian military. A sleeping bag, shelter tarp and a coat-like windsack all in one, but without compromise - the Fjellduken excels in all its forms! 10 year warranty!
Loading products...
Trouble with the metric system? Try our converter: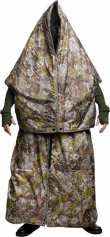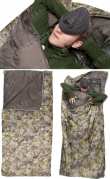 The Jerven bag is honestly the best thing money can buy. The Fjellduken Extreme is a real work of art, designed by order of the Norwegian military. A sleeping bag, shelter tarp and a coat-like windsack all in one, but without compromise - the Fjellduken excels in all its forms! 10 year warranty!
The Fjellduken Extreme was designed on specific order of the Norwegian military. "Make a Fjellduken that is warm enough to replace the sleeping bag in winter time."
You won't find any hi-fi bullshit in your Jerven bag, the technical bits start and end at the zippers, that's it. All of Jervens products are made and developed by the very same people who use them. The unique design and materials make the Jerven bag an incredibly versatile and high performing piece of equipment. This is not your standard modern trinket, which relies on never ending lists of one after another more trivial properties and features to impress people, this is simple perfection at its best!
The package includes
The Fjellduk Extreme itself, 204 x 220 cm opened up, 102 x 220 cm closed to a bag. Weight 2000 g. Extremely warm 170 g/m2 PrimaLoft lining.
A compression bag, a great, simple designed, fold and roll the mouth and secure it with two adjustable straps. The orange colour fjellduken comes with a different type of stuff sack, it's the shape of a pillowcase and closed with velcro, then rolled and compressed with three straps.
A pair of Armings, sleeves made from the same material as the Jervenbag itself.
A 150 cm long belt, to secure the Fjellduken around your waist in its overcoat-like configuration.
A rescue flag, 50 x 50 cm in size. Never go out in the wilderness without this little life insurance in your pocket!
Online user manuals
The good people at Jerven As have been so kind as to provide their user manuals viewable online:
Numerous applications
Tarp or shelter

The 2 x 2,2 m Fjellduken is just the size you need to construct just about any kind of windshield or shelter. Each corner has a leather reinforced grommet for pegs or lines. The aluminium coating reflects heat, the principle is the same that emergency blankets rely on. This means that heat from a fire, stove or your very body won't go to waste. We won't go into detail regarding every different setup there is, otherwise you'd run out of coffee before this write-up is over with.

Cloak or poncho:

Using the zippers and the belt you can turn your Fjellduken into a simple overcoat for sitting on watch. This loose fitting poncho style thing may look like something out of the Dark Ages, but performs very well. You can either keep your hands under the folds with your rifle, or stick them out through zippered openings and wear the Armings that come with the Fjellduken.

This is the perfect setup for a hunter or wildlife photographer, you can keep your hands and tools, be it rifle or camera, warm and ready under the Fjellduken, to be pulled out in an instant when the moment comes. The Fjellduken will keep your hands warm and trigger finger ready to feel the squeeze.

The Fjellduken is a treasured piece of kit in a soldiers pack - it is very popular among snipers, for apparent reasons. "From my own experience I can say that laying motionless on the wet moss inside a camouflaged observation post for hours on end through a freezing autumn night, staring at some bloody road through your NVG can really eat at you. That is one of those moments that I wish I'd had something like the Fjellduken."

This kind of a cloak is just the thing when stopping for a break, pull it on, zip it up, get out your field stove and get a cup of coffee going - all inside the Fjellduken! Zipping it up like a windsack around you let's you fiddle around inside with whatever you like, no matter the weather outside. You can also zip up the edges and wear the Fjellduken as a poncho, it's large enough to cover most backpacks!

Sleeping bag

The Fjellduken Extreme was developed especially to double up as a sleeping bag, so this is no trivial feature. Fold it and zip it up, you now have a 100 x 220 cm sleeping bag with all around insulation against wind, rain and cold, all zippers are two-way and double sided, so you can operate them from inside the bag. The large size means that you can easily fit kit and clothes inside.

The filling,170 g / m2 PrimaLoft, is great stuff, it doesn't absorb water and is highly effective even in thin layers. Combined with the water and wind proof JervenTextile you get an unbeatable combination that takes you through spring, summer and autumn by ease. But it's in winter that the Fjellduken Extreme really shows its teeth - alone it's good enough for some degrees below zero and by adding fleece-inners and sleeping bags you can really go to extremes with this one.

Norwegian special forces tested the Fjellduken Extreme in -36 degrees celcius, wearing their full winter clothing within the bag and using only a ground sheet for extra protection on the outside they had no trouble sleeping through the night.
Materials
Shell: JervenTextile - 100% water and windproof, aluminium coated polyester. Really tough, a 5 cm wide strip can carry a 50 kg weight!
Filling: PrimaLoft 170g/m2 - Developed for the US military. It does not absorb water, thus keeping you warm no matter what the conditions are. PrimaLoft filling is a recent upgrade in Jervens inventory, they started using it in 2011.
Zippers: YKK - a high quality maker you can trust. All are two-way and double sided. These are sewn on with thought, making it almost impossible for the zippers to snag onto the lining.
Care
Nothing lasts for ever, but the Fjellduken will serve you for decades if you look after it properly. The Fjellduken Extreme should never be machine washed, if you absolutely need to wash yours, do it by hand and air dry only. After washes or prolonged use it is recommended to treat the Fjellduken with a water repellant spray to keep it waterproof. If you stab a hole in yours there are patches available, contact us if the need arises!
Material limits
However wonderful the Jervenbag is it still obeys the laws of physics. The content of this section is probably self explanatory to most people interested in the Fjellduken, but let's make it clear.
Waterproof:JervenTexile is a 100% waterproof material, but the construction is not. Zippers and grommets can let in water, wind and snow, just like any sleeping bag. These matters are easy to overcome - fold the zips downwards and pinch in the corners, or just cover the grommets with tape!
Condensation: The 100% waterproof JervenTextile doesn't let in water and neither does it let it out, this means condensation. "Oh no" you say, "no Gore-Tex?" Run and hide if you can't live with some moisture, the level of condensation within the bag is nothing to worry about.
However, you should hang it out to dry over a door or line after use. Remember this before folding it onto the shelf after a walk in the woods, or else you will have a very expensive piece of smelly, moist cloth, still 100% waterproof and warm though!
The good people of Jerven have through decades of experience and testing come to the conclusion that a 100% waterproof material with some condensation is far superior to a breathable membrane, that will eventually let in water. Jerven products last for decades due to the strength of the materials used and high quality of construction, trust the Jerven staff when they say that this really can't get any better - they really know what they're talking about!
Some scientific facts

"The most extreme test was carried out in Finland in co-operation with Dr. Hannu Rintamäki at Oulu Regional Institute of Occupational Health. In the wind tunnels in Oulu the temperature was lowered to -40°C, and with the wind factor this corresponds to minus 80 degrees. During such conditions naked skin would freeze in 15 seconds. The test-persons therefore had to be inside the Jerven Bag before the fans were switched on."

Testin tulokset: "Inside the Jerven Bag Original: -20°C, a difference of 60°C outside/inside. Inside the Jerven Bag Thermo Extreme: +8°C!!, a difference of 88°C outside/inside."
10 year warranty
This is really something, Jerven offers their products a 10 year warranty, such trust in ones work is not found often, if at all, these days, even moreso when talking about kit for field use! The warranty covers manufacturing flaws in the textile and seams, not fires, stabbings or you losing your camouflage Fjellduken in the woods. The Fjellduken usually has a lifespan of 10-15 years, so we are really talking about something here that is worth the money!
Made by Jerven of Norway
Jerven bag, those are almost words of power among hunters, outdoorsmen and soldiers the world over. Jerven has been making the Fjellduken since 1982, besides the obvious hunting trips and hikes the Fjellduken has seen action in Afghanistan in the hands of Norwegian and Danish special forces and even the Finnish defence forces have recently adopted Jerven bags for arctic use.
Recommendations
Loading products...
Reviews
You have already submitted a review. You can edit your text by clicking on it.
Log in and write a review.
Remove filter
I would recommend for a friend
simo f.

04.02.2018
Erittäin toimiva pitkissä passituksissa, ei tule kylmä. Helppo pukea päälle
5
1
I would recommend for a friend
Verneri N.

17.03.2018
Suomalaisiin olosuhteisiin täydellinen. Pitää lämpimänä ja suojassa elementeiltä. Nollakeleillä niin lämmin, että nukkuminen makuualustan kanssa ainakin allekirjoittaneelle hieman hiostavaa.
Parinkymmenen asteen pakkasella käytettäessa taukovaatteena olo mukava ja yhdessä makuupussin kanssa lumihangessa nukkuessakin piti lämpöisenä jatkuvasta lumisateesta huolimatta. Kondensaatio ei ongelma, kosteus tuntuu menevän vuoren ja pintakankaan väliin. Kuivaa myös inhimillisessä ajassa.
9
0
I would recommend for a friend
Rasmus S.

01.10.2018
Kuinka voisin tätä kyllin kehua? Täydellinen reissussa — toimii tauolla, toimii makuupussina, toimii tähyllä. Erinomainen taukovaate, eikun sujahdat ineen ja pysyt lämpimänä kipakalla pakkasellakin. Kannattaa siis pitää Jerven käyttövalmiina juuri tätä varten.
Nukkuessa lumihangessa toimii yllättävän hyvin, olen käytännössä luopunut erillisestä makuupussista. Nukkuessa sen verran tilava, että siinä on oikeasti miellyttävä nukkua, myös kenttäoloissa kun olet ns good-to-go kaiken aikaa, eli lämpimät vaatteet ja esim. chestrigi päällä (on tässä nukuttu myös lusut päällä).
Kunnon pakkasella tällä todellakin *voi* ihan oikeasti korvata makuupussin kunhan huomioi pari juttua: 1) koska ilmatilaa on normisäkkiä reilusti enemmän varsinkin jalkopäässä, jalkojen lämpimyyteen ja kuivuuteen on *pakko* kiinnittää huomiota — jonkin sortin lämpötöppöset on sissin valinta, niin et herää horkassa. 2) testaa minkä verran vaatetta tarvitset pussissa ollessasi — esim. kompressoituva lämpöpuku on huikea lisä kun lähetään sinne kunnon pakkasiin. 3) se makuualusta tosiaankin on otettava Jerveniin sisälle.
Kondensaatio on oman havainnon mukaan ollut paljon luultua pienempi ongelma, alle viikon reissuissa ja harjoituksissa tuskin huomaat. Jonnekin se vuorin ja kuoren väliin menee se kosteus, sillä yllätystestinä koettu lammikossa lionnut Jerven toimi kohtuudella siltikin (yritäpä vaan makuupussilla samaa).
Itselle Extreme on ollut yksinkertaisuutensa vuoksi selkeä valinta. Ei irtovuoria, ei arvuuttelua pärjääkö talvikelissä, (toki keskikesällä Extreme voi olla liikaa, mutta täähän on arktisiin oloihin tehty).
4
1