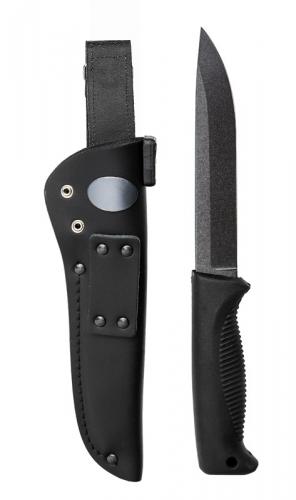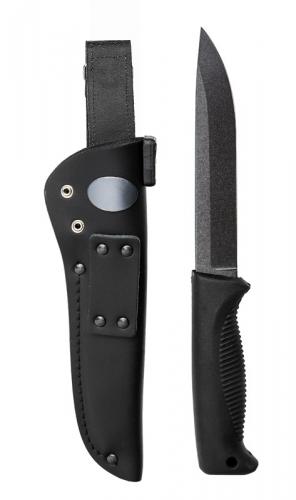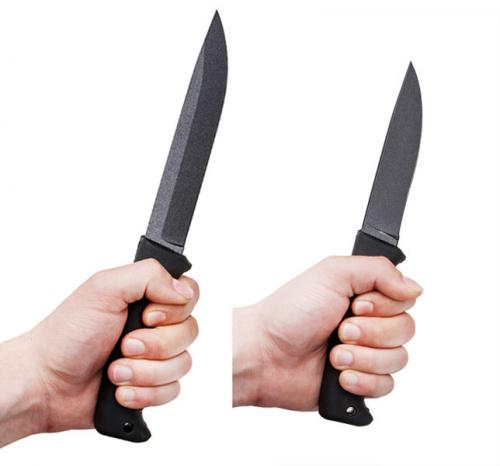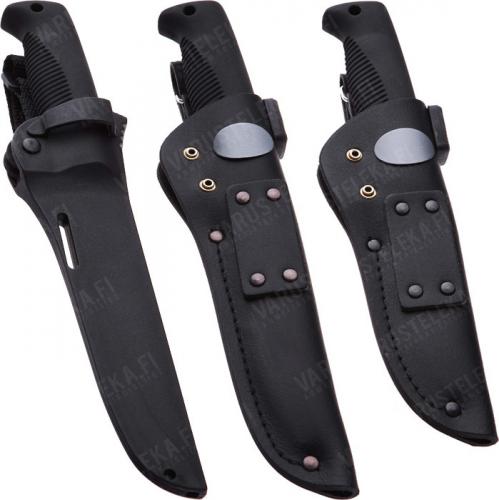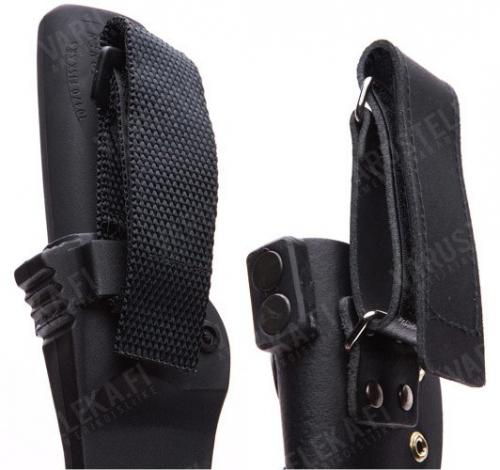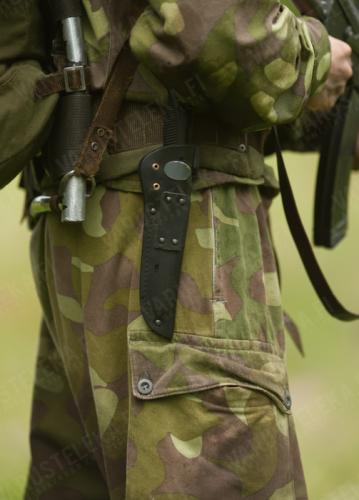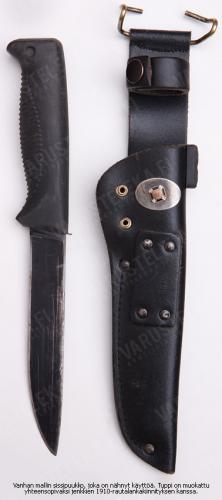 J.P. Peltonen Sissipuukko
Price 83.99 - 89.99 USD
excluding sales tax
A very simple and rugged military knife from Finland. No Rambo/"survival" stuff here - this is meant for real use.
Loading products...
Trouble with the metric system? Try our converter: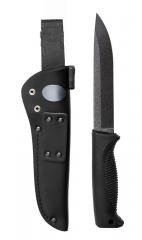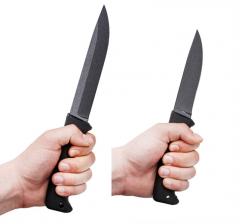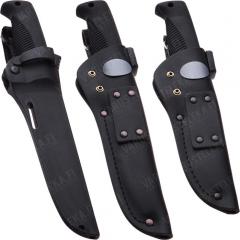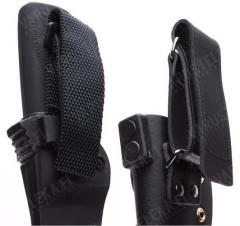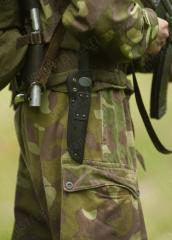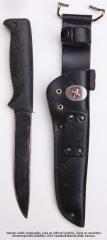 A very simple and rugged military knife from Finland. No Rambo/"survival" stuff here - this is meant for real use.
The Sissipuukko (best translation would probably be "Ranger knife") is familiar to most Finns who've been through national service, where these see widespread use as personal purchases, mostly by NCO's and such. Unlike most military knives, this is actually fairly useful for other things beside stabbing your fellow man. We can say from experience for anything else than elaborate miniature wood carvings, the Sissipuukko will suffice.
The knife is made of HRC58 carbon steel with a teflon coating, with a very sturdy, hard rubber handle. As the blade is not serrated and very simple in design, it is easy to sharpen and keeps an edge surprisingly well, depending, of course, on how you use it.
We have two models in stock:
| Specs | Blade length | Blade thickness | Total length |
| --- | --- | --- | --- |
| M/95 | 15 cm / 5.9" | 5 mm / 0.2" | 28 cm / 11" |
| M/07 | 12.5 cm / 4.9" | 5 mm / 0.2" | 25.5 cm / 10" |
The sheath is one of the best features of this knife: it is very durable and can be carried any way you want without danger of the utensil, as it were, falling out. The knife is secured with a rubber roller, which means you'll have to give a little yank to get the knife out - it won't fall off on its own. There are two sheath models available: leather and plastic. Here are the differences:
Leather sheath: Made of about 3 mm / 0.1" thick black leather, with a nylon belt loop with velcro closure. On the other side, the sheath features a leather loop for fastening it to webbing, or anything else with a proper strap, like the belt loop supplied.
Plastic sheath: Attachment loops for the nylon belt loop on both sides, making this piece of kit ambidextrous. Can be fastened to stuff using the 3 cm / 1.2" wide loop and either a suitable strap or the belt loop supplied. Can also be secured with a piece of string run through the small hole in the tip of the sheath.
We got both lengths with the leather sheath, but only the longer model with plastic sheath. However, the shorter knife will fit into the plastic sheath.
The model is designed by J-P Peltonen, and the blades are made by Laurin Metalli. These are manufactured in Finland, so you can rely on the quality - these are held in high regard by just about everybody who knows something about knives.
Warning! Before buying, please make sure that these are legal to import to your country! We take no responsibility if the customs officer confiscates your precious bayonet/knife/machete! These are perfectly legal in Finland and that is all we are interested in.
Recommendations
Loading products...
Reviews
You have already submitted a review. You can edit your text by clicking on it.
Log in and write a review.
Remove filter
Suomi
(6)
English
(9)
I would recommend for a friend
Ignacio N.

29.05.2016 (Edited 03.07.2018)
I was supposed to give 5 stars. Great knife, well balanced in the hand, great grip and the blade is really strong. Easy to sharp eventhoug it will stay in shape after any ordinary task. Even for opening cans and so on, just go ahead. A real tough guy. (The knife i mean, not me)
4
1
I would recommend for a friend
Ville L.

09.06.2016 (Edited 10.06.2016)
Mulla on ollut tällainen vuodesta 2001. Armeija-aikoina herätti kateutta tovereissa ja sen jälkeen palveli uskollisesti partioleireillä. Nuotio syttyy mukavasti kun pistää klapit sellaisiksi lyijykynän paksuiksi tikuiksi.

Partioleireillä iso musta puukko kiinnosti kovin pikkumiehiä, mutta antaa räplätä vaan, puukko pysyy tiukasti tupessaa. Varsinkaan alaviistosta pikku ryökäle ei saa sitä vietyä.
19
2
I would recommend for a friend
Rory O.

18.03.2017 (Edited 31.05.2021)
I own an older version of the M07 knife (the flat grind version) and I have been using it continuously for over a year now. I camp or bushcraft about 6 months in every year as I live on a touring bike so I get a lot of good usage from my blades/axes/saws etc.
The knife itself is very well made, the steel, (80VrC2, the same as the Terävä knives), is excellent, very sharp and easy to put an edge back on it, in fact, it has become my single favorite knife steel. The non-stick coating (teflon-esque stuff) works perfectly, it doesn't flake off in anyway and very little sticks to it. The knife shape itself works for everything, a time tested design, it will work for you, no worries there. The handle is dense, comfortable and ever so slightly soft to the touch. Its easy to grip in both the wet and the dry. The sheath is ingeniously designed, very well made and holds the knife very tightly.

This knife can compete with any carbon steel blade on the market. An excellent buy.
38
0
I would recommend for a friend
Jani N.

03.08.2017 (Edited 31.05.2021)
Korvaa kohta leukun vyöltä...koska huono tuppi siihen, niin ei pääse vyölle, vaan repun kylkeen. Pidempi teräinen sopii kaikkeen, puiden pilkkomiseen ja hirvihommiin, kalatkin saa käsiteltyä pannulle.
Lyhyempää en ole vielä hirveesti ulkoiluttanut.
Molempia tuppimalleja yrittänyt käyttää, kumpaakaan ymmärtämättä. Repun kyljessä menee molemmilla.

Salaisuutena terässä sen kylkien kiilamaisuus, jonka vain Marttiini aikanaan ymmärsi ja hekin jo sen unohtaneet.. kahvassa pitävä ja tiivis materiaali on nykyaikaa, samoin pinnoitus. Vain parhaita ominaisuuksia niputettuna. Kuka vielä tekis "siviilitupen" tälle?
3
2
I would recommend for a friend
Frank S.

10.10.2018 (Edited 01.06.2021)
I have the newer version of the M07 (not from you guys BTW, they were very difficult to find in stock anywhere, 2017). It's a very good knife, on a par with the Terävä Jääkäripuukkos. Let's be honest, the JP is the knife Varusteleka designed to offer a similar knife to the Peltonen which was always out of stock - and you did a very good job. So well that Peltonen ended his cooperation with Fiskars and shifted the production of his knife blades to Laurin Metalli, the same who make the Terävä knives. The Peltonen Sissipuukko and the Jääkäripuukko are obviously made from the same blade stock - 80CrV2, same width, same thickness. Thus, excellent steel. The Peltonen Sissipuukko has a different profile, with a higher grind and a thinner tip, more suitable for either cutting cheese or stabbing something or someone. The Jaeger knives from Varusteleka are a bit more hard-use bushcraft/outdoor tools, the Peltonen has a bit more military dagger DNA in it, you feel more 'armed' when you carry it. The teflon(ish) coating works very well, the handle is fine and the sheath, well, the sheath... It's original, the retention wheel works but I think it's fiddly and I had to sand down the hand guard on my knife's handle several mms to make it easy enough to sheath and unsheath it without using excessive force. I like the Terävä sheaths a lot better. The Peltonen sheath also has a typical traditional puukko insert - that is, not entirely enveloping the blade but just protecting the cutting edge. The spine is unprotected, and the sheath being rather tight (short) for the knife, I once cut myself when the blade punctured the leather while using a lot of force sheathing it, and the tip went right through and cut me in the palm of my left hand that held the sheath. After my little modification of the handle, that has not happened since as I no longer need so much force to sheath it that I really need to push back hard with my left hand, but it shows that the sheath, although original and good looking, is not perfect - it could protect the blade and the wearer better (that is why I have 4.5 stars and not 5). I also reworked the secondary bevel on the blade into a convex edge, as the original edge bevel was a bit too fragile for my taste - now it's really good. Also note that the Peltonen has no sharp spine for scraping, you would need to file it off and damage the teflon coating (I don't use a firesteel much, but I like the long straight sharp spine on the Terävä for all sorts of scraping tasks, I think it's a good functionality to have on a knife). I see that someone else managed to strike a spark off a firesteel, indeed that can happen if that ferrorod has just been well roughed up with another scraper, but once it smoothes out a bit the slippery teflon won't allow you to strike any kind of spark anymore. I think the Teflon coating is fairly useless in fact, as it also makes changing the grind/profile more difficult.
The handle has a great shape and is very sturdy. I like the flat pommel that one can tap on with a hand while carving detailed stuff. The anti-slip ribs are a bit agressive if you don't wear gloves and can do with a touch of sandpaper to make them less angular.
For daily allround hard use I would recommend the Terävä 110 or 140 in 80CrV2 carbon steel over the Peltonen, for 'special forces military' style use the Peltonen may still have the edge, at a slightly higher price point. Both are fine and good value for money, it's a matter of personal preference. I love fondling my Peltonen M07 and *using* my Terävä 140... ;-)
Update, October 2019: I found that my *personal* M07, with its slightly sanded-down handle, fits in a Terävä 110 sheath. So I bought an extra one of those. Works pretty well. ;-)
Still, if you feel you want another sheath than the leather one that comes with the M07 (you have no choice there, it's not available without a sheath) that means either making one or investing in a 3rd-party sheath, which then makes the entire package of the M07 way more expensive than a Terävä puukko plus its excellent matching sheath.
I would recommend buying the M95 model with the longer blade and the hard plastic sheath, which should protect blade and user well enough, and is ambidextrous as well so you have more carry options. If you really want a shorter blade, get a Terävä 110.
Still recommended as another good black mil-style Finnish puukko knife - between the Peltonen and the Terävä puukkos you have a choice of four blade lengths if you are looking for black commando-style stuff.
0
0
I would recommend for a friend
Jason D.

28.11.2018 (Edited 02.06.2021)
Just received and did some quick cuts. It i very sharp and feels sturdy. The sheath also feels good. I am most happy about the simple design, in north America we have a lot of knife makers pumping out overly aggressive "survival knives" which are not practical, Finland to the rescue.

The pictured belt loop configuration for the plastic sheath does not seem right to me. I basically inverted the orientation so where the belt rides at the very top of the loop and pinches the velcro closed between the belt and the hip.

Even with the teflon coating it was able to throw spark off a fero rod as well so that's a nice bonus.
6
0
I would recommend for a friend
Roope K.

28.04.2019 (Edited 05.06.2021)
J-P Peltonen sissipuukko on varmaan paras puukko minkä voit rahalla ostaa. Varustelekan omatuotanto Terävä Jääkäripuukko ja Skrama ovat loistavia tuotteita itsessään, mutta sissipuukossa saat jotain mikä on näiden kahden väliltä. Ollen samalla aikaa yhtähyödyllinen kuin molemmat, tässä työkalussa yhdistyy huono kirves ja maailman paras puukko. Sissipuukolla voi halkoa klapeja ja kaataa pieniä puitaa tiettyyn pisteeseen asti, mutta kuten Skrama ei se kirvestä korvaa. Puukkona sissipuukko voi olla hieman kookas mutta koon kanssa saa monikäyttöisyyttä ja kestävyyttä, kuitenkaan kadottamatta sitä puukkon sielua. Terä tai teräs jota sissipuukossa on käytetty on materiaalina kova ja pitää terän todella hyvin, mutta tehtaalta tullessan voisi olla terävämpi. Tämän puukon teroitukseen kanattaa varata aikaa, sillä HRC58 on jo kohtuu aikaa vievä teroittaa, mäiskintä onnistuu tietty tylsemmälläkin terällä, mutta jos aikoo käyttää kiehisten vuoluun tai ruuan laittoon niin puukon pitää olla terässä. 5/5 tuote, jos olet puukoa vailla omanki ja lapsenlapsen loppuelämäksi niin sissipuukolla ei voi mennä vikaan.
6
0
I would recommend for a friend
Joni O.

17.11.2019 (Edited 05.06.2021)
Olen jotain eräjormailijan ja makkaran paistelijan väliltä. Useimmiten käyn metsässä vain yöpymässä ja rauhoittumassa, mutta kerran tai kaksi vuodessa olen muutaman päivän kävellen luonnossa. Harrastus alkoi vuonna 2007 ja siitä lähtien olen etsinyt sitä täydellistä veistä, joka tekee sen yhden työn arvokkaasti. Armeijassa oli mukana Glockin M78 veitsi ja armeijan jälkeen muutamalla eräreissulla, mutta se ei täyttänyt omia toiveita. J. P. Peltosen veitsi sen sijaan on juuri sitä mitä olen hakenut. Muovituppi on todella nerokas ja se on 60% syy miksi rakastan tätä tuotetta niin paljon. Veitsi pysyy napakasti tupessa, sen pystyy vetämään pois yhdellä kädellä salaman nopeasti eikä se kolise käytössä. Veitsi itsessään pitää terän todella hyvin eikä lähde kumikahvan vuoksi kädestä vahingossa. Veitsi on myös sen verran paksu hamarasta, että sillä pystyy pilkkomaan klapeja vaivatta (veitsi klapiin ja koputtelee hamaraa toisella klapilla). Sitten kun terottelen veitsen loppuun, ostan takuulla uuden. Ystävälläni nahkatupellinen versio, mutta se on muovituppea väljempi, joten veitsi pääsee hieman elämään tupessaan. Olen suuresti yllättynyt, että teflonpinnoite ei ole vielä mistään kulunut puhki. Suosittelen todella, tämän veitsen jälkeen ei tarvitse etsiä toista.
2
0
I would recommend for a friend
Chris K.

17.07.2020 (Edited 06.06.2021)
I've owned the Fallkniven F 1 and an EARLY Camillus made Cold Steel SRK for the mythical one knife option. I wanted something more comfortable in grip and carry, price under$100 and more of a Scandi grind. When I learned it shared the steel of my SKRAMA it seemed a natural. This is not a Becker or British Mod4 prybar. It is not a Ray Mears 'Bushcraft knife' or a Mora. The GLOCK field knife comes to mind in this class. For a grab and go situation I love it. The grip indexes naturally, joy to put a razor edge on, easy maintenance and a foolproof sheath. In spite of several online reviews it's still a rare bird in the USA. Mine garners as many looks as any bushcraft scandi with exotic wood scales and paracord bracelet to be seen wearing as a real bushcrafter.
1
0