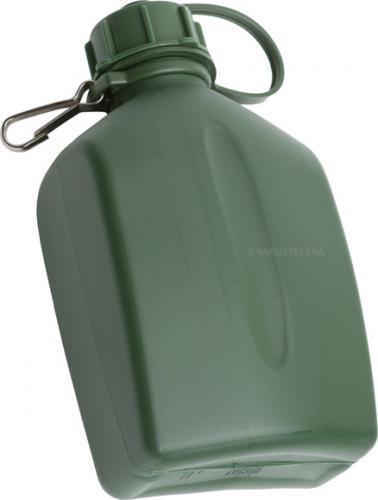 Finnish Canteen, 1 l
Price 7.99 USD excluding VAT
Flat Rate Shipping to USA $9.99
97 % recommends
Sold 74 pcs in the last two weeks
In stock 80 pcs. Also available in our walk-in store.
Trouble with the metric system? Try our converter: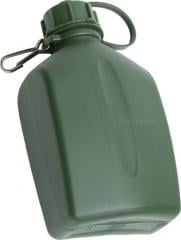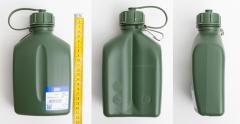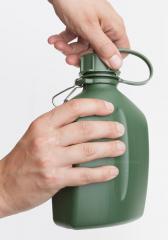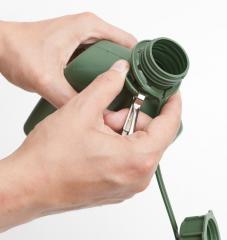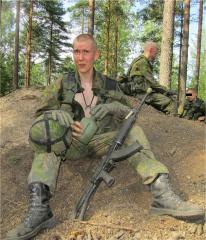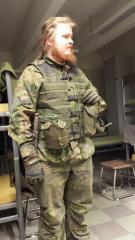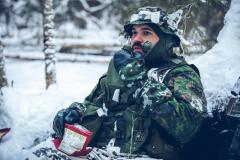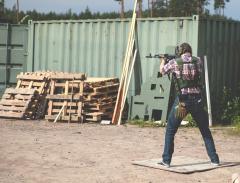 Finnish Army current model canteen. A very practical water bottle with a large opening and a metal hook for carrying without a pouch. You know this piece of kit is pretty good because the soldiers don't complain about it.
This has a few advantages compared to its peers. First, the mouth is large and the threads too. This means the bottle is easier to fill, easier to clean and resists freezing a tad better while the cap screws on the right threads easily. Second, The rectangular shape makes this easier to pack and use in general. Third - it still is almost exactly the same general size of the classic US 1 quart bottle, so it fits in the same pouches (M56, ALICE and such).
As a funny tradition, this has a metal carrying hook on it. It's better than nothing, but not really THAT useful if you have a pouch.
Made by Plastex, made in Finland. These are made with strict quality control of proper plastic. If you need a solid, simple plastic water bottle, can't go wrong with this.
Some comments from our employee
Like many Finns, I got acquainted with this bottle in the army. Seen many others, I can say that this is probably overall the best one; solid, with nice boxy easily packable form and the cap screws on/off with ease. The big mouth helps with filling and keeping the insides clean. The rattling metal clip is maybe a bit pointless, but if really needed, you can hang this from it somewhere. Carrying by hanging the bottle from the plastic cap strap is a no-no, as it will pop open.

In my days we didn't have a separate pouch for this (in 2005!). Nowadays they're so spoiled and everything with the M05 system, oh everything was better back then and even better before that, mmm.


Henri L.


Reviews
You have already submitted a review. You can edit your text by clicking on it.
Log in and write a review.
Remove filter
Suomi
(12)
English
(18)
I would recommend for a friend
Jaakko M.

01.07.2016 (Edited 06.07.2016)
I would recommend for a friend
Jonathan M.

25.07.2016 (Edited 23.05.2019)
Nice bottle.
A better shape than the US & UK examples, so a better design for daily use - as the flatter sides mean it takes up less space than other types of bottle. Fits well in pack pockets & great in the car for spare water.
The metal clip "looks" flimsy, but as it's Finnish I have no doubt it will have been tested & be up to the job it is there to do.
Will be back for more, as I have no doubt that mine will be in demand once friends have seen it
38
1
I would recommend for a friend
Kalle H.

10.08.2016 (Edited 07.09.2016)
I would recommend for a friend
Viljami H.

31.08.2016 (Edited 01.09.2016)
Halpa ja toimiva vesileili. Omastani on kovan käytön vuoksi mennyt tuo korkin puloon sitova muovi fläpyskä mutta se ei käyttöä haittaa, täytyy vaan sitten olla tarkempi et mihin sen korkin heivaa kun sisältöön haluu käsiksi. Metalliklippi pitää leilin messissä vaikkapa farkkujen vyönauhassa jos ei mitään muuta kiinnityspaikkaa ole.
4
0
I would recommend for a friend
Brian C.

28.09.2016 (Edited 29.11.2016)
Excellent product. I highly recommend.
24
1
I would recommend for a friend
Harri K.

17.11.2016 (Edited 18.11.2016)
- omani löysin kirpparilta 50c hintaan ja johtuisiko juuri siitä, että tuo sangassa oleva tappi lähtee irti korkista, jota ei kannattaisi tiputella
- muutenhan tuo on muodoiltaan/mitoiltaan lähes jenkki-putelin veroinen
2
0
I would recommend for a friend
Sami K.

18.12.2016 (Edited 22.12.2016)
Pullon muotoilu on hyvä reppuun sullomista ajatellen, mutta korkin kiinnitys pulloon on paska - se ei kestä käyttöä kovinkaan hyvin, vaan irtoaa ennemmin kuin myöhemmin. Korkkia lukuunottamatta hyvä kenttäpullo ja mahtuu jenkkitaskuun myös jenkkipullon kupin kanssa.

Good form factor for stuffing inside a backback, but the cork attachment is shite and will break quite soon in use. Otherwise, a good canteen that also fits into the US ALICE canteen pouch, even with the canteen cup inside.
7
6
I would recommend for a friend
Liam B.

17.07.2017
This canteen is far nicer than other plastic canteens. I used to have a US 1 quart when I went to army cadet summer training and they carry a horrible taste and smell, even before being used once. This canteen is compact and leaves little to no plastic taste in water. I can't wait to use this next time I'm camping.
21
1
I would recommend for a friend
Kai K.

15.09.2017
Kyllä, on hyvä pullo. Menee mukavasti noitten molskireisareiden taskuun.
4
1
I would recommend for a friend
Juho E.

12.10.2017 (Edited 04.01.2019)
Hyvä tuote! Ostin omani Talouspörssistä hintaan 4,99€. Pullon hakan saa heittää metsään ihan ensin, ellei sitä rupea jostain roikottamaan.
Päivitys 29.10.17:
Pullo alkoi toisen käyttökerran jälkeen vuotamaan jostain kohtaa, en tiedä mistä. Vaihtaisin arvosanaksi 3/5
5
5
I would recommend for a friend
Paavo N.

18.10.2017
Työskentelen vaihtelevasti milloin missäkin korkeudessa ja ahtaissa paikoissa varsinkin kun "toimistoon" kiipeää niin repun ja taskujen joka ikinen cm on tarkassa käytössä. Kyseinen juomapullo on kyllä osoittautunut ylivoimaiseksi koko luokassaan. Muotovalio siis! Ja ollu kalareissuilla mukana niin sielläki toimii pirun hyvin.
4
0
I would recommend for a friend
Alex R.

05.11.2017
Love it. Decent quality. No plastic taste. Fits a USGI canteen pouch very well. What's not to like?
7
0
I would recommend for a friend
Teemu H.

16.12.2017
I would recommend for a friend
Jesse D.

19.12.2017
Nice canteen. Buy one now............
4
2
I would recommend for a friend
Vidar S.

13.01.2018
Wow! Finally that darn nice Swedish M90 water bottle has been defeated! This is one fantastic canteen, they basically looked at the Swedish army M90 canteen and got rid of all the crap about it and modernized it and made it more lightweight!
Could Varusteleka look into maybe making a good cold weather lined pouch for this one? Maybe even true to fiind something similar attaching mechanism that can be found on Swedish canteen pouches.

Oh and here are some specs between this awesome Finnish one and the Swedish M90 one, remember, both are 1L, but the Swedish one is still much bigger because of oldish design.
Finnish M05 canteen: 0,110g.
Swedish M90 bottle without pouch: 0,220g and with the standard lined/insulated pouch total weight: 0,337g
Remember adding 1l water too, ( around 1kg) ;)

Might stick to canteens instead of hydration bladders thanks to think!
11
0
I would recommend for a friend
Rod R.

03.02.2018
A very good canteen. I haven't noticed any plastic flavor, its seal reminds me of a Nalgene, and it's easy to fill at a water fountain. The Boxy shape is nice for griping and packing. I don't have any major problems with it, only a couple of quips. the overall fit and finish of the bottle is just ok, When I first got it I found myself having to go around the edges and trim plastic burs and some squeeze out, not enough to detract from the bottle but something I thought I'd include. I'm probably going to get rid of the clip, when the canteen is partially filled it makes quite a racket. I can't see myself using it and the way it was stamped left a nasty bur on the gate. For a cheap canteen I'd be hard pressed to come up with an alternative. I'd pick this over a Nalgene oasis any day, I've had 2 of those fail in less than a year.
5
0
I would recommend for a friend
Matthieu N.

05.04.2018 (Edited 05.04.2018)
Bought this bottle as a replacement for the trusty old French aluminium one I inherited from my ex-soldier of a brother.

Not only will it fit both the ALICE Canteen pouch and the M47 French one with no problem, but you can also shove it in the aluminium cup for the latter, albeit with some effort (the fit is quite tight). Sure it cannot hold as much water, but it's only a fraction of the weight. You can also use it in conjunction with the French cover and store some stuff under it, or between the cup and the bottle if you prefer, securing the latter with the second row of press studs on the cover. I don't know why you would want to do that though, that cover is crap.

The metal clip however is not an improvement over the jingle-jangle aluminium chain, and you WILL want to tape it down or tear it off real quick unless you really need it.

I only gave 4,5 stars because of this, but this item is really great, and almost Baguette-Ready thanks to its large opening. Made me a happy frenchman.
6
1
I would recommend for a friend
Ari-Pekka T.

21.04.2018 (Edited 21.04.2018)
Ihan ok pullo. Olisin toivonut sen olevan vahvempaa muovia, on vähän turhan "lötkö" pullo. Ei kestä kolhuja kovinkaan hyvin
4
12
I would recommend for a friend
Harri J.

07.05.2018
Vanha tuttu ja turvallinen ja toimiva. Hyvä lenkki saada roikkumaan reppuun.
1
0
I would recommend for a friend
Christopher K.

10.05.2018
Regarding that metal clip? I was recently gifted this canteen and went on a hike. So, We are on the trail and the only water source below us with a dangerous descent. I secured 30 meters of paracord in color coordinated green with a outside bowline knot to the clip. You can use any color cordage and whatever knots your girlfriend enjoys. I lowered the canteen into the abyss, filled and recovered in a few minutes without breaking my neck.
18
0
I would recommend for a friend
ÓSCAR V.

11.05.2018
I gave it to my six-year-old son and he takes it to school every day.
It is difficult to explain to his companions that this canteen is used by the glorious Finnish Army, but the truth is that it is an excellent canteen with a wide mouth ideal for children very well built.
No doubt in a next order I will acquire another.-
15
0
I would recommend for a friend
Jonathan W.

23.11.2018
Cheap and effective, no rubber stopper but does not leak. Fits into all the regular canteen pouches--as much as I like cool old canteens this thing is freaking practical. Had a hardcore plastic smell that vanished after the first wash.
1
0
I would recommend for a friend
Farasha E.

12.03.2019
Wash with hot water, soap and lemon to get rid of the plastic smell. After that, no problems, and no plasticky taste.
0
0
I would not recommend to a friend
Ari K.

10.05.2019
Pullo kestää hyvin karumpaakin käyttöä kuten armeijan tuotteelta voi odottaakin. Metallisoljen irroitin itselleni turhana. Suurin miinus tulee siitä ettei korkki ole täysin tiivis. Pari kertaa olen onnistunut kastelemaan repun kun en ole tätä muistanut. Tästä hyvästä muuten oiva tuote menettää kaksi tähteä. Jotkut pullot pitävät vettä paremmin kuin toiset. Itselläni näitä on ollut kaksi ja kummassakin on sama tiiveysongelma.
3
0
I would recommend for a friend
Stevan Z.

12.05.2019
Solid quality, very satisfied with the product
0
0
I would recommend for a friend
Philip R.

17.05.2019
Much better than the petrol carrier that is the Osprey - nice comfy, grippy shape, no stupid rubber seal (the cause of that Osprey taste) - it reminds me in a lot of ways of the Avon bottles that the Dutch used in the 80's, in that, after the initial period there's absolutely no plastic taste whatsoever. Yes the clip is a little strange, however, what Christoipher K did above - pure genius, so it has its uses.
A great bottle for very little money indeed.
1
0
I would recommend for a friend
Michael F.

24.06.2019
Better than the regular army bottle design. Bigger opening allows for better cleaning and drinking.
Feels flimsy butt is plenty durable I believe. Only downside is that the clip rusted in no time.
Butt I don't use that anyway.
1
0
I would recommend for a friend
James S.

17.07.2019
I bought this to go with my rectangular Tactical Tailor canteen pouches ans it fits perfectly! The plastic is a bit more flexible which likely means less weight to carry over the US Canteens. The metal clip is noise and served no need for me but was easy to take off when you unscrew the lid first. You can't use this with NBC masks but I have seen NBC suitable tops out there; for the rest of us civies it will do just fine and is a better shape to fit most pack pockets. Mine is going on my US FLC vest. The design should make it easier to fill in shallow streams than the more rounded US Canteen. Nice colour too!
0
0
I would recommend for a friend
Andrei S.

26.08.2019
Excellent product and very practical.
1
0
I would recommend for a friend
jelkel25 j.

03.09.2019
When I first saw it I thought it looked a little badly made and would make the water taste of plastic. Nope. Both don't leak, they're stronger than they look and there was a very small amount of plastic taste in the water on the first use (after being cleaned) which has entirely gone. They're light for their strength and no major issues. Only reason I'm not going 5 stars is because they've only had light use but because they're Finnish I think they'll be fine!
0
0