Product added to cart
X
Recommendations
Show all Recommendations

Ekol Leather Oil, 0.25l
Price 6.99 USD excluding VAT
Flat Rate Shipping to USA $9.99
100 % recommends
Sold 55 pcs in the last two weeks
In stock 56 pcs. Also available in our walk-in store.
Trouble with the metric system? Try our converter: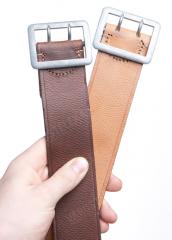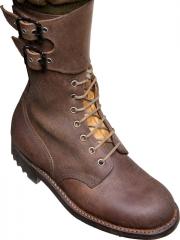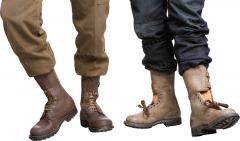 Superb stuff for treating all kinds of leather (not suede), making it more water repellent, more flexible and on the whole better. Not recommended for anything with a membrane (e.g. Gore-Tex).
The instructions are in Swedish, but here's a rough translation:
Clean the leather, so as to make the oil absorb better.
Apply with a brush, sponge or a rag. Rub the oil into the leather and polish.
Do not soak the leather, but rather treat regularly.
Drying time is about one day.
Please note: the oil has a brownish tint - this means the treated leather might get a bit darker. On large surfaces the result might not be even due to irregularities in leather wear. Please see the extra pictures.
Contains refined mineral oils and natural animal and vegetable fats.
Made by Ekol.
Reviews
You have already submitted a review. You can edit your text by clicking on it.
Log in and write a review.
Remove filter
Suomi
(11)
English
(5)
I would recommend for a friend
Simo H.

31.08.2016 (Edited 01.09.2016)
Rakastan. On toiminuna niin vöitten kuin tuppien kanssa. Askartelun alla on teräsuoja kirveeseen, sen viimeistelen, tottakai, tällä
4
1
I would recommend for a friend
Pietari V.

27.10.2016 (Edited 29.11.2016)
I would recommend for a friend
Konsta L.

11.11.2016 (Edited 18.11.2016)
Toimii hyvin kaikille nahkajutuille, kuten nahkasohville, nahkatyötuoleille ja kaikenmaailman nahkavarusteille.
2
1
I would recommend for a friend
Joni R.

10.01.2017
I would recommend for a friend
Pyry P.

15.02.2017 (Edited 15.02.2017)
Loistavaa tavaraa. monet nahkatuotteet palautettu kuivan kuoleman rajamailta takaisin käyttöön. Liikaa ei kannata läträtä. Itse mustille kengille sekoitan pulloon tervaa, ravistan kunnolla ja voitelen kengät = tuplasuojaus josta ei vesi tai mikään muu mene läpi.
6
2
I would recommend for a friend
Robin D.

24.02.2017
I would recommend for a friend
Patrice B.

09.08.2017
This oil is very to use. Very good & great quality for a good leather ! One of the essential basis, to all people . This product must be ALWAYS available in the store ;-)
6
0
I would recommend for a friend
Niko T.

07.09.2017
I would recommend for a friend
Matti M.

30.01.2018
Tätä voi myös käyttää omiin jalkapohjiin jv varpaidenväliin.Saunassa iho pehmenee jalhapohjista saa kovettumat pois.Toimii myös hyvin käsivoiteena.Kun kokeilin kenkiin tietenkin joutui myös käsiin.Hyvä tuote
2
1
I would recommend for a friend
Mika V.

09.02.2018
Nahkarotsiin kokeilin ( ruskea ) ja takki sai kokonaan uuden elämän. Suosittelen ehdottomasti !!!
2
1
I would recommend for a friend
Ari S.

14.02.2018
hyvää litkua. sain m75 maiharit joista oli kärjet kääntyny ylöspäin(hiihdosta?). öljysin ja kenkä palautu muotoonsa ja nahka vetreytyy hyvin.
1
1
I would recommend for a friend
Max K.

15.03.2018
Käytetty kysistä tuotetta nahkahanskoista kenkiin ja vöistä nahkasohvaan. Kun öljyä käytetään kenkiin 1-2 kertaa vuodessa rasvan kanssa niin kengät pysyy kuosissa.
2
1
I would recommend for a friend
Andrew S.

17.04.2018 (Edited 17.04.2018)
This oil is very easy to use. Its made from mineral oils, animal and vegetable fats (I translated the ingredients). Its unscented and uncolored . I would pour the oil into the bottle cap and apply it to my boots with a paint brush, then let it sit to dry. It's a good water repellent, after it dried I poured some water on my boots and it ran right off.
2
0
I would recommend for a friend
J-P M.

19.05.2018 (Edited 19.05.2018)
Hyvää kamaa, tosin käyttökokemuksia minulla muista nahkaöljyistä ei ole. Käsittelin tällä yhdet nahkasäärystimet ja yhdet ruotsalaiset monot ja on sanottava että tätä on aika helppo käyttää liikaa... säärystimet imivät öljyn ihan hienosti mutta vaikutus näkyi vasta parin päivän jälkeen ja säärystimet ovat nyt lötköt kuin kangasrätti. Syynä voi olla se että lutrasin öljyä myös säärystimien "sisäpuolelle" ja kun "karvaiseen" pintaan ei öljy tietenkään tunnu niin helposti imeytyvän, sitä tulee epähuomiossa laitettua liian reilusti. Monot taas eivät muuttuneet miksikään ja tarvitsevat toisenkin käsittelyn. Noudata siis esittelytekstin ohjeita äläkä hulluttele. Itse amatöörinä suosittelisinkin tätä enemmän romujen kuolleista herättämiseen ja tavallista rasvaa elvyttämiseen ja ylläpitoon.
2
1
I would recommend for a friend
Matthew G.

03.01.2019
I usually apply a light coating to my leather boots & gloves with a rag, it's perfect for conditioning stiff leather and maintaining leather goods so that they look and feel great. I would say that this is the leather equivalent to applying a penetrating stain to wood to make the grain shine and pop.
0
0
I would recommend for a friend
Farasha E.

12.03.2019