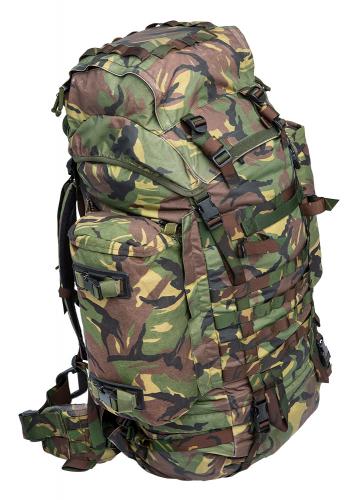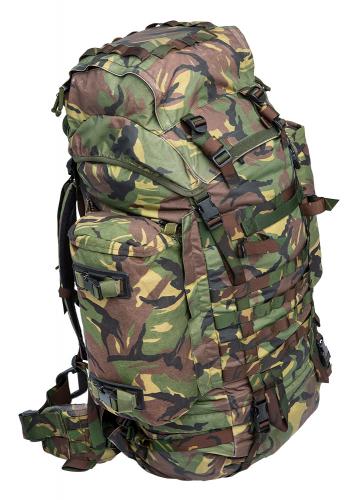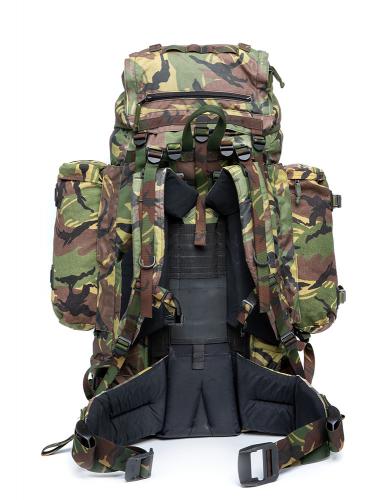 Adjustable shoulder strap position means the ruck can be tailored to fit about anyone.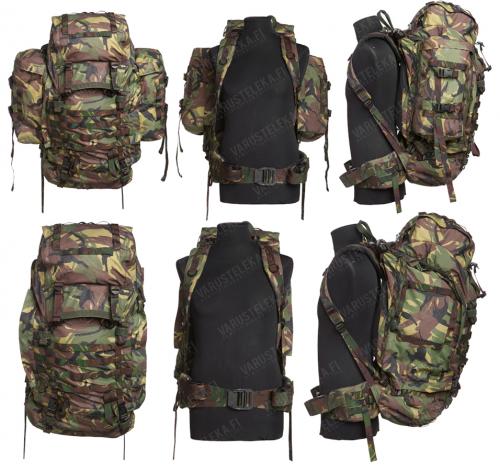 Kinda like the PLCE pack, but with the center outside pocket replaced with a PALS panel.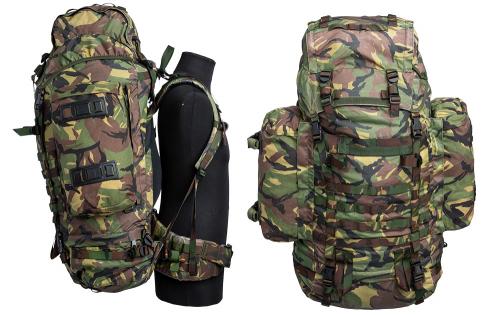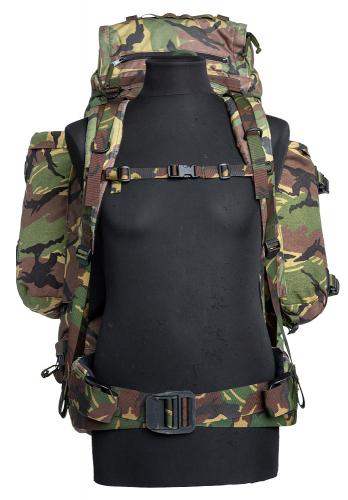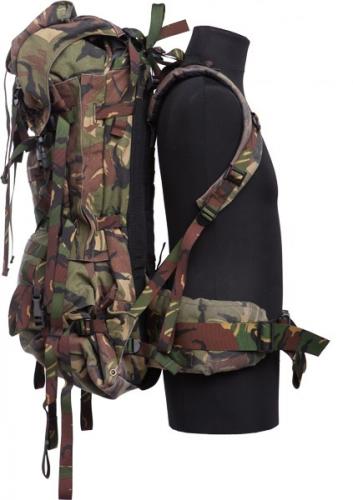 The ruck can be completely flattened too.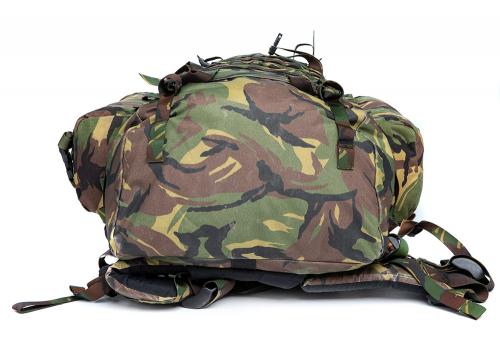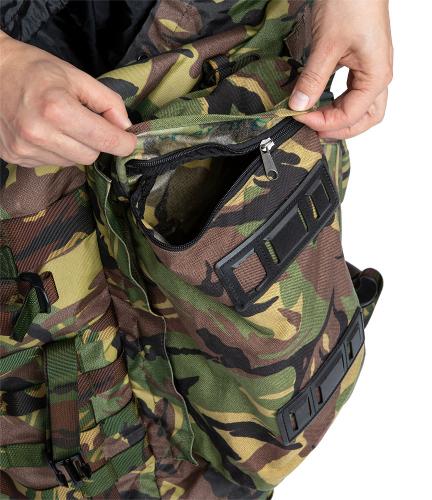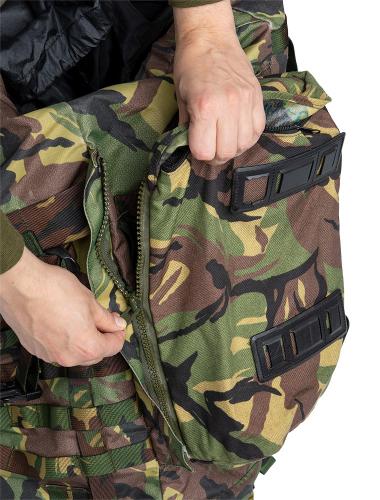 The pouches attach to the rucksack with strong zippers.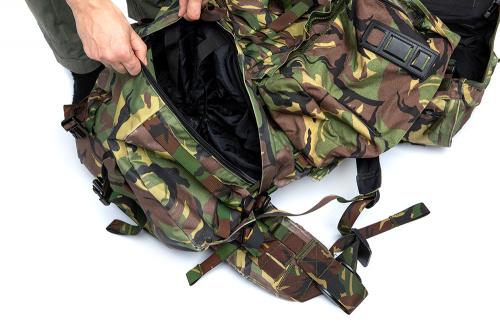 A separate lower compartment, can be kept as a part of the main compartment too.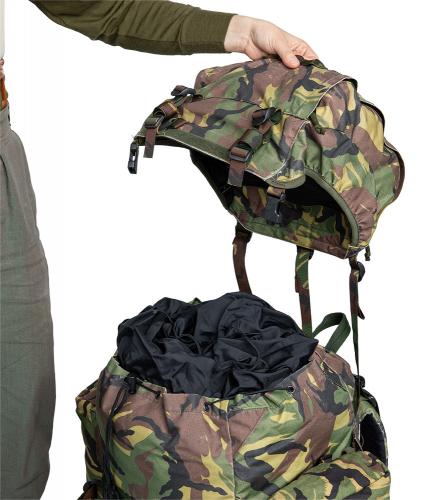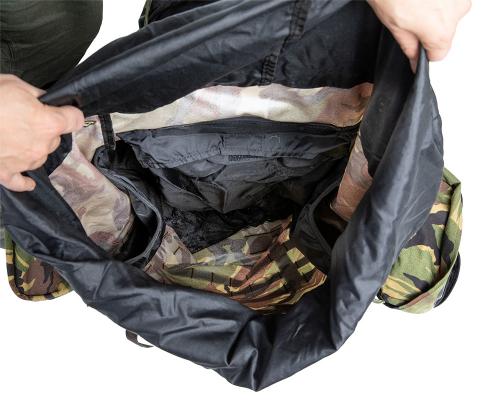 A peek inside: note the bladder pocket and the side pockets.
Netherlands
Dutch "Lowe Alpine Saracen" Rucksack, DPM, surplus
Price 139.99 USD
excluding sales tax
A fully modern, well-designed rucksack for an unbeatable price - a Dutch army copy of the Lowe Alpine Saracen ruck (made by ARWY). Featuring 100 + 20 = 120 liters / 7322 cu in. carrying capacity and an adjustable back. Modern stuff through and through.
We don't know when this product will be restocked. With surplus the restock date is unknown due to sometimes poor availability. Request restock notification and we will email you as soon as this product is available.
This product has used and returned variations. Used are washed and unbroken. Heavily used are also washed but might be missing buttons, have tears, main zipper can be broken etc. Read more about Kierto.
Trouble with the metric system? Try our converter: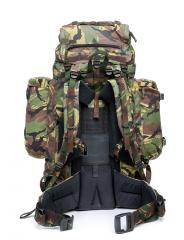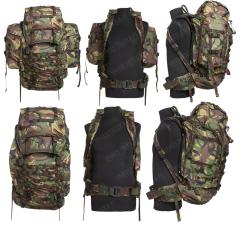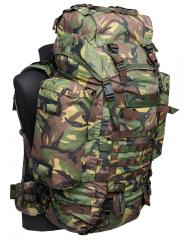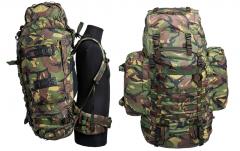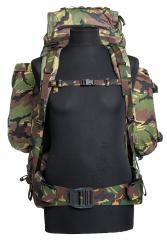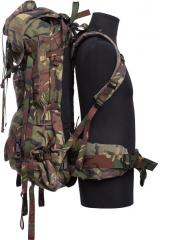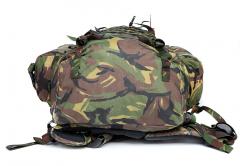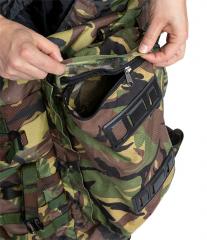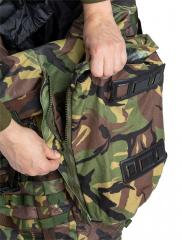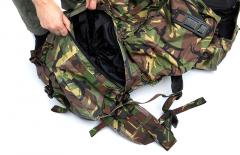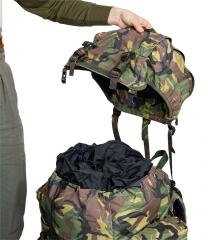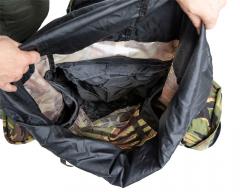 A fully modern, well-designed rucksack for an unbeatable price - a Dutch army copy of the Lowe Alpine Saracen ruck (made by ARWY). Featuring 100 + 20 = 120 liters / 7322 cu in. carrying capacity and an adjustable back. Modern stuff through and through.
The Dutch are out of their mind to let stuff this good go. This kit is as good as they come, suitable for situations where poor quality items could mean serious failure. These are current-issue army rucksacks with a pretty much direct lineage to the Lowe Alpine original, just made for the Dutch armed forces. It's a large-sized ruck that carries a few weeks' gear for the woods or everything you need to own to live in urban environments.
Modern design
The bag
Total volume 100 + 20 liters / 7322 cu in.
A large main compartment, with two low-profile pockets
A bottom compartment divided from the main compartment with a drawcord sock
Free floating lid with a pocket on top
Weather sock on the mouth
Removable side pouches (10 l / 610 cu in. each)
A huge amount of attachment points for extra stuff and PALS/MOLLE compatible stuff.
An inside pocket for a standard hydration bladder (Source WXP will fit)
Reinforced bottom
Compression straps on the sides, hidden behind the side pouches. When you remove the side pouches, the side zippers can be closed, making the pack extra slim. The side pouches can also be zipped together to form a daypack, but the straps for this are not included. The space between the rucksack and the side pouch is left open for carrying longer stuff.
Carrying
Internal metal frame
Padded shoulder straps with proper good adjustments
Strap location can be adjusted according to user's size
Sternum strap often included
Padded hip belt with "Bergbuckle"
Padded back
Dimensions
Fully packed ruck measurements about 70 x 90 x 40 cm / (27.5" x 35.5" x 16")
Main compartment size roughly 40 x 70 x 35 cm / (16" x 27.5" x 14")
Side pouch dimensions about 20 x 35 x 12 cm / (8" x 14" x 4.5")
Weight pretty exactly 4 kg / and a few grams / about 8.8 lbs.
Material and care
The material is water-resistant, IRR treated DPM camouflaged Cordura. military-grade stuff, very strong. As for care, brush the dirt off, use a mild soap if necessary. The pack won't mind getting wet of course but don't try to stuff it inside a washing machine.
Dutch army surplus
Used but in serviceable condition. The fabric may be faded and there's bound to be some signs of use, but all of the vital parts work. Below is a little list of notable things:
The frame might require some re-shaping (use your hands)
There might be extra general-purpose straps somewhere attached to the ruck, or not.
The chest strap might be missing.
Some random not-so-important bits may be damaged.
Most things are easily repaired!
Kierto Circular Economy
Return this product used but clean and unbroken, and you'll receive half of the product's original price as Varusteleka credits. Service is available only in Finland. Only Registered users can make Kierto returns. See more information about Kierto.
All products: Netherlands
Recommendations
Loading products...
Reviews
You have already submitted a review. You can edit your text by clicking on it. You can filter the reviews by clicking on the elements of the summary.
Log in and write a review. You can filter the reviews by clicking on the elements of the summary.
Remove filter
Suomi
(9)
English
(11)
I would recommend for a friend
Anonymous customer

28.01.2020

Verified purchase
Best value for money ever for a rucksack. I bought the previous version and tested in Swedish Lapland for a week long trekking in the wilderness. Excellent ergonomy, lots of space and side pockets can be used as a sizable and easy-to-carry small backpack. Details are well designed, e.g. access to the hood pocket from both sides and lots of MOLLE attachment points all around the pack. Definitely recommend!
10
0
I would recommend for a friend
Dean H.

30.04.2020

Verified purchase
One of the best designed rucks I've ever had my hands on. Mine came in very nice used condition with one shoulder strap attached to one of the detachable pods. The pods don't seem to zip together to make a daypack like similar designs, but that's alright. Some small modifications will fix that.

Yes, there are scuffs on the buckles from where it got slid into a truck or dragged across the floor by a previous owner. Yes, there are a couple of small mends here and there, but they were done professionally and are probably stronger than the original material. One small zipper on the lid needs to be replaced, but that's all of 15 minutes of work and a $3 zipper.

Absolutely worth the purchase if you're the type to actually use gear and not just take pictures of it to show off on the Internet.
14
1
I would recommend for a friend
Teemu J.

22.02.2021

Verified purchase
Sain tämän lahjaksi isältäni, kun täytin pyöreitä ja tekisi mieli ostaa omalle pojalle samanlainen valmiiksi, kunhan tuosta kasvaa sopiviin mittoihin.

Erittäin toimiva kokonaisuus.
Säätöjä löytyy jopa hämmennykseen asti. Varsinkin lantiovyön liukusoljet ihmetyttää, mutta kai niillekin oikea käyttötapa on. Bergbucklea ei minulla ollut, mutta se nyt ei haittaa. N. 30 kg testikokonaisuus oli hyvä kantaa ja tärkeimmät säädöt oli helppoa ja intuitiivista tehdä.

Irroitettavat sivutaskut on ihan 5/5. Alta paljastuu lisää PALSsia ja sivutaskutkin saa vaikka jonnekin muualle PALSsilla kiinni. (Kompressiohihnoja täälä ei ollut, mutta mahdollisuudet sille kyllä)

Rakkotaskuna en päälokeron pikkutaskua allekirjoita. Ainakaan 3 litran Source WXP ei omaani mahdu täytenä kunnolla, enkä löytänyt rakon letkulle läpivientiä, niin kansiläppään se oli käytännöllisempi heittää.

Alaosioon meni helposti Defence 4 ja Defence 6 sinne varmana kompressoituu myös. Alaosassa on myös kolme kompressiohihnaa pistosoljilla.
3
0
I would recommend for a friend
Arick S.

13.04.2021

Verified purchase
I considered laying down on the carpet and weeping for joy like a bitch when I received this pack.

Everything pristine, not one of the billions of straps was out of place. Clean. Looked barely issued. Absurd capacity. Fit very well. I expect it will last until I am dead. Intent is to wear it doing ruck marches around my land while singing the patriotic songs of lands I'll never see.

For the price, unbeatable. Thank you for offering it on your very addictive site!
15
0
I would recommend for a friend
Coleman S.

21.08.2021

Verified purchase
The pack is huge and works as intended, and mine even came with all the straps attached! A quick warning though, some of the packs are an older model in different camo, and don't have the bergbuckle. Mine was in a us style woodland pattern and closed with a regular Delrin buckle but I ain't complaining, the pack is bombproof and will outlive me.
4
0
I would recommend for a friend
Juha S.

04.10.2021

Verified purchase
Tässä on kyllä rinkkaa kerrakseen, ei voi kuin ihmetellä miten paljon pientä ja suurta tavaraa tuonne voi sulloa - tulee mieleen runsaudensarvi kun tätä alkaa leirissä purkamaan. Ilman sivutaskujakin mahtuu omat ja lasten romppeet telttoineen kyytiin oikein nätisti ja alaosan makuupussiosioon menee heittämällä 2 makuupussia ja kolmaskin jos on untuvan kanssa liikkeellä. Ergonomia on kyllä kohdallaan ja isoakin lastia kantaa mielellään ja kantamuksen huomaakin lähinnä siitä kun polvet rupeavat natisemaan liitoksista.

Erilaisia remmejä ja säätöjä on sen verran ettei ilman 40 tunnin käyttökoulutusta osaa edes sanoa mitä kaikkea niillä voi kiristää ja mihin ne vaikuttavat. Monipuolinen rinkka ja erittäin jämäkkä. Ainoa miinus tulee 4kg+ tyhjäpainosta, mutta eipä tällä ole tarkoituskaan kilpailla keveydellä vaan sillä, että voit vetää vaikka oksasilppurin läpi ilman näkyviä jälkiä rinkassa.
0
0
I would not recommend to a friend
Ville K.

06.10.2021

Verified purchase
Tällainen tuli sitten innoissaan tilattua. Kyllä leuka venähti lattiaan ja kulmakarvat nousi niskaan asti kun kääntelin käsissäni postin tuomaa likaista, haisevaa ja tahmaista räpsää. Katki olevia, teipillä korjattuja hihnoja. Ihan päin helvettiä vyötettyjä remmejä, joista on mahdotonta sanoa, onko kaikki tarvittava edes paikallaan. Kaikenlaista tahraa, tahnaa ja tahmaa siellä täällä. Revennyt oikean olkahihnan pehmusteen sisäsivu, josta täyte pullottaa esiin. Kaikkiaan aivan loppuun kulunut, haalistunut rinkan raato. En voi kuin pyöritellä päätäni, millaista pokkaa vaatii heittää tällaiseen läjään 140 euroa hintaa ja vetäistä hehkutusten kera nettiin myyntiin. Paskan maku ja kusetuksen tuntu, lähtee viivana takaisin sylttytehtaalle.
23
1
I would recommend for a friend
Anssi V.

15.11.2021

Verified purchase
Pyörävarkaan unelma!

Erinomainen rinkka; säätöjä löytyy hämmennykseen asti, ei tarvitse pelätä että mikään hajoaisi vahingossa (tai tarkoituksella) ja sisään mahtuu taapero jalat suorana.

Miinustaa siitä, että rinkkaan ei valitettavasti mahdu polkupyörää. Mutta se ei onneksi haittaa, sille munamankelin saa hyvin kiinnitettyä repun ulkopuolelle (https://imgur.com/a/CkZVMZ8). Erityisen hyvä pyörävarkaan uraa harkitseville!
3
5
I would recommend for a friend
Jere S.

18.11.2021

Verified purchase
Melko vankkarakenteinen ja hyvistä materiaaleista, lukuunottamatta läpän taskujen sekä sivutaskujen vetoketjuja: ne on melko heppoiset muuten näin kovan menon rinkkaan nähden. Saisivat olla samanlaiset, tuhoutumattomat vetokejut, kuin millä sivutaskut tulevat rinkkaan kiinni. Painaa aika paljon, jos olet tottunut hippastelemaan tavan vaellusrinkka selässä, mutta sehän käy ilmi jo ilmoituksesta. Mutta tänne mahtuu niin hitsisti kamaa, että menee koko kesäloma yhden rinkan kanssa pitkin Suomen maata se ylimääräinenkin roju mukana.
Omaani oli jotain teippejä edellinen sotilas kiinnitellyt, mutta nehän saa irti.
Vielä yksi asia, joka joskus vähän mietityttää, on, että voi kun tässä olisi sivussa jonkinlaiset muutkin kiristysmekanismit koon säätämiseksi: tällaisenaan tämä on joko sivutaskuilla helkutin iso, tai ilman sivutaskuja, vetoketjuilla kiristettynä vähän turhan solakka. (Toki täytyy huomioida ylijäämässä se, että tämä on suunniteltu jo olemassa oleville varustekokonaisuuksille, joten mitoitukset ovat sen tarpeen mukaiset)
Eli kannattaa ostaa, jos oikeasti kannat roimasti varustusta mukanasi pitkällä reissulla ja esim. talvimakuupussi ja teltta vievät paljon tilaa. Se kun on sanottu, niin tilavuuden puolesta tää on ihan omaa luokkaansa, eli isoille kantamuksille tosi kova juttu. Ergonomian puolesta myös iso peukku.
0
0