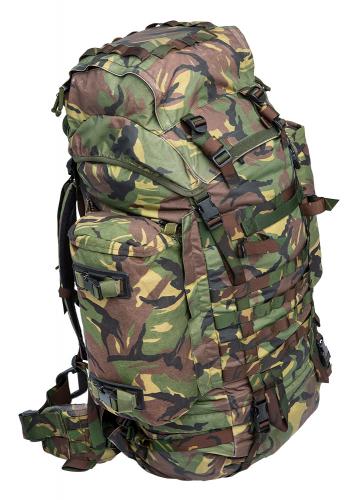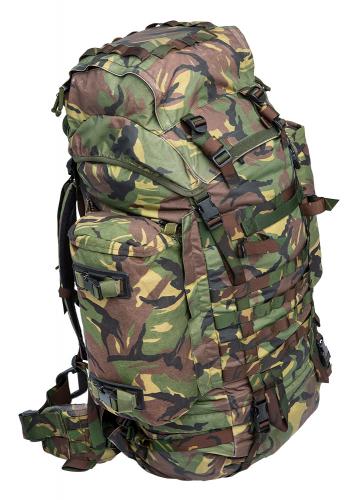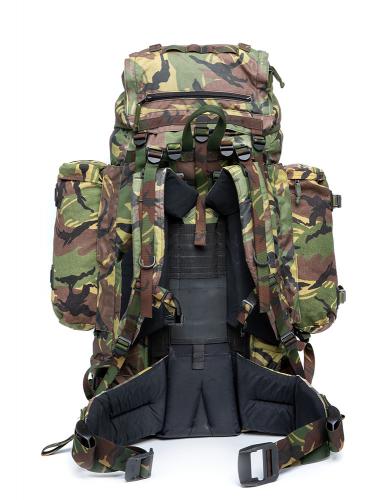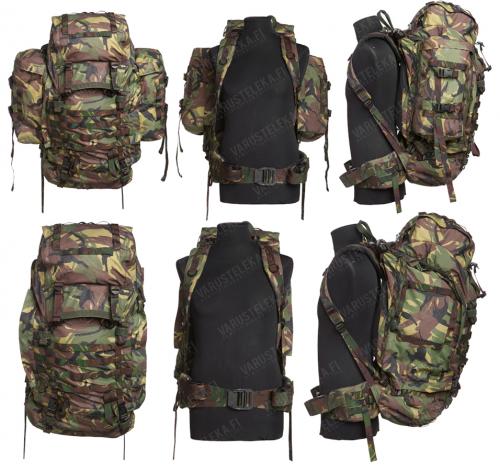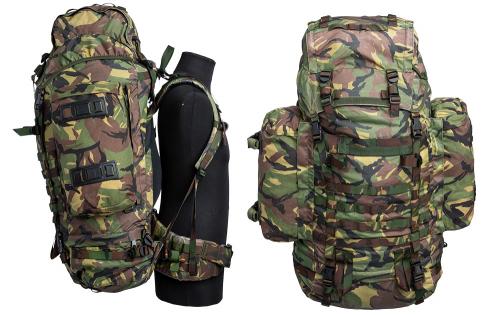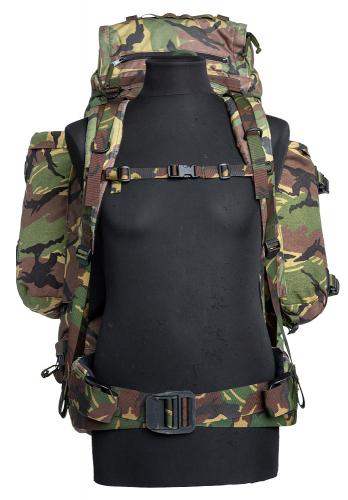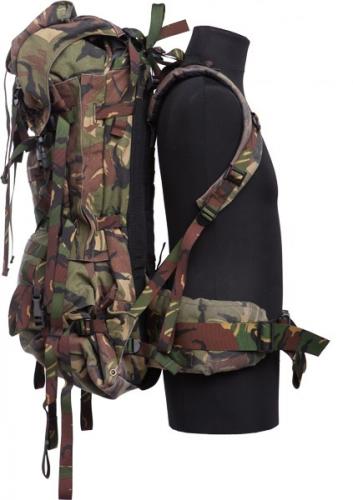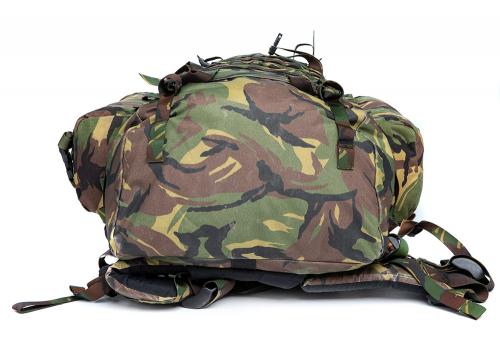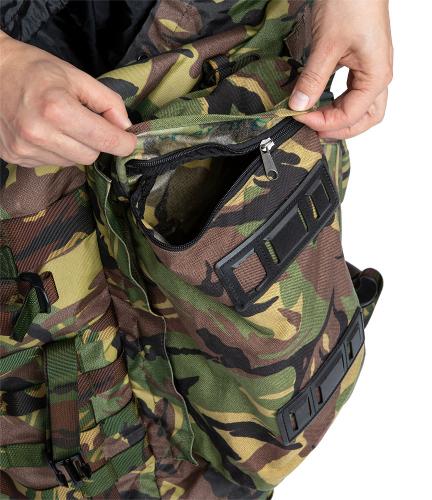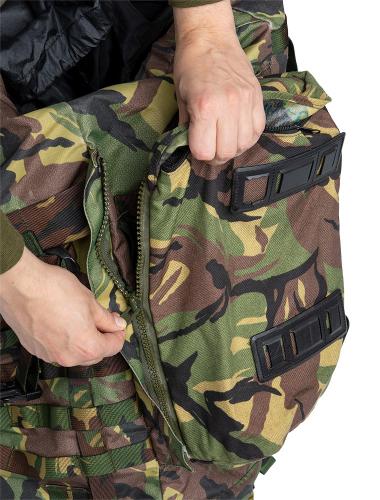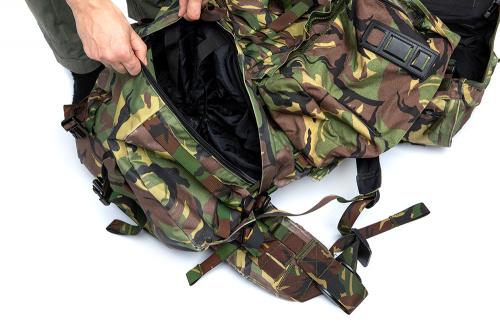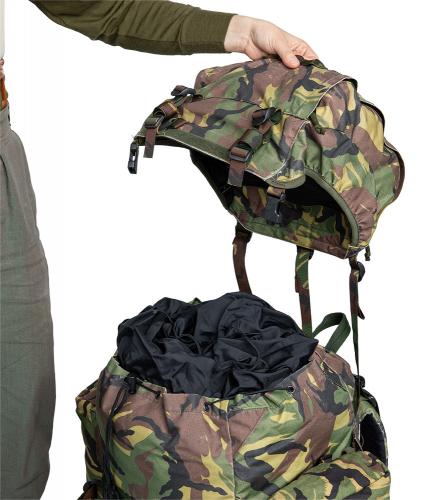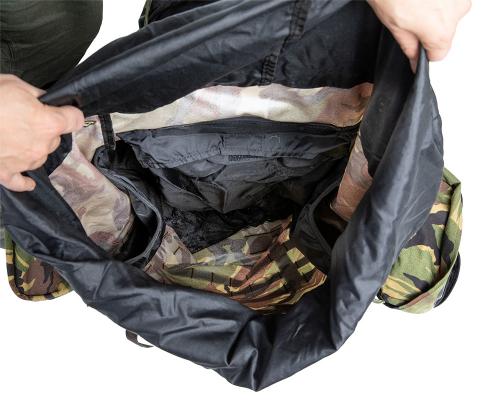 Dutch "Lowe Alpine Saracen rucksack", DPM, surplus
Price 146.99 USD
excluding VAT
A fully modern, well-designed rucksack for an unbeatable price - a Dutch army copy of the Lowe Alpine Saracen ruck (made by ARWY). 100 + 20 = 120 litres / 7344 cu in. carrying capacity and adjustable back. Modern stuff through and through.
In stock 45 pcs. Sold 7 pcs in the last two weeks.
This product has used and returned variations. Used are washed and unbroken. Heavily used are also washed but might be missing buttons, have tears, main zipper can be broken etc. Read more about Kierto.
Trouble with the metric system? Try our converter: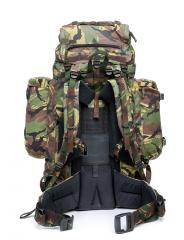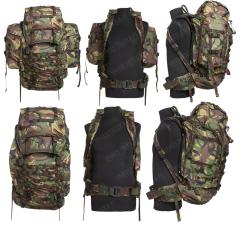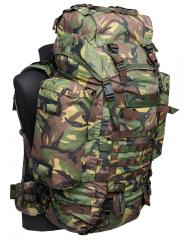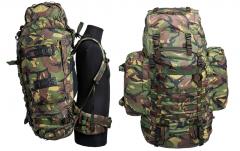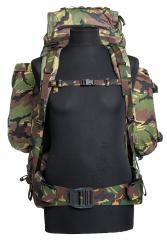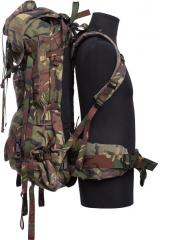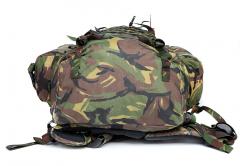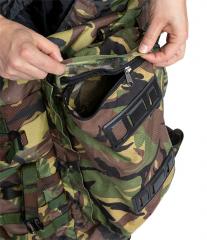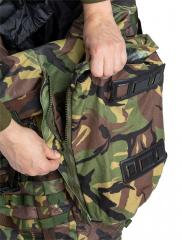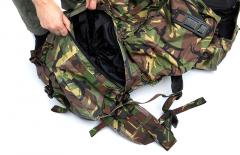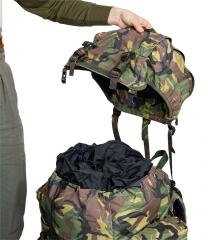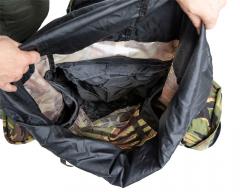 A fully modern, well-designed rucksack for an unbeatable price - a Dutch army copy of the Lowe Alpine Saracen ruck (made by ARWY). 100 + 20 = 120 litres / 7344 cu in. carrying capacity and adjustable back. Modern stuff through and through.
The Dutch are out of their mind to let stuff this good go. This kit is as good as they come, suitable for situations where poor quality items could mean serious failure.
Modern design
The bag
Total volume 100 litres / 6120 cu in.
A large main compartment, with two low profile pockets
A bottom compartment divided from the main compartment with a drawcord sock
Free floating lid with a pocket on top
Weather sock on the mouth
Removeable side pouches (10 l / 612 cu in. each)
A huge amount of attachment points for extra stuff and PALS/MOLLE compatible stuff.
An inside pocket for a standard hydration bladder (Source WXP will fit)
Reinforced bottom
Compression straps on the sides, hidden behind the side pouches. When you remove the side pouches, the side zippers can be closed, making the pack extra slim. The side pouches can also be zipped together to form a daypack, but the straps for this are not included. The space between the rucksack and the side pouch is left open for carrying longer stuff.
Carrying
Internal metal frame
Padded shoulder straps with proper good adjustments
Strap location can be adjusted according to user's size
Sternum strap often included
Padded hip belt with "Bergbuckle"
Padded back
Dimensions
Fully packed ruck measurements about 70 x 90 x 40 cm / (27.5" x 35.5" x 15.5")
Main compartment size roughly 35 x 70 x 25 cm / (14" x 27.5" x 10")
Side pouch dimensions about 20 x 35 x 12 cm / (8" x 14" x 4.5")
Weight pretty exactly 4 kg / and a few grams / about 9 lbs.
Material and care
The material is water-resistant, IRR treated DPM camouflaged Cordura. military-grade stuff, very strong. As for care, brush the dirt off, use a mild soap if necessary. The pack won't mind getting wet of course but don't try to stuff it inside a washing machine.
Dutch army surplus
Used but in serviceable condition. The fabric may be faded and there's bound to be some signs of use, but all of the vital parts work. Below a little list of notable things:
The frame might require some re-shaping (use hands)
There might be extra general-purpose straps somewhere attached to the ruck, or not.
The chest strap might be missing.
Some random not-so-important bits may be damaged or something, we have no resources to meticulously check every tidbit of a pack this complex. By purchasing a used military rucksack for about a third of its actual as-new value, you just have to accept these things.
Most things are easily repaired!
Recommendations
Loading products...
Reviews
You have already submitted a review. You can edit your text by clicking on it.
Log in and write a review.
Remove filter
Suomi
(1)
English
(3)
I would recommend for a friend
Anonymous customer

28.01.2020 (Edited 06.06.2021)
Best value for money ever for a rucksack. I bought the previous version and tested in Swedish Lapland for a week long trekking in the wilderness. Excellent ergonomy, lots of space and side pockets can be used as a sizable and easy-to-carry small backpack. Details are well designed, e.g. access to the hood pocket from both sides and lots of MOLLE attachment points all around the pack. Definitely recommend!
8
0
I would recommend for a friend
Dean H.

30.04.2020 (Edited 06.06.2021)
One of the best designed rucks I've ever had my hands on. Mine came in very nice used condition with one shoulder strap attached to one of the detachable pods. The pods don't seem to zip together to make a daypack like similar designs, but that's alright. Some small modifications will fix that.

Yes, there are scuffs on the buckles from where it got slid into a truck or dragged across the floor by a previous owner. Yes, there are a couple of small mends here and there, but they were done professionally and are probably stronger than the original material. One small zipper on the lid needs to be replaced, but that's all of 15 minutes of work and a $3 zipper.

Absolutely worth the purchase if you're the type to actually use gear and not just take pictures of it to show off on the Internet.
10
1
I would recommend for a friend
Teemu J.

22.02.2021 (Edited 22.06.2021)
Sain tämän lahjaksi isältäni, kun täytin pyöreitä ja tekisi mieli ostaa omalle pojalle samanlainen valmiiksi, kunhan tuosta kasvaa sopiviin mittoihin.

Erittäin toimiva kokonaisuus.
Säätöjä löytyy jopa hämmennykseen asti. Varsinkin lantiovyön liukusoljet ihmetyttää, mutta kai niillekin oikea käyttötapa on. Bergbucklea ei minulla ollut, mutta se nyt ei haittaa. N. 30 kg testikokonaisuus oli hyvä kantaa ja tärkeimmät säädöt oli helppoa ja intuitiivista tehdä.

Irroitettavat sivutaskut on ihan 5/5. Alta paljastuu lisää PALSsia ja sivutaskutkin saa vaikka jonnekin muualle PALSsilla kiinni. (Kompressiohihnoja täälä ei ollut, mutta mahdollisuudet sille kyllä)

Rakkotaskuna en päälokeron pikkutaskua allekirjoita. Ainakaan 3 litran Source WXP ei omaani mahdu täytenä kunnolla, enkä löytänyt rakon letkulle läpivientiä, niin kansiläppään se oli käytännöllisempi heittää.

Alaosioon meni helposti Defence 4 ja Defence 6 sinne varmana kompressoituu myös. Alaosassa on myös kolme kompressiohihnaa pistosoljilla.
2
0
I would recommend for a friend
Arick S.

13.04.2021 (Edited 04.07.2021)
I considered laying down on the carpet and weeping for joy like a bitch when I received this pack.

Everything pristine, not one of the billions of straps was out of place. Clean. Looked barely issued. Absurd capacity. Fit very well. I expect it will last until I am dead. Intent is to wear it doing ruck marches around my land while singing the patriotic songs of lands I'll never see.

For the price, unbeatable. Thank you for offering it on your very addictive site!
3
0
Kierto Circular Economy
Return this product used but clean and unbroken, and you'll receive half of the product's original price as Varusteleka credits. Service is available only in Finland. Only Registered users can make Kierto returns. See more information about Kierto.